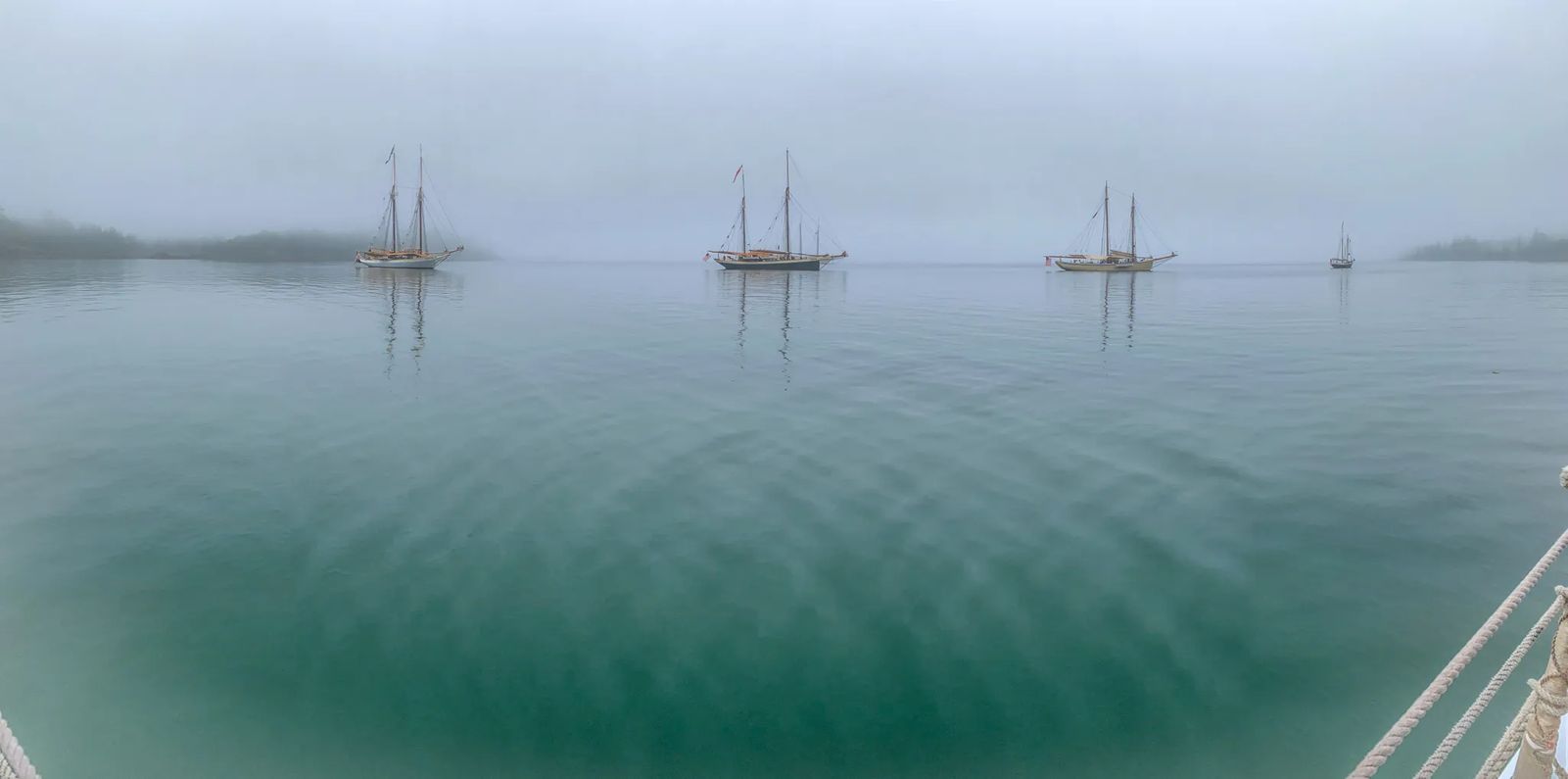 Sailing In Maine On The Oldest Sailing Ship In The USA
If you want to go sailing in Maine, I would recommend sailing on the oldest sailing ship in the USA - the Lewis R French. Take a cruise on a windjammer sailing ship and see the coastal Maine islands like never before.
If your not sure what Windjamming is, make sure to check out my last article where I tell you the differences between windjamming and modern cruise ships and if it will be the right fit for you.
This article will cover what sailing is like on board the ship, I will go into more detail about the excursions you can experience while aboard a Windjamming ship in another article. Each ship and Captain in the Windjamming fleet is different and unique in its own way - so I will cover the historic Lewis R French Schooner experience here.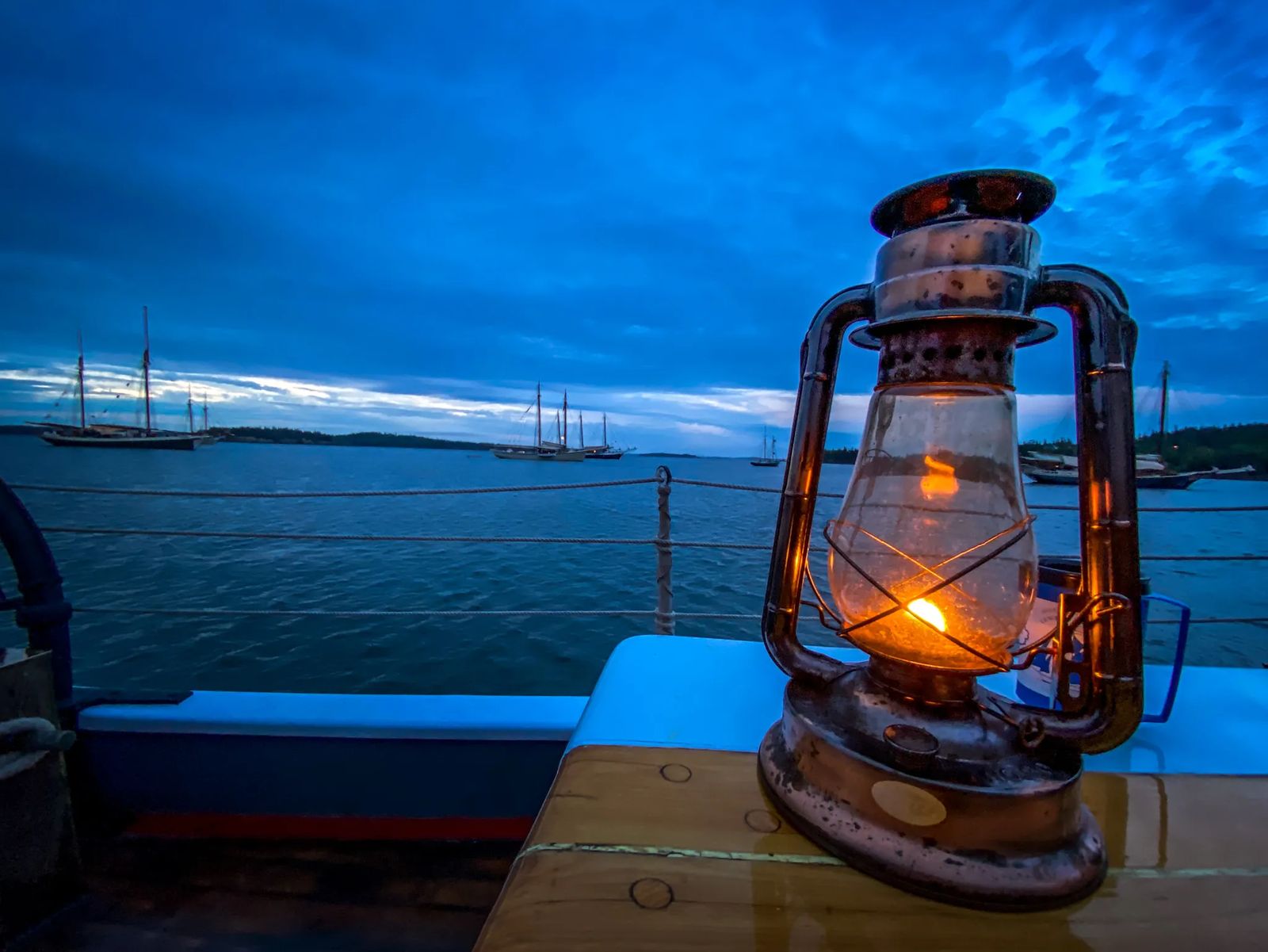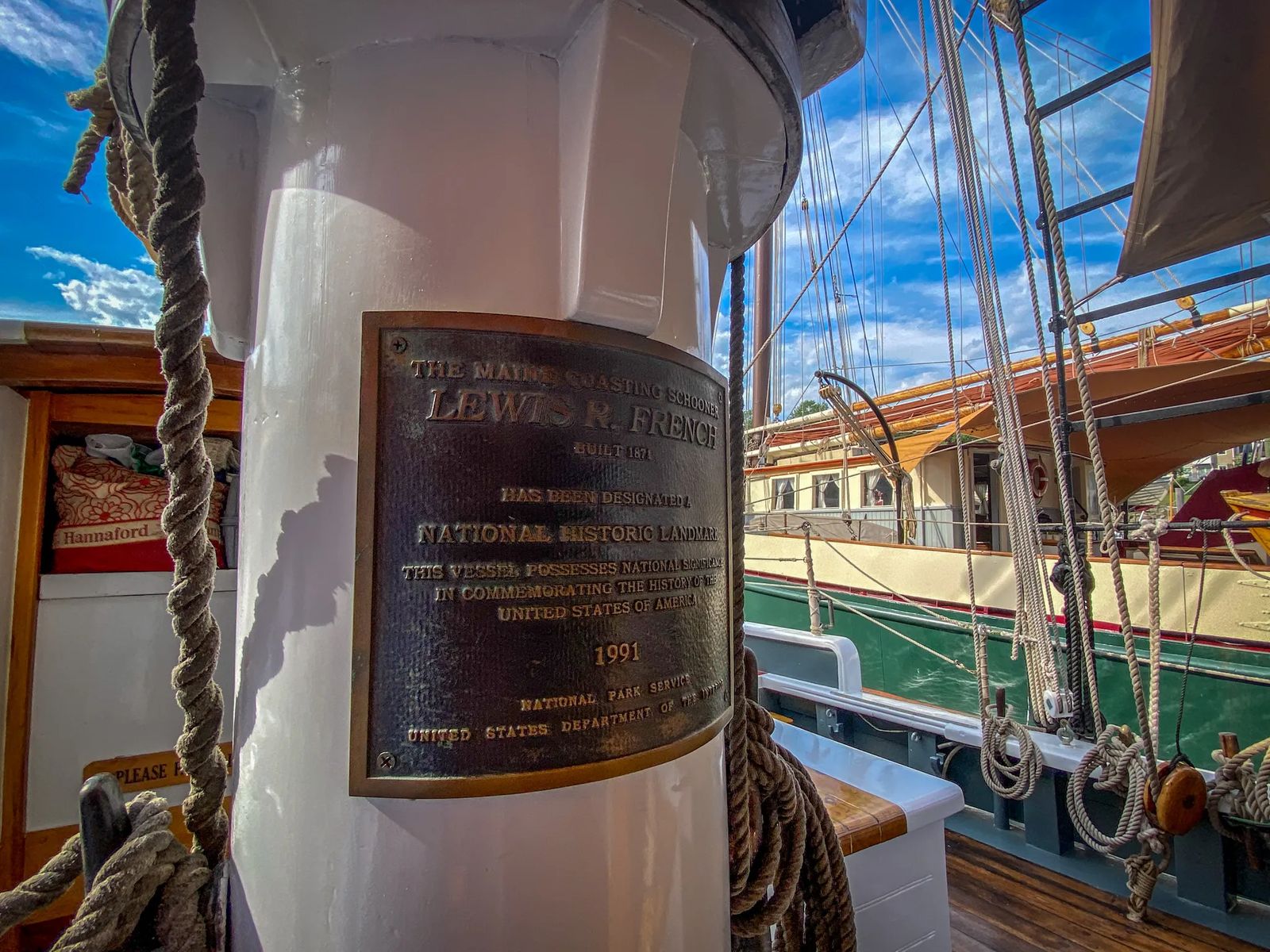 Early History of the Lewis R French
The Lewis R French started as a project in the backyard of the French brother's home. It was difficult to fund the building of the ship due. This is in the same decade that America was still recovering from the Civil War, the light bulb and telephone were being developed. After an intense financial struggle, their Dad stepped in and helped them complete the project, after which the boys named the ship after him....and thus Lewis R French was born....well....born again as a ship.
The Lewis R French was launched in 1871 and stands 101 feet tall with a 65-foot deck and a 19-foot beam that draws 7.5 feet with a full keel (tilt). It was launched from Christmas Cove in Maine and returns frequently to pay homage to its antique beginnings.
The ship spent 8 years as a fishing schooner, and has carried cargo from bricks, lumber, firewood, granite, fish, lime, canning supplies, Christmas trees, and humans! Let's lay it all out for you though, because once you look at the timeline of it all - it is amazing that the ship is in as good of shape as it is.
After launching in 1871 the Lewis R French was a fishing ship and then used as a coastal cargo ship from 1905-1924.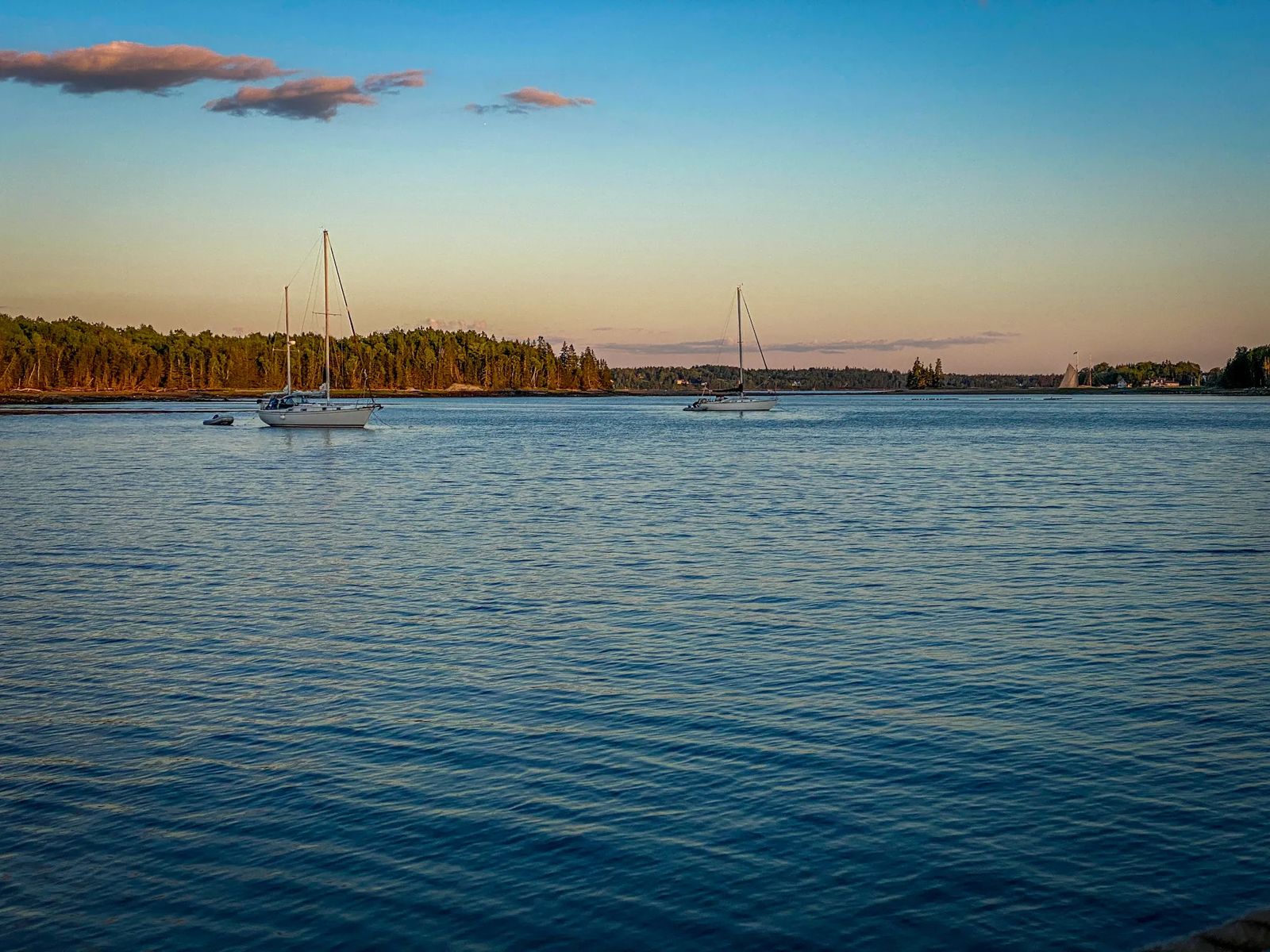 The Lewis R French in the 1900's
It was in 1924 when the first gasoline engine was installed on the Lewis R French, This allowed it more maneuverability through the islands and channels of Maine and the tides that came with it.
After 1924 she went through vast series of changes from cutting bricks, getting lit on fire by the new gas engine, rebuilt, then turned into a sardine carrier. After being a sardine terrier you can imagine the smell. So there were massive renovations and restorations that happened, eventually turning it into a passenger ship in 1973.
After so many years, so many changes, and so much history that Lewis R French was awarded its best prize in 1992….becoming a National Historic Landmark. Although it was the first prize, it would not be the last as this ship will go on to win many great Schooner races.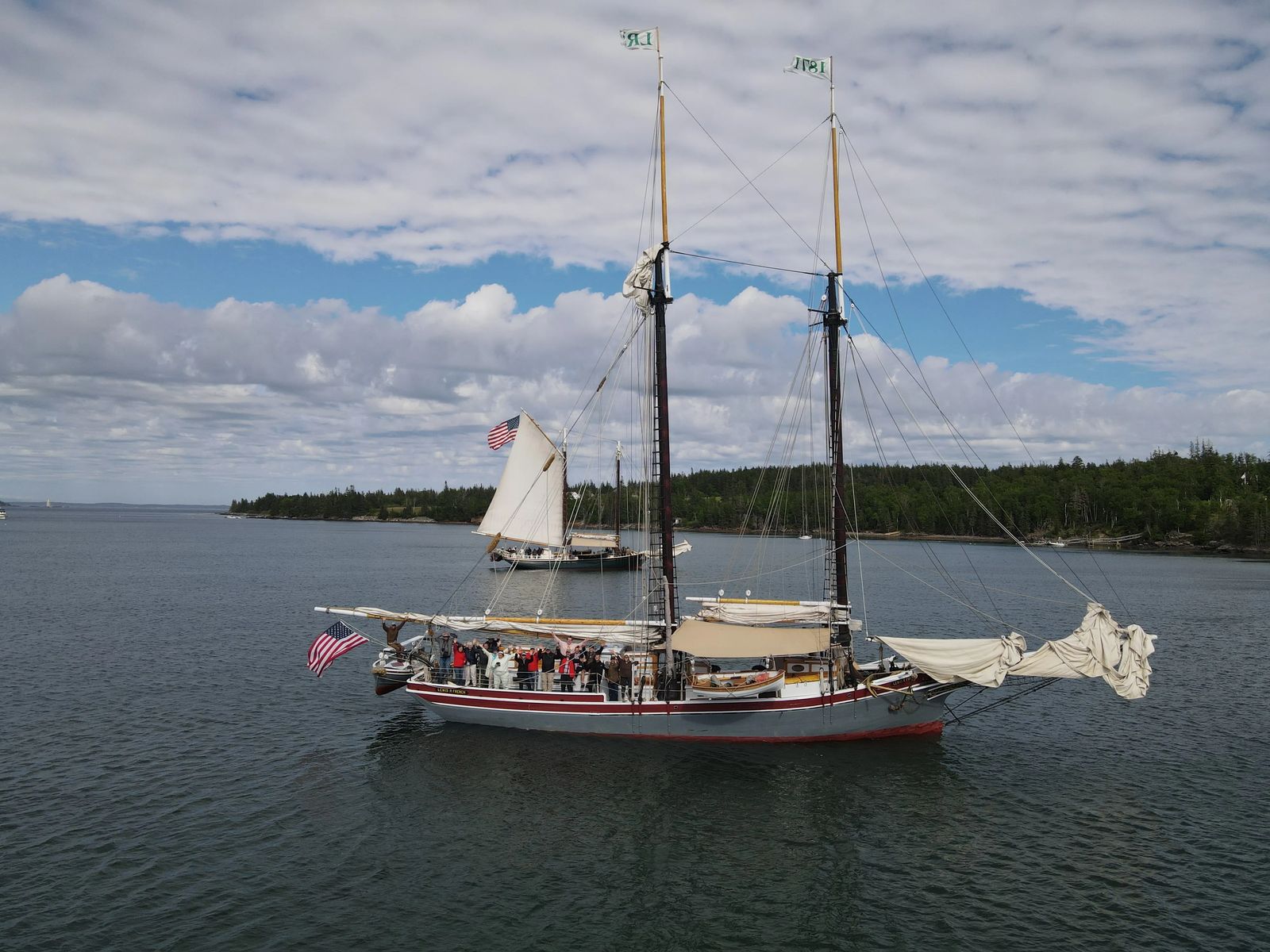 Modern Day Lewis R French Windjammer
After catching fire in the 1900s and the massive rebuild, the Lewis R French now relies on the 3000 ft.² of beautiful white sails to power it. Each sale is trimmed by hand and the anger is manually raised, we all got a turn to help raise it while we were on the ship. It really brought out my inner Jack Sparrow and made me want to buy an eyepatch just to really get into the character, lol.
I was invited to help cover the 150th birthday of this ship, while attending the Windjammer festival-it was an incredible trip and genuinely one of my favorites I've had in my 23+ years of traveling.
Commercial sailing ships like those in the Windjammer fleet provide a variety of experiences. While the cabins are tight quarters, and require going up and down a ladder backwards to get to them – it almost forces you to talk to your fellow shipmates. Don't worry, for those who are claustrophobic, there were several people on the ship who said if you keep your door slightly cracked there are no issues.
Sailing is not just a unique and off-the-beaten-path experience, it is also a way to continue cruising in a completely sustainable way. Most ships are equipped with a small motor boat to push is along though, should you get unlucky with no wind and a tight schedule to get your back to your flight.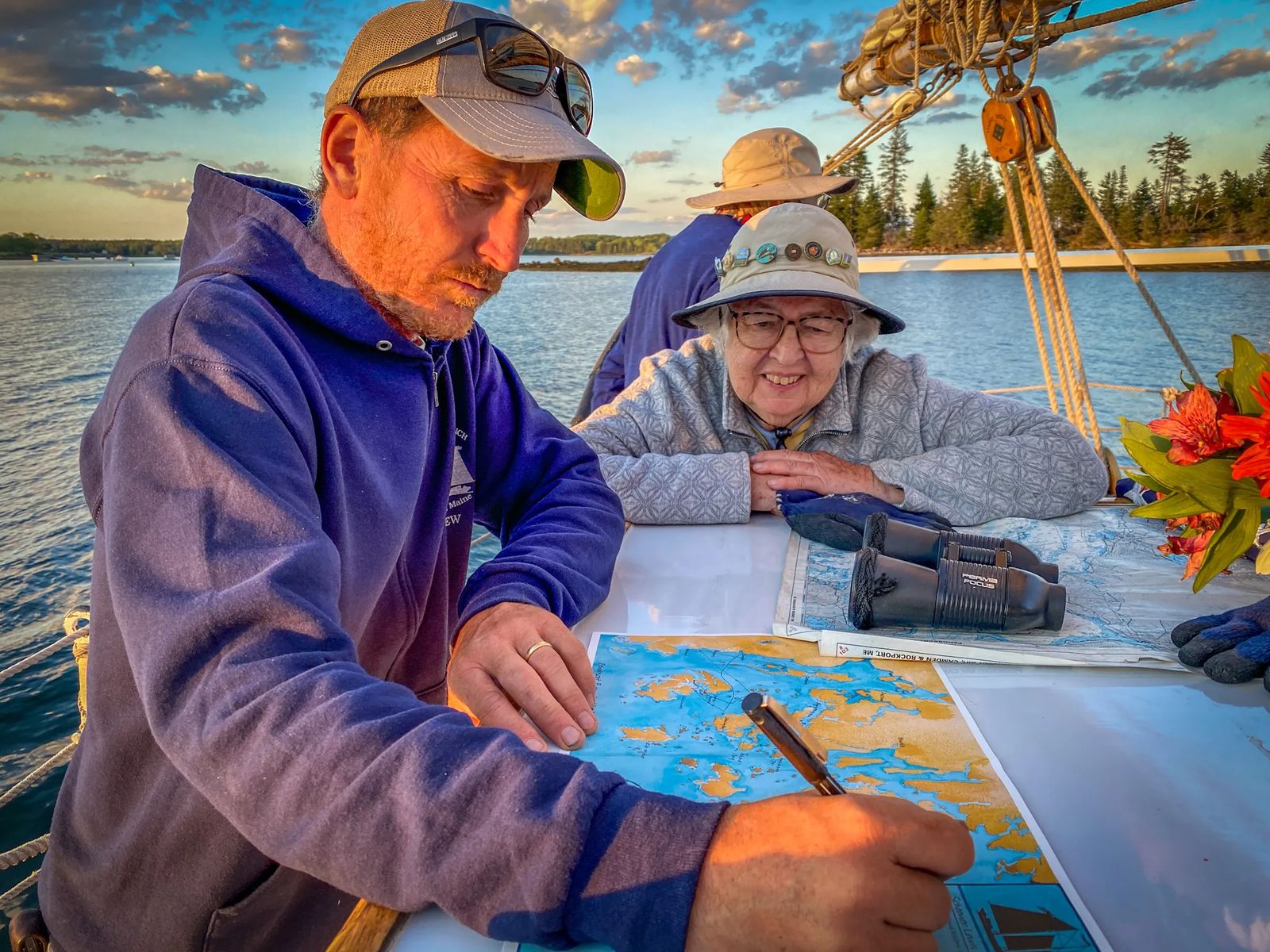 Sailing in Maine with Captain Garth
With Captain Garth at the helm, and his wife Jenny (also a Captain) we definitely felt that we were in good hands. They were incredibly warm and friendly on arrival, and their persona invited even those with anxiety to just…..chill… That is what Windjamming is all about, it is truly meditation in motion.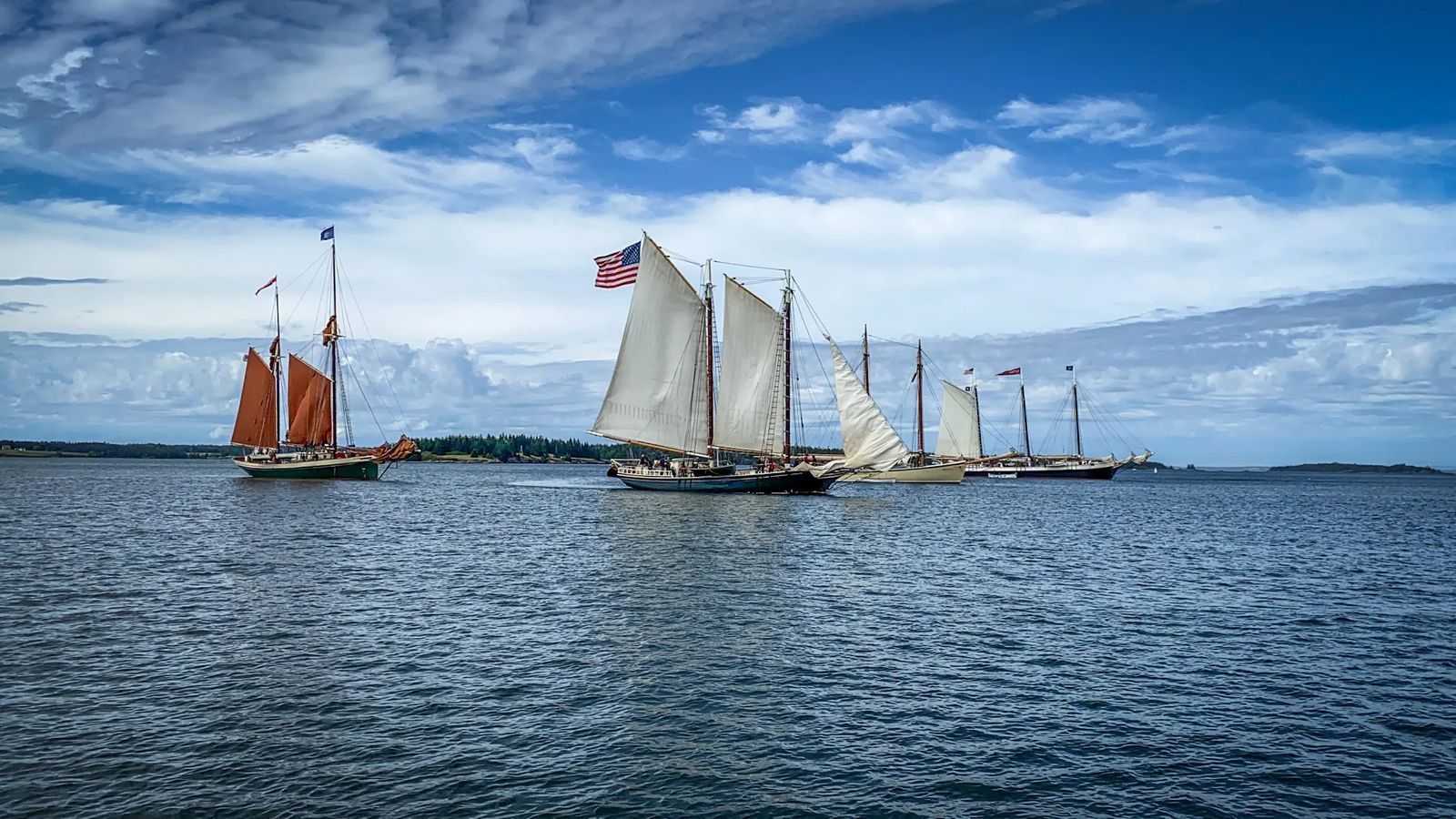 Sailing in Maine Options With The Windjammer Association
While you could do a Windjammer trip down in a sunny warm Caribbean area or in the Mediterranean, sailing in Maine is an incredibly unique experience. When the boat is moving you have the cool breeze on your cheeks, and while docked in harbor you get the warm sun.
I think Sailing in Maine is something everyone should do personally if you are interested in sailing, and being on the water. It was one of the few trips I've been able to take where I truly felt relaxed when I went to go home. I feel like that is how all trips should be, so you don't come home saying, "I'm exhausted, I need a vacation from my vacation". Don't tell me you haven't experienced that feeling at some point in your travels.
Each of the Windjammer ships has a sort of theme to it. There is also a type of passenger that would feel the most comfortable on each of those ships. Some ships have a music theme, others a food theme, some have more history to share and quirks to the boat, some have easier access to cabins. So be sure to call before booking to make sure that you will be matched with the right ship, experience, and Captain. You can find more information on the Maine Windjammer Association here.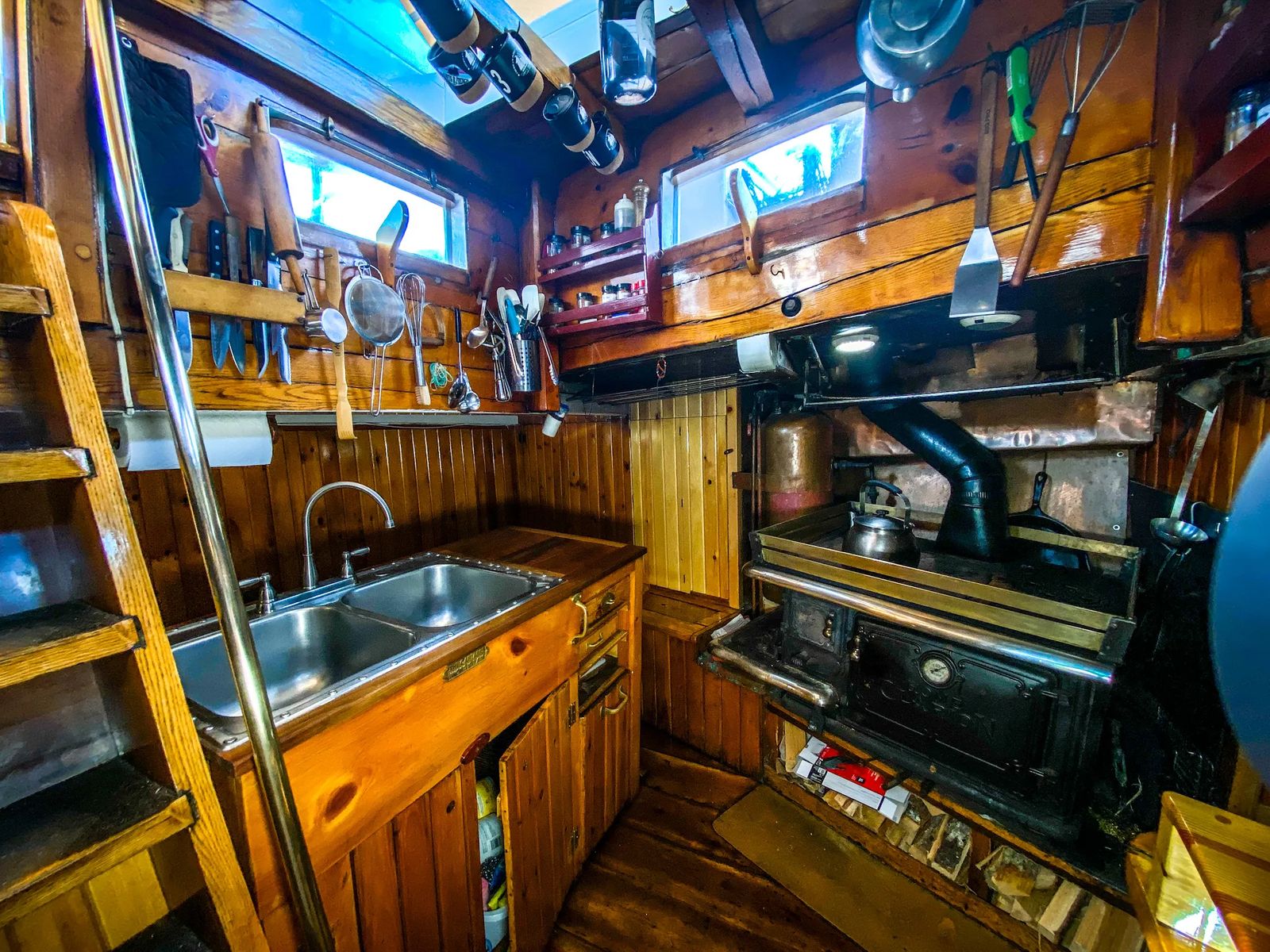 What Is A sailing Ship Kitchen LIke?
While more modern day cruises like Carnival or Celebrity cruises have massive all you can eat buffets, sailing ships do not. They do have excellent chefs who are vetted prior to being invited on board. The chefs have a particular skill set like no other, because of how much the ship tilts while sailing they have to be both a juggler and a chef.
To get straight to the point, no one felt hungry on board at any time. They give you so much food, that is incredibly hearty, that you stay full most of the day. You are typically either catching a nap, sitting on deck watching things go by, or reading a book, or swapping travel stories with fellow passengers while on board so there isn't much energy expenditure to warrant more frequent eating (yes even for the younger lads - they were always happily full.
If it's a rainy cold day the galley/kitchen is a great place to hang out because it is a woodfired stove that makes it nice and cozy to hang out there at any point during the trip. There is an endless supply of coffee, tea, hot chocolate, and boardgames. If you open any cupboard you can pretty much find any kind of snack he would want.
If you have specific food allergies make sure to let the cook now before boarding to see if they can accommodate you. I have a very odd allergy to bell peppers and they were more than happy to accommodate that. They also accommodate two vegetarian options, as well as lactose free options. They do have a cooler on board that you can put your own food in as well should you have very specific and complicated allergies.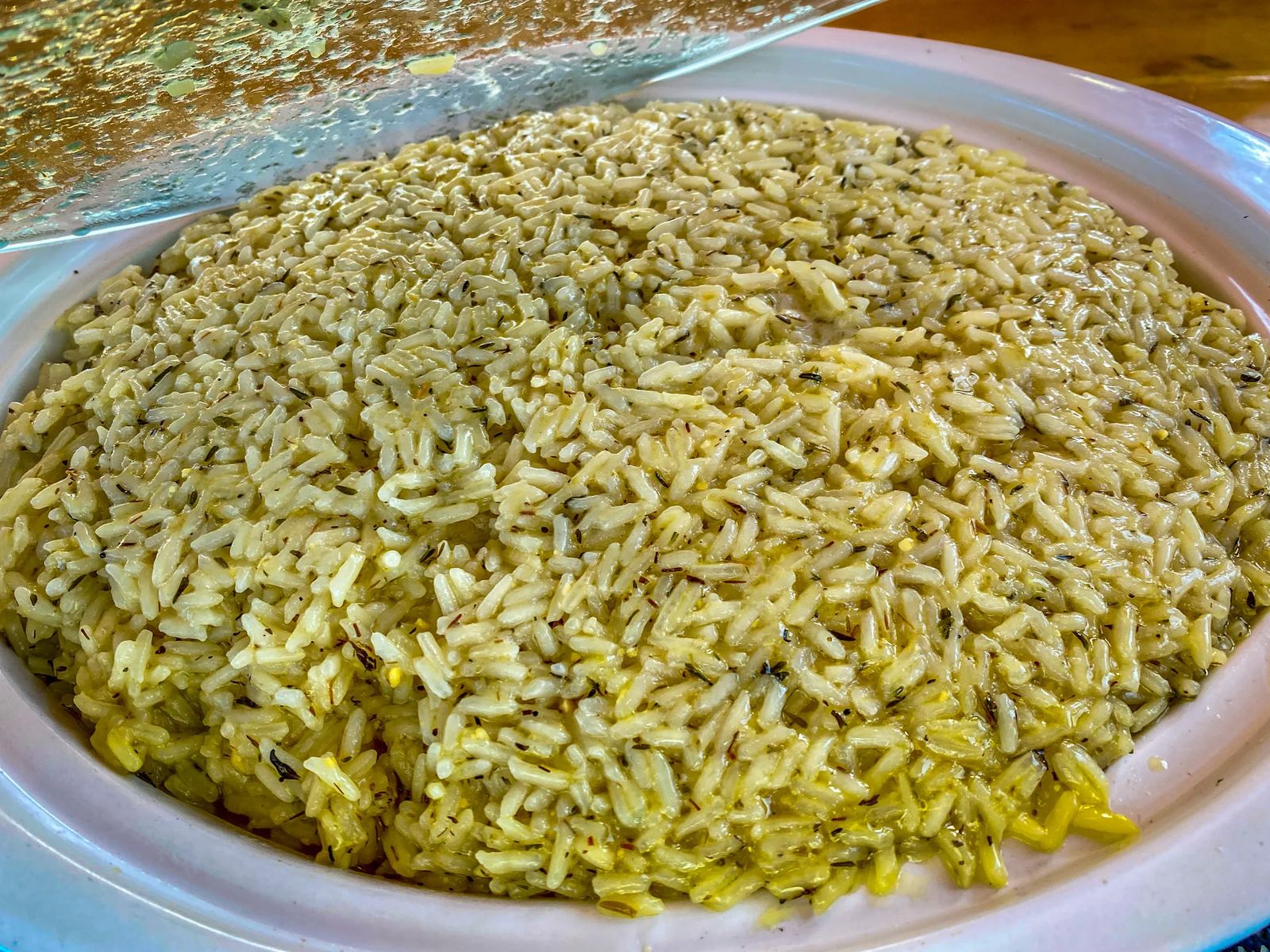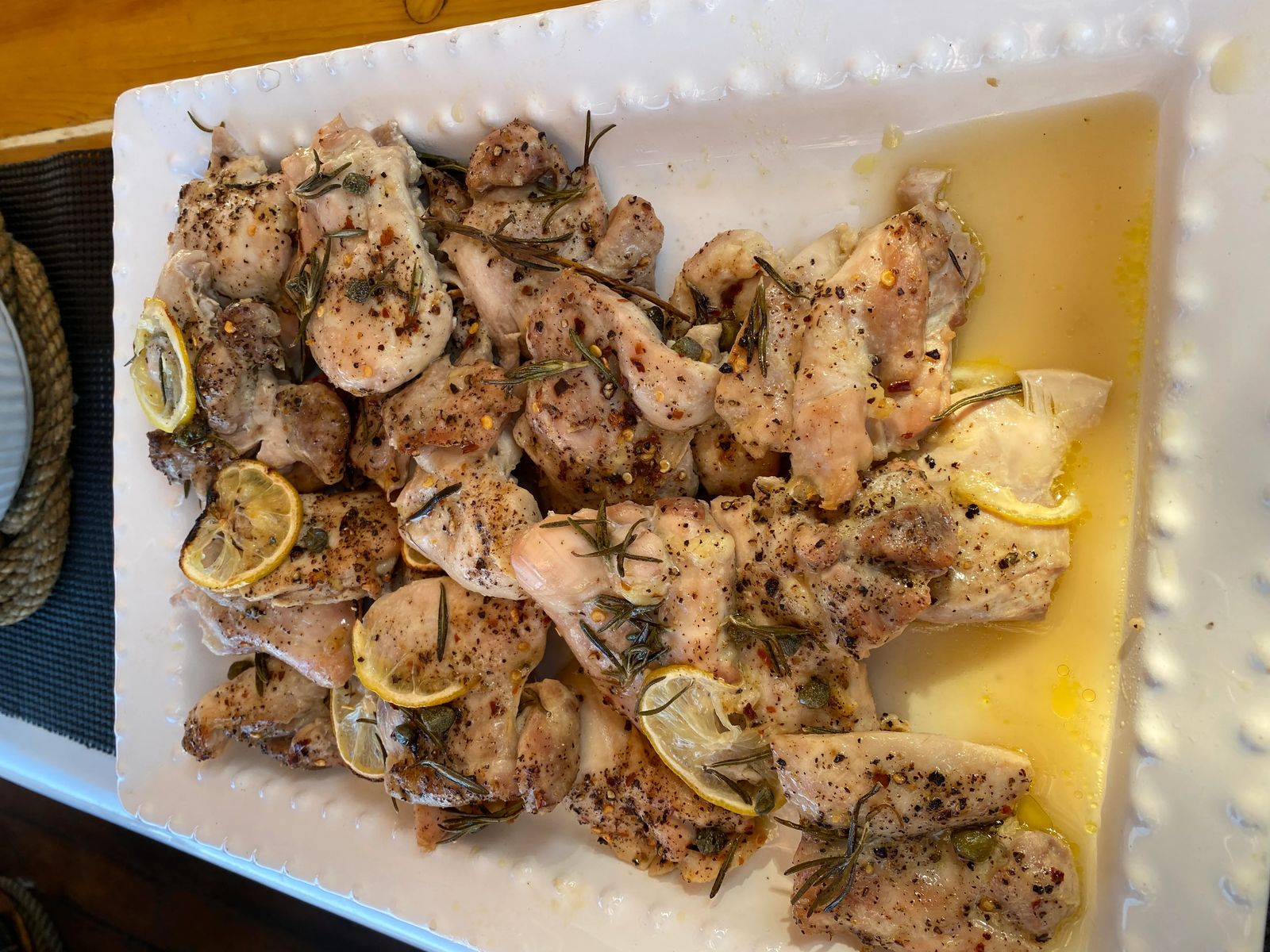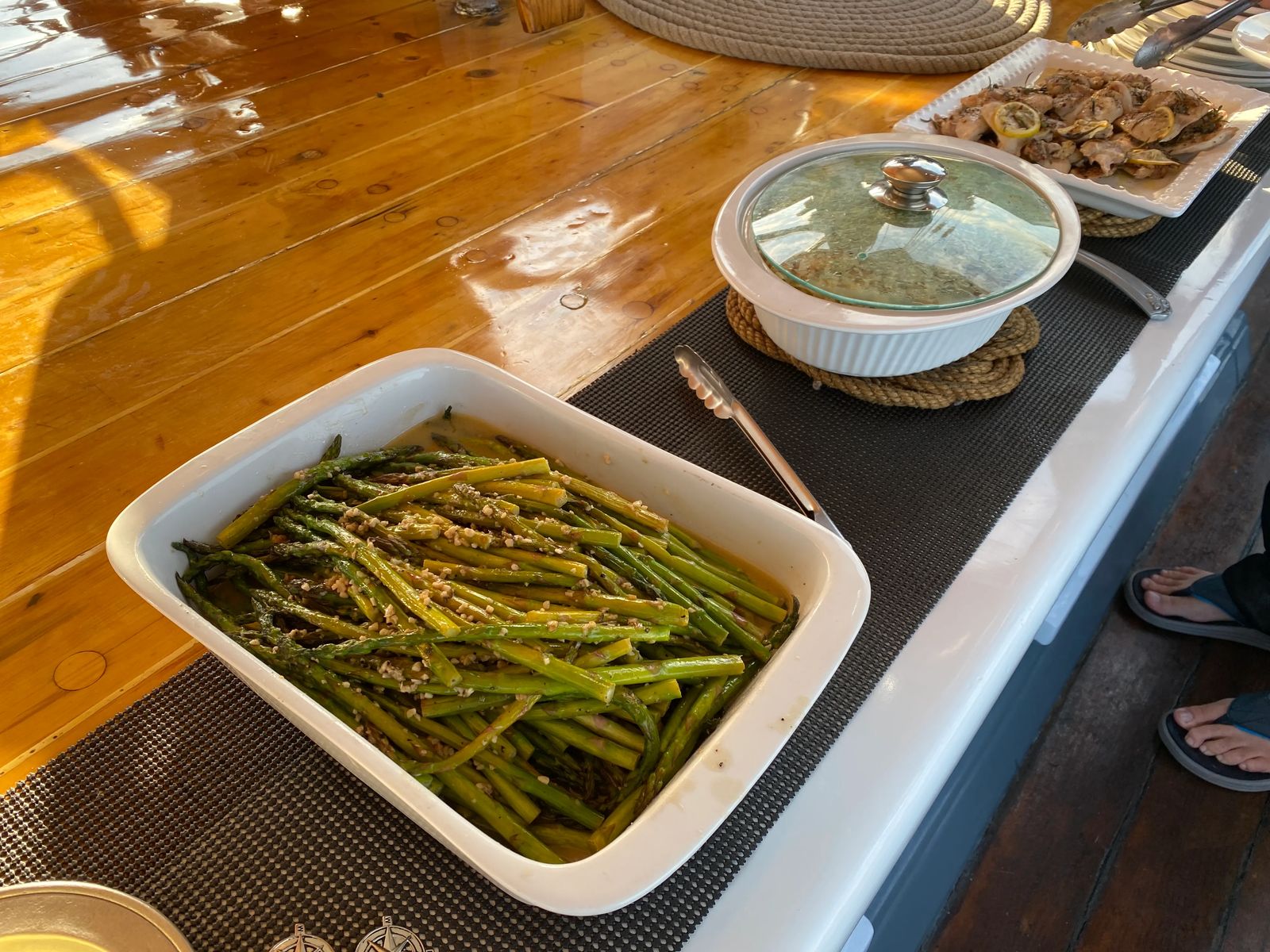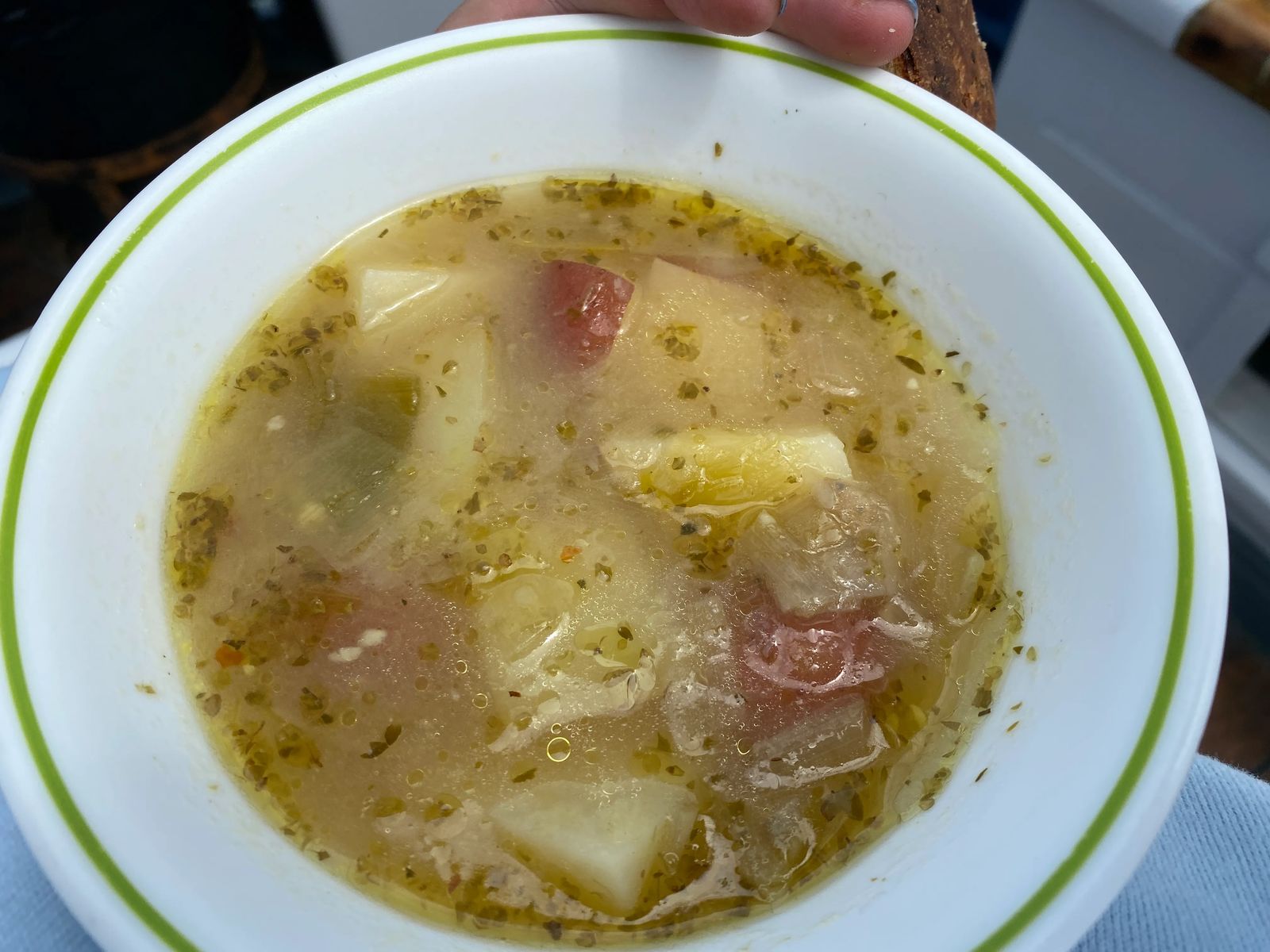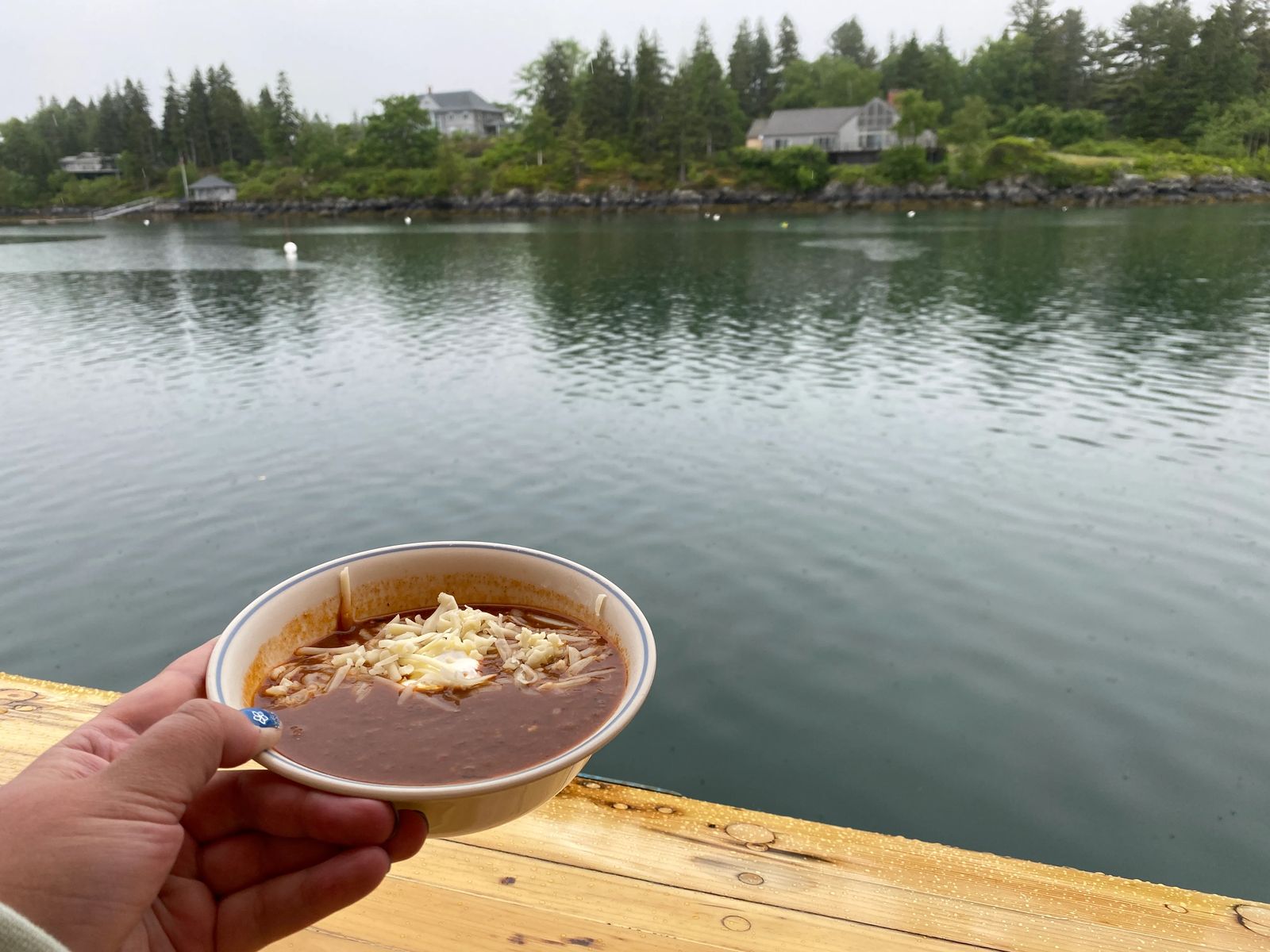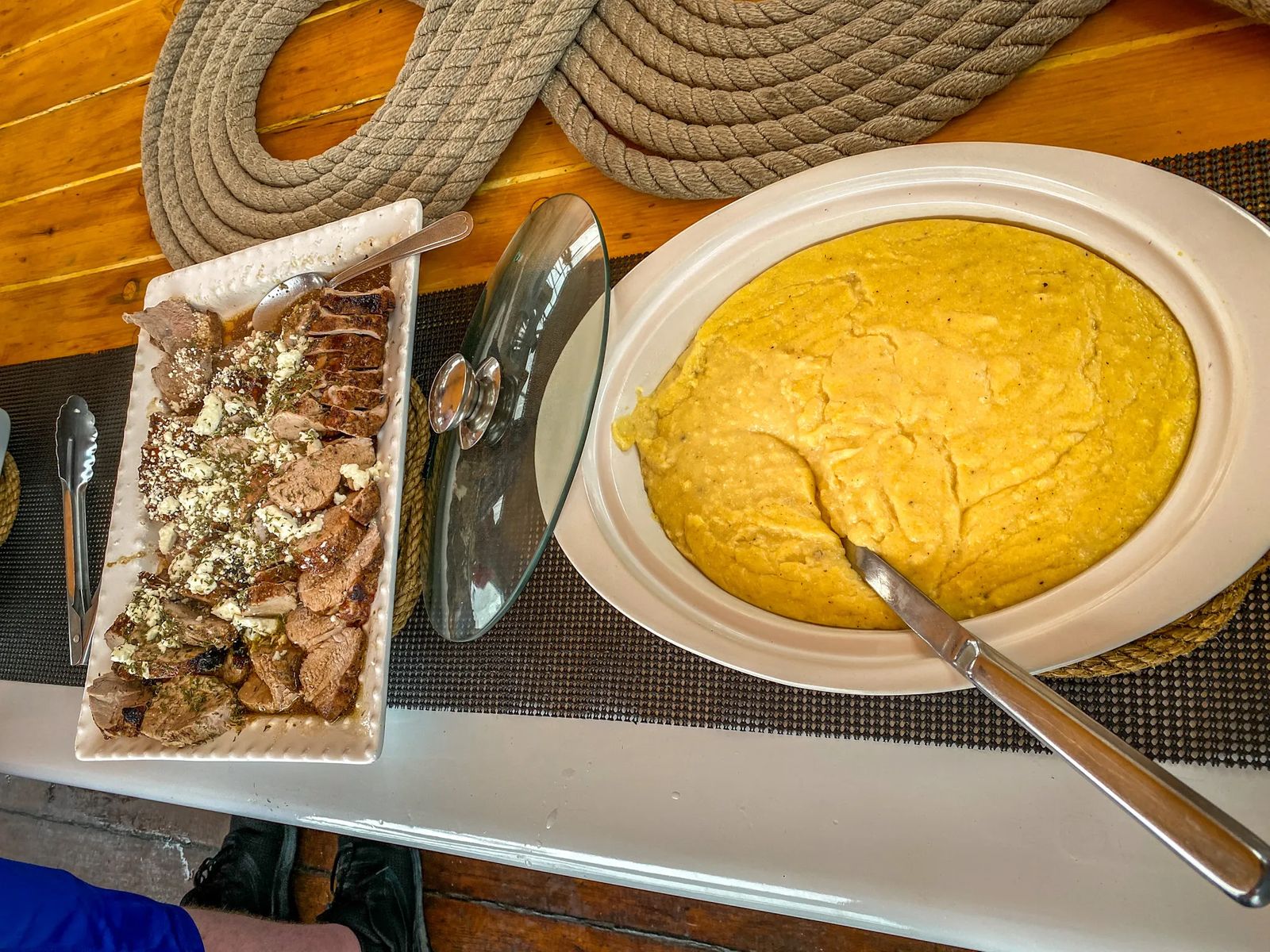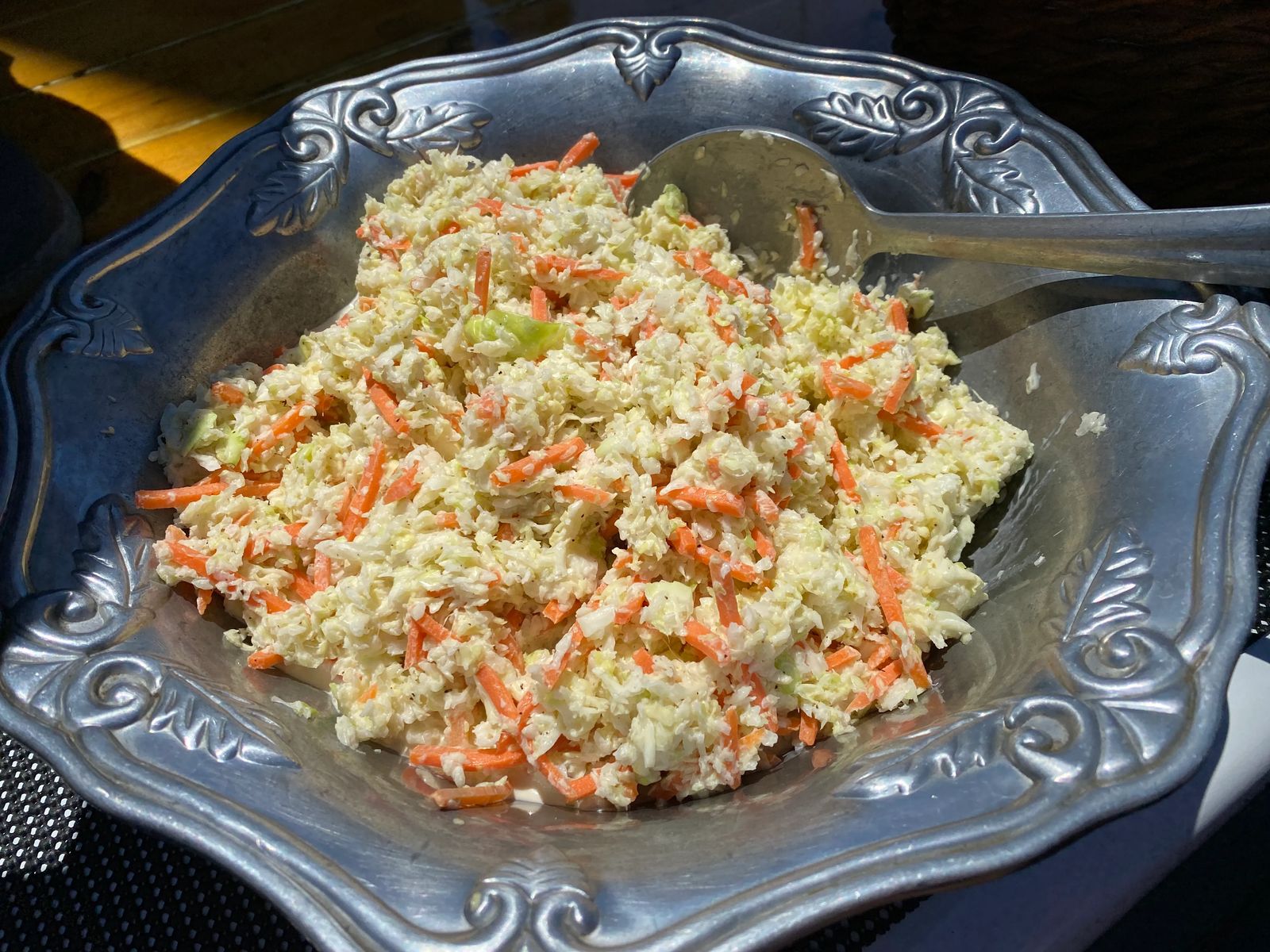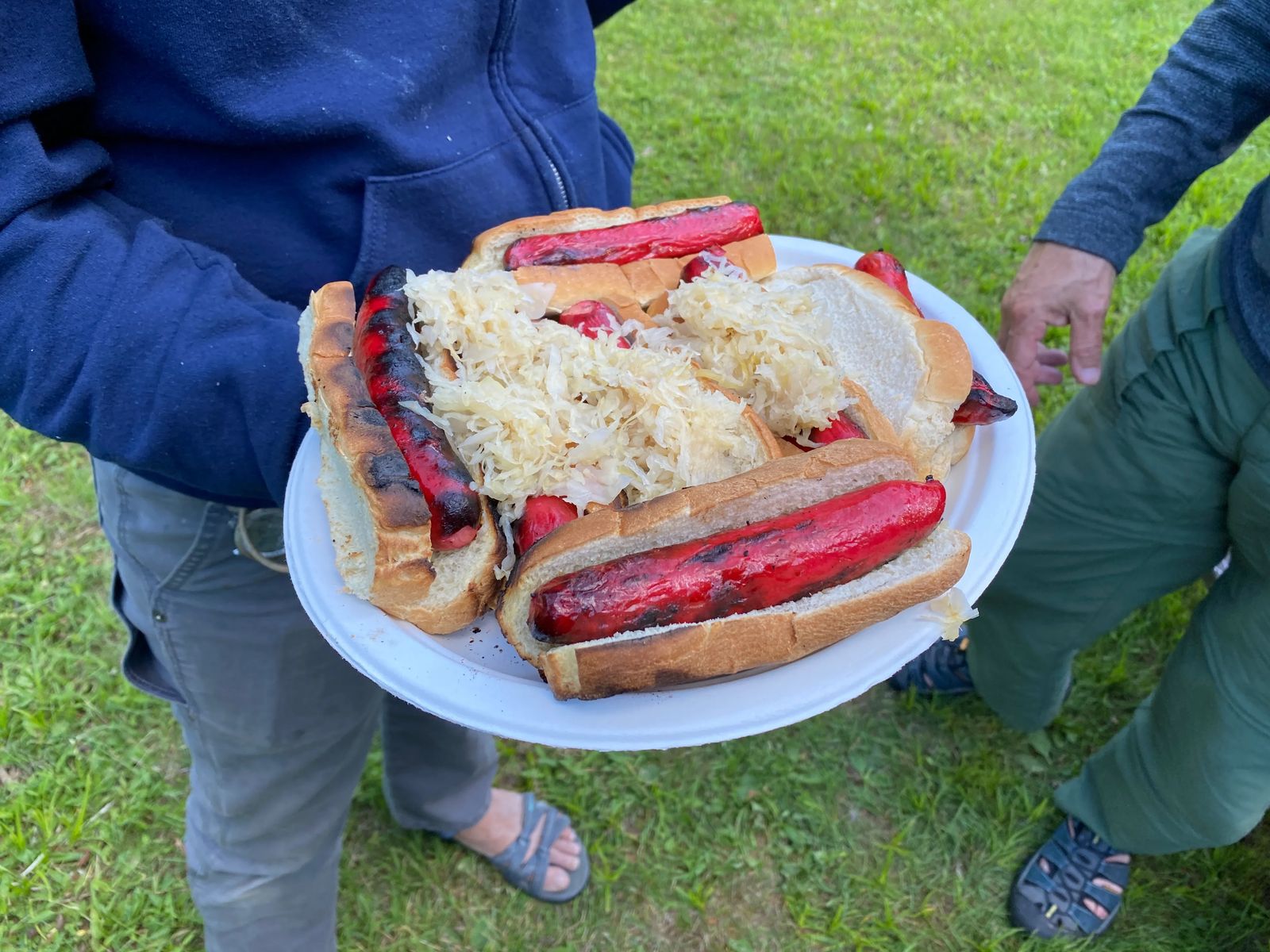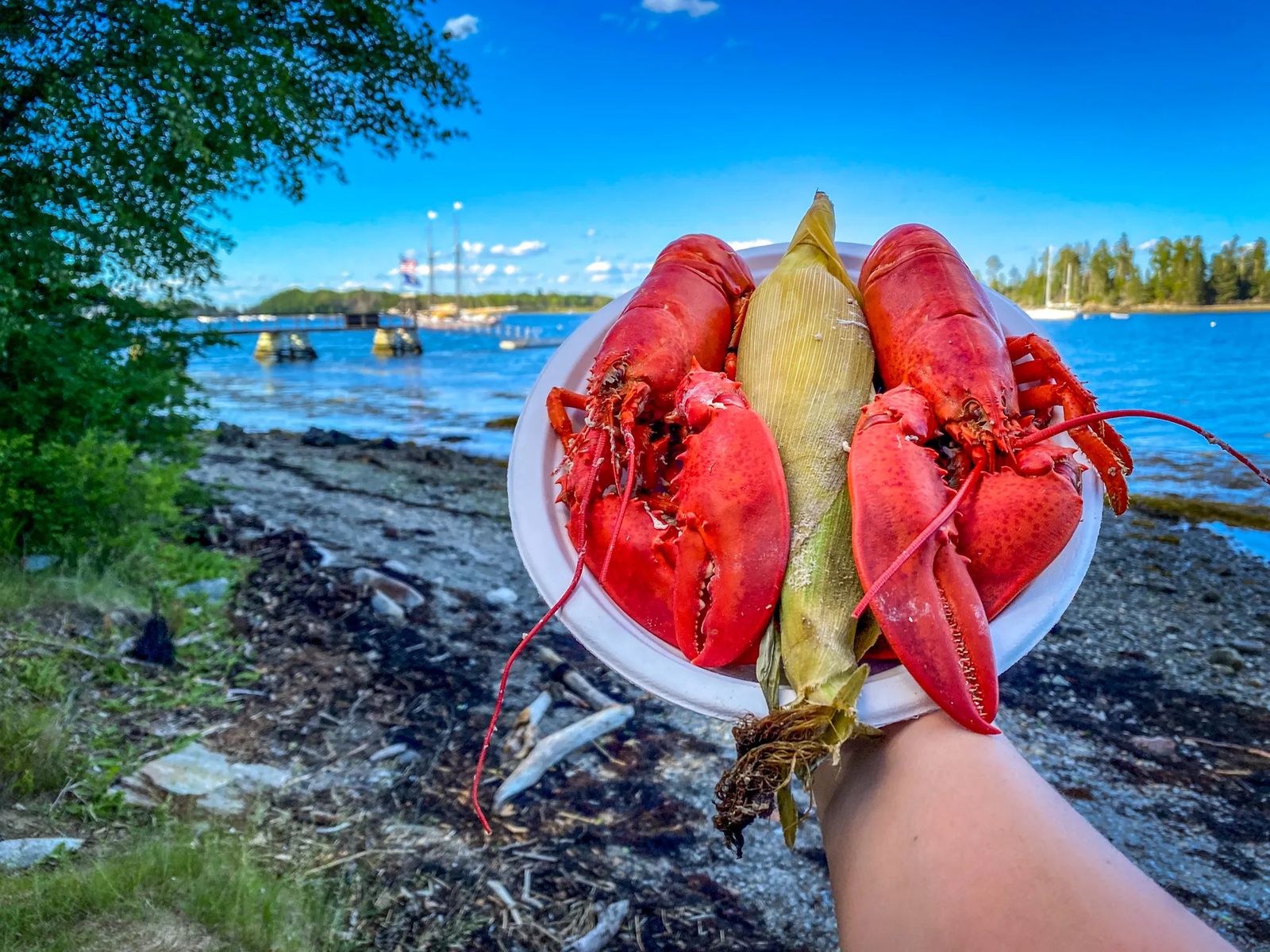 What Is The Food Like On A Windjammer Ship?
While each day and each chef will be different depending on the type of ship you decide to sail on, here is an example of the menu that we had while on board the Lewis R French with Chef 'Nails'.
PreBoarding: Cookies, Fruit, Veggies with dip, Water, Lemonade, Coffee
Day 1
Breakfast : Blueberry Pancakes, Cranberry Muffins
Lunch : Potato Leek Soup, salad with tomato and onion, and balsamic vinegar
Dinner : Lemon caper chicken, rice with Thyme and chicken stock, Garlic Asparagus
Day 2
Breakfast : Cinnamon muffins, eggs, asparagus, pineapple, other fixings
Lunch : Chili, buttermilk cornbread, Caesar Salad with anchovies
Snack : flatbread with clams, oysters, thyme, honey,
Dinner : Pork Loin with balsamic vinegar and Feta with creamy cheesy Polenta
Day 3
Breakfast : French Toast, Berries, Honey Ham, coffee, Tea, Lemonade
Lunch : Corn Chowder, Coleslaw, Cheddar Cheese Biscuits
Dinner : Lobster Bake. Red Hot Dogs (crispy and snap apart slightly more spicy than regular hot dog - it is a Maine staple apparently), sauerkraut, hamburgers, watermelon, pringles, pickles, corn on the cob steamed with the lobster, s'mores, lobster with butter - not just one but all you can eat pretty much. Pro Tip: Don't eat anything until after lobster is gone.
Day 4
Breakfast: Coffee, Muffins, Snacks prior to deboarding the ship around 9-10 am.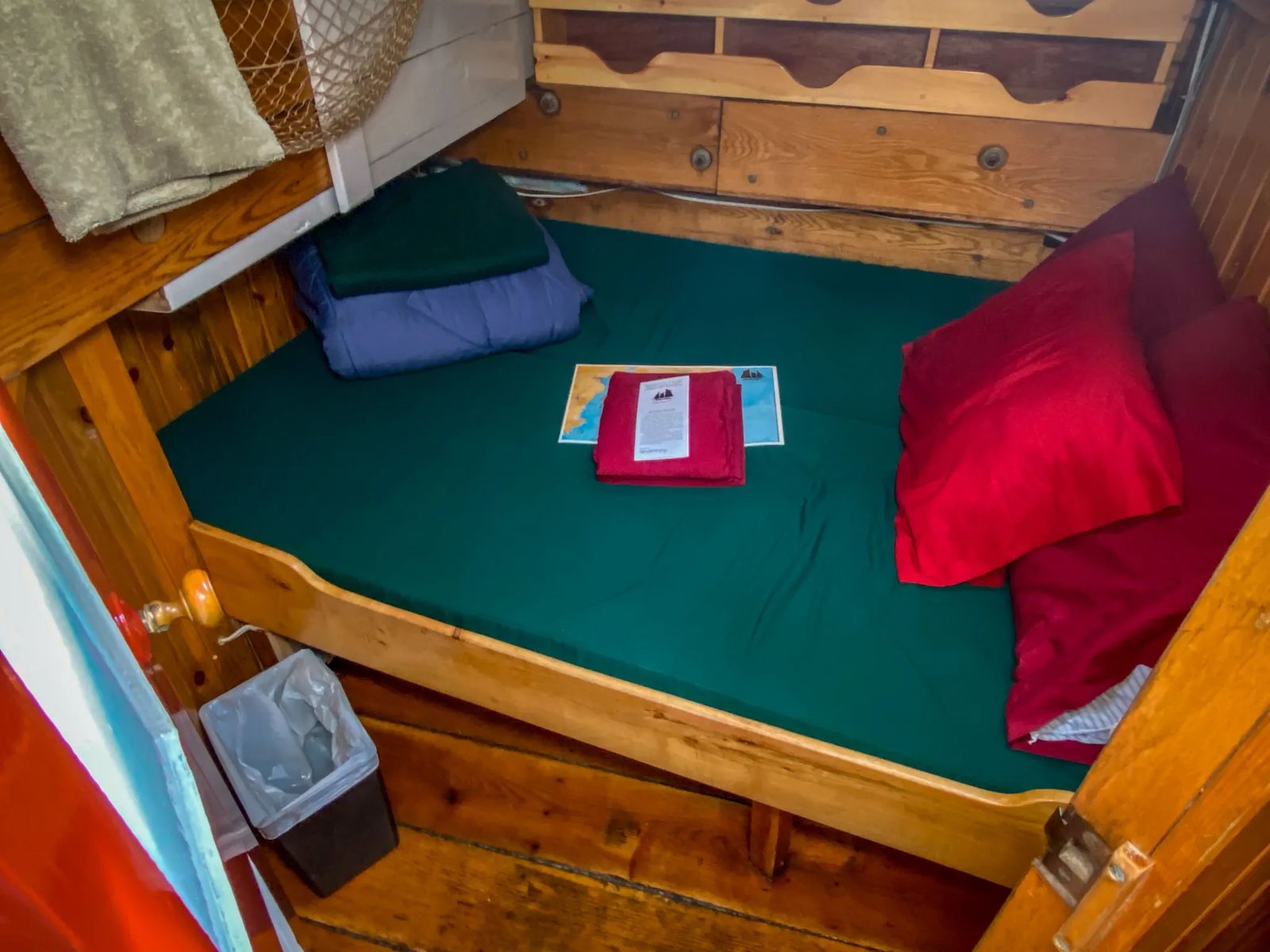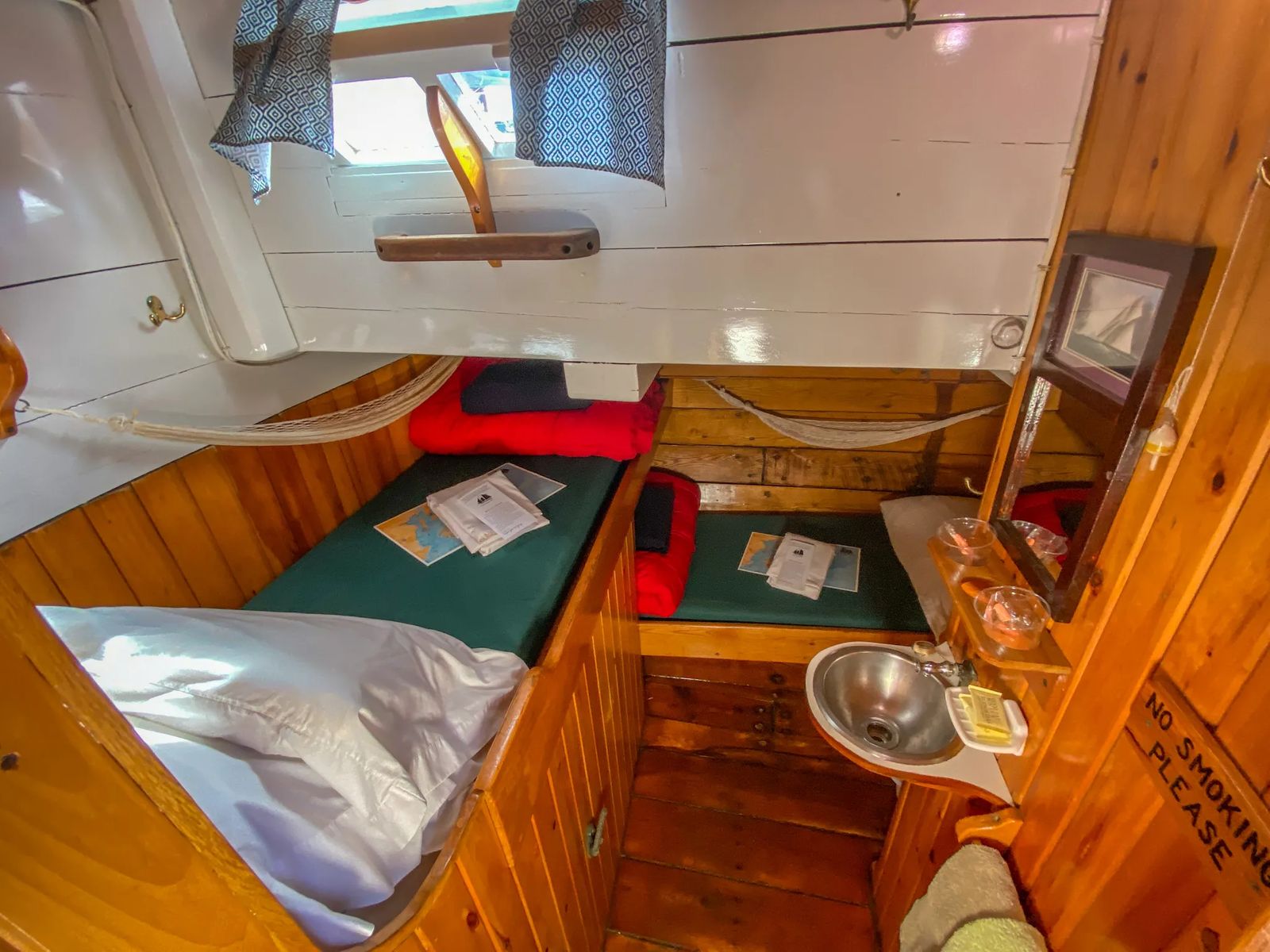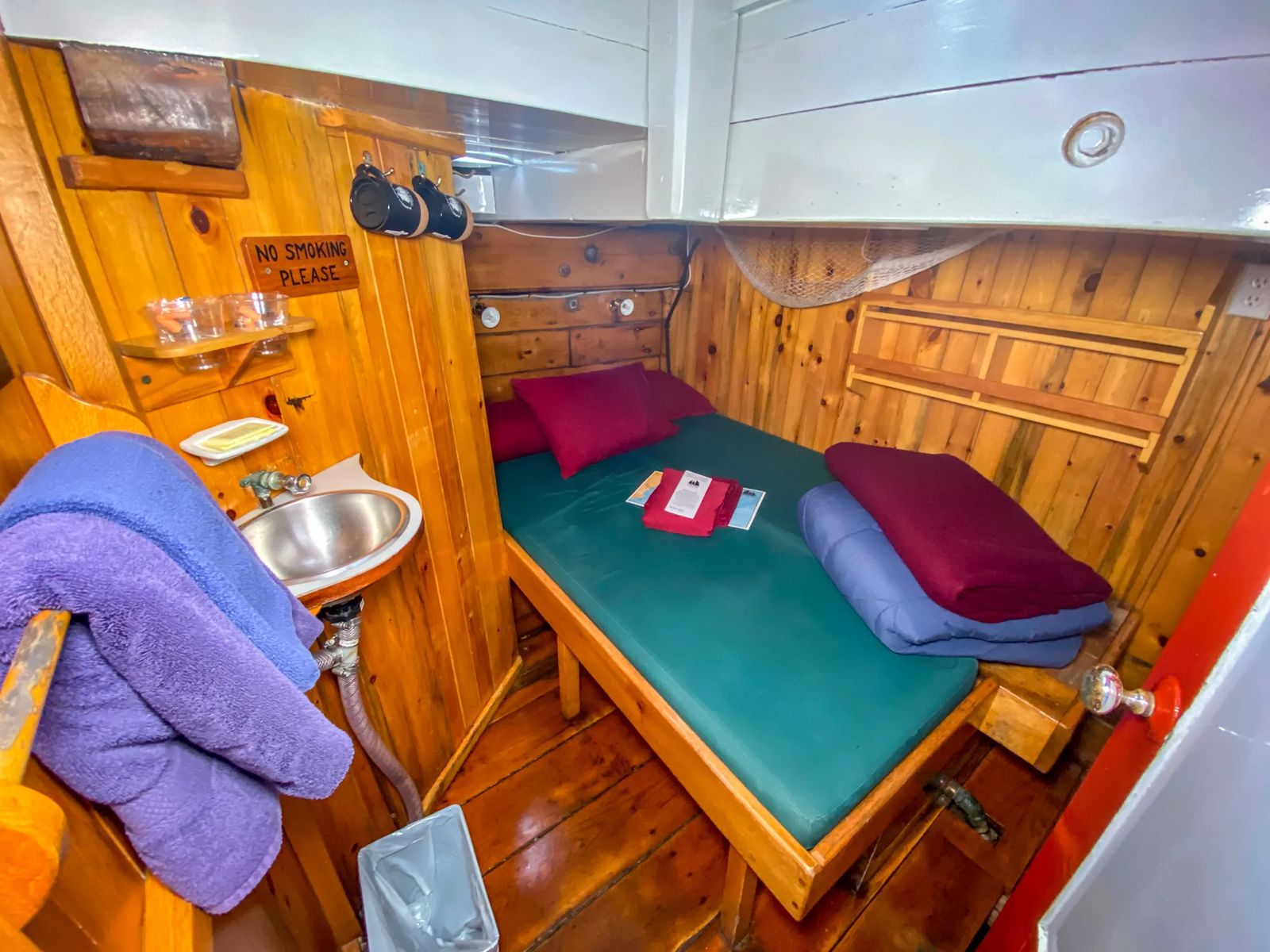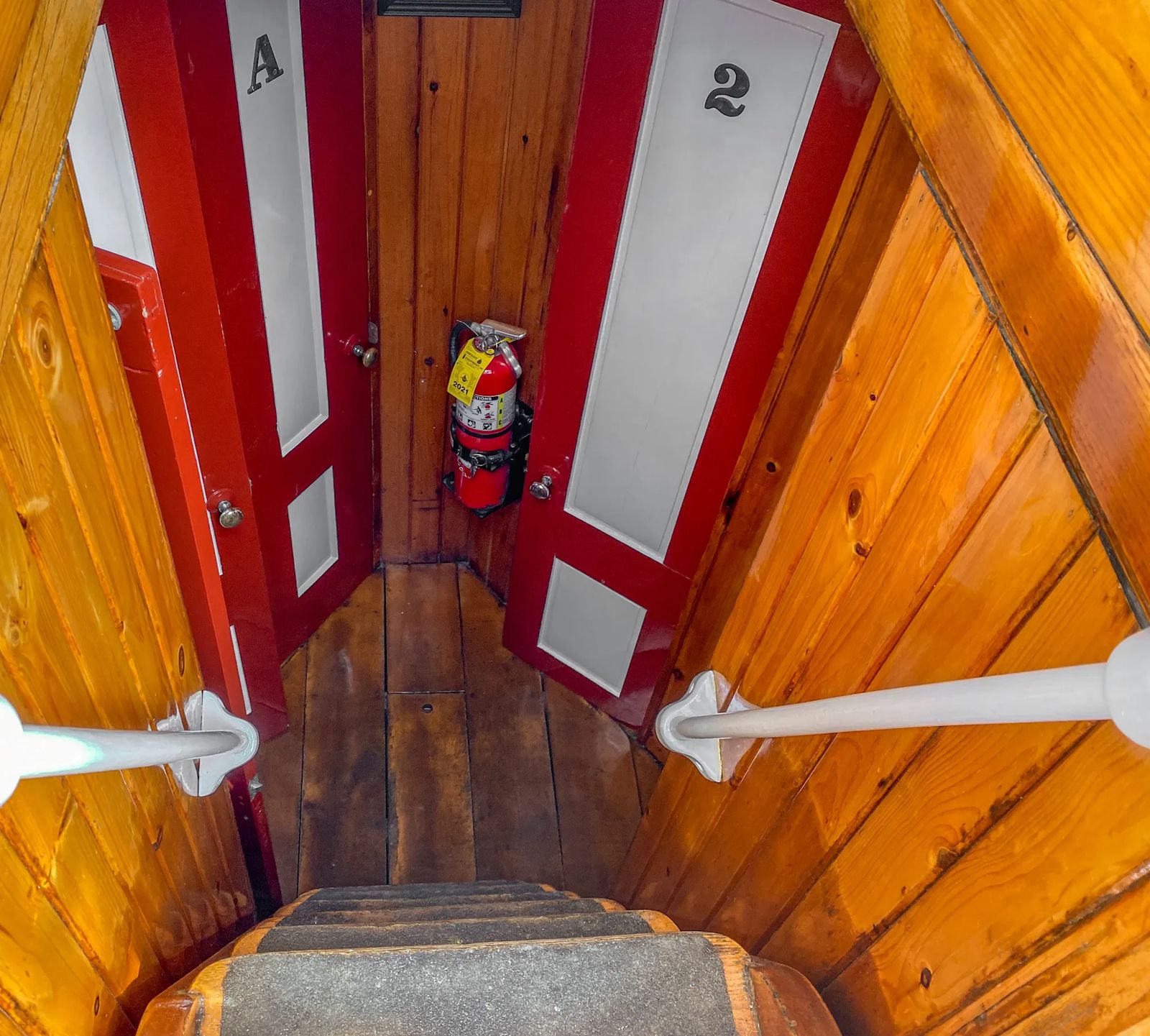 What Are the Accommodations Like On A Windjammer Ship?
Think of the accommodations like you are camping on the water inside of a cabin. On the Lewis R French There are three entrances to the passenger cabins. Each crewmember has a room in each of those below deck entrances. You do have to descend down into your rooms On a wooden ladder facing the ladder. The latter is far too steep to go down facing forward. For this reason I highly suggest that you pack very light, and use a backpack or duffel bag as your luggage if you're flying in. There are those duffel bags that have the rolling wheels with the telescoping handle, that's what I used and it worked out really well because it collapses enough to be able to slide under the beds.
Each bed is wooden platform, some rooms have two bunkbeds some have a queen size bed, and some have a double bed. The platforms are about 3 inches off the floor, so there is no way to store large rolling luggage. The floor space is just enough for a single person to stand in, and to dump your shoes for two people.
The bed mattress is covered in canvas and they provide bedding for each cabin. You make your bed when you come into the cabin. They also have very warm blankets that they provide as well. Each cabin has two pillows, and the mattress is around 4 inches thick.
The ceiling itself is around 6 1/2 feet tall, the door to get into your room is around 24 inches. I am a plus size gal, and just turned sideways and kind of squished myself through the door, but did it just fine. Even the skinny people had to go sideways as well, because of their shoulders.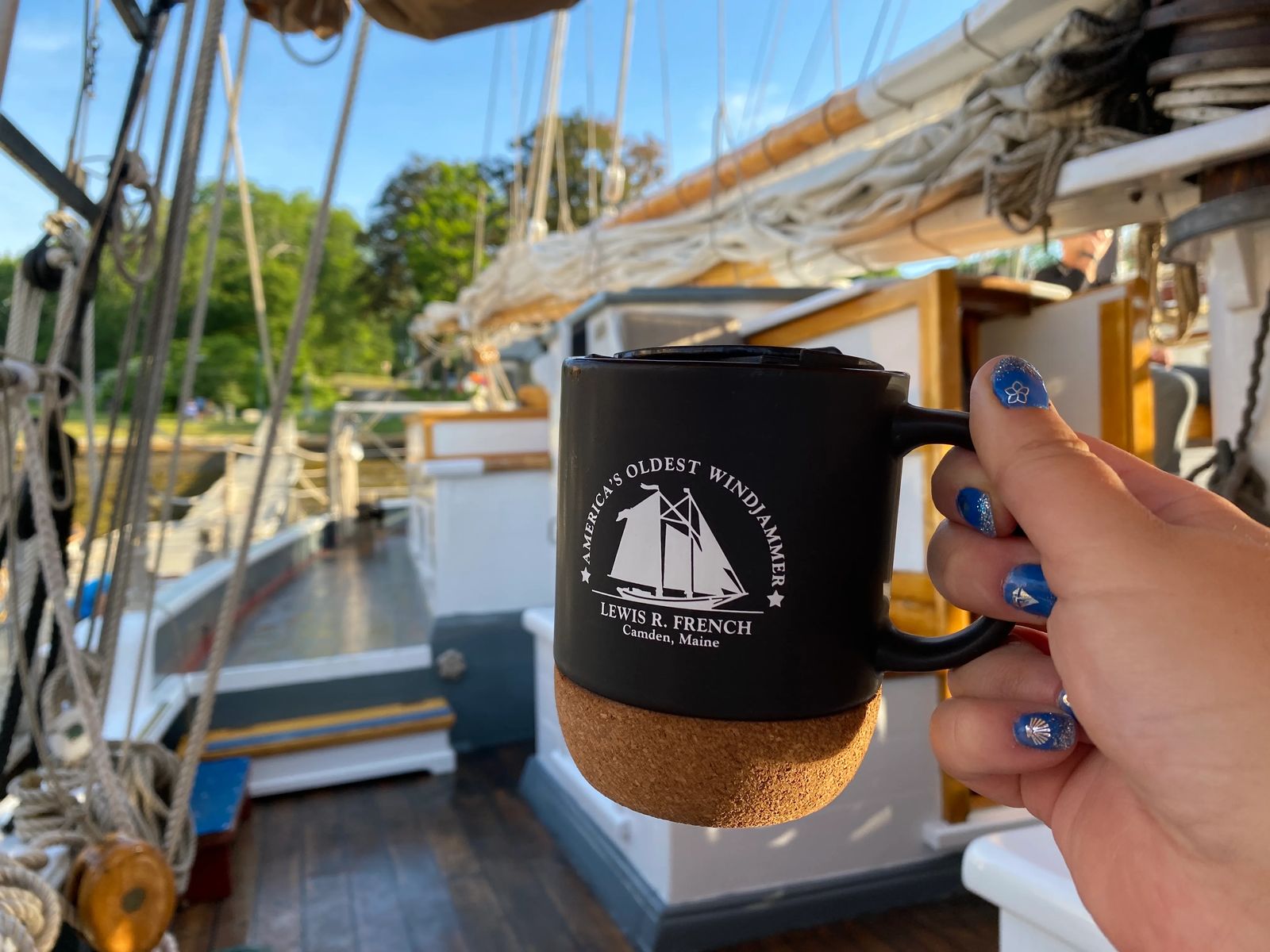 The whole ship is made of wood, apart from the obvious, so sound travels pretty well in the cabins. For this reason there is a 9 PM quiet hour, where they just ask you to whisper so that people can sleep who are early risers. Those like me who stay up late and sleep in, you do hear the early risers getting up when they go up the wooden ladders. So I would suggest utilizing the earplugs that they provide to each of the rooms when you go to sleep.
They do have small basins in each room where you can access water for washing your hands, drinking, or brushing your teeth. It only comes out in a trickle though, so if you need to wash your hands more thoroughly use the shower.
Each room comes with two coffee mugs with the logo of Lewis R French on it. It will also have your cabin number on it so that you don't lose it on deck.
PRO TIP: Don't leave your mug unattended on deck and don't leave it on a flat surface where it can slide off something while the ship is keeling (tilting while sailing). That goes for everything else on deck, if it isn't strapped down, held down, or nailed down - it has the potential to blow off or slide of, so consider this your warning.
Each cabin has a pull string light, and additional lights near the bed. There is a window that you can crack open with curtains to block out light as well.
Each cabin has a cigarette lighter type USB charger in it, they charged my phone really well – but just have to make sure the cigarette lighter is pushed all the way in when you go to charge it. If you have other devices that require a larger amount of power, like a 12 volt CPAP machine - you just have to let the captain know and he can give you a special charger for your room. The ship has batteries it runs off of, and so they limit the amount of draw from the batteries as much as possible to power the passengers through the whole trip. Think of charging things on the ship like you would for an RV.
The cabins all have a hook type lock, and the doors shut all the way so if you need privacy for a minute you can have it.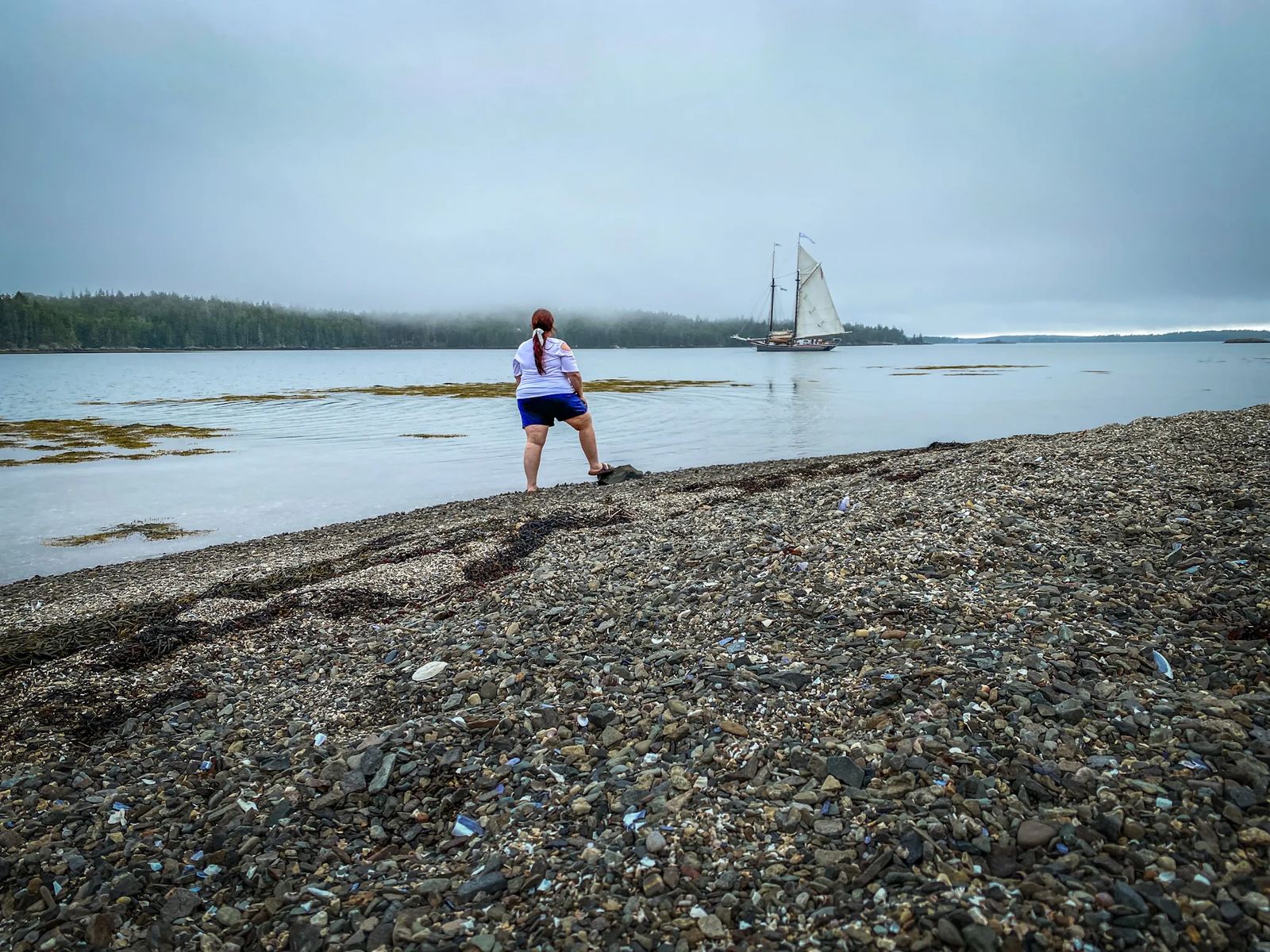 My Takeaway of Sailing On The Lewis R French
So what is my take away from a four-day cruise with the Windjammer fleet? I would absolutely go again 100%. There are a few things I would do differently though, I would bring less camera gear-just because of the limited amount of charging capacity available. I would also pack more for going camping, rather than packing for going on a yacht trip, lol.
I would bring more sweats, as well as more dry shampoo. Most people on the ship didn't shower, like you were with camping. I kept joking about being smelly, and everyone laughed and said we can't smell you over ourselves. That is the kind of relationship you will develop with your fellow passengers. Just for the record, I didn't smell anything terribly bad from my fellow passengers – including in the restrooms.
If you do need to shower they have a hot shower available, the water is warmed by the wooden stove in the galley end so make sure to wait until at least the second day to shower.
I thoroughly enjoyed my time on this trip, I loved being a part of the Windjammer festival, and helping celebrate the 150th birthday of this historic ship with Captain Garth and the crew.
Want to book your own trip? Check out the different Windjammer Association Cruises!
Have you ever been on an overnight Sailing Cruise? Do you have any additional questions I may have missed? Let me know in the comments down below. Until next time friends, happy travel tales to you.
Like it? Pin it! Sharing is Caring ;)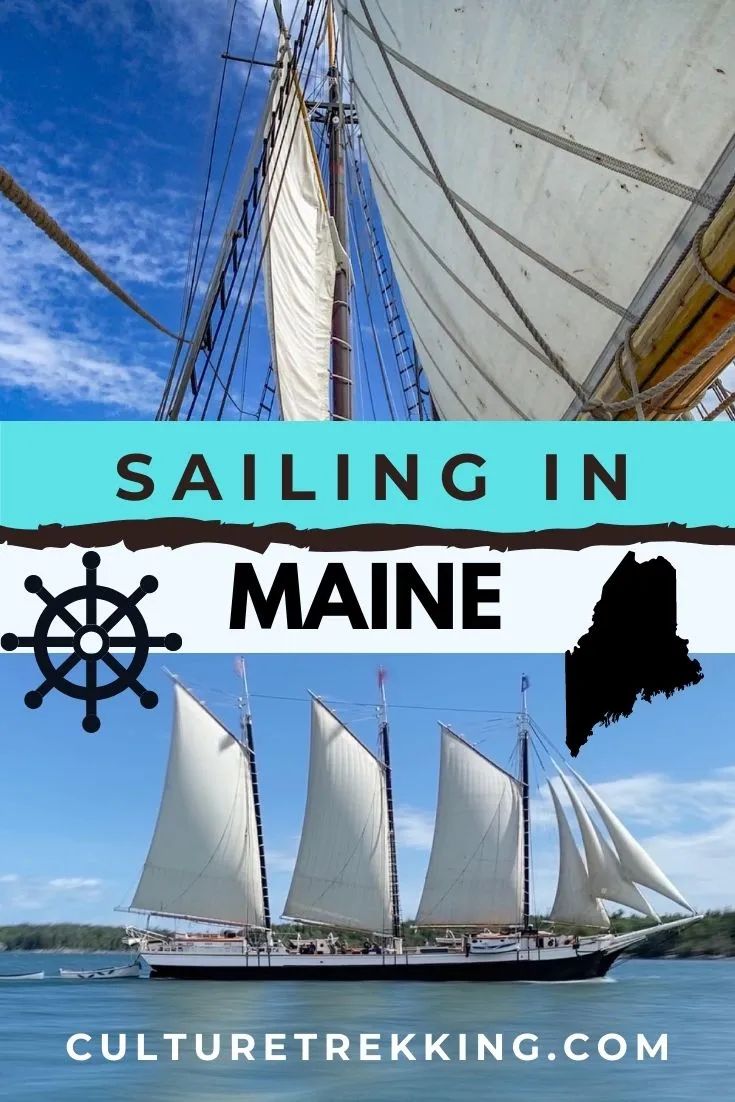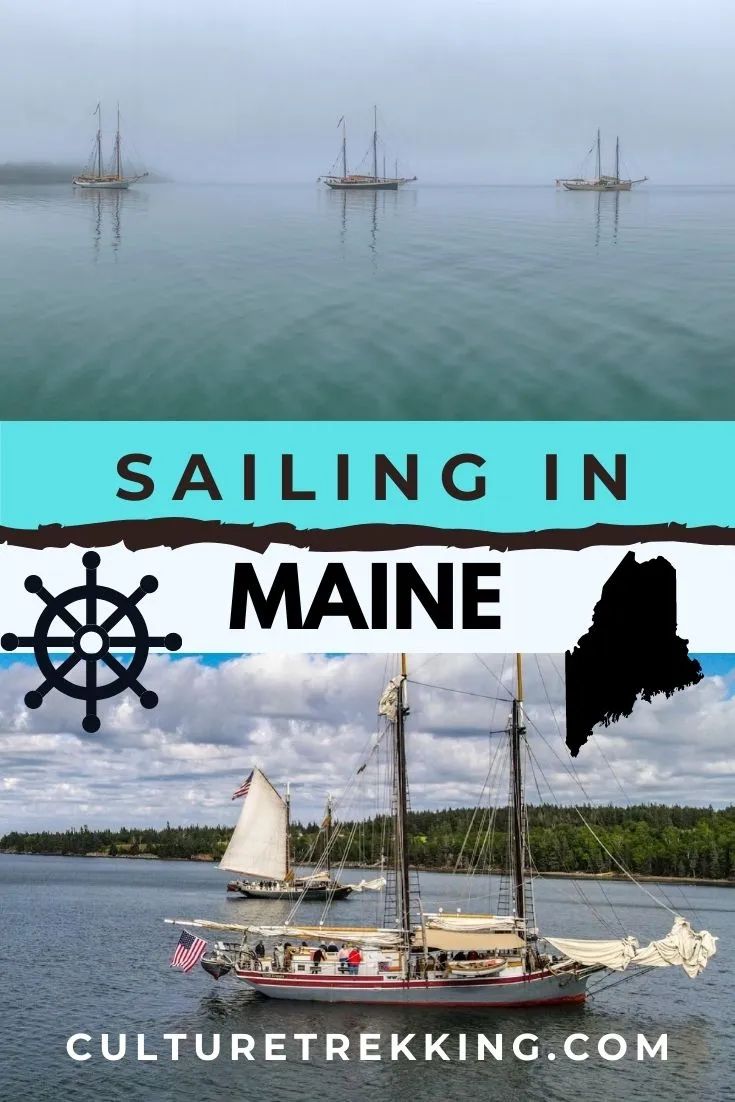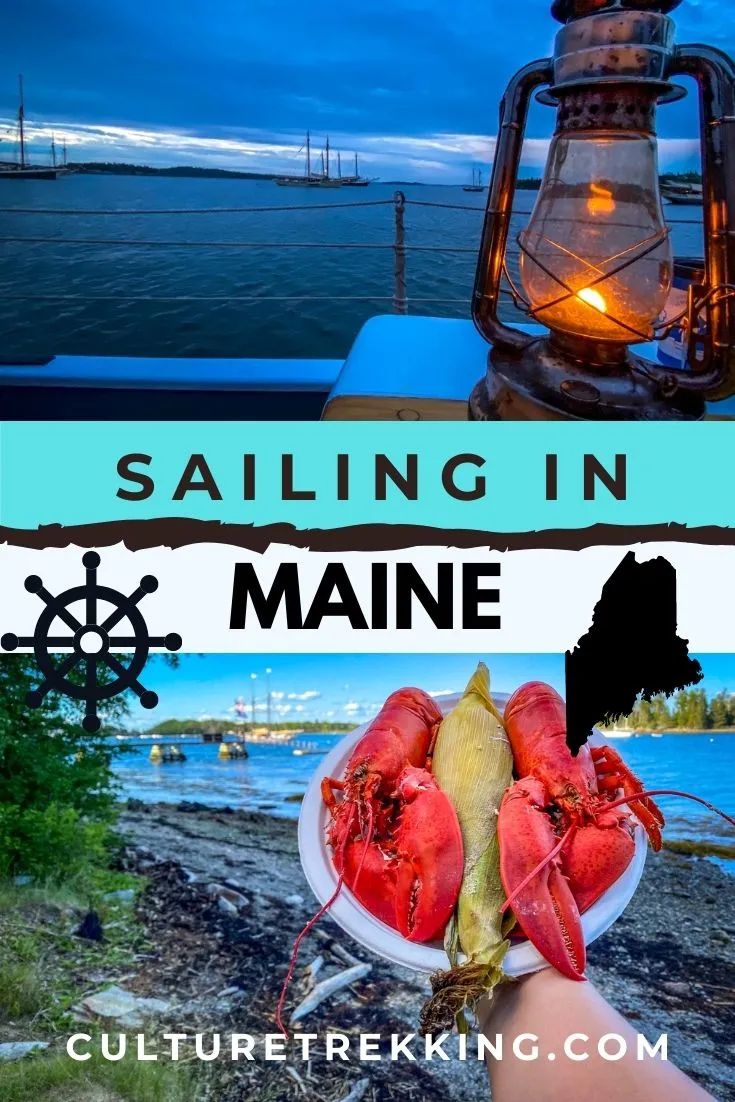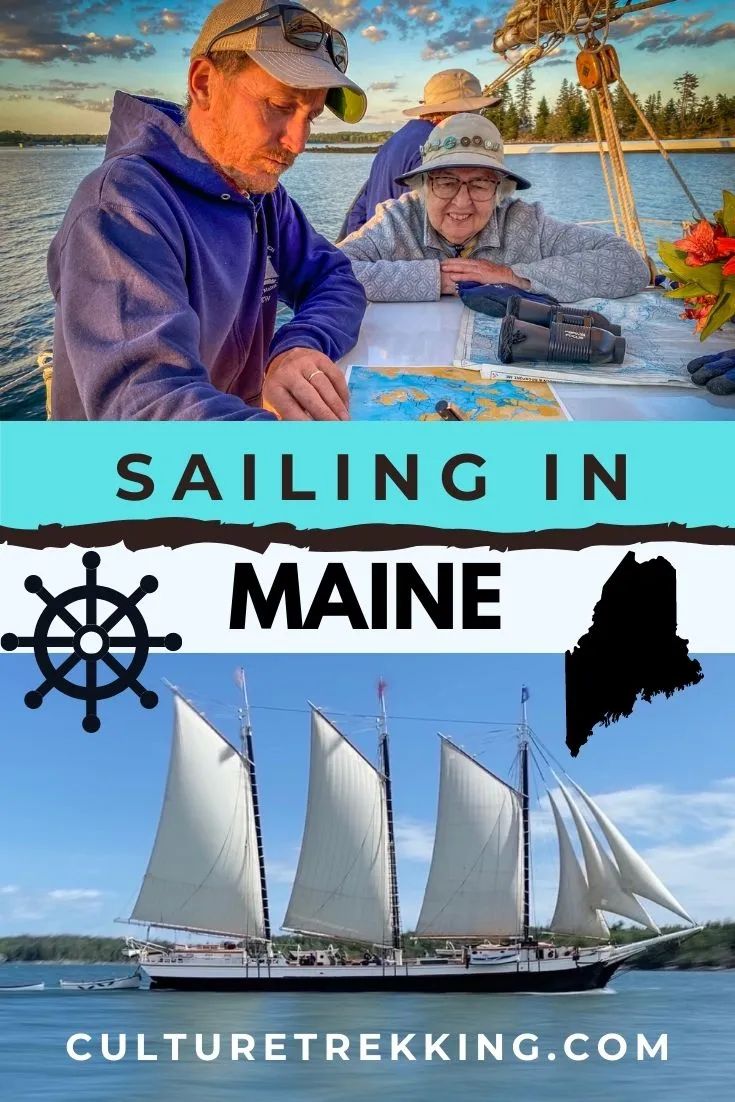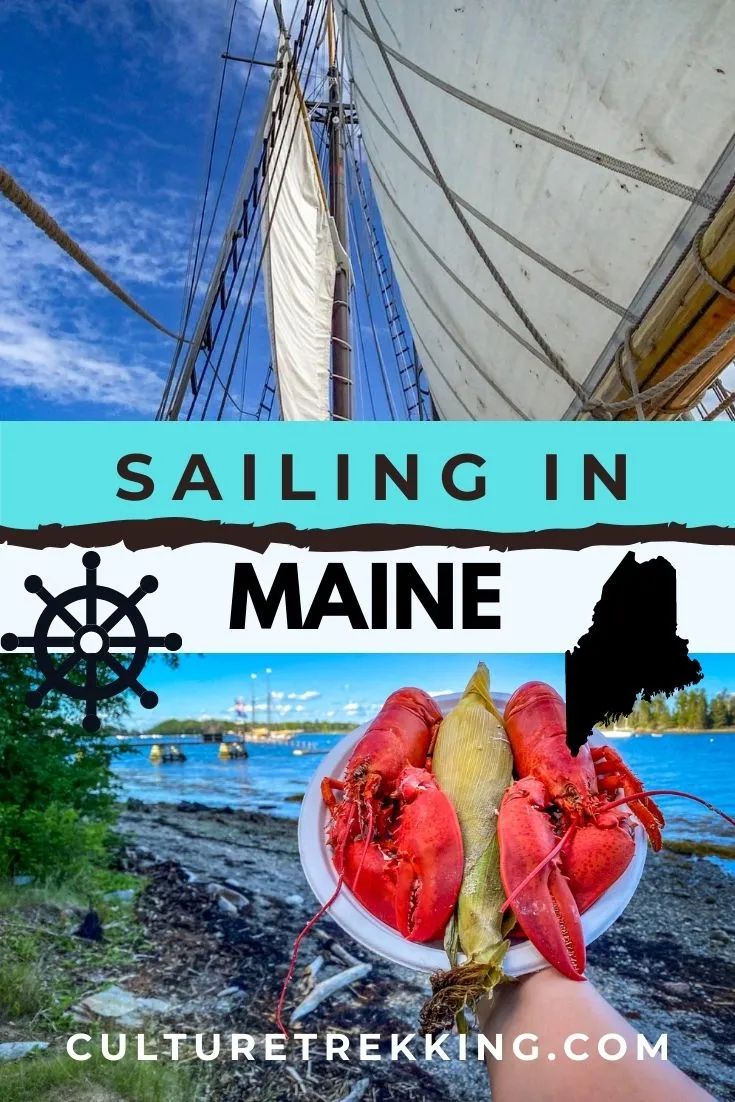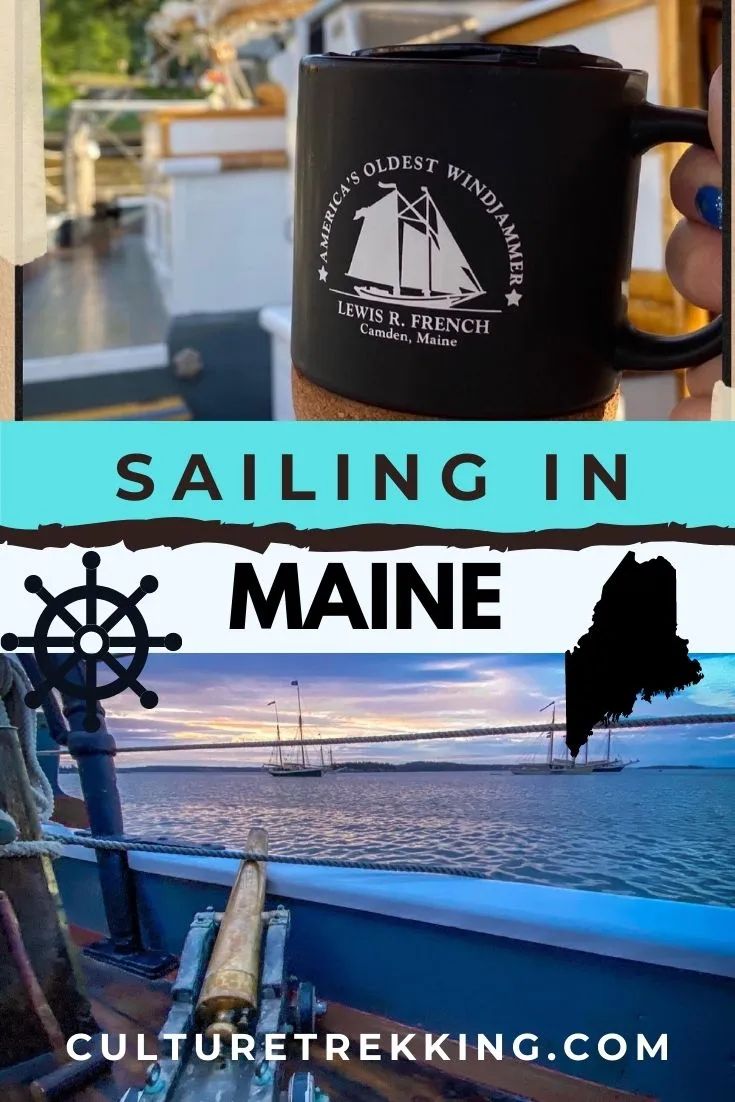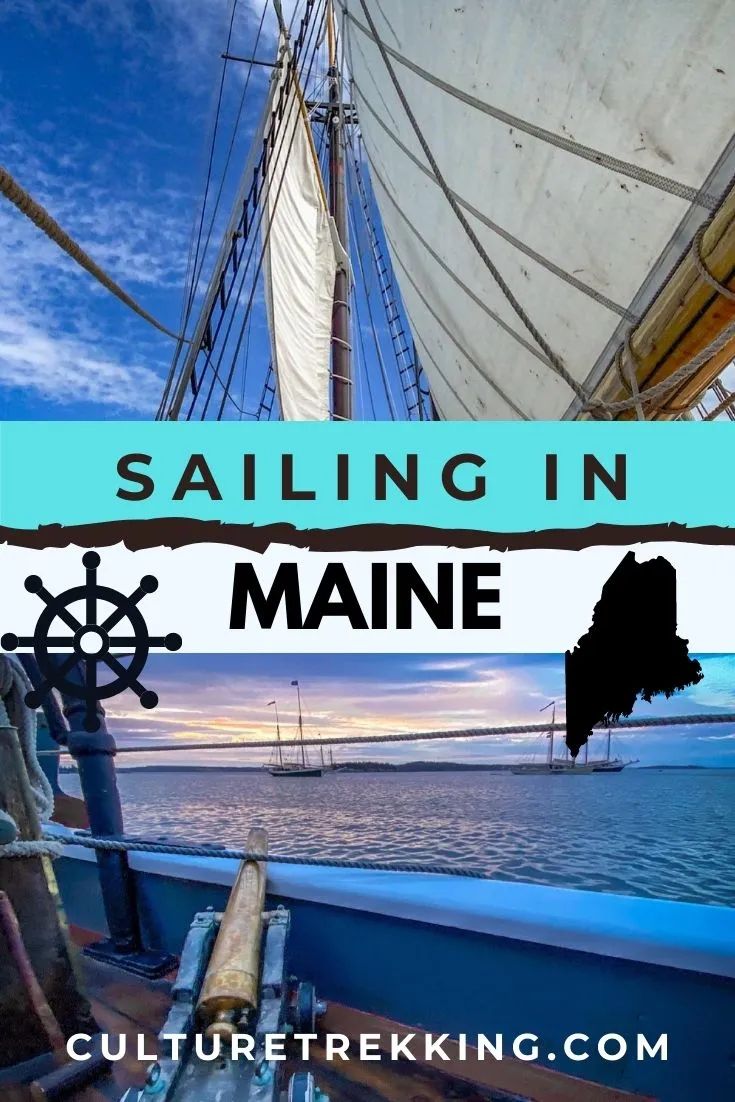 Latest Articles On Culture Trekking