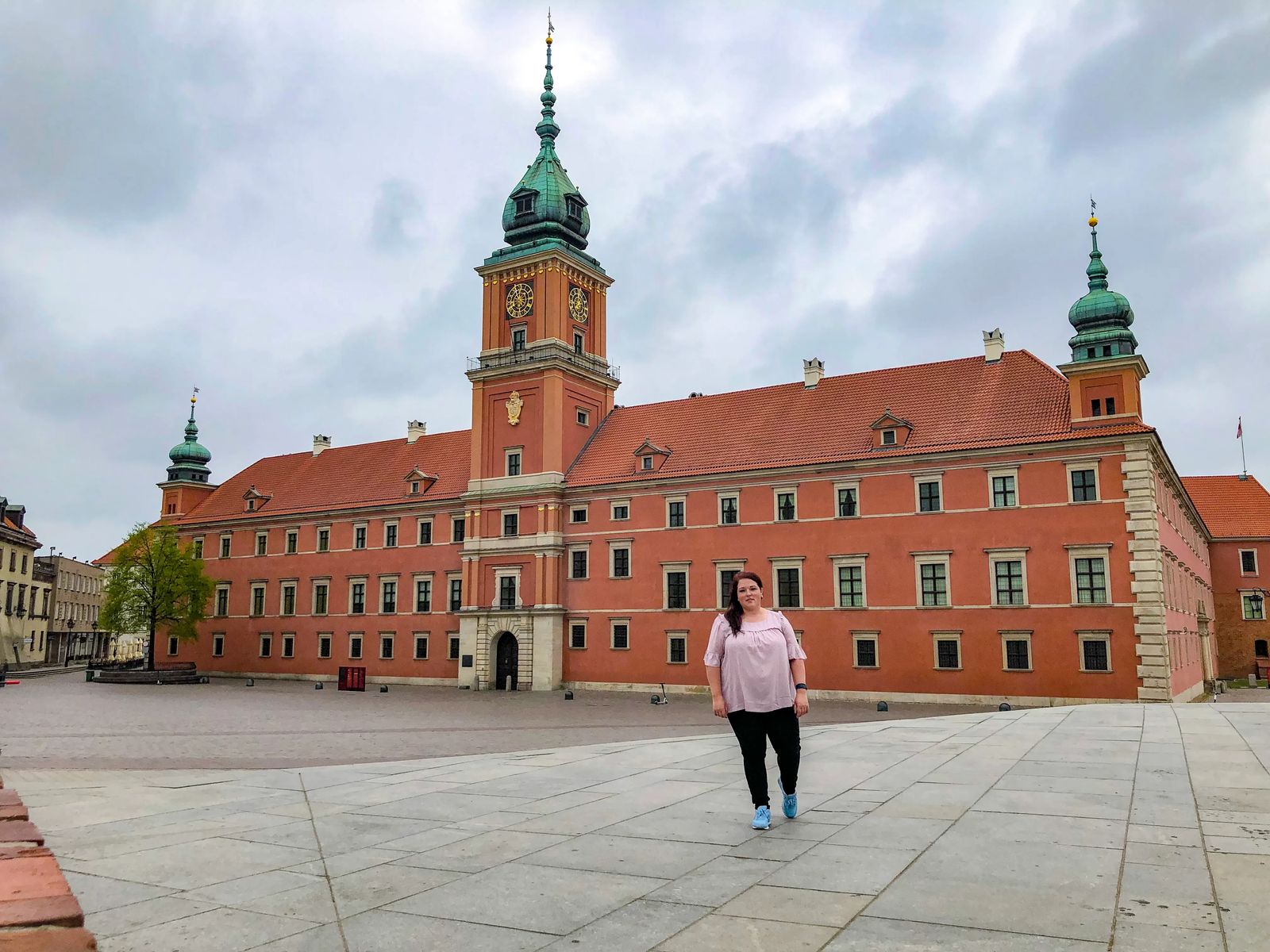 Unique Things To See In Warsaw | The Ultimate Guide
If you are looking for crazy and unusual things to see in Warsaw, well you have found the ultimate guide. I spend two weeks traveling all over Poland and was astounded at it's beauty and historical quirks like dragons, dungeons, a wishing bell with a colored past. Come with me as we tour some of the most unique things to see in Warsaw. I have an interactive google map at the bottom that I have already mapped out the perfect itinerary for you, you can get the history by clicking on any table of contents item and it will help you jump right to that section. So as you tour Warsaw, you can bookmark this site and quickly scroll through each location. Now let's start exploring Warsaw! (psst - spoiler alert, it isn't as ugly as the rumors say it is).
Quick Facts About Warsaw
Location: Capital City of Poland, with a major international airport available.
Transportation: Uber, trains, local Trams, taxi's are all available, but DO NOT try to get a taxi in Old Town (see Scams below).
When To Visit: May to September weather ranges from Max 52-72 F (11-22 C) to Min 37-55 F (3-13 C) so dress accordingly. Hotel prices are going to be cheaper during these shoulder seasons, but the summer will have more Chopin concerts.
Best Things To Do: Chopin Concerts, Castle, Old Town Square, Mermaid Statue, Łazienki Park, POLIN Museum of the History of Polish Jews, Palace of Culture and Science, EATING PEROGI'S!
Tipping: A tip at a restaurant is typically 10-15% . Tipping a taxi driver is more of a 'give what you can' but is not necessarily expected. Please remember to tip tour guides and the tour drivers.
Staying Healthy: Tap water is considered safe to drink in Warsaw, but many locals still buy their own water. The CDC recommends getting your Hep A, Hep B vaccines, along with the other routine vaccines (for US travelers). Bring your own toilet paper as some of the more high traffic toilets can often run out of it, as well as a mask and hand sanitizer for high traffic areas.
Money Recommendations: When visiting Warsaw have some local currency on hand for street vendors in small bills, and some spare change for bathroom use. Otherwise, most shops take credit cards. Always request your charge to be done in local currency, it helps cut down on bank charges back home.
Scams To Avoid: Overpricing drinks, fake cops, taxi drivers that charge you triple the rate in old town, and of course as with the rest of the world credit card security and pick pocketing.
Is It Safe in Warsaw? It is illegal to drink from an open container in public and you can get a ticket. Do they speak English in Warsaw? Many people speak English in Warsaw, but I personally do not go around expecting people to speak English to me. I use Google Translate to communicate while traveling. Be sure to know a few local words like Thank You, Please, Yes, No, and Bathroom. Polish is very difficult to speak, but I found that the locals are very kind in helping you learn.
Emergency Numbers in Poland: 112 for Police, 999 for Ambulance, 998 or Fire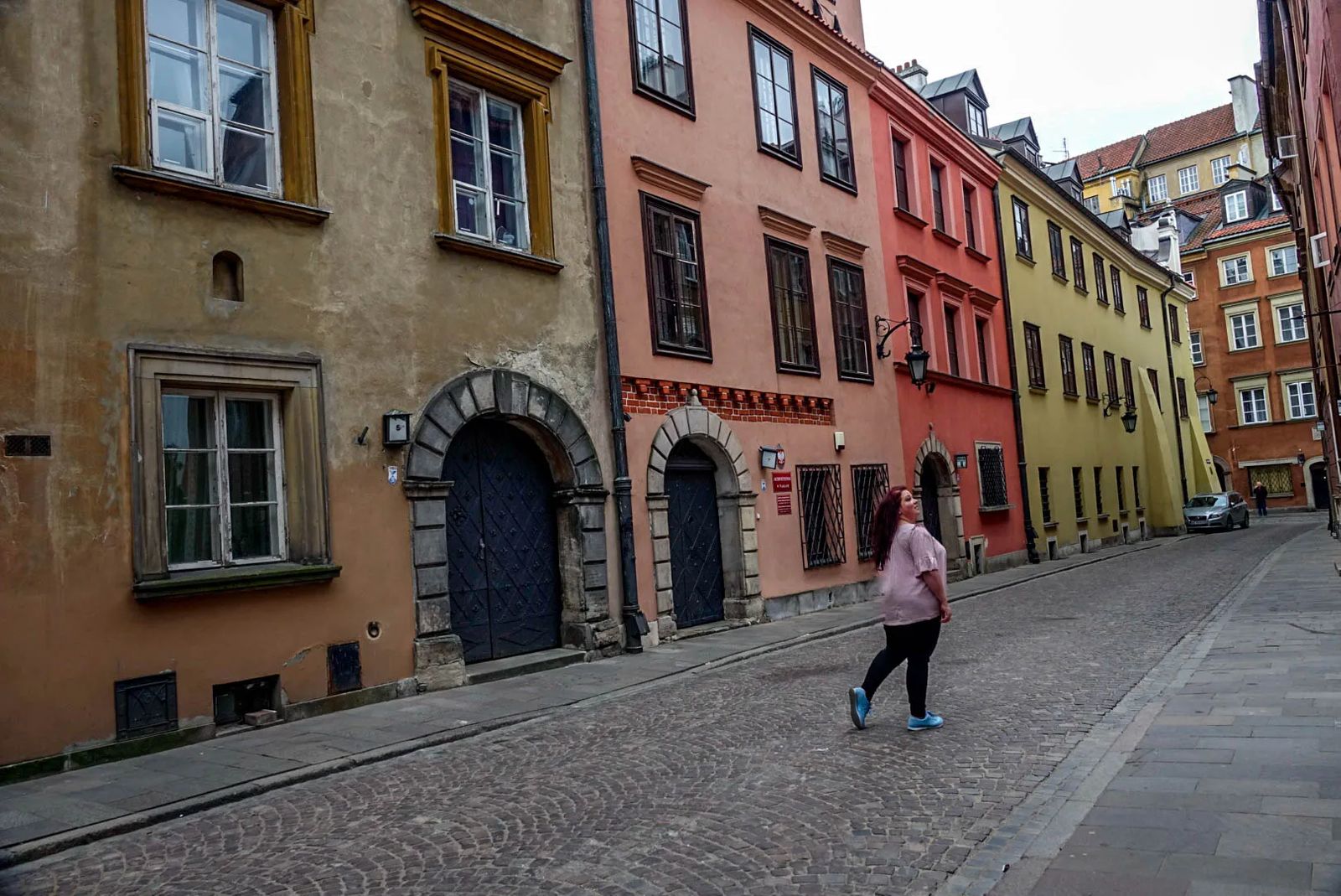 Old Town Warsaw (Rynek Starego Miasta in Polish)
When you are driving down the street towards old town, you can't help but notice the plain grey buildings with very box like windows. There is hardly any color. Then out of no where you are greeted by this fantastic red brick castle with green bulb like tops. It was hard for me to pay my taxi driver because I couldn't stop staring at how magnificent it was.
I have an unhealthy obsession with medieval times and this place is brimming over with medieval charm! It isn't just the buildings, but also the Barbican. Before I get ahead of myself, let me explain.
During the Wasaw uprising on August 1944 more than 85% of the town was destroyed by Nazi troops. Warsaw's old town is now beautifully reconstructed and listed as a UNESCO World Heritage Site.The reconstructed sites, and buildings were artfully recreated to reflect the 13th to 20th century styles.
It wasn't just the buildings that were reformed and recreated, it is the medieval city walls and Barbican that were recreated as well. Yes that is right, the massive brick fortress that was part of the defense of the city walls (I will get into this more later).
As you walk into old town, there are a few places I would say you cannot leave without seeing for yourself.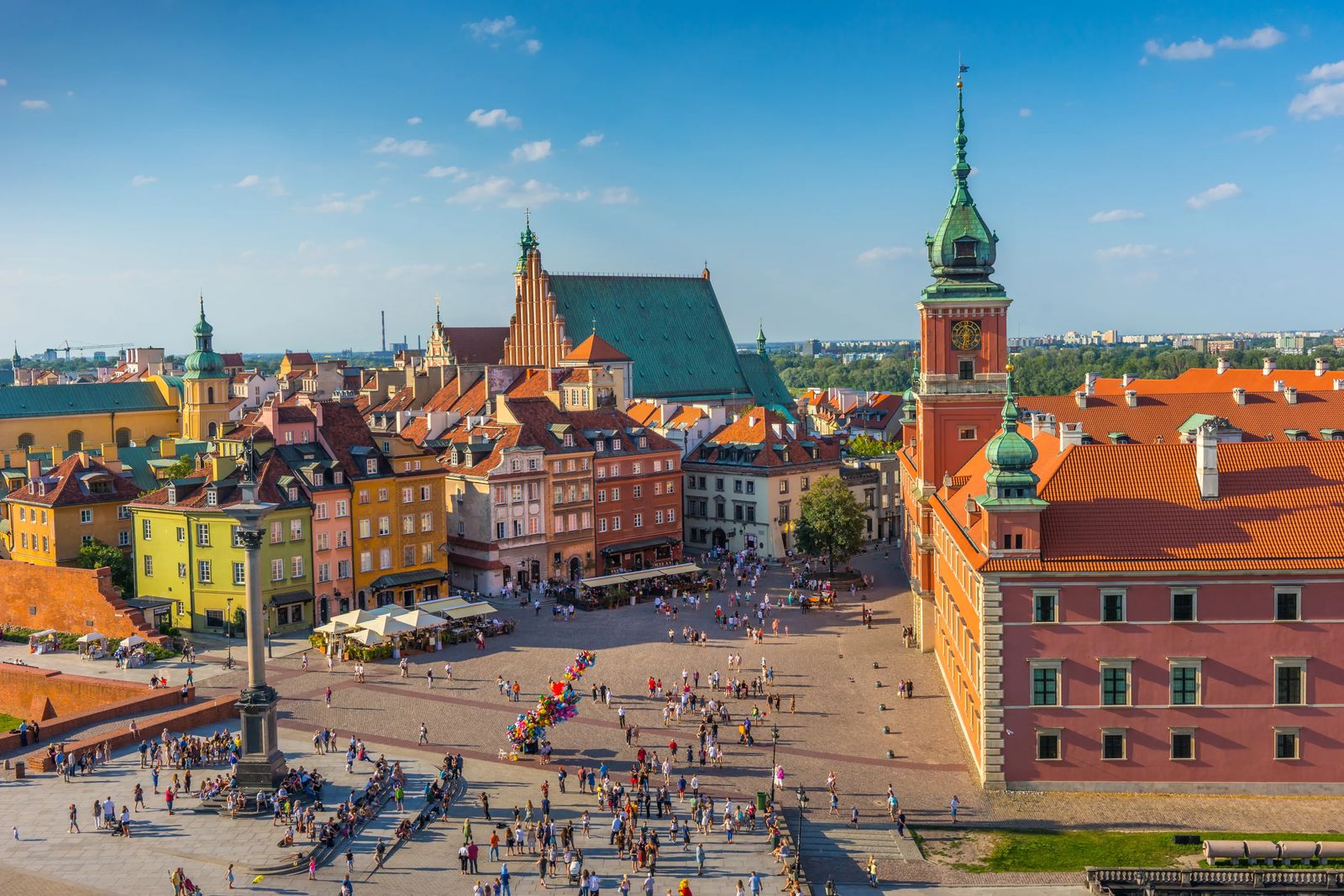 The Market Square
Address: rynek Starego Miasta, 00-279 Warszawa, Poland
I personally visited at 7am so I could get a few pictures with the Mermaid statue in the center of the square. This beautiful bronze statue (well now its a zinc cast) was made in 1855. She is actually deemed the protector of the city!
This is one thing I love about Poland, is that they have so much fantastical characters in each and every city that either protect it or they had to defend from it. Like the Dragon under Wawel castle in Warsaw, the Neptune Statue in Gdansk, and the Unicorn on the coat of arms for Gdansk, and now a mermaid statue that defends a city - my inner nerd is giggling with joy.
It is said of this legend of old that Syrenka, the name of this mermaid statue, is the sister of the famous mermaid statue in Copenhagen. One of the sisters swam up the Danish straits and stayed there. The other sister swam up the Vistula River, right to where Old Town Market is today, and loved the echo in the square so much for her singing that she stayed.
If you look at this city's coat of arms, you will find a dragon with a male human head holding a shield and sword. It wasn't until later that they changed the body of the dragon to a woman, and thus you have Syrenka.
I wish my current home in Utah, had a great story like that, we just have a beehive for ours. Lest I digress, ONWARD PEASANTS TO THE NEXT CASTLE!
The Wishing Bell
Address: Kanonia 12/14/16, 00-278 Warszawa, Poland
If you want tragic romance in the most random place, then the Wishing Bell is your ticket. It is literally located in a parking lot between some houses. The story of it is pretty cool though, well tragic, but I mean you can't have a good fantasy story without some love thrown into it right?
According to legend, a young bellmaker named Kejetan was madly in love with Marynia, the daughter of the town bell maker. The evil rival Hans, was a selfish man who wished to have Marynia for himself and take over her father's business. So as all tragic tales go, Hans decided to kill Kejetan.
He laced Hans drink with arsenic (ladies always keep an eye on those drinks!), and then added tin to the mixture Marynia's father was making a bronze bell from. When Marynia's father unveiled the bell, the town was all gathered, including the evil Hans.
The bell was unveiled, a toast was given, Kejetan unknowingly drank the arsenic and when the bell was rung it is said Kejetan died that instant.
Hans tried to not look suspcious by declaring his love for another woman, and would attempt to come back and get Marynia for himself. Yet, when it is true love, the heart never fully recovers does it. In a just twist of fate, Marynia's father kept his job, and Marynia, so heartbroken - joined a convent.
The bell was placed in this square and was never rung again. BUT the ghosts of Kajetan and Hans still huant this bell every Hallow's Eve at midnight.
The reason it is called the wishing bell, is because Hans died here, and didn't have his wish of marrying Marynia, he now brings messages and wishes to heaven to be granted. So all you have to do, is walk around the bell while touching it, and silently as Hans to grant your wish.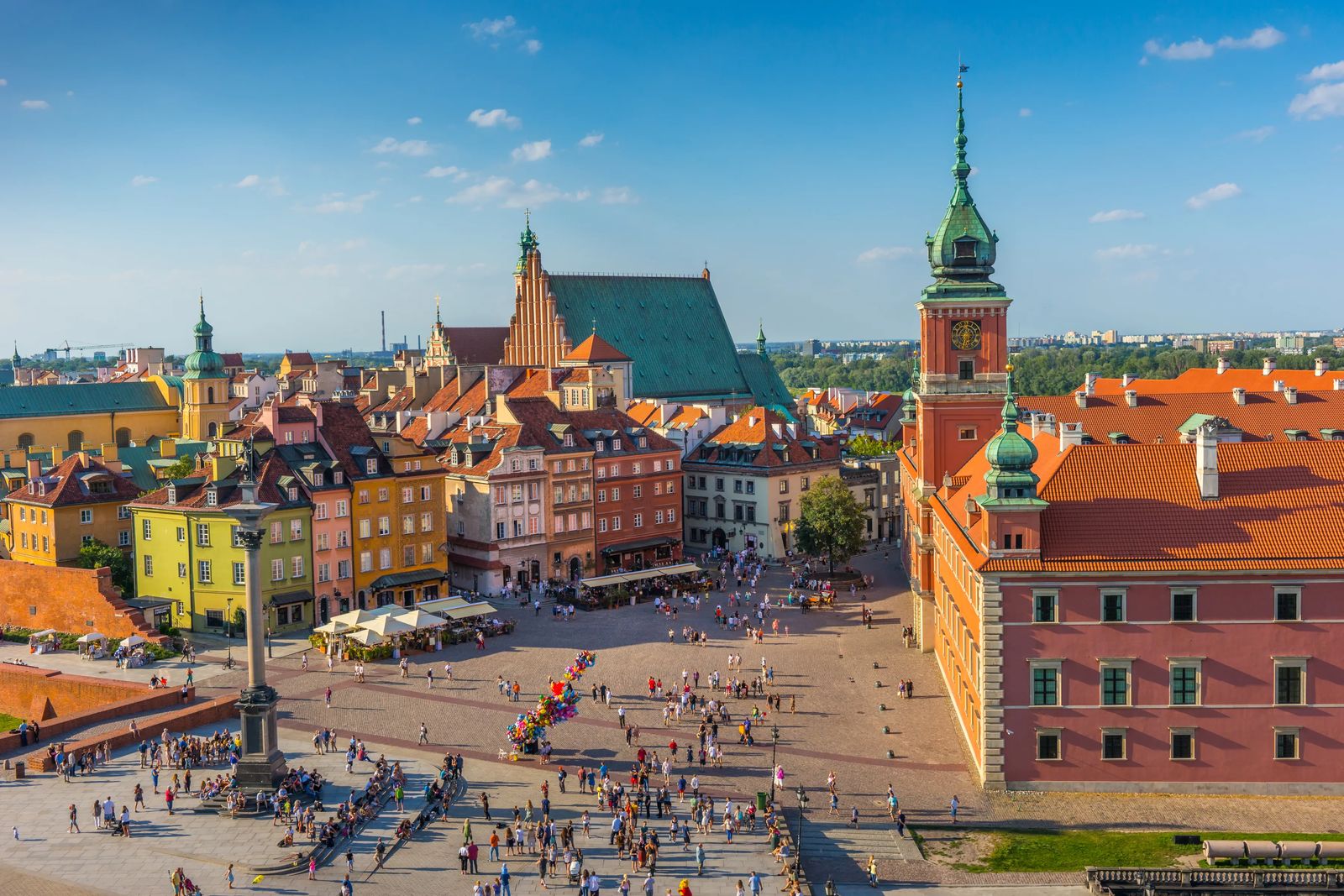 Castle Square
Address: 00-277 Warsaw, Poland
This is the entrance into Old Town Warsaw, and all its brilliant colors. You also have a fabulous view of much of the city. If you read my previous post on Krakow, you might be confused about what the ACTUAL capitol of Poland is. Well before the 15th century, the capitol was Krakow. As the Polish empire expanded, it was thought a more central location would be better to manage the far reaching points of the country, and thus in 1596 the capitol was moved to Warsaw.
The guy responsible for moving the capitol? None other than the man atop the column, Zygmunt III Waza. He was the king responsible for making Poland the most powerful country in Eastern Europe when he married the Lithuanian princess, who later was turned into a SAINT!
You need to go read her story, I'm telling you, but I have so much to cover here, I don't want to lose you by diving too deep into the gushy details.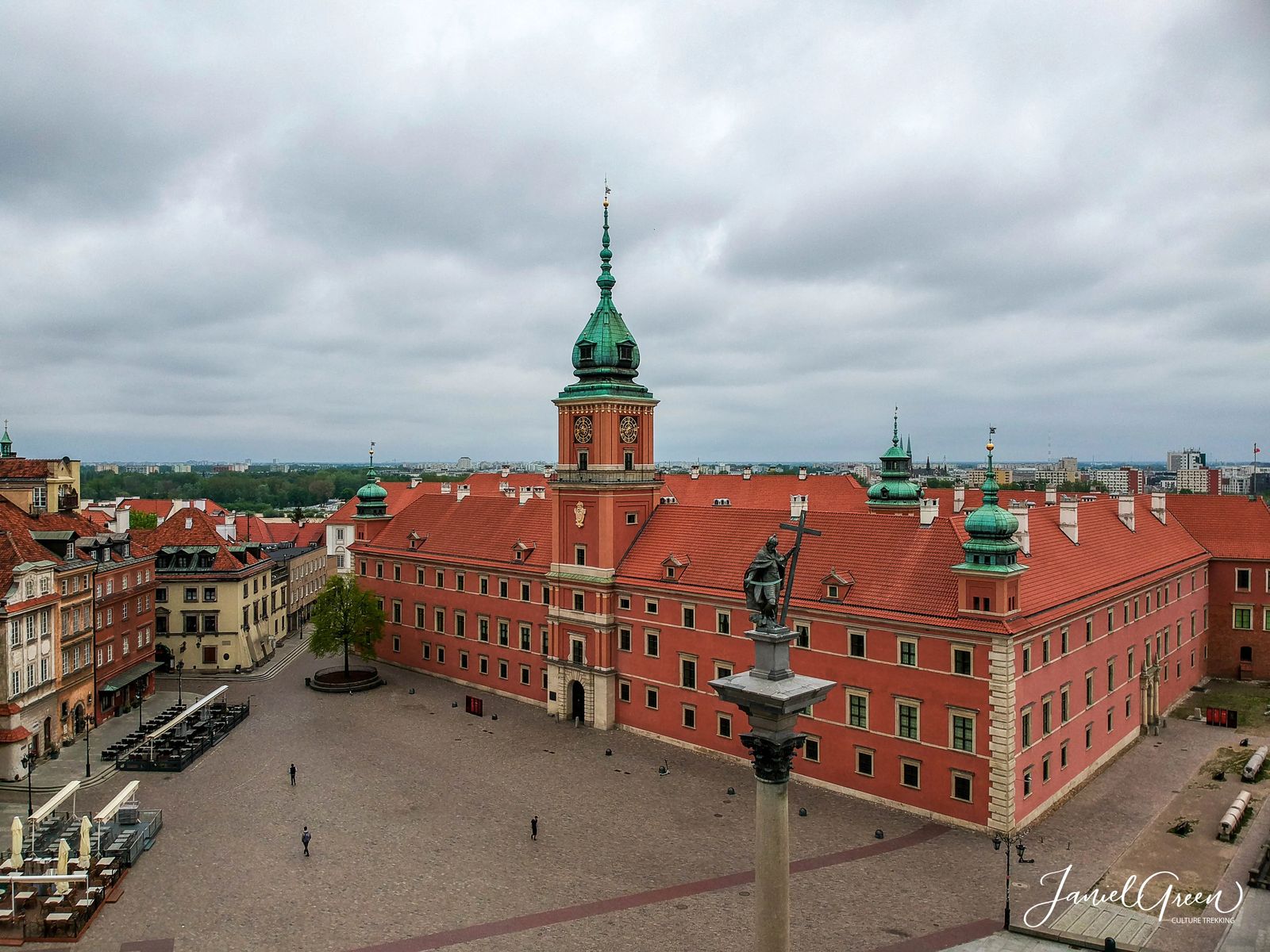 Sigismund's Column
Address: plac Zamkowy, 00-001 Warszawa, Poland
So Zygmunt is the Polish name, and Sigismund's is the English name, so don't get confused. Regardless of semantics, this is one of the most important monuments in Warsaw. It is 72 feet (22m) high (the highest in Warsaw).
You can see his sword and cross, they represent the bravery he had at fighting evil that surrounded him constantly. It is said that if his sword falls from his hands then the city will face disastor. His sword fell with the uprising when the column was destroyed in 1944. Now it is rebuilt, obviously, but you can still find some of the original fragments of the column near the castle.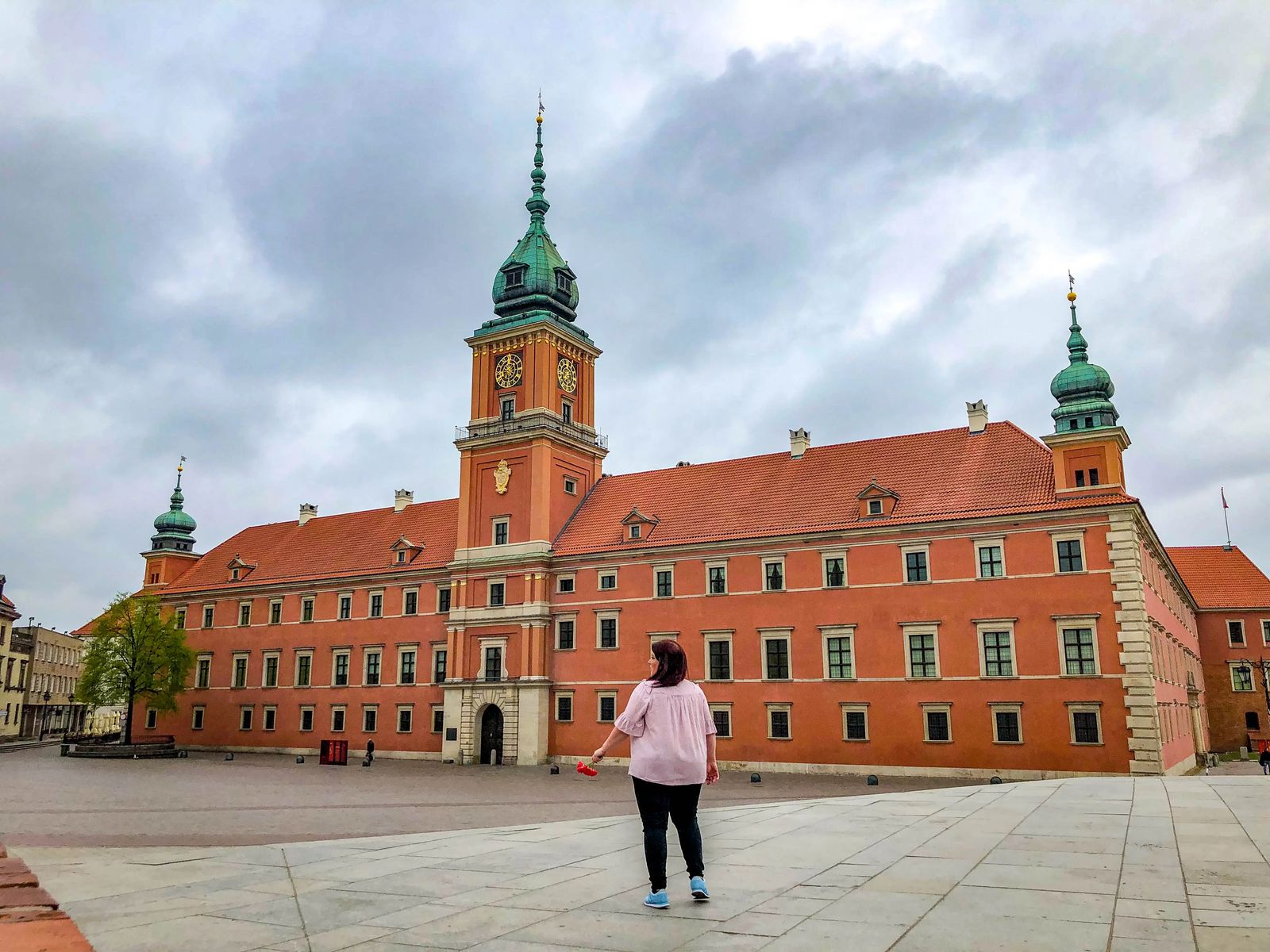 Royal Castle of Warsaw
Address: plac Zamkowy 4, 00-277 Warszawa, Poland
This castle reminded me a lot of a Russian type of castle with its corners adorned in the bell shaped toppers. This makes a lot of sense that Russian influence would be a part of Poland. Poland was the cross-roads to Prussia from Europe, and heavily influenced by merchants. This part of Old Warsaw, was actually rebuilt at the command of the communist authorities after World War II in 1971. Soooo it makes sense that they would toss in some Russian influence.
Walking up I think I caught a few flies in my mouth because I couldn't stop saying 'woooooow'. It was originally built in the 13th century, but expanded a lot until its current appearance.
I wasn't able to go inside, as it was waaaay too early and I hadn't given myself time to explore much of the museums of buildings. So I'm really hoping to go back and explore this castle, as well as the medieval forest nearby.
It is said of the interior that visitors are welcome to explore sections of the castle. The rooms that were once inhabited by kings and the court. The decorations are opulant, heavily guilded in gold, and if you enter the kings chambers you will be greeted by magnificent paintings by Bernardo Bellotto.
The real tradegy of not going inside for me, was that they actually have TWO Rembrandt paintings......pause while I wipe away a few tears due to FOMO. What I'm basically saying, is.....you need to go inside....its not an option....this is an order ;)
This is why quick travel isn't always the best kind of travel, because you miss little tidbits like this. If you get a ticket to the top, you also get some incredible views of the city and can see the royal way to the castle as well.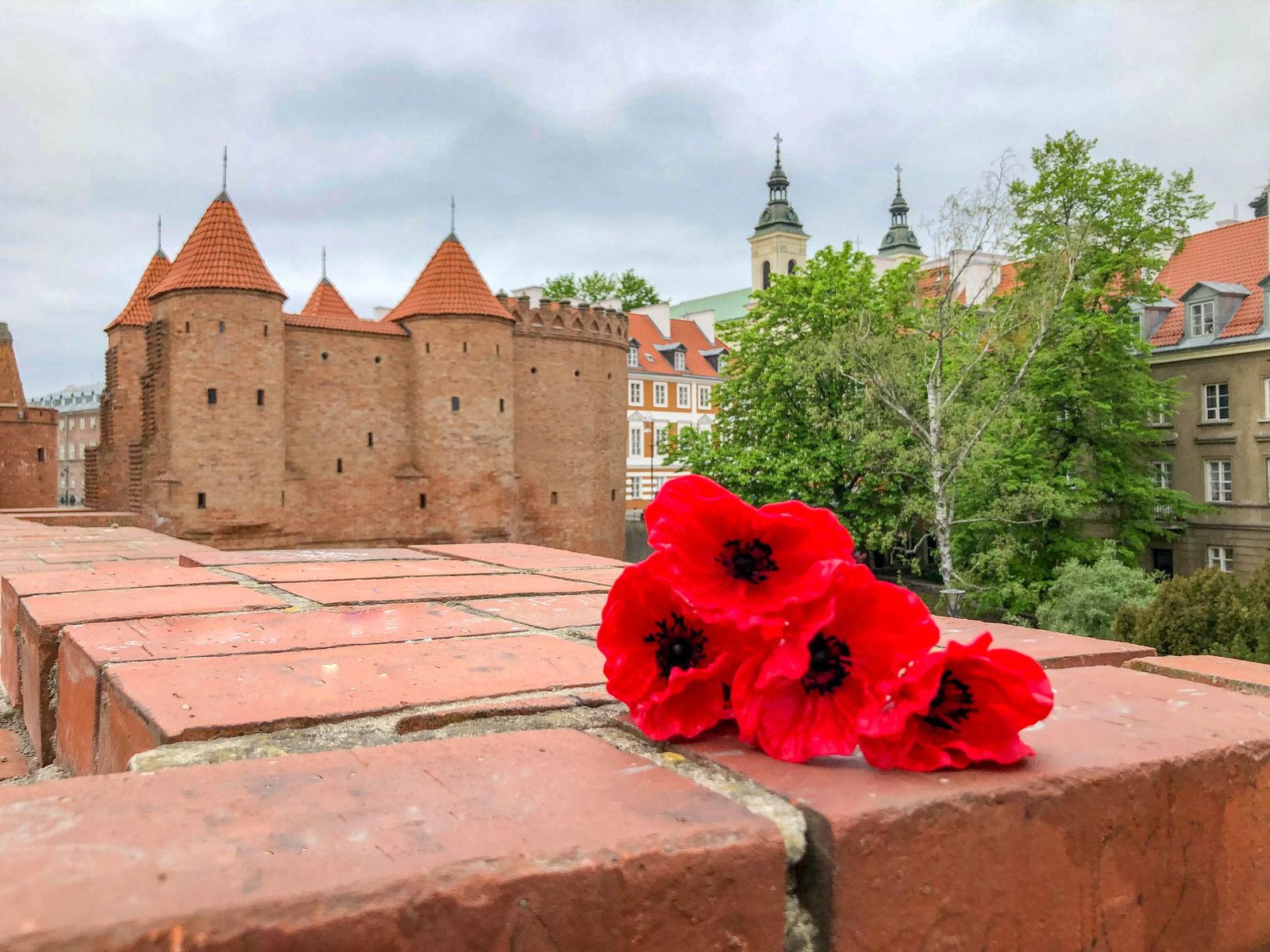 The Barbican in Warsaw
Address: Nowomiejska 15/17, 00-257 Warszawa, Poland
This is the Barbican! A defensive stronghold that once had a moat around the walls, and defended the northern entrance to the city. It was only actually used when fighting during the Swedish wars.
Could you imagine walking along its walls, scanning the surrounding forest and landscape for invadors. Shooting arrows through the slits in the wall, or celebrating the return of victorious Polish armies.
Today that is a little harder to imagine, as it is a local hot spot for teens and artisans to sell their crafts. It is a great segway from old town to new town, and they usually have some great souviner shops right outside the walls.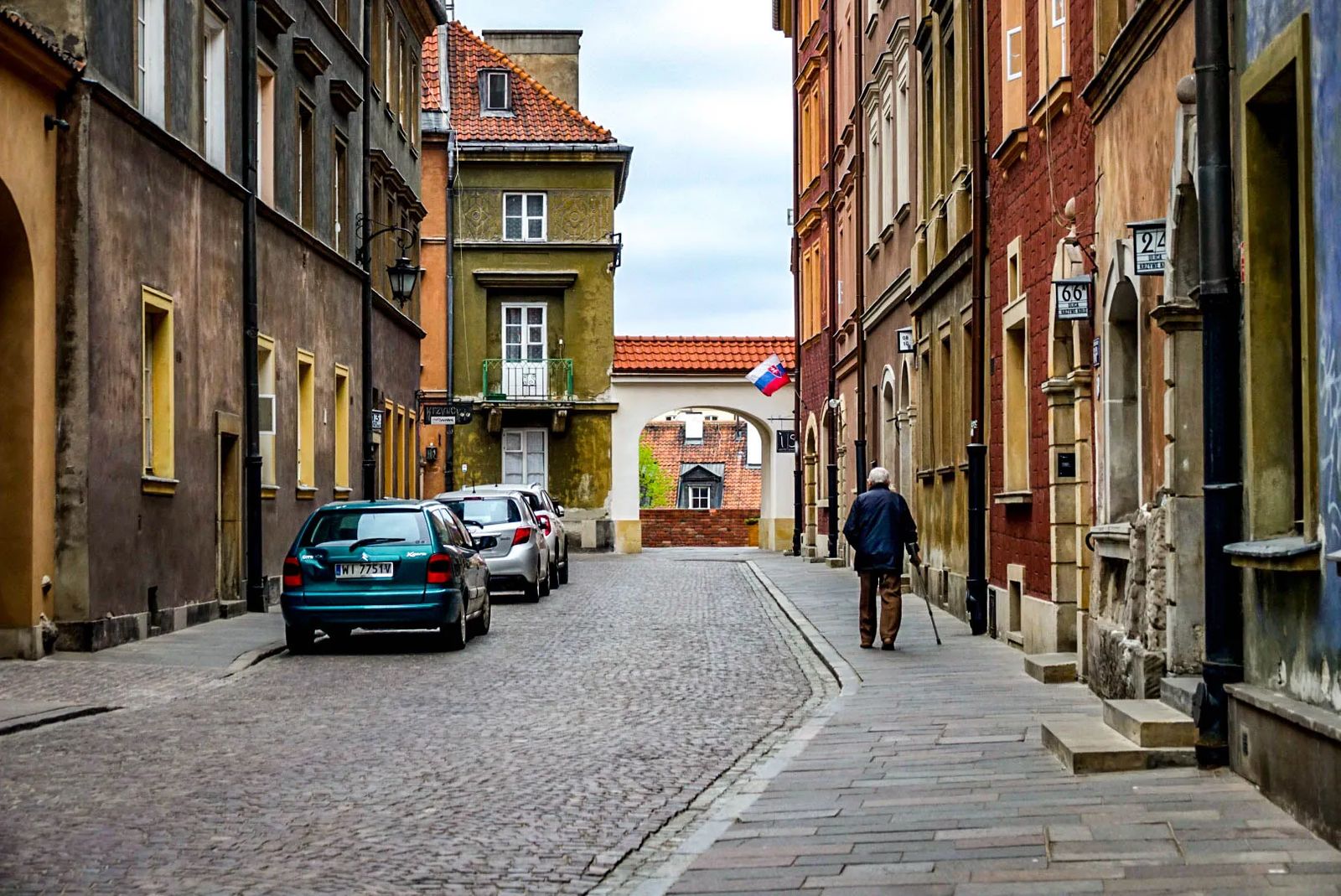 Royal Route
Address: Stanisława Kostki Potockiego 10/16, 02-958 Warszawa, Poland
The Royal Route is a famous route in Warsaw that connects three former royal residences: Royal Castle, Palace on the Isle, and Wilanow Palace. This route was used by Kings for coronation, for the court members to go to and from the Palace, and for merchants to sell their goods to the wealthy passing by.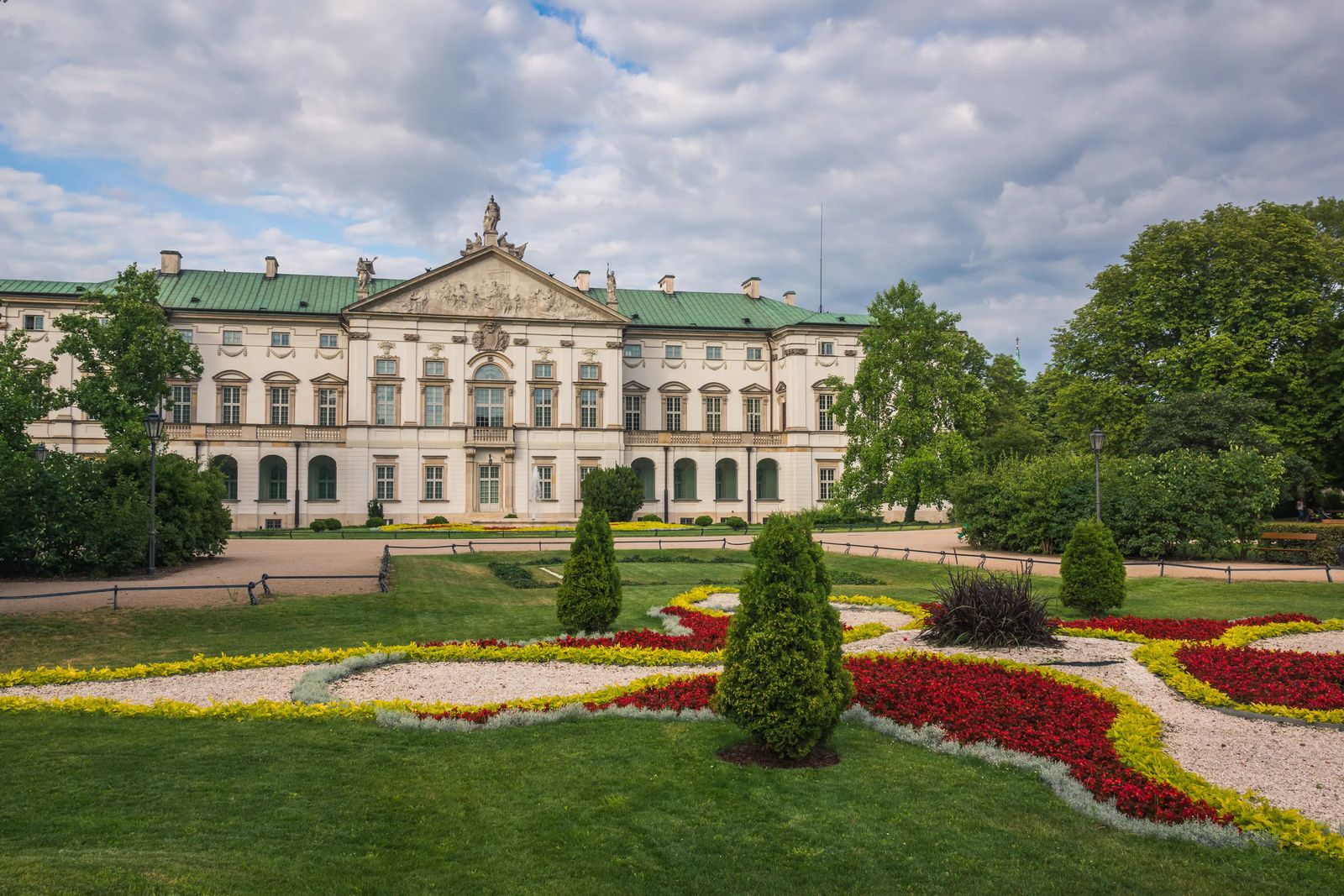 Krasinski Palace and Garden
Address: plac Krasińskich 3/5, 00-288 Warszawa, Poland
This is the fanciest aristocratic palace built in the 18th century. It is a little like walking botanical garden, lined with flower beds, places for picnics, a fountain featuring none other than the mythical Pegasus, and even a spot where you can play chess!
I don't know that I can recommend this completely unless you are just trying to get away from the crowds of the city. It is the National Library and holds special collections, but isn't open to the public in general.
It is generally great for pictures, and having a chilled out day, but if you are short on time, I would head to the next destination :)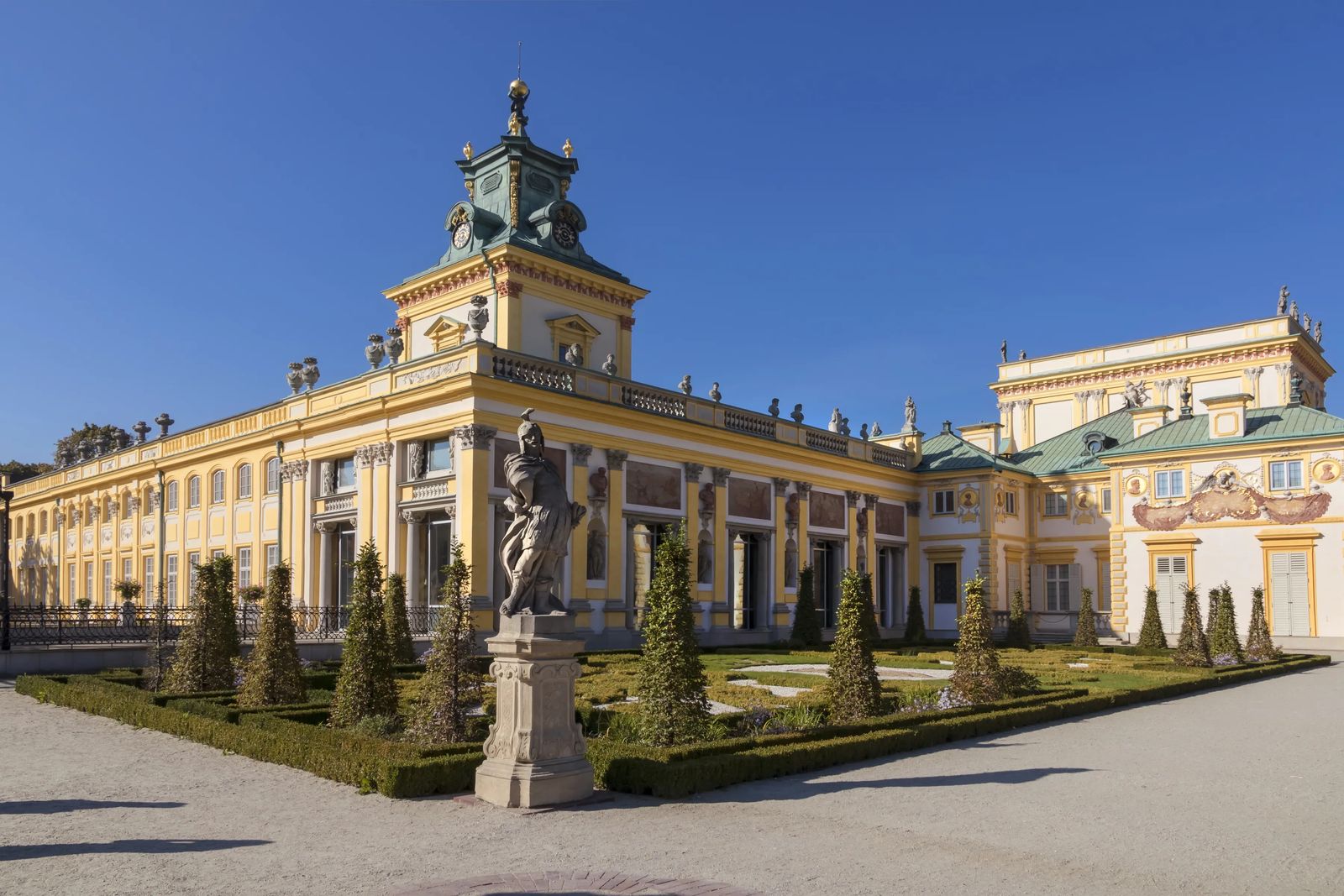 Wilanow Palace and Gardens -- Museum of King Jan III's Palace at Winlanow
Address: Stanisława Kostki Potockiego 10/16 02-958 Warszawa
Wilanow Palace is located about 6.2miles (10km) from the city center, and was considered the end of the royal route in Poland. It is one of the few buildings that survived WWII and was originally built in the 17th century by King John Sobieski the 3rd.
King Sobieski was considered the great vanquisher of the Turkish army in vienna, and he virtually stopped their march through Europe. After this, he rightfully earned the name of the 'fearless lion of Lechistan'. (Maybe he was the forefather of the Lanisters? j/k people - sorry Game of Thrones fan here).
When you enter the palace grounds it looks like it could easily be a movie set for an Italian or French Medieval film, or a Jane Austin Novel. You can just imagine entering the grounds in a fancy coach, and seeing the servants and then being whisked into the sitting room.
There are artifacts from the 18th century of the beautiful gowns the ladies would wear, gold guilded paintings,and so many reliefs of men, statues, fish fountains it is hard to know where to look and not be in awe.
It isn't overwhelming with patterns, fancy wallpaper, or stuffed to the gills with furniture and things...it really is artfully, tastefully and strategically decorated. So if you are fascinated by the medieval times like I am, or just how the courts and kings would live their lives back then - then you will love this beautiful Baroque style building.
If you go into the King's and Queen's apartments, stop in the White room. These are the portraits of the people who owned this palace after the king and made it more grand with each owner.
The real magic happens when you visit the Wilanow Palace at night! I didn't get to go, but there are thousands of little lights that dance across the palace, the fountains pulse in time, and really is something I wish I could have seen while there.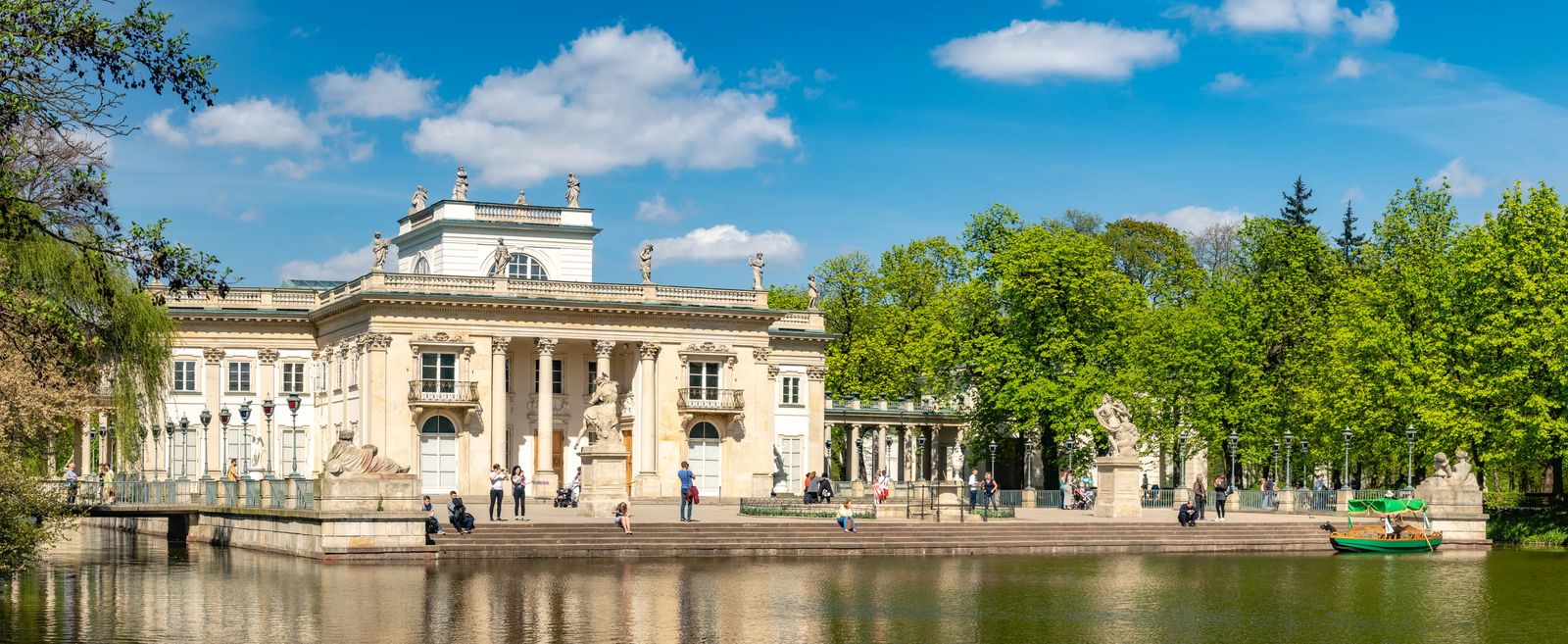 Palace on the Isle (Lazienki Palace) & Chopin Monument
Address: Agrykoli 1, 00-460 Warszawa, Poland (12 min taxi ride from Old Town)
The uses this building has had over the years are a bathing pavilion, summer residence, and a barrack.
This place is HUGE and deserves at least a 1/2 day of wandering through the VAST gardens, taking a boat ride and listening to some of the finest piansts in Poland perform Chopin concerts in the gardens. Here are is a taste of what you will witness at these Chopin concerts, it is truly mezmerizing.
The beautiful Chopin Monument is right next to the Botanical Garden in Lazienki Park. Seeing this statue, it was hard to not get swept away in the music, the beautiful arching willow branch tree that seem to be whispering the music of the woods into his ear. If you listen closely to this concert you might just here the trees blowing in the wind, the chaos of the storm, or the development of a young love on a summer day beneath its shadow.
Before your concert, be sure you stroll over to the oldest tree in the park. It is right near the Romantic Garden and Belvedere pond. It is estimated this tree is over 200 years old. I often wonder what these ancient giants have been witness to in their lifetime, and to have lived for so long - truly a survivor - just like the people of Poland.
If you are thinking, 'Wow, what a tree-hugger', you would be correct. I just love nature, gardens, and connecting with the elements. There is a real magic that happens within me when I am in nature, a zeel, a whisper of a thrill....it makes me feel alive to be next to a living thing that survived for so long.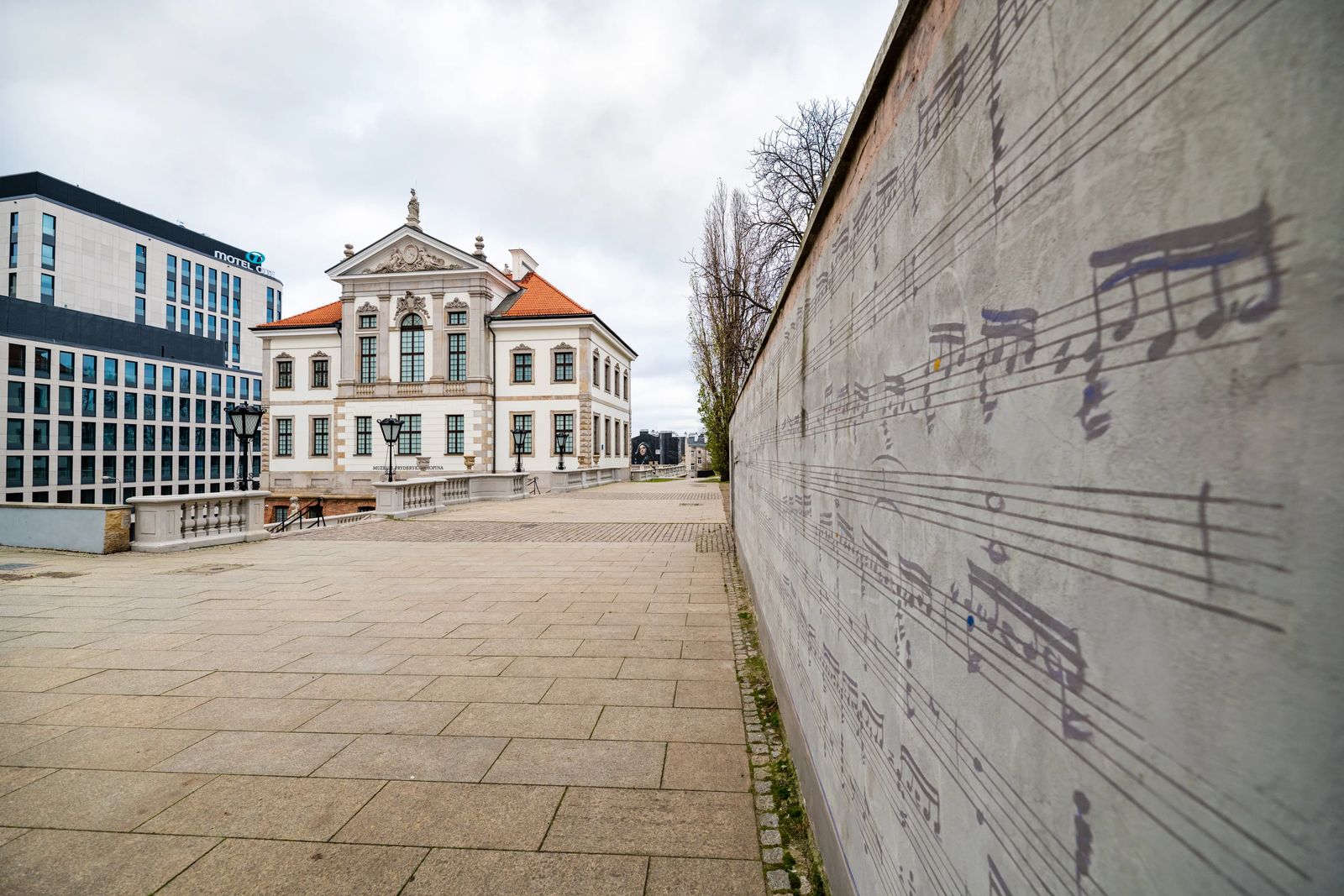 Chopin Museum
Address: 00-368, Pałac Gnińskich, Okólnik 1, 00-368 Warszawa, Poland (11 min taxi ride from Old Town, on the way to Chopin Monument)
While I didn't get to visit this museum myself, I hear it has quite the layout and completely dedicated to Chopin.
This is a new museum to Poland, opening in 2010 anc comes with all the fancy and modern bells and whistles. It takes up four floors and is interactive, so is good for the whole family.
I didn't have time to go there myself, but desperately want to go back and really explore the life of Chopin because my Dad has his Masters in Music and taught us how to love the different sounds and types of music.
So to see something like this with 5,000 exhibits of this masters life, belongings, photographs, and original music...it would be a HUGE highlight to go back and see. I did hear it was a bit disorgaized for those who have done it without a tour guide, so I would try and hire someone to help you navigate through it.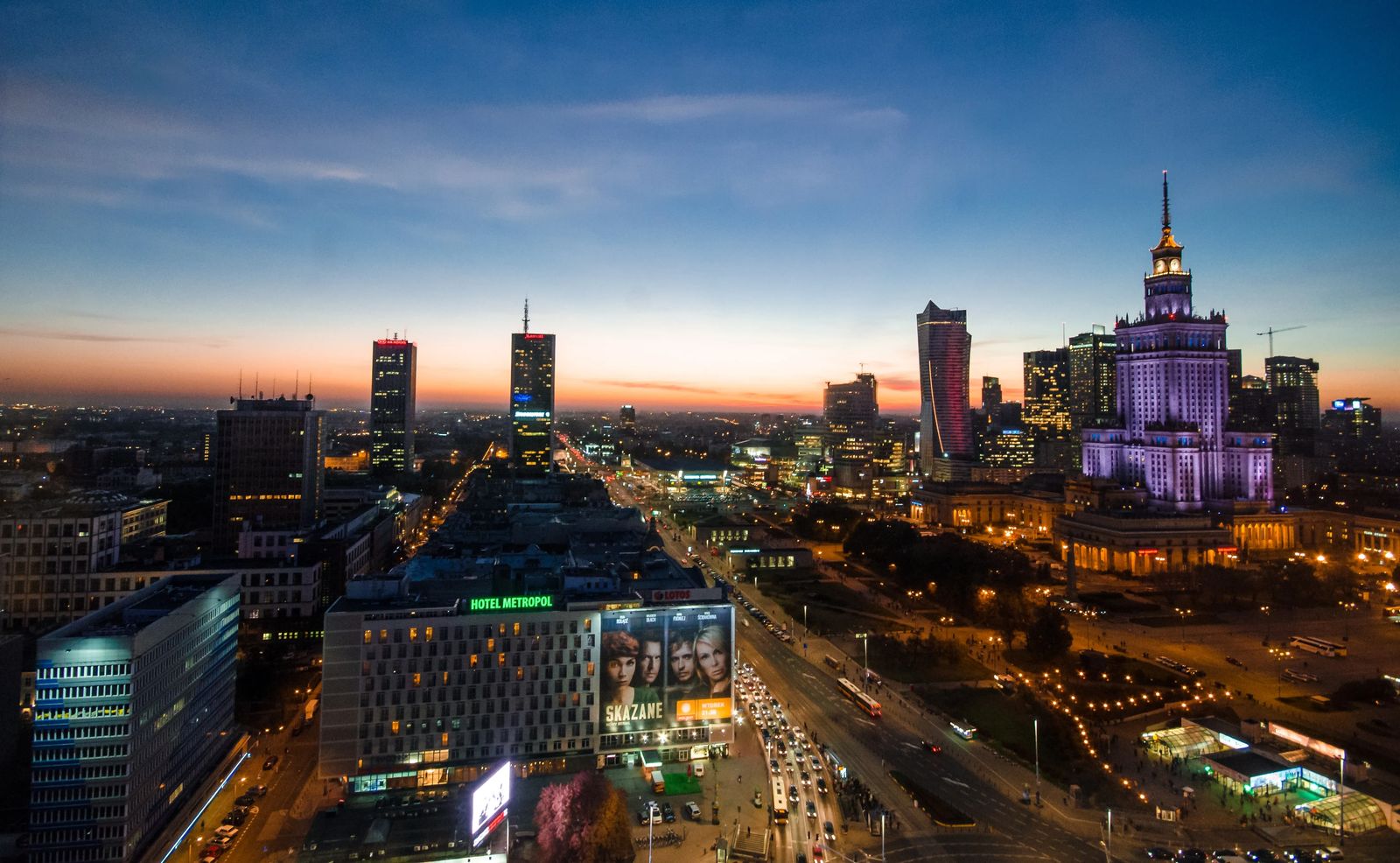 Palace of Culture and Science
Address: Plac Defilad 1, Warsaw 00-110 Poland
This is a very controversial site for the Polish people. Mainly because it was said to have been built by Stalin from the Soviet Union as a 'gift' to the people. Well, I don't know if I would accept a gift like this from an Opressor either. It would just be a symbol of that opression and a reminder that can be seen through the whole city that you are under that opression.
Those controversial feelings aside, you really can get some breathtaking views of the city. Just don't go up there when it's cold, it is 374 feet (114m) in the air - obviously it isn't open in the brittle Polish winters because of ice, but definitely worth a look in summer.
If you go inside, you will find movie theatre, various museums, and cute little pubs that are good on those hot summer days. There are lots of mixed reviews about this place online, how the food isn't good, or the museums are boring - but the resounding agreement is that the concerts held here are pretty great, and the view is unbeatable of Warsaw.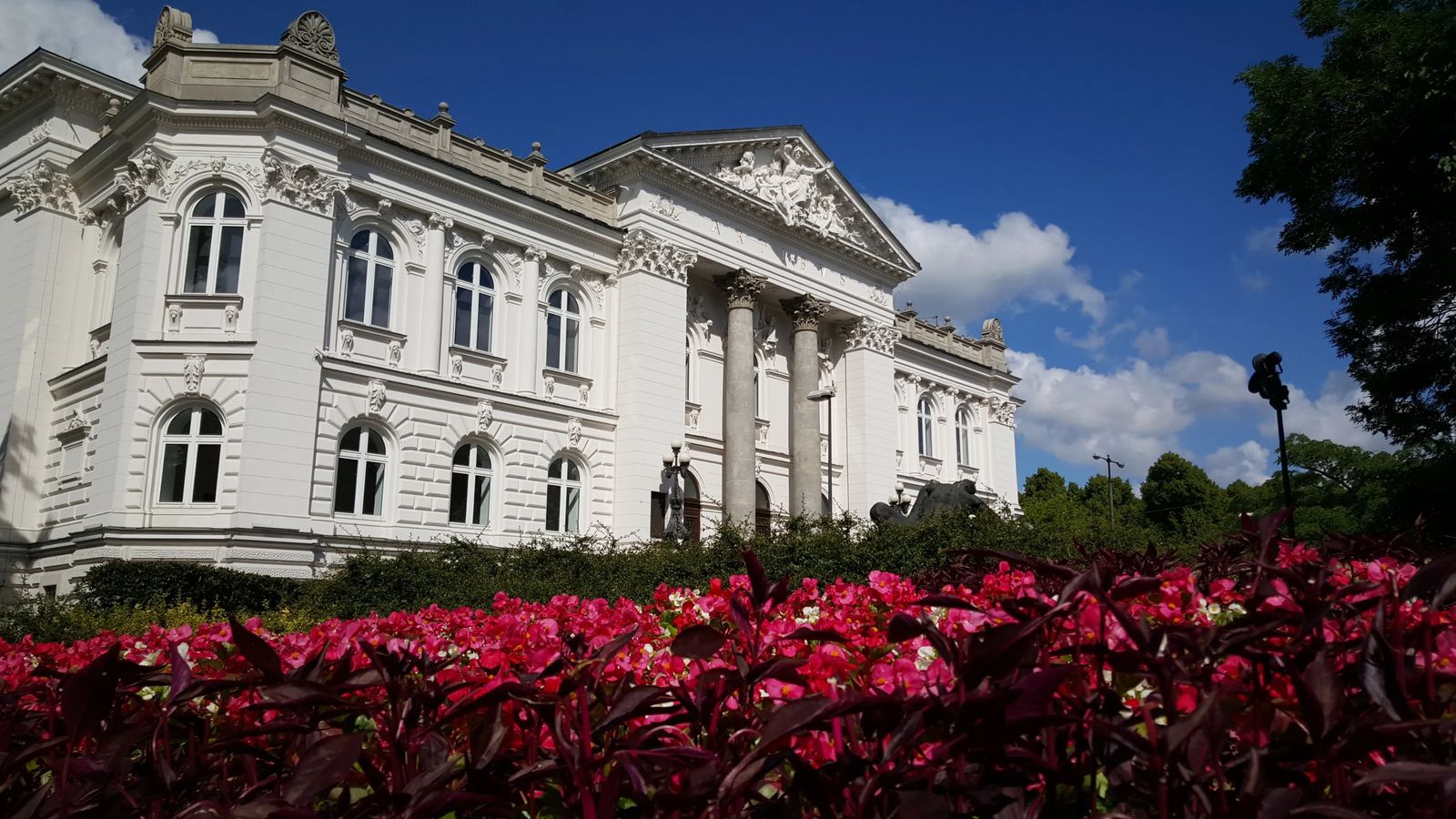 Zacheta - National Gallery of Art
Address: plac Stanisława Małachowskiego 3, 00-916 Warszawa, Poland
The very word of this museum means 'encouragement', and houses some of the best Contemporary art and artists in Poland. So if you are like me and love the abstractly wonderful and weird or romantically renissance then this is definitely a place you need to put on your list of unique things to see in Poland.
Their permanent collection includes Jozef Simmler's Death of Barbara Radziwill, Tadeusz Kantor, Henryk Stazewski, Miroslaw Balka, Katarzyna Kozyra and many more.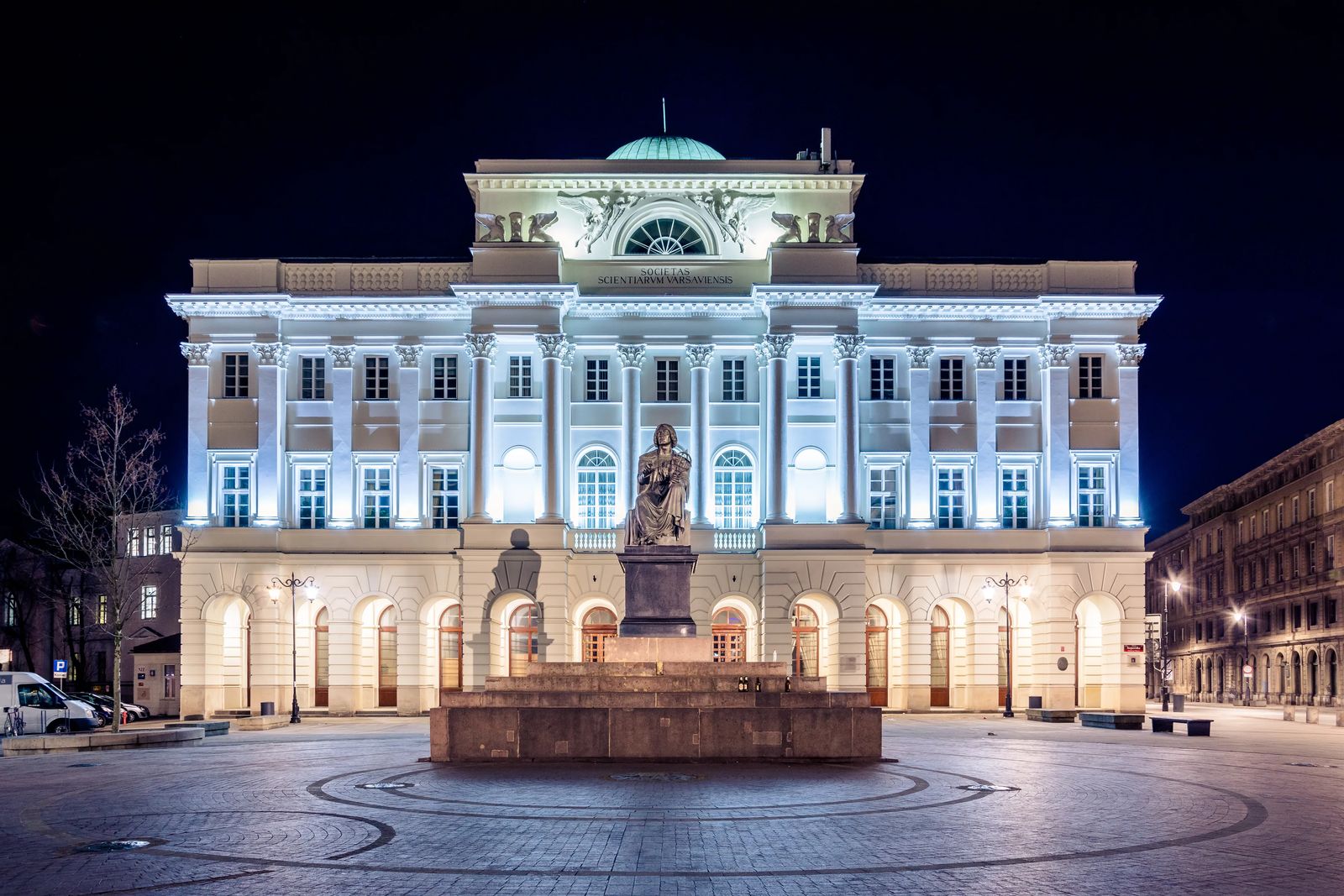 Nicolaus Copernicus Monument
Address: Krakowskie Przedmieście, 00-333 Warszawa, Poland
Nicolaus Copernicus and Marie Curie are the most famous scientists to come out of Poland. They are often mistaken for being nationals of other countries, but they are Polish natives.
If you don't know who he is, let me remind you, he was the guy who basically let the world know that the earth rotated around the sun. Why was this significant? Well he basically went against what the Catholic Church was saying at the time, and every other scientist - that the earth was the center of the universe.
That just goes to show you, if you think people revolve around you --- ya might want to check yourself.
You have to remember that at the time he was alive, the 14th century, was about the time the Plague started. The church was saying the plague came about because of the people's lack of faith. Sooooo I don't think his scientific theory was well received. Although he was right, I do respect his courage....and now he literally has balls of steel to prove just how brave he was.
PS- if you go into the church right behind this statue, Holy Cross Church, it is rumored to hold Chopin's heart.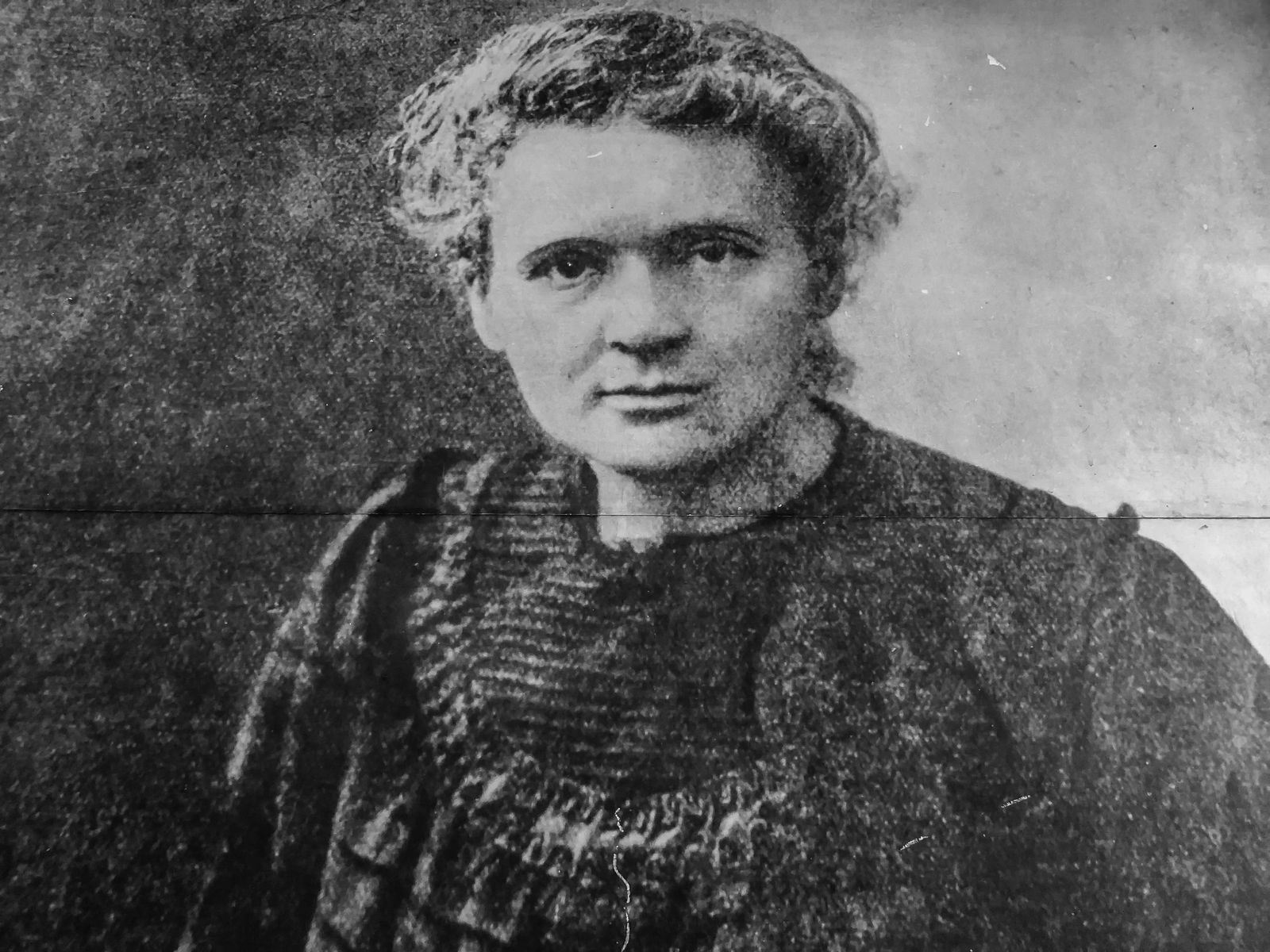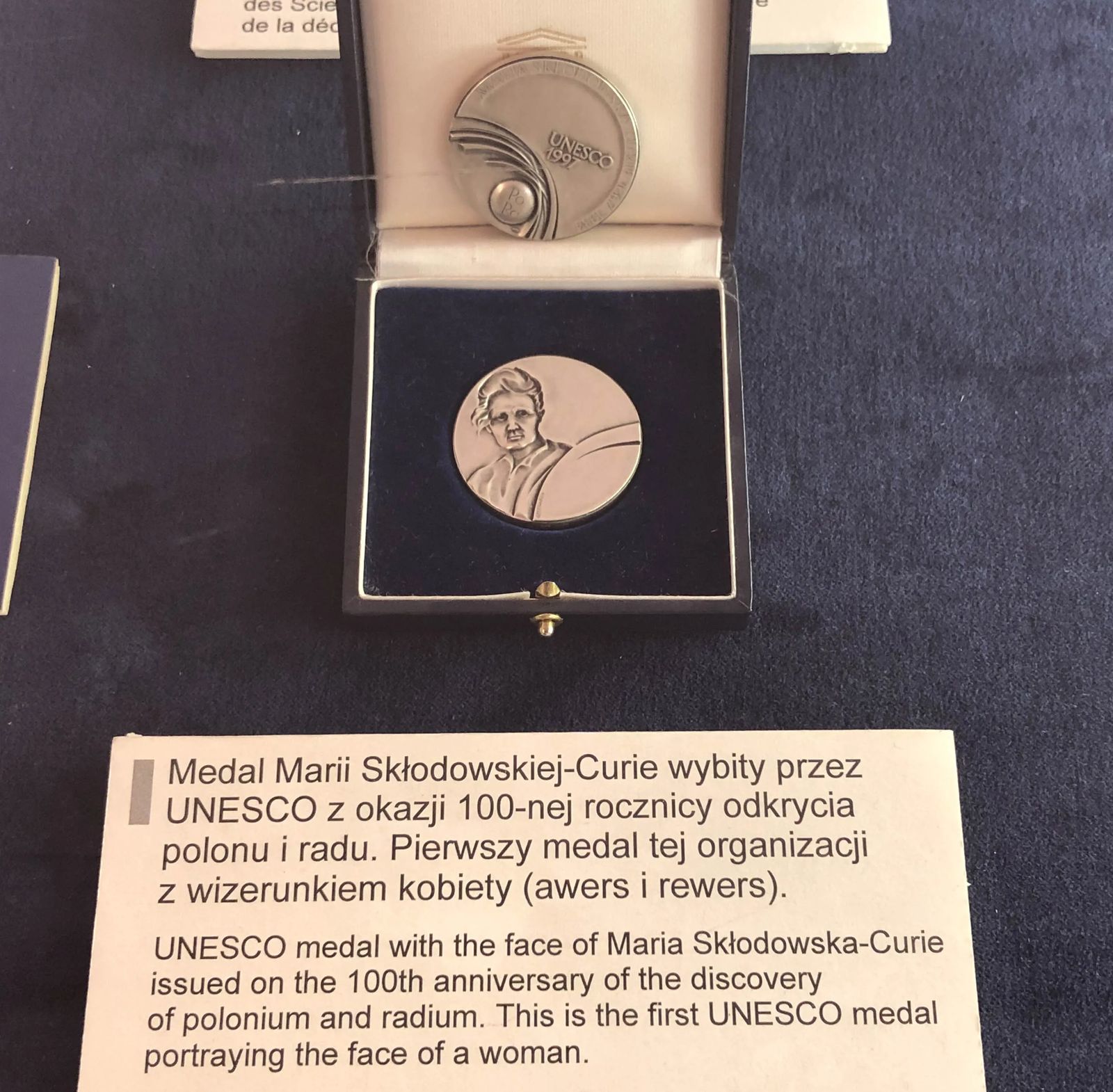 Marie Curie Museum
Address: ul. Freta 16, Old Town
Did you know she was the ONLY woman to receive the Nobel Price TWICE! FOR TWO DIFFERENT THINGS! She was honored with a Nobel Prize for Natural Sciences, and one for Physics and Chemistry.
For my fellow female scientists, or those who appreciate scientific minds - this is a must see. All my days of Organic chemistry came back to me. It was fun to see all of her lab equipment, and clothing, I did wonder if her clothing and items still held some sort of radioactive charge. Afterall she did discover Polonium...which led to x-rays...which leads to Leukemia in large long term doses.
I would recommend getting a guide to take you through the Museum, and also her former place of birth. The guide costs about 150zl or $38, which I think is a bit pricey, but it will help you make heads and tails of this small museum dedicated to a pretty stellar scientist.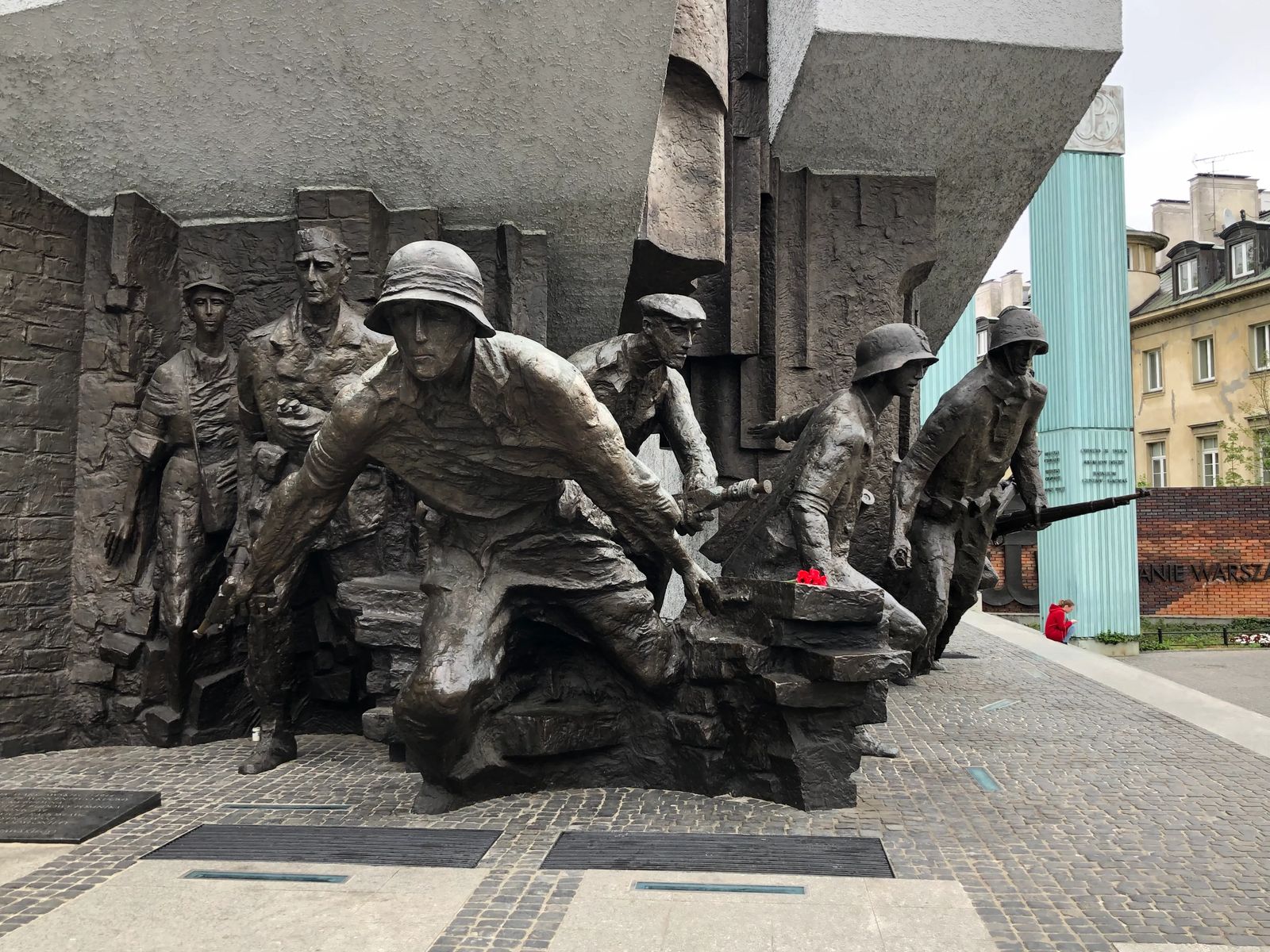 Warsaw Uprising Museum
Address: ul. Grzybowska 79, Warsaw 00-844 Poland
This well organized museum is a MUST SEE while in Warsaw. It tells the tale of the how it was for citizens living in the Polish capitol during WWII and the uprising to stop the German soldiers occupying a land that was supposed to be free.
Despite signing a treaty with Britain and France, Hitler squeezed the capitol of Poland until it was crused. The Germans took out revenge on the city itself, and was the beginning of what was to be one of the deadlist battles in WWII.
As you wander through, it also takes you through what happened after the war, the Soviet occupation. It shows what it was like living under Stalin's rule, the minimal housing, food and even toliet paper that was available.
There wasn't much help provided to the Polish people after WWII was over. They had to, again, summon the courage to resist, and demand an independent Poland. The story is compelling, heart wrenching and something I was never taught in school. So if you really want to see the resliency and courage of the Polish people, I cannot recommend this enough.
There are over 2,800 exhibit items, films, sound recordings and it is very easy to take a wrong turn. So I suggest getting the audio guide and following the map they provide, or just hire a guide.
It is about 25zl or $6.40 for ticket, and then 10zl or $2.55 for an audio guide. For an official museum guide it is about 200zl or $51. I feel like when you hire the local guides or museum guides, it really helps give a whole new and unqiue perspective.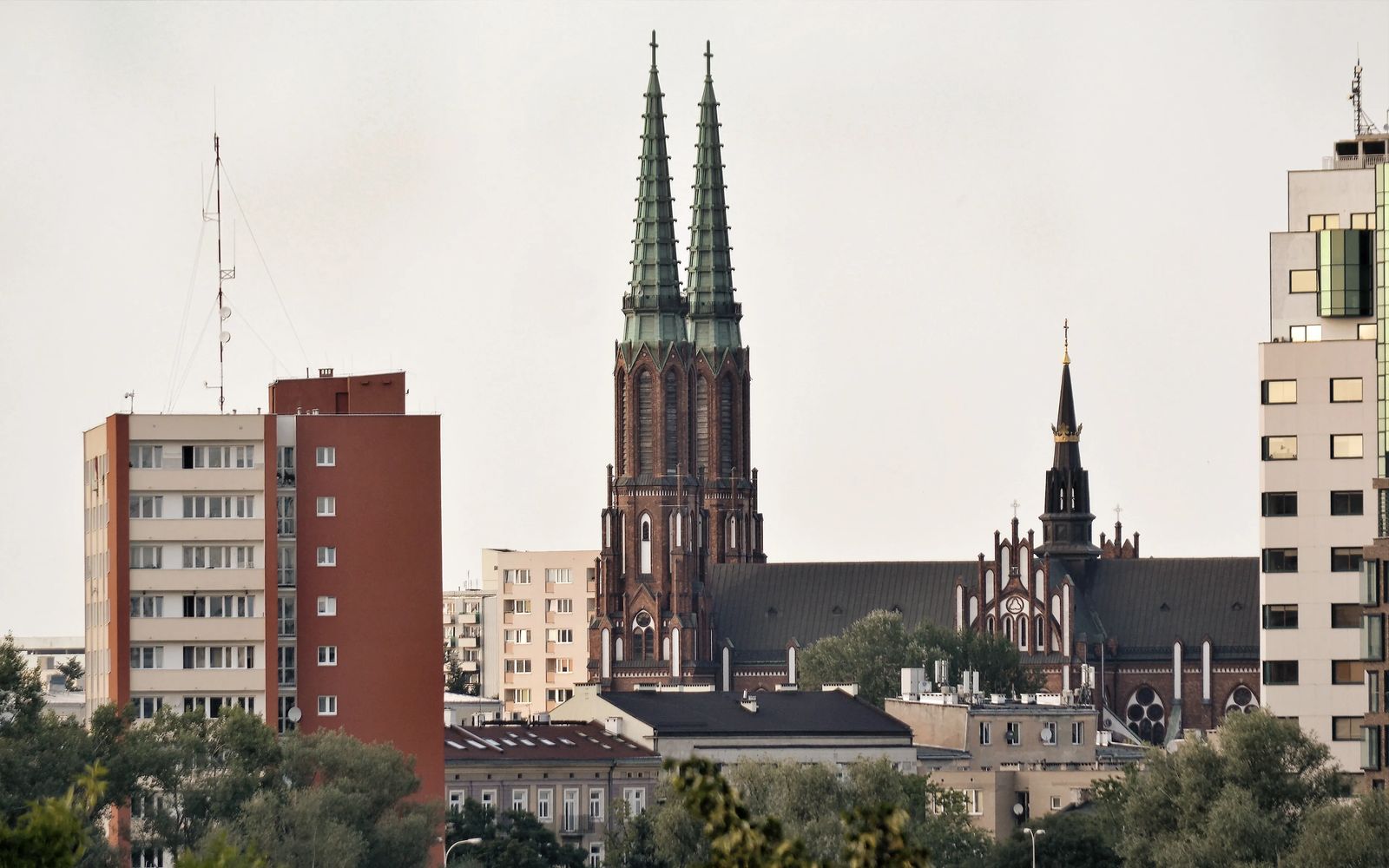 Notable Churches To See In Warsaw
I ran out of time to see all the wonders of Poland, but here are a few more tidbits to choose from. Church, Polotics, and History are so intertwined in Poland that you can learn a lot about the people by visiting their places of worship. Here are a few that are well worth visiting.
St. Florian's Cathedral
Address: Floriańska 3, 03-707 Warszawa, Poland
The spires on this beautifully built Gothic church rise 246 feet (75m) into the sky. It was built, basically, to spite the building of Orthodox churches by the Tsar. Something so beautiful, was obviously blown up by the Germans, and the church, although rebuilt, still is trying to recover the grand interior it once had.
When the building was bombed, the Patron Saint of Poland, St Florian, was still standing amdist the destruction of the church.
St Anne's Church
Address: ul. Krakowskie Przedmieście 68
Built in the 14th century, and nearly surviving WWII unscathed, this is one of the oldest landmarks in the city. The Neoclassical face of the building is a bit deceiving to the grandeur which it holds inside.
There are rococo details and a massive ornate organ in the front. If you time your visit right, you might be able to catch the 30 minute concert played at noon (April-Oct).
This church also marks the start of the Royal Route on the way to the Castle in Old Town. So I suggest you start here and make your way down the route of Polish Kings.
There is a bell tower, that if you can brave the 147 steps to the top, you can see the Castle and Old town perfectly.
St. John's Cathedral
Address: ul. Świętojańska 8 , Old Town
The front of this church is a bit deceiving, because the top of it looks like an Organ. It was built in the 14th century, and holds the remains of the last king of Poland Stanislaw August Poniatowski.
This is where the first constitution of Poland was declared, and also holds the remains of the first Polish President and some of the Mazovian knights. The Masovian knights were former pagans turned christian that lived on the border of Prussia and Slavic regions and fought during the crusades.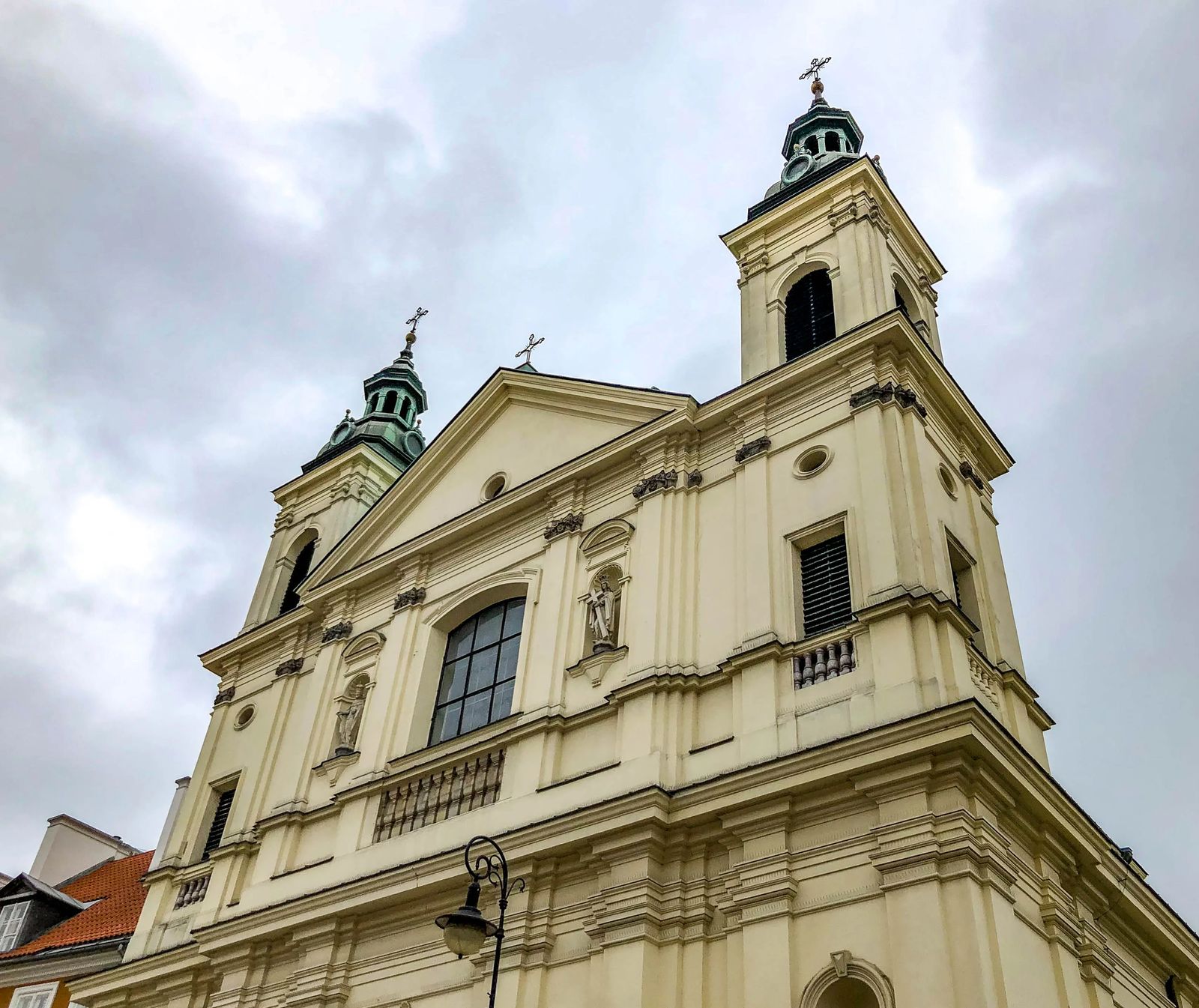 Holy Cross Church
Address: Krakowskie Przedmieście 3, 00-047 Warszawa, Poland
This beautifully restored Baroque church is the one I mentioned before that holds Chopin's heart. It is right across from the Warsaw University. The original church dates back to the humble wooden house of worship established in the 15th century. Cornerstones to the church were laid by royalty, and has been a witness to all of Warsaw's victories and losses.
If you go inside, you will see an organ, this is the largest Orgen in Warsaw and was originally built in 1925 in Austria!
Tomb Of The Unknown Soldier
Address: plac Marszałka Józefa Piłsudskiego 1-3, 00-078 Warszawa, Poland
I find it fascinating to watch the changing of the guard and how it is done in each country. There is a lot of symobolism and a reverance around this tradition. This is why it is on my list of things to see in Warsaw.
This tomb contains the body of a soldier from the Battle of Lemberg from 1918 (Poland vs Ukraine). It is symbolically placed in front of the Saxon Palace that was demolished after the Warsaw uprising. The three arches stand like three sorrowful sentinals, with an eternal flame in the center, watching over the unknown soldier.
The guards exchange places every hour, every day, for the entire year. It isn't just the process, or procedure, it is the symbol of the armed forces of Poland who will always watch over their citizens.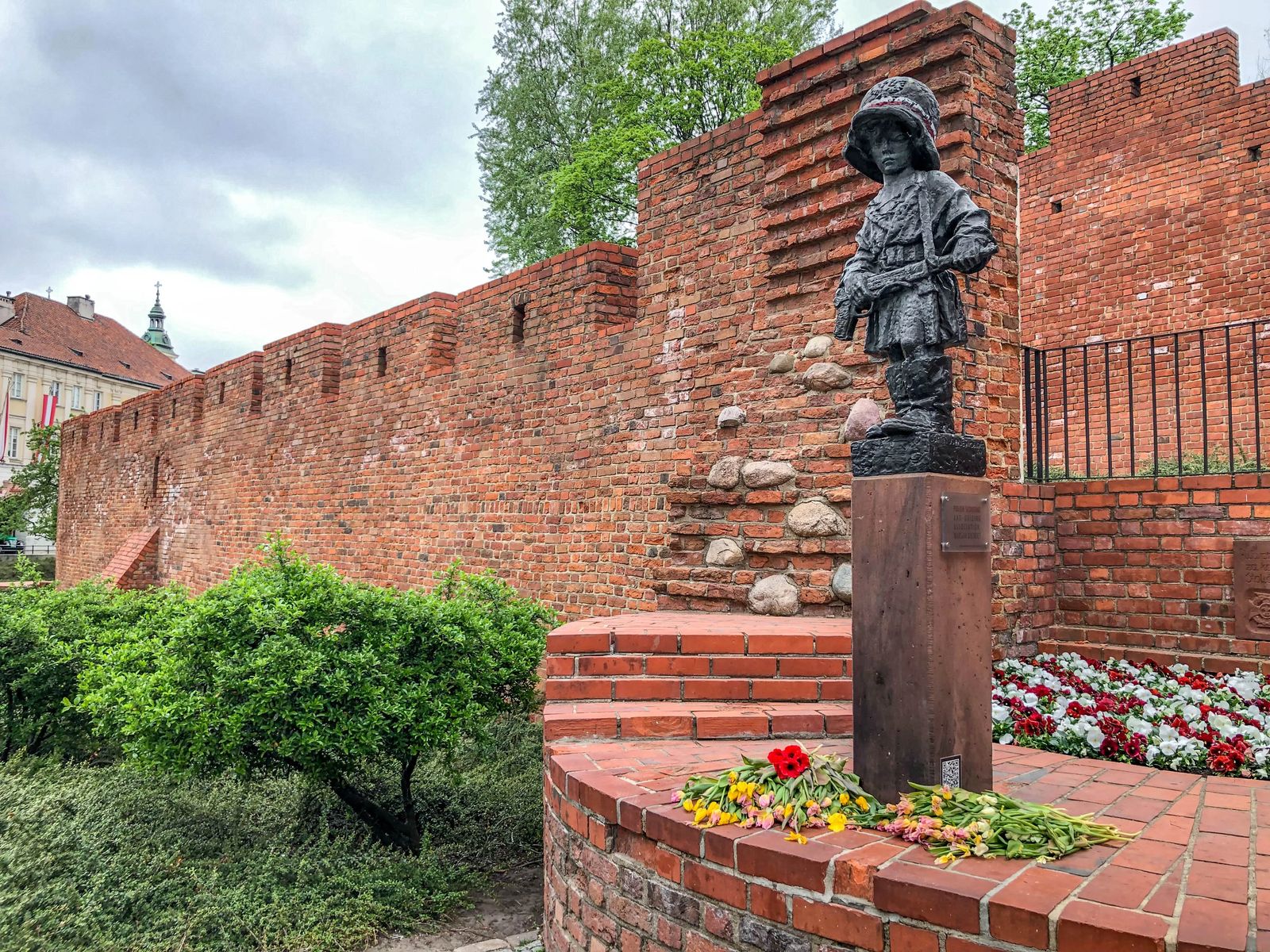 Memorial To The Child Soldiers Slain (Maly Powstaniec)
Address: Podwale, 00-001 Warszawa, Poland
This was a sobering reminder of how much the Polish people gave up for their independence. It was truly a live or die by the sword situation. No matter what time of year, you will always find momentos, flowers, and things laid at this statue and memorial.
The statue shows a helmet that is too large for this boys head. The statue is rumored to be that of 'Antek', who was killed in August of 1944 at the age of 13. Unfortunately the children of Poland were no strangers to war, and Warsaw was going to made an example of by the Germans.
The Gray Ranks of the city, or the Polish underground resistance were responsible for much of the communication during the resistance. At the end of the bloody battle 8,000 Nazi soldiers were wounded or killed, but 16,000 citizens died in the process....including the Jews being hidden by the Polish citizens. In the end, the Uprising took an additional 200,000 Polish men, women and children.
If you read the plaque behind the boy, or little insurrectionist as the locals call him, it reads "Varsovian children, we'll head into battle/for every stone of yours, we shall give our blood".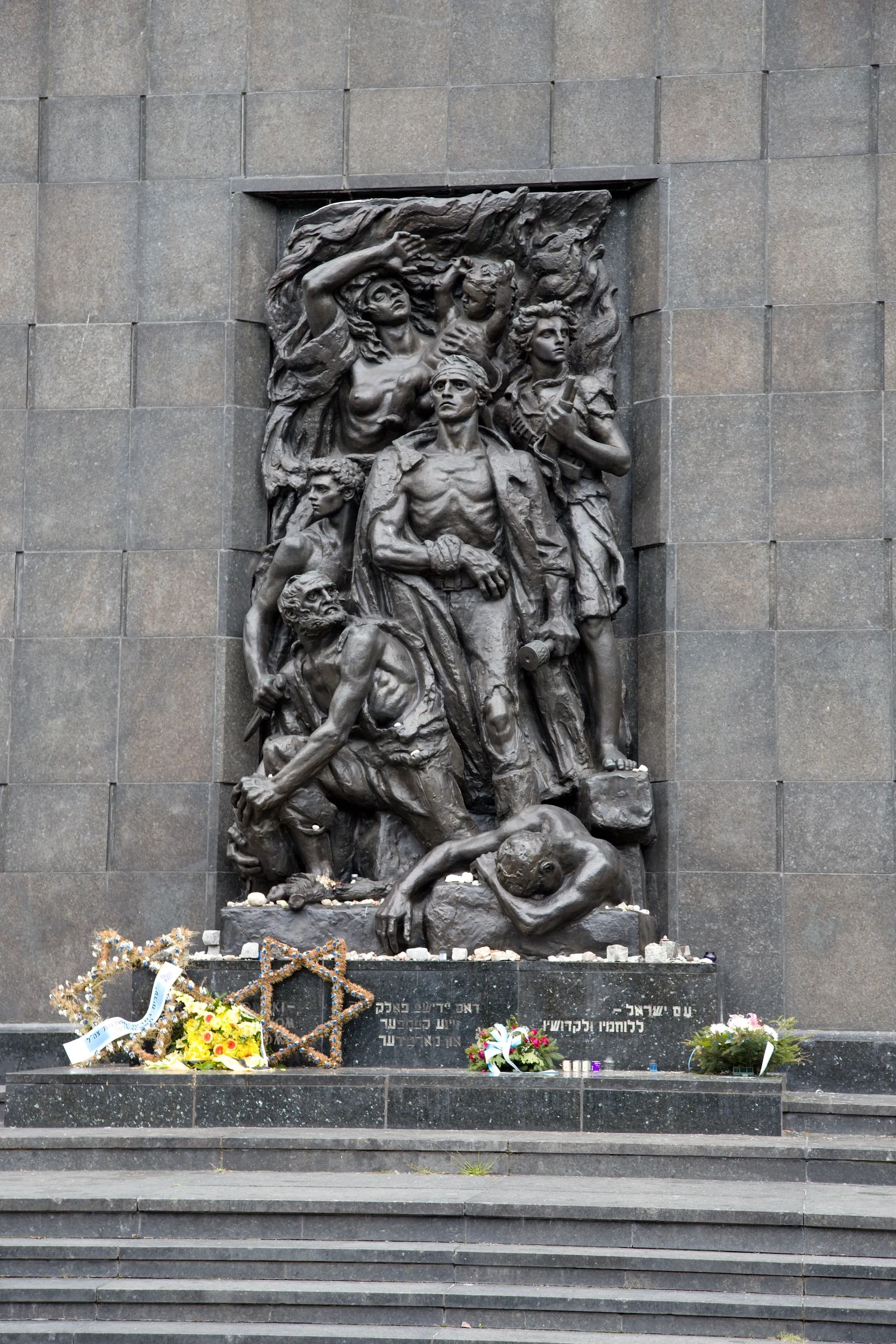 Monument To the Ghetto Heroes
Address: Ludwika Zamenhofa, 00-153 Warszawa, Poland
This monument is where the first clash of the Warsaw Uprising took place. Some people mistake Poland as a cause of Auschwitz, but they are victims of it just as much as any other Jew. Of the millions of people killed during WWII, 300,000 of them were Polish nationals and Polish Jews killed JUST in Auschwitz.
There were thousands more Polish citizens, nationals who died hiding Jews, resisting, coordinating attacks via the underground resistance.
If you look at the plaque, in the shape of a circle, it reads in Hebrew, Polish and Yiddish "For those who fell in unprecedented and heroic struggle for the dignity and freedom of the Jewish people, for a free Poland, and for the liberation of mankind. Polish Jews"
The hall massive grey stones are supposed to represent the walls of the ghetto that the Jews were forced into , and stared at as their people starved to death. Truly a moving monument, that I think we can all take time to remember, and appreciate what happened.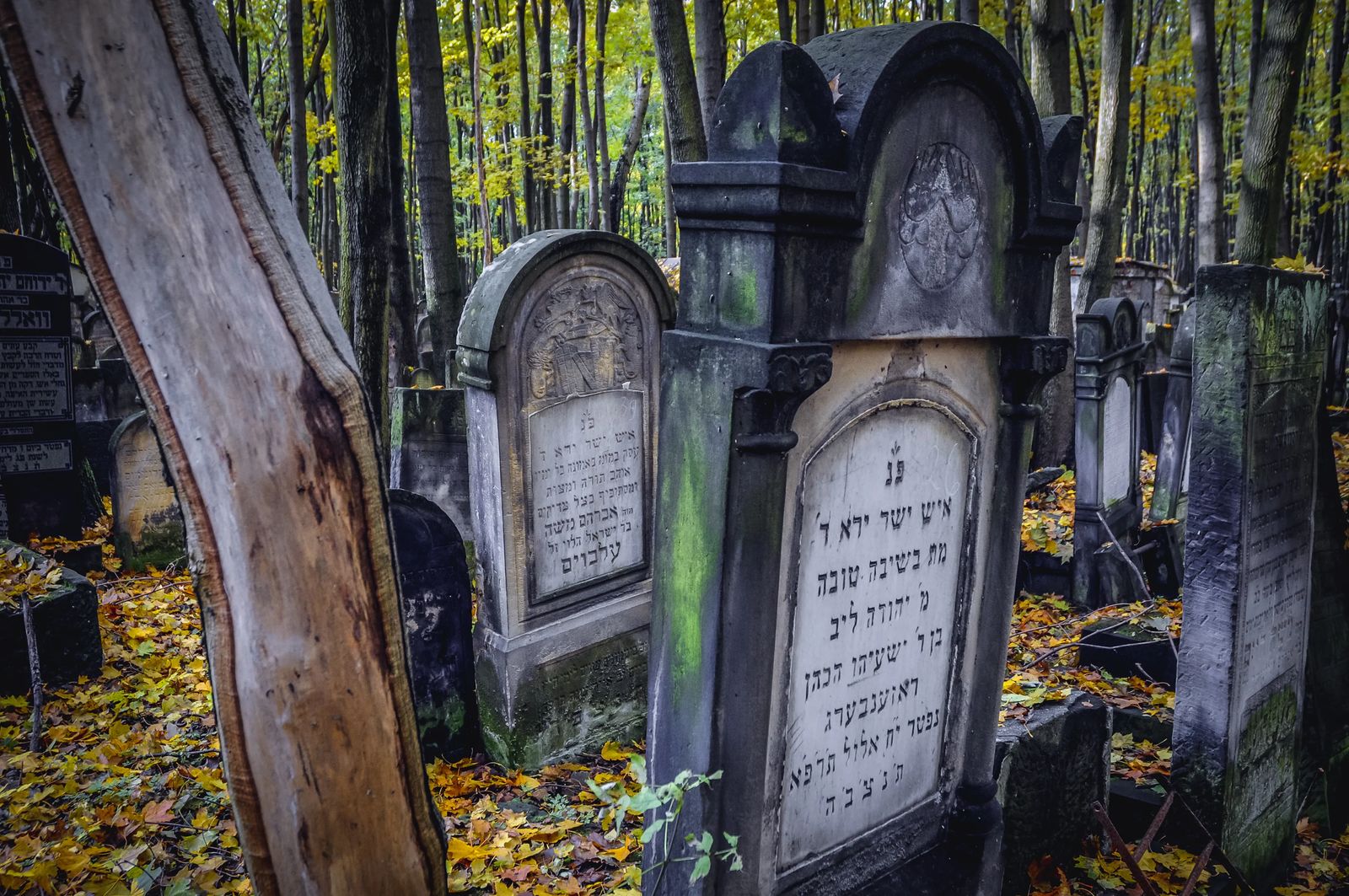 Okopowa Street Jewish Cemetery
Address: 49/51 Okopowa Street, 01-043 Warsaw
Established in 1806, this is the haunting resting place of over 200,000 Jewish people, and a mass grave dedicated to all those who died in the Jewish Ghetto.
The feeling here is a bit overwhelming to be honest.....who you realize how many people died at the hands of those of their own species.
Men are asked to cover their heads when entering, and there is a reverence here that despite thousands of tourists visiting a year is very well respected.
I highly recommend getting a guide to take you through some of the stories of the people who were buried here. The tales of triumph, of heartbreak, and having a clearer understanding of who and what you are looking at will embed this place in your heart and soul.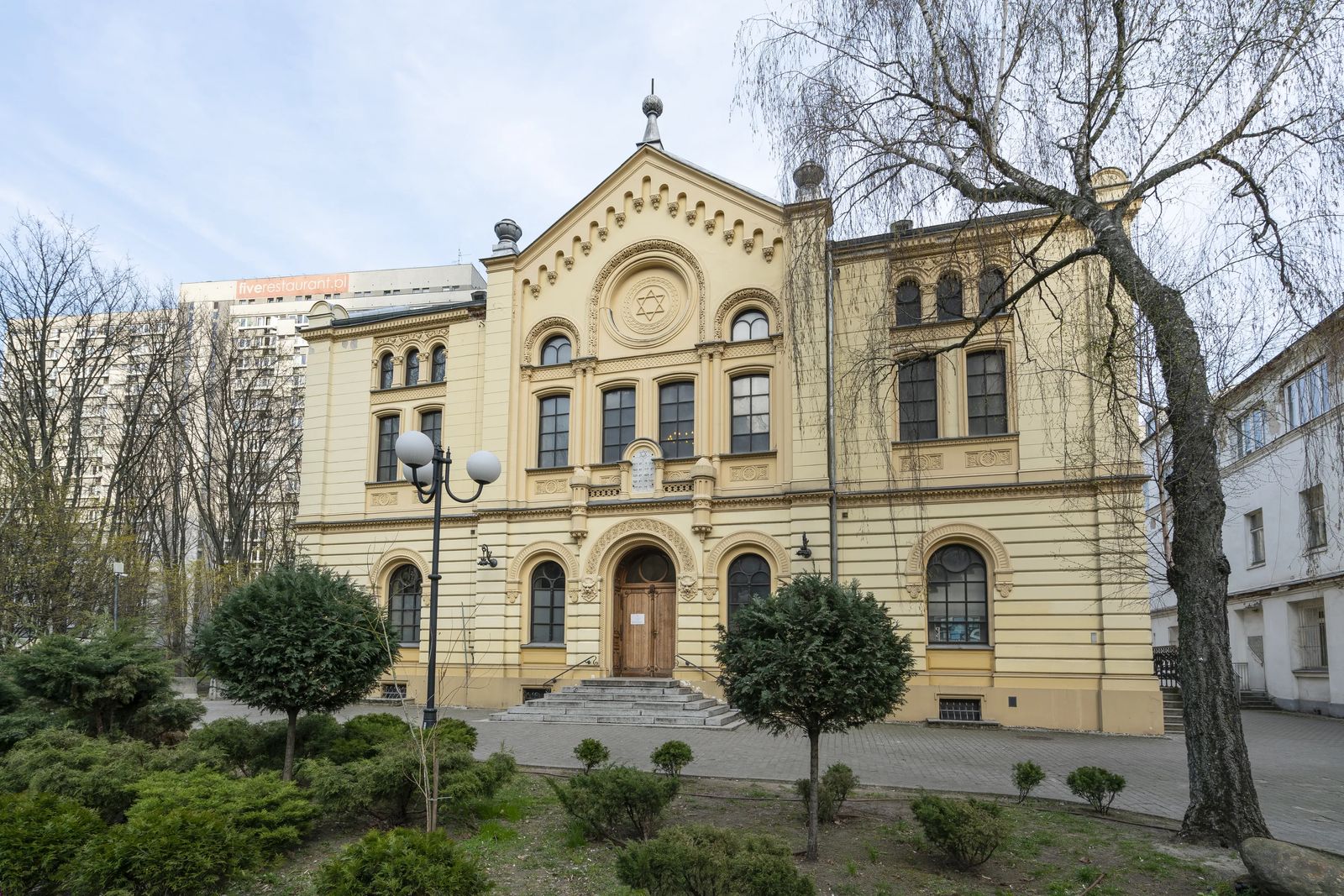 Nozyk Synagogue
Address: Twarda 6, 00-950 Warszawa, Poland
Nozyk Synagogue is one of the few Jewish synagogues that remain in the country. Why is this significant? Well in the Jewish religion, the Jewish people believe that when you pray in a synagogue that the prayers stick to the walls like dust. It binds the past to the present and the older the synagogue the more holy it becomes. This is why the walls are rarely, if ever painted over.
So for the Polish Jews that survived the Holocaust, this is a very sacred place. You can feel the terrible and criminal acts that were committed against the people here. The walls are haunted with the echos of the past here....great leaders and rabbis that vanished and all that remains is a place where they used to pray.
If you walk into this neighborhood, you can still feel the desperate clenching to traditions and home. The Jewish lives here still very much revolve around this building.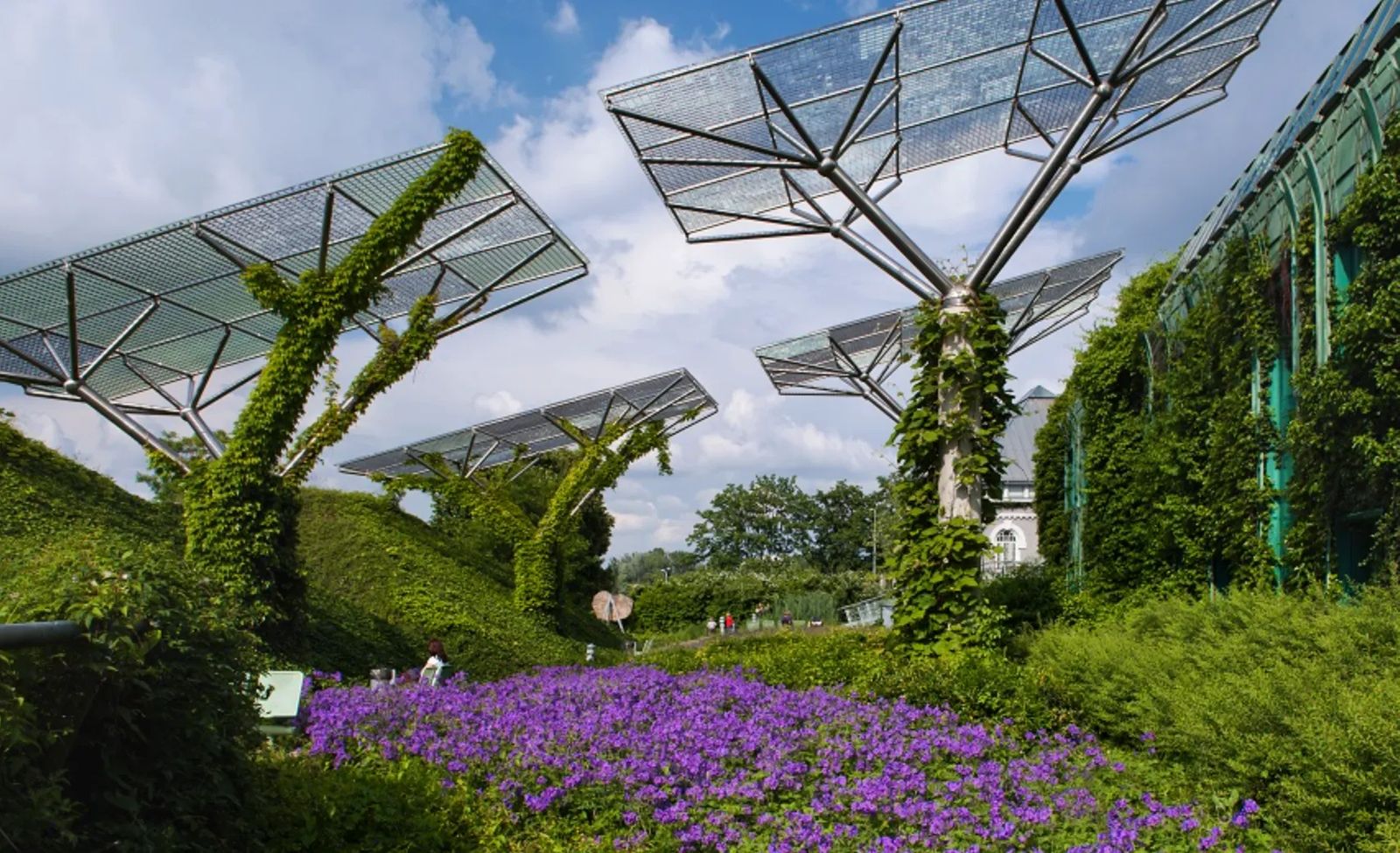 University of Warsaw
Address: al. Ujazdowskie 4, 00-478 Warszawa, Poland
This university was established in 1816 and is the largest University in Poland. The gorgeous library on Dobra Str is covered in vines with fabulous skylights - it almost feels like you would be studying at the hobbit university because of how green it is. The real treasure is going inside and seeing the massive stained glass ceiling and the Botanical Gardens.
Botanical Gardens
It is much smaller than Lazienki Park, but I think has more variety being at a University. You have carpets of tulips, rose gardens, cacti, palm trees, fig trees, medicinal and ornamental plants, coffe shrubs, avacados, and even carnivorous plants.
They are only open to the public on certain days of the week as the other days are used for class time. There is a secret chapel made of brick at the back, it is small and modestly decorated, but it truly feels like a little secret garden.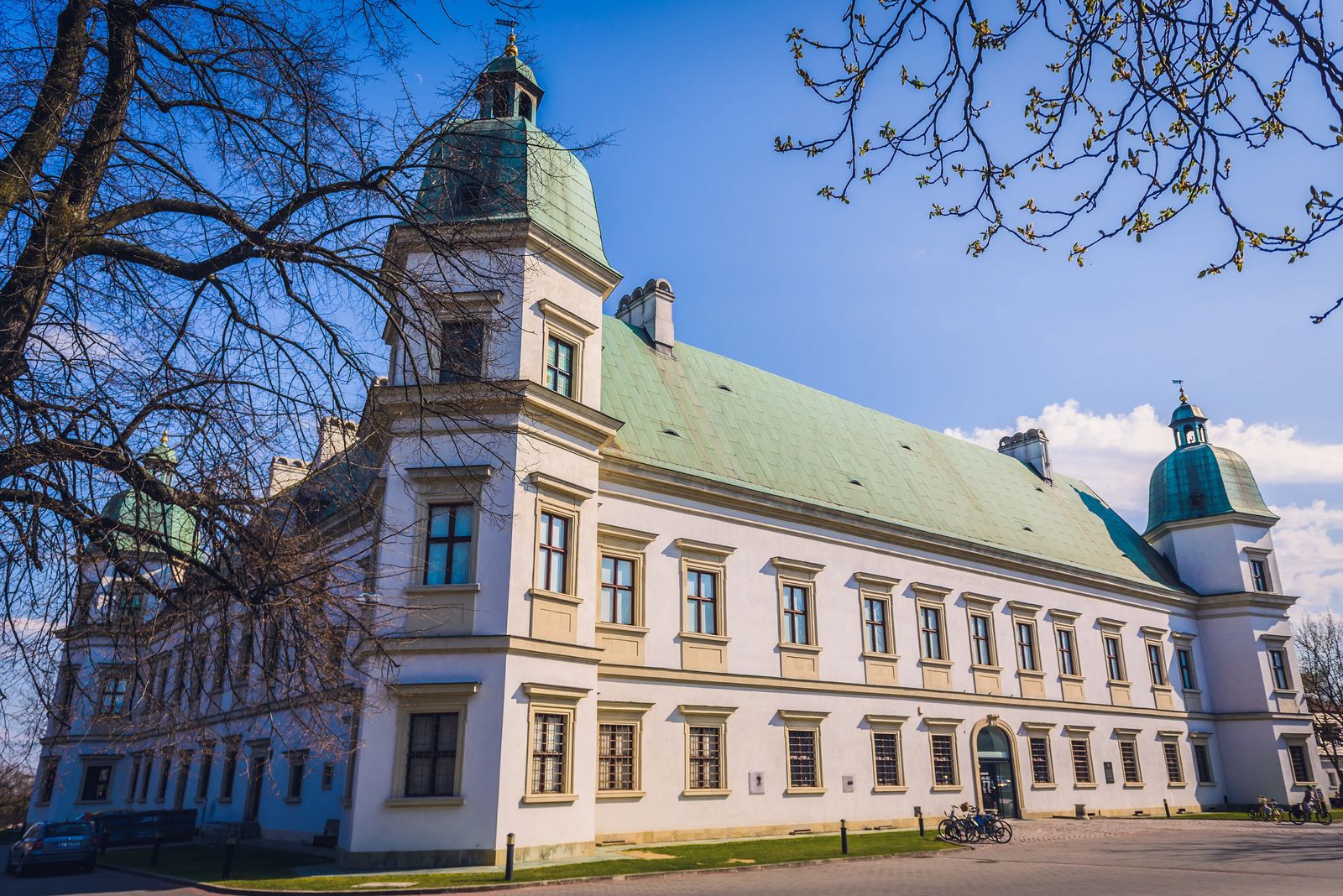 Ujazodowski Castle
Address: Jazdów 2, 00-467 Warszawa, Poland
This was used a s summer residence for king Sigismund III Vasa. It is now the Center for Contemporary Art and has theatre, music, and literary events held here every year.
I didn't personally get to visit, but if you have time and are in the area, I think it is worth a short visit. It wasn't high up on my list, but for those who like contemporary art, old world cinema, and to imagine life as a prince in Poland - then
Warsaw Zoo
Address: Ratuszowa 1/3, 03-461 Warszawa, Poland
This Zoo dates back to the 17th century, and while I don't typically include Zoo's in my suggestions this one I thought deserved a look. It played a major role in WWII as it was a hiding spot for more than 300 Jews that were saved from the Holocaust.
Once Warsaw surrendered to the Germans, the animals that were deemed 'non-valuable' were shot, and the others taken to Germany. The story of the zoo-keeper and his wife, were actually turned into a movie, 'The Zookeeper's wife'.
Originally the animals were caught and/or gifted to the Zoo from other expeditions or Zoos in Europe. Now they have a Bird Asylum where wild birds are brough for rehab, and some are brought to ensure the survival of their species. Cheetahs are being bred here as well, and a new elephant house was just built for rescued elephants, of which there are now five in residence here.
Just an FYI, some of the animals are owned, some relocated because of their habitats disappearing (mostly from India) and other species that are there including Apes and Chimps that I was not able to find exactly where they are sourced from. So I will leave it up to you if you would like to visit for the history, or not visit because of the principal of the matter of where they may or may not get their animals from. I personally didn't visit, because I hate seeing animals in cages, but it is a major attraction for locals and so didn't want to exclude it.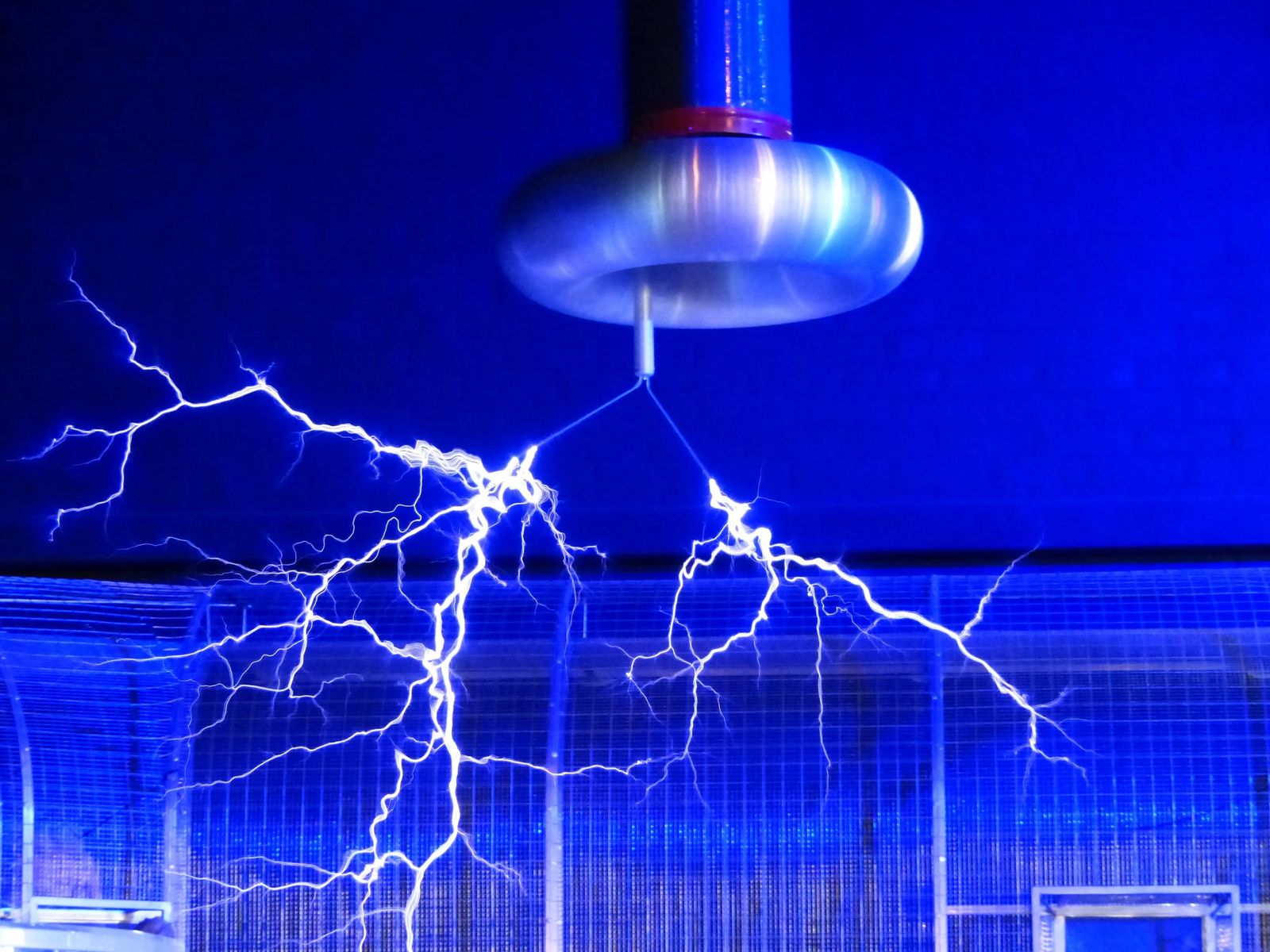 Copernicus Science Center
Address: Wybrzeże Kościuszkowskie 20, 00-390 Warszawa, Poland
I didn't personally visit this centre, but if you have kids, there are LOADS and LOOOOOADS of interactive exhibits here. There is a robotic theatre, Science shows, mini-workshops, and even an experimental zone. To give you an example, the experimental zone, has more than 200 interactive exhibits all about how the human body works, smells, interprets sound etc...
So if your kiddos are bouncing off the walls....well here is where you can come and get a reprieve. They also have Botanical Garden you can escape to with a flask while they run amuck inside, lol.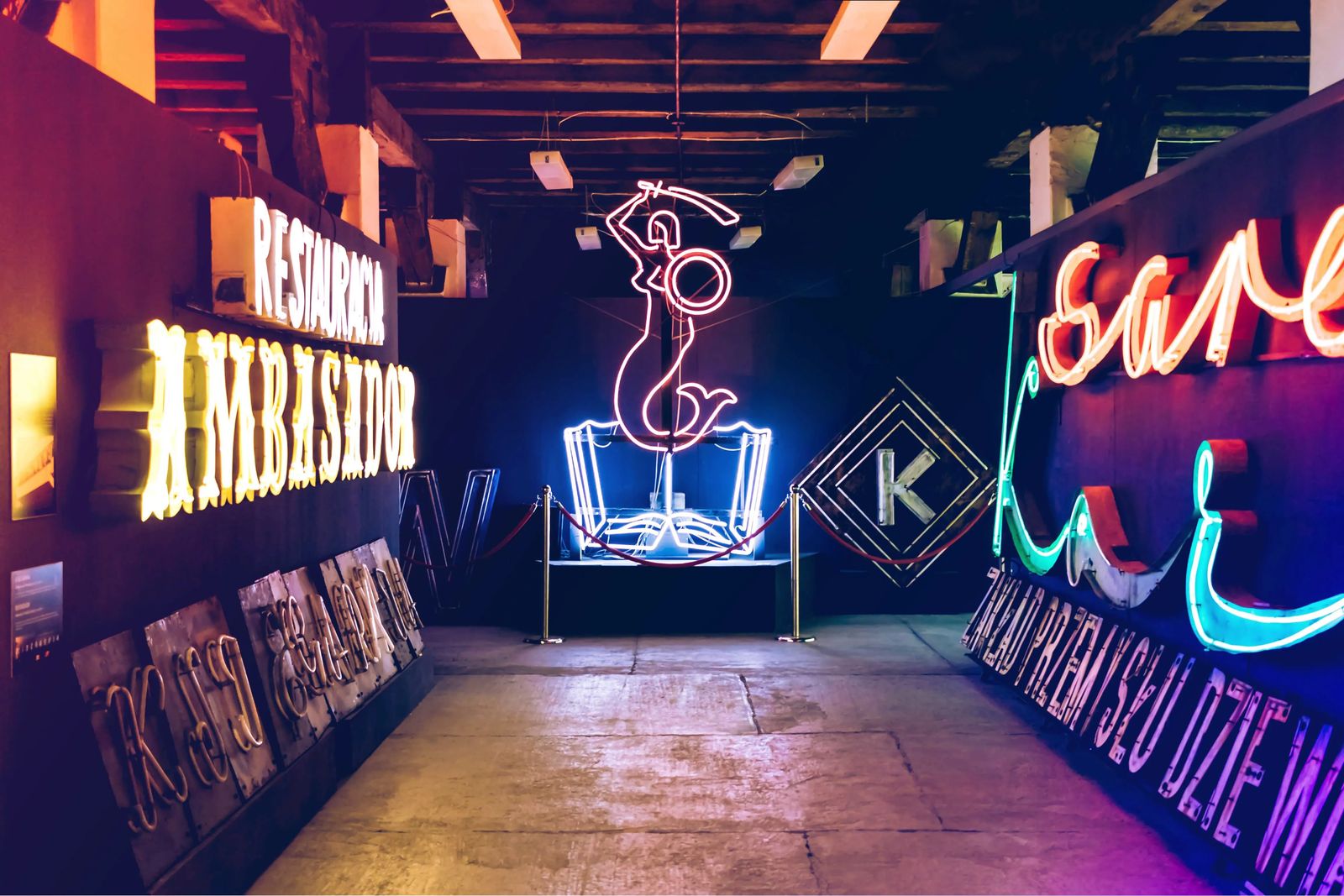 Praga District
Address: Take the eastbound M2 Metro to Dworzec Wileński, and you'll be in the heart of the district. From Warszawa Centralna the 160 bus will take you across the river and drop you at the Park Praski stop, a great place to begin your tour of Praga.
This is a major tourist and local hot spot. Many of the buildings, art, architechture etc... have already been mentioned in this guide. Just to review what is IN the Praga District, you have the Praga Museum of Warasw, Church of Our Lady Loreta (St Florian and St Michael Church), Warsaw Zoo, and the Praga Koneser Centre which is a 19th century Koneser Vodka distillery.
Street Art tour
I really wish I was able to go on a street art tour in the Praga district as well. The thing about countries that have been oppressed by a government that doesn't allow freedom to speak, express and move forward - is they tend to express themselves through street art. So the Praga district is really the place to be for this. I highly suggest taking a Street Art Tour to see Praga Street art like 'The Bear', 'Poland's Banksy', 'The Shrine', 'Philosophocal Ponderings', 'Opor', and 'Eastern Warsaw at Night'.
Neon Museum
This is an instagram hot spot, where you can go and take photos of post-WWII Neo signs from around the world. This is also located in the Praga district and costs about 10zl ($2.54) to get in. I suggest doing the Neon Museum and Vodka Museum tour personally (sounds like it would be an even better time if you were with some friends, lol).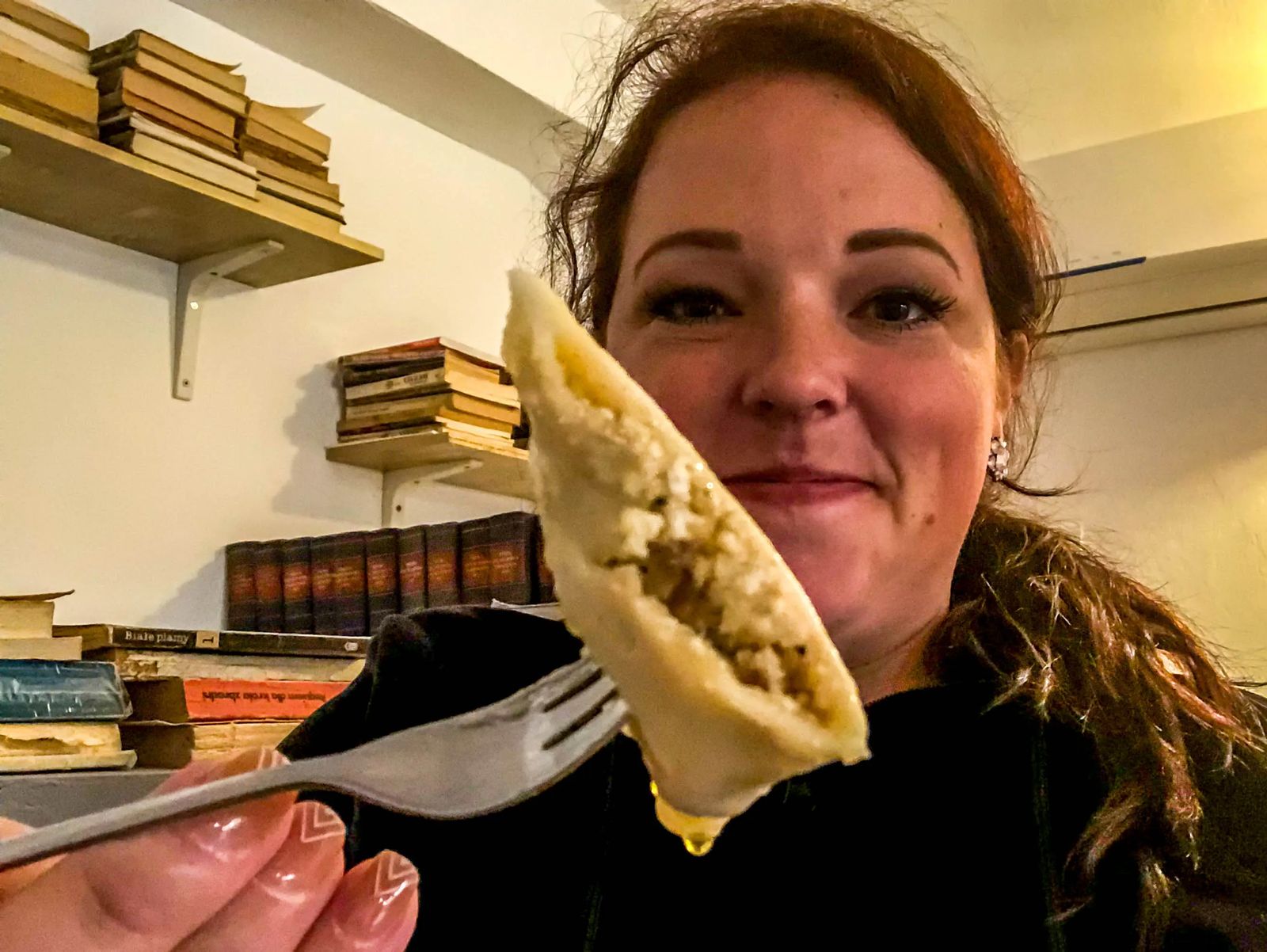 Food To Try While In Warsaw
I had ZERO clue what I was getting myself into as far as the food scene in Poland. It doesn't matter if you are in the North of Poland or in the South - these are some classic dishes you MUST try while in Poland. You will likely need to wear your fat pants, or bring a wheelchair with you so they can wheel you outta da restaurant, lol..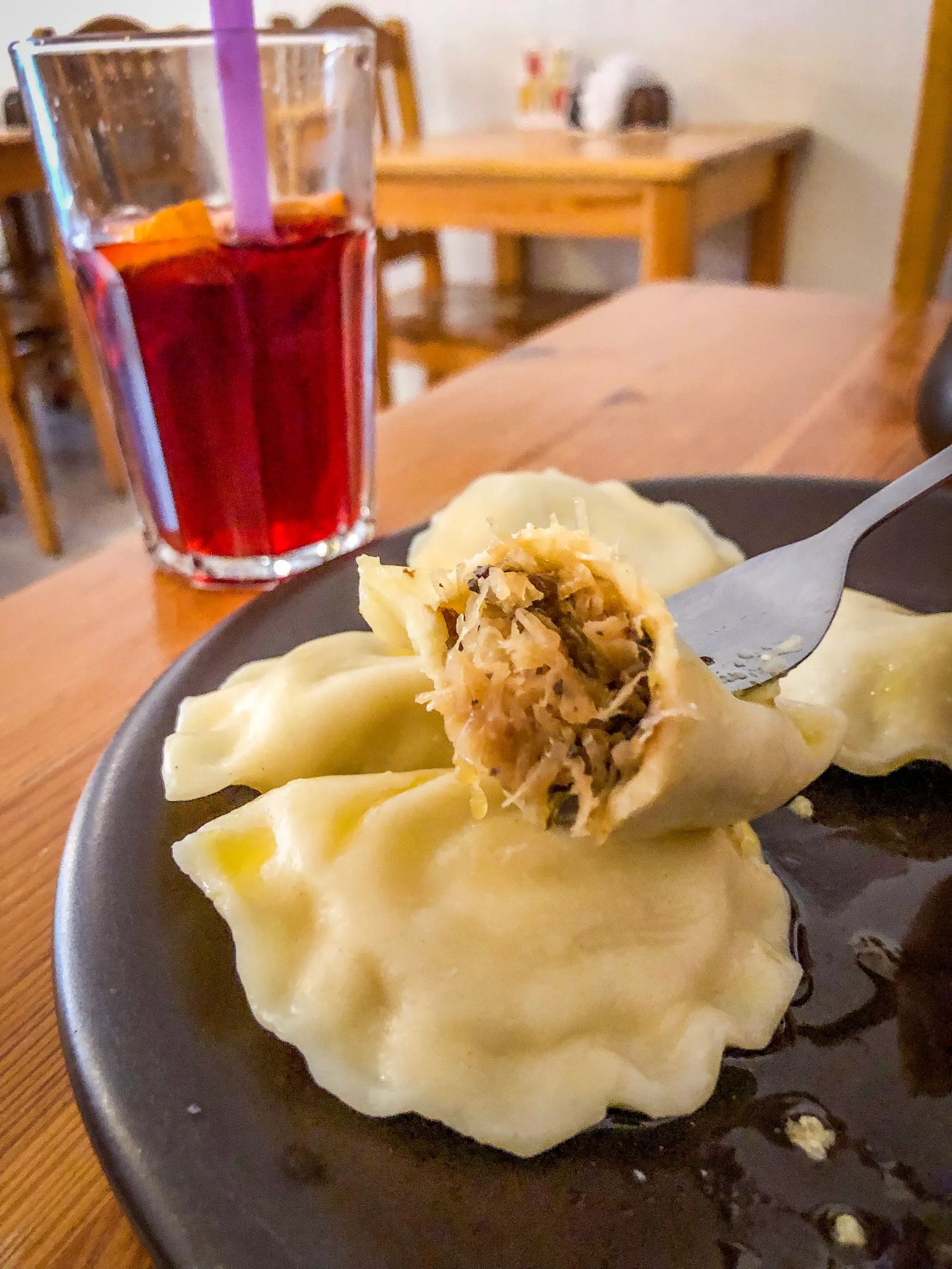 Eat A Pierogi
I think the spices and the way the Pierogi is cooked is what is going to be a deciding factor on WHERE you go to eat a Pierogi. They have meat stuffed Pierogi's, as well as cheese stuffed. Here are a few of the places that were recommended to me. Zapiecek which has a bunch of varieties, but locals rave over the affordability of the above average tasting perogies here. There is also Milk Bar, which no matter what or where I turned, people always recommended this one.
Potato Pancakes (Bramborák)
Best place to eat: Folk Gospoda
Address: Waliców 13, 00-865 Warszawa, Poland
Basically these are like hash browns, but a hundred times better. You eat them with applesauce or sour cream, so you really do have the option of making them sweet or savory. Sometimes you will see them with some smoked salmon for breakfast or brunch.
If you find them for dinner, they are typically going to come with chicken/pork with some kind of gravy like sauce.
These were a major staple during the 'hard years' of Poland. Potatoes are cheap, easy to grow, incredibly easy to store in Poland and so they were often used as a way to survive. Now they are a classic dish getting a makeover on the daily.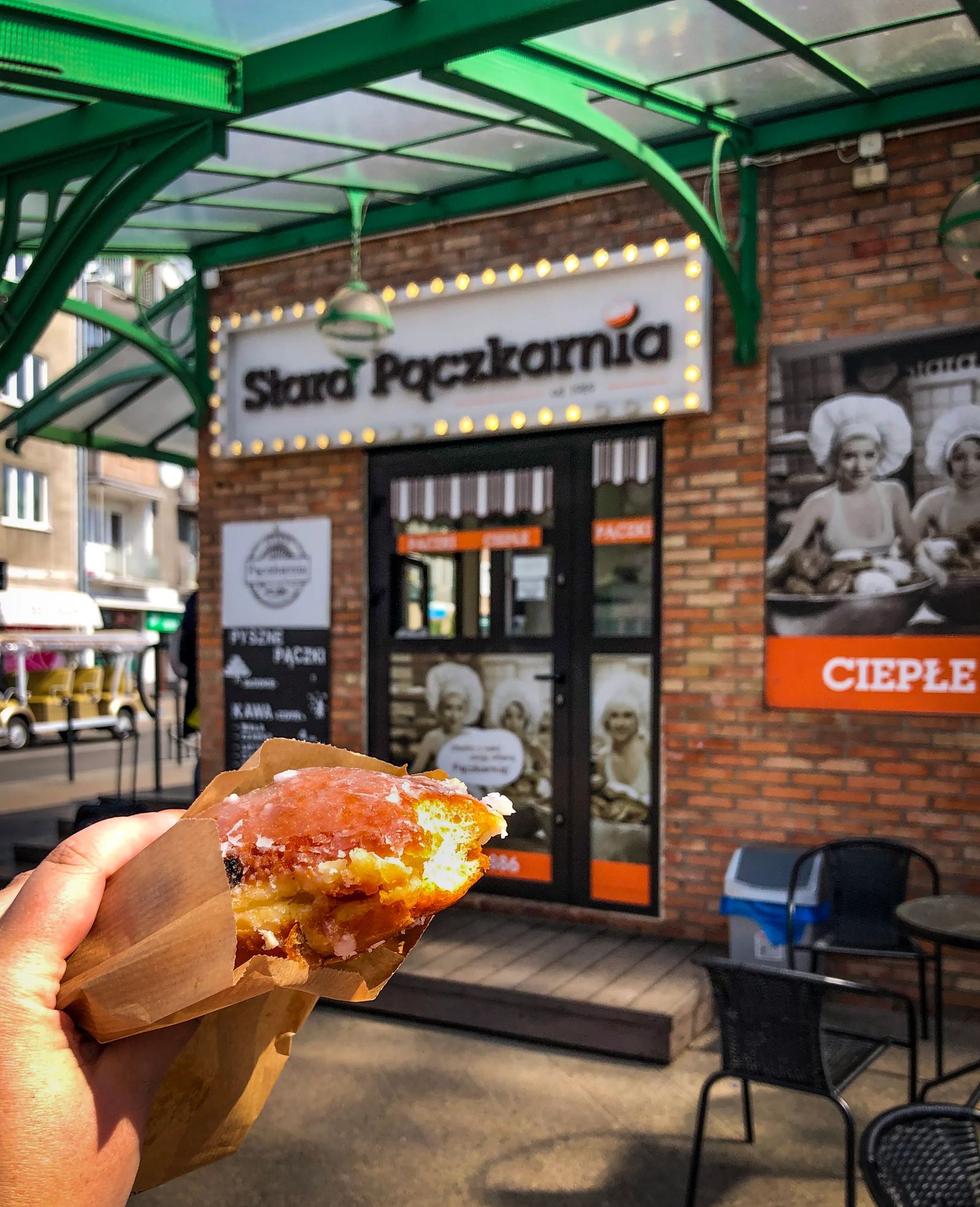 Polish Doughnut (Paczki)
Best place for Paczki: Cukiernia Pawlowicz
Address: Chmielna 13, 00-021 Warszawa, Poland
These are the Polish Doughnuts that you see throughout Poland. If I had to compare it to something I would say it is a bit like the Boston Cream Pie doughnut, but MUCH better.
I personally don't like the doughnuts with so much filling that you can hardly taste the dough. These are the perfect balance of creamy delicious filling that isn't so sweet it makes you sick, but a perfect balance of filling and doughnut. They are often glazed, or have some delicious condiment on the outside like crushed nuts.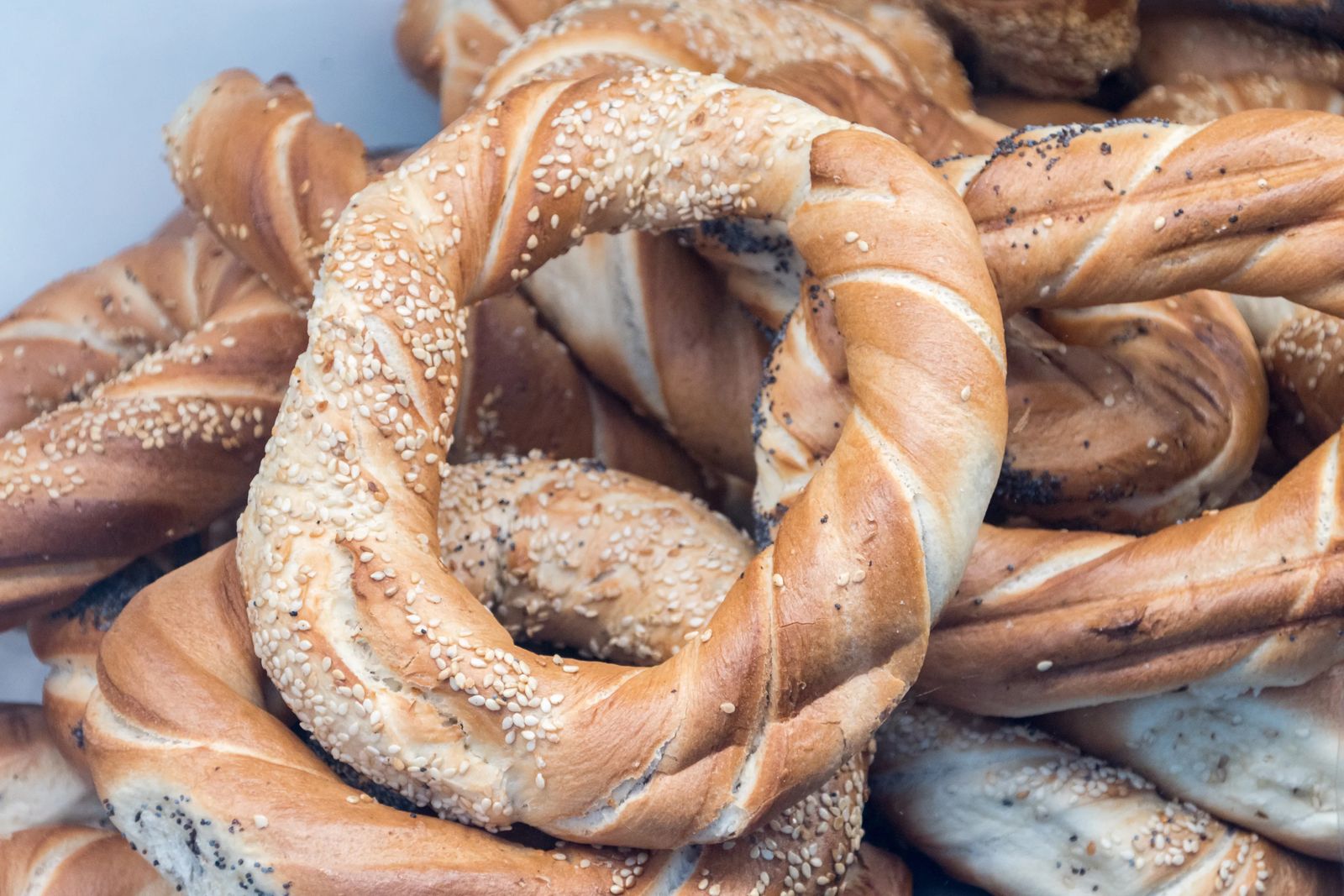 Cracovian Bagel (Obwarzanek Krakowski)
Best place to eat Obwarzanek: Basically any street corner
These are the street food staple in Poland. It is a round piece of bread that is like a cross between a Bagel, French Bread and a hard roll. Definitely get them with some kind of sauce or butter, because if you eat them plain it can be quite dry.
You can find these anywhere, they are in every train, train station, street corner bakery. They are often sprinkled with some kind of poppy seed, or sesame seed.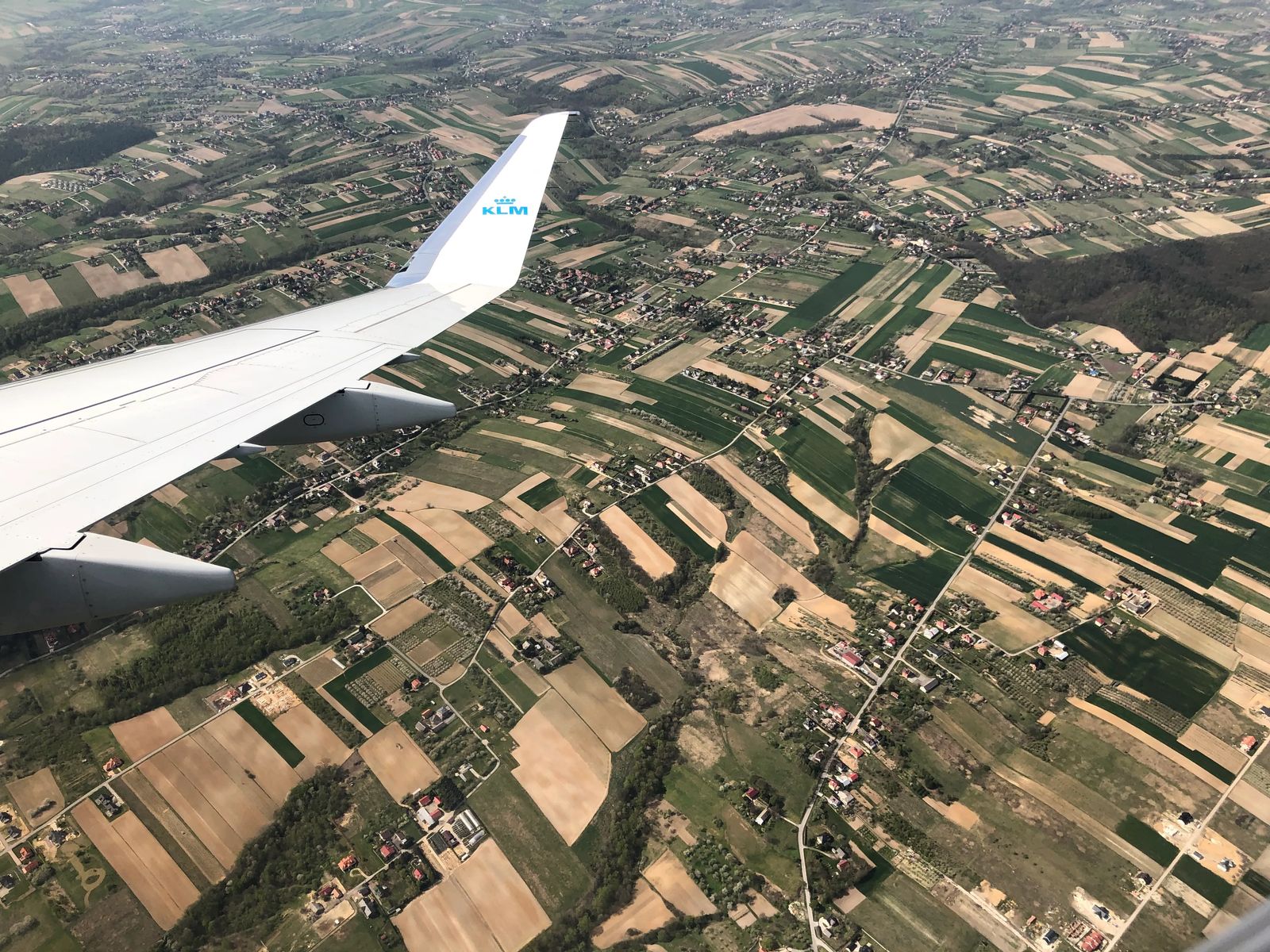 How to Get to Warsaw?
Flights: You can pretty much reach to Warsaw from anywhere in Europe, thanks to the LOT Polish Airlines based here. Even the cheaper Ryan Air also connects Warsaw with the other European cities. Warsaw has two airports, the Chopin Airport and Modlin Airport, with flights running to both of them. Flights from cities like Berlin to Warsaw, Prague, Budapest and other cities can be surprisingly cheaper, sometimes even better than buses or trains if you plan ahead.
Once you get out of the airport, there are local buses and trains to the city centre.
Trains: Trains and local trams are the best way to travel within Poland. There are trains from major surrounding cities including Prague, Budapest, Vienna, Berlin and others. You can check intercity trains if arriving from another city in Poland.
If you are traveling between countries or between multiple cities within Poland, then I suggest getting an EuRail Pass. This is what I did when I went backpacking across Poland from Krakow to Warsaw to Gdansk, and back to Krakow.
Buses: Flixbus is one of the major operators connecting Poland with other European cities. European cities, which offer the cheapest bus fares
Google Map of Attractions In Warsaw
Like it? Pin it! Sharing is Caring!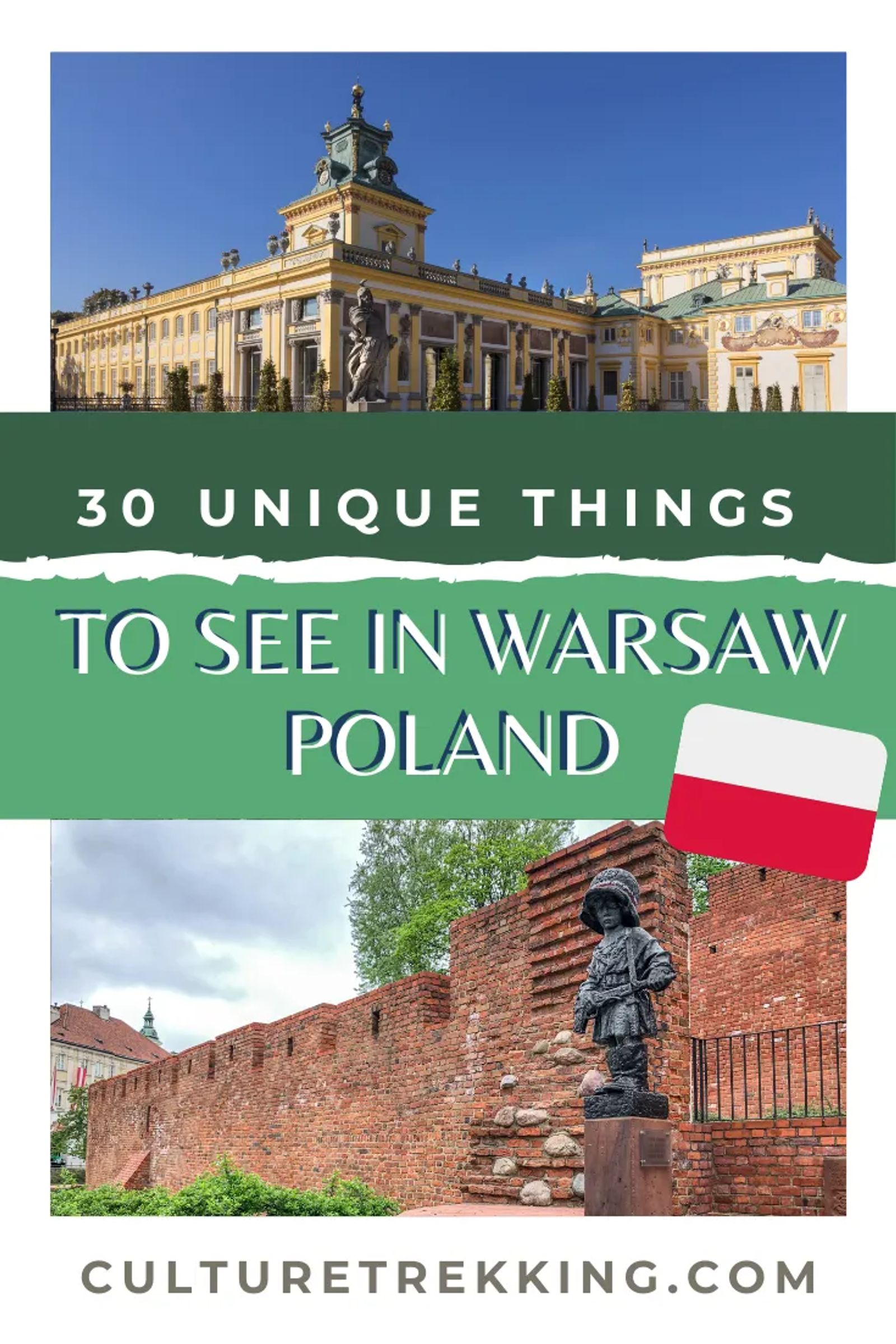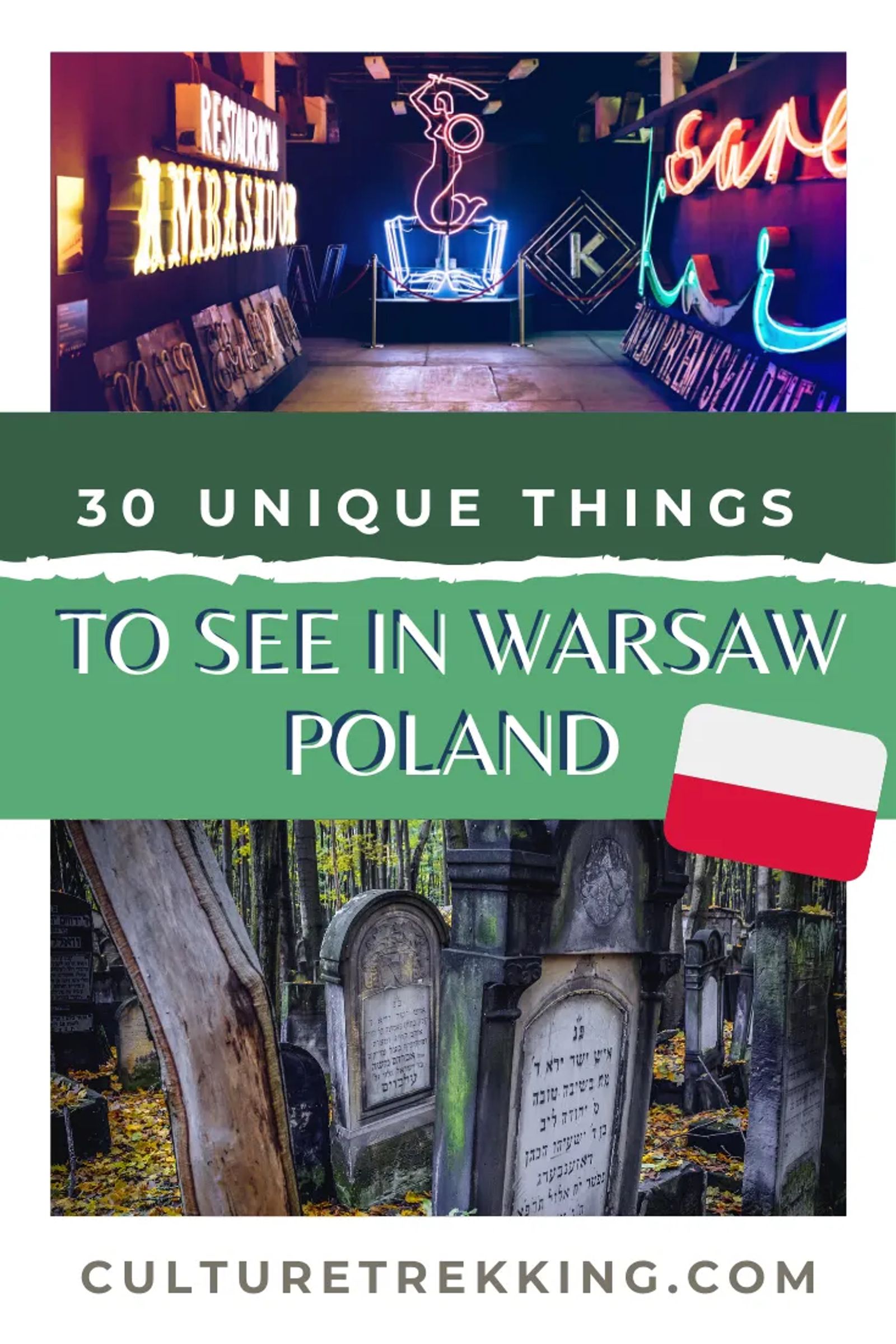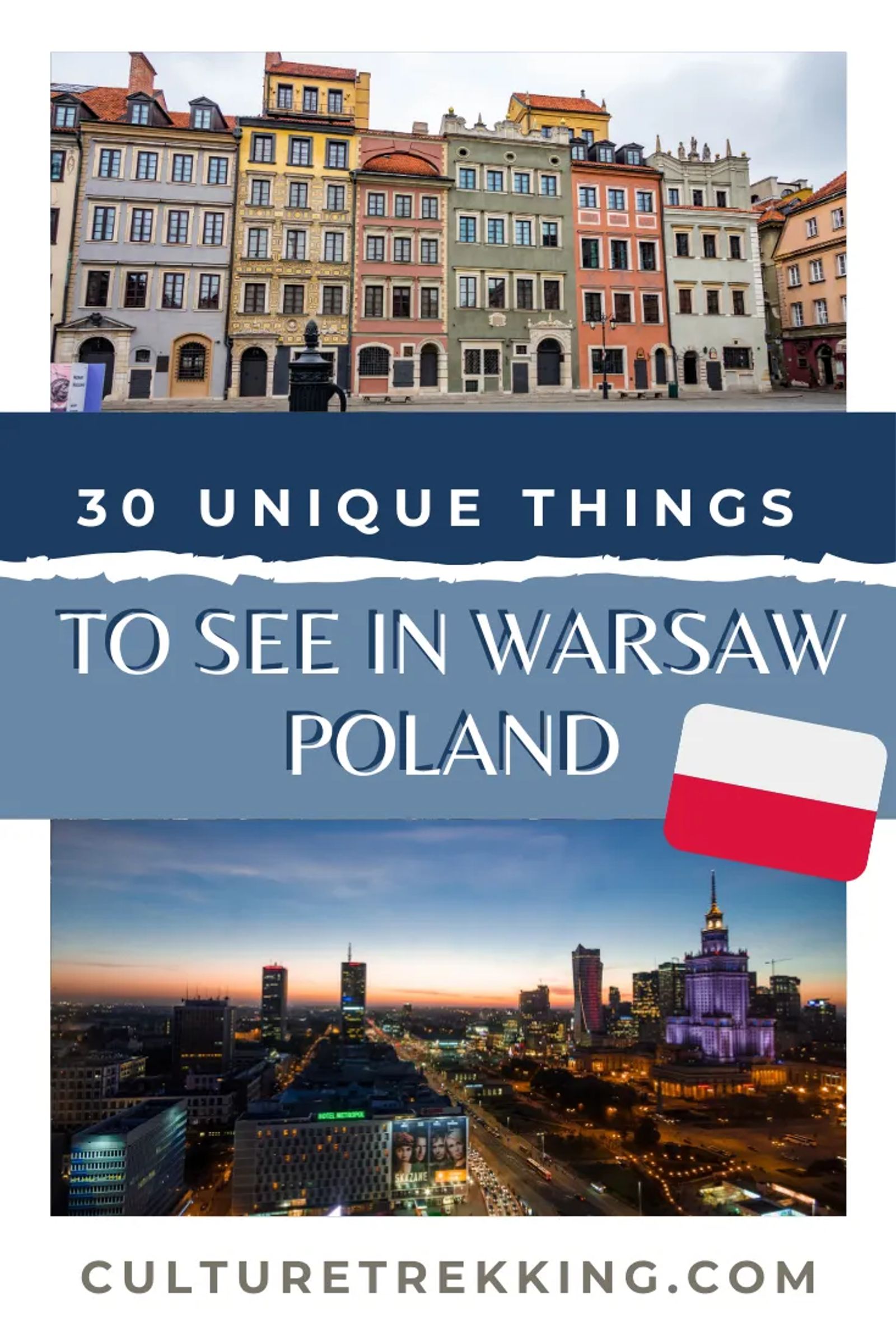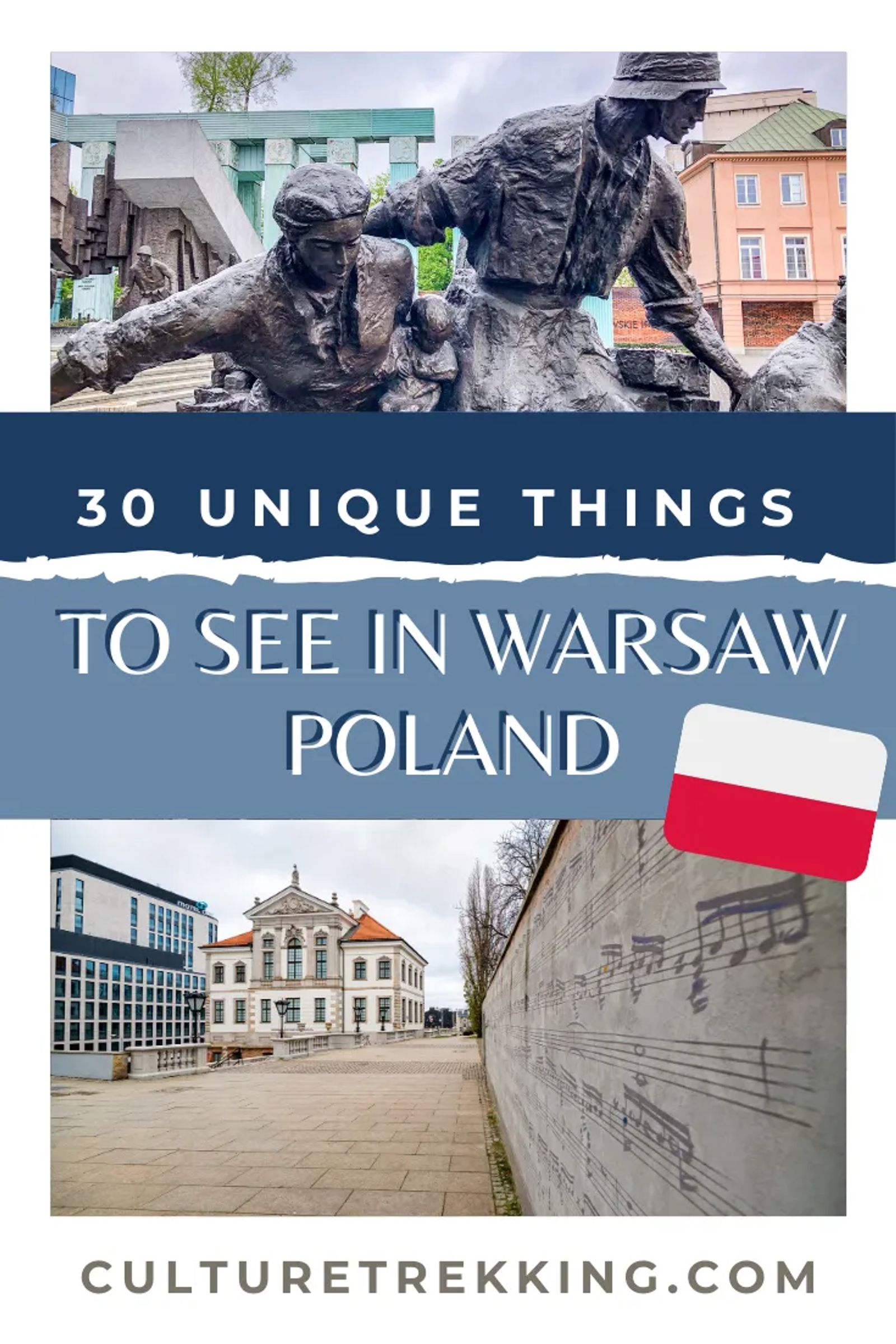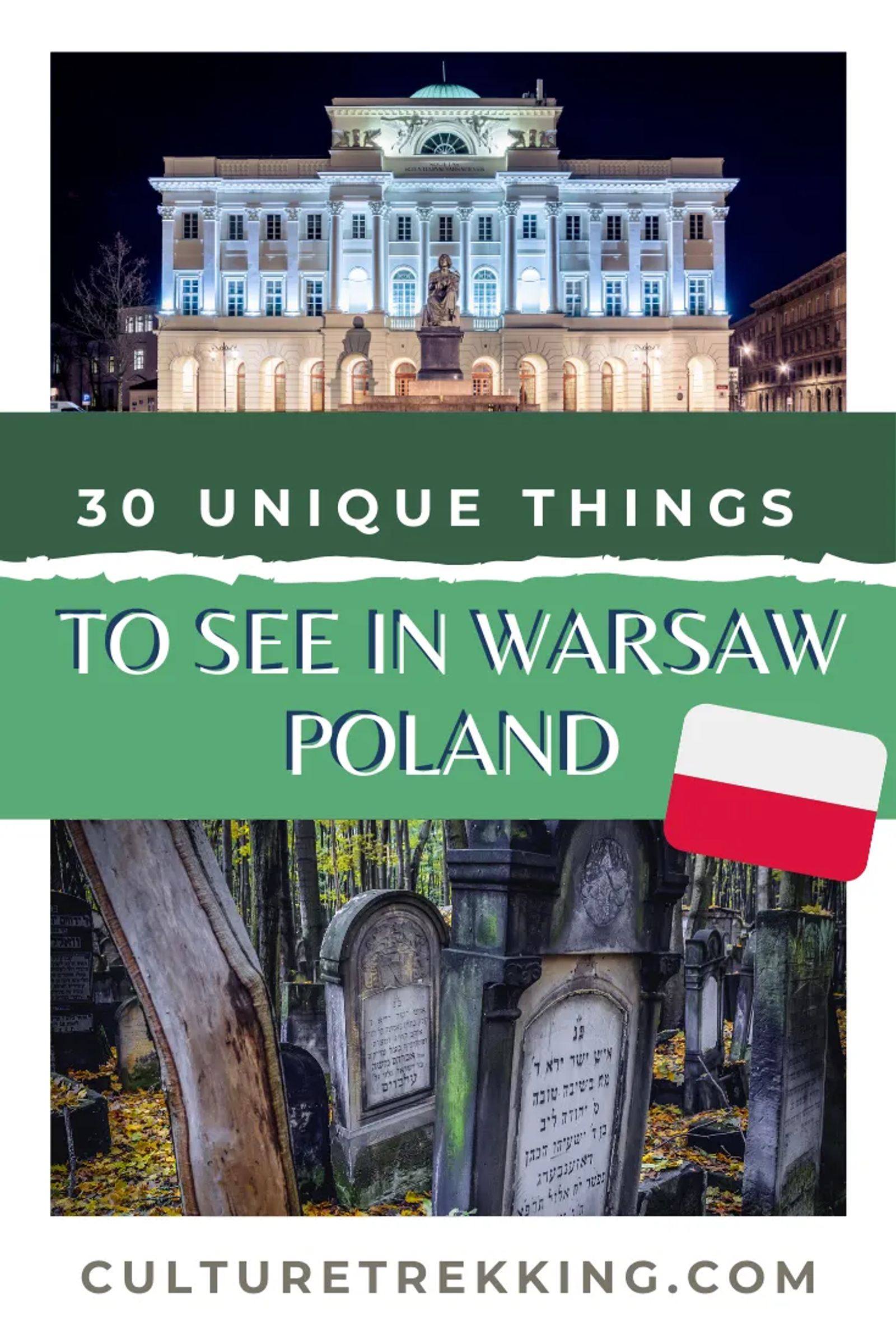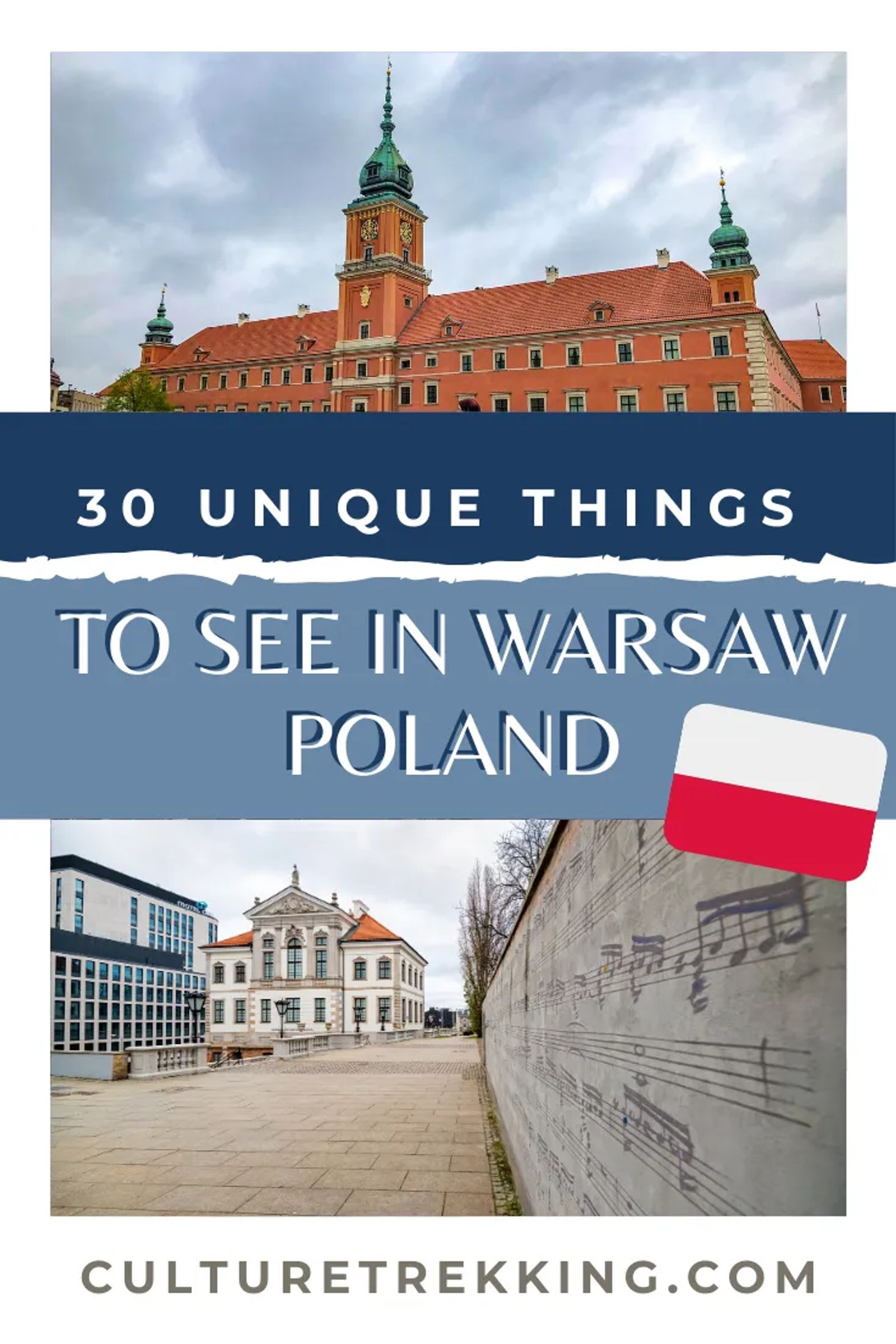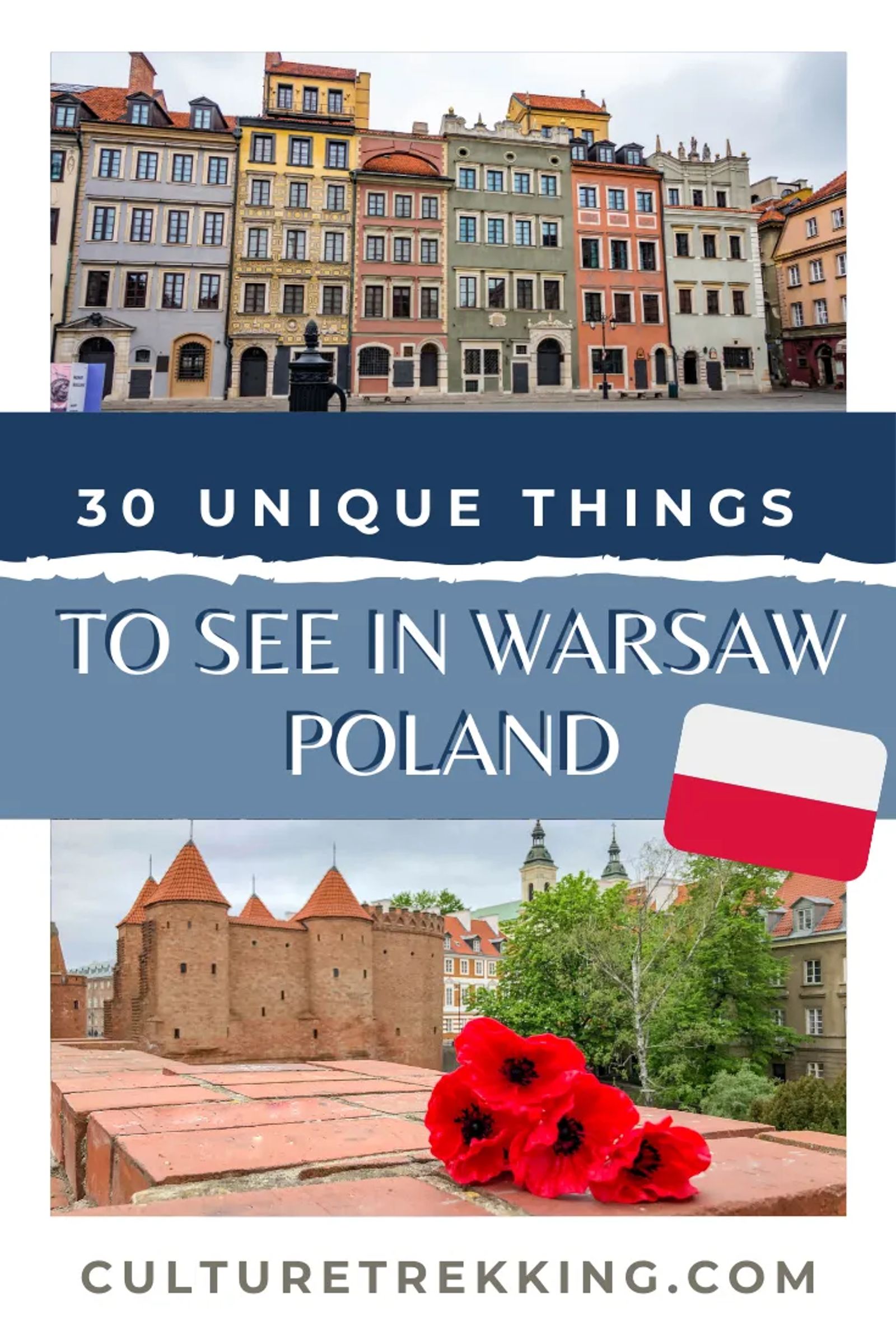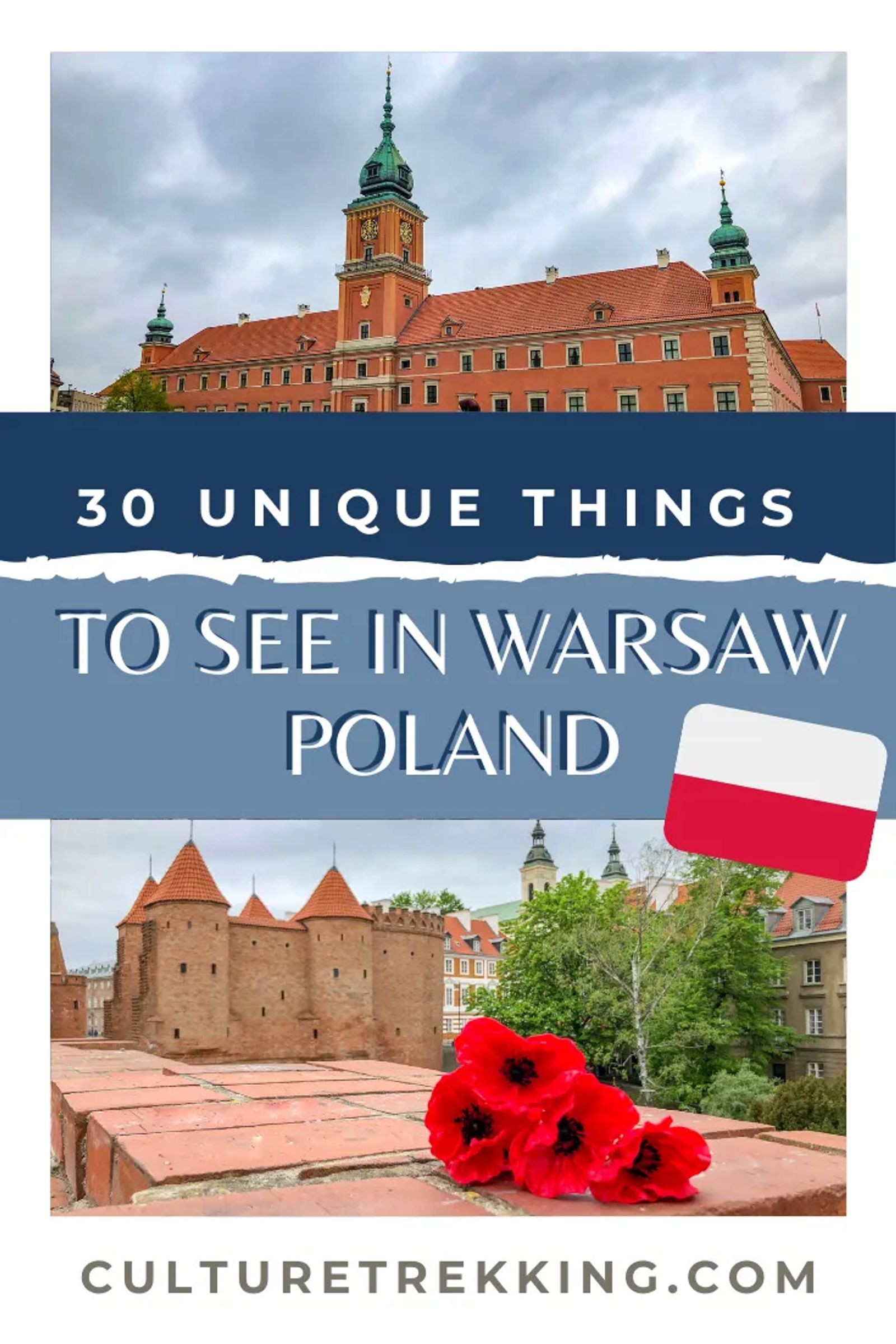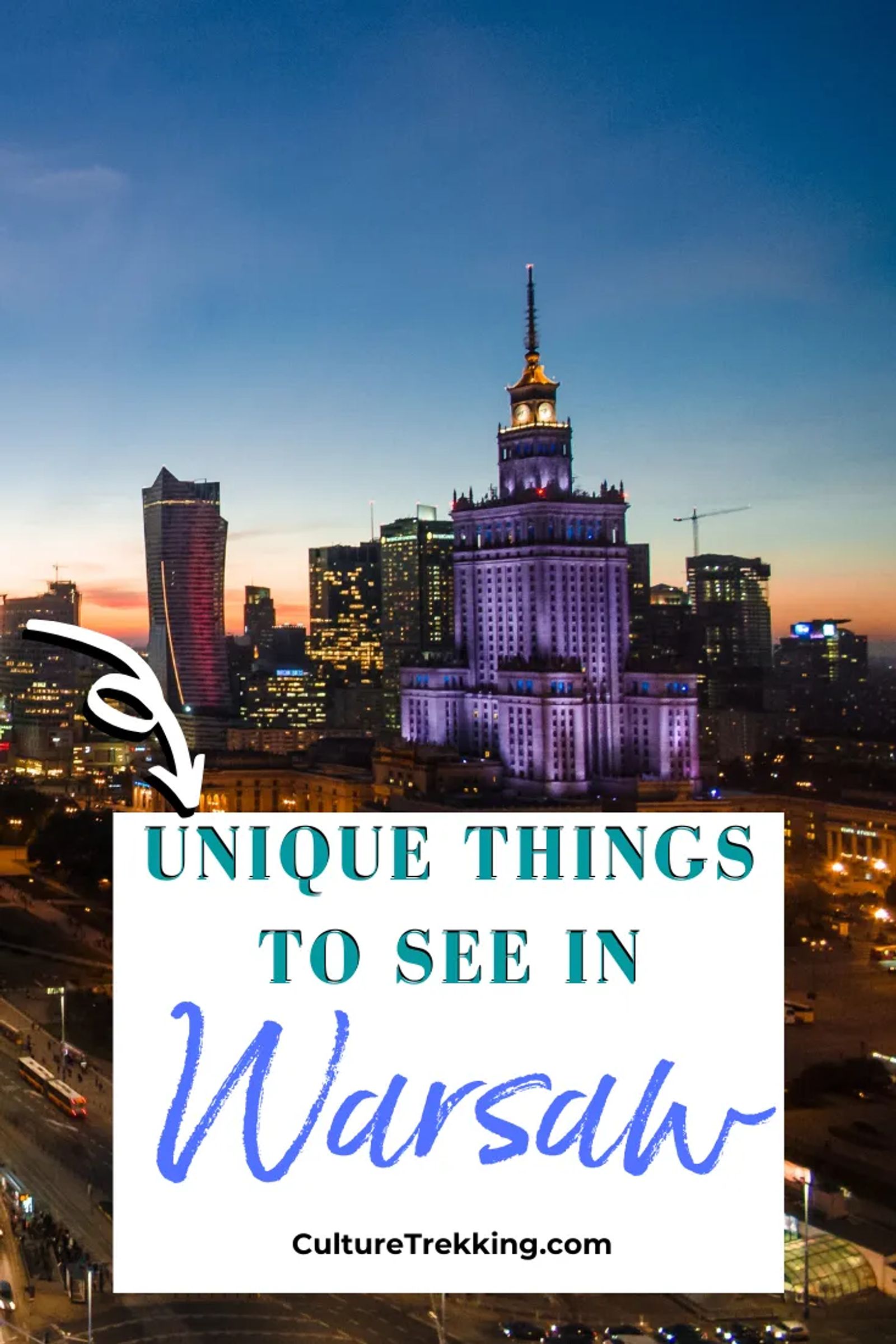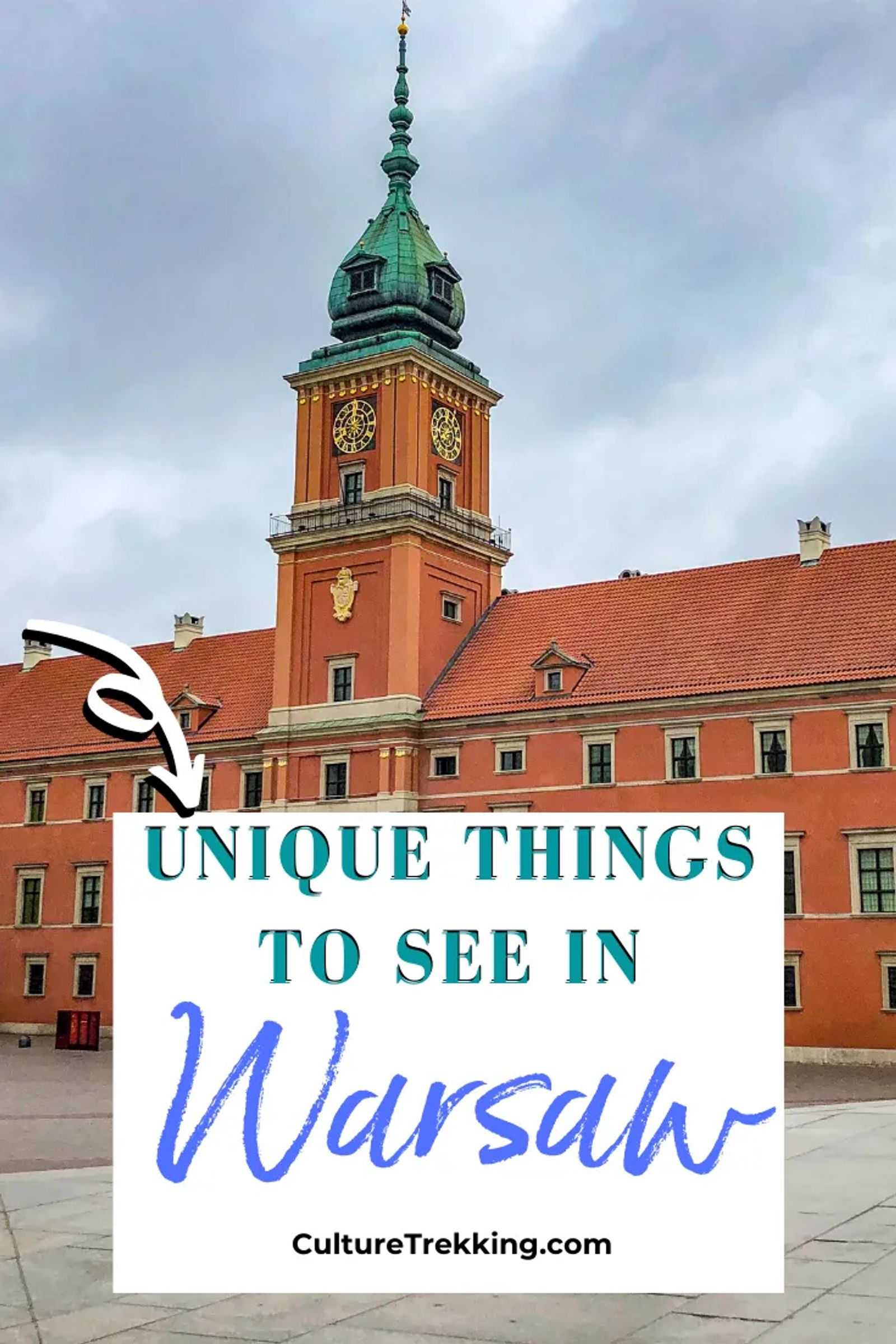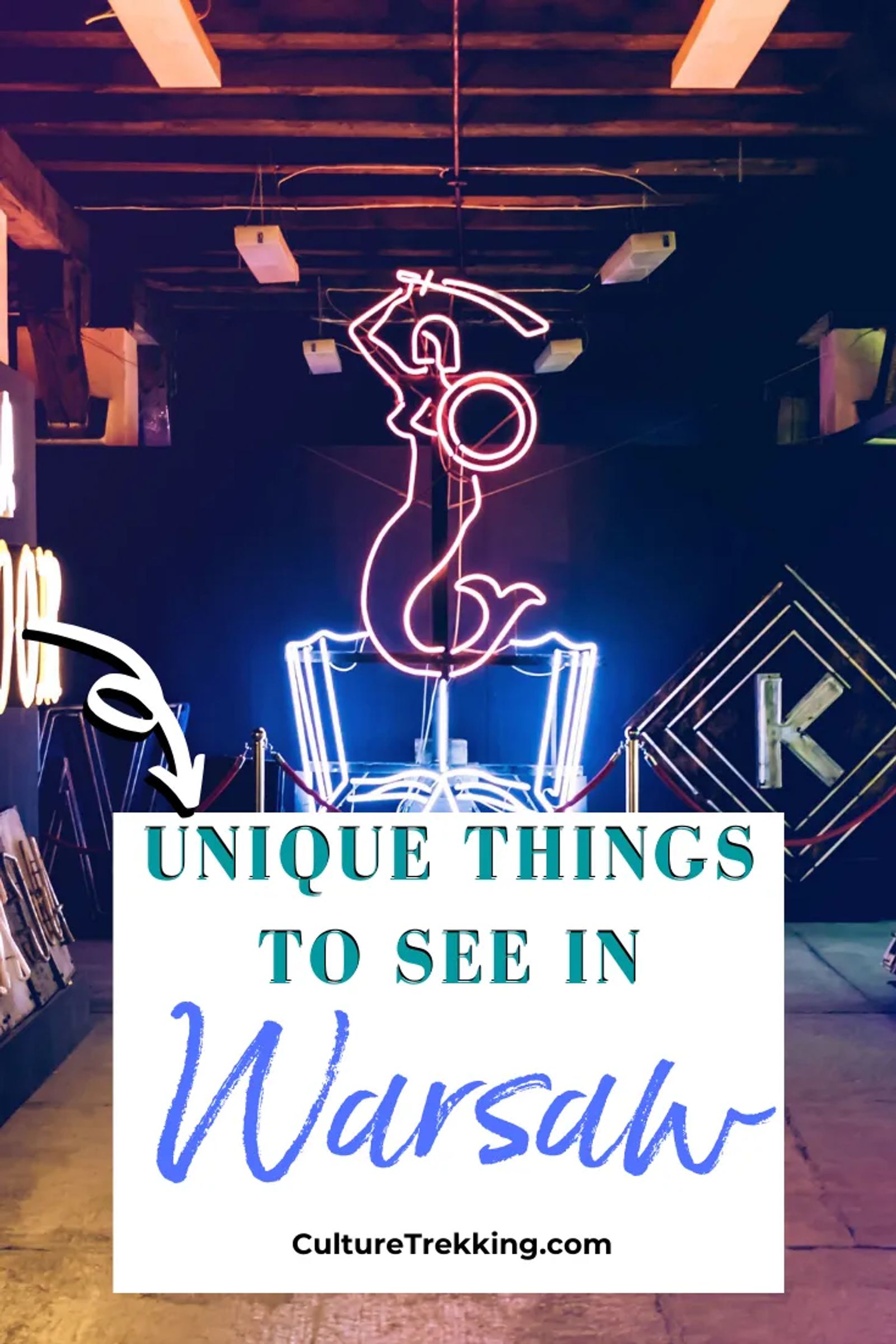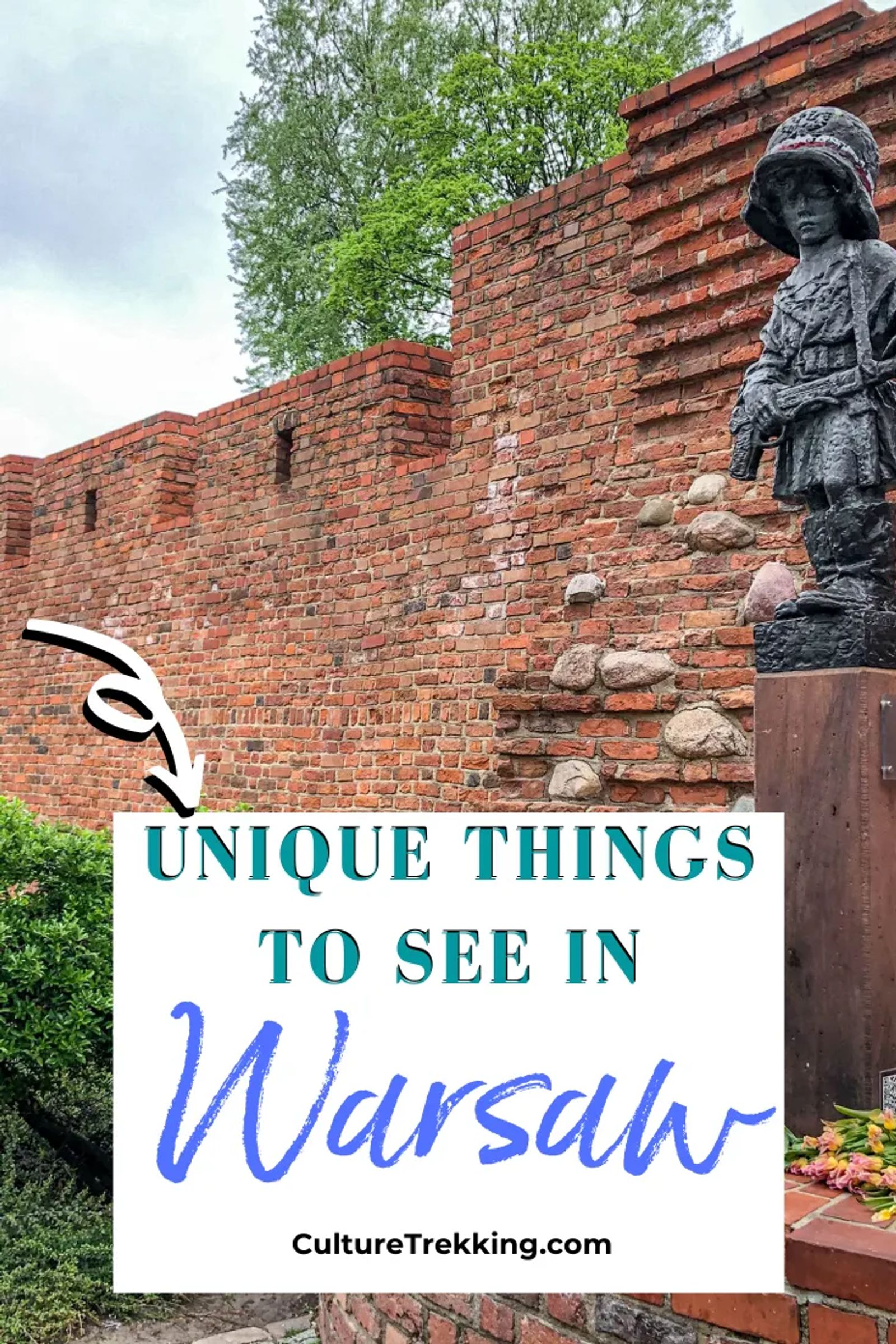 Check Out These Other Adventures