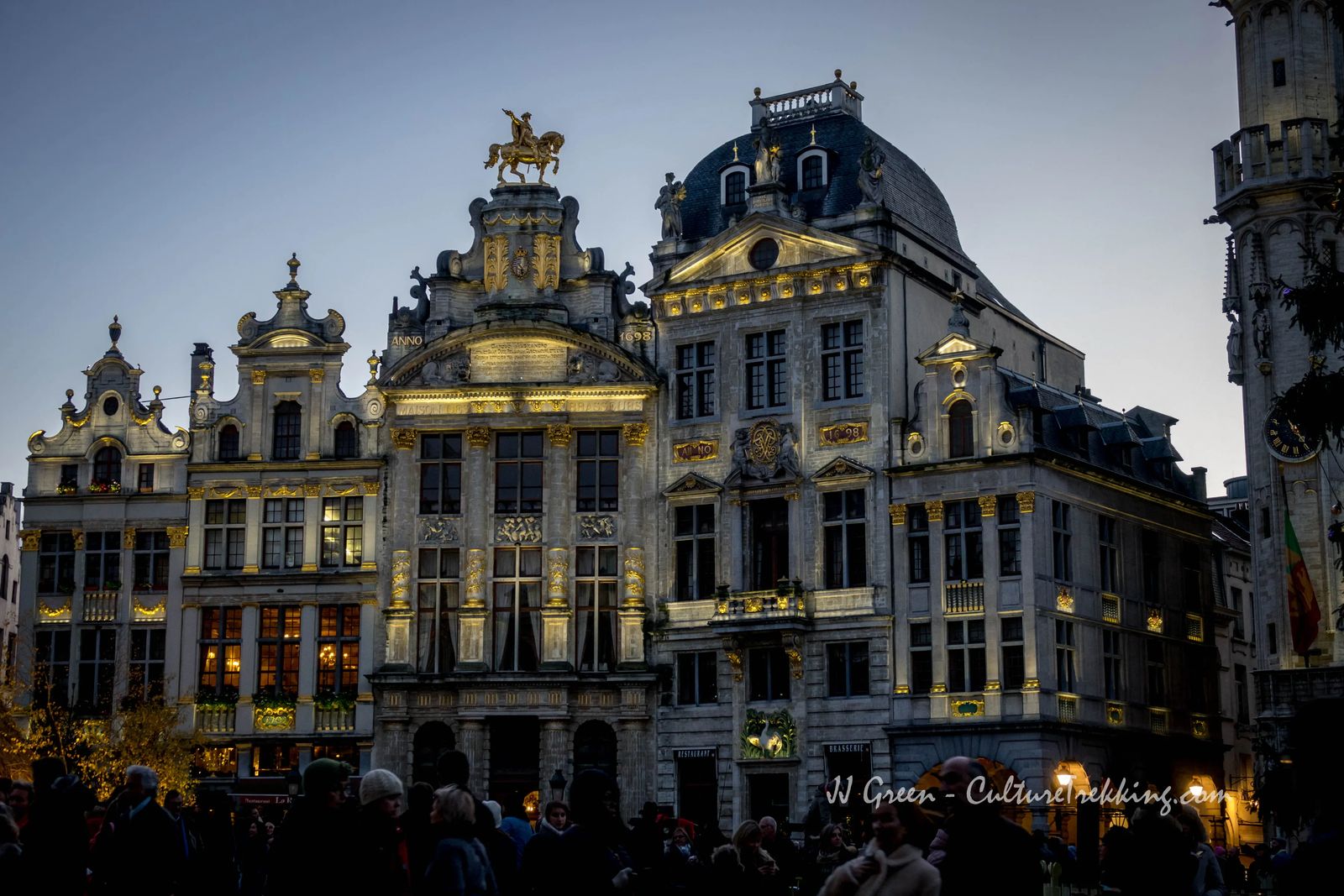 Best Things To See In Brussels On A Self-Guided Tour
If you are looking to take a day trip from Amsterdam, and want to cross off an extra country - go to Brussels. Touring Brussels is a great option to switch up your European backpacking trip. If you are like me and want to see as much as you can on a tight budget, then doing a self-guided tour of Brussels is a great option.
Traveling to Europe from the USA can be expensive, especially if you are travelling solo. Personally I can't always afford to take a fancy tour of a city and get all the hidden tidbits. So I do a massive amount of research prior to visiting and create my own self-guided tours. This way I know exactly where to go, how to get there, and the amount of money I should expect to budget for the trip.
Be sure to check out the map at the end of the article where I show you all of the amazing things to see in Brussels that I mention here.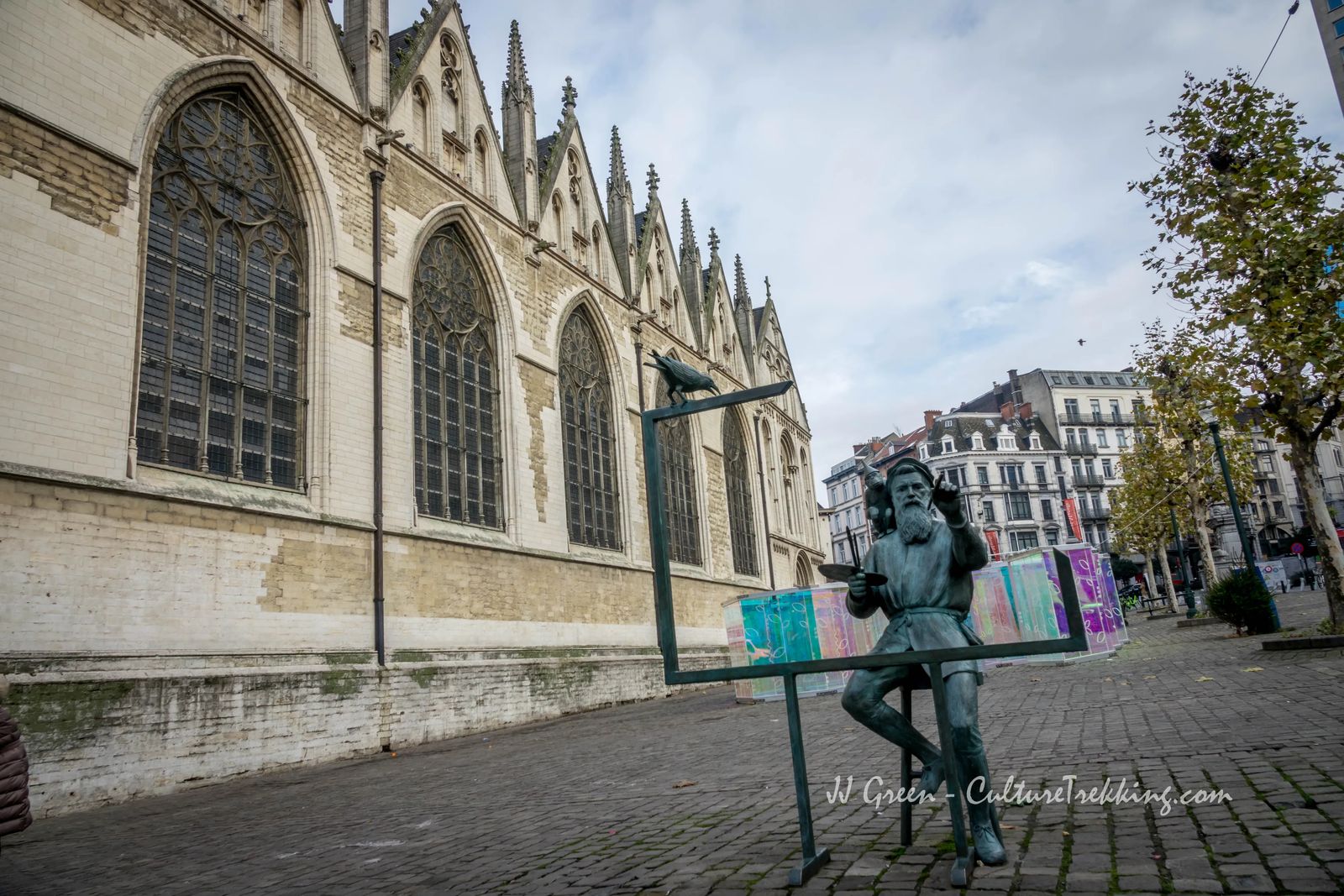 Quick Facts On Brussels
Transportation: Uber is available in Brussels, EuRail does service the city center and there are several stations that drop you off right in the heart of the city.
When To Visit: The best time to visit Brussels is between March and May and September and October which are the shoulder seasons. Rooms are cheaper, you don't get as annoyed with the hoards of crowds clogging up the attractions, and room rates are much cheaper.
Tipping: A tip at a restaurant is typically 1-2 Euros if the service exceeds expectations; but the actual tip is already included in the price of your meal. If you visit a bar, it isn't typically expected to be tipped.
Staying Healthy: Tap water is safe to drink in Brussels, some even say it has a pleasant taste to it. The CDC recommends getting your measles vaccine, along with the other routine vaccines (for US travelers). Bring your own toilet paper as some of the more high traffic toilets can often run out of it.
Money Recommendations: When visiting Brussels have some local currency on hand for street vendors in small bills, 0.50 Euros for bathroom use. Otherwise, most shops take credit cards, but will require a pin entry as most have moved away from taking signatures for cards. Always request your charge to be done in local currency, it helps cut down on bank charges back home (in the USA).
Scams To Avoid in Brussels: Pickpockets are a problem for larger crowded tourist areas. Gold Ring scam, where someone asks if you dropped your Gold Ring then asks for money. Fake Police where someone comes to ask a question, then the Police come by and accuse you of a crime and ask to see your passports then take them and drive off. Belgium diamonds are awesome, but be aware of scammer selling fake ones. Unlicensed taxis taking people to obscure destinations and then overcharging you, or telling you that you didn't give enough money and abandoning you. Restaurants (only a small number) might overcharge you and then good luck getting your money back. This is why I always carry local currency, giving exact change wherever I can.
Emergency number in Brussels: Fire, Police, Ambulance 112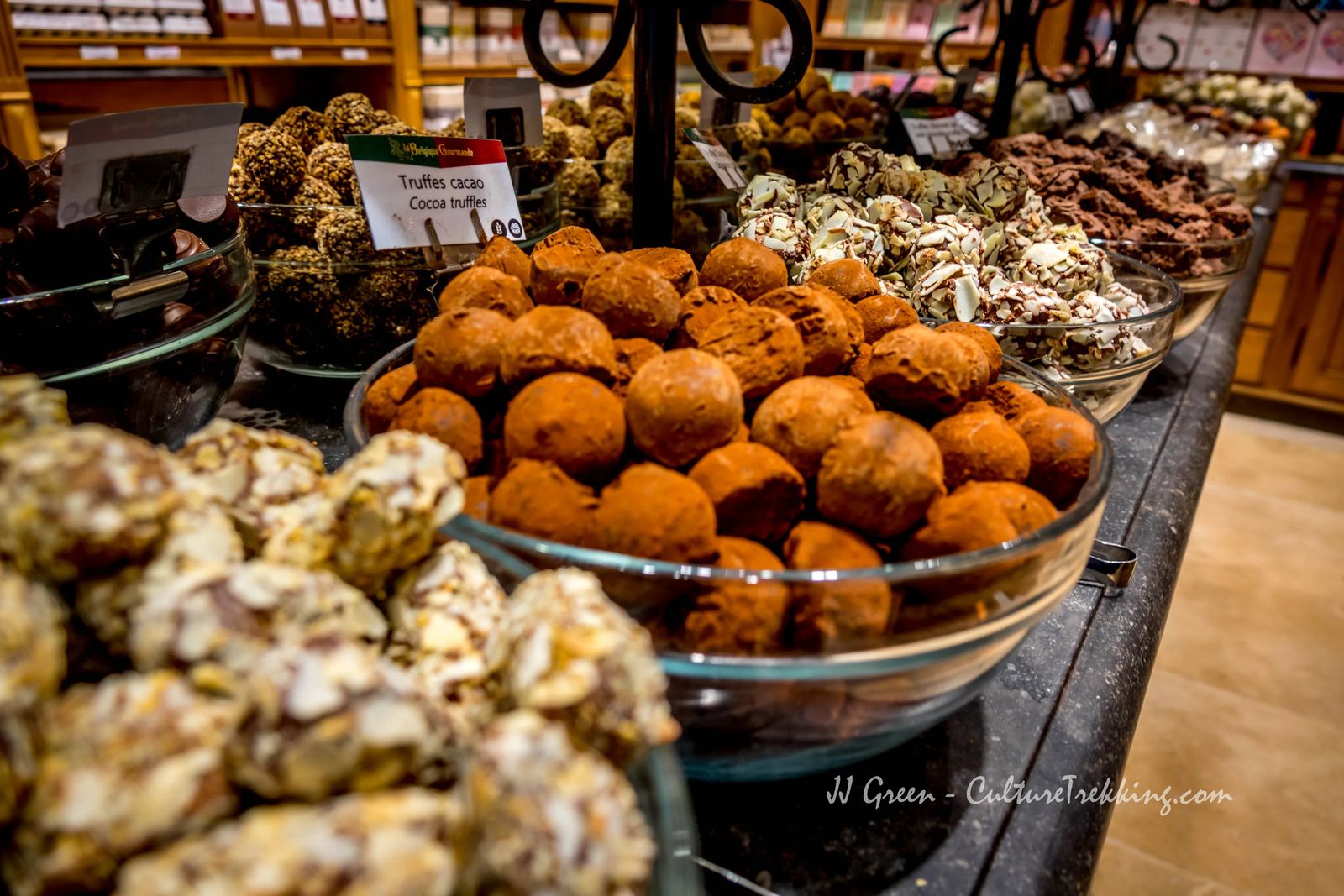 Place du Jeu de Balle
This Brussels neighborhood from 6 am to around noon plays host to the biggest flea market in central Brussels. It is a poorer area of town, and many of the vendors are immigrants who are selling a variety of knick-knacks from (what appears to be) estate sales.
I found it interesting to wander around and see what the people of Brussels actually keep in their homes. Imagining what would possess someone to buy the oddest pieces, but a common theme reigned true. There was loads of oriental plates and vases! This is likely from the Delftware pottery influence stemming back from when Amsterdam was heavily involved in the East Indian Trading company.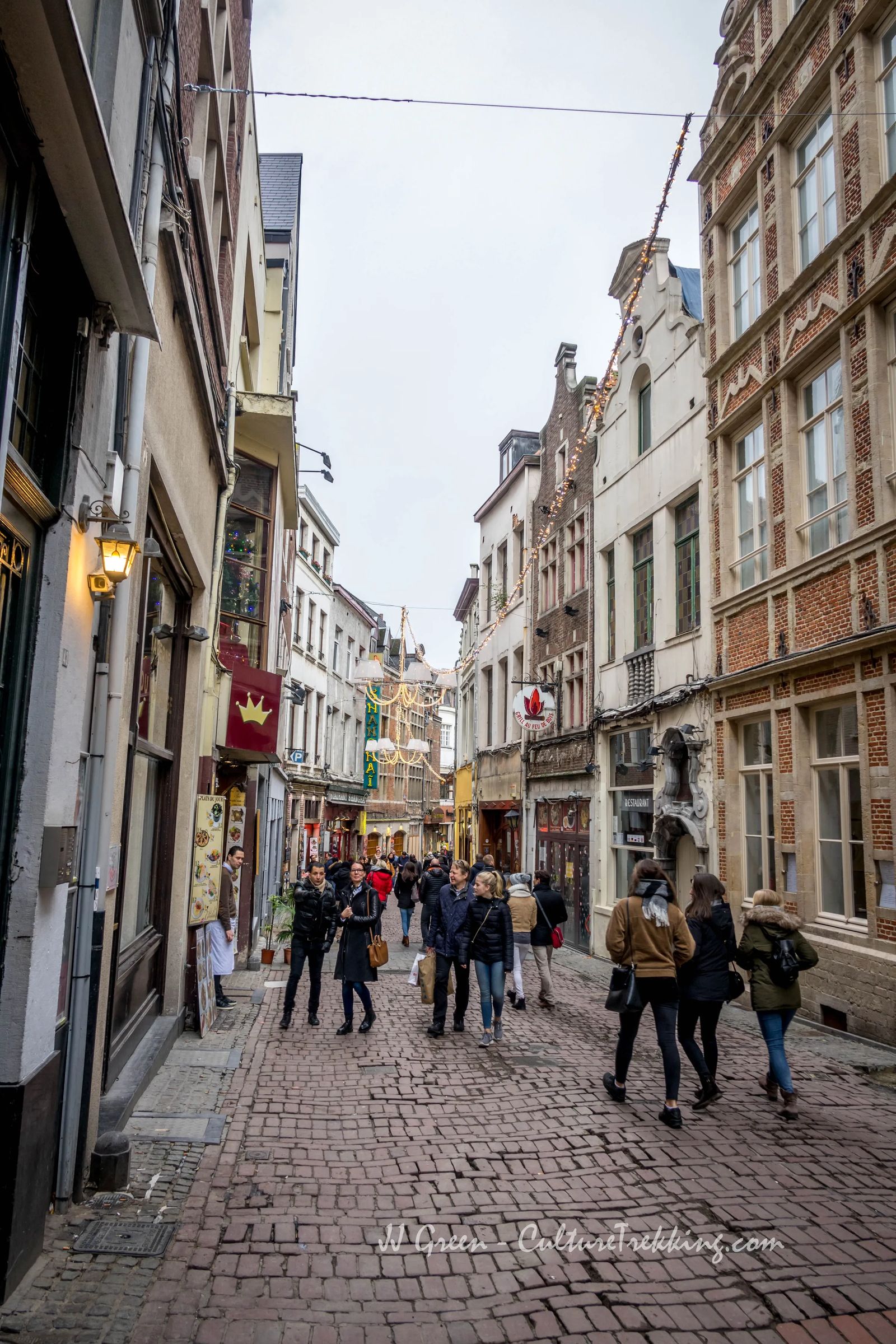 At the heart of the upscale Sablon neighborhood is the Grand Sablon and Petit Sablon squares. This is where many tourists go to start their quick tour of Brussels, but as I like to be involved in the local daily life, I found this to be quite interesting. Even if you don't leave with anything, it is really fun to see locals just enjoying the busy atmosphere, a string quartet playing on the corner, and cute cafes nearby to just have an easy morning and wake your brain from the long train ride there. After your morning coffee in the Place du Jeu de Balle head to the Place Royale and all its museums with a stop in the Petit Sablon.
Palace Royale and The Museums
From the Petit Sablon, it's a straight shot to the Palace Royale, the spacious square that sits atop the ruins of the Coudenberg Palace. The Coudenberg Palace was founded in the 12th century with subsequent successions it was transformed into quite the luxurious castle.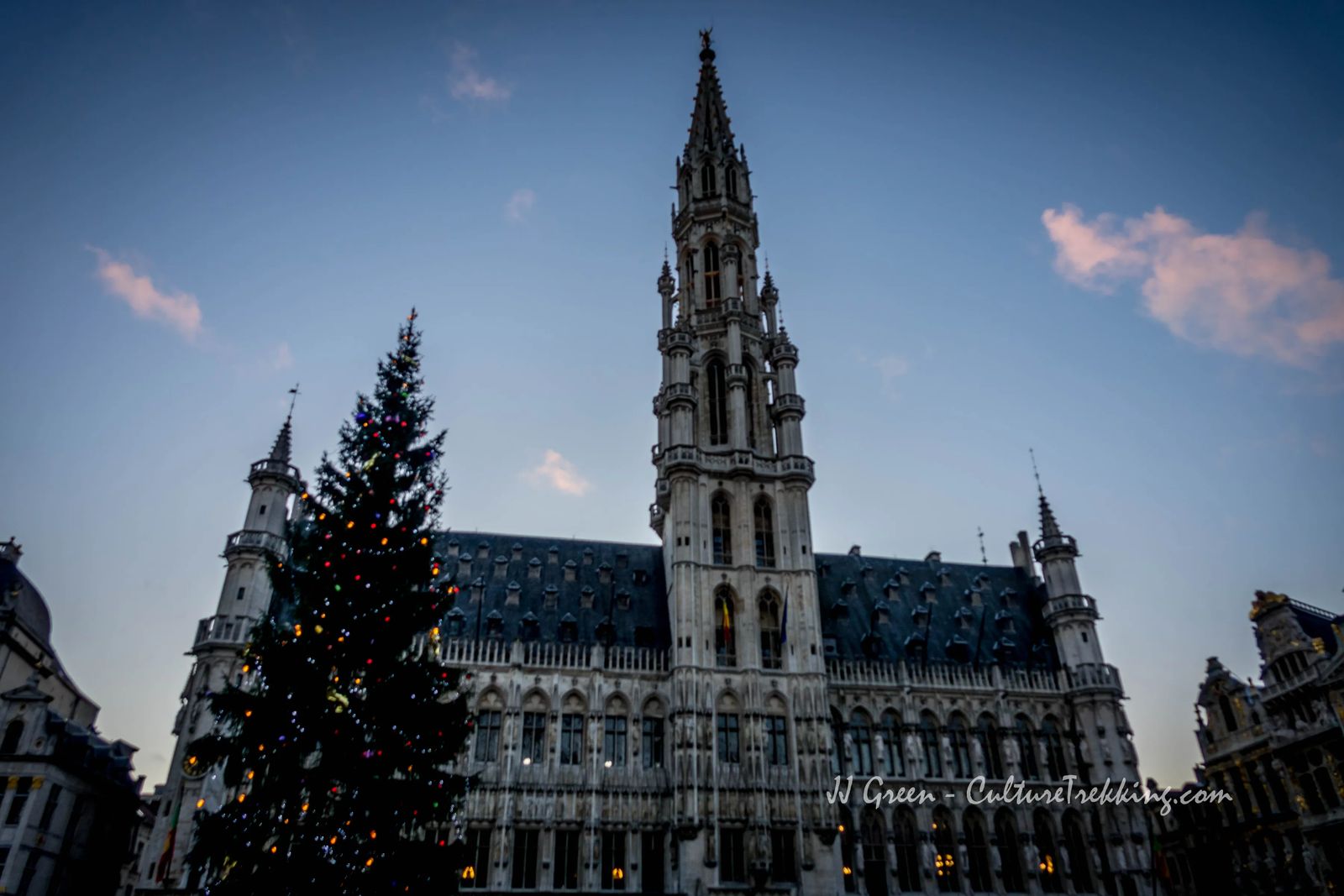 Sadly it burned down in 1731, after which the current royal district was built on top of its ruins. If you have the time, make sure to take an underground tour of the Coudenberg Palace ruins which I hear are quite impressive. Among the cream-colored neoclassical buildings are some of the more popular museums with tourists (the Magritte Museum, the Royal Museums of Fine Arts). Art Nouveau MIM (Musical Instruments Museum) and Art Deco precursor Bozar.
Royal Palace and Beetle Ceiling
As I was there in the Winter, and the Royal Palace is closed to visitors due to the Royal Family being in residence I was unable to see this famous Beetle ceiling. If you are going in the summer, be sure to pop in for a free glimpse at the monarch's beetle ceiling. At the request of Queen, the ceiling was plastered, and the chandelier of the palace's sumptuous Hall of Mirrors with 1.6 million scarab shields was installed.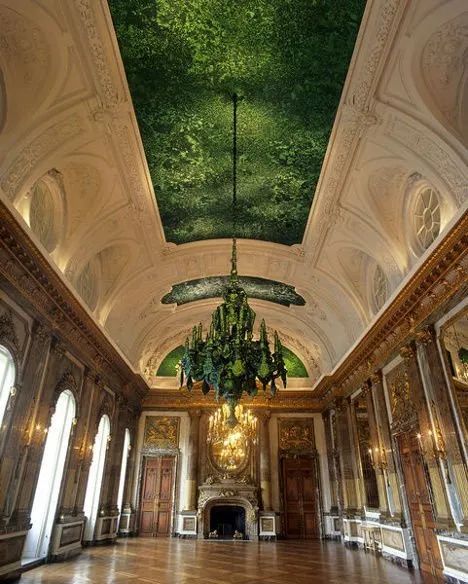 The odd name for such a ceiling being: Heaven of Delight. There is a rumor that the artist who installed this hid tiny skull figures in the work as a reference to Belgium's not too gentle colonial past in the Congo. Morbid, yes.....but we cannot run from history lest it repeats itself.
Mont Des Arts Garden
These geometric gardens designed by René Pechère's geometric gardens and the medieval city residing below the gardens is one of the most photographed spots in all of Brussels. Originally designed by King Leopold II as a place to have the Arts magnified and put on a show after he bought and demolished the buildings that once stood here....the financing failed and was left in a dilapidated condition.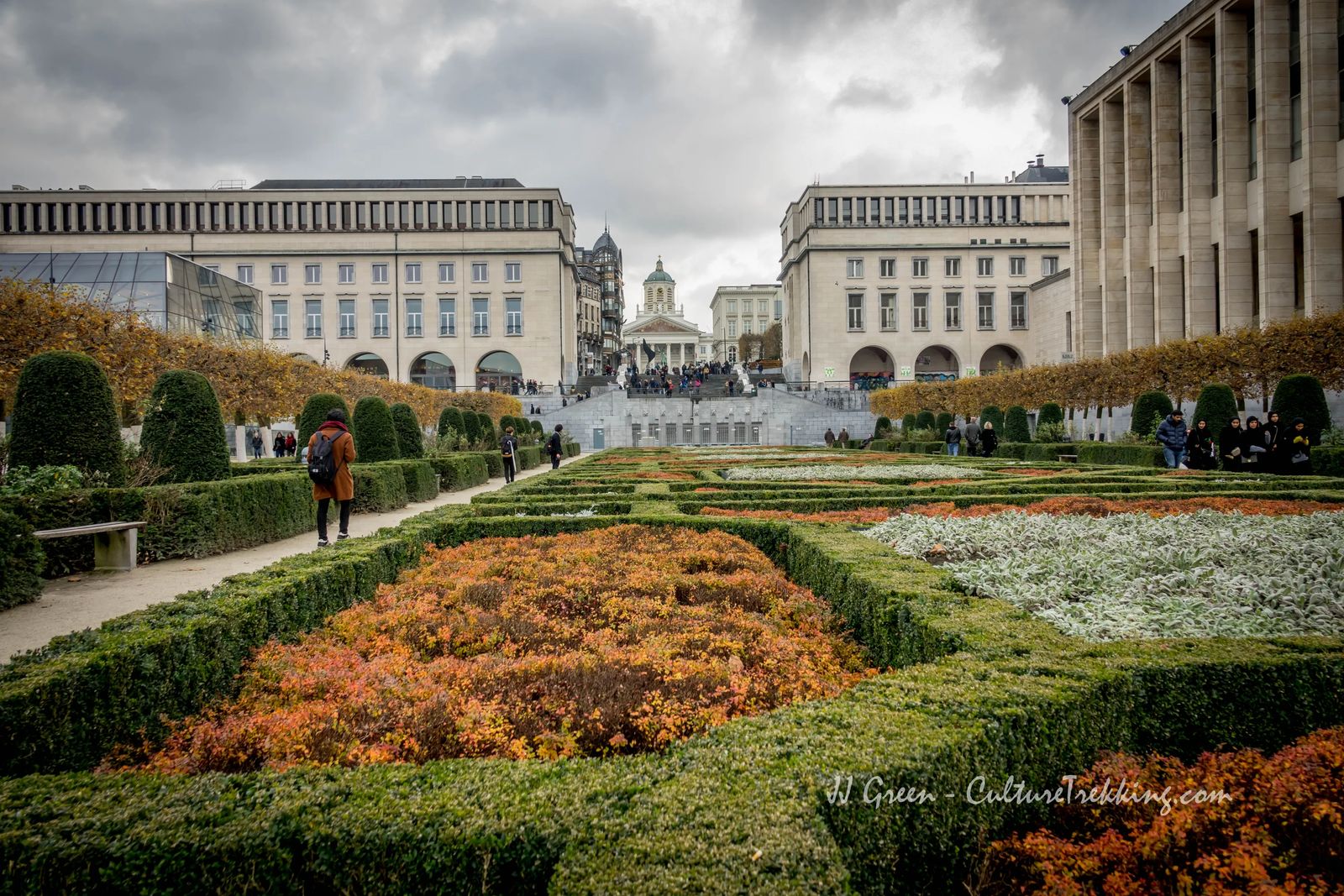 When the Expo in Brussels was approaching the King, fearing to appear destitute, ordered a temporary garden to be designed. It has undergone several renovations and upgrades, but for the most part remains what it was during that time period with the current geometric garden design being implemented between 1956 to 1958. It was nice to sit and enjoy the gardens for a bit. As a solo female traveler, it is difficult to get photos of yourself at times. But I can imagine a big flowy red dress on the stairs leading up to the Brussels City hall as a perfect spot to take a photo.
Manneken de Pis
Brussels's pride and joy is a small statue of a small boy peeing into a water fountain. Apparently, this is a very characteristic of the humor of the people of Brussels. This Manneken has more outfits than I do, of all his hundreds of outfits....I'm sure there is one that you will find equally entertaining and offensive. The statue itself is quite crowded, even in the morning, with people trying to take a photo of the statue.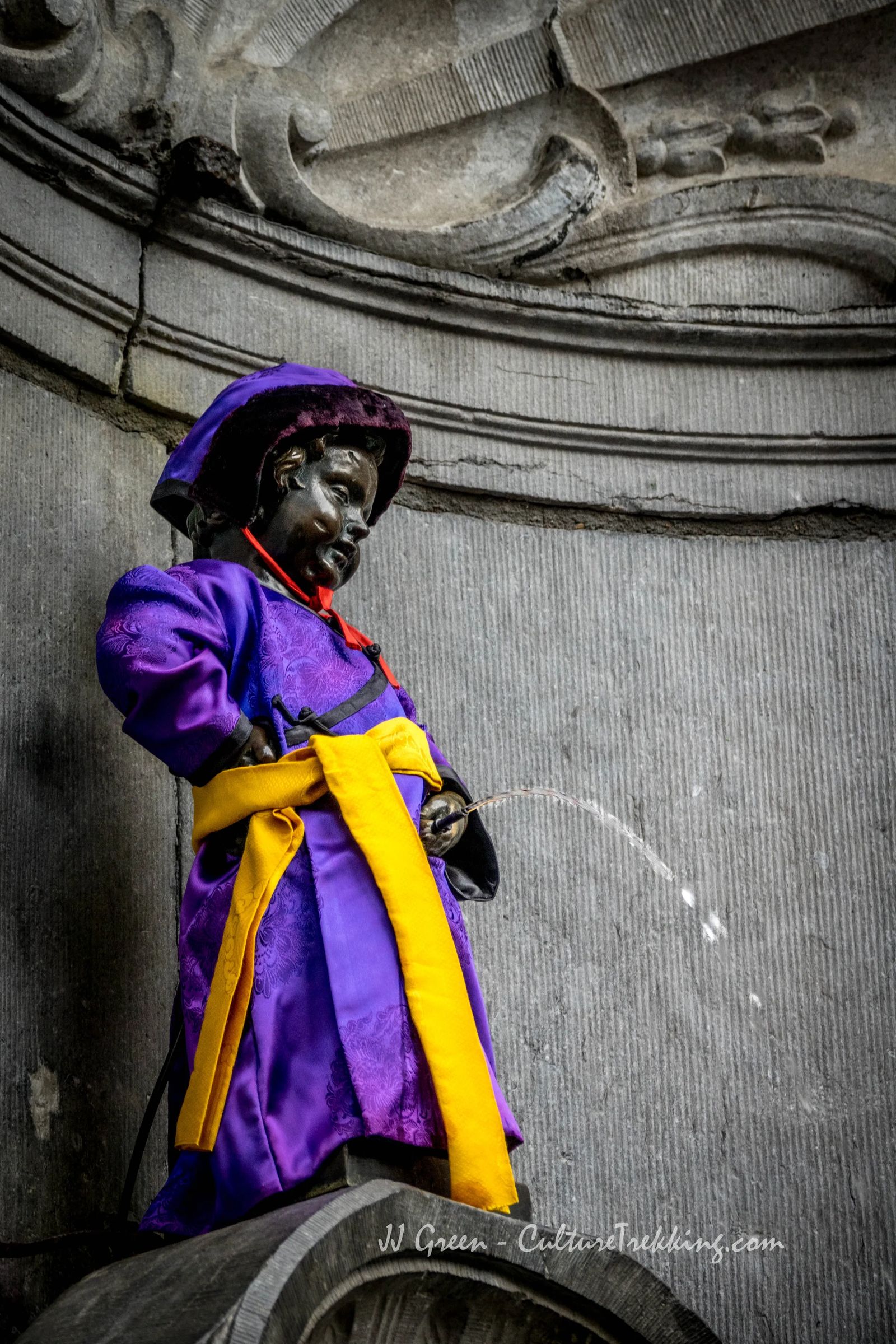 The statue itself is only about 15 inches tall, resides 10 feet off the ground and is behind a cast iron gate with monitors watching the area carefully. After you have taken some comical photos for your own viewing pleasure. Take a moment and look around at the place you are standing. You are currently in the Îlot Sacré or "Holy Island," this block makes up the most historic (and most jam-packed with tourists). Indicating you have arrived in the best of the best of Brussels.
Moeder Lambic
Right near the Mannekin de Pis, there is a beer bar with authentic Brussels Beers. I am not much of a Beer connoisseur or drinker myself, but if you fancy a dram of their golden liquid then be sure to visit the Moeder Lambic. I hear the waiting staff is quite knowledgeable and will be sure to wet your thrapple should you find your self-hankering for a delicious beer.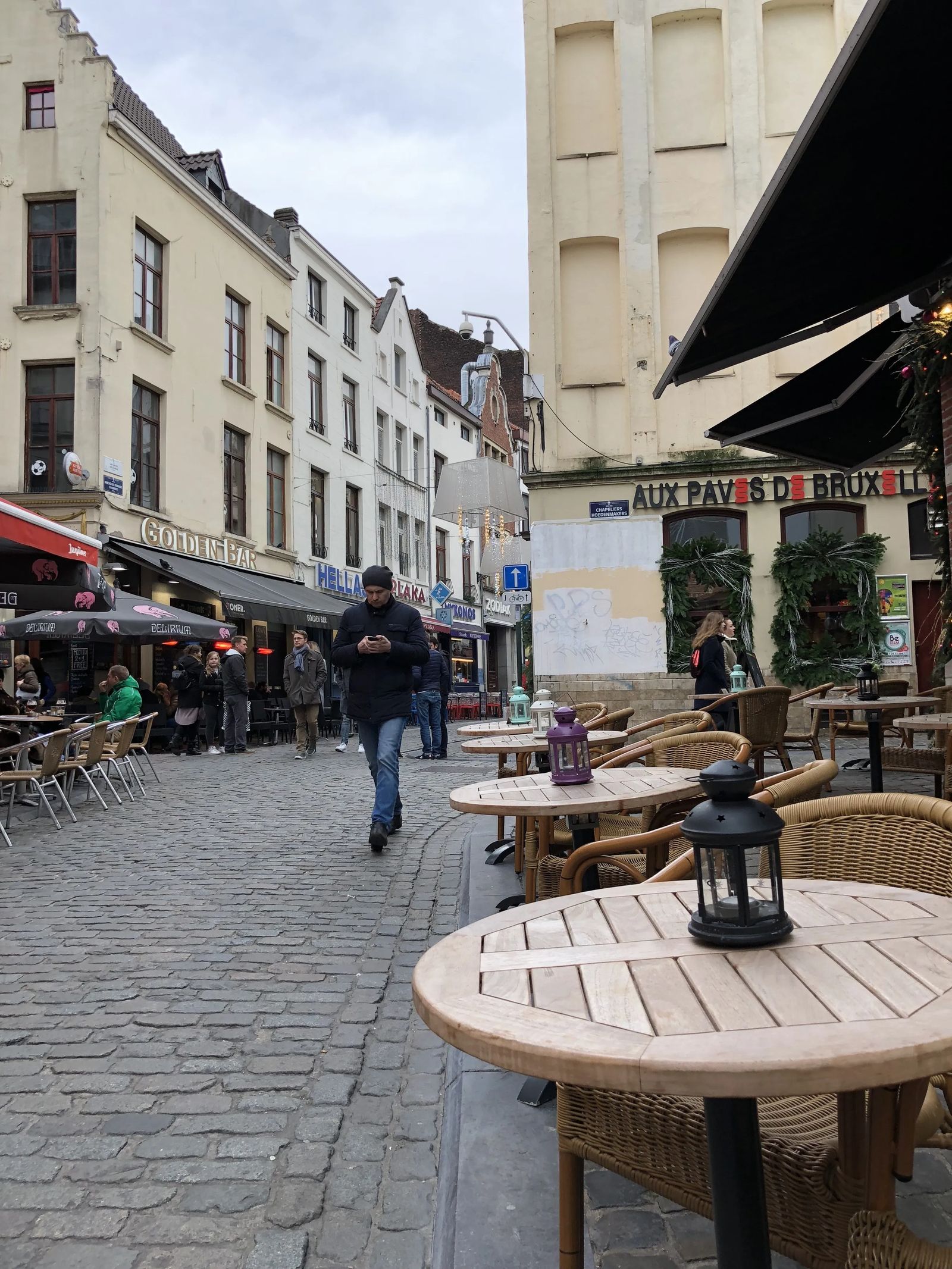 Grand-Place
All roads in this Holy Island eventually lead to the Grand-Place. Even for those of us who have severe directional challenges (raise your hand if you feel me) it is hard to miss the towering medieval architecture. As you enter the Grand-Place Square, you will realize why this particular setting so inspired Victor Hugo to describe it as "a miracle".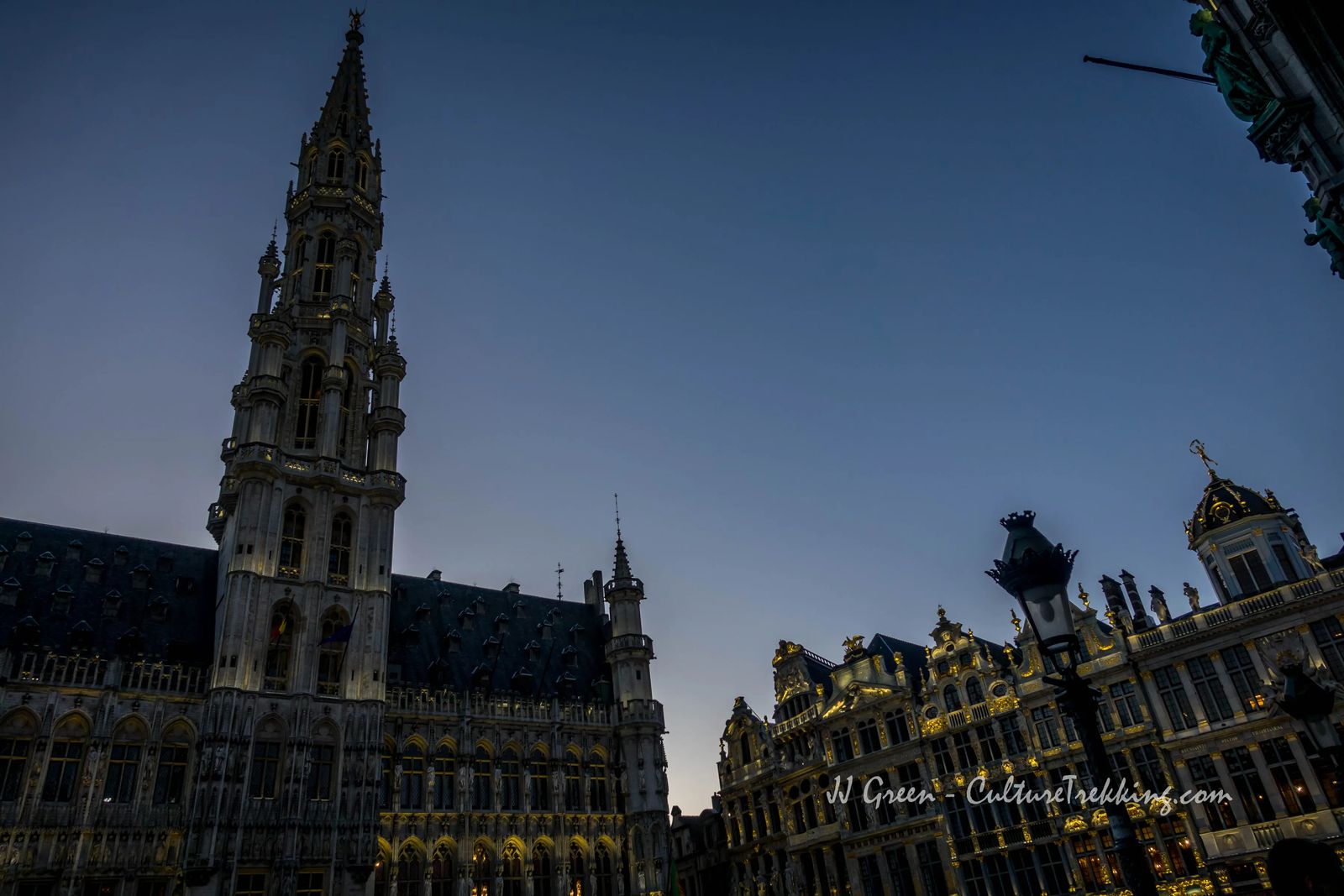 Be sure to pop into the King's House, what is now the City Museum, for a look at the history of this place and other areas around Brussels. As I was visiting Brussels at the time of Christmas, we were greeted by the Royal Family for the opening day of the Christmas Market and the lighting of the Christmas Tree for the first time in the 2018 season. I didn't actually know who they were until I got home, but when the crowds below the terrace suddenly started to cheer and wave at the elegantly dressed family above.....I assumed they were quite important and snapped a few photos. Moral of the story: always have your camera ready, and maybe find out who rules the country before you visit, lol.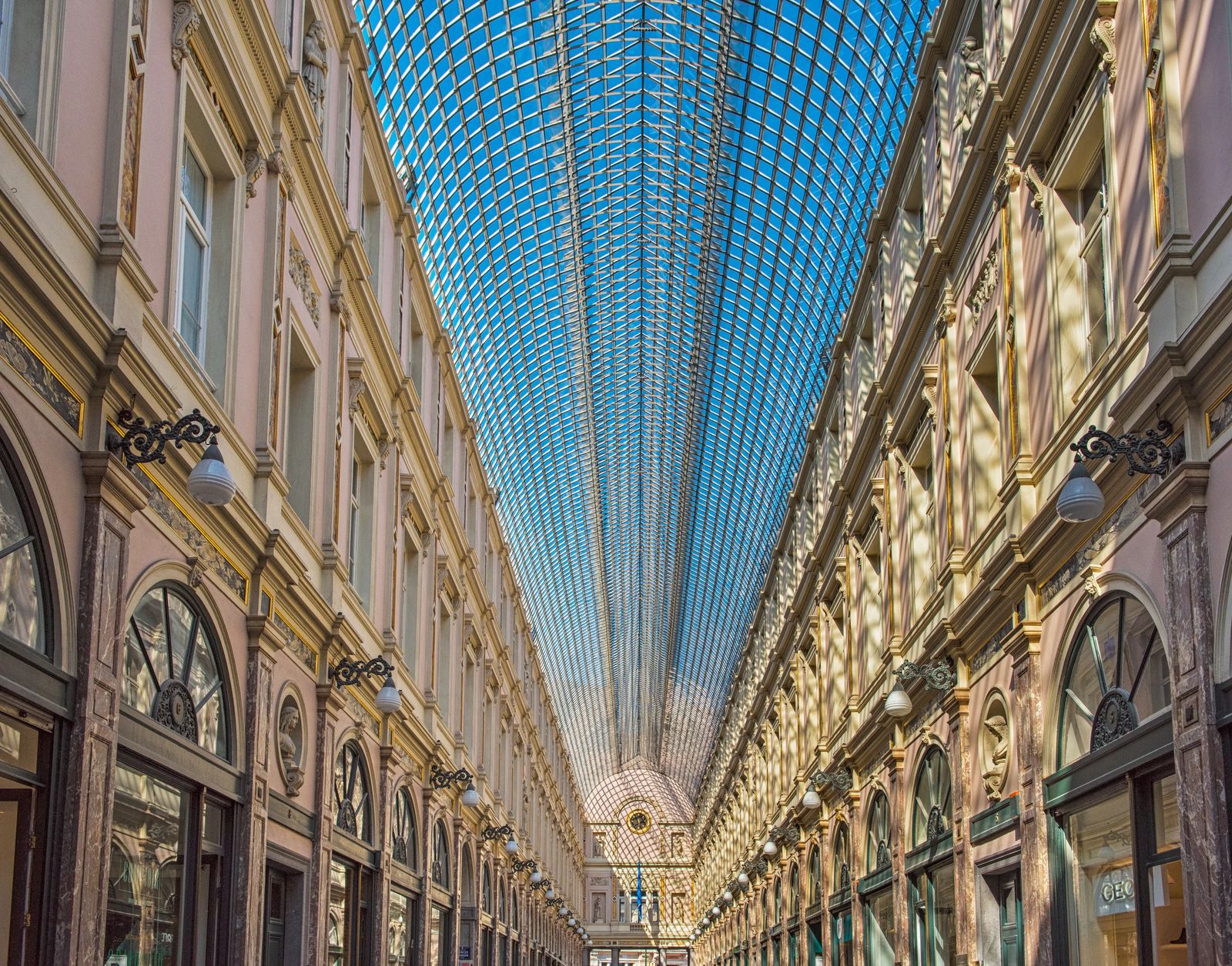 Galeries Royales de Saint-Hubert and the Taverne du Passage
If you walk about 3 blocks from the Grand-Palace, into a nearby alcove. You will find what looks like an indoor mall. This is, in fact, the Galeries Royales de Saint-Hubert and the Taverne du Passage. If it hadn't of been for the opening day of the Brussels Christmas Market, this is the place I would have done all my shopping. It is a little off the beaten path track of small shops that looks like many locals frequent for their shopping as well as is far less crowded than the streets around the Royal Palace.
The Galeries Royales was built around 1847, inspired by the Italian Renaissance which is evident by the statues adorning the ceiling walls. This place was the first of its kind, and really the beginning of strip malls everywhere (well at least in my opinion).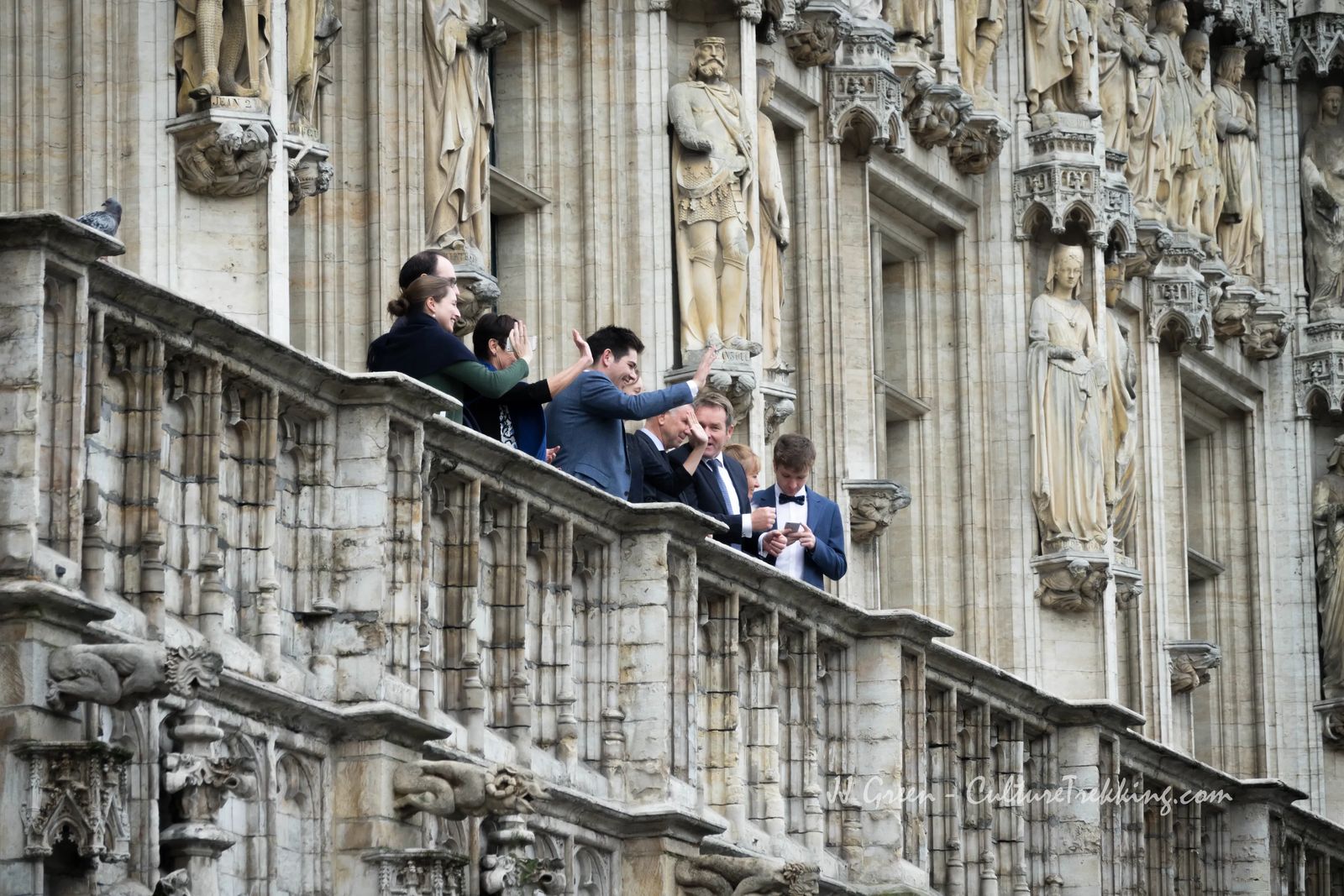 La Bourse and Fritland
La Bourse is a haunted place, and in more of a modern way, it was the site of the terrorist attacks in March 2016. In the shadow of the former stock exchange, that was anticipated to become the ultimate Belgian Beer Museum in 2018....people gathered in solidarity perusing peace after the deadly attacks. It was surreal to walk in this place and imagine what that horrific day must have felt like. To be excited about a new country visiting, and then suddenly chaos erupts. The streets are bustling again since then, but it makes me wonder, with all the traveling I am doing....will I one day be a witness to a massacre like the one they experienced?
It is a sobering thought, but after several minutes of haunting contemplation, I decided that I would not let the terrorists succeed in instilling fear of something that brings me so much joy. So I said a little prayer to those who were affected that day and decided to live out my life in joy as a way of protest against terrorism. Comfort food is always a good thing, maybe not for the waist, but you have to at least try the Fritland Fries! Despite being called French Fries, Brussels boasts that they were the real inventors of this savory treat.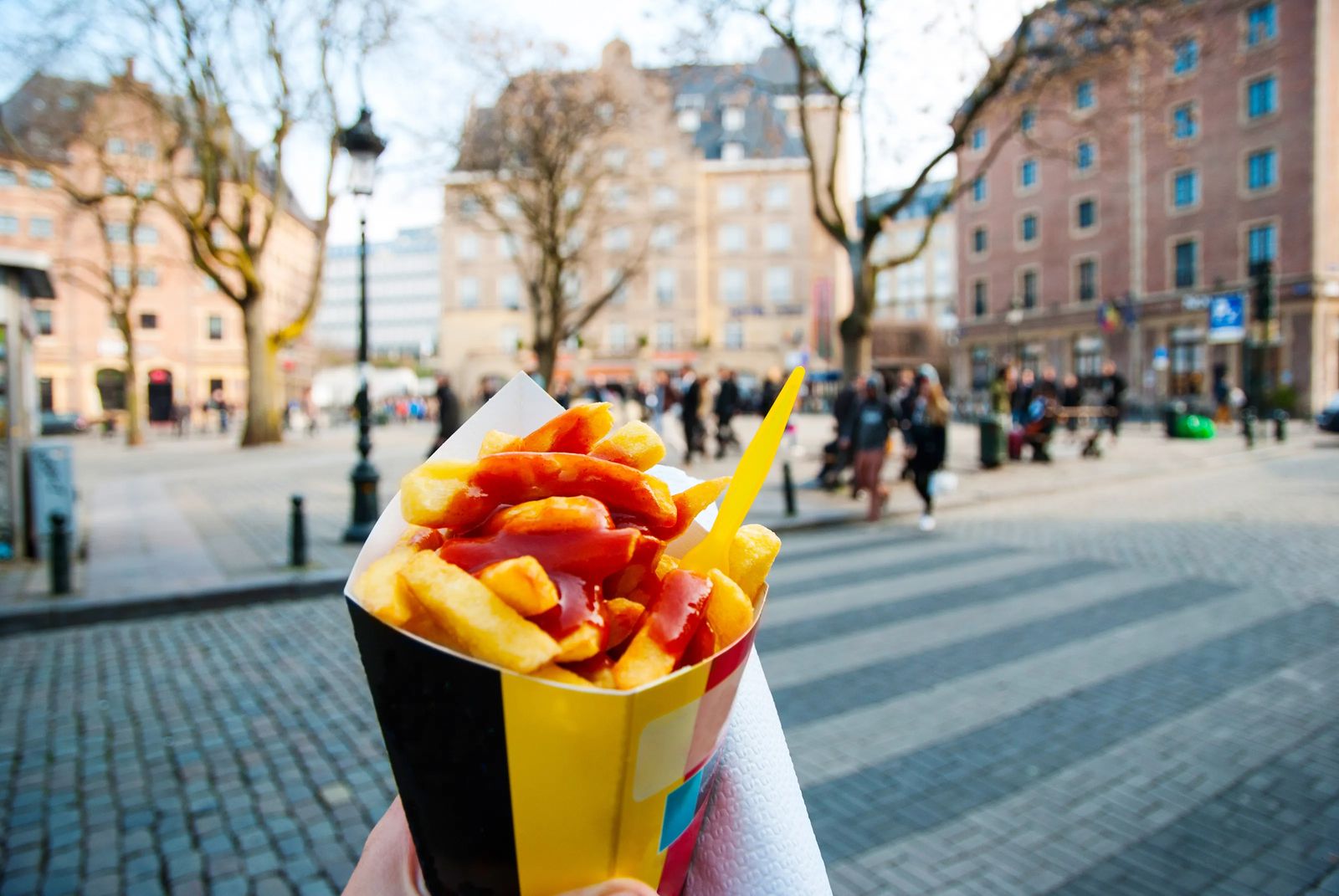 These golden sticks are a source of pride, evident in Fritland's decorations consisting of mostly the national flags. When you first approach Fritland, you will think something along the lines of, "UM! Hell to the no! I'm not waiting in that line for some fries". I was so hungry I was glad to slow down for a minute and wait, and after observing the line... it moves quite rapidly. Be prepared to order your fries or meal quickly, once you get near the counter it is like trying to buy stocks on Wall Street in New York. A cacophony of grease splattering, garbled languages attempting to communicate, laughter, beer and loads of the goldenrod goodness. I personally tried the mitraillette, a sandwich jam-packed with fries, meat, veggies, and a sauce of your choosing.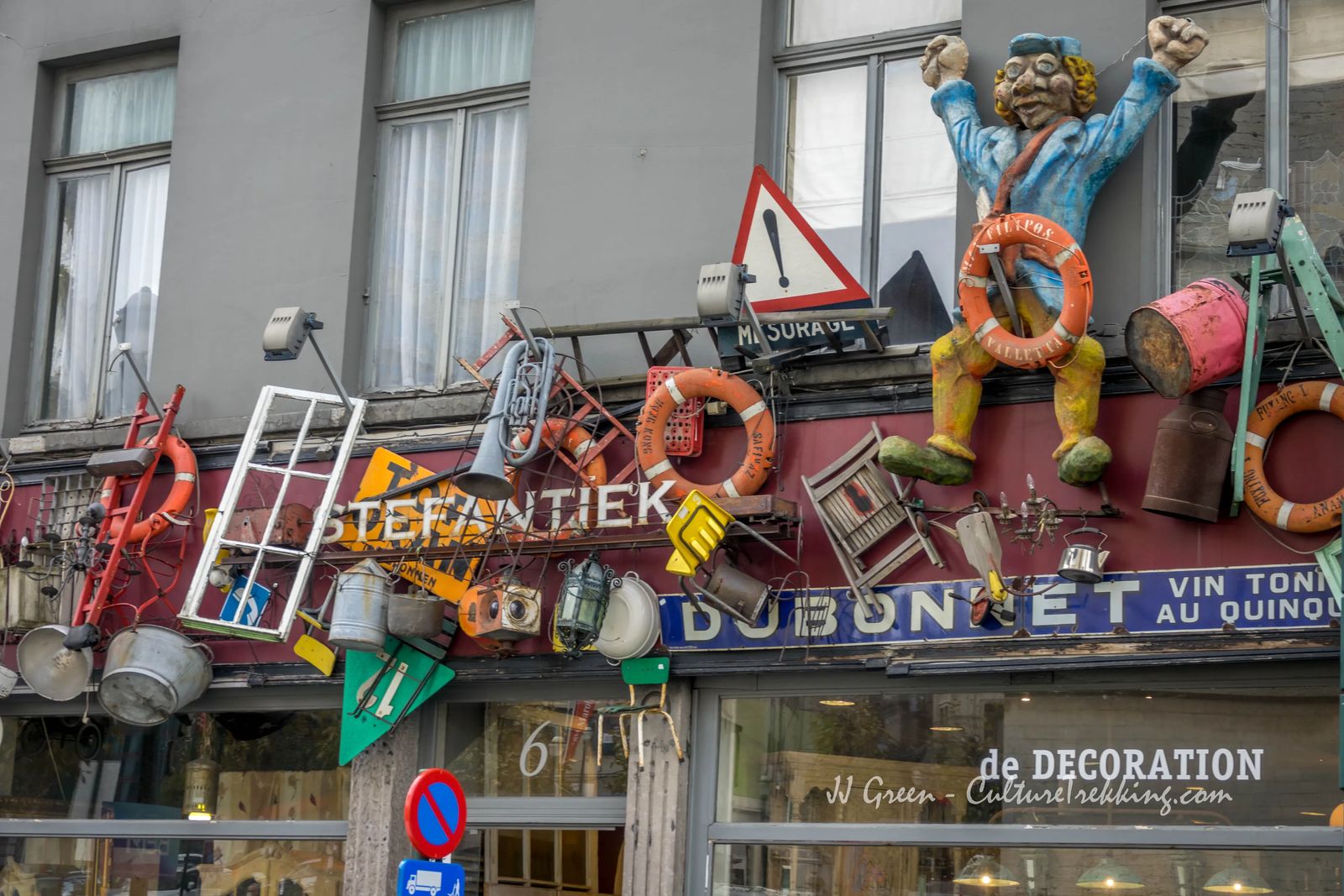 A Successful Self-Guided Tour of Brussels
With a belly full of golden goodness from Fritland I headed back to the Grand Palace for the lighting of the tree and the famous Lumineres of the buildings of that square. I sipped on my Hot Chocolate and savored the delicious warm sweetness warming me from the inside out. Surrounded by the twinkling lights of the buildings and the tree, it was hard for me to leave. A certain calmness settled over me after the rushed events of the day.
I was proud of myself for doing this self-guided tour in such a short amount of time & grateful I made the decision to come to my first European Christmas Market. While this guide may not be the most glamorous of the guides you may find online, this was the perfect taste of Brussels for me & saved me quite a bit of money doing it this way. My wallet remained full and now that my belly was full, I headed back to Amsterdam to celebrate the rest of my Birthday in the home of my ancestors.
Map of Self-Guided Tour of Brussels
Like it? Pin it! Sharing Is Caring ;)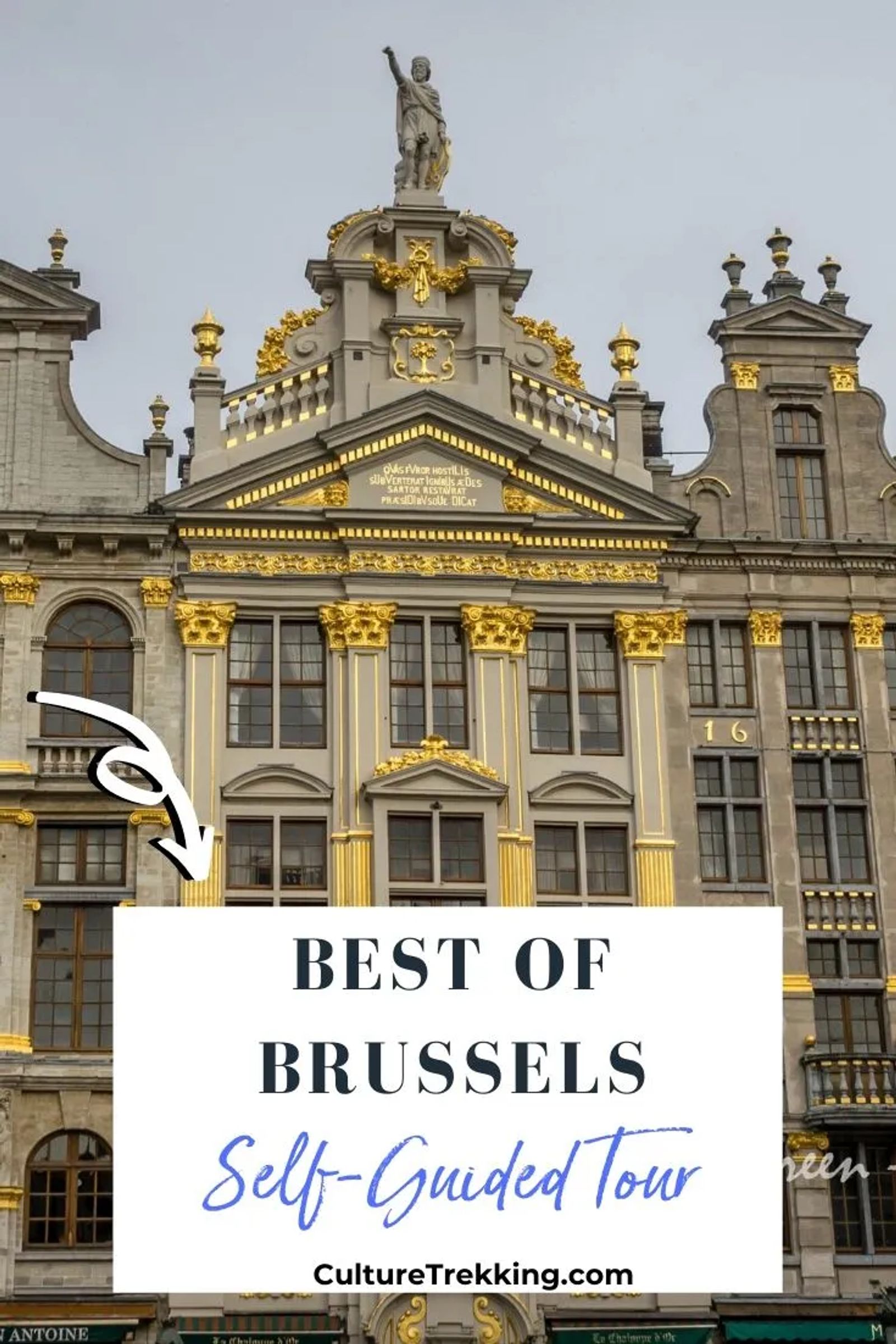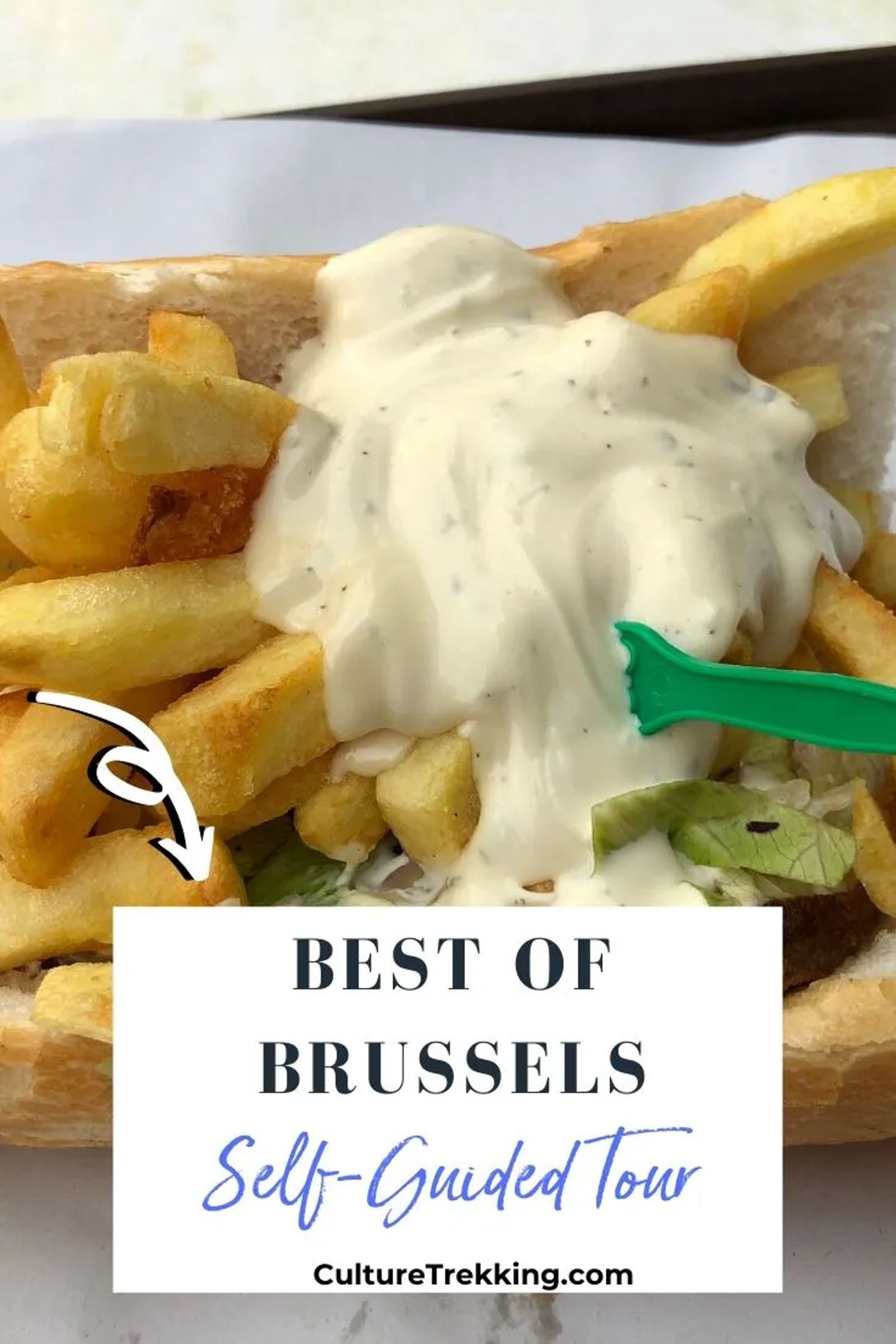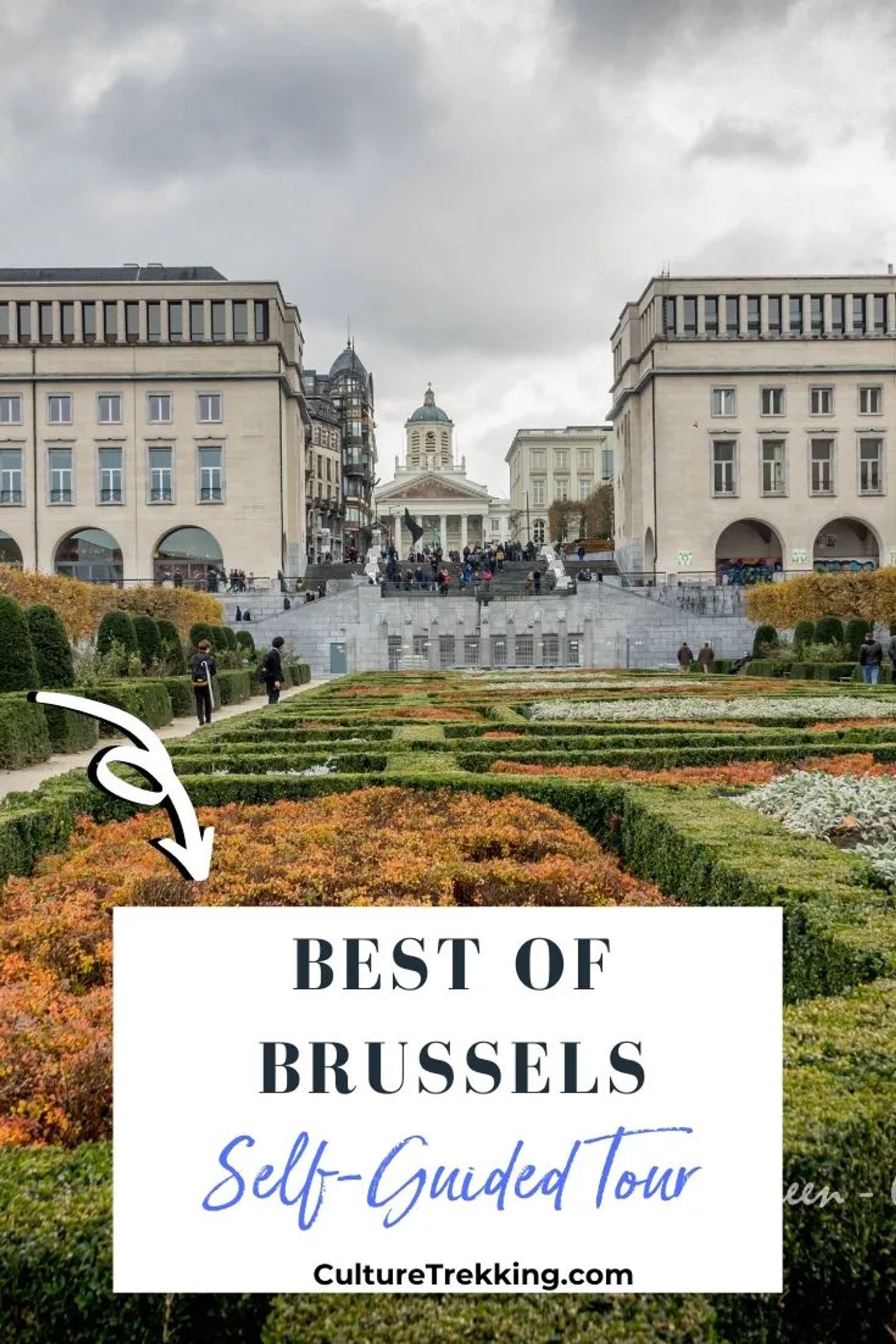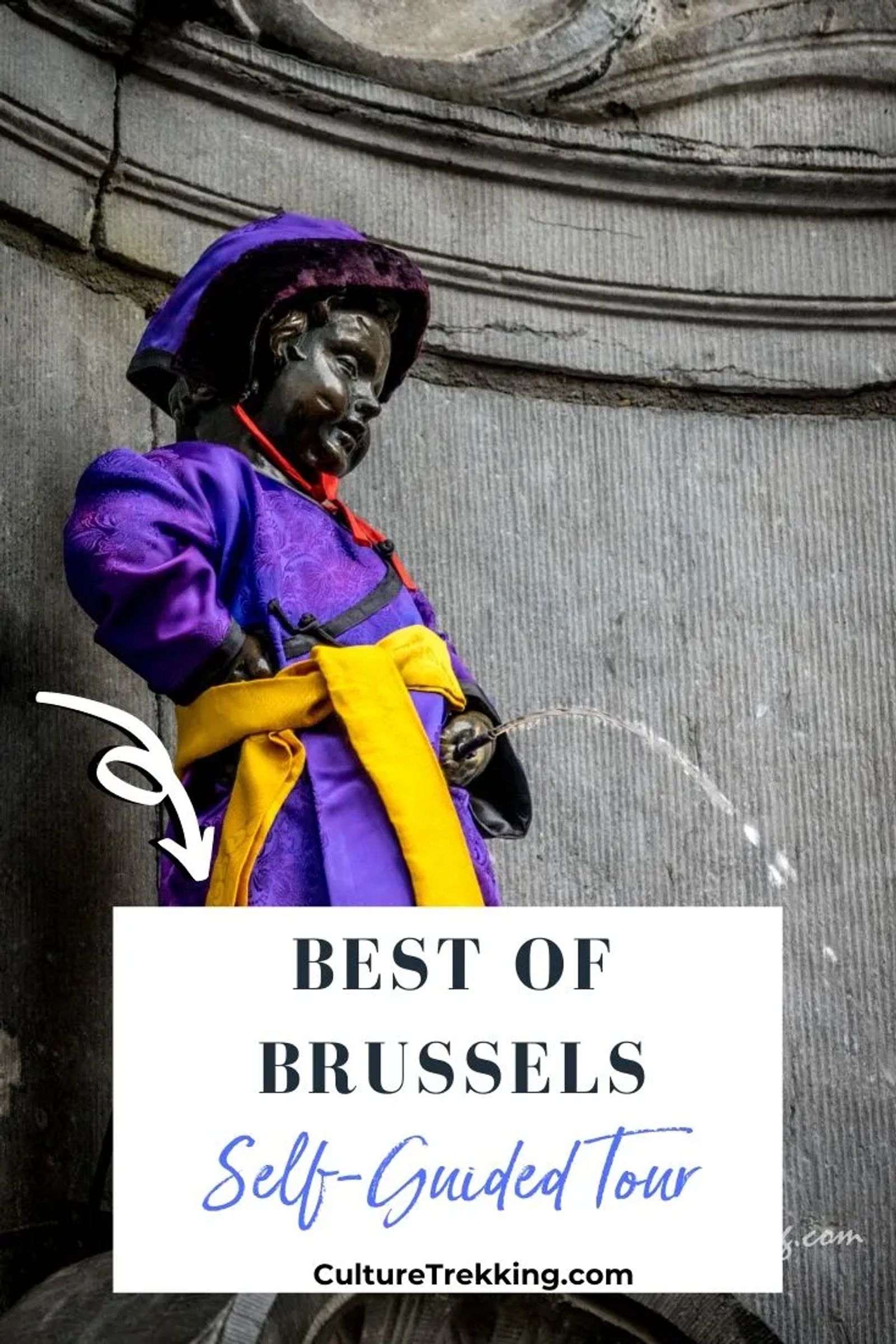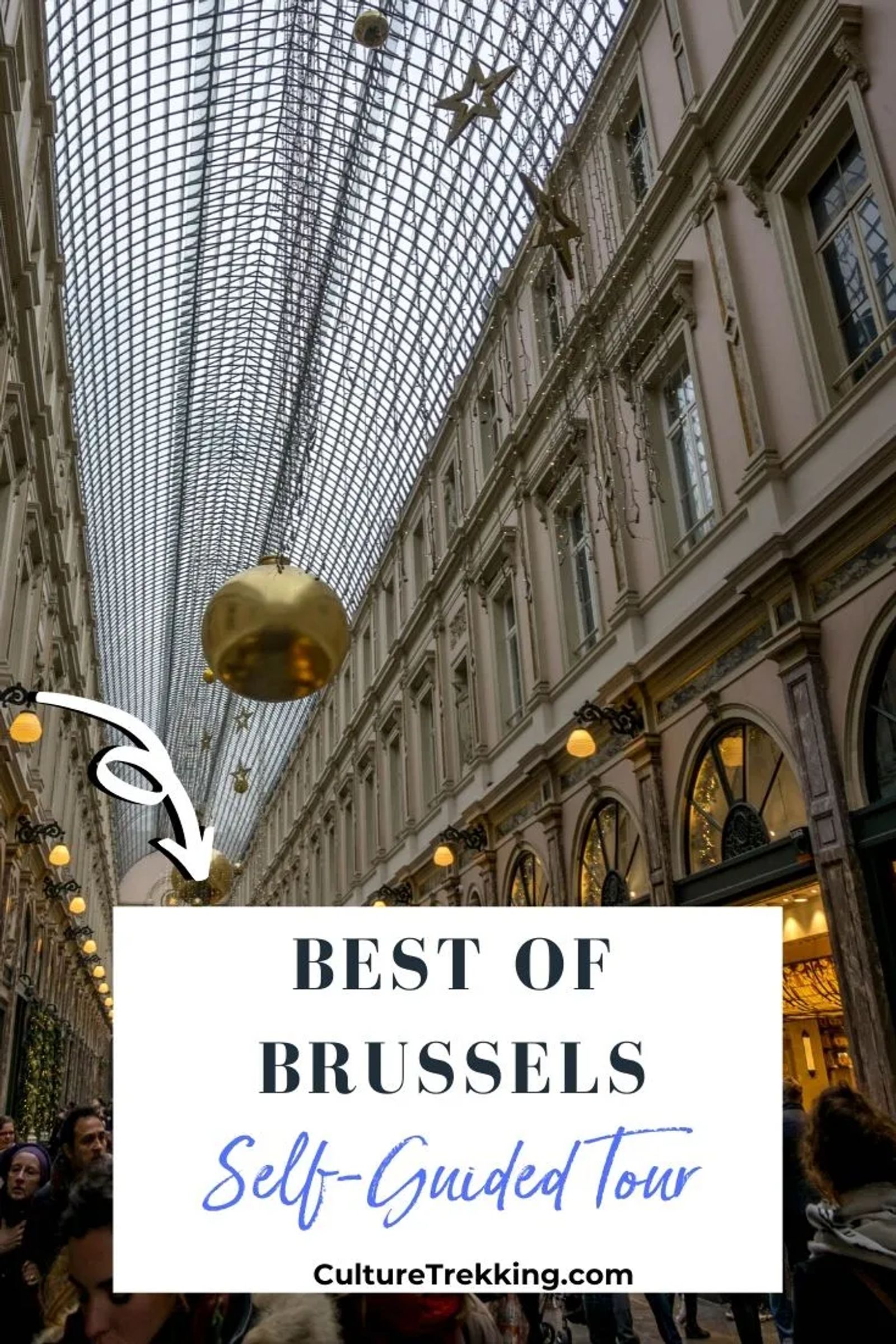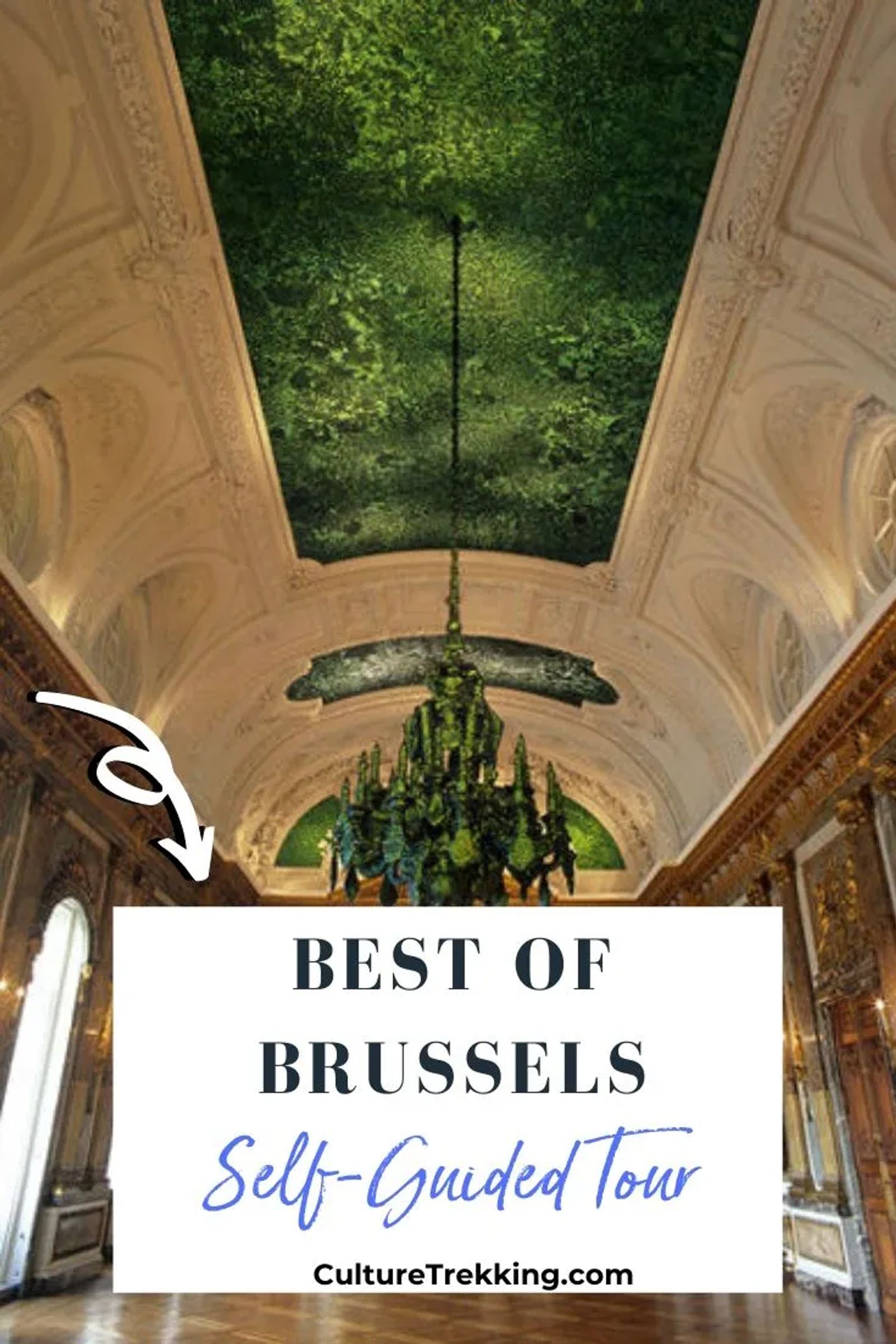 Where to Stay in Brussels