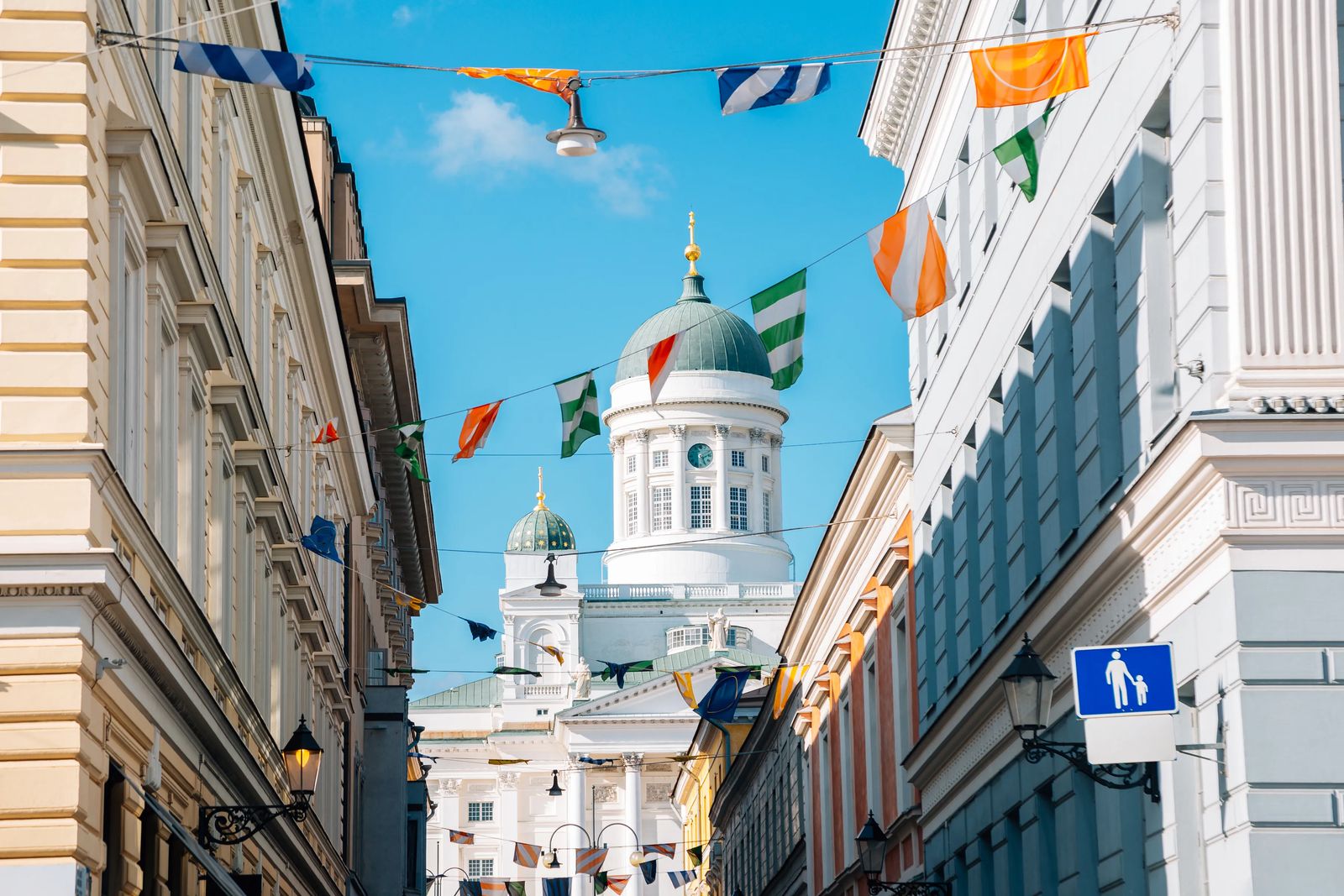 Things To Do In Helsinki In One Day
Helsinki is a city of contrasts and layers, it is a place that requires deeper exploration in order to find the awe other European cities have on the surface. This is why I loved Helsinki, it isn't an instant gratification city like Rome, where on the surface you can be visually satisfied immediately. Just like the people here, you have to work for it, take the time to explore, stop and observe, and open every door to see the treasures hidden inside. There are so many things to see in Helsinki in one day, but you could easily spend 2-3 days here. With more than 80 museums, 3 churches with significant architectural history, nomadic tribes that date back to the stone age that survived the cruel dark winters here, and a nearly 1:1 ratio of the famous Finnish Spas it can be hard to narrow it down to just visiting a few things.
I spent 4 days in Finland in 2021, two of which were while in Helsinki exploring and wandering the city. I did hours of research prior to visiting, mapping out the best routes in order to see the maximum amount on a short amount of time while still experiencing the history, food, and culture of this place. I've also included places I wish I could have seen and why, in case you have more than just 24 hours in Helsinki. I have updated this post in 2022 to provide the most up to date information to create a fantastic journey for you through Helsinki.

Quick itinerary/Key Takeaways
You can take the sites and locations around Helsinki and mix and match them to your interests. Here are a few optional itineraries to consider.
Option 1
Arrive in Helsinki and stop for coffee/breakfast at Caffe Eckberg 1852 (buffet style)
Head to the Finland National Museum, go to Helsinki Cathedral and Upenski Cathedral and Temppeliaukio Church
Head to Herald Café for a Viking Lunch/Dinner and go shopping along the Esplanaldi
If you have time browse around Amos Rex Art Museum
After 5 pm or 6 pm depending on your itinerary and departure time I would find a nice spot for dinner and experience a Finnish Sauna, or catch a show and call it a day.
Option 2
Get leisurely coffee and breakfast at Caffe Eckberg 1852
Visit Suomenlinna Island (15 minute ferry ride, 5 hour recommended tour time) (Ferry Times & Tickets here). Most museums on the island open around 10:30 am.
Have lunch on Suomelinna Island at Bastion Bistro or Alderfelt
After your time on the island, see the Sibelius Monument, some of the Cathedrals, go shopping and catch a Finnish Sauna or a show.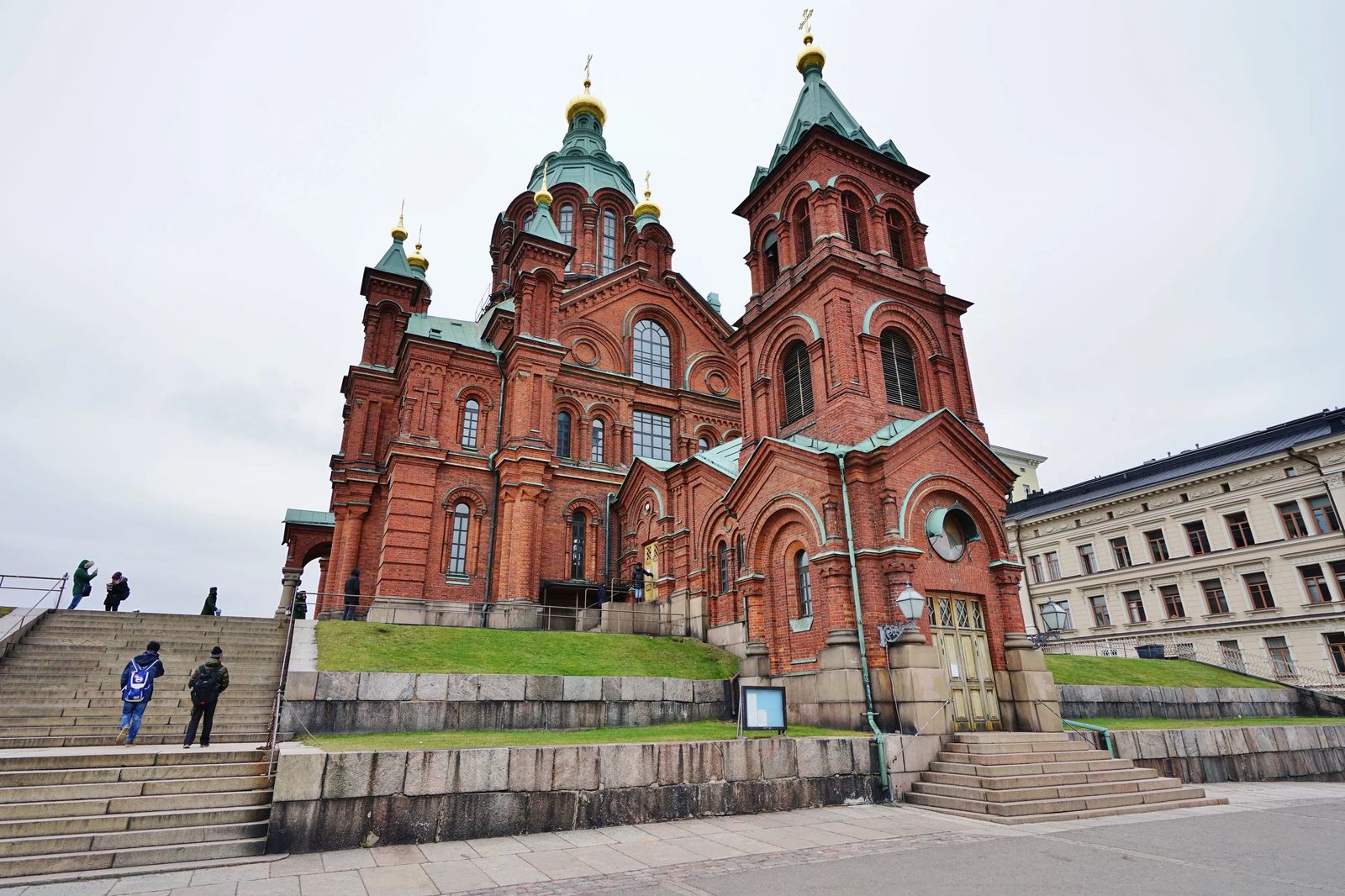 Uspenski Orthodox Cathedral
This is the largest Orthodox church in Europe, and was completed in 1868 and reminds you of the impact that Russian had on this area. The name Upenski is an old Slavonic word that means Dormition (to the mother of God). The chapel stands 108 feet tall (33 m) with the interior made of a red marble and several icons inside to St Nicholas. Two icons were stolen from this cathedral, only one of them has been recovered so far.
The Kozelshchyna iconostasis is a combination of classic elements and Russian-Byzantine decorative motifs and is considered one of the greatest spiritual treasures of the Finnish Orthodox church. The real fascination for me was the intricate details of the ceiling with designs that reminded me of what you would find inside the Hagia Sophia (in Istanbul Turkey). The main worship space is much like you would find in other churches, but it is the ceiling and iconostasis that really is what puts your imagination to work and gives a feeling of awe.
If you are in town August 15th you might catch the Praasniekka church festival, or February 21st the commemoration day of the Kozelshchyna wonderworking icon of the Mother of God.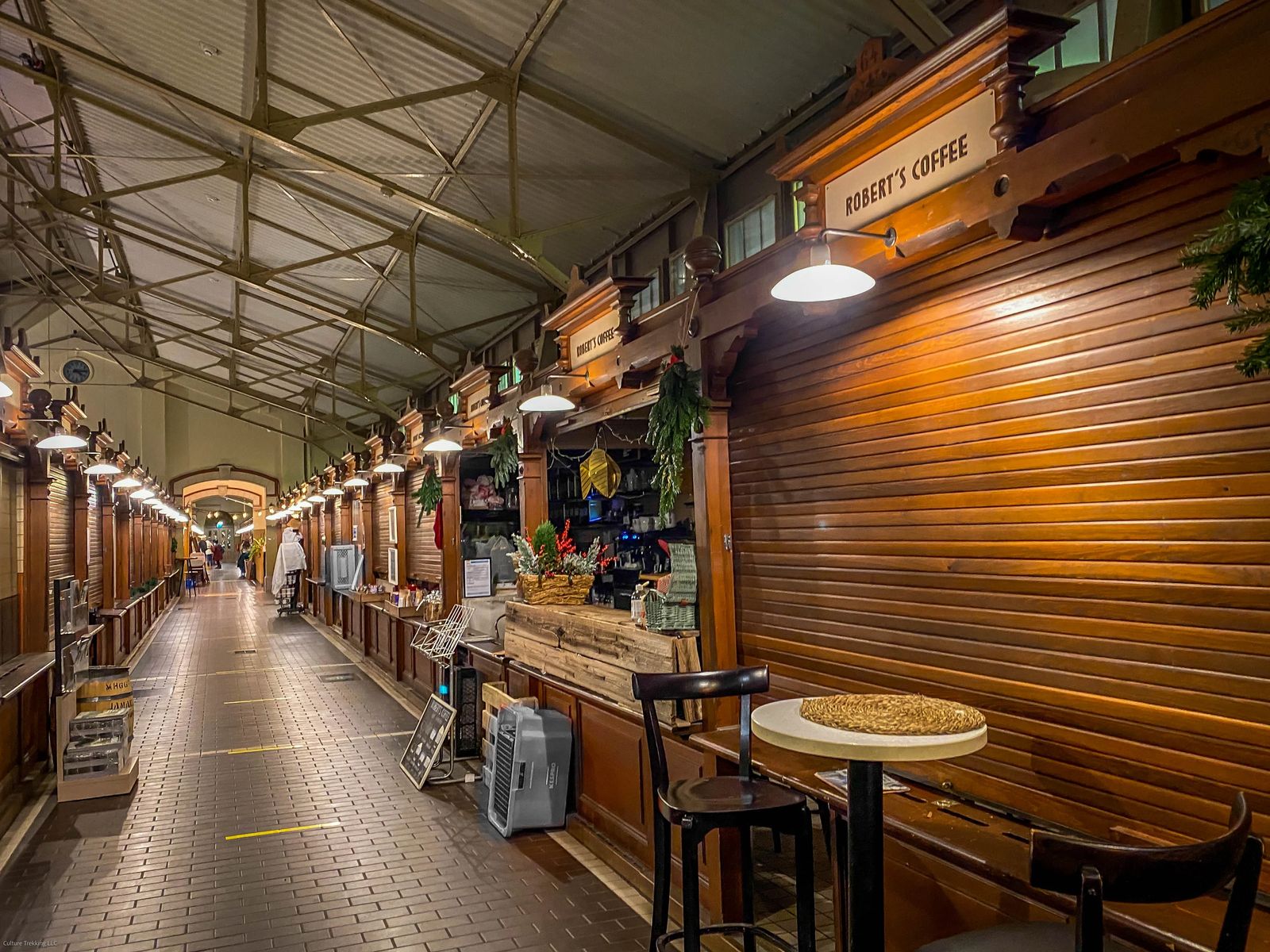 Old Market Hall
Trying to tour the entirety of Helsinki in 24 hours, taking a trip to Rovaniemi to see Santa, catching the Christmas Market and also trying to time everything perfectly to 'see it all' doesn't always work out. Visiting the Market Square in Helsinki was one of those things I completely mis-timed, but I believe is still well worth visiting.
This market has been showcasing local produce, coffee, and handicrafts here since 1889. It is a short 10 minute walk from the Helsinki train station, and you could easily spend an hour or two inside exploring local delicacies (including reindeer and herring).
There are around 120 stalls, and it is open 6 days a week (closed Sundays) but in the winter it closes early (about 7 pm) so unlike me, please plan accordingly. The doors remain open so you can warm up quickly on the colder days, but the stalls are closed.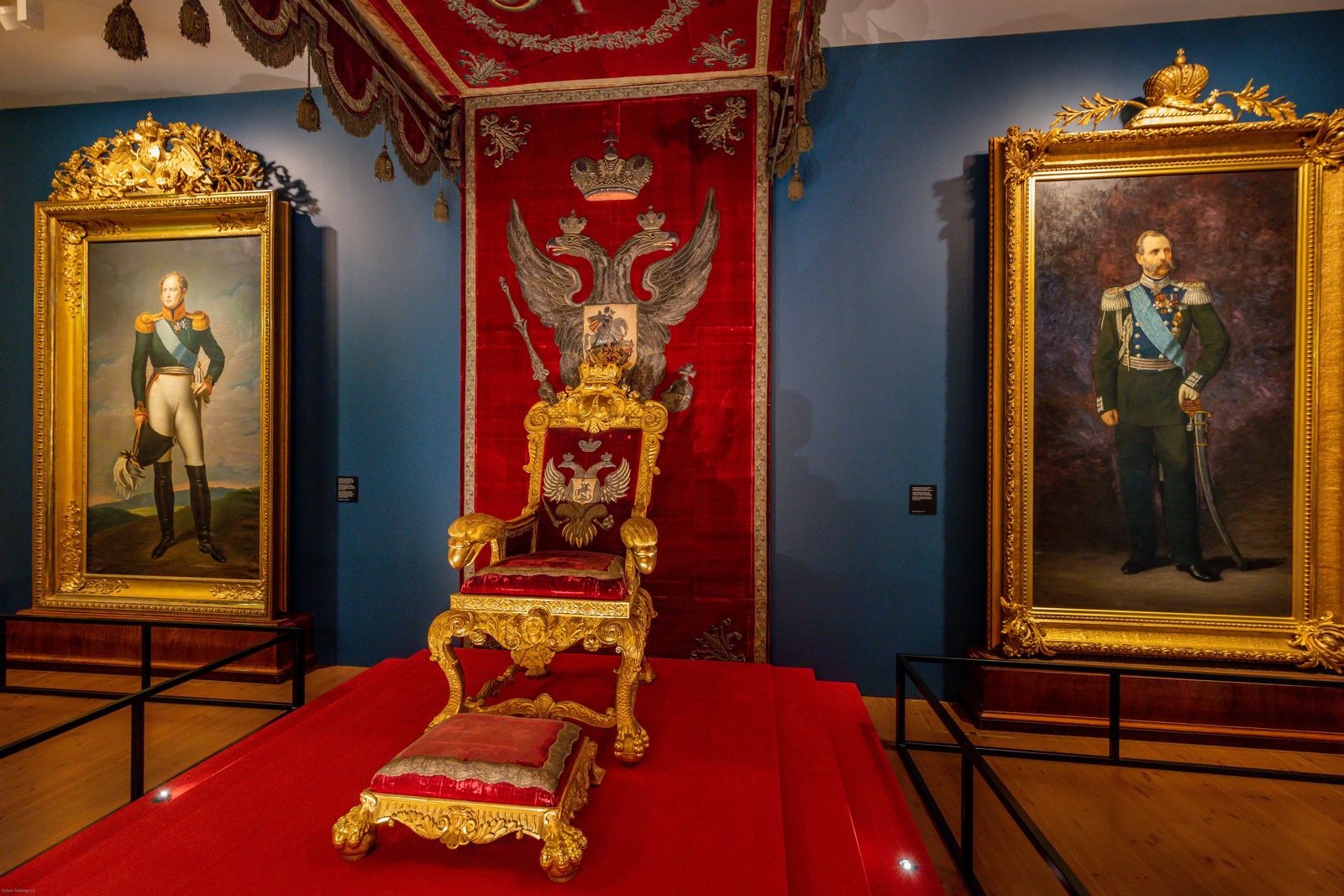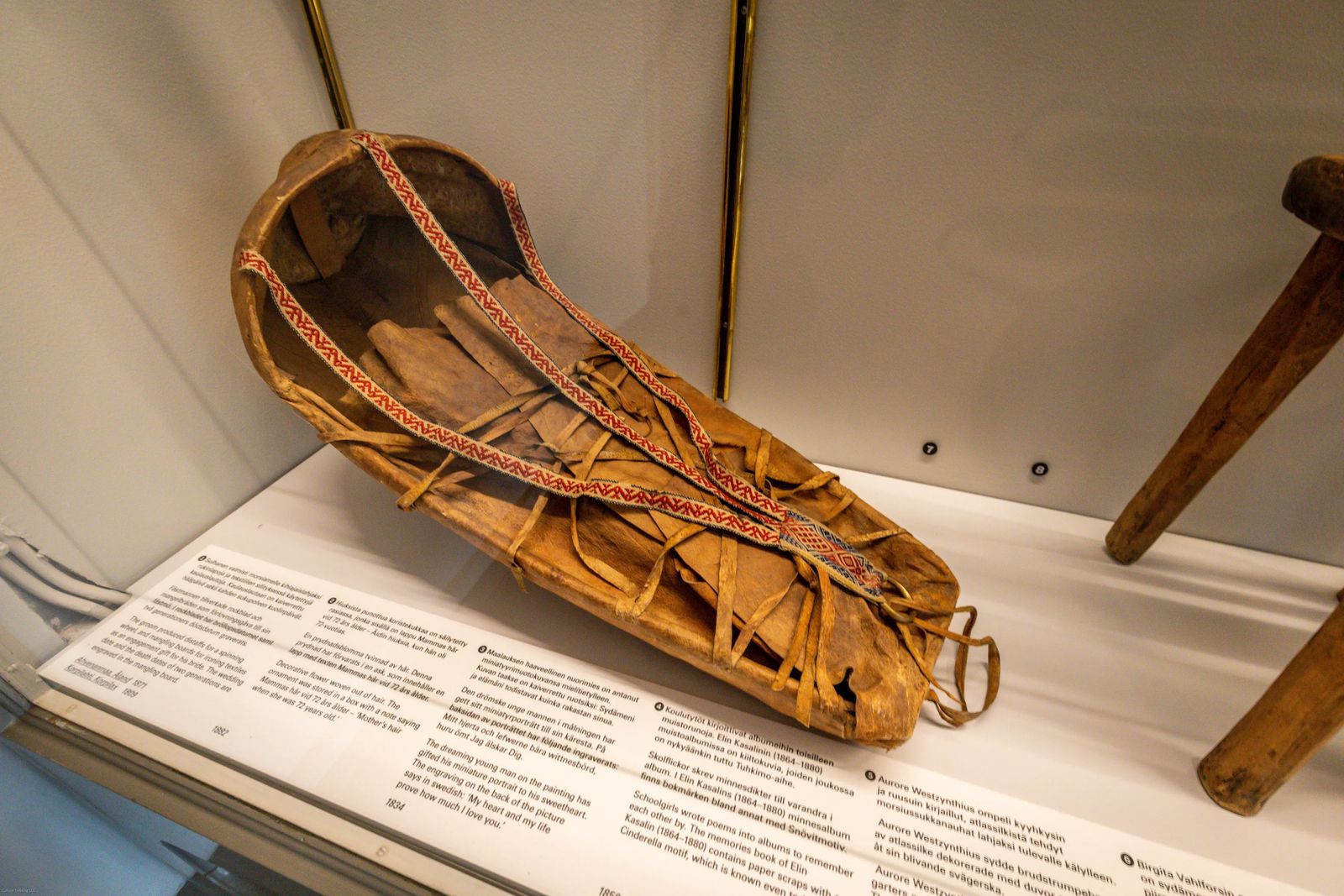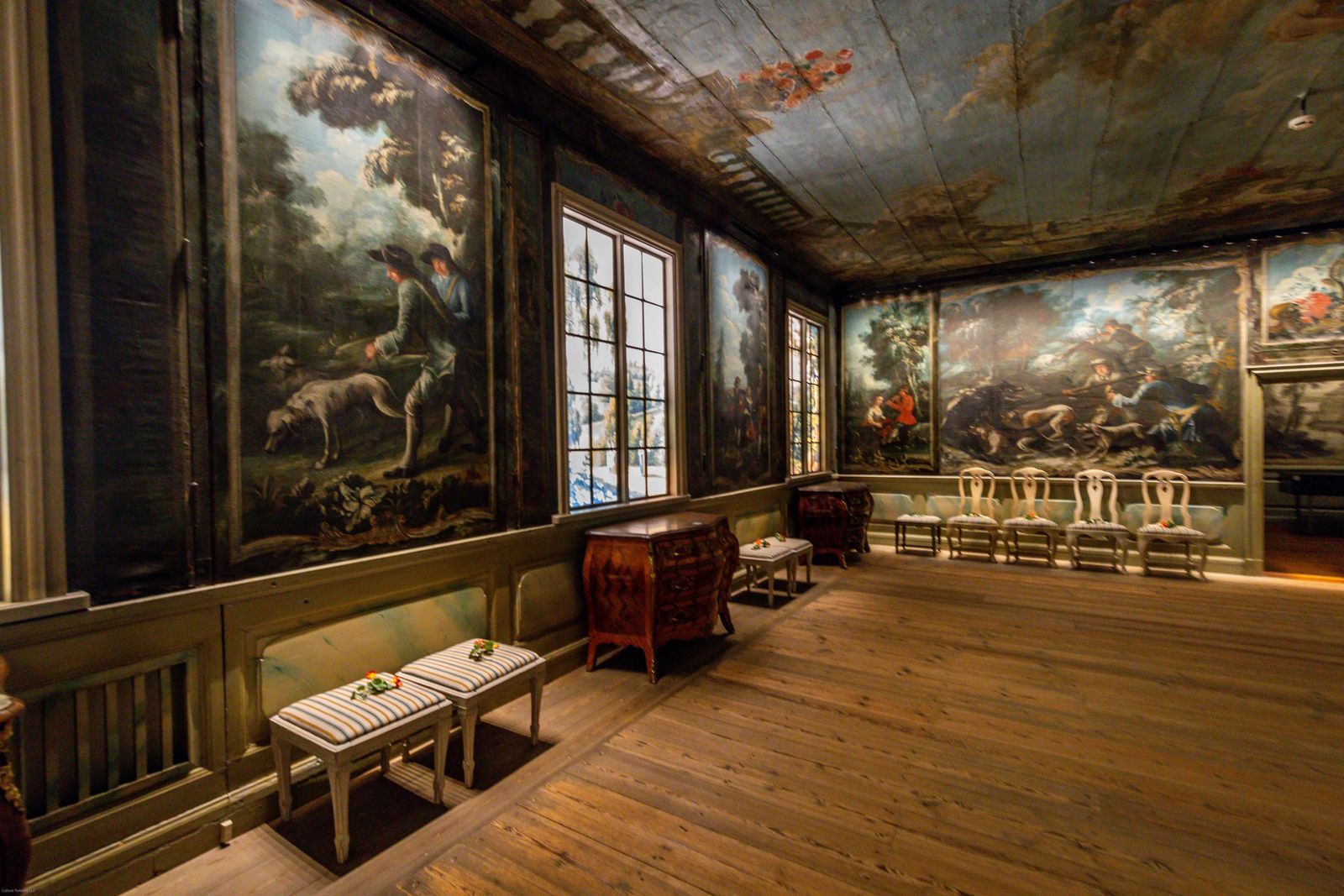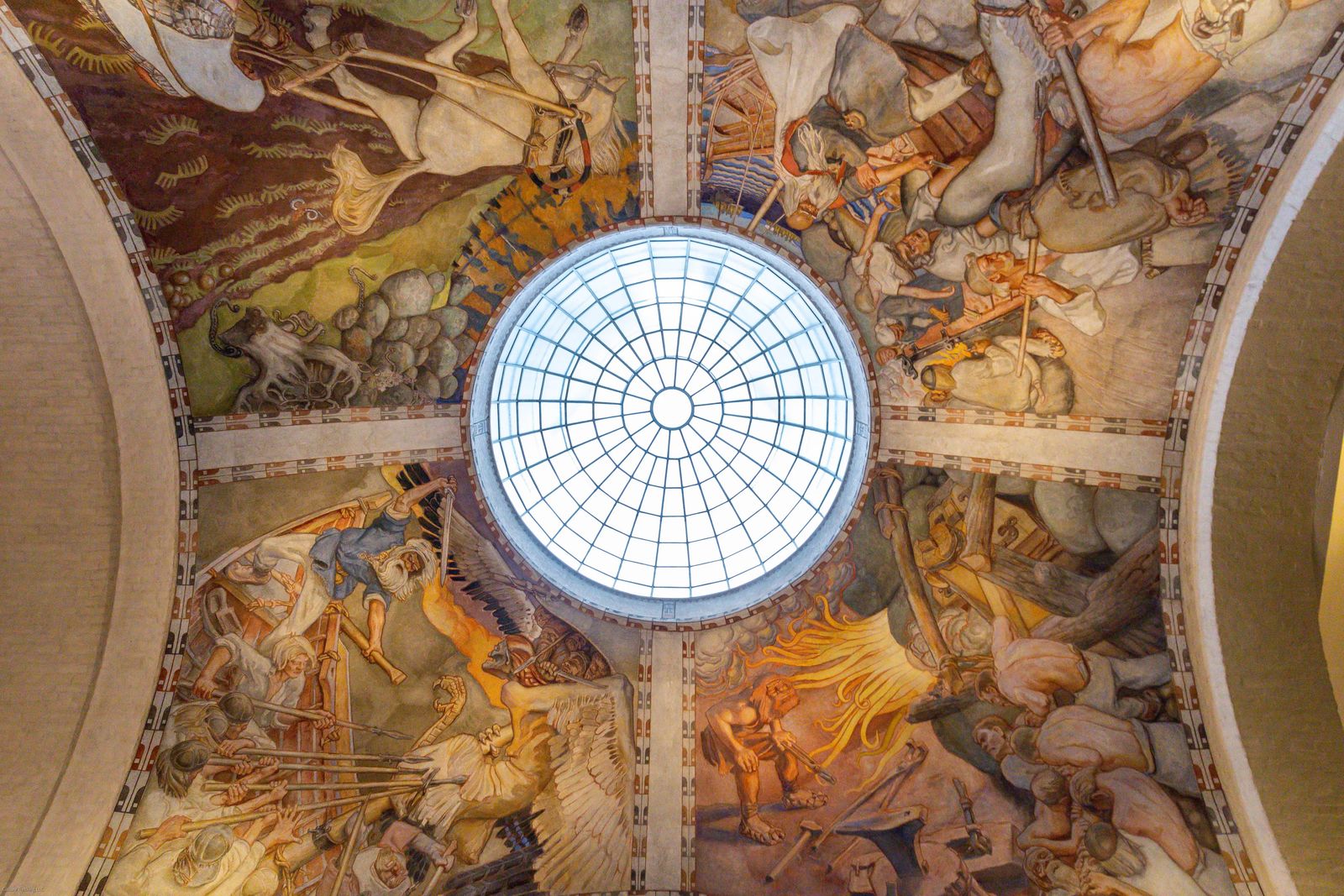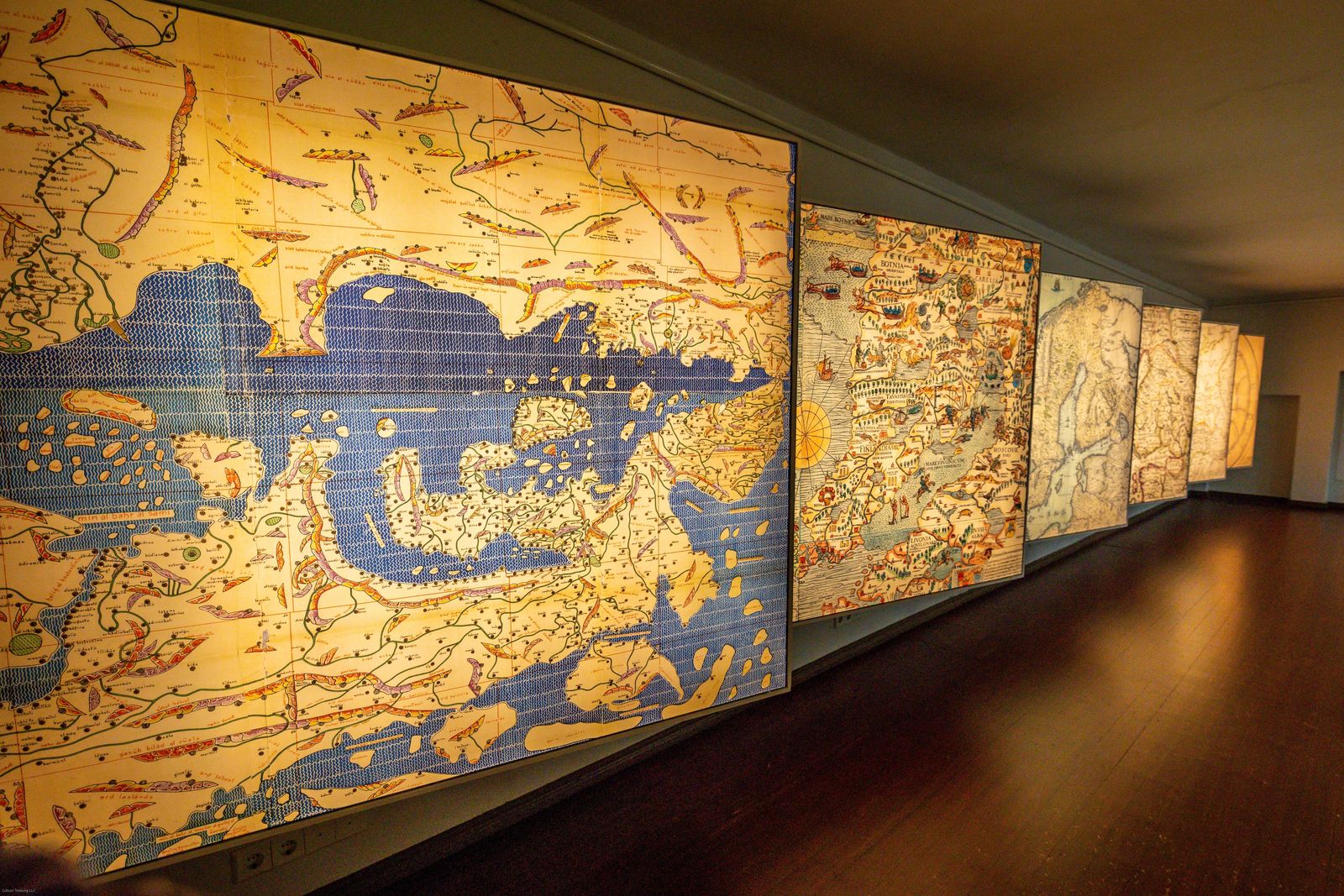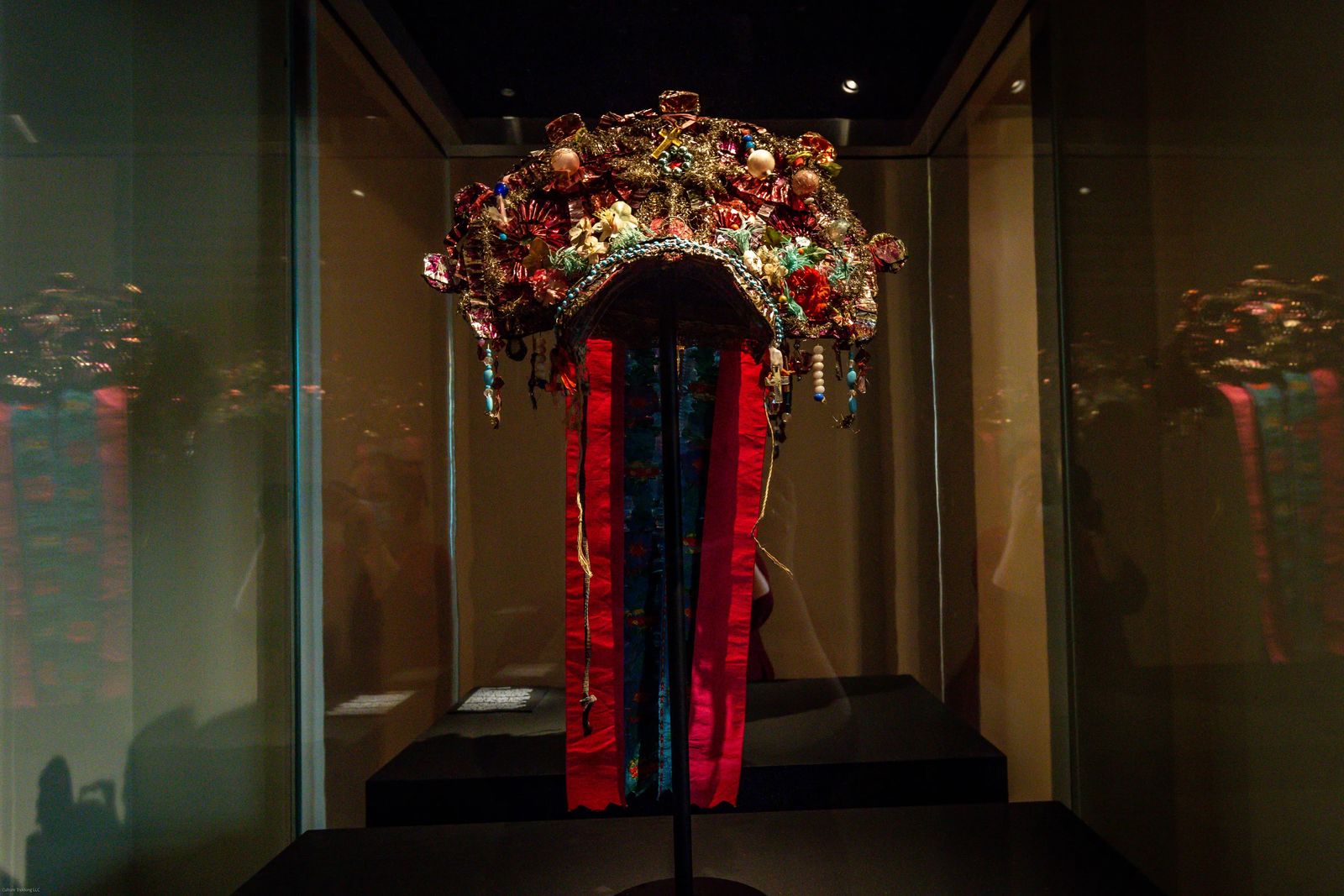 Finland National Museum
Here you will find the story of Finland and its cultural heritage. The museum greets you with the lavishly decorated ceilings with intricate Kalevala-themed frescoes painted by Akseli Gallén-Kallela. Then you are taken through room after room of over a half a million artifacts that represent Finland from the budding Stone Age to the modern age.
There are lots of school children that come through these halls to interact with many of the collections. Stroll through 18th century recreated rooms, see the traditional dress of their people, and discover folklore and history of the Finno-Ugric people.
There are 80 different museums in Helsinki from the quirky Amos Rex Museum, to the Ateneum Art Museum, the treasured architecture museum - there are loads of indoor places to explore and learn about just how ingenious the people here have become to adapting to the cold. Make sure to grab a Helsinki Card if you plan to visit more than one or two because it saves you a lot of money, and also provides free public transport.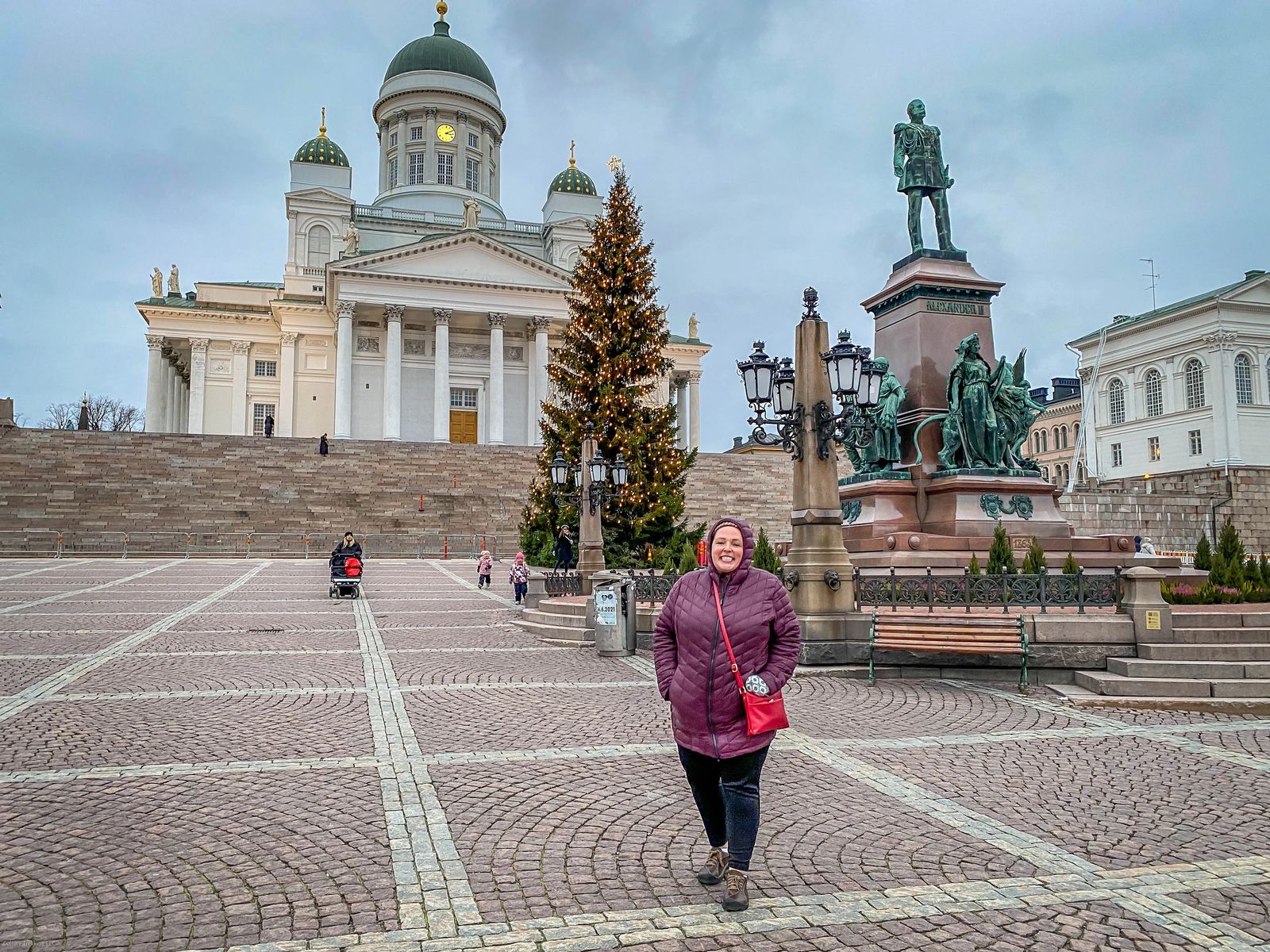 Helsinki Senate Square
This is one of the largest European Squares I've ever been to, because Helsinki isn't a medieval city they have the space to do it. The Helsinki Cathedral dominates the square (designed by Carl Ludvig Engel), but you also have the Government Palace, the main building of the University of Helsinki and the National Library of Finland.
If you are here during the summer you can hear the European glockenspiel every day at 5:49 pm with the sound traveling from building to building. If you are here during Christmas, this is traditionally where the Christmas Market is held as well.
The square used to be a graveyard in the 17th century, turned capital city around 1912. In the center you will find the statue of Emperor Alexander II (King of Poland and Grand Duke of Finland). Around the Emperor you will find statues representing law, culture and peasants.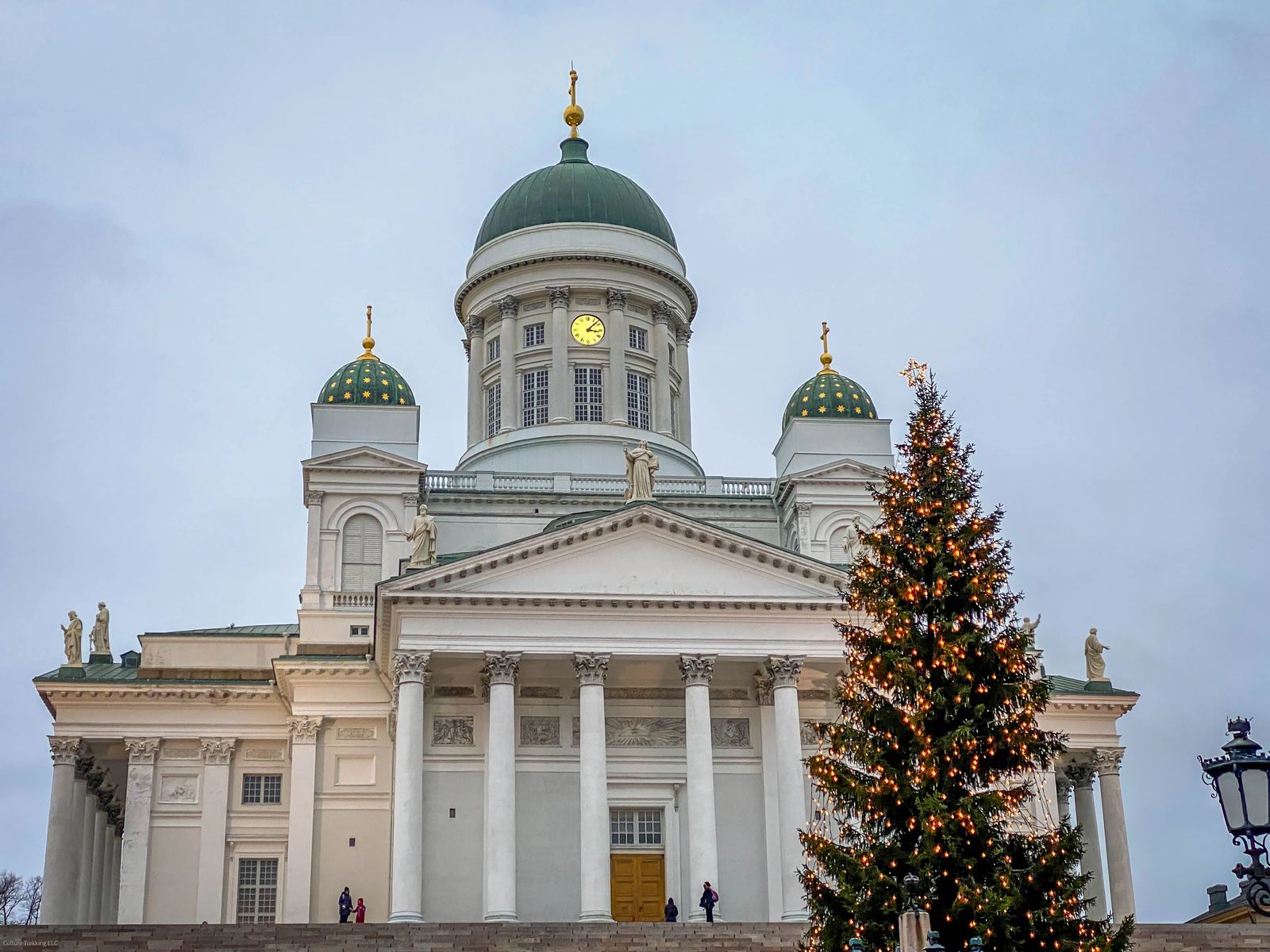 Helsinki Cathedral
This is an evangelical Lutheran cathedral also known as St Nicholas's Church. It is one of the most photographed and famous structure in Finland. The cathedral was finished in 1852 for the Grand Duke of Finland, and Tsar Nicholas I.
Built in the Neoclassical style by Carl Ludvig Engel, it makes for a great photo backdrop with the Senate square in the foreground. Photo tip, if you are an iPhone user, put your photo on live mode, then hold very still when taking the photo. Change the photo type to long-exposure and you can get rid of the other tourists in the area and have a stellar photo nearly to yourself.
There is a small charge to go into the church so make sure you have a few Euros on hand.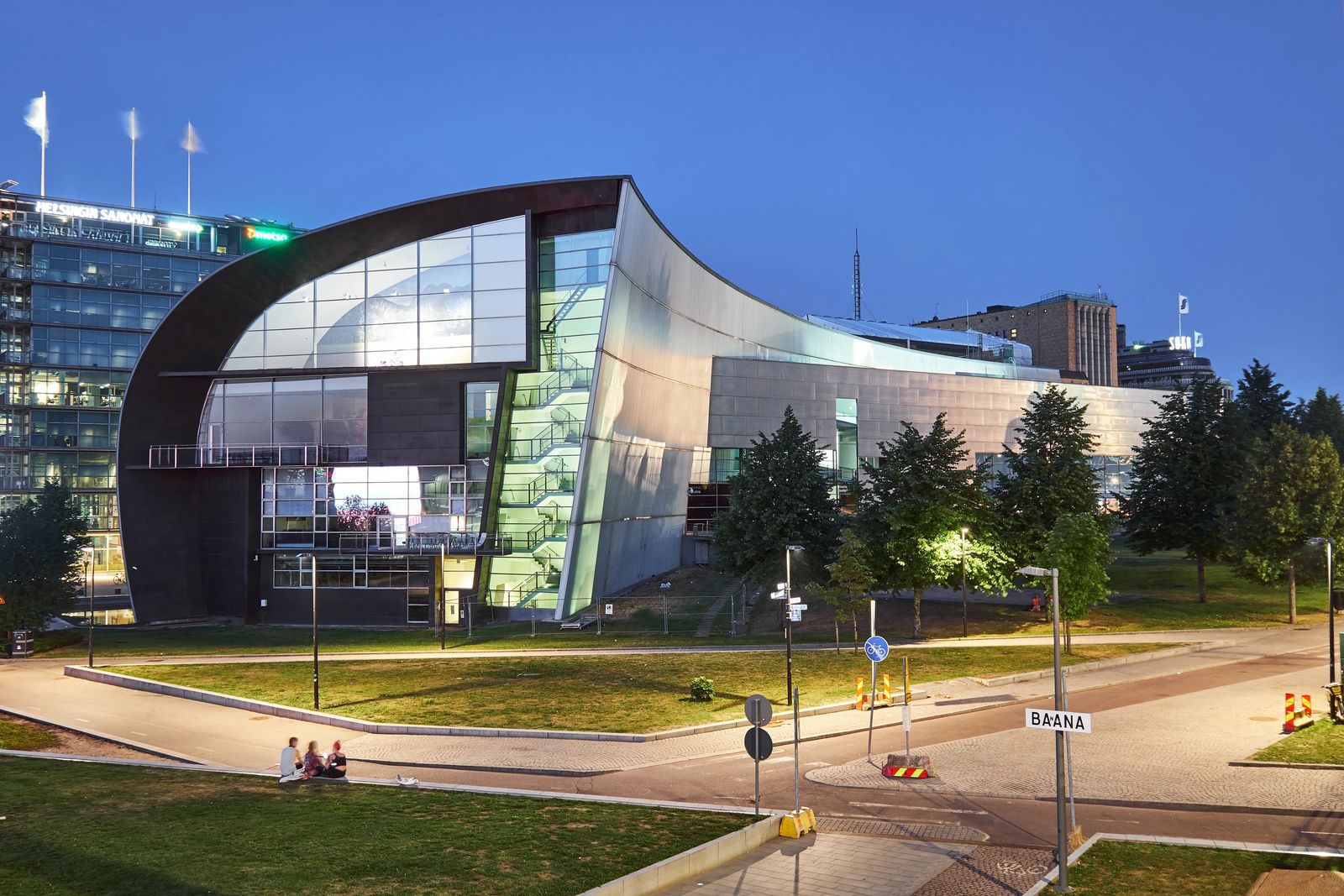 Kiasma Modern Art Museum
The collections here at the Kiasma Modern Art Museum started back in 1990, the collection got so large a competition was held to design this current Museum. Steven Holl from the USA designed this building as the winner out of 516 entries. After two years of construction, it was finally opened in 1998 and now hosts 310,000 visitors per year.
Both the outside and inside showcase not just art, but the mesmerizing flow of light and lines that has you standing in the foyer with mouth agape (and maybe a little drool) because of how it draws you in. The museum has both Finnish and International works of art and art installations that send a message, capture the imagination, and allow you to see how beautiful museums really can be.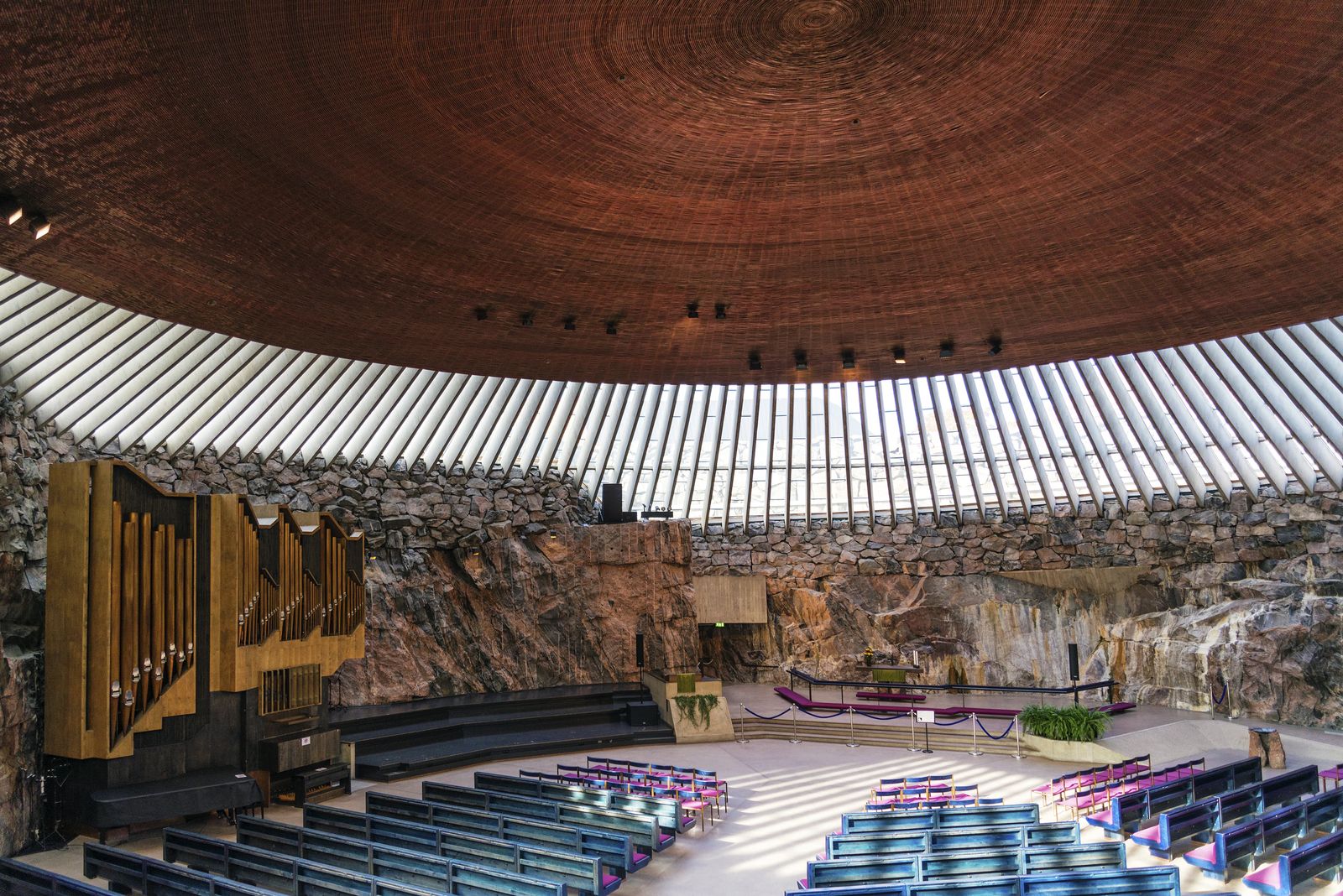 Temppeliaukio Church
While I wasn't able to personally make it to this church, it is one that I would love to see when I return to Finland. This Lutheran church was designed by Timo and Tuomo Suomalainen in 1969. Throughout Finland, because they have to spend so much time indoors with their winters, the architecture is what is really making its mark in the modern world, like this fantastic church.
The Temppeliaukio Church or the Church of the Rock because it is built directly into a rock, with a skylight that surrounds the copper dome and creates incredible acoustics. This is one of the more popular attractions, and has about half a million people visit this stone haven each year. If you are lucky you can catch a concert or service and hear the organ with its 43 stops and 3001 pipes. You can find the events page for Temppeliaukio Church here.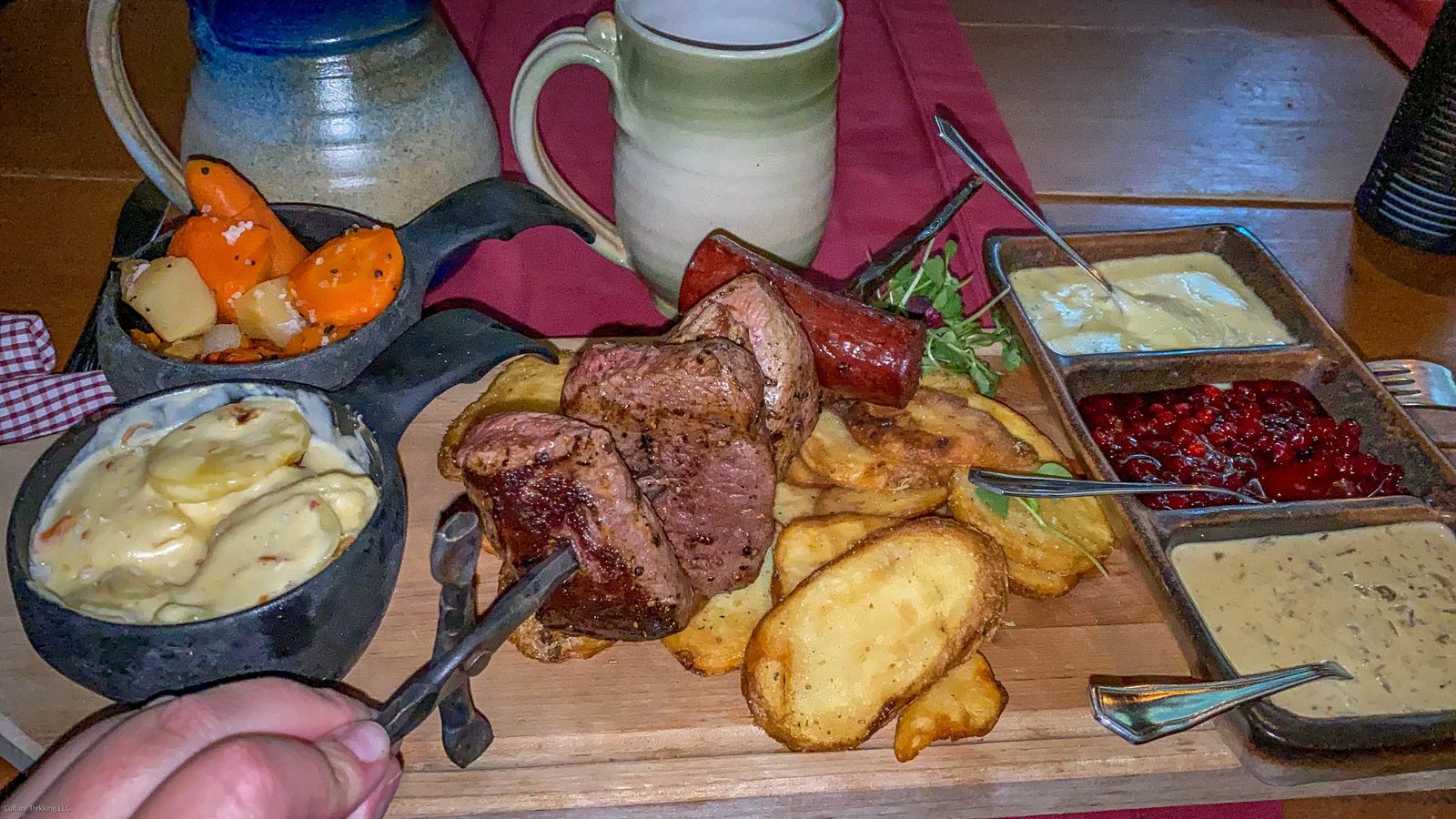 Eat At A Viking Cafe : Harald
A budget friendly option to try local Finnish food is to head over to the Viking Herald Restaurant. It is obviously a bit of a tourist draw, but for about $35 you can get an entire platter of meats, salad bar, desert and drink. If you stay in a hotel or hostel, take 1/2 of it back and heat it up in the microwave. Eating out isn't cheap here though, because of how Finland has to import so much of the produce.
Some of the classic dishes you should try while in Helsinki are pickled herring with rye bread, anything with reindeer in it, Salmiakki (sweet treats). Lohikeitto (Salmon Soup), Kalakukko (Fish pie), Korvapuusti (cinnamon buns), Lihapullat (finnish meatballs), and Mustikkapiirakka (blueberry pie).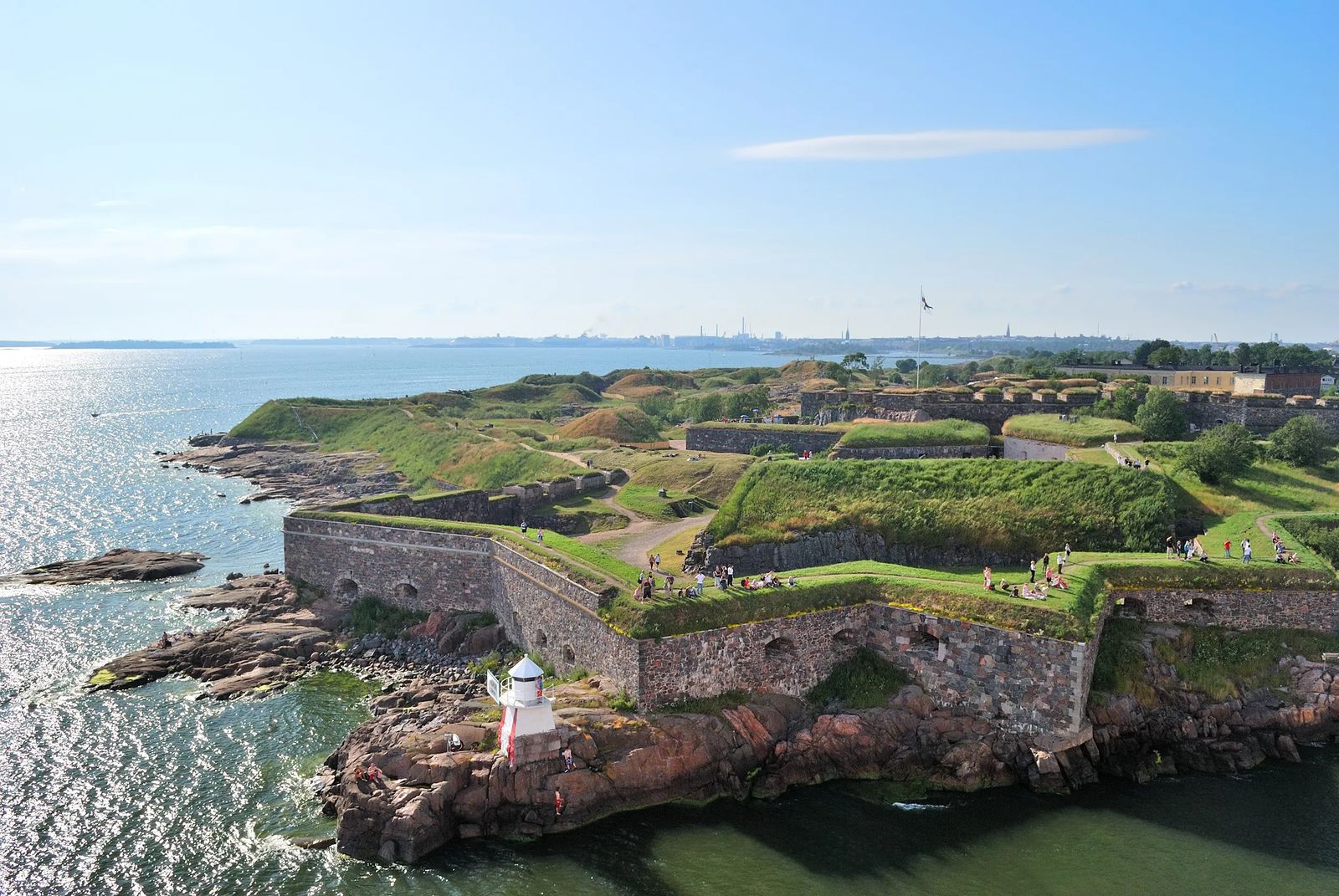 Visit Suomenlinna Island
If you decide to visit Suomenlinna Island, you need to know it will likely be the only thing you see in Helsinki in the one day that you are there. I decided to tour the city vs going off to an island that I would have missed my Ferry back to Tallinn Estonia. I did want to include it as an option because it is a very popular spot and Suomenlinna was designated a UNESCO World Heritage Site in 1991. If you have the time to go, I would certainly make the effort.
Suomenlinnas story began in the 18th century, originally called Sveaborg and was a fortification for the Swedish for 60 years. Russia then took over the fortress and used as a port and weapons cache, turning it into an effective military base.
Today when you visit you can see a number of museums on the island about the military base, the last Finnish Submarine, the Nordic Arts Center, see artists studios, or even catch a performance at the theater in the summer.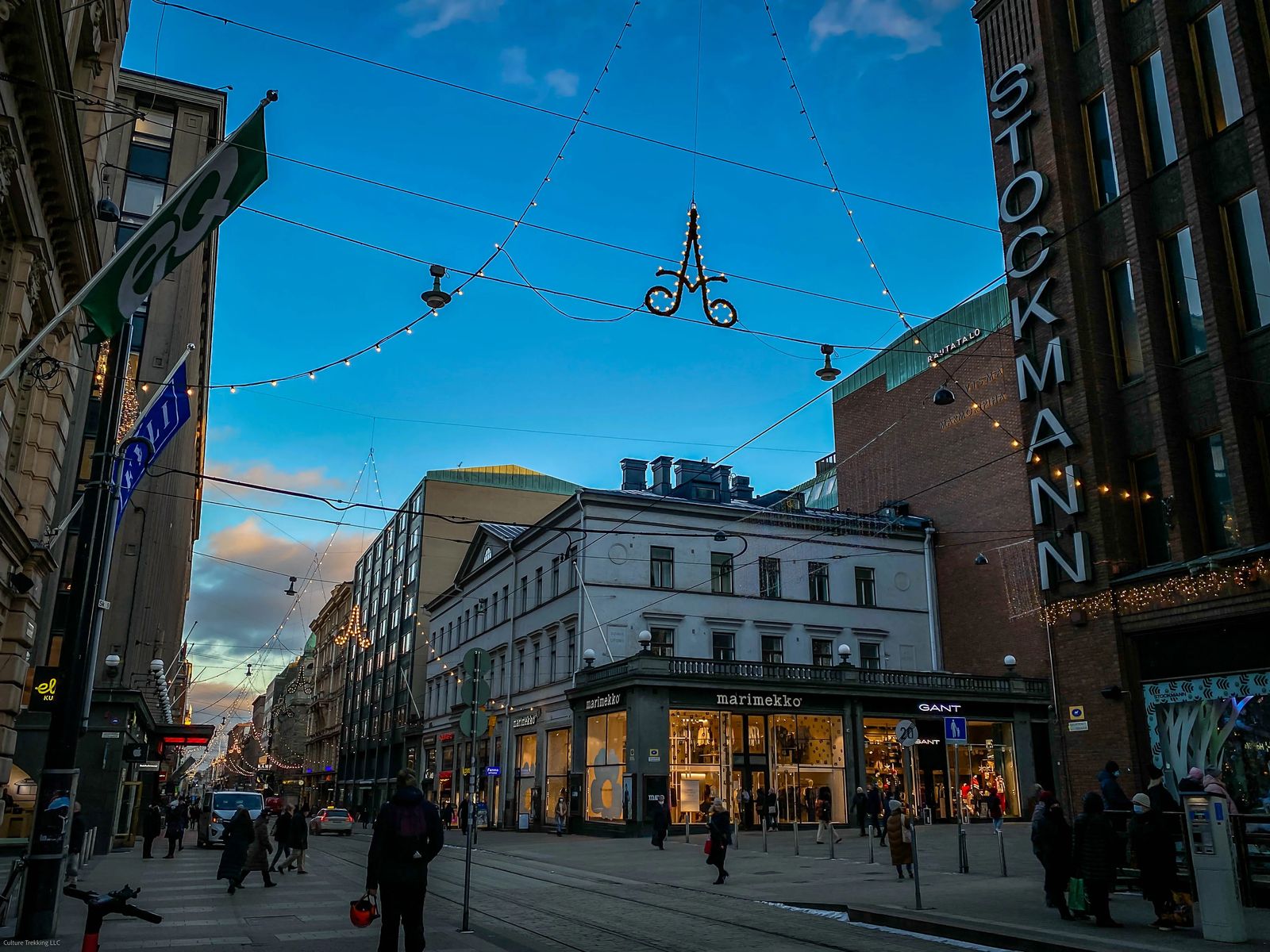 Go Shopping Along Espanaldi
Right next to the Tokmanni Helsinki City Center, and the Kluuvi Shopping Centre is the Stockmann Shopping Mall. This was right near my Helsinki Hostel, and one of those things you stumble upon and fall in love with. This area is lit up at Christmas time, has so many locals milling about, there is an international dining options available at Kluuvi center, and then the Stockmann Mall is a 164,000 sq ft mall that has been open since the 1930's. You can truly find a gift for ANYONE here, and supplement any wardrobe items you didn't bring to keep warm in the polar nights here.
There are so many different shops I had never even heard of before, and you could genuinely spend an entire day just milling about, exploring and window shopping. If you wander over to the Smith's statue, you can also find some more affordable versions of items commonly sold at the Helsinki Christmas Market.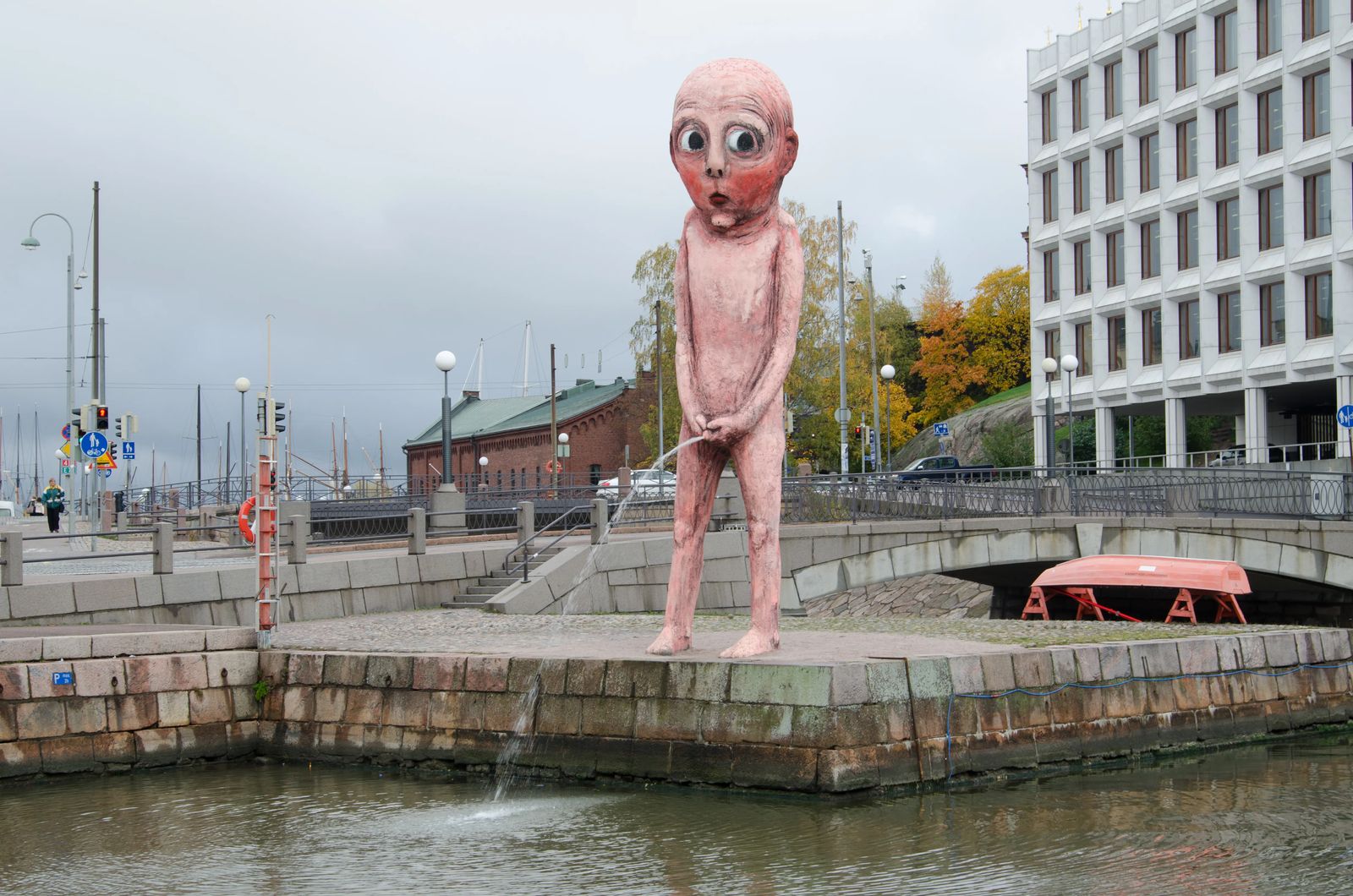 See Quirky Statues
There is one thing Helsinki is NOT short of, and that is quirky things, places, and statues. It isn't hard to see the quirky statues as you make your way around the city, just keep a keen eye out and you can find plenty of them.
See the three smiths statue, where three naked men, with butts sculpted in a way that makes me blush, are hammering down on an anvil swinging around their tools right at the intersection of Aleksanterinkatu. At Christmas time you can see them adorned with Santa hats, and because the warm water from the city runs right under the statue, it is always warm to sit here and snow free.
If you are coming from the port into Helsinki, you might see the 'Bad Bad Boy' a 27 ft (8.5m) giant statue of a naked boy peeing. It used to be at the port itself, peeing into the water, now it stands right in front of the Helsinki Computer and Game Console Museum.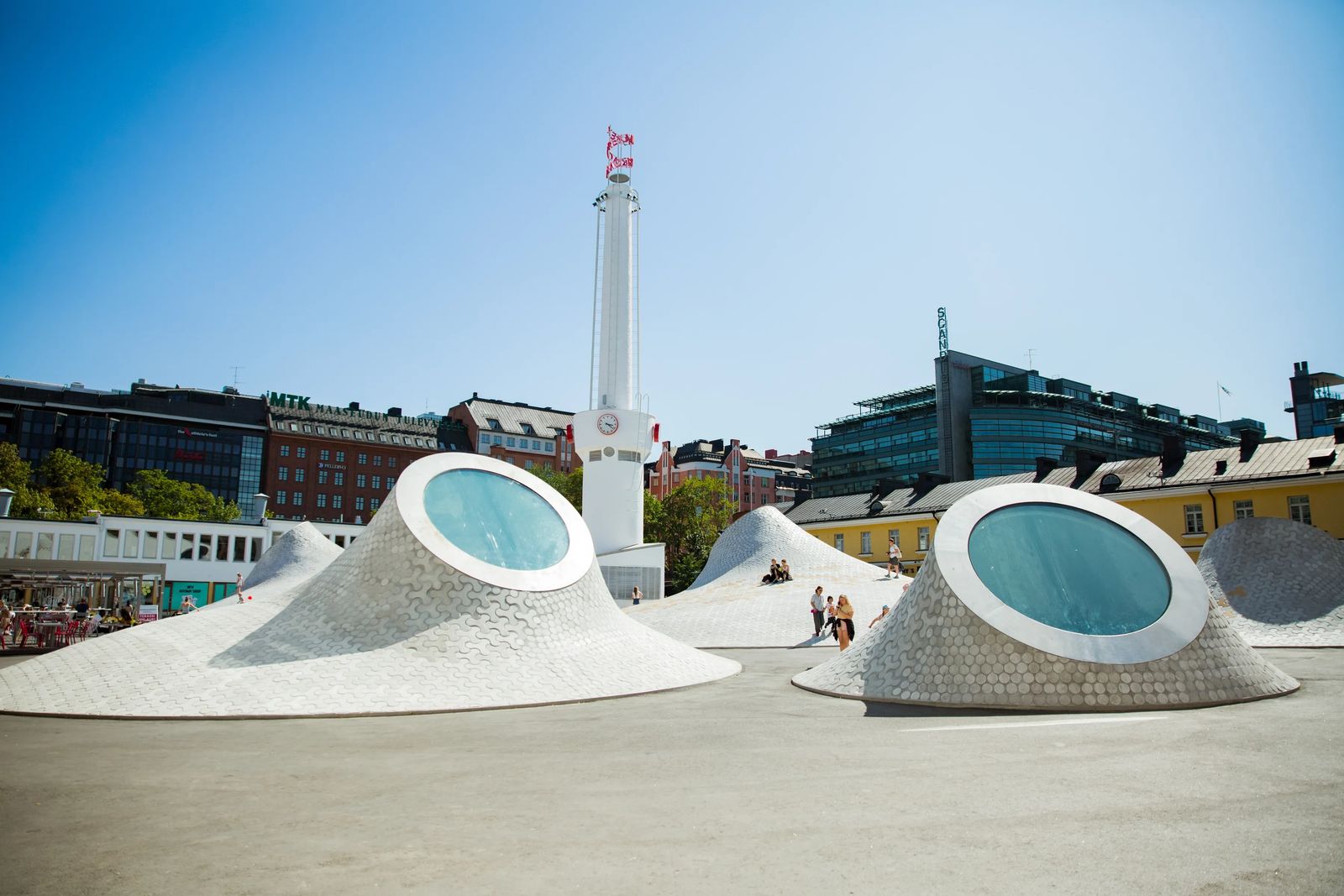 Amos Rex Art Museum
Opened in 2018 this museum is gaining popularity among tourists that visit Helsinki because of its quirky architecture (a great photo spot for those big dresses kind of pictures). While the collections of art inside was started in 1913 by Amos Anderson, it wasn't until after his death that the collection of art was turned into a museum in the 1960's.
It isn't just paintings on walls (although they do have that too), but rotating exhibits of digital art (think the interactive Van Gough type exhibits), as well as color exhibits you can get involved in. Tickets are around 20 Euros to get in, and its open from 11am-8pm on weekdays, and 11am-5pm on weekends.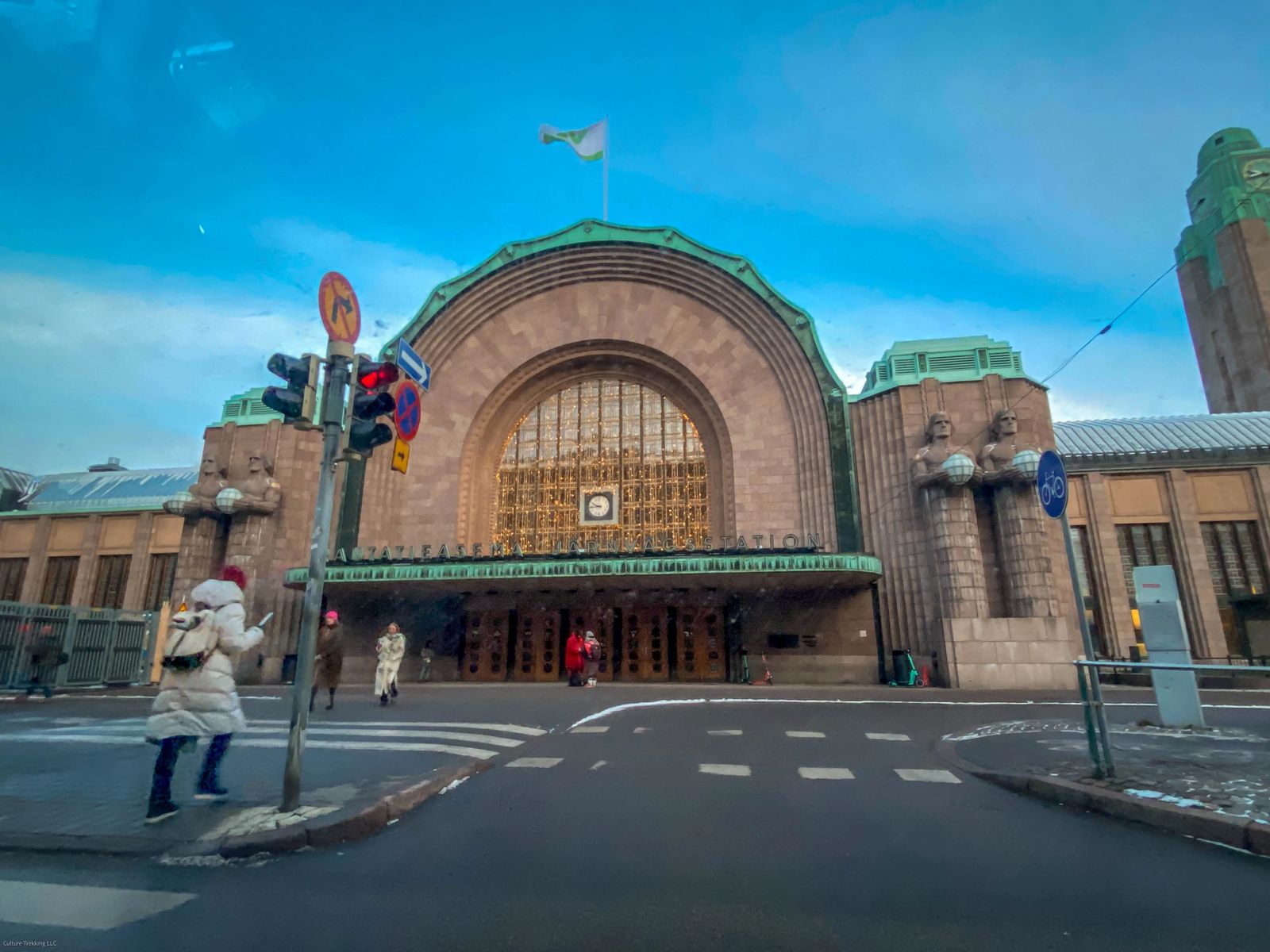 Helsinki Train Station and Art Nouveau
This is the main commuter train station on Helsinki, and services 400,000 people per day. The building itself is the draw, as it was built in 1919 with the giant tower call "The Lantern Bearers" (Lyhdynkantajat) helping to earn its title of most beautiful railway stations in the world by the BBC in 2013.
Designed by Eliel Saarinen, it is considered the most important Finnish art nouveau architectural works. Although the design for the building was completed in 1909, it took five years to complete because of World Wars. The main arched window at the entrance, floral patterns on the windows, and copper roof all add to the intricacy of the design. On either side of the entrance there are four huge men holding globes that also double as lamps - it is said they represent the 'figures of the future'.
Inside the building is quite functional, stalls and shops open during the peak hours and close at night. There aren't places to sit around once the shops are closed, so just be aware if you are catching a train - try to take something around 9pm or earlier to avoid sitting on the floor for hours. Especially during the winter, the station can get quite cold.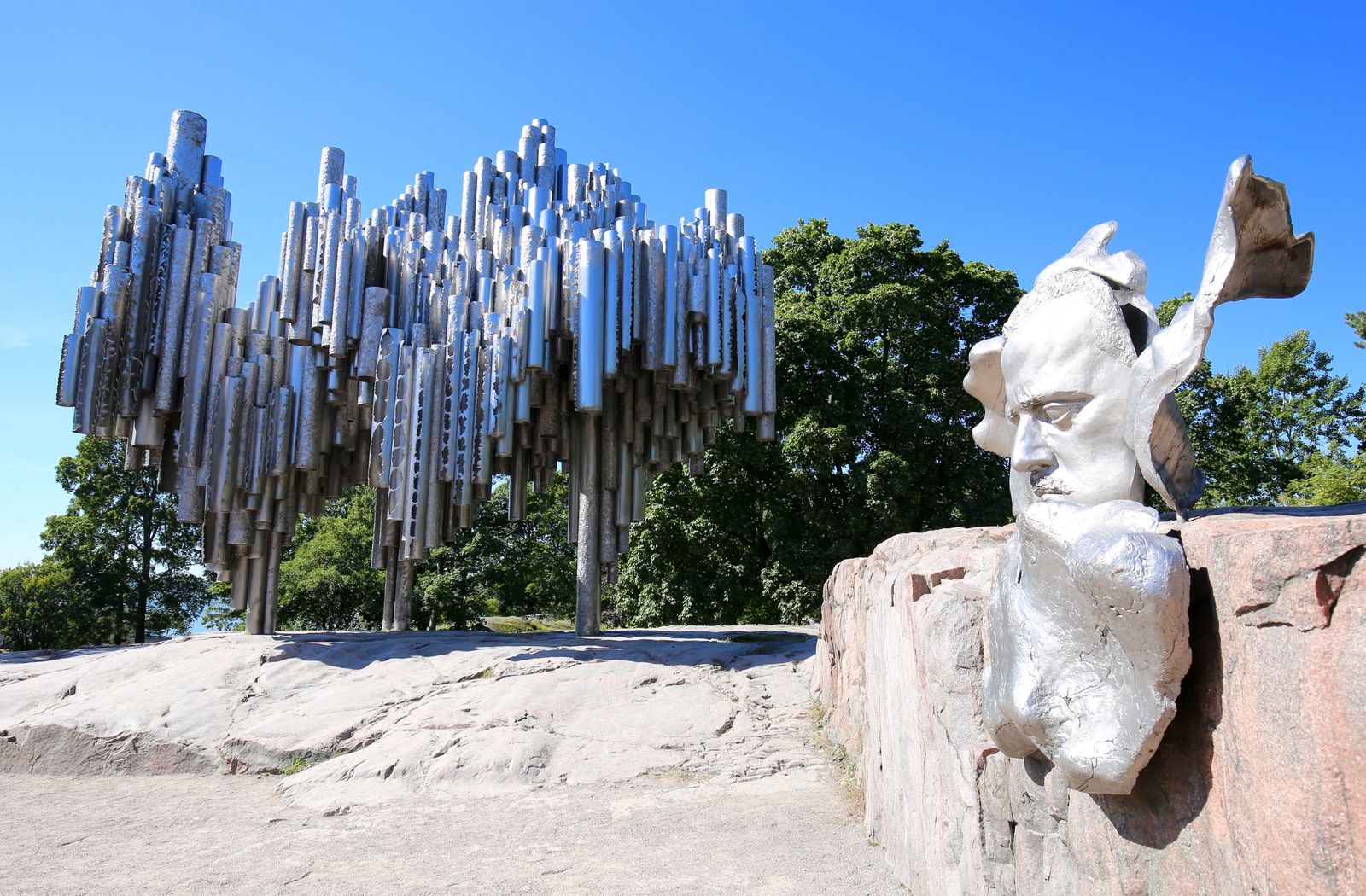 Sibelius Monument
This abstract monument is dedicated to the Finnish composer Jean Sibelius. It is supposed to represent a stylish organ pipe, with the waves of the pipes attempting to capture the melody of music. The problem is, Sibelius didn't compose music for the organ (or very little of it) so those who were fans got quite grumpy about it, and asked an accompanying statue be placed near it of his face to better pay homage to the composer.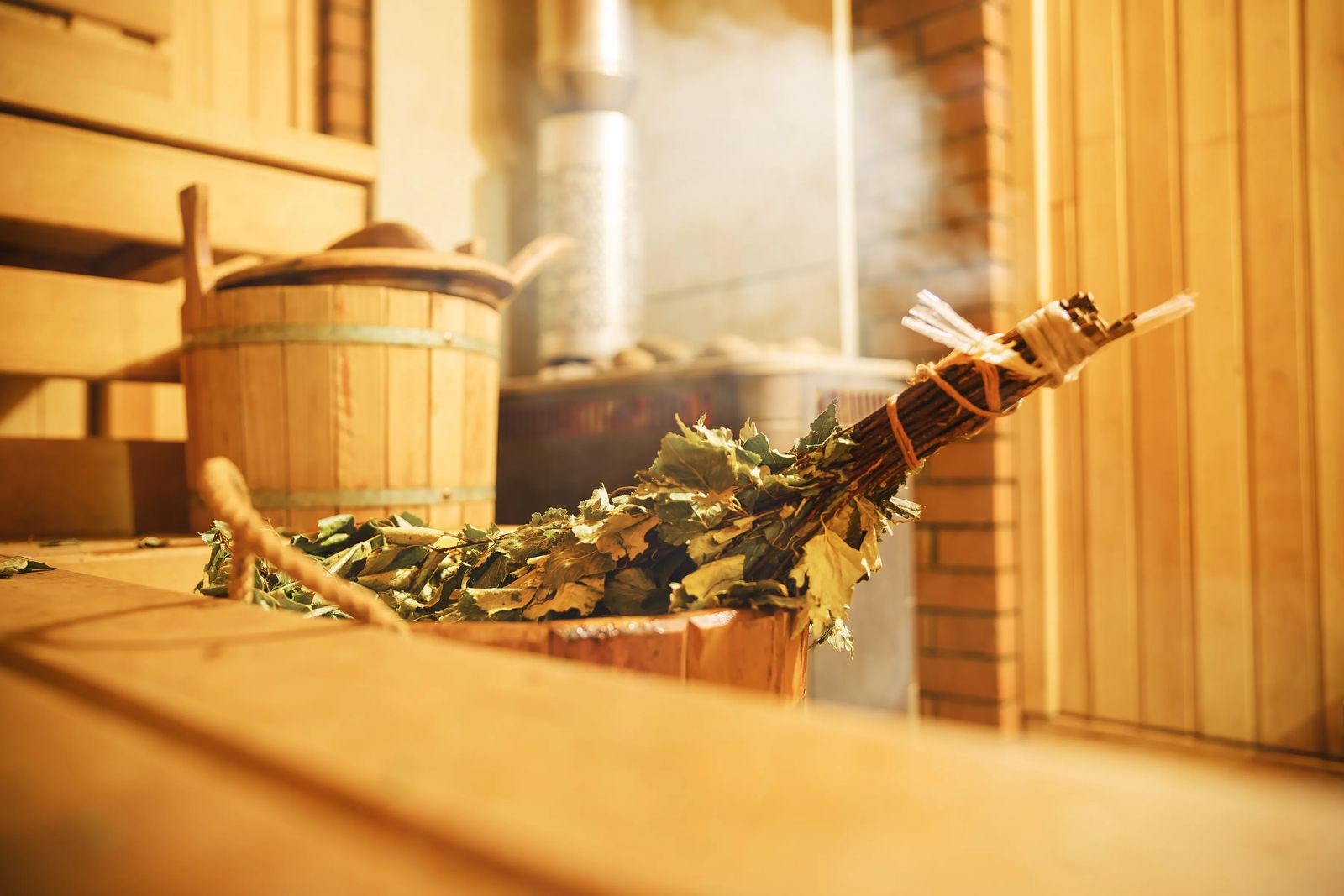 Finnish Saunas and Spas
The top Saunas in the Helsinki downtown area are Löyly, the Allas Sea Pool, Uusi Sauna, and Kotiharjun Sauna. The oldest Sauna in Helsinki is in Tampere and called Rajaportti, which is a traditional wood-fired sauna offering an old-time atmosphere in an very unassuming building and has a BYOB policy.
Some of the oldest saunas here are over 100 years old, the traditional ones are made of ice and wood. Because of the freezing temperatures here, the saunas were largely the only way to bathe here in the winter and is very much a deeply rooted part of the culture.
It is difficult to find a Finnish home now that doesn't have its own personal sauna now. With five million people that live in Finland, there are over three million saunas in use.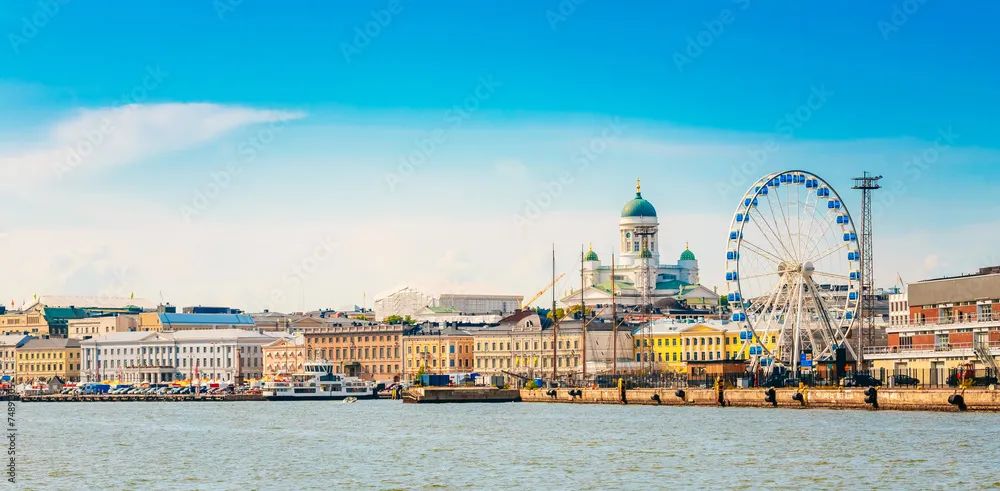 Getting Around Helsinki
Use the Taksi Helsinki App to call a taxi, this is their version of Uber (USA) or Bolt (in the Baltics). You can also call the taxi service calling 0100 0700, most Finnish people speak English so it isn't too hard to tell them where you need to go and get to the correct place. They do also have Uber in Helsinki as well, but it can take awhile for someone to pick you up (15-30 minutes).
There is a great bus system available, the trains are reliable and easy to book (especially for going up to Rovaniemi), walking is also an option. They also had a bunch of the electric scooters called Tier that are often outside hotels, restaurants etc....
The Ferries from Tallinn, Stockholm, St Petersburg and other Nordic countries are reliable, quick, offer overnight sleeping arrangements where needed, and aren't terribly expensive. I found the ferries to stable and as big as a cruise ship with a lot of commuting middle age folks and younger families utilizing this method of transportation. I personally used Tallink which was great, it was around 54 Euros, but my friends found another comparable ferry with live music for around 20 Euros but less stores and amenities and high quality restaurants and play areas on board.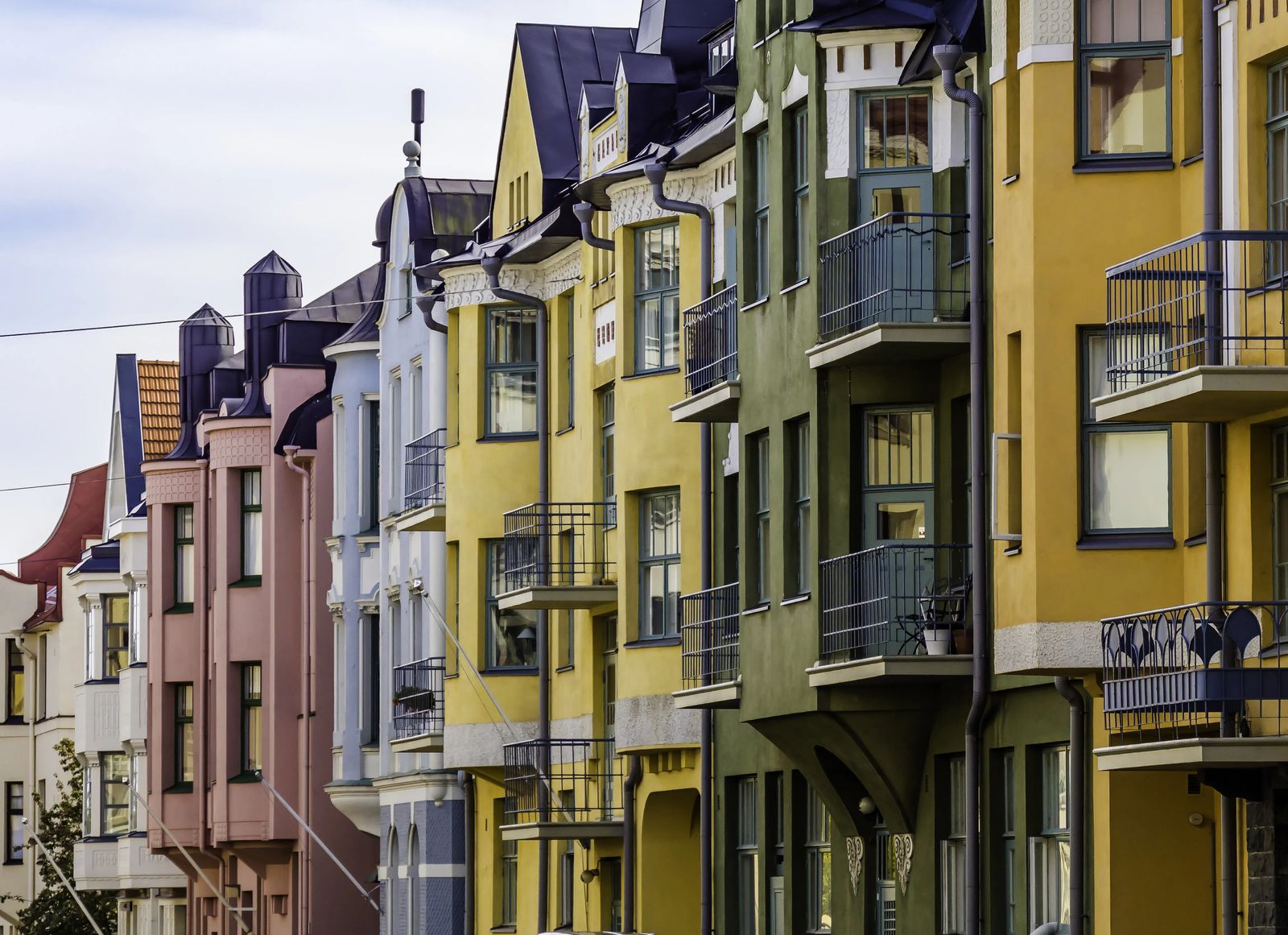 My Takeaway of 24 Hours in Helsinki
I listed way more than is possible to see in one day in Helsinki, but wanted to give variety of things and options. While you could see some fantastic things in one day, I think that two or three days is the ideal amount of time to properly see and experience things in Helsinki. This city is a great stop for those who want to get a taste of Finnish culture, country and history. If you love quirky things, architecture, and a deeply rooted history in Nomadic tribes, a stellar Christmas Market, and military history then Helsinki is the spot for you.
The real gem (at least for me) is taking a train to Northern Finland up to the Artic Circle in winter to see Santa and the Northern Lights (if you are lucky). There are so many small towns to visit along the way as well, and is truly one of those countries that slow travel and curiosity is necessary. Finland just isn't one of those surface level places that you can breeze through and think you have seen it all or the culture. However, if you do only have one day to visit, then stop at Helsinki, learn the history, and let it spur the curiosity and desire to visit again.
Like it? Pin it for later! Sharing is caring ;)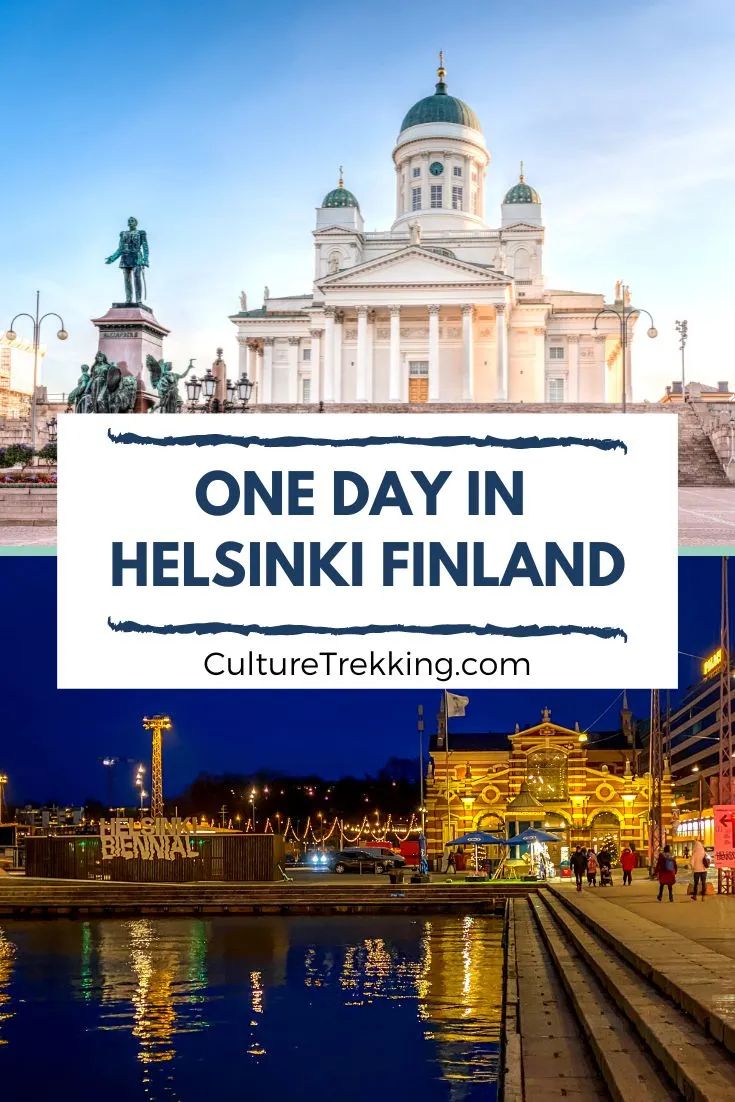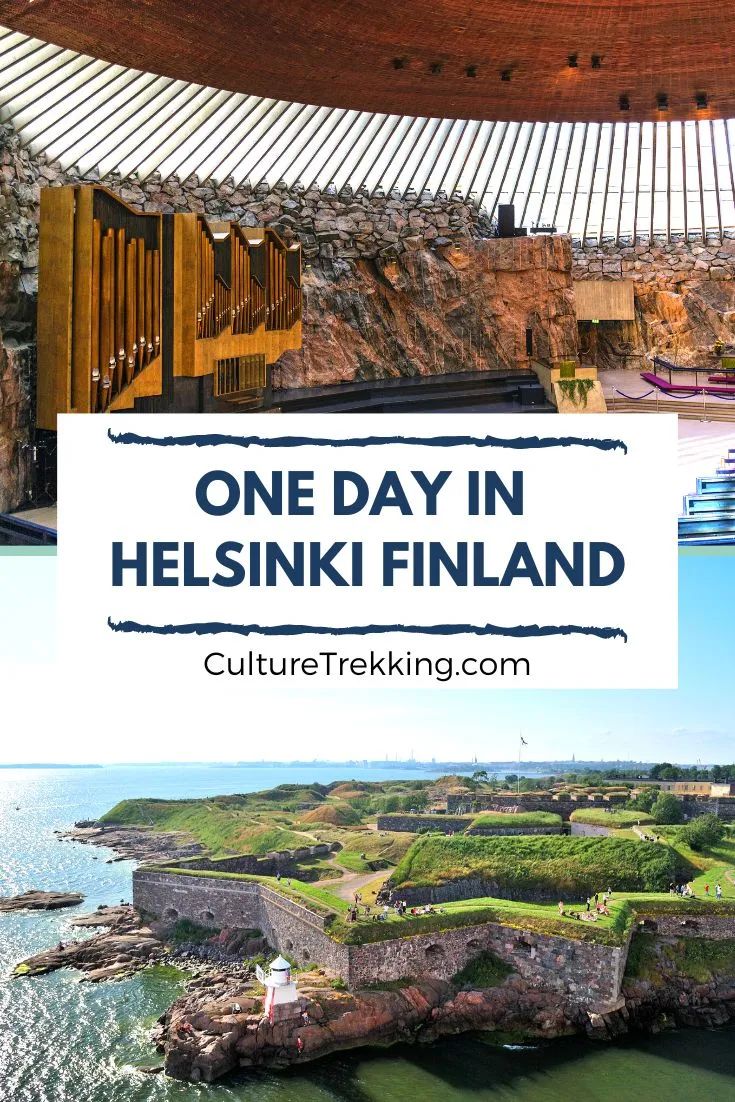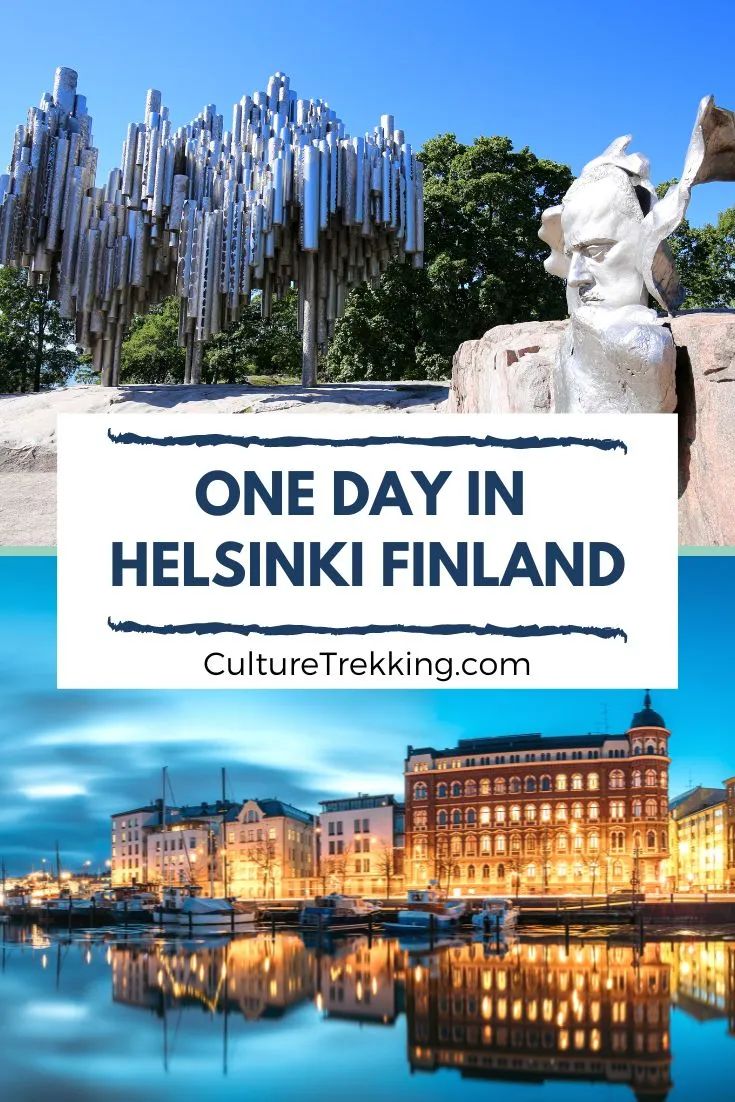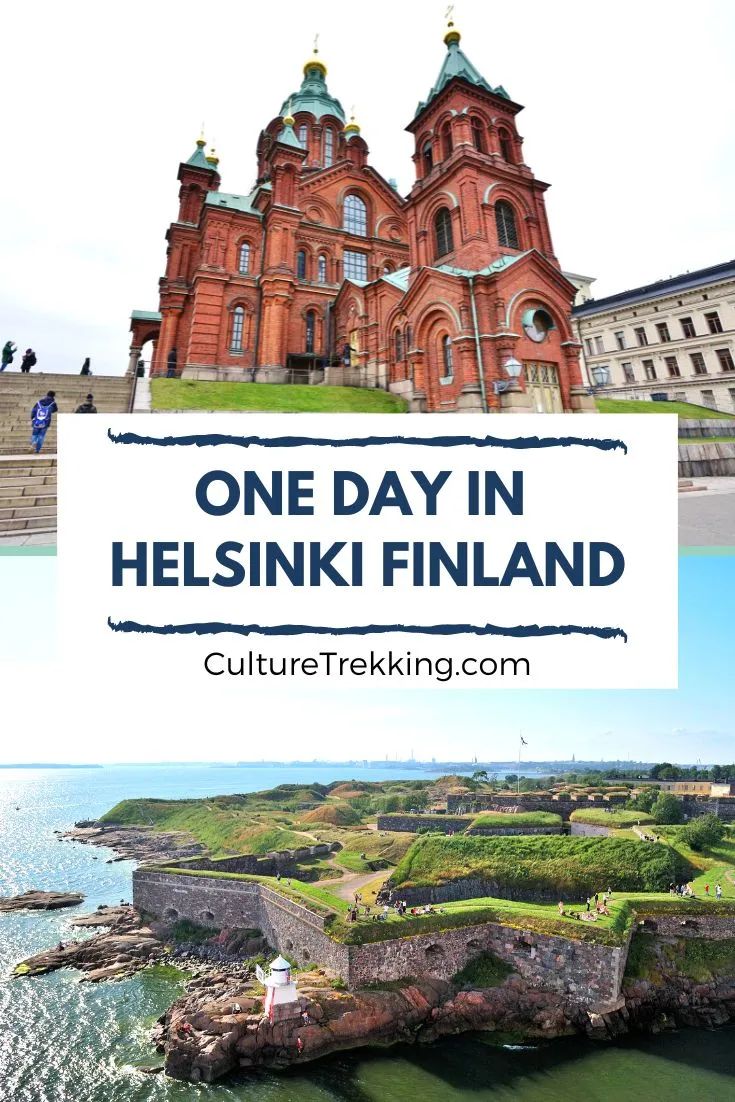 Where to stay in Helsinki
Latest Articles On Culture Trekking