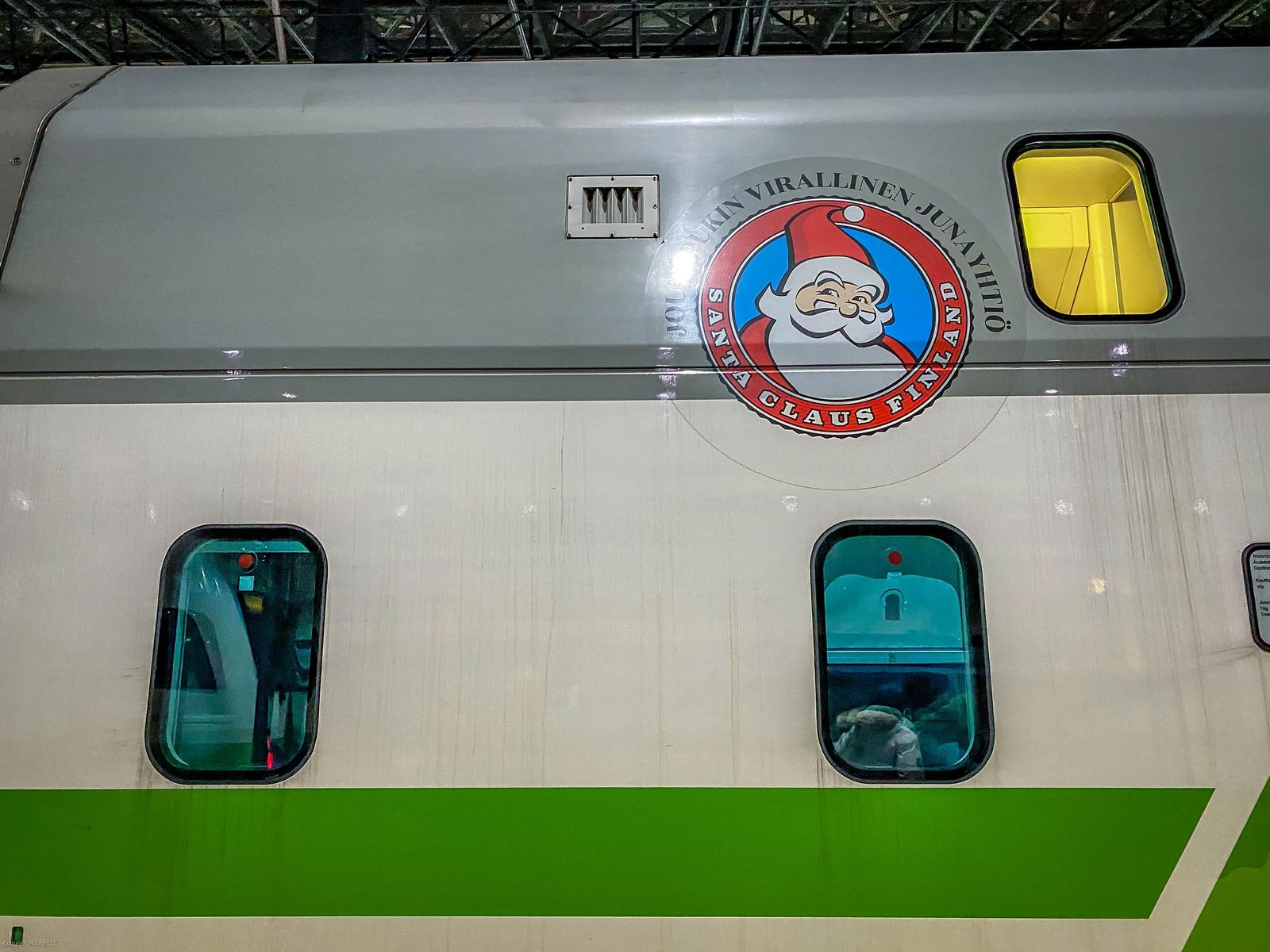 Santa Claus Express To Rovaniemi
Imagine falling asleep in one city on a train, and waking up the next morning to 70 foot (21 m) tall Lapland Pine trees with boughs of snow whisking by. Waking up in the winter wonderland knowing you would be seeing reindeer, Northern Lights, and seeing Santa's workshop is just as good as opening a Christmas present. Taking the Santa Claus Express to Rovaniemi makes all this possible, saves money on hotel and flights and lets you travel sustainably to the Arctic Circle.
I took the Santa sleeper train or Santa Claus Express to Rovaniemi in November 2021, just before Christmas and have recently updated this post as of 2022 to include the most accurate information. The trip went flawlessly, and going just before the Christmas season started was ideal to avoid crowds. If you want all the tips and tricks and what to pack for Rovaniemi make sure to keep reading to have the epic visit with Santa Claus.
Quick itinerary/Key Takeaways
Book your tickets through Vr.fl to get the correct ticket and only book the direct or express train. The upper cabins are the best ones with the private toilets, it is worth booking the entire cabin out if you like quiet and privacy. Families can book the lower cabins, the food on board isn't great, bring your own pillow, and tickets sell out quick so book as early as possible.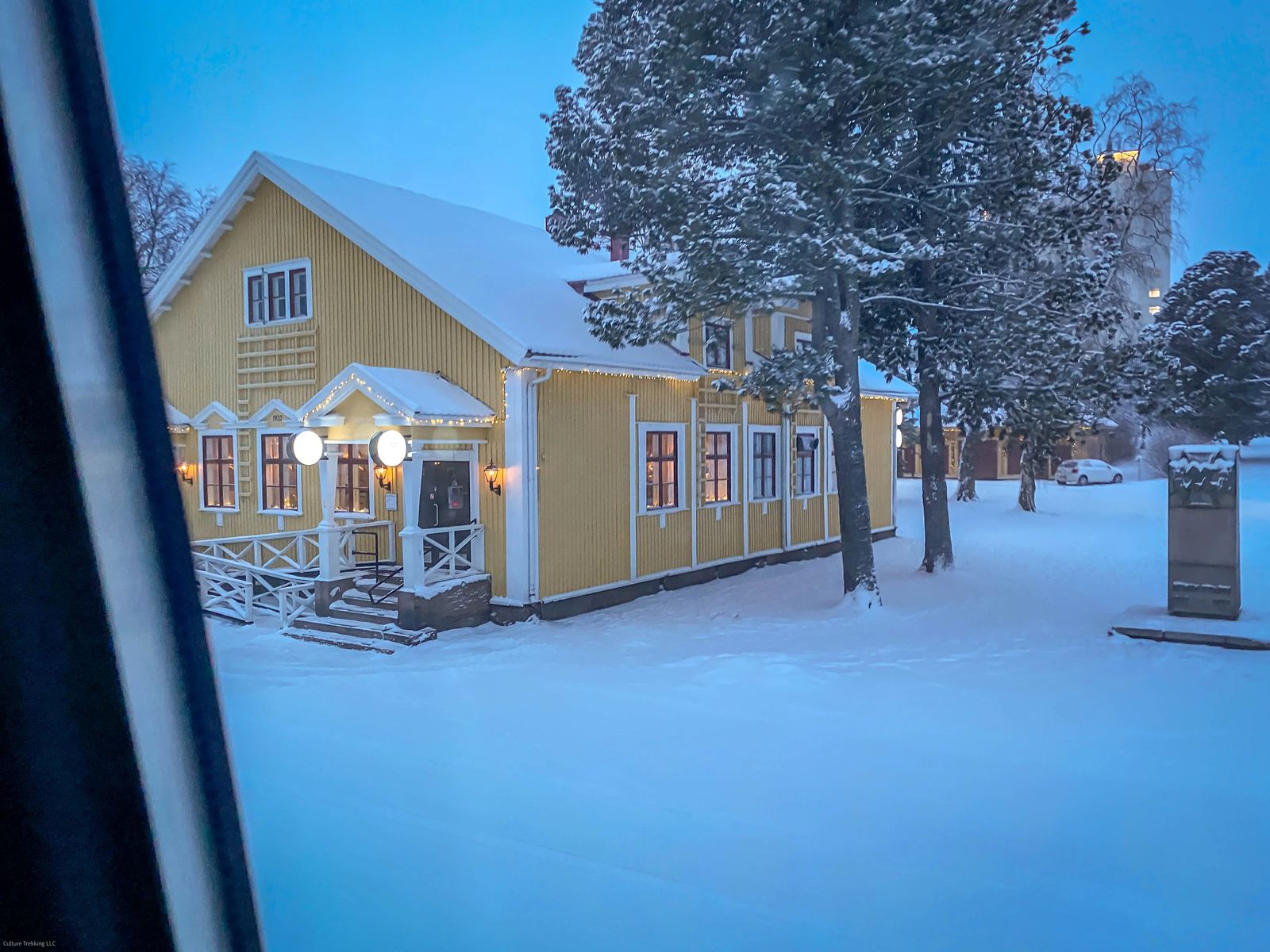 How to Book the Santa Express Overnight Train
You are going to want to book your tickets through EURail for Finland. This was extremely confusing for me when I went to book the train to be honest. I would also highly recommend booking out the entire compartment if you are traveling alone, or for your party if you are traveling with someone.
I paid a large fee to my phone company to call EURail personnel and have them walk me through exactly how to book the ticket to make sure I got the train I was looking for. You have to visit a site called Vr.fl/en it is the Finland version of EURail. From there please note that the date you choose will look like this --> Wed 14.12, this means Wednesday 14th of December. Please make sure you book the right date in this format. Once you select your dates, then press search, and the available tickets will pop up.
When the search results pop up, you can scan down the column where it says 'intercity' or 'direct' or 'express'. The Santa Claus Express typically takes off in the evenings and is always either direct or express, so make sure you ONLY look at those tickets.
I would spend the extra money to book a private cabin with your own toilet if you can. I know it looks expensive, but 11 or 12 hours on the train overnight in a quiet cabin is going to make your arrival so much more pleasant, and you will have the energy to battle the cold when you arrive. Think of it this way, you are basically paying for a hotel room. The upstairs cabins are the ones that have the private bathroom and are a bit more expensive, the downstairs cabins are private cabins but with a shared bathroom.
If you are on a budget though, you can certainly book a chair and spend the whole night attempting to get sleep among other kids and passengers around you and be exhausted once you arrive. To me a good night sleep is worth the extra money.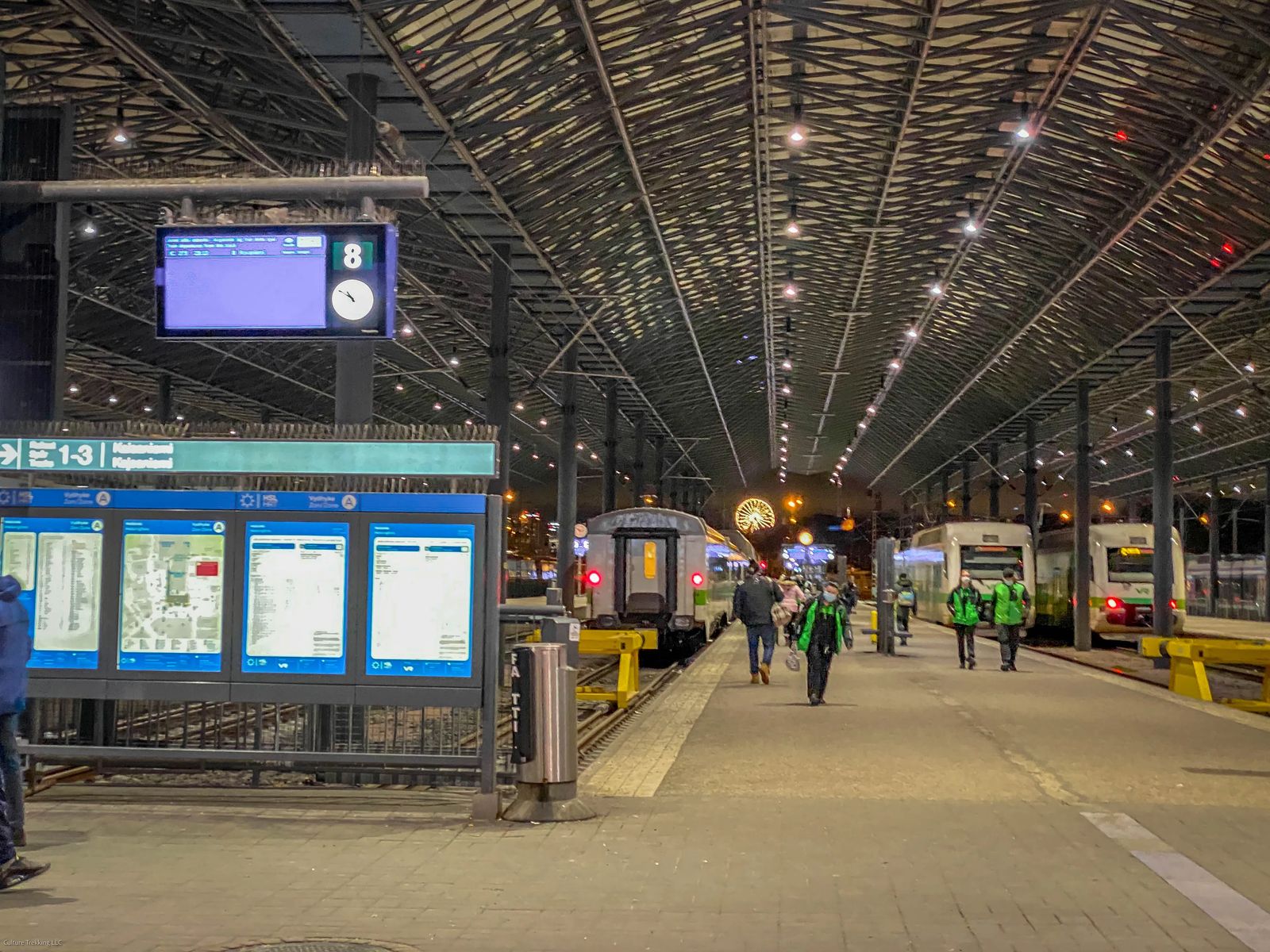 How Much Does It Cost?
If you are going during peak season (Christmas Season) a private cabin can cost anywhere from 42 Euros to 180 Euros depending on who you are sharing with or if your booking the whole cabin for yourself or just a seat on the train.
Tickets during peak season sell out about 90 days in advance (they don't release the tickets until then). Make sure to put an alarm in your phone and book as soon as you can. For off season tickets you will see those prices drop, but only by around 20-30 Euros.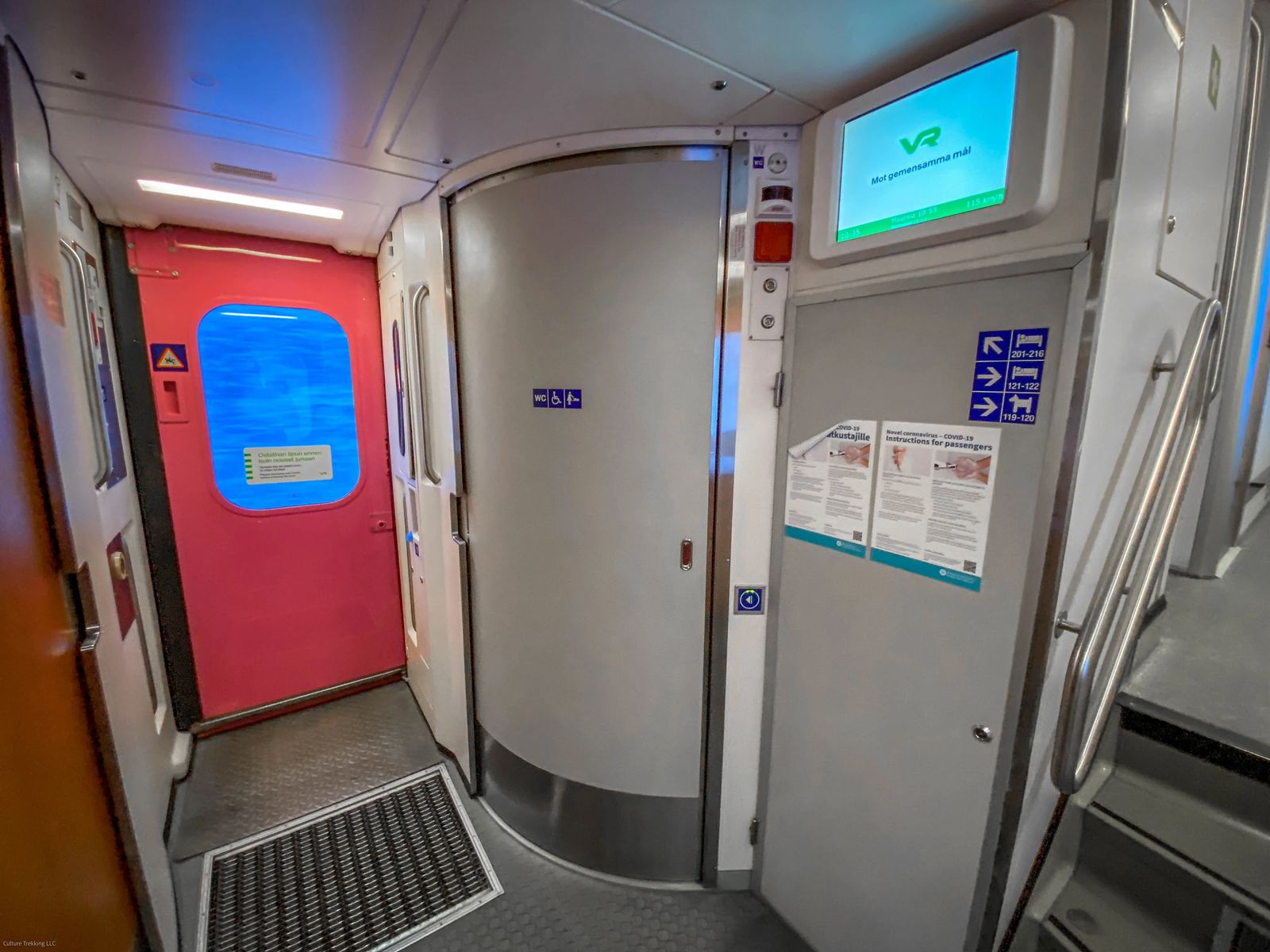 What Is Included In The Cost?
Private cabins come with a pillow, thin blanket, sheets on the bed, and a small 8 oz bottle of water. There is a small hand towel, a regular towel and a power outlet for each bed. There is also a menu included in the private cabins available to order food, but I wouldn't expect the food to be stellar by any stretch of the imagination. The coffee and tea is about the only thing worth ordering, so bring your own breakfast food if you are like me and LOVE a good breakfast.
The private cabins have their own shower and toilet area that is relatively clean, much cleaner than the community toilets if we are comparing. They do have soap available to spritz off in the shower. The shower hot, but you push a button to turn the water on in about 30 second increments at a time. It is enough to wash the body and get warm - but not enough to just soak and enjoy it.
If you bring checked luggage, it may or may not fit underneath the bed, so I would suggest bringing backpacks and carry-on luggage only. When you get to Rovaniemi and have to wheel it down snowy streets you can thank me later.
For the economy seats, there are about 30 seats in each section, plenty of storage for luggage, and a community bathroom. There is an a la carte cafe on board for all, but the seats are often filled up, so don't count on a place to sit.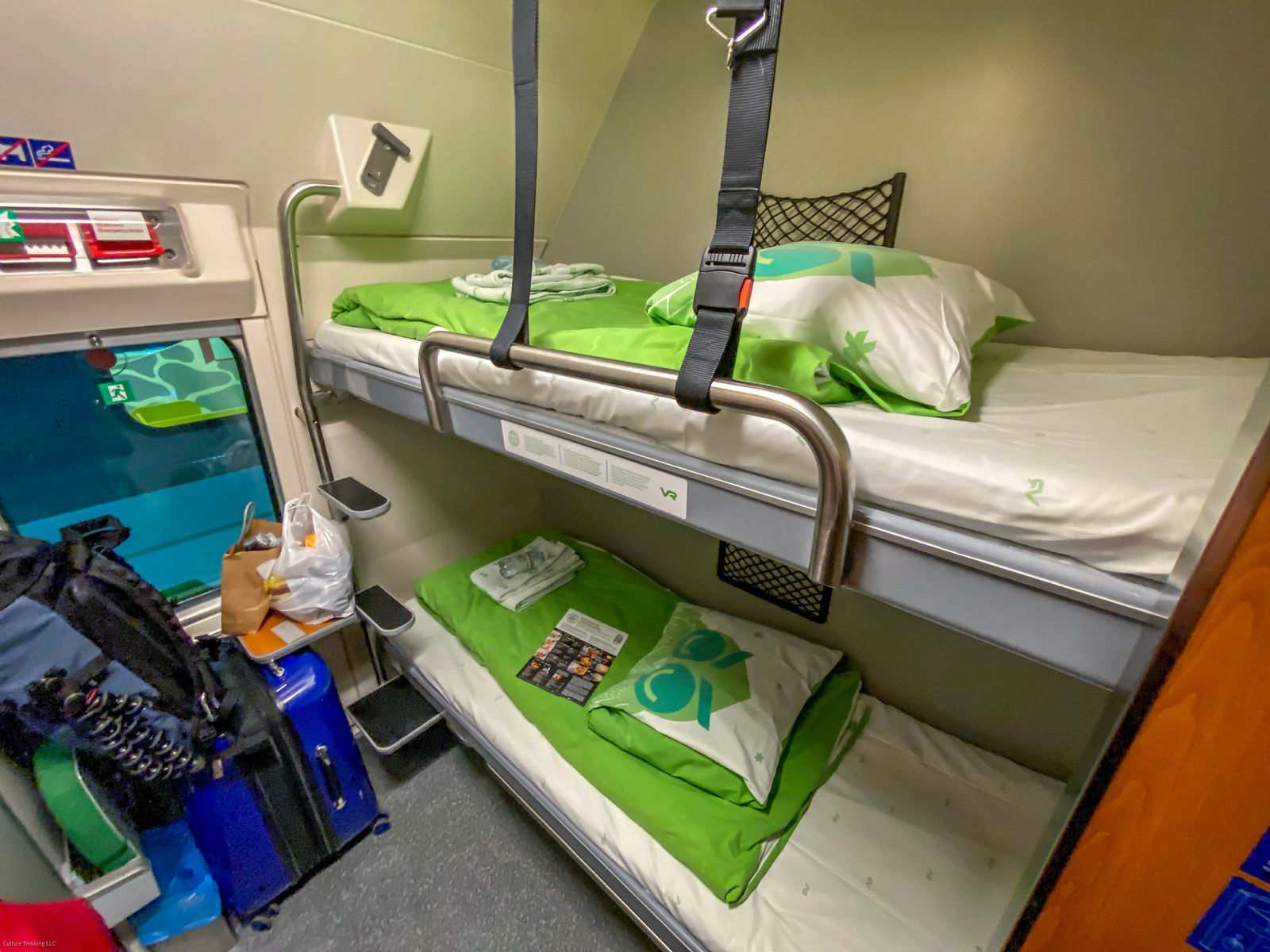 What Are Sleeping Arrangements?
The beds are twin beds with about a 4 inch thick mattress, the pillow is just enough to prevent a sore neck in the morning, but I wouldn't say fluffy enough to use to lay on your side to sleep. I used a clothing stuff from my suitcase and put my coat into the stuff sack and used that as a pillow instead. The blanket is thin, but I used both blankets in the train and then turned up the heat in the compartment. I was very grateful I was alone in my compartment because then I could shower comfortably, turn the heat up or down when needed, and spread my stuff out to where I didn't feel cramped. It also allowed me to peek my head out the window in the morning, get my coffee etc.... without the fear of waking someone else up in the room.
The beds are only about a twin bed size, so if you have kids younger than 6 years old, they can share a bed, but the bed isn't big enough for two adults or teenagers to sleep in the same compartment.
They do have family compartments and rooms available, but again, during peak season when families make their way up to Santa's workshop, these sell out quickly. The family cabins are typically the downstairs cabins where a partition can be lowered and then you use the public restrooms.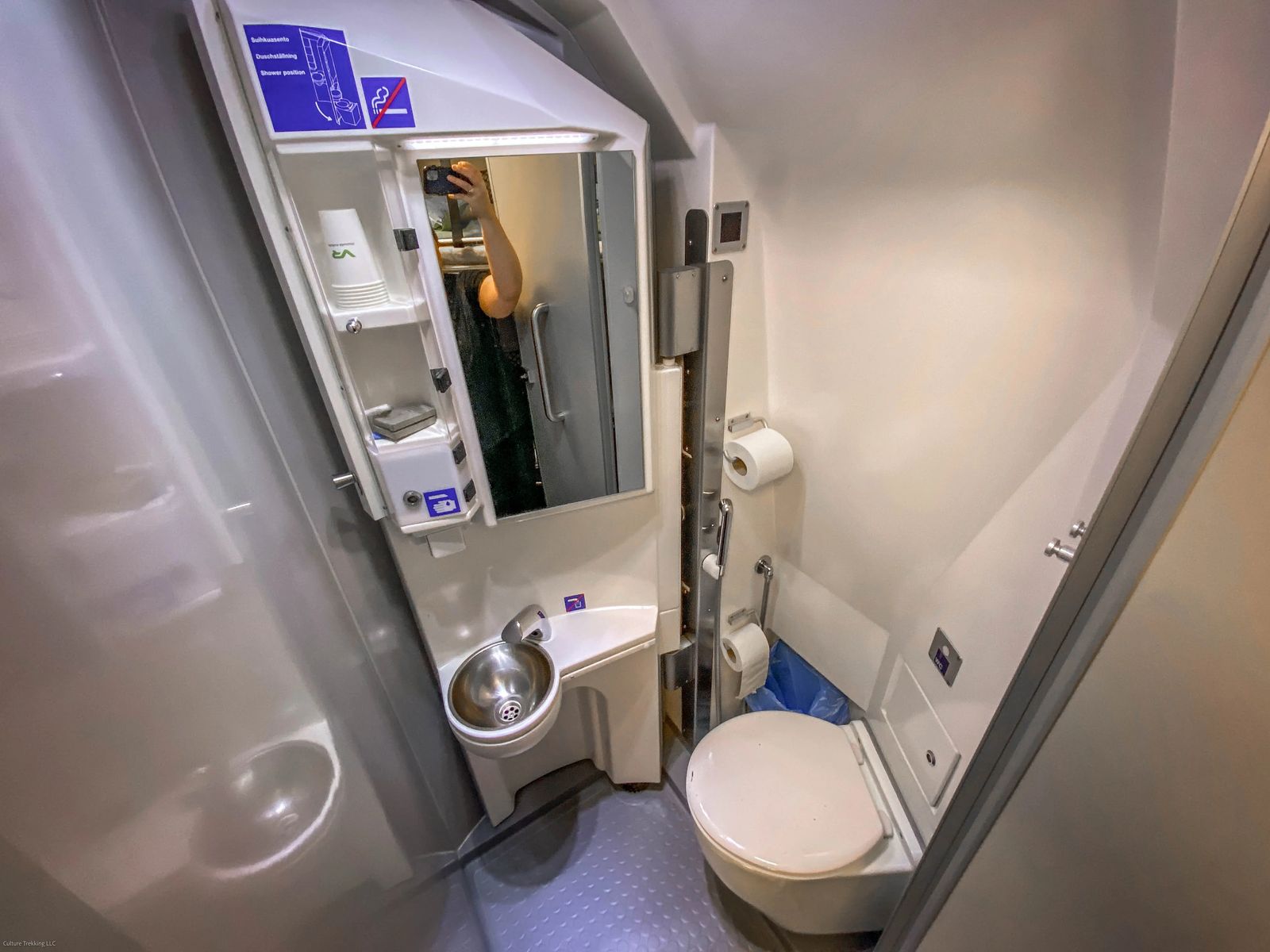 Private vs Community Bathrooms On Board
If you have ever used a bathroom on a train before, you know they are notoriously DISGUSTING. For females that don't understand, men can't aim on a good day (sorry guys), combine that with a moving train and maybe a little booze in them.....well I guess you can imagine how gross the floors get.
In the mornings everyone wants to use the bathroom at the same time, so if you are in the economy car, you are going to be in line with everyone else.
If you are in a private room, it is USUALLY wiped down after each passenger. You can bring some sanitizing wipes and wipe it down yourself and it really is quite a nice luxury. For me, I have gut issues, so having an accessible bathroom is extremely important to me and wanted to mention the specifics for those who may have a similar issue.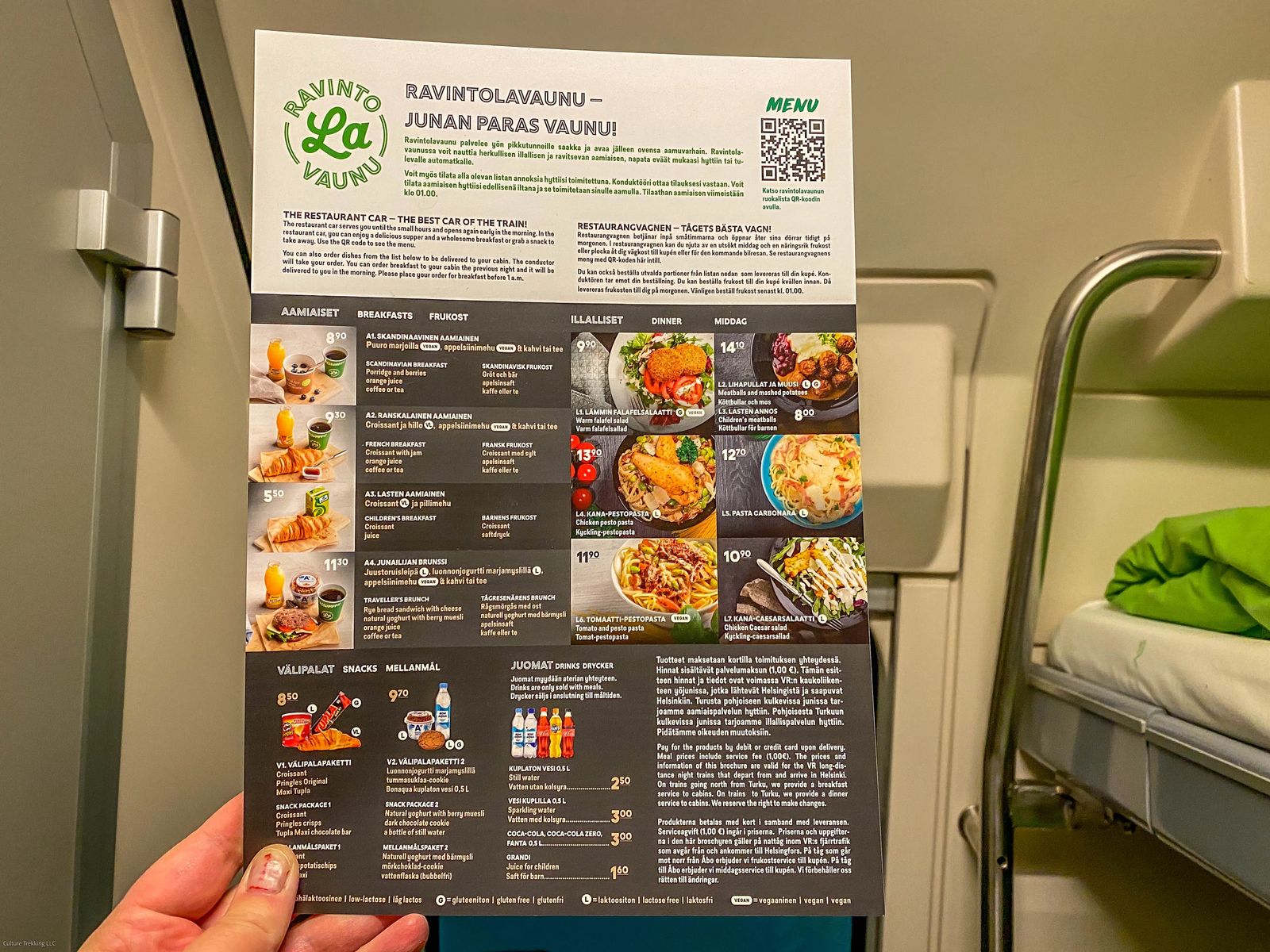 Amenities, Power, and Pets On The Train
There is food available for purchase on board, but don't expect it to be restaurant quality. There are handicap bathrooms on board if needed, but lots of stairs so contact EUrail if you use a wheelchair.
Private cabins have bars of soap, body wash, towels, power outlets (one per bed), water, temperature controlled cabin, light blocking shades, blanket, pillow, hot water, cups to drink water but no drinkable water available from the sink, cabin lights and an attendant if needed.
If you are traveling with an animal they also have a pet relief area on board, and you have to stay in a cabin that allows pets. If you are allergic to animals, I would contact the rail company and see if there is an arrangement that can be made to avoid the cabins that allow pets, or make sure to take some Benadryl or Allegra with you.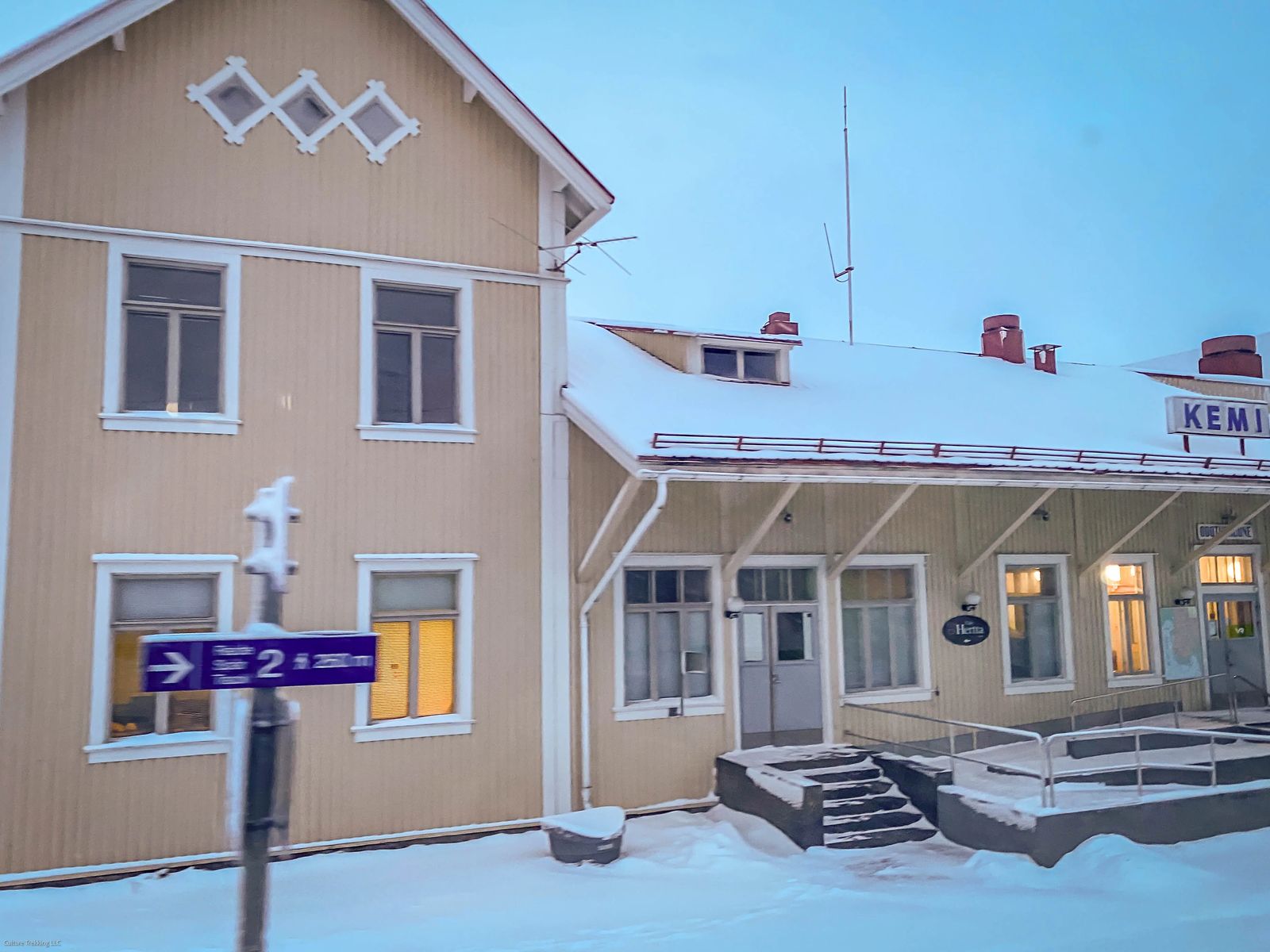 Arriving in Rovaniemi & Getting Around Rovaniemi
Once you get to Rovaniemi you want to make sure you are prepared for the cold you are going to experience. My Iphone broke because it was so cold, so make sure you keep your phones close to your body. Wear shoes with thicker soles to keep the cold from seeping through the bottom, as well as wearing hat, gloves, coat and a scarf.
Now you are prepared to take on the -4 F (-20 C) weather, you also need to content with the snow. Don't expect clean streets with no snow, it is going to be hard to drag luggage behind you that is big - the wheels aren't going to work.
There are taxis available to get into town quickly go quickly, so make the mad dash for them if you want to use them. If you want to call a taxi to get you, you can use an app, or go into the restaurant and ask them to call one if you need it.
You can also walk across the street to the bus stop and catch a bus to the center of town or to Santa Village. The bus system in Rovaniemi is quite good, as long as you don't have to pack around a lot of luggage.
The cold here seeps into your bones quicker than you think, so cover up, bundle up, and try to only be outside about 15 minutes at a time.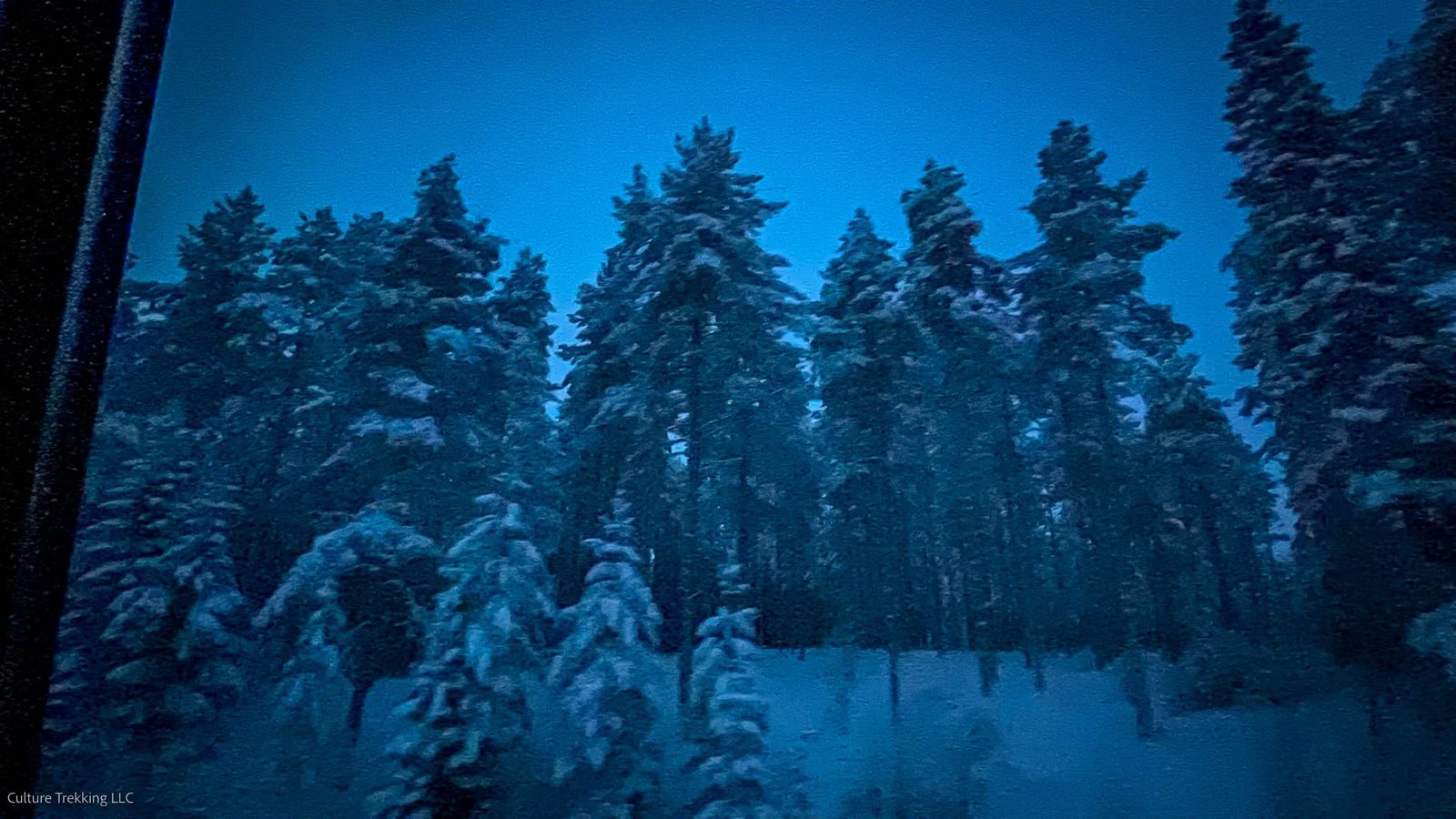 What To Pack And What NOT To Pack
I cannot recommend bringing wool enough when visiting Rovaniemi in Winter. It is a humid kind of cold here that seeps into your bones and makes you shiver at night under layers of blankets. I opted for a down jacket with heat reflective technology and a fleece sweater underneath - the wind still got through those layers. Wear ski pants and ski parka for SURE if you decide to spend a few days in Rovaniemi.
I typically run a warmer internal temperature because of my Thyroid issues, but even I got quite chilly. So I suggest the down jacket, but if you have space for a ski jacket I would bring that, and grab some hand warmers to put in the pockets.
Unbound Merino wool isn't quite as itchy, and is just as breathable. Just make sure whatever you bring doesn't put your over your luggage weight, and you can also dress in layers to adjust to the starkly contrasting temperatures from indoors to outdoor events here.
I WOULD ABSOLUTELY bring a hat, and maybe even an umbrella to keep any heavy rain or snow you may encounter off of you. You can't get warm if you are wet, and in humid and cold environments it takes a bit longer for things to dry out.
As far as shoes, I swear by my Keen or Merrell shoes that have protective soles that are on the thicker side so the cold doesn't seep through the soles of your shoes and freeze your toes off. The snowy streets can also get quite slick (even locals slip and slide all over) so if you have issues with stability, bring a hiking pole or a walking stick.
Food On Board
Breakfast options on board Santa Claus Express to Rovaniemi
Scandinavian Breakfast: Porridge and berries, orange juice, coffee or tea, around 8.90 Euro.
French Breakfast: Croissant with jam, Orange juice, coffee or tea for 9.30 Euro.
Children's Breakfast: Croissant and juice 5.50 Euro
Traveller's Brunch: Rye bread sandwich with cheese, natural yogurt and a berry muesli, orange juice, coffee or tea
Dinner options on board Santa Claus Express to Rovaniemi
Warm Falafel Salad 9.90 Euro
Chicken Pesto Pasta for 13.90 Euro
Tomato and Pesto Pasta 11.90 Euro
Childrens Meatballs 8 Euro
Meatballs and Mashed Potatoes 14.90 Euro
Pasta Carbonara for 12.70 Euro
Chicken Cesar Salas for 10.90 Euro
Snacks
Croissants, pringles, Pupla Maxi Chocolate bar
Drinks
Still water, sparkling water, Coke, Coke Zero, Juice
You can pay for the food with a debit or credit card, if you want it delivered to your room it is about 1 Euro for a service fee. These prices are based on the Menu from 2021 when I visited.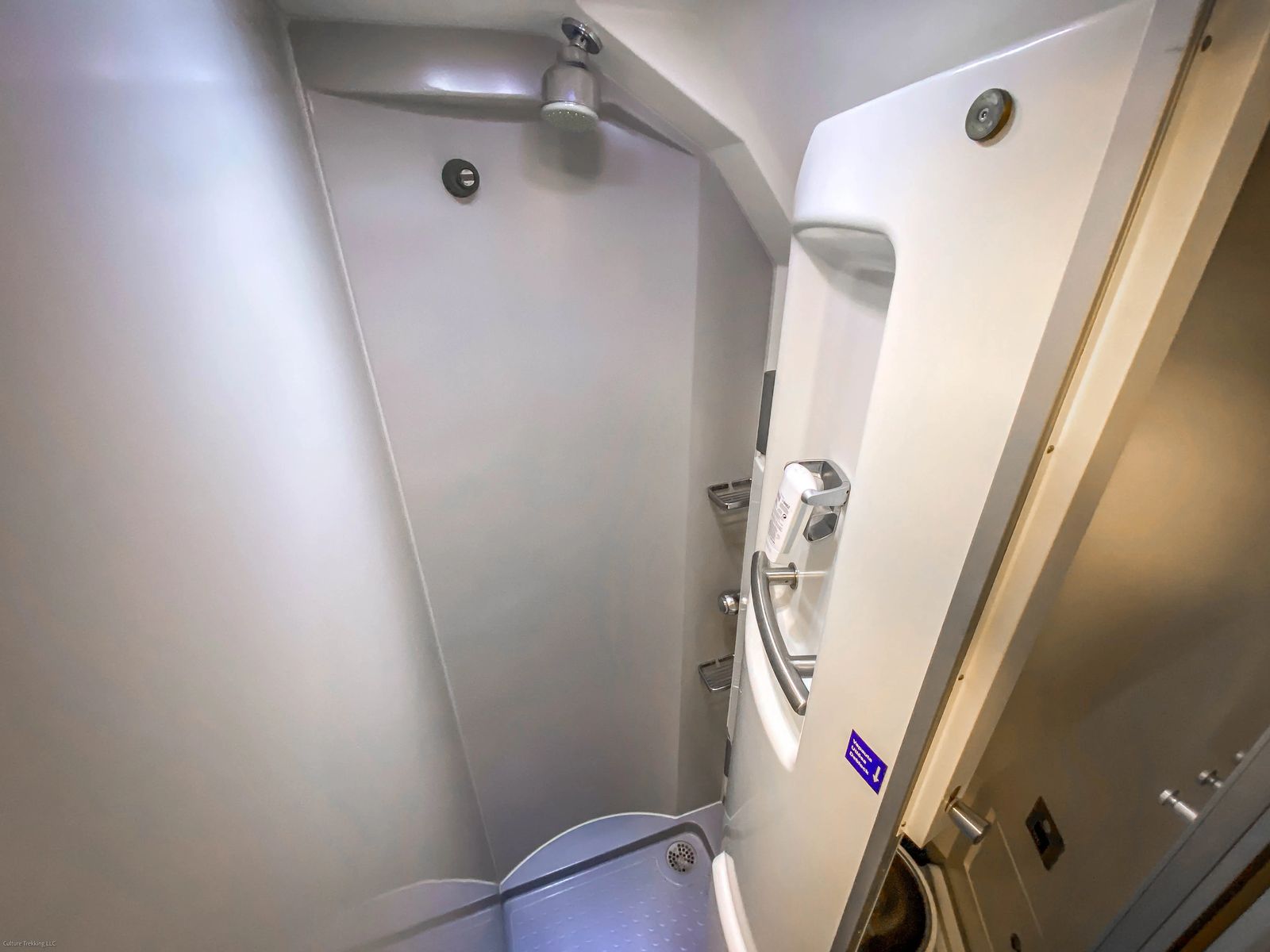 Tips For Sleeping On Board
I would absolutely make sure you bring earplugs if you plan on sleeping on the train. Even in the private cabins you can hear the person next to you using the restroom, doors closing etc... The train does stop at a few stops along the way up to Rovaniemi if you don't do the Express train. This didn't wake me up personally, but I know some friends who were with me it woke them up because of the shifting from stopping and starting so wanted to mention it.
If you get cold easily make sure you book your own cabin, or plan on wearing a few extra layers while sleeping.
Pack your sleeping necessities into your backpack for easy access, along with the outfit you plan to wear when arriving in Rovaniemi. Doing this helps with fighting open suitcases in small spaces, and difficulty with re-packing efficiently.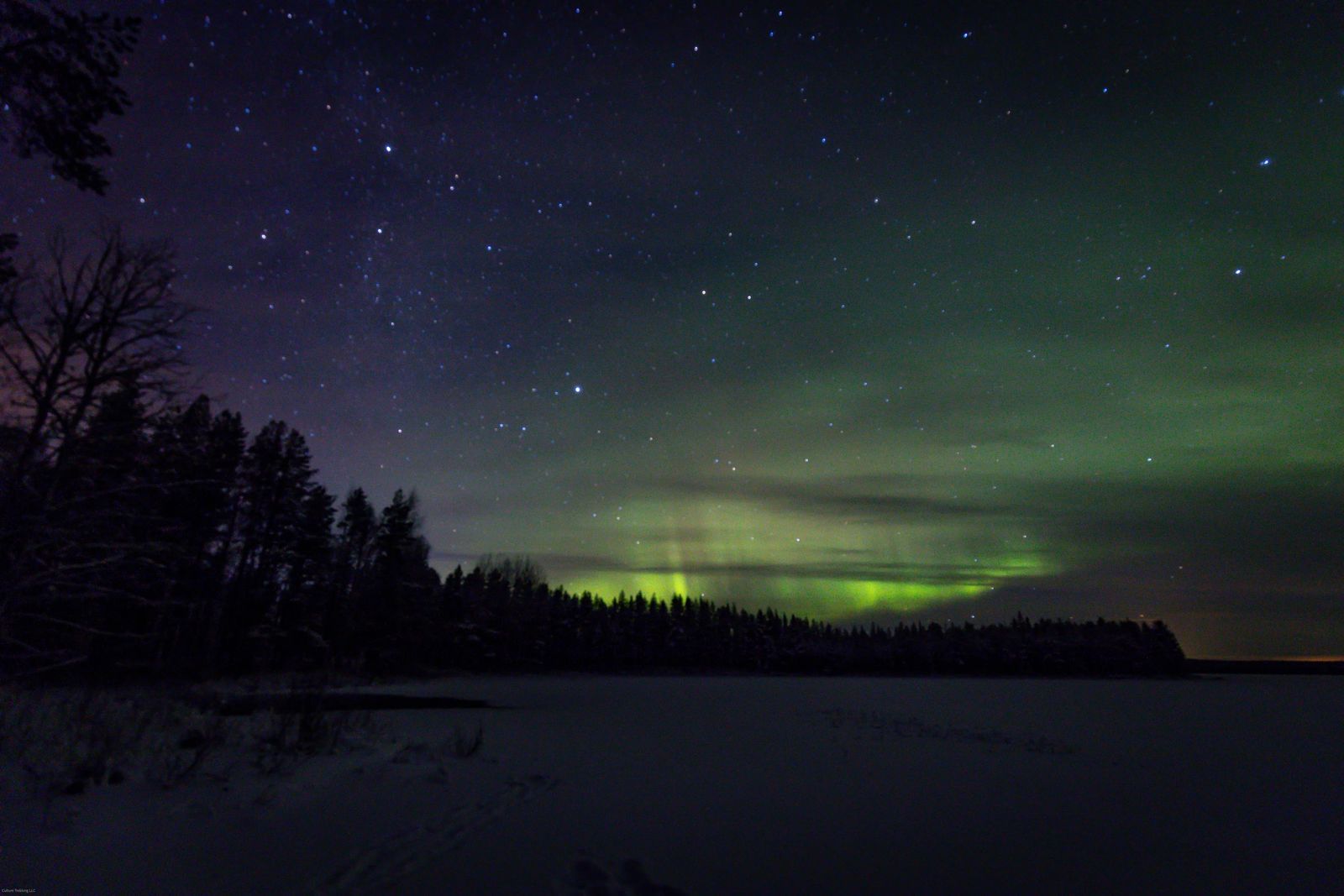 My Takeaway Of Santa Claus Express To Rovaniemi
Everyone is going to have their own opinion of the quality of the Santa Claus Express experience. For me, I had limited time in Finland, a tight turn around to get back to Tallinn Estonia for a flight, and I wanted to see Santa for my Birthday. Taking the Santa Claus Express to Rovaniemi for me was the most time efficient way to get there. Waking up in the morning and opening the shades to giant pine trees blanketed in deep snow felt like opening a Christmas present. I was in awe of the landscape, appreciated being able to see the deep landscapes, Finnish homes, and take quiet time in my cabin to contemplate being able to fulfill a bucket list item was perfect.
If you decide to book for yourself, don't expect a five star experience, even in the upper deck cabins. It is a three star experience, but with five star feelings in my own opinion. I loved every bit of the journey on the Santa Claus Sleeper train, I slept great, enjoyed the coffee, brought my own breakfast, had a nice hot shower and exited the train refreshed on my Birthday. One of the most epic Birthdays I've had and will always remember for the rest of my life.
Guided Tours of Rovaniemi
Like it? Pin it for later! Sharing is caring ;)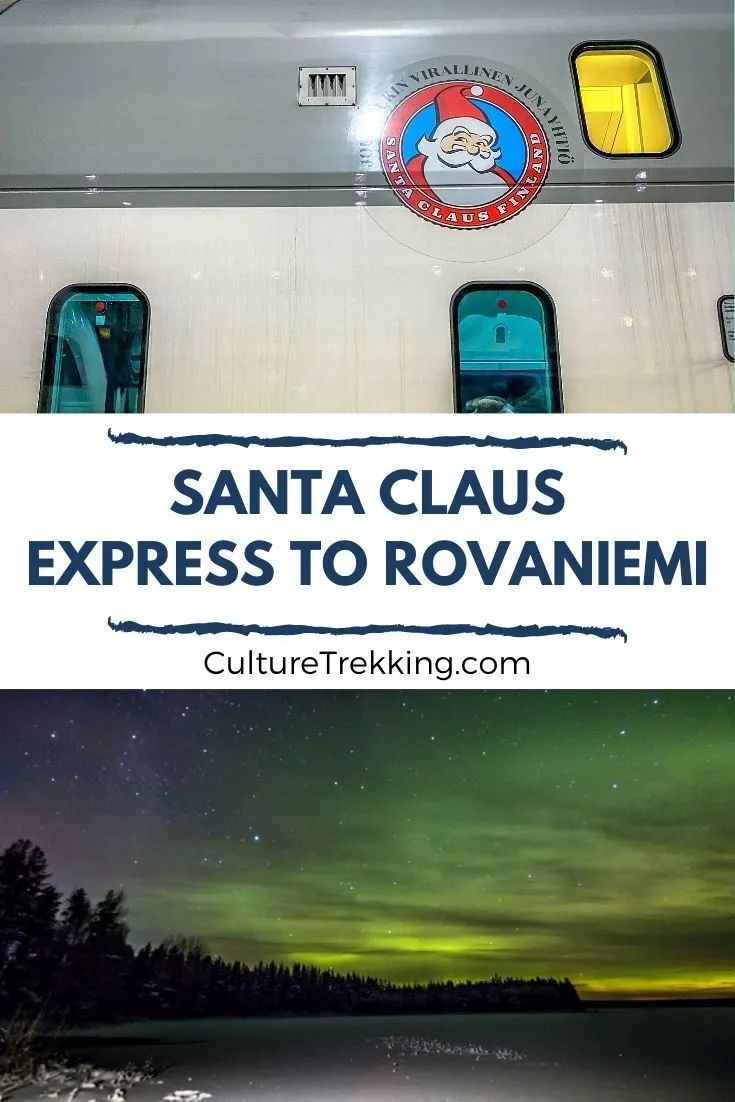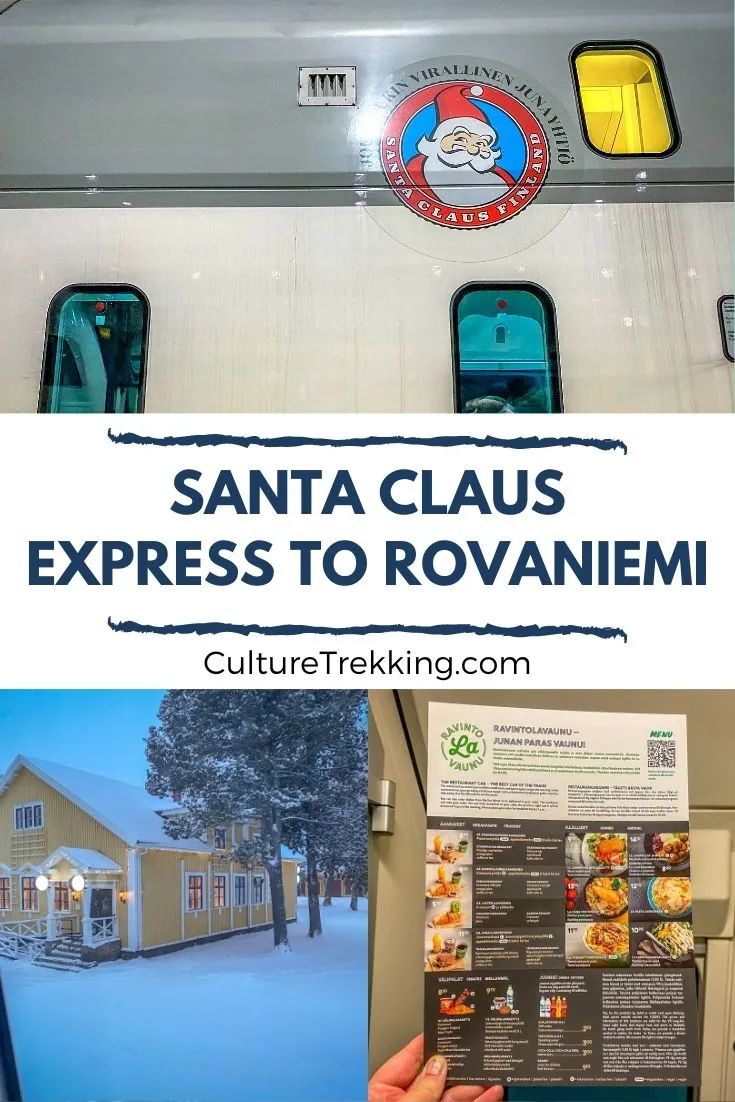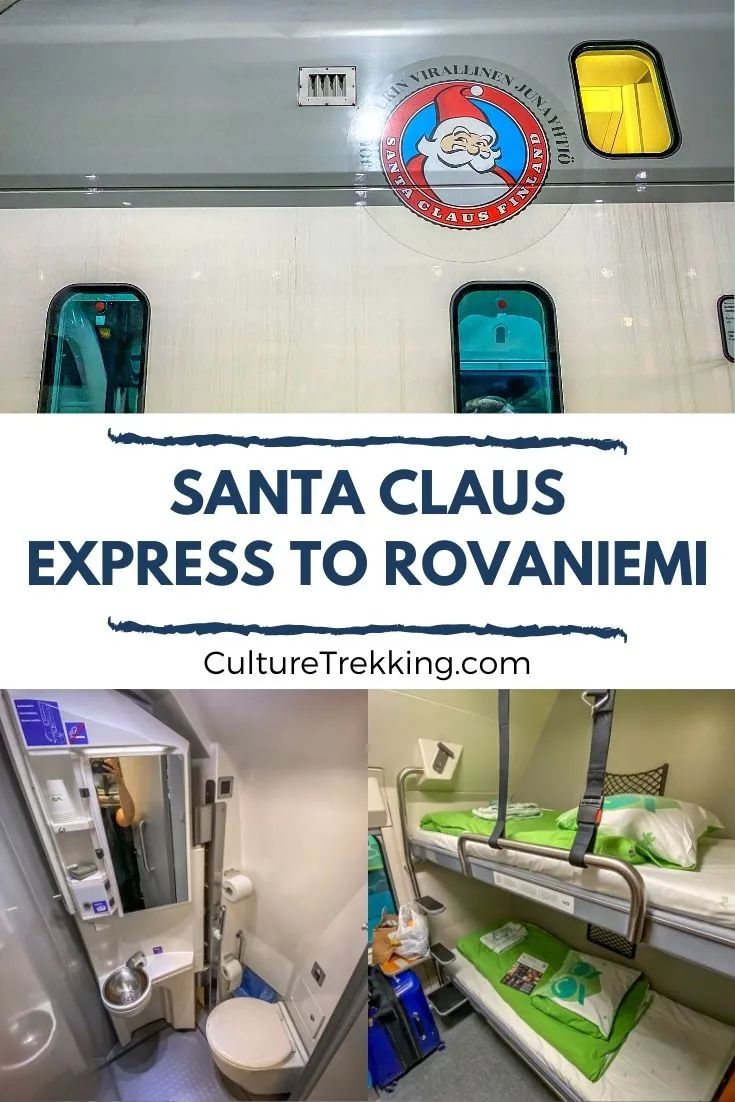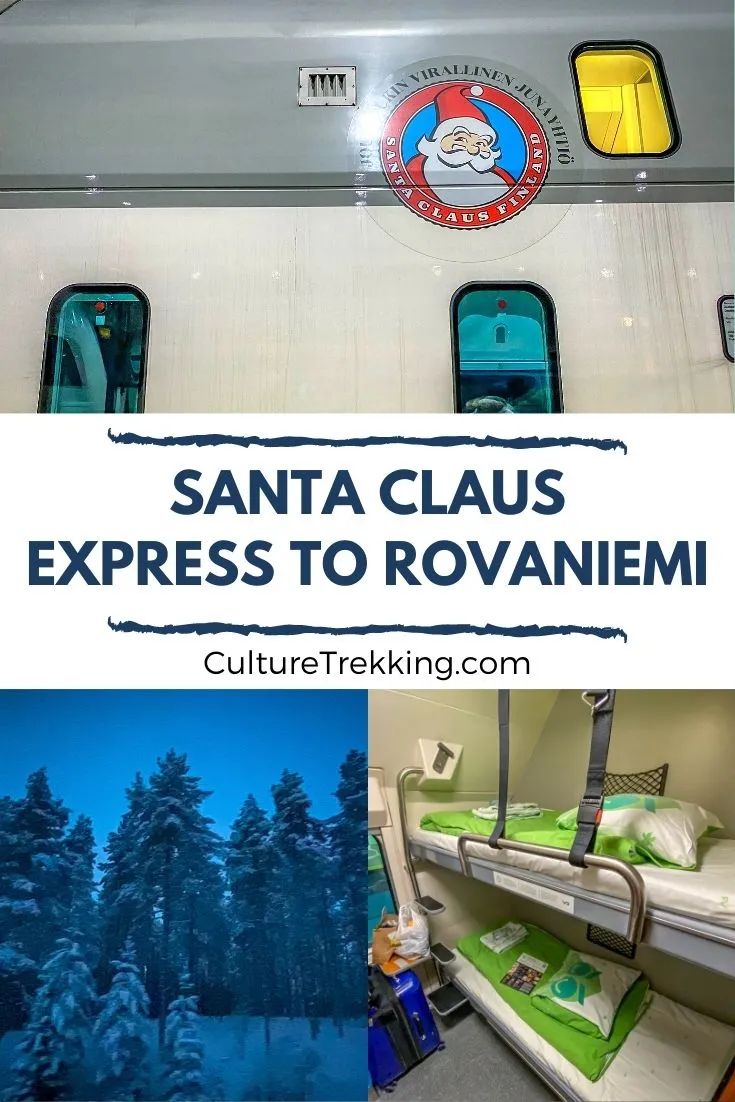 Where to stay in Rovaniemi
Latest Articles On Culture Trekking