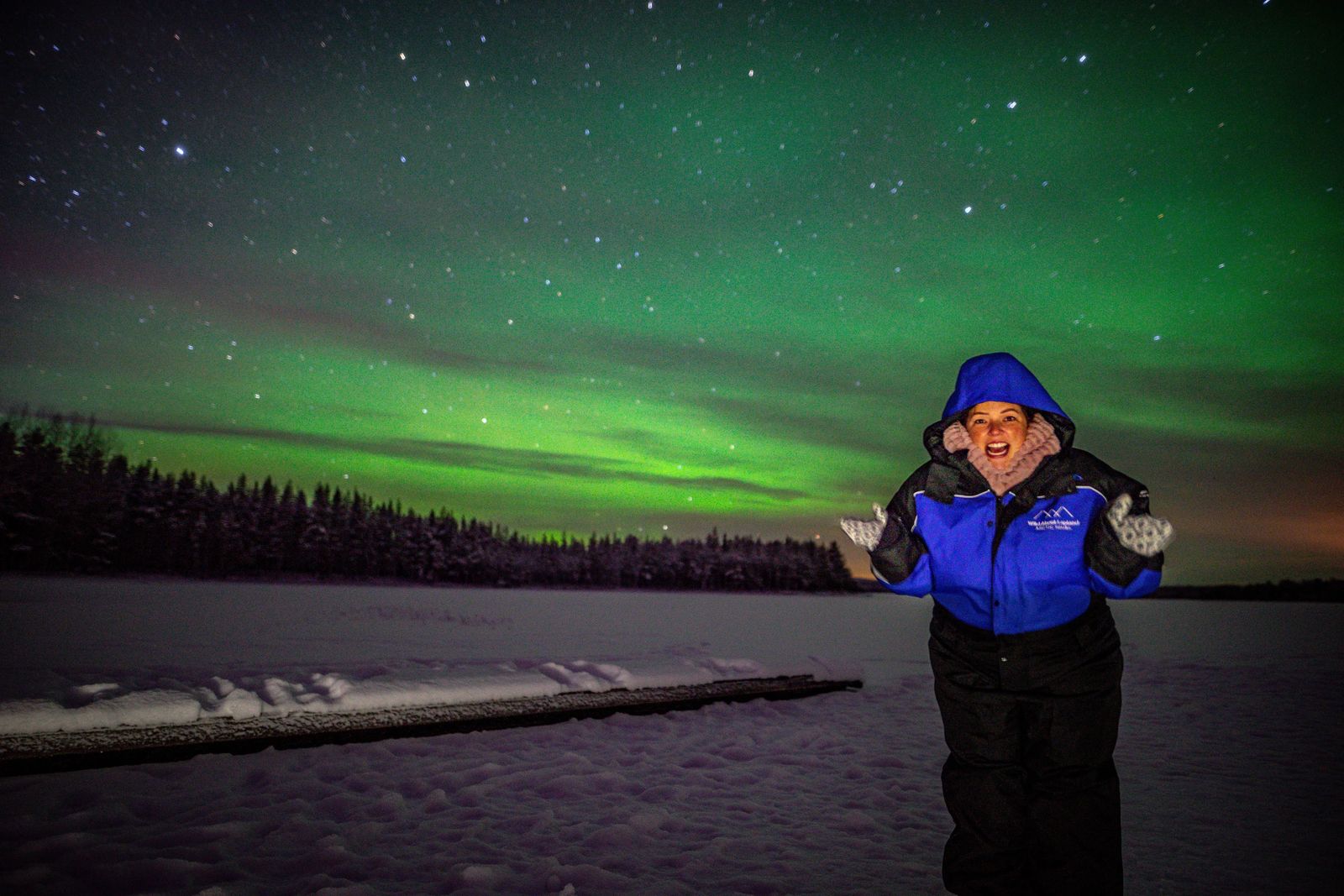 Northern Lights In Rovaniemi Finland
Taking a train to Rovaniemi to see Santa for my Birthday was how this trip started, seeing the Northern Lights in Rovaniemi is like playing Russian Roulette. I started manifesting as soon as my ticket was booked, whatever you do to create luck in your life - do that. I was going to be there ONE NIGHT, the tour was around $250, my chances were slim but I decided to take the chance and booked the tour a week before I was supposed to leave as the weather was looking promising for our trip.
The clouds cleared at 11 pm, right when our tour started, the magnetic field readings were strong, and I was able to see the Northern Lights dancing with the naked eye (which is typically not the case). Feeling the pull of magic, the colors, the movement of this phenomenon that so few are able to see was something difficult to describe adequately. I can see how the indigenous tribes here, the Sami people, and legends talk about the Northern Lights being signs from the Gods or ancestors. Out of all my travels this was the most incredible experience I've had and worth every penny to go.
I visited Rovaniemi in November of 2021, and have updated this article in 2022 with the most accurate information to make your trip as perfect as you can to increase your chances of seeing the Northern Lights.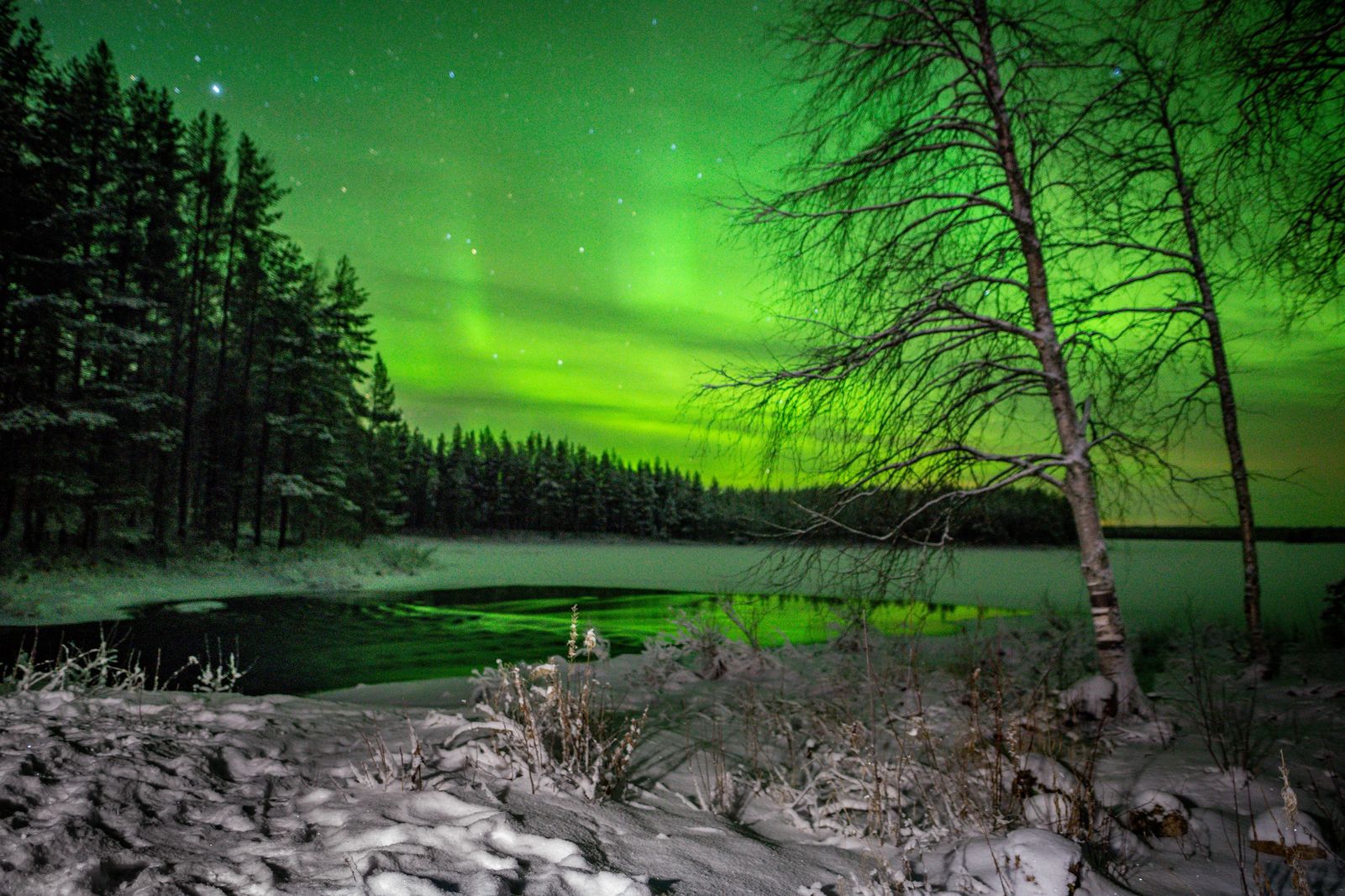 Quick itinerary/Key Takeaways
Seeing the Northern lights depends on a LOT of things: weather, solar activity, light pollution, clouds, location, and timing of not just the night but the time of year. I would head into seeing the northern lights with a healthy dose of 'I might not see them, but hope I do'.
You can get pretty accurate predictions on if you will be able to see the Northern Lights by utilizing the NOAA Space Weather Prediction Center and NASA satellites, or download the Aurora Borealis Forecast & Alerts App (iOS and Android). Anything above a 4 you will likely be able to see the Northern Lights with your eyes, a 2-3 rating and you'll likely not see anything with your eyes, but might be able to capture them with a camera.
I would either take a photography tour, like we did with Wild About Lapland, or bring your own professional camera (you can also rent them). The tour companies will know where to go, and best places to see them, along with the dangers that come with the weather and snow, and freeze fog.
Can you See The Northern Lights In Rovaniemi?
On average, you can see the Northern Lights in Rovaniemi 40% of the time when the weather is clear and there are no clouds. Our guide has worked in Rovaniemi for 2 years, and has seen them with his eyes (no camera) about 12 times. There is quite a bit of light pollution in the area now as the town has grown, so they have very specific spots (a frozen lake, and deeper into the arctic circle).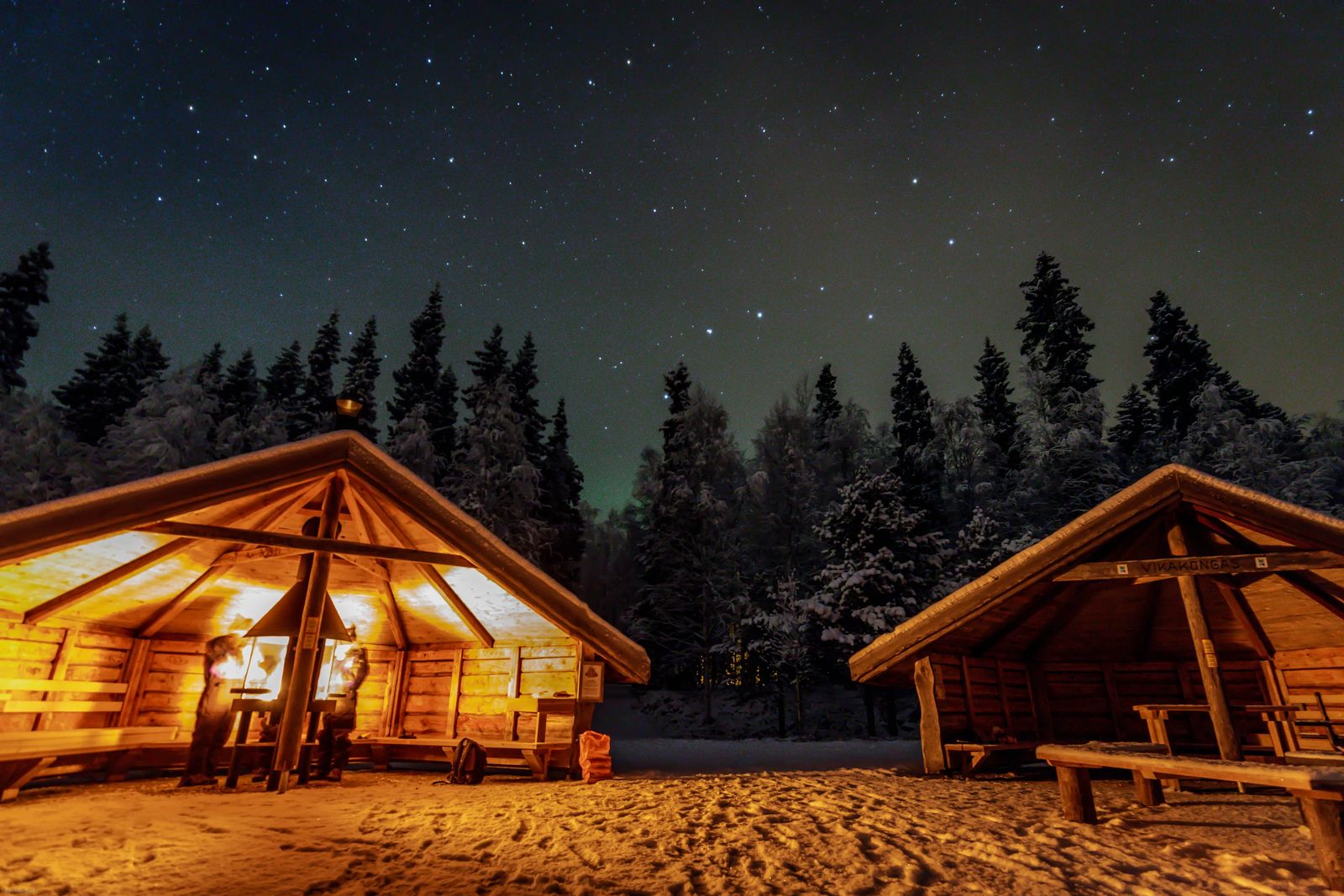 Factors That Affect Northern Lights
There are so many factors that affect the Northern lights like the geomagnetic activity and your geographic location. The magnetic field from the earth and how much it is disturbed, along with the types of composition of the Earth's atmosphere.
Green Aurora's are the most common and red is the most rare. The different gases is what gives the different colors to the Northern lights. The altitude at where the aurora occurs, the density of the atmosphere and level of energy of the aurora.
Rovaniemi Northern Lights Forecast is a great place to see predictions as well as the NOAA and the App I mentioned before.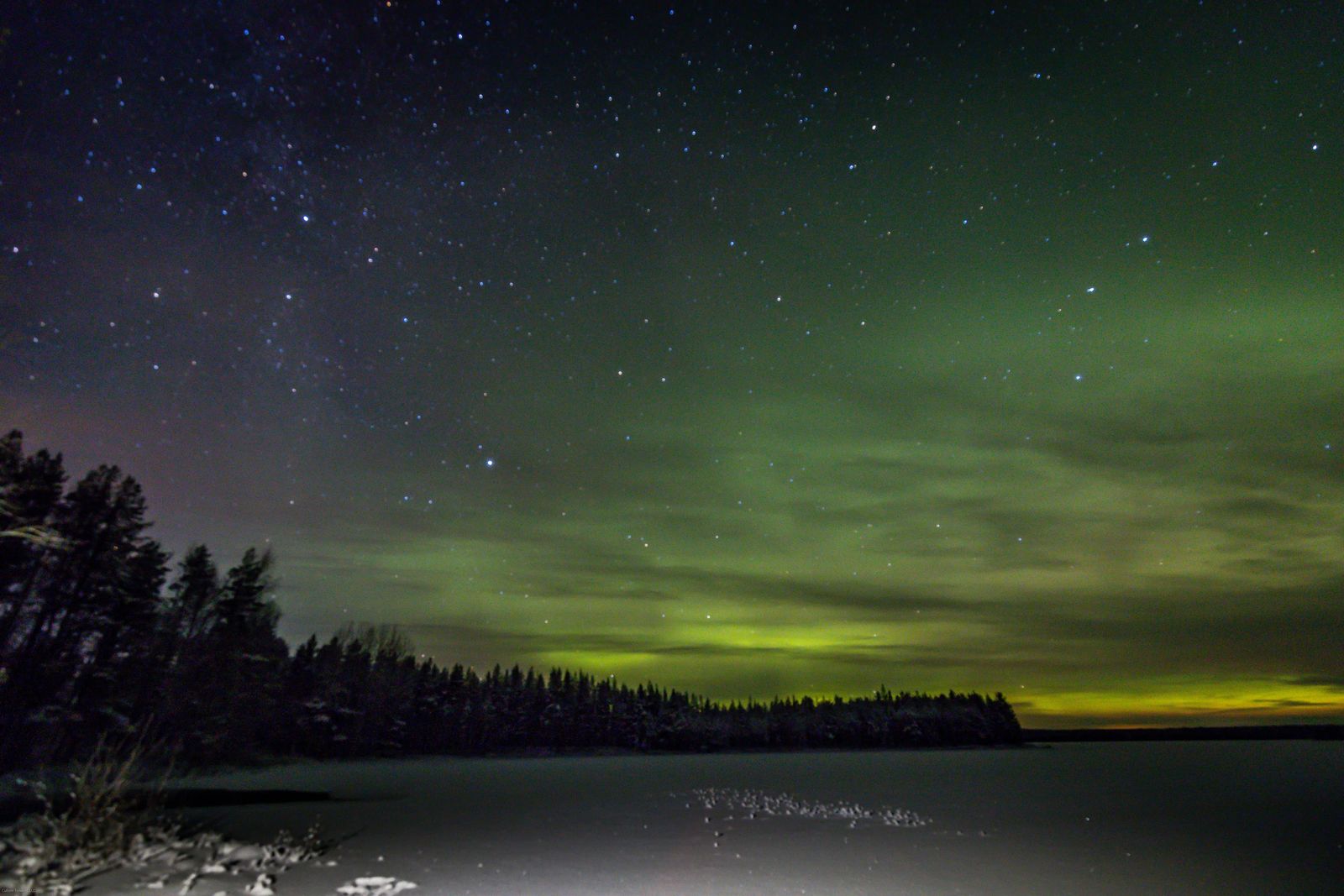 Best Time To See Northern Lights In Rovaniemi
The best time to see the Northern Lights in Rovaniemi is in the Autumn or early spring, so you don't run into the cloudy weather that often obscures the Northern Lights in this region. From August to November (when the first snow falls) is the best time to see the lights in Finland.
Researchers suggest that the peak of Northern Lights happens every 11 years, and the last peak was in 2013. So the next few years 2023-2024 is going to be a GREAT time to go and see the lights.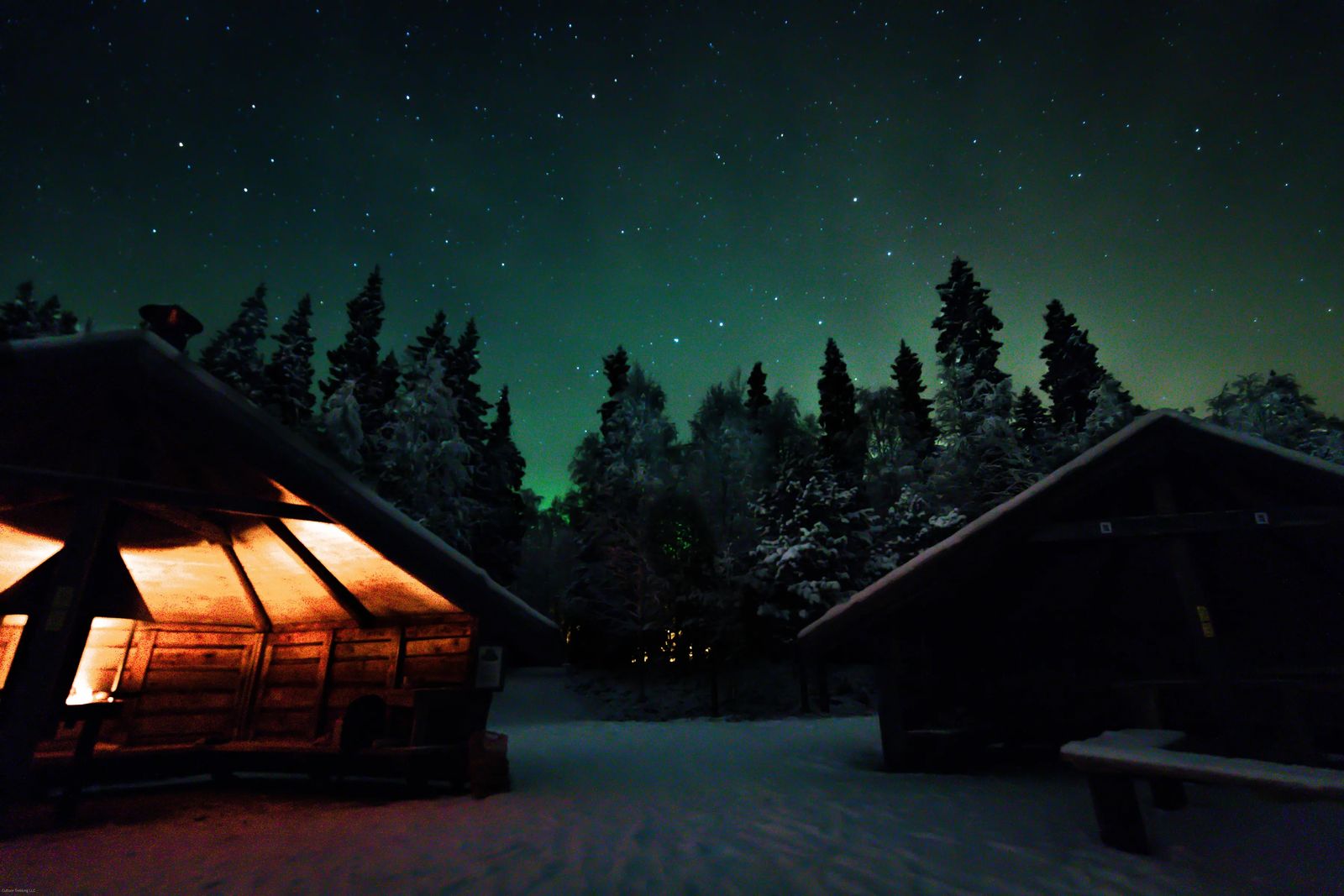 Photographing The Northern Lights
Photographing the Northern lights requires a tripod, a camera with ability to let light in for 10-15 seconds, and the lowest aperture you can get your hands on. While my friend that was with me was able to get a few blurry photos with a long exposure on her phone, I really would suggest either getting a camera, renting a camera, or going on a photography tour with someone that has one.
Set up your tripod and camera, use a wireless shutter to reduce shake on the camera. Set the aperture to 2.8, ISO from 1600 to 8000 (higher ISO means more graininess), shutter speed at 10-12 seconds, focus manually on a distant point (I use a red outline feature to know when it is in focus). Take your photo and see how in focus the stars are by zooming in, then adjust the focus manually and change the shutter speed to make sure there are no star trails or blurring of the stars and there you have it!
Make SURE to bring extra batteries, the cold and long exposure time is going to zap your batteries really quickly. I brought four batteries with me and used all of them for 3 hours of being out actively photographing. I also noticed that as the night went on I started getting frost on my camera, so bring a towel and wrap the camera up between shoots to help prevent any internal damage. You don't want to put it near heat in between because it can cause condensation inside.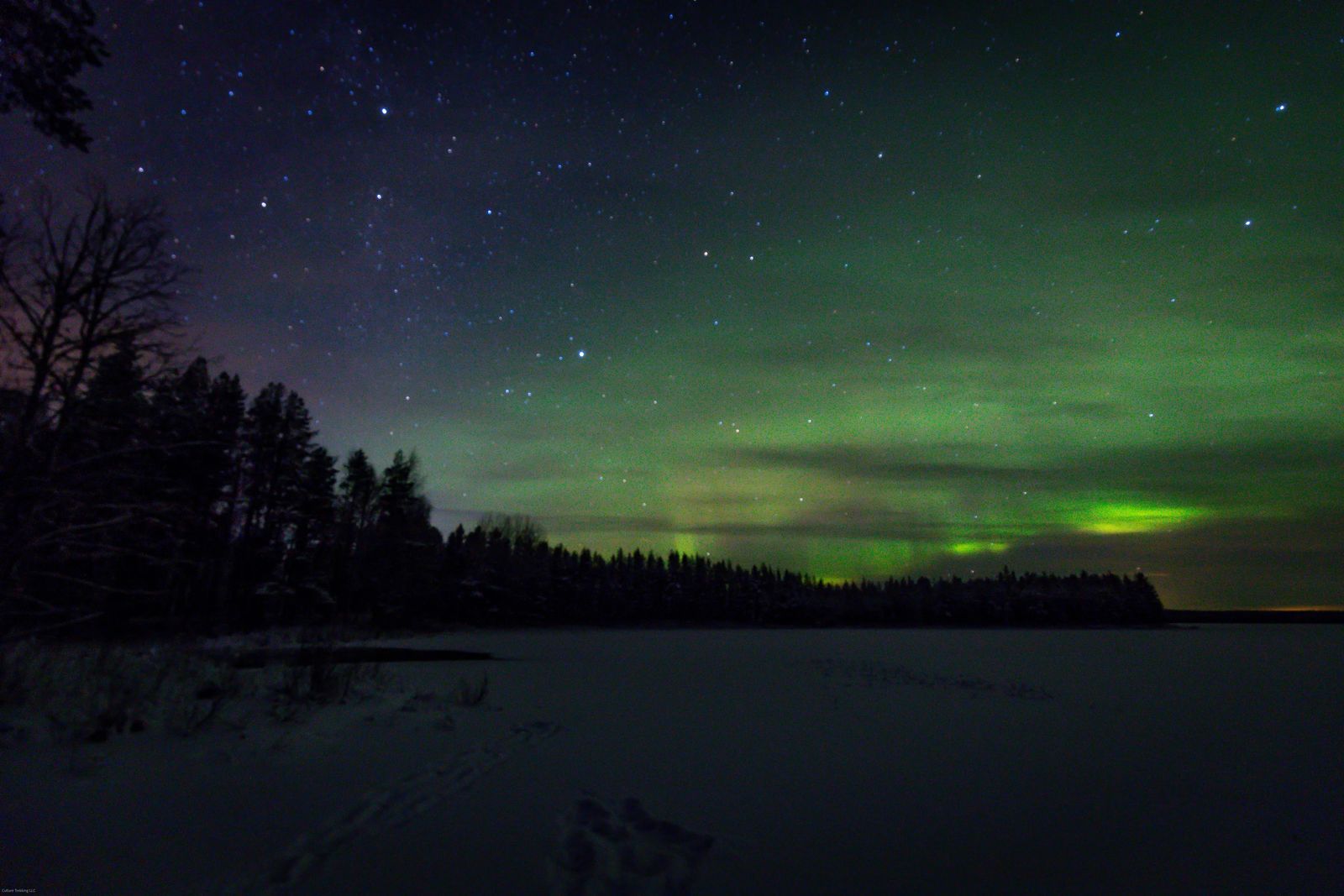 Tours For Seeing Northern Lights In Rovaniemi
There are a lot of different tours you can take to see the Northern Lights. They have snowmobiling tours, ice float and Northern Light tours, and loads of Photography tours.
We decided to go with the Northern Lights tour and campfire tour with Wild About Lapland. It was a small group tour (only 4-6 people) and it was fantastic. They provided a snow suit, boots, had hot chocolate, and sausages over a campfire to warm up halfway through the tour. We were all able to get as many photos with the Northern Lights as we wanted. Our guide Santi was friendly, so helpful, and very knowledgeable about the Northern Lights.
What To Wear For Seeing Northern Lights In Rovaniemi
If you are a plus size individual, just keep in mind I'm a size 20-22 and Europeans are a lot skinner, lol. They did have one snowsuit that fit me, the arms and legs were excessively long though. You do want to wear a fleece sweater, bring your own scarf, gloves, and warm pants and socks. They also provide boots to help prevent frostbite of your toes.
Temperatures up here can get lethal with the lowest recorded temperature being -53.5 F (-47.5 C) in January of 1999. The highest temperature in the summer is around 88.2 F (31.2 C). If you are coming in the winter, DO NOT skimp on the amount of warm clothing you bring. If you dress up in your house, the goal is to be sweating and feeling stifled with how warm you, that will keep you relatively warm out in Rovaniemi in winter.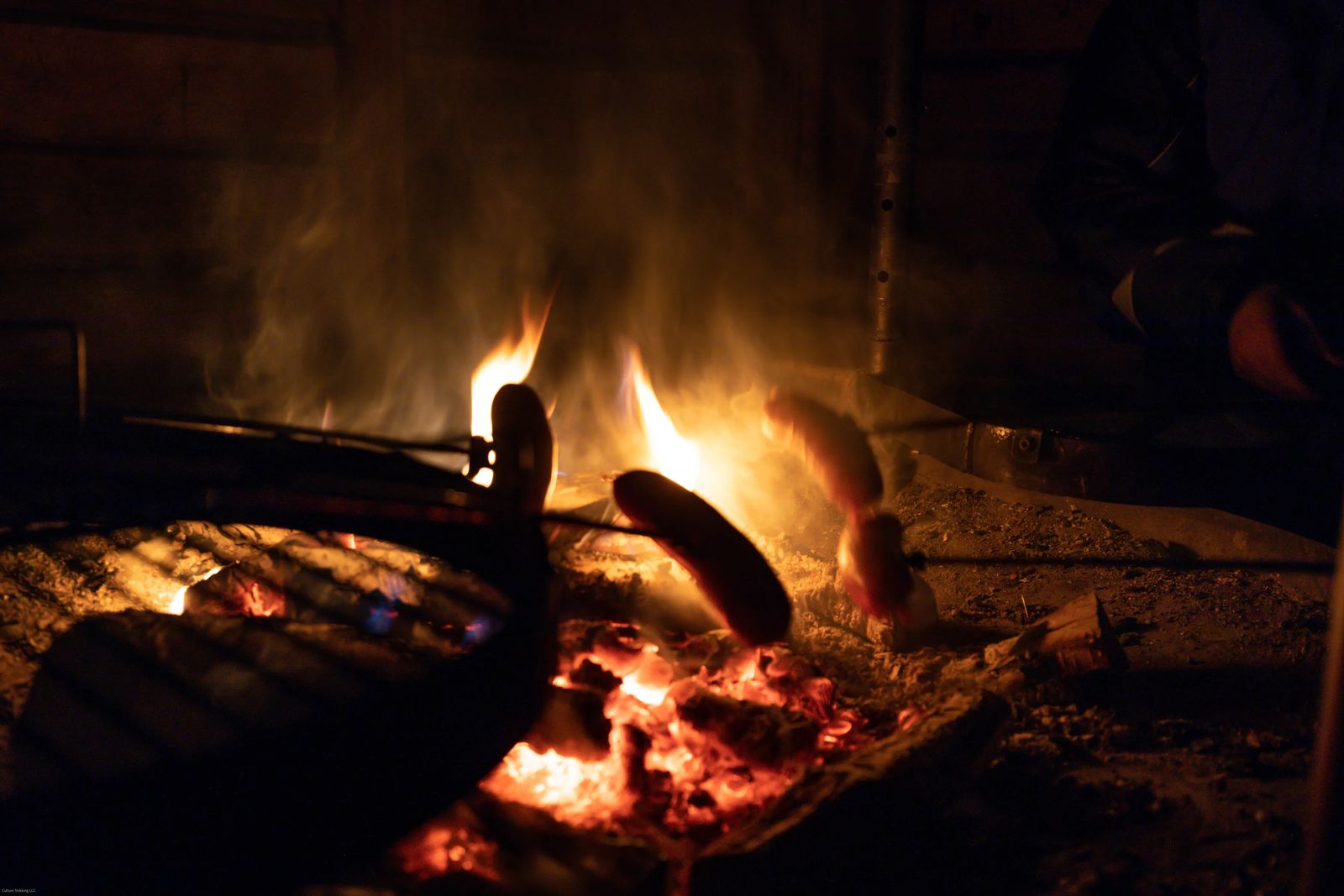 What To Eat In Rovaniemi
The Sami people use Reindeer and every parts of the reindeer to survive, provide warmth, and bring in revenue. It is a common item on a menu here, and a great way to recoup energy after going out and seeing the Northern Lights.
Lapin Puikula is a type of potato unique to the Lapland area in Northern Finland. It is a starchy buttery taste with hints of almond. Lappi is the local cheese made from cow's milk, it melts very easy (great for fondue) and has a mild sweet flavor.
The national dish of Finland is the Poronkäristys, which is sauteed reindeer simmered in beer stock until the texture is tender, served with creamy mashed potatoes and lingonberry jam.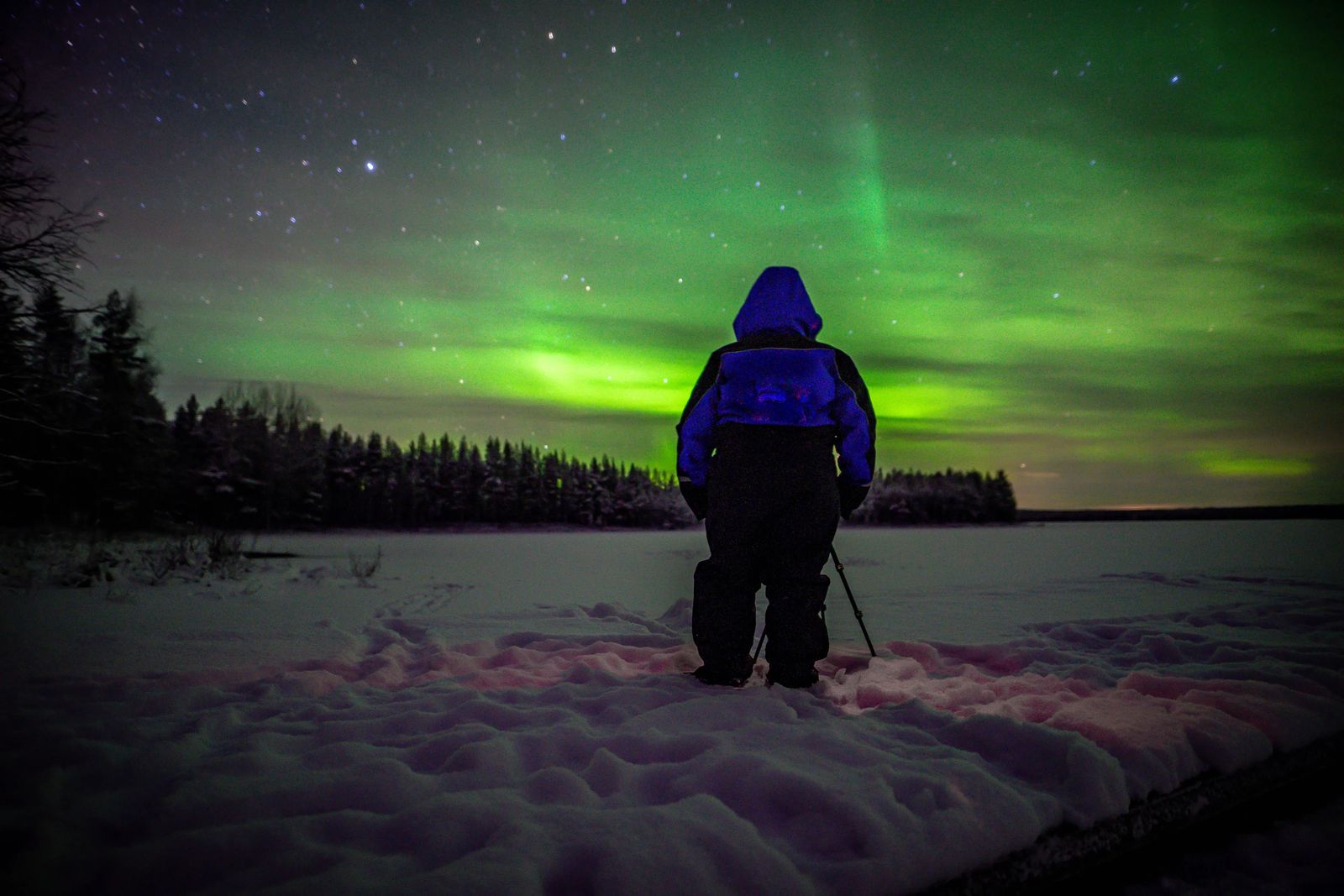 Where To Stay In Rovaniemi
Most people who visit Rovaniemi stay at the very posh and expensive Santa Village cabins with their families. These cabins are so cute, and very very very photographer friendly with the BEST Christmas vibes around.
You have the Apukka Resort with the partial glass windows for Northern Light viewing. You have the Arctic Snowhotel and Glass Igloos, or the Glass resort lodges with premium amenities, or the Santa Claus Holiday Village and is in the heart of the Santa Claus Village. These accommodations are quite expensive honestly, but if you are going to have a bucket list experience, it might be worth the splurge to stay at one of these locations.
For a more affordable stay (~$120 a night) I stayed at the Arctic City Hotel. The rooms were small, but cozy and quiet. They also have a Sauna on site, and everything in town is within walking distance. The Santa Village is about a 15-20 minute bus or car ride outside the city.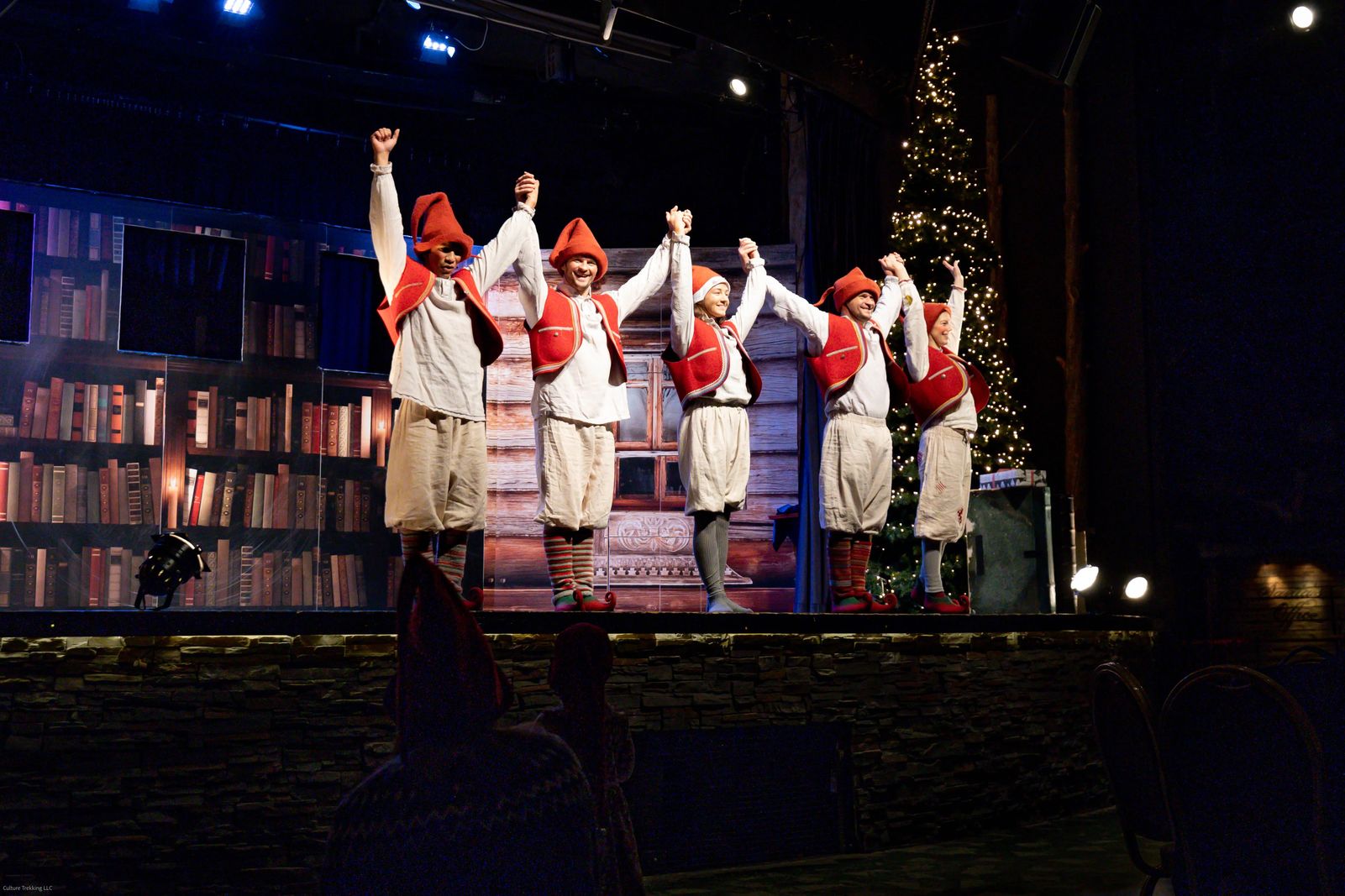 Other Things To See In Rovaniemi
You have the famous Santa Claus Village (the one with Reindeers, Santa, Huskies etc...), then you also have Santa Park (the one with gingerbread making, rides, elf school, Santa, shows, ice sculpture room, and shopping).
There is also Korouoma Canyon with frozen waterfalls, Apukka Resort with the Reindeer, the Icebreaker Cru, Arktikum Museum, the Ice Kingdom, and Ounasvaara Park.
My Takeaway Of Seeing The Northern Lights In Rovaniemi
Seeing the Northern Lights has been on my bucket list for years, I decided to see if the universe would gift me this once in a lifetime experience. I went into this tour not expecting to see ANYTHING as my friends has prepared me for the fact that I wouldn't be able to see them with my eyes and would only be able to see them with my camera.
When the clouds literally cleared, the apps said the magnetic storm would be around four, I KNEW that I was exactly where I was supposed to be. The moment I was able to see the Northern Lights dancing with my own eyes, I felt the pull of magic, alignment with purpose, and a peaceful feeling of 'all this hard work has been worth it'. I feel so lucky, and still dumbfounded that the ONE night I was in Rovaniemi, when people spend weeks searching for the Northern Lights - and I was able to see them.
All of the work shooting galaxy shots, stars, light painting, and years and years of work perfecting my craft as a photographer all came to this moment of bliss.
If I wasn't able to see the Northern Lights this night, meeting other people, feeling like you would freeze to death, laughing, and sharing moments with them would have still been worth it - but maybe tinged with disappointment. I would still heartily recommend searching for the Northern Lights in Rovaniemi, I would NOT take a tour with a large group (we saw one of these and the vibe was not good), a small group with people you care about is tour I would take and Wild About Lapland did that for us.
Hope this helped and feel free to leave any additional tips, tricks in the comments below!
Like it? Pin it for later! Sharing is caring ;)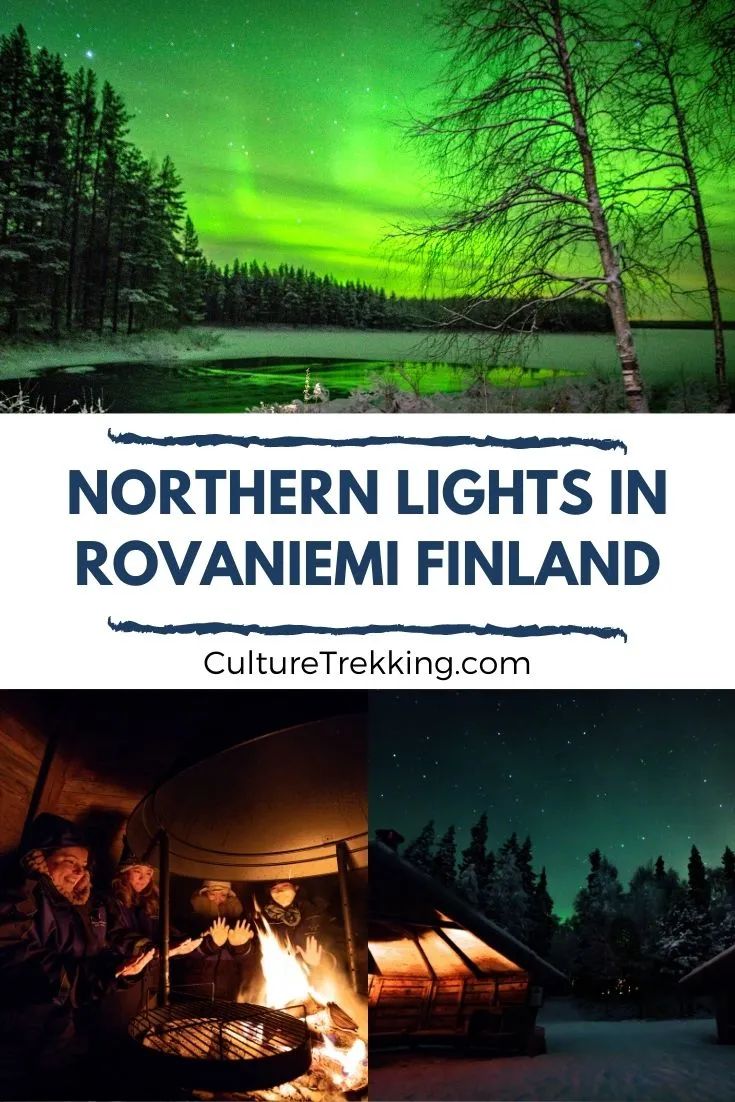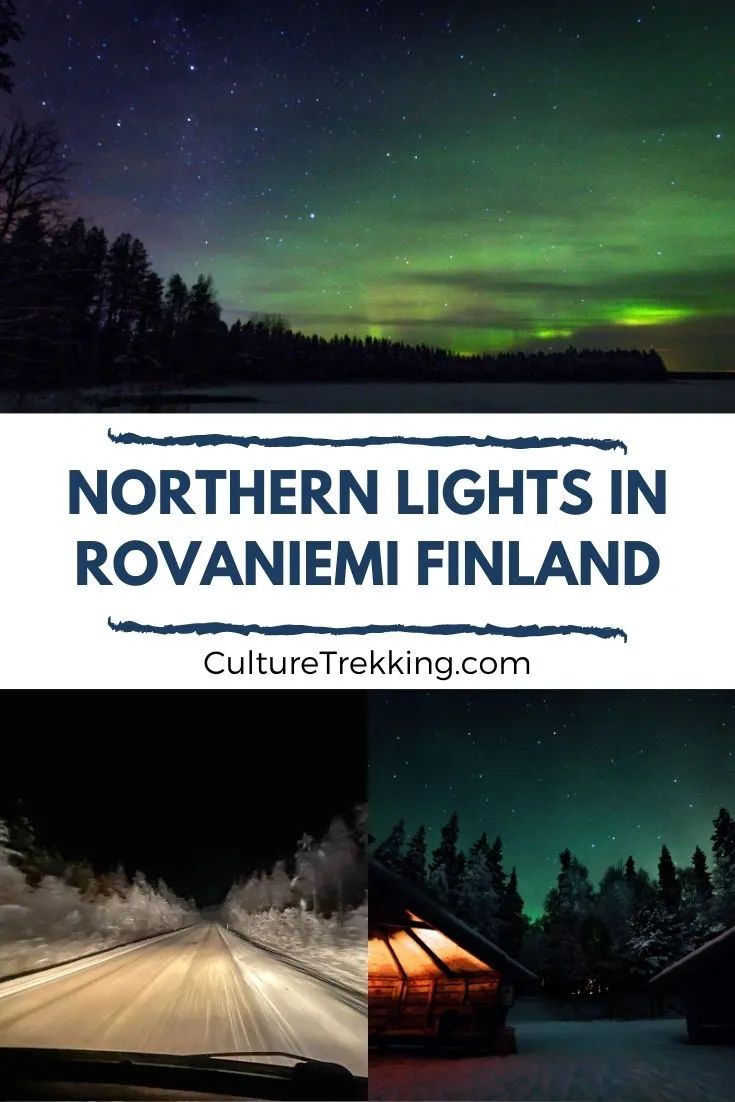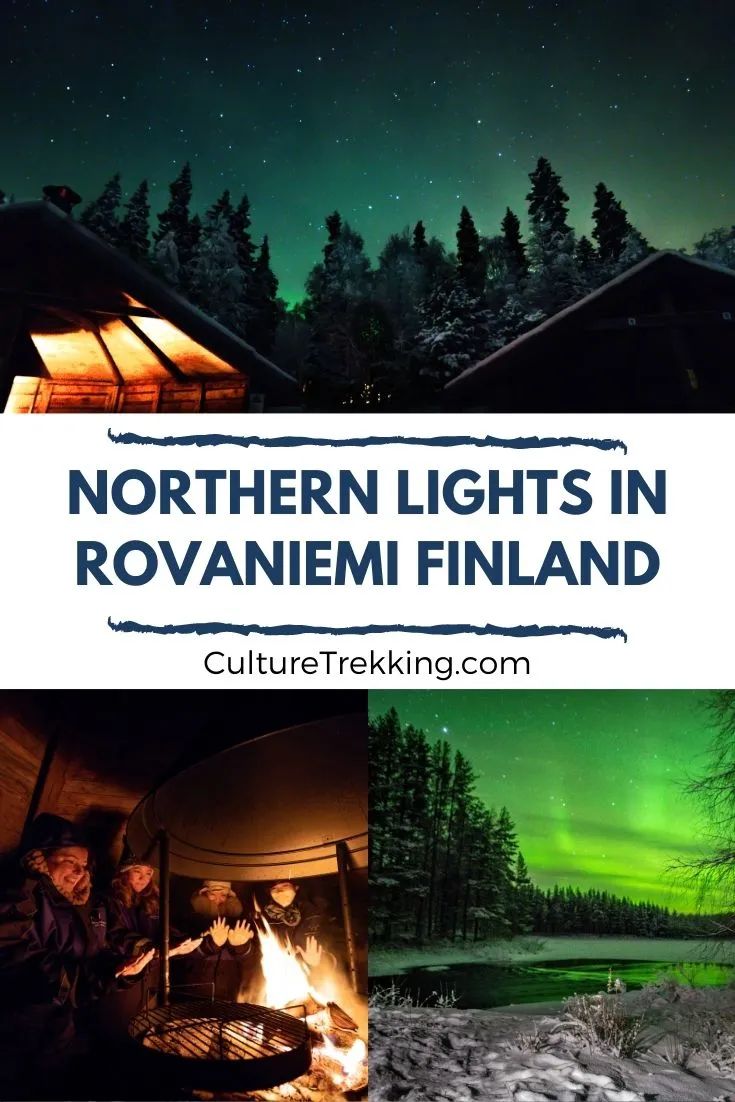 Latest Articles On Culture Trekking