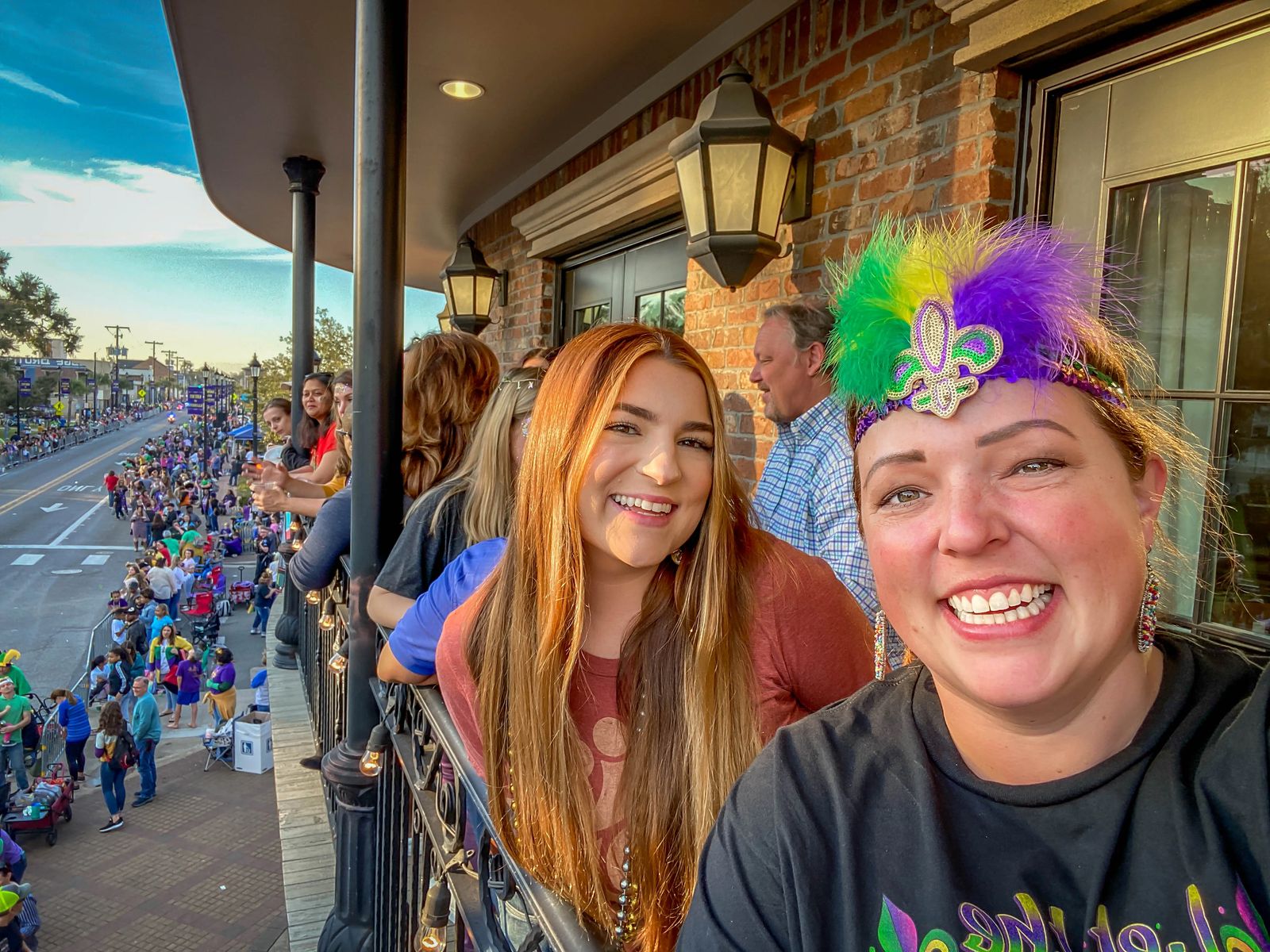 Mardi Gras in Lake Charles Louisiana
When you say Mardi Gras, I often would think of women showing their breasts in order to get beads thrown at them at the parades in New Orleans along Bourbon street. While that may not be the EXACT case, the parties in New Orleans are known for being more on the adult spectrum of things. Let me introduce you to Lake Charles Louisiana, where the celebrations of Mardi Gras predate those of New Orleans. Mardi Gras in Lake Charles is the family-friendly version that has plenty of activities for kids to enjoy, and a more modest celebration for adults to experience as well.
I will guide you through the history of Mardi Gras in Lake Charles, the Cajun/Creole celebrations that are often overlooked but just as fun, the best things to eat during Mardi Gras, and a Cajun dance and music style called Zydeco. Keep reading to learn about this incredible place and the infinite possibilities for memories you can make here to really celebrate Fat Tuesday in style.
The Tradition of Mardi Gras
The Origin of Mardi Gra can be traced back to medieval Europe from Rome and Venice the House of Bourbons in the 17th century started a parade of the 'fatted calf' or 'Boeuf Gras'. Mardi Gras is traditionally celebrated on Fat Tuesday, 40 days prior to Easter, a time the Catholic religion calls Lent.
While there is revelry and fanfare around the holiday it was strategically positioned to help stave off the hunger that comes between the hard winters and first spring crops. During medieval times the people would often be running out of food at this time, and have to be out in the fields planting their peas or other spring crops to tide them over.
The new piglets weren't fat enough to eat and were typically reserved for Christmas feasts. The luckiest and wealthiest families MIGHT sacrifice a cow in the name of this religious holiday.
The festivities weren't always Christian in nature though, in fact, there was a Pagan holiday that previously had taken place during this time period called Saturnalia. This is when the God of good crops, wealth, and plenty.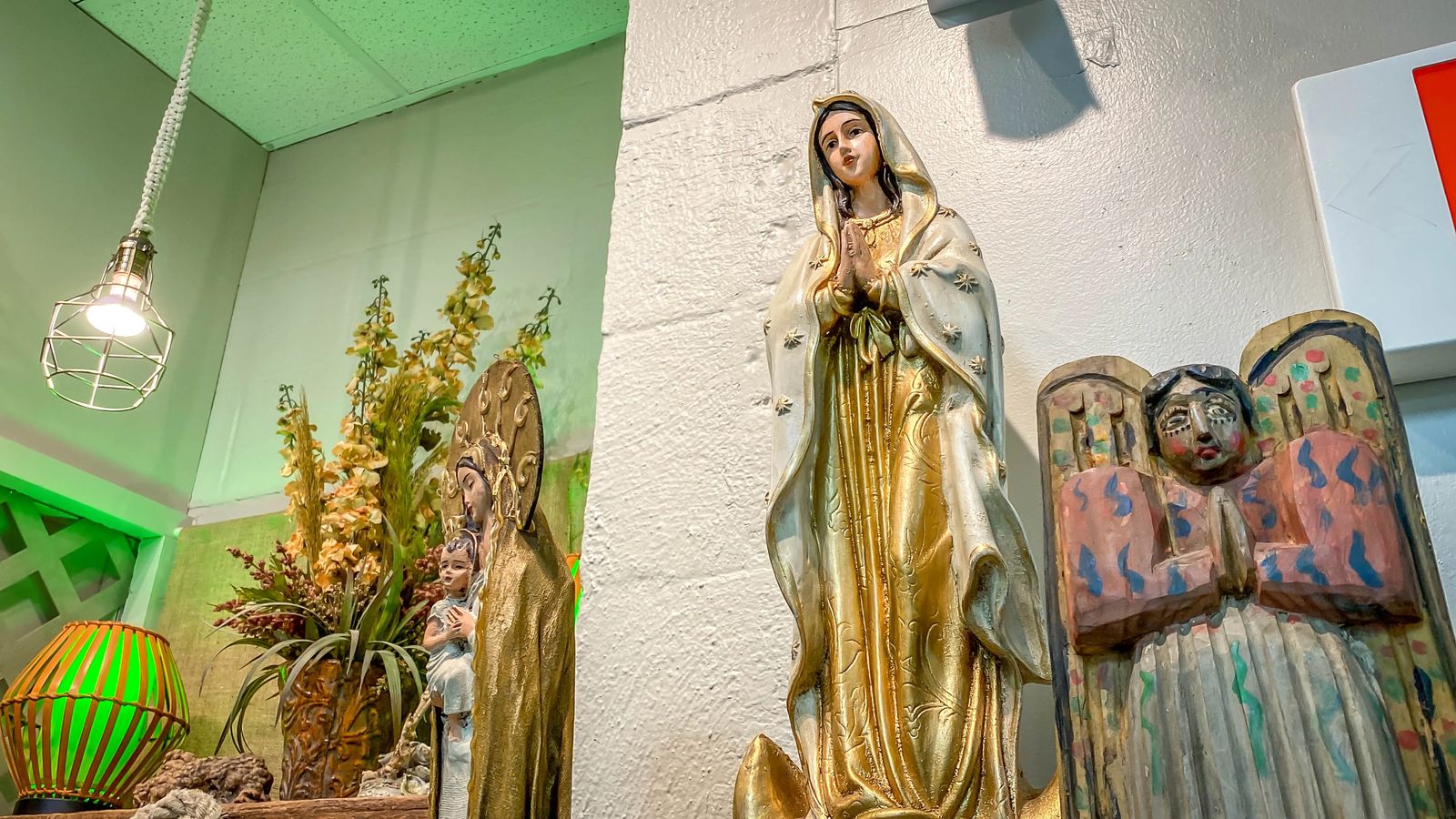 With the sacrifice of the cow, it would be paraded down the street for all to see. During Lent, the Christian population was asked to give up red meat and only eat vegetables. This was convenient as salads were pretty much the only thing sprouting at the time, as well as edible flowers. So they would eat the cow on 'fat Tuesday because they all felt fat after celebrating.
Once Fat Tuesday passed, the parishioners would head to their respective parishes or churches for Ash Wednesday. Ash Wednesday is a solemn reminder of human mortality and the need to reconcile with God. It is 40 days of fasting before Easter Sunday to imitate the fasting of Jesus Christ's fast in the desert.
The ashes that are used are said to be the ashes of burned palm leaves, and a cross of ashes is placed on the forehead of each worshipper. The Palm leaves are supposed to represent the same Palm Leaves that were used on the path for Jesus on Holy Thursday and his crucifixion on Good Friday during the last week of modern day Lent.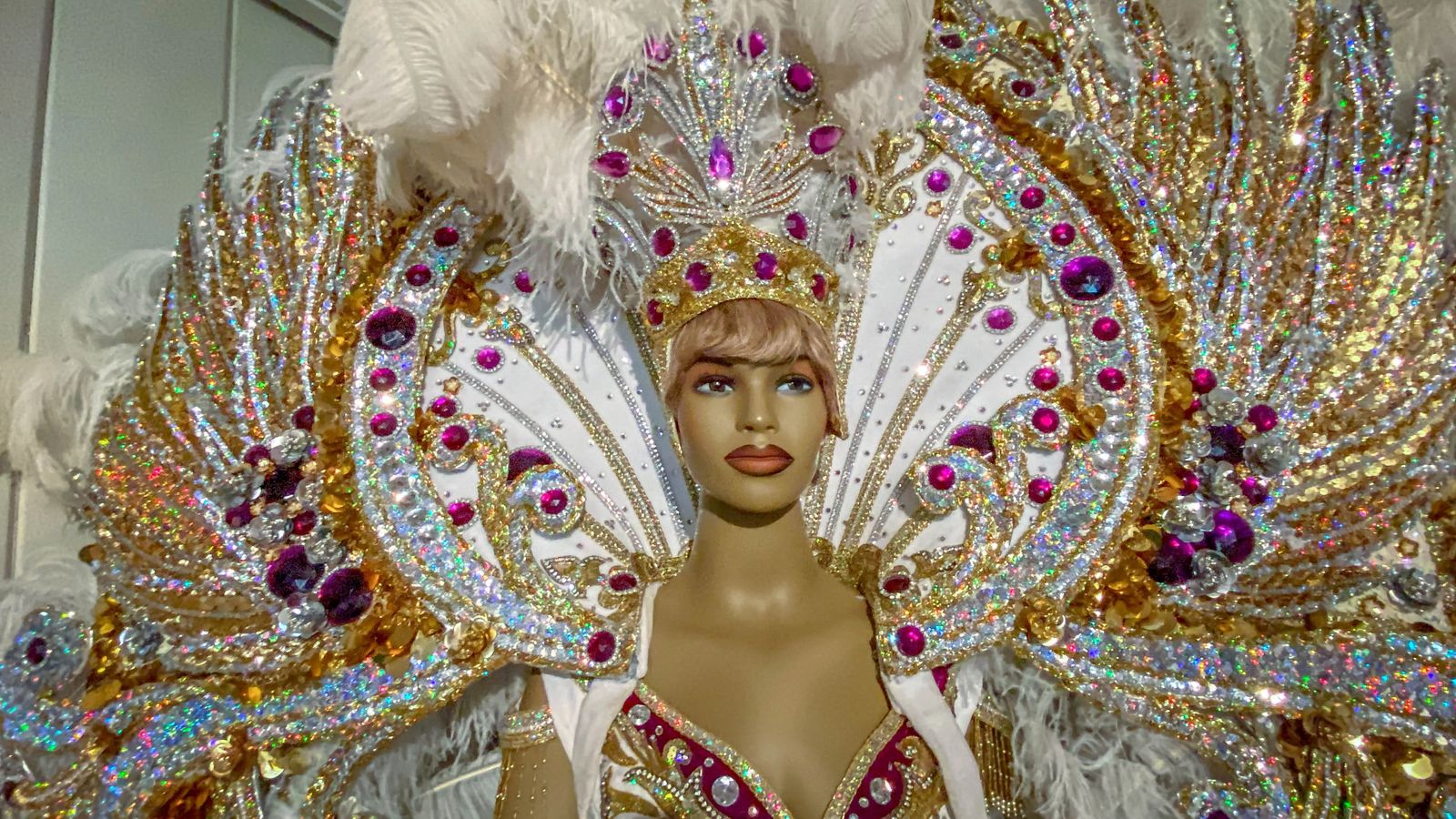 Costumes of Mardi Gras
The costumes of Mardi Gras in Louisiana stemmed from the fact that France owned Louisiana for such a long time. The influence of Mardi Gras in Italy spread to France, and then subsequently to Louisiana. Many times it was the rich and wealthy in medieval times that would participate in Carnival or Mardi Gras.
The costumes are often attributed to Nice, France, Venice, and Italy with many of the costumes made in France. The masks were to help hide the identity of those partying, but also those who would sneak into the exclusive parties so that they wouldn't get kicked out.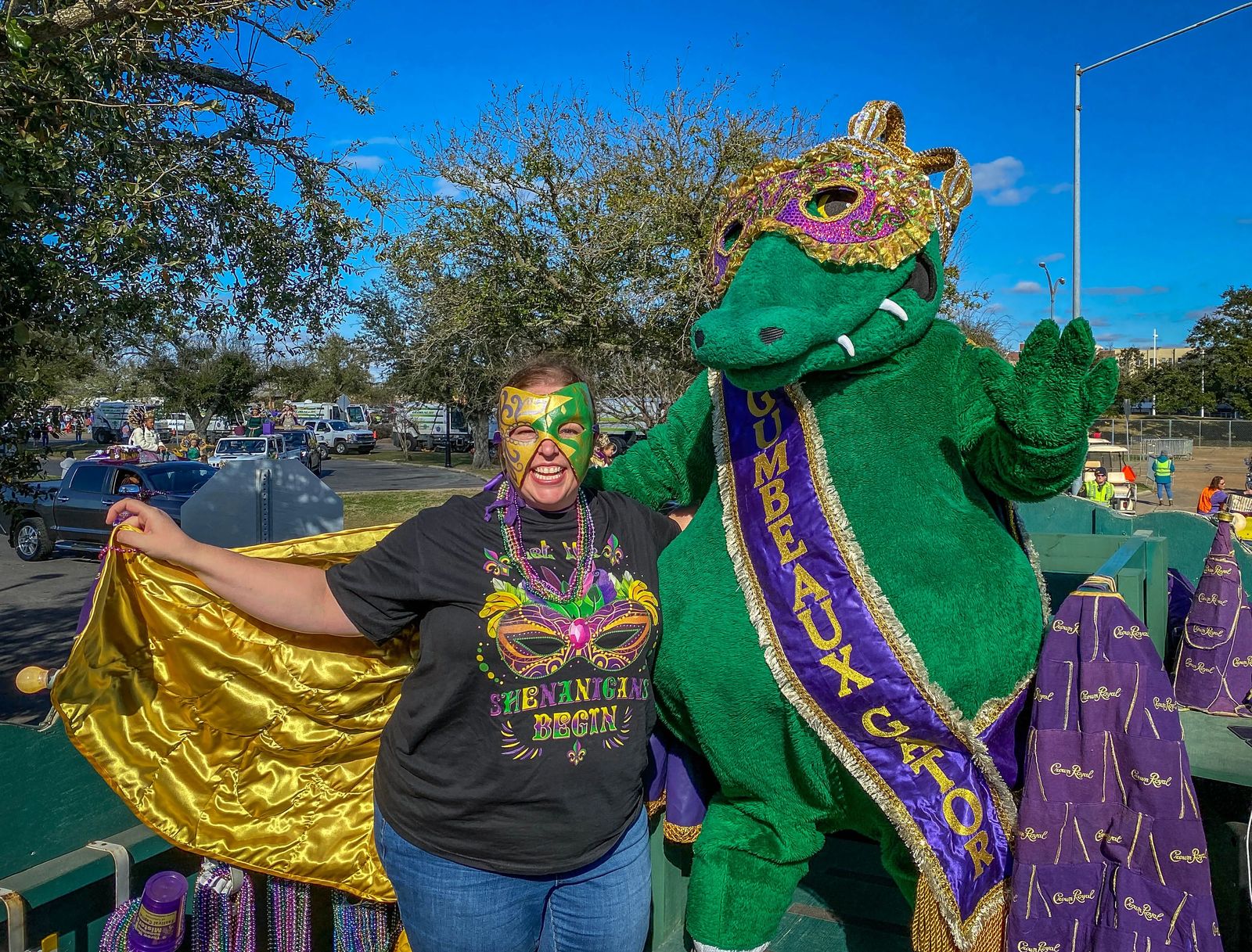 Children's Mardi Gras Parade
It was the Rex Organization that started the tradition of naming a Mardi Gras King in 1872. Bead throwing started in the 19th century when the 'Carnival King' would throw fake jewels to his loyal subjects. Instead of plastic beads, they were Czech glass beads.
Unfortunately with all the bead throwing, New Orleans collected 45 tons of beads from storm drains before COVID.
The significance of this parade is that some Krewes are able to let their children ride the floats, children's organizations, which really builds those cultural bonds and family memories to last a lifetime. It isn't just locals who can ride though, so can you!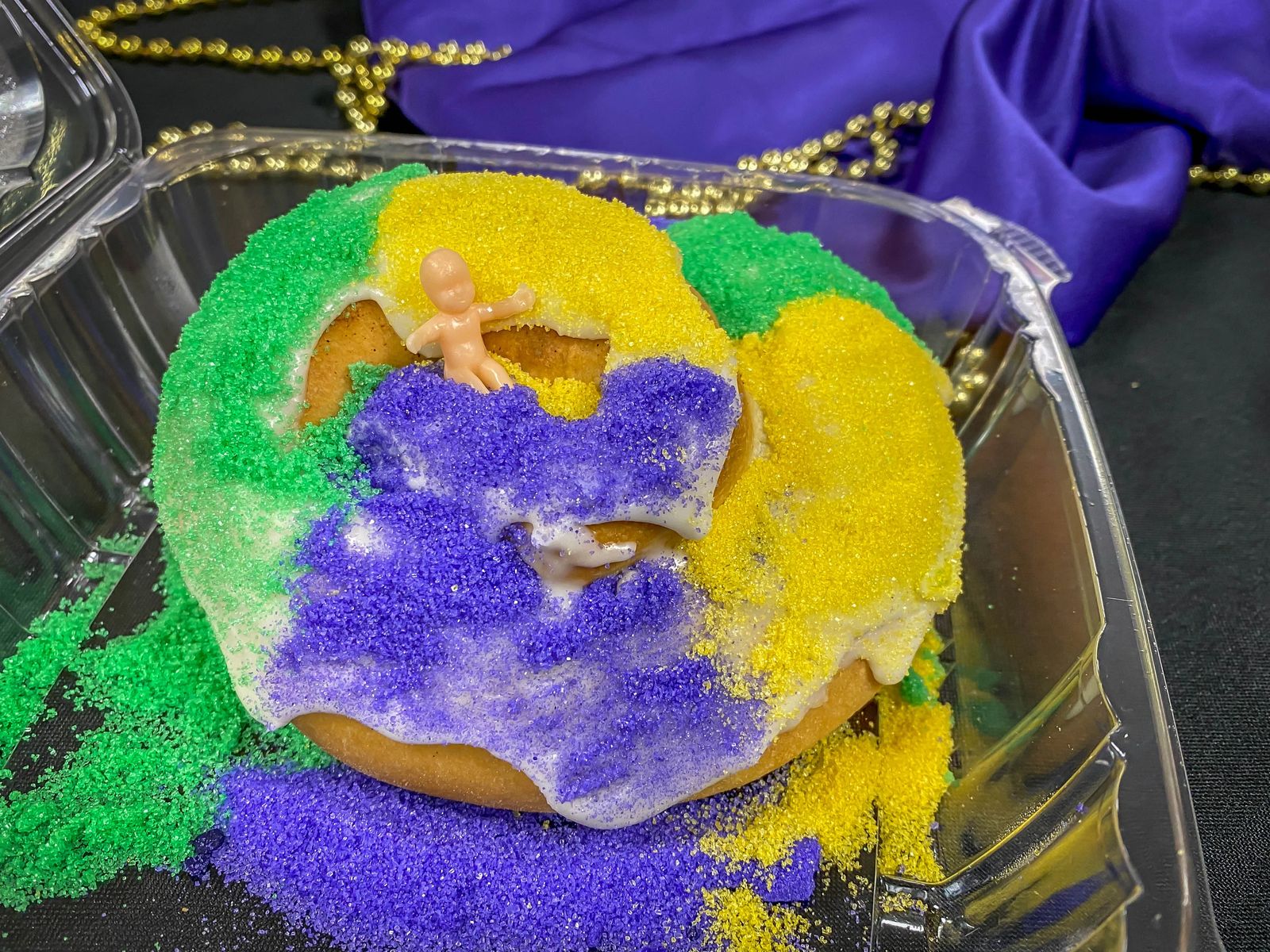 Decorating King Cakes
Did you know that the standard colors for Mardi Gra aren't by chance? Just like the flags of countries each color has a meaning and purpose behind it.
The three main colors are Purple, Green, and Gold (black is also commonly used). Purple stands for Justice, Green is for Faith, and Gold is for Power. The cake itself was a carnival tradition brought over from France. There is a tiny baby Jesus figurine inside. It is the symbol of the epiphany, the day that the 3 kings brought the baby Jesus gifts.
Some say that the baby figurine started from a French baker next to a porcelain dollhouse shop where they had a surplus and he threw some in. Whoever finds the baby Jesus, gets to bring the cake the next year. The cakes can be sweet, savory, or half and half, really whatever you want it to be. The most traditional kind is a cake with cinnamon and sweet cream.
Imperial Calcasieu Museum
This is the largest collection of Mardi Gra Costumes in the WORLD! There are over 300 costumes here. The costumes in the Museum are donated from the different Krewes (or groups) and the King and Queen of Mardi Gras. Each of the costumes can range anywhere from $1,000 to $10,000.
A collar alone with all the sequins and feathers can be around $800 to $1200. David Faulk is the executive director of the museum, and after working 30 years in the flower arrangement and design industry took this job up as his semi-retirement job and is very passionate about preserving the costumes here.
The museum itself was heavily damaged during hurricane Laura, and are trying to still rebuild the old building. Luckily only a few feathers on a few costumes were damaged, they were kind enough to pull out a few of the costumes for us for Mardi Gra.
The Imperial Calcasieu Museum also has exhibits about Lake Charles, where it started, the wars it was involved in, the Lumber industry in the area, and so much more. The entrance is free but donations are welcome.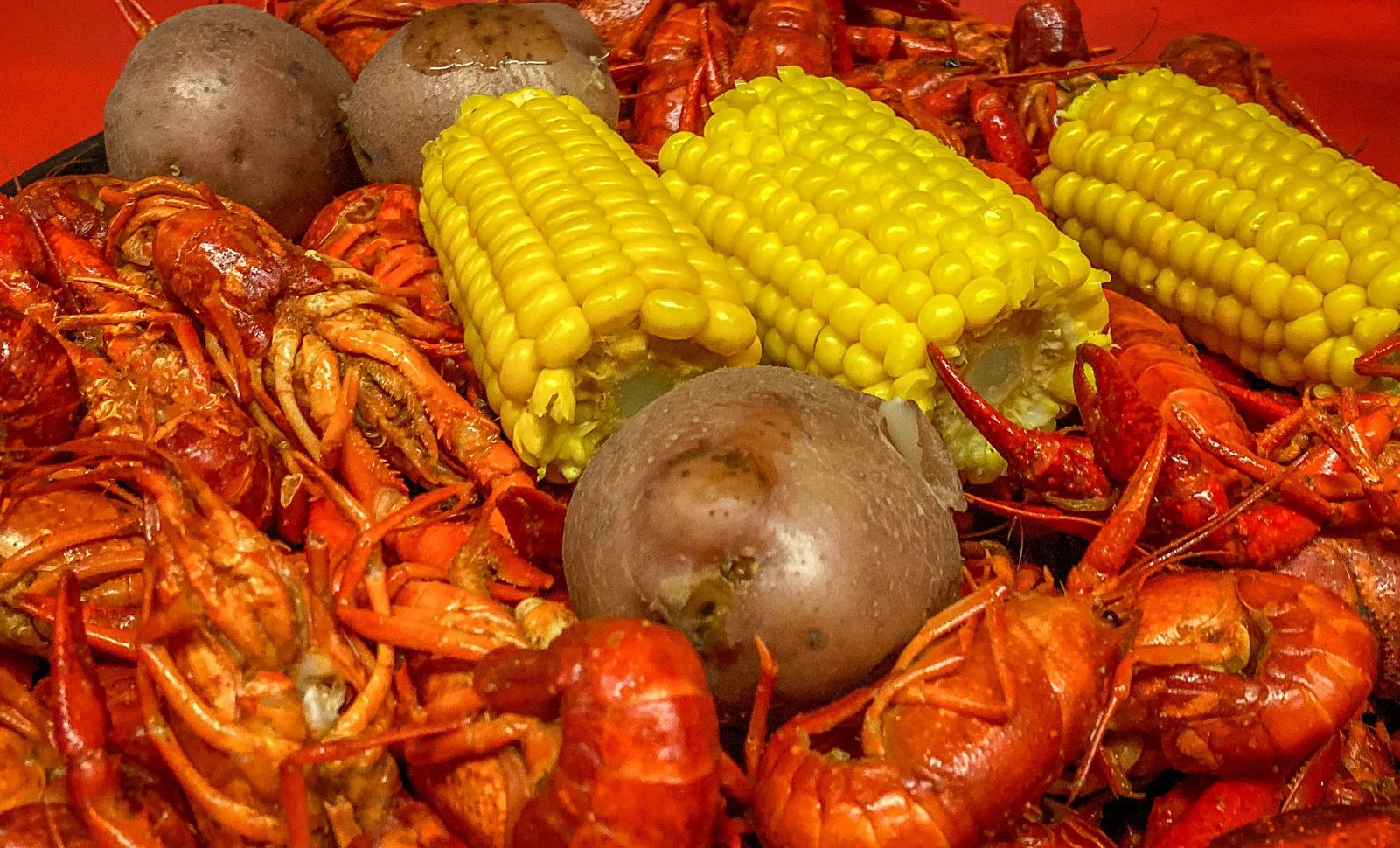 Seafood Palace
You cannot come to do Louisiana without eating some Crawfish. Crawfish are kind of like bugs of the sea, BUT they provided food for the Creole/Cajun folks in Louisiana for a long time during the Civil War. The tradition also conveniently coincides with Lent.
The first commercial harvest of Crawfish started in 1880 when 23,400 lbs of Crawfish was harvested. Now it is such an integral part of this culture, and each family and region has its own special spices and sauces they make.
Seafood Palace in Lake Charles gives you 4 lbs of Crawfish at a time with potatoes and Corn etc.. Make sure to check out the Youtube video above to get the 'technique' on how to properly peel and eat crawfish.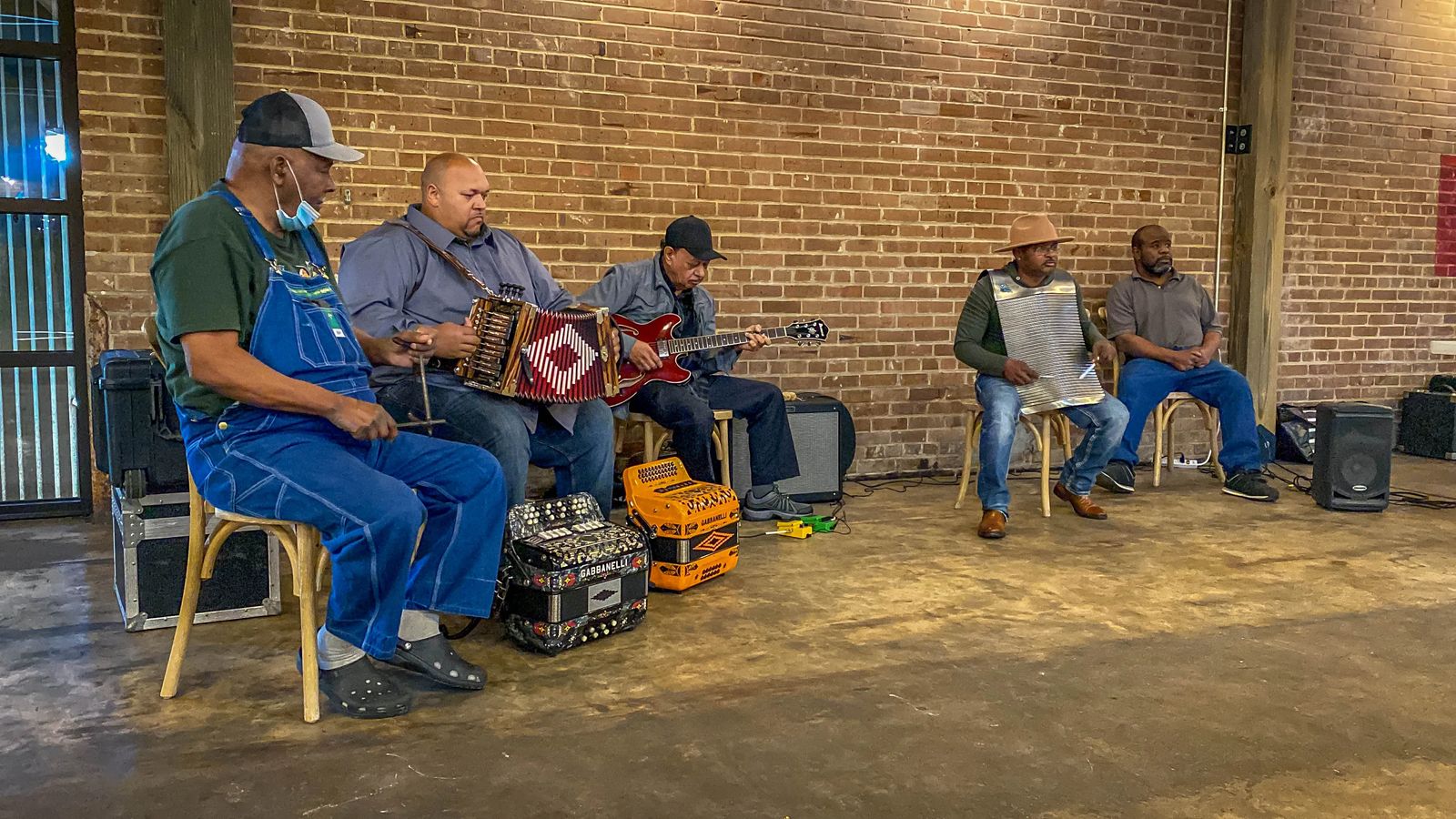 Zydeco Music and Zydeco Dance
The term Zydeco is French/Creole that comes from the expression "Les haricots sont pas sale" - 'the beans aren't salty, others argue it could have West African origins. In Southern Louisiana, the meaning is all about dance. They have Zydeco Kings and Queens and princes in this dance, it was the primary opportunity for courtship for those of the deep south.
The Cajun/Creole folks would gather in homes and push all the furniture back and would dance in living rooms or barns.
Cajun music was influenced by the Nova Scotia folk songs from the french that migrated here. The Native Americans contributed to the wailing and terraced singing.
Creoles contributed to new rhythms, percussion techniques, improv singing, and the blues. Sometimes you will hear the Spanish guitar from when Spain was in the area of Louisiana.
Acadian creole musicians contributed the accordion in the 19th century. Anglo-Americans contributed the fiddle, dances, jigs, and hoedowns. All of these influences are combined into Cajun music as we know it today.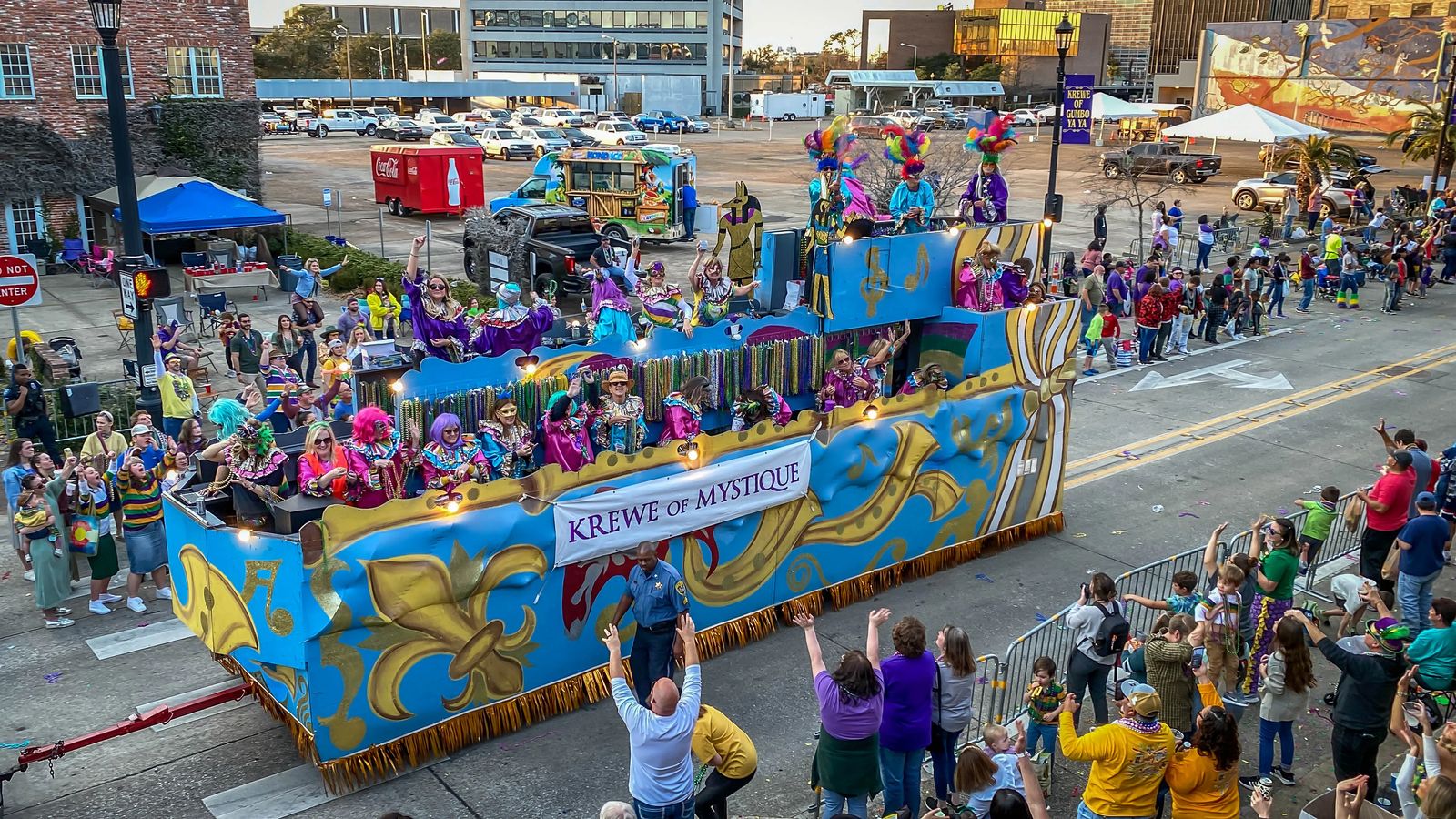 Krewe of Krewes Parade
The term Krewes comes from the group, Mystick Krewe of Comus, for the first group that put on a Mardi Gra Parade and floats in 1857. The festival-goers would carry masks and torches to the evening festivities.
There were five different exclusive clubs you could be a part of Comus, Momus, Twelfth Night, Rex, and Proteus. These exclusive clubs contributed to those who were allowed to mask up to be able to attend the parties, without having their identity known and getting kicked out.
It was the Rex Organization that started the tradition of naming a Mardi Gra King in 1872.
The Krewe of Krewes parade has over 100 elaborate krewe floats on this final day of Mardi Gras season! This is the crowning moment for those in Lake Charles, as elaborate floats wind through four miles of Lake Charles.
If you are looking for a souvenir from Mardi Gra, this is where you will get it! They will be tossing beads, cups, doubloons, and other items. There were some floats that were throwing pieces of pizza, Ramen Noodles, glow-in-the-dark necklaces, frisbees, nerf footballs, and balls to the crowd, and a makes for a perfect souvenir to take home from your memorable time in Lake Charles.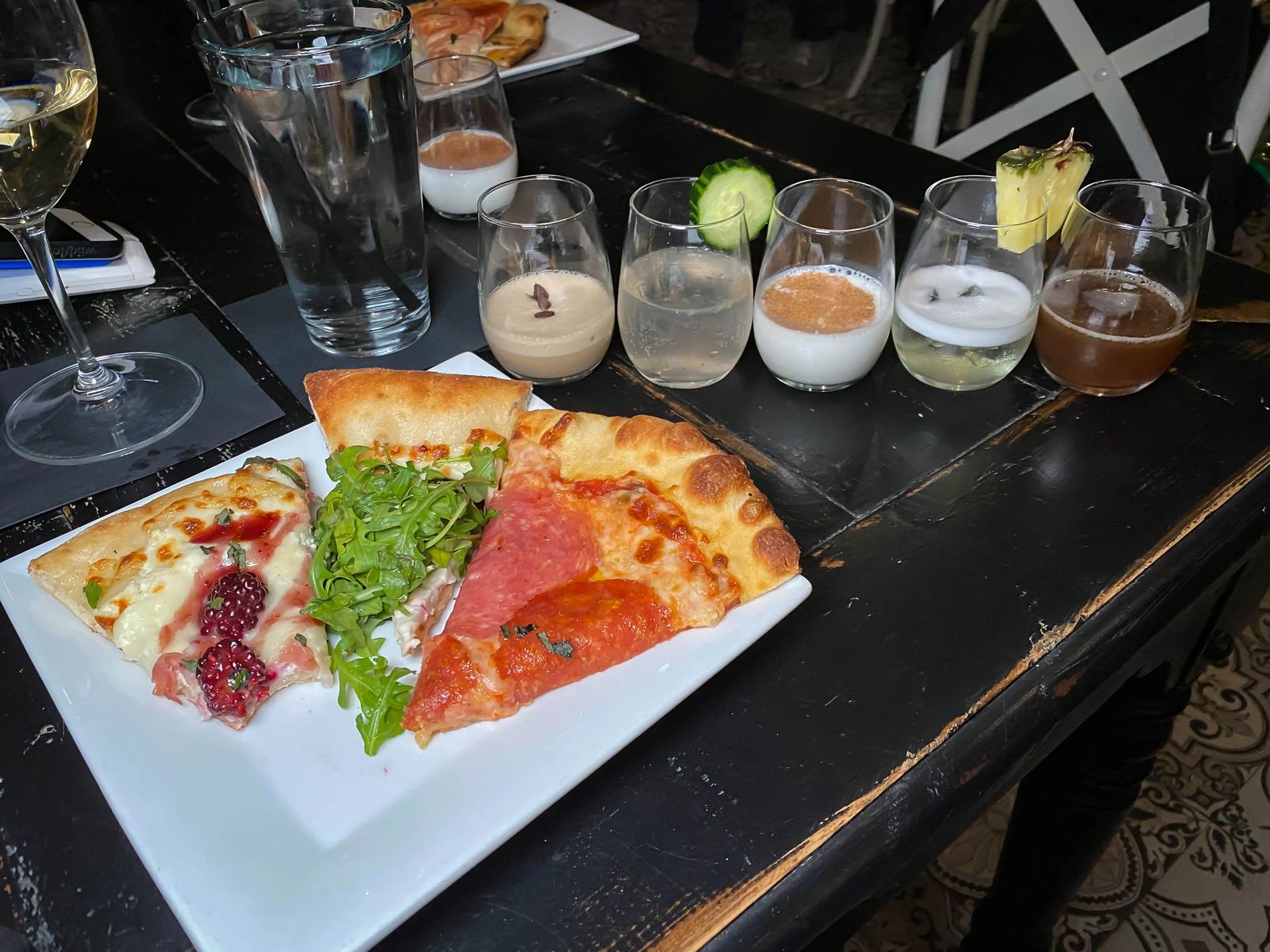 Bodega Wine Dive
Bodega Wine Dive is a perfect ending to your time in Lake Charles Louisiana. When you walk in, it feels like you are walking into an Alice and Wonderland type of Wine Bar. They do have some sandwiches, Pizza, and charcuterie board that you can nibble on with plenty of drinks to choose from.
There is a Sommelier on staff and plenty of classic drinks, but also have signature cocktails like the Fig Martini, Blanche Devereaux, Rose Nylund, Pineapple Fusion (my favorite), Spicy Margarita, Blackberry Mule, and the Cold Brew Cocktail (good for dessert drink).
You can sip on some drinks and then catch a ride home or make sure you have a designated driver.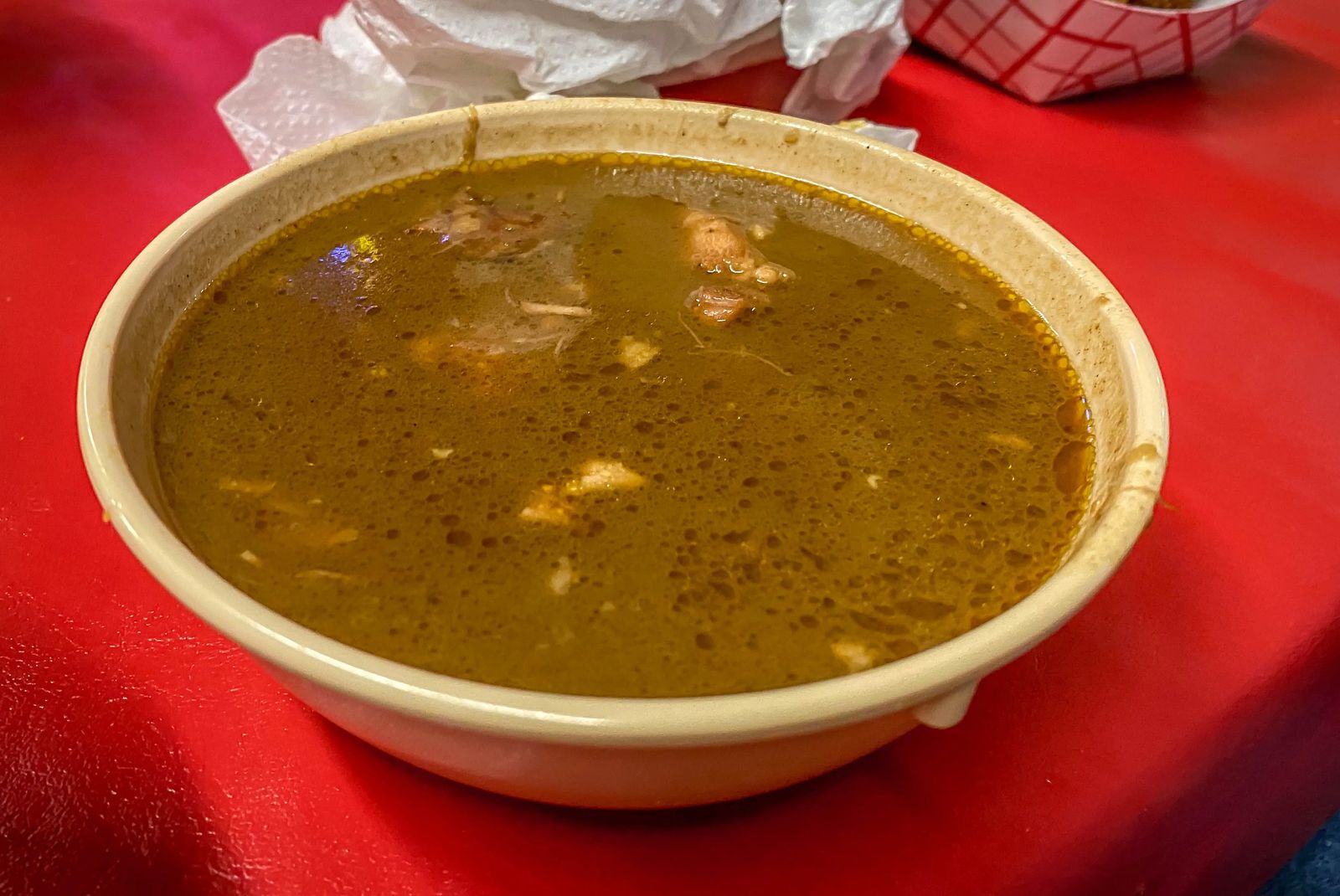 Traditional Foods of Mardi Gras
There are seven traditional foods that often show up during Mardi Gras. The first is the King Cake, which we already discussed. Then you have crawfish étouffée which is a stew type of meal served with rice with the holy trinity in Louisiana onion, bell pepper, and celery.
You then have dirty rice, that is cooked in beef stock and liver can be added, or replaced with spicy sausage. Then you have Jambalaya, Crawfish Boils (that we discussed), and colored pancakes (Green, Purple, and Gold).
There are lots of little things that I noticed only locals know regarding a jelly spice with cream cheese. They have different drinks, Mardi Gras flavored coffees, cakes, foods, and so much more.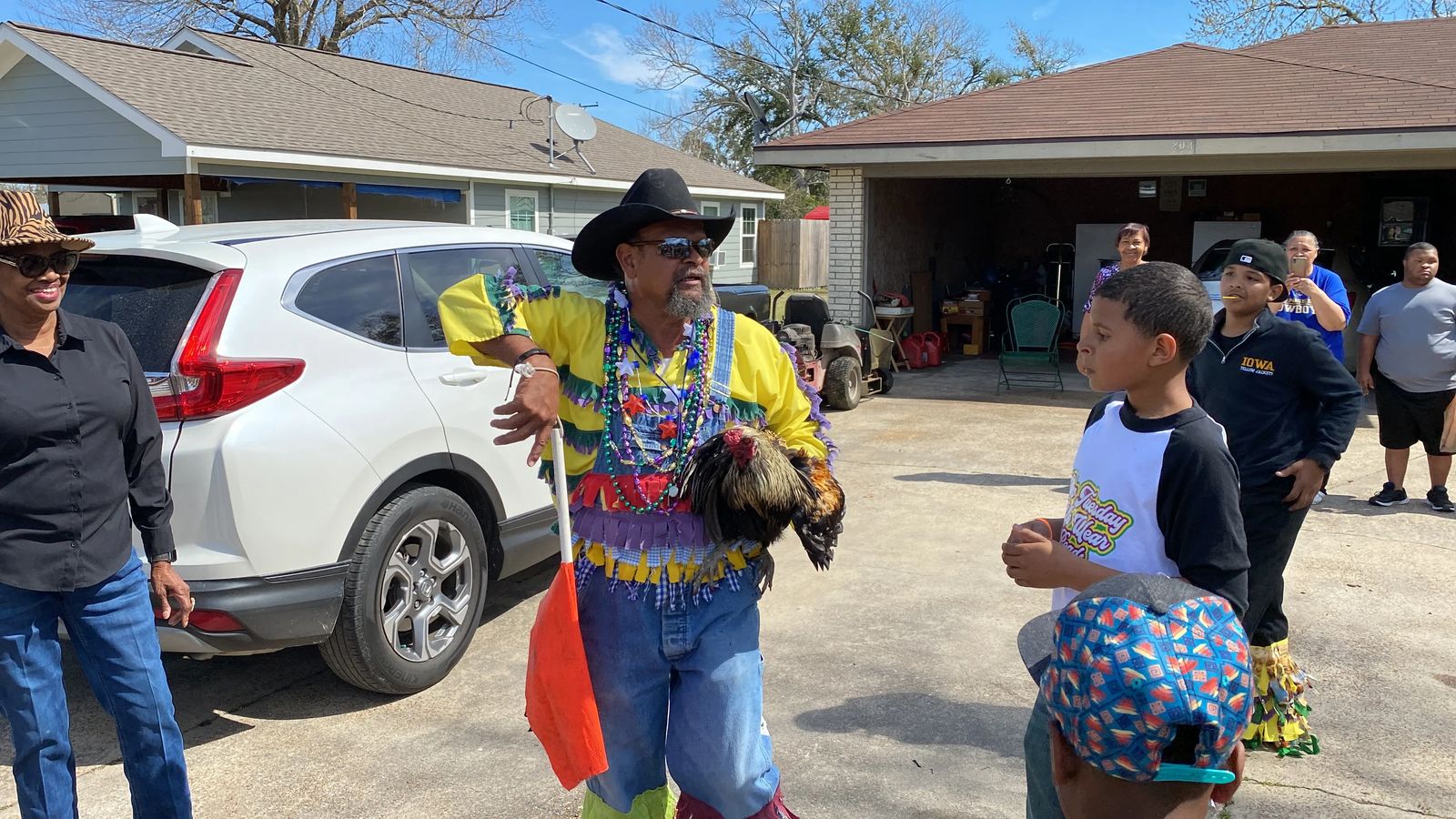 IOWA Chicken Run
Les bon temp Roulez! Let the good times roll as they say in New Orleans. The I-O-WA Chicken Run has deep Cajun/Creole roots. While there are a few chicken runs that happen in Louisiana, this is the largest one and is a mere 20 minutes from Lake Charles.
The costumes you see here are a bit different as they are made with chicken wire, fringe, glitter, and some pointy hats and long noses. The costumes come from the Creole & Cajun locals in the area that was making fun of the Catholic Church and their pointed hats, but the Creole version is called a Capuchon hat and is often paired with fancy robes and shawls.
I know they do look like KKK hats BUT local historians and tribe members said there is no historical connection whatsoever as carnival celebrations pre-date the KKK.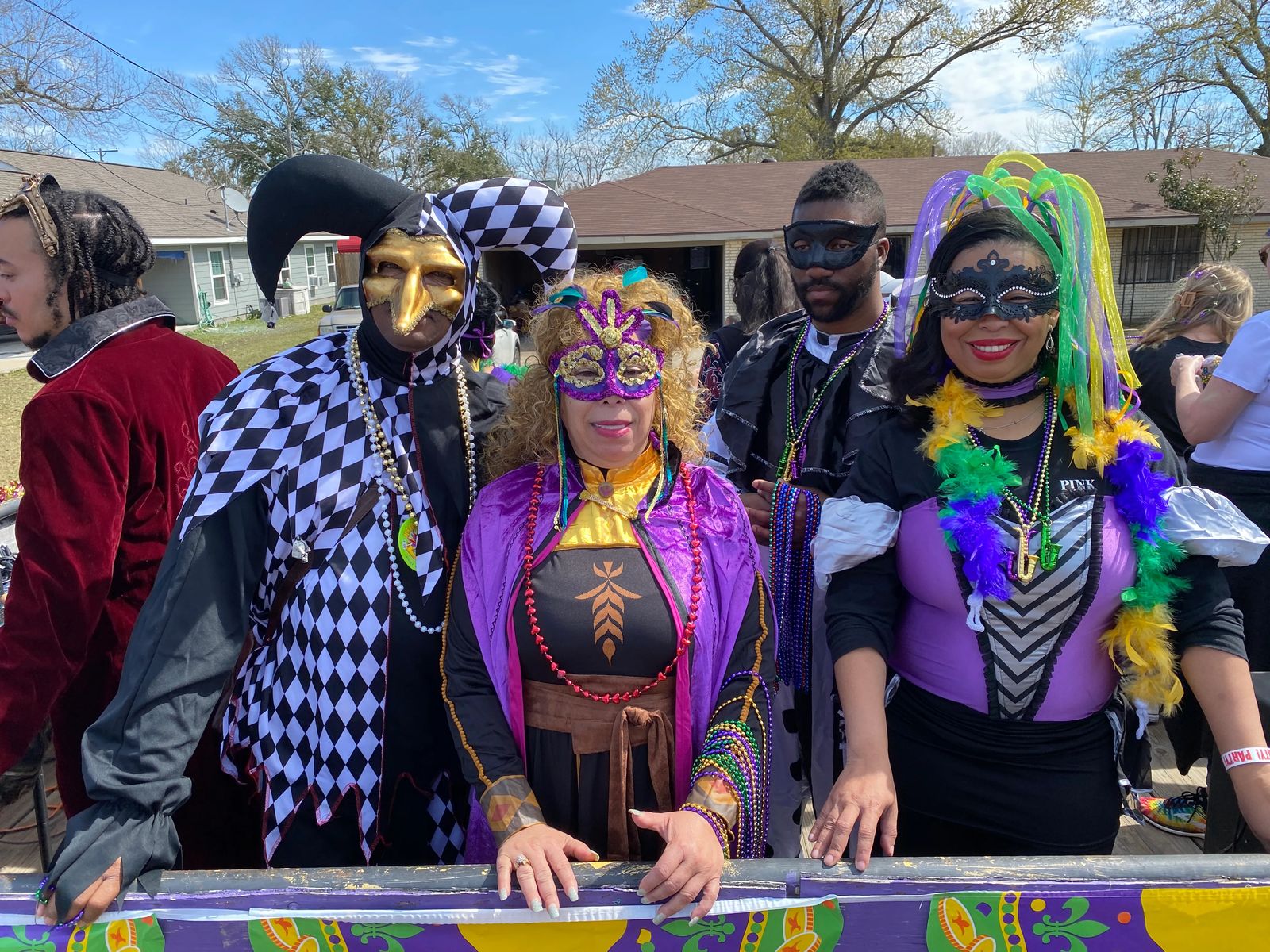 I will go more into the history of the Chicken Run in another article so make sure to sign up for the emails so you don't miss it. The chicken run in IOWA is about the thrill of the chase, instead of chasing after a woman during Carnival, you chase after a chicken. Then whoever catches the chicken gets a bit of cash and those in IOWA donate different items for the community Gumbo that will be eaten at the end of the chase.
When the chicken is released there is a bit of a dance, to represent the poor people dancing for their food during Carnival and begging the wealthy for food.
The feeling of community while attending this parade was undeniable and indescribable. If you get a chance to witness this while in Lake Charles I HIGHLY suggest it. It is an all-day event, and at the very end is when the parade of cars makes its way out into the deep country homes, there is a massive dance party and everyone gathers back at KC Hall (where the parade also starts) to partake in the community Gumbo.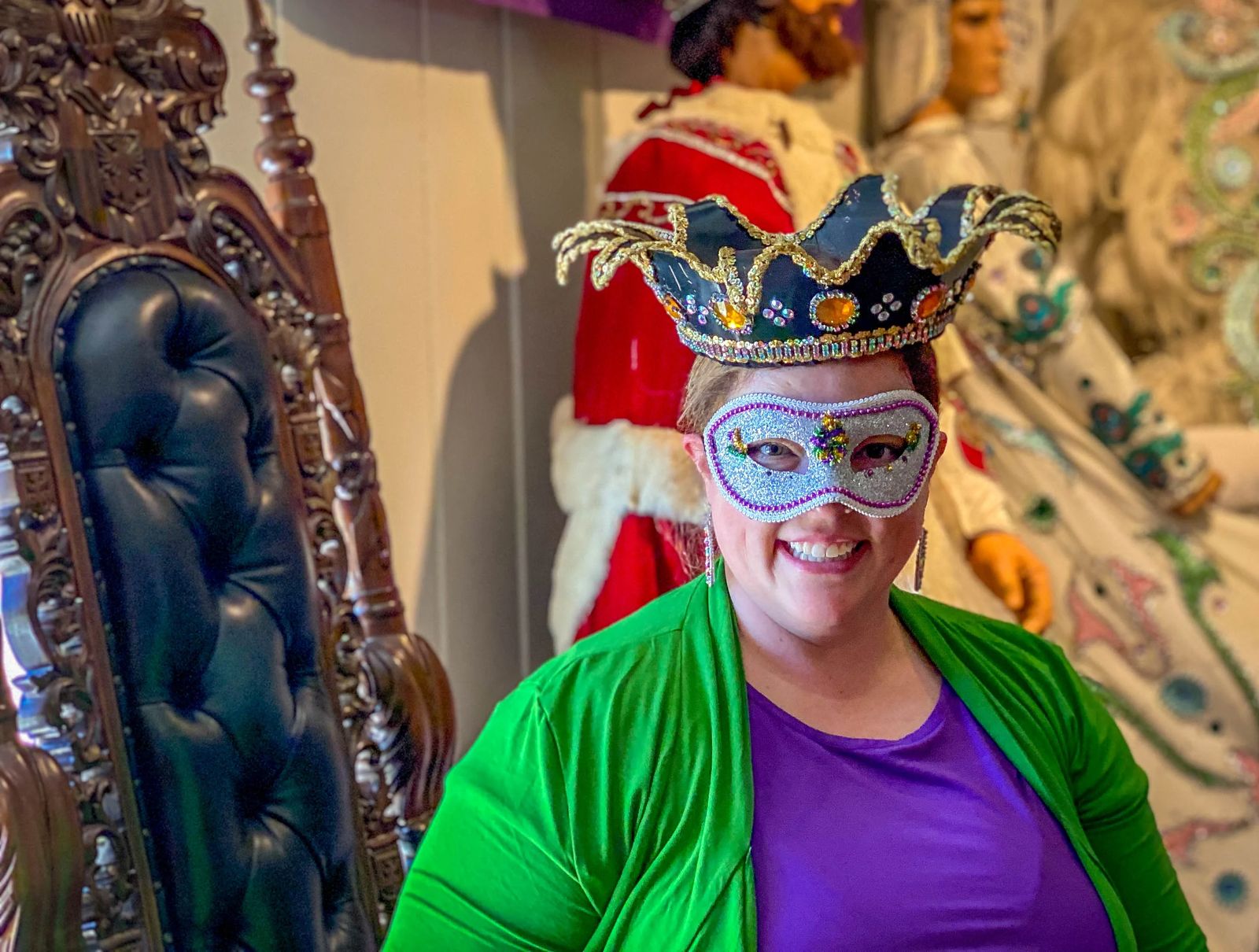 My Takeaway from Mardi Gras In Lake Charles
While New Orleans is known for its Mardi Gras celebrations and floats being over the top incredible, as well as parties that are more geared toward adults. Lake Charles is the family-friendly version of the festivities of Mardi Gras and I found it to be more intimate and fun personally.
You cannot go wrong with food in Louisiana, with the spices, seafood, dishes, and drinks Lake Charles definitely did not let me down.
If I was to do one thing over again, I think I would spend my nights in town looking for Zydeco dancing and Zydeco bands playing. Music is life and Lake Charles has a long history that predates anything you will find in New Orleans.
If you want to let your kids experience what it's like to visit a Mardi Gras party in Louisiana, or you want a more modest party to attend then Lake Charles is the place to be. Spend your time lounging at the Golden Nugget pool, or playing on the beach between parties. Spend at least a week there to really experience all of the festivities as Mardi Gras isn't just celebrated one day here, but an entire week before Fat Tuesday. I'm sure you will have memories to last a lifetime with your family and loved ones.
Google Map of Locations Mentioned
Like it? Pin it for later! Sharing is caring ;)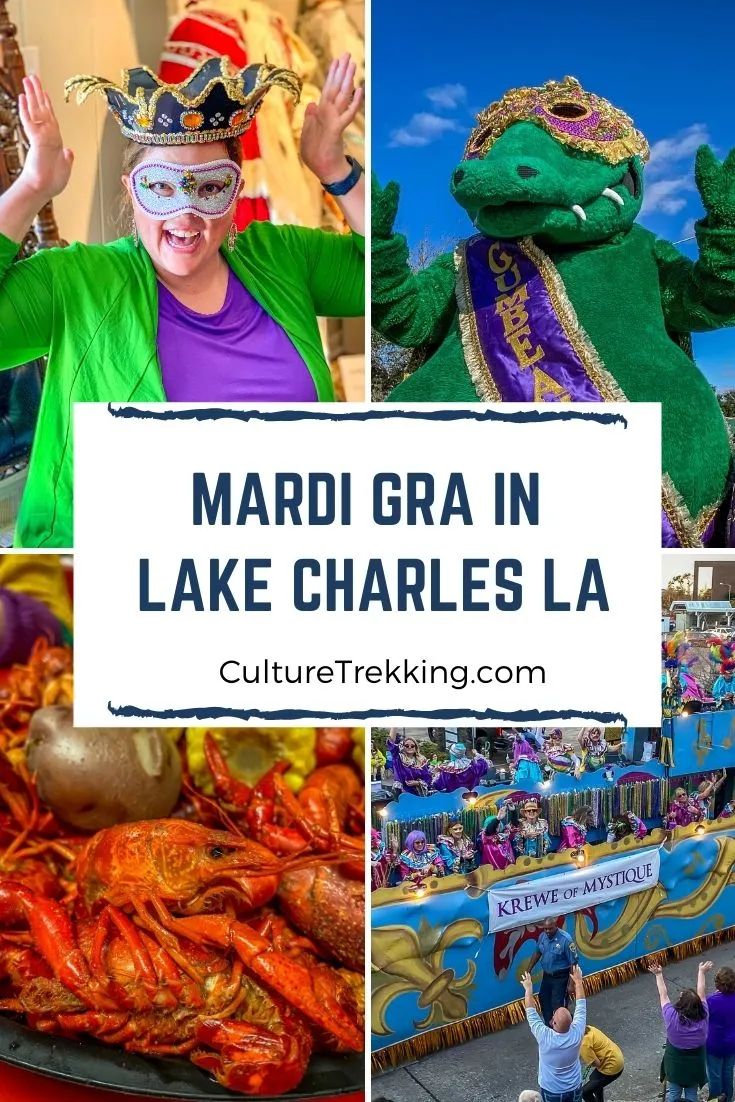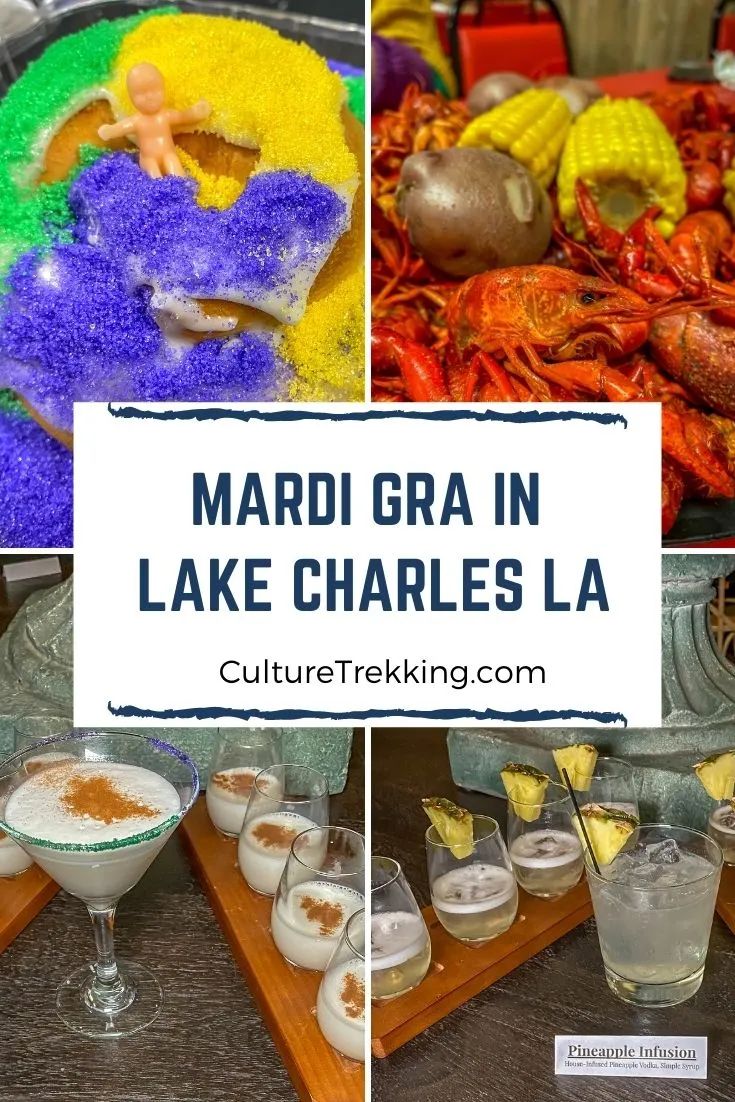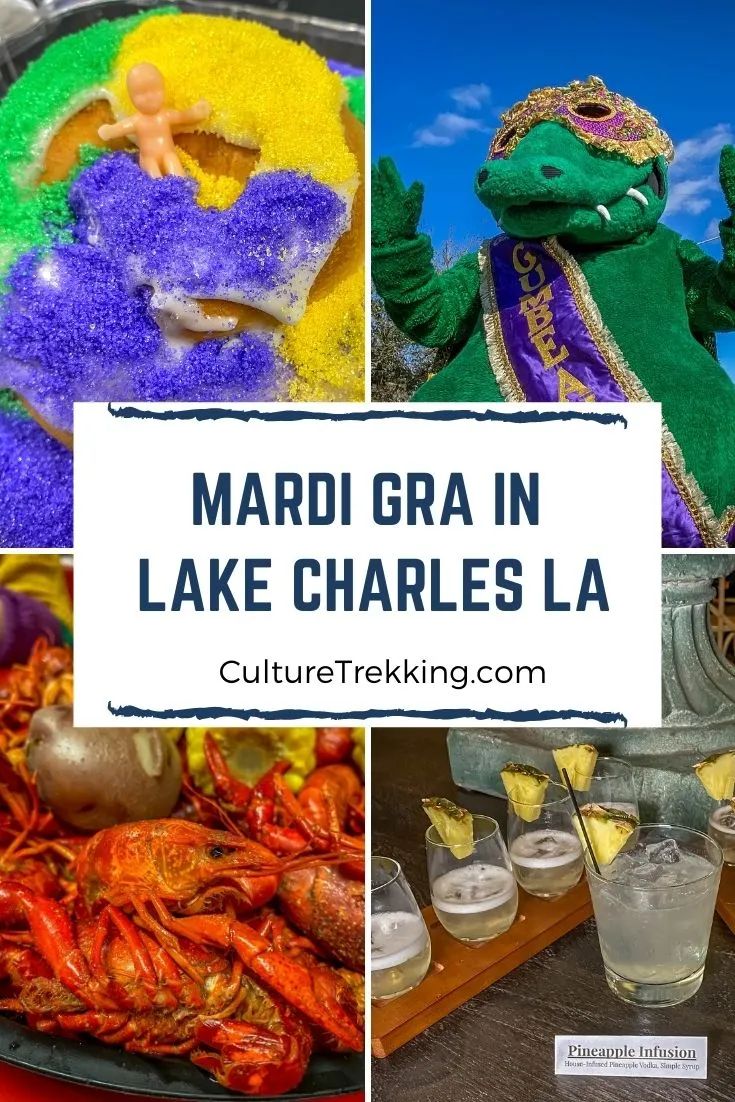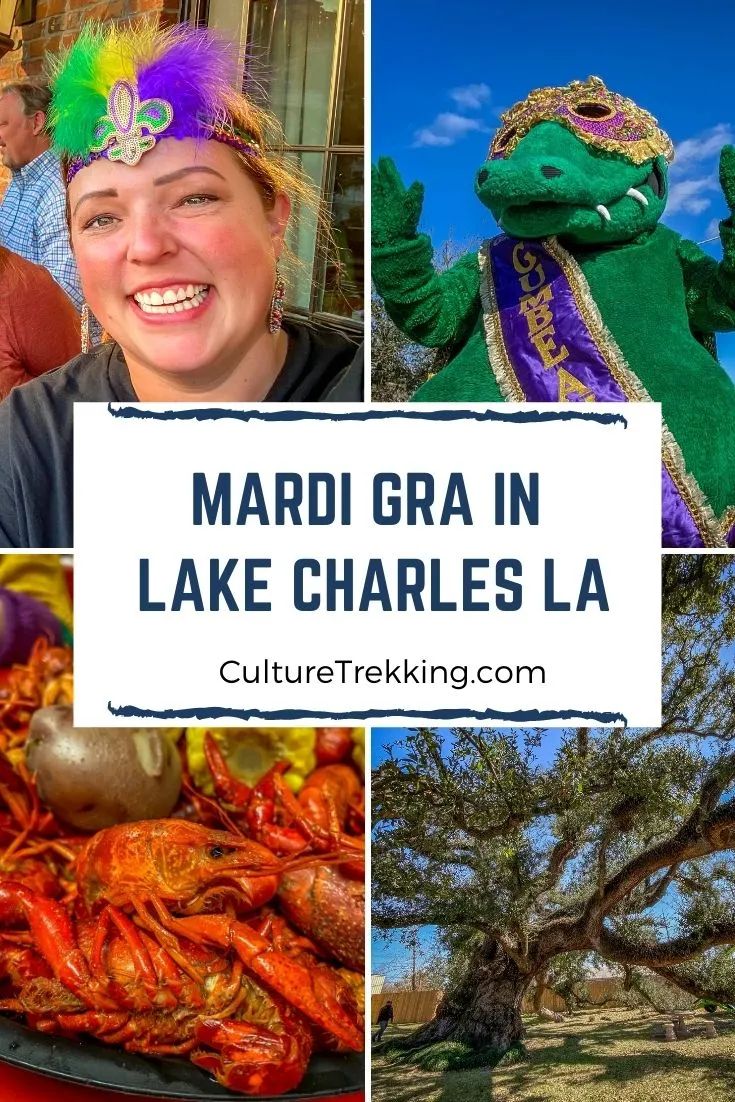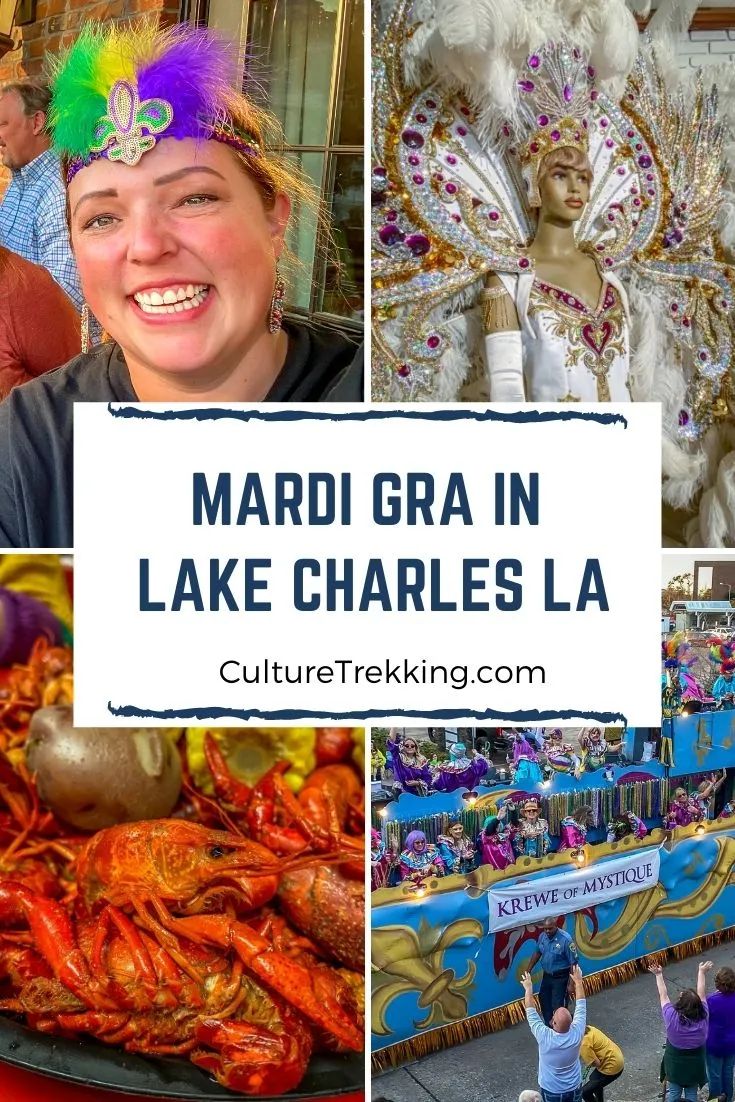 Where to stay in Lake Charles Lousiana
Latest Articles On Culture Trekking