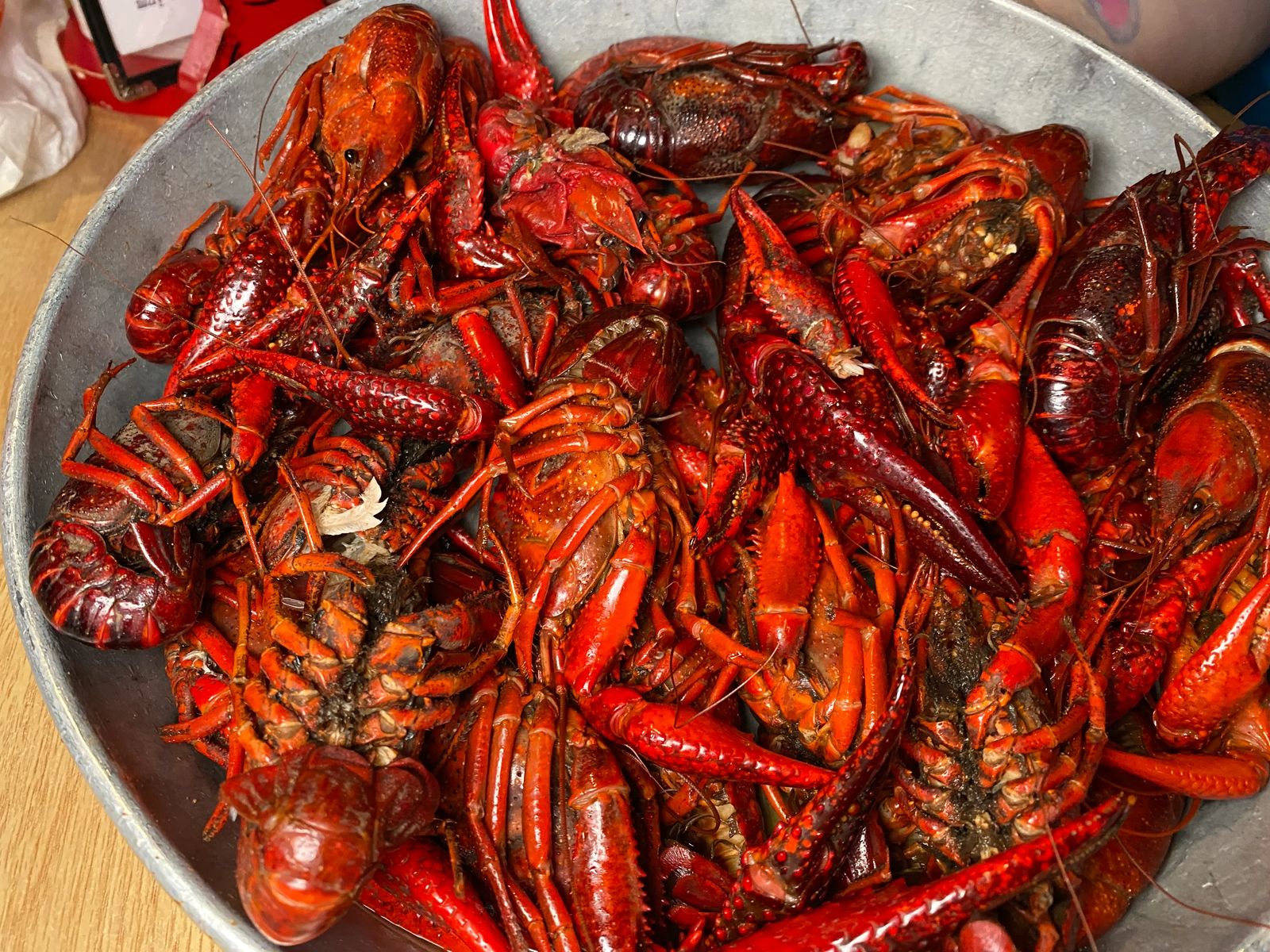 17 Best New Orleans Food with Local Hot Spots
New Orleans is known for Mardi Gra, hurricanes, epic parties, and football. What many don't realize is how much the different occupations of Spain, Britain, and immigrants of Acadia and Germany contributed to the melding of flavors that make up New Orleans cuisine. I will go through all the best New Orleans food to try with local hot spots that are far less crowded than Cafe Du Monde.
If you haven't watched me video on Destrehan Plantation, my guide goes into the deep cultural roots of slavery in this area, and where each flavor and food item came from as well. You also have Native American Influences and the melding of modern day techniques that make the food of New Orleans what it is today.
The real Creole and Cajun food in New Orleans is outside of New Orleans. Travel to the Louisiana River Parishes and you will find the local hot spots for the best food in Louisiana.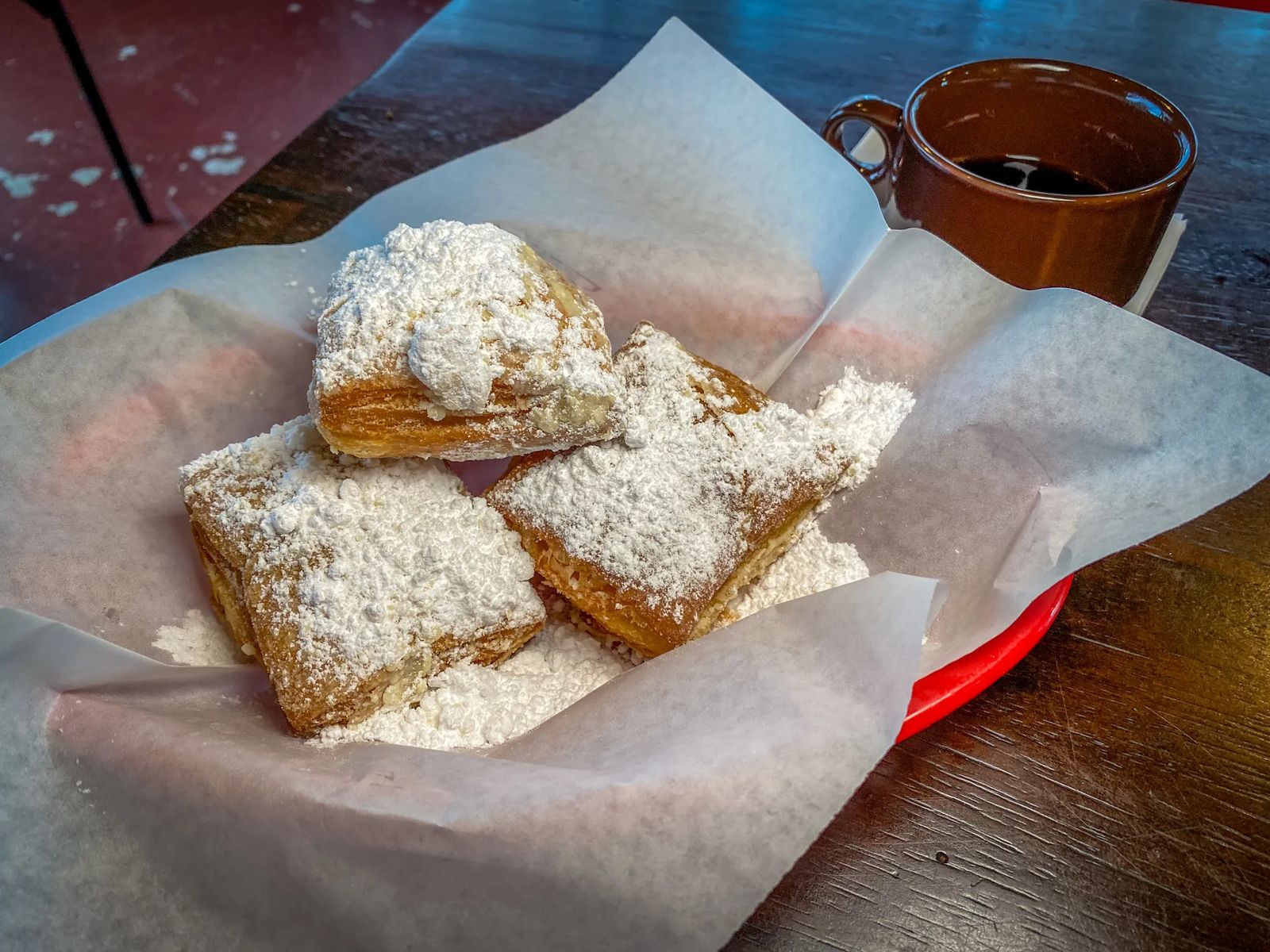 Beignets
This delectable treat was introduced by the French hundreds of years ago. Some people call this a doughnut without a hole, but they are actually very different in their composition. The beignets rise and get its puffy texture from the yeast, whereas a donut has a lot more egg in it that leaves many air pockets in the dough itself.
Every article that you read says to go get your beignets at Cafe Du Monde. However, I would like to suggest an alternative that will give you a peaceful breakfast to be able to chat to locals for more foodie recommendations at Chung's Heavenly Cafe. You get three beignets with crispy edges, a soft middle, light puffy pastry that isn't too oily or caked in powdered sugar.
A good rule of thumb for ANY city in the world and tasting local flavors, GO WHERE THE LOCALS ARE GOING!
You can also buy a mixture of Cafe Du Monde beignet mix on Amazon and try it at home as well.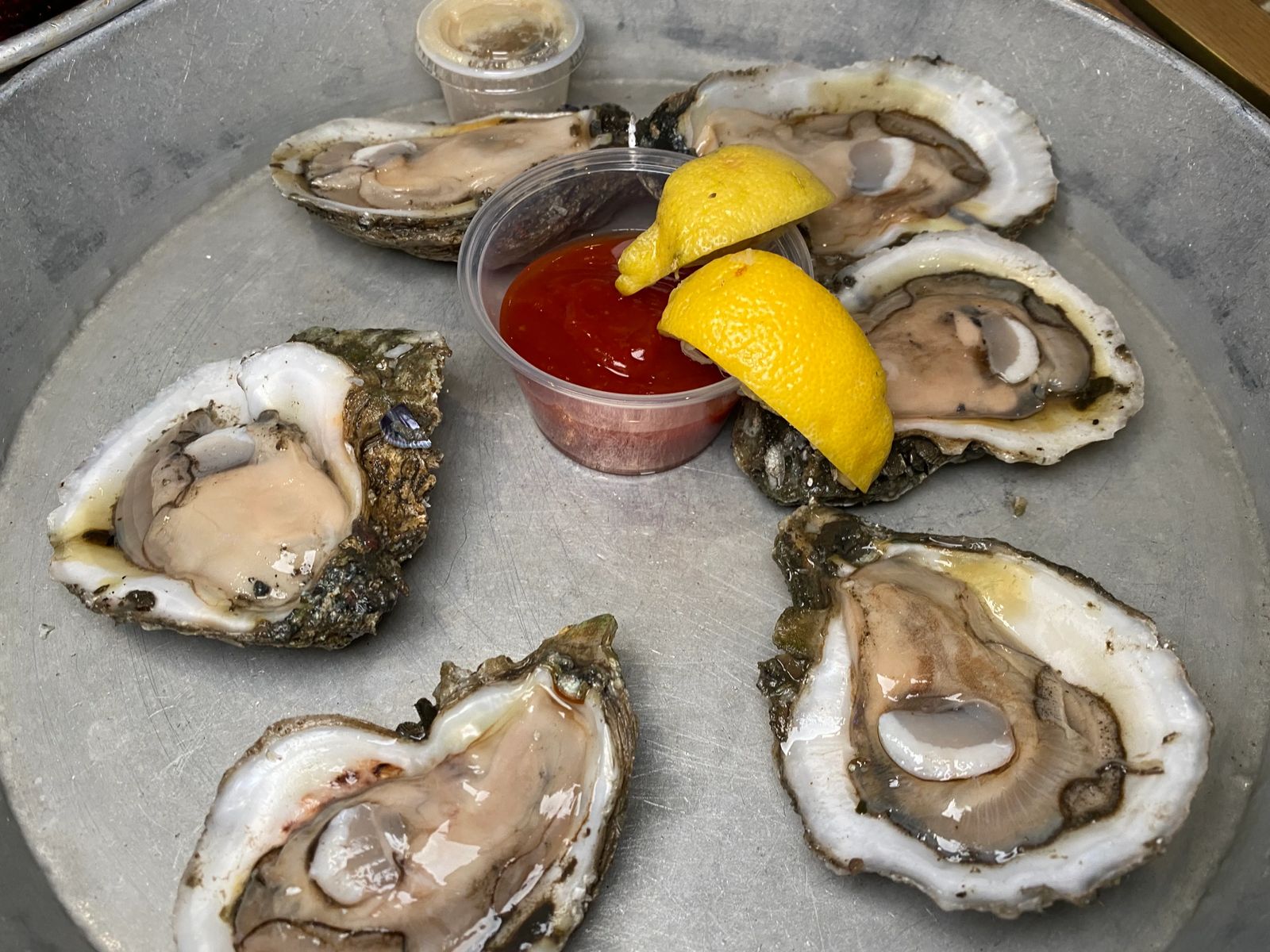 Fresh Oysters
Love them or hate them Oysters are full of essential nutrients like Vitamin D, copper, zinc, Selenium, Iron, and Vitamin B12. Each oyster has about 2 grams of protein, contains aphrodisiacs to help with the romantic side, and have 55 mg of calcium. Zinc is also a nutrient that helps prevent macular degeneration as well.
Anytime you're in New Orleans it is a perfect way to get these essential nutrients in bulk because the Oysters here are fresh and delicious! The shells are a little more gritty, but the oysters themselves are perfectly delicious. I got these beauties at Pier 51 along with several other dishes in this post.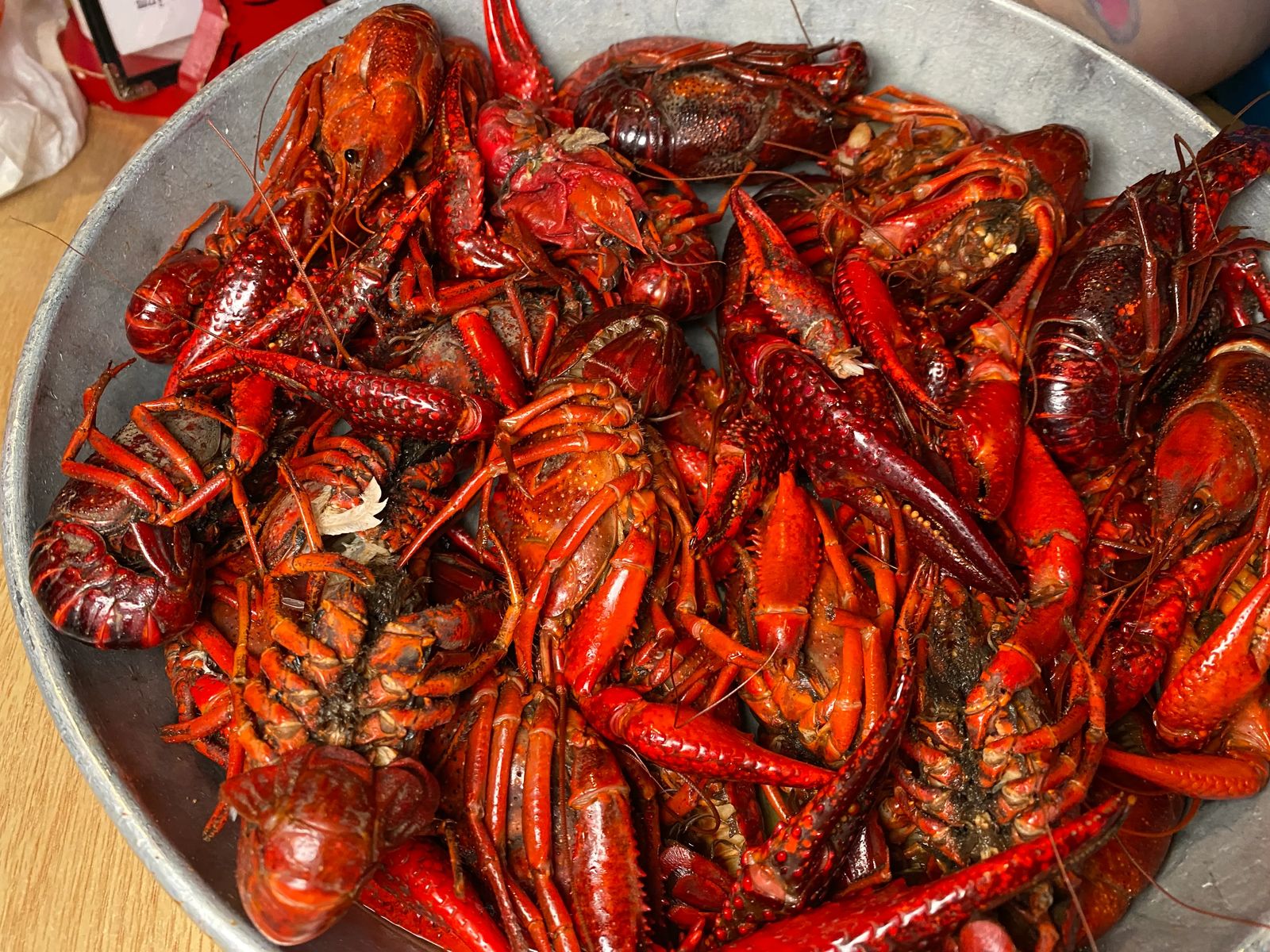 Crawfish and Crawfish Boils
The people of Louisiana call Crawfish 'mud bugs', but the less they are in the mud actually the easier they are to peel and the better they taste. Crawfish boils can be found in nearly every backyard in New Orleans starting the beginning of April, many of the crawfishing can happen near the levees as the waters come in and so do the April showers.
There is also an entire festival around Crawfish that happens at the beginning of April in NOLA. Crawfish was a cheap source of protein for many of the slaves and when the Crawfish Festival happens.
Native Americans in the area would often bait the reeds of the swamp with deer meat and set traps to catch these delicious creatures. They are a great source of protein and typically show up in traps 12-50 at a time (depending on the hunting area). When the Acadians were expelled from Canada, they migrated to Louisiana and settled in with the Natives in he bayous where the crawfish was abundant, and the rest was history.
The crawfish themselves are not very filling, but they are often served with potatoes and corn. Sometimes you can even get Crawfish Etouffee where the crawfish is covered in a type of french gravy called Roux. Roux is basically a mixture of spices, flour and butter. Recipes are VERY secret down in Louisiana, and when asked where the BEST crawfish boils take place most will say, 'In my Mom's backyard'.
When I was visiting Louisiana, I went to Pier 51 in the Louisiana River Parishes to eat Crawfish for the first time. Be sure to check out the video, because my guide helped me learn how to eat crawfish the right way. Fair warning, you WILL get messy, so don't wear clothes you love.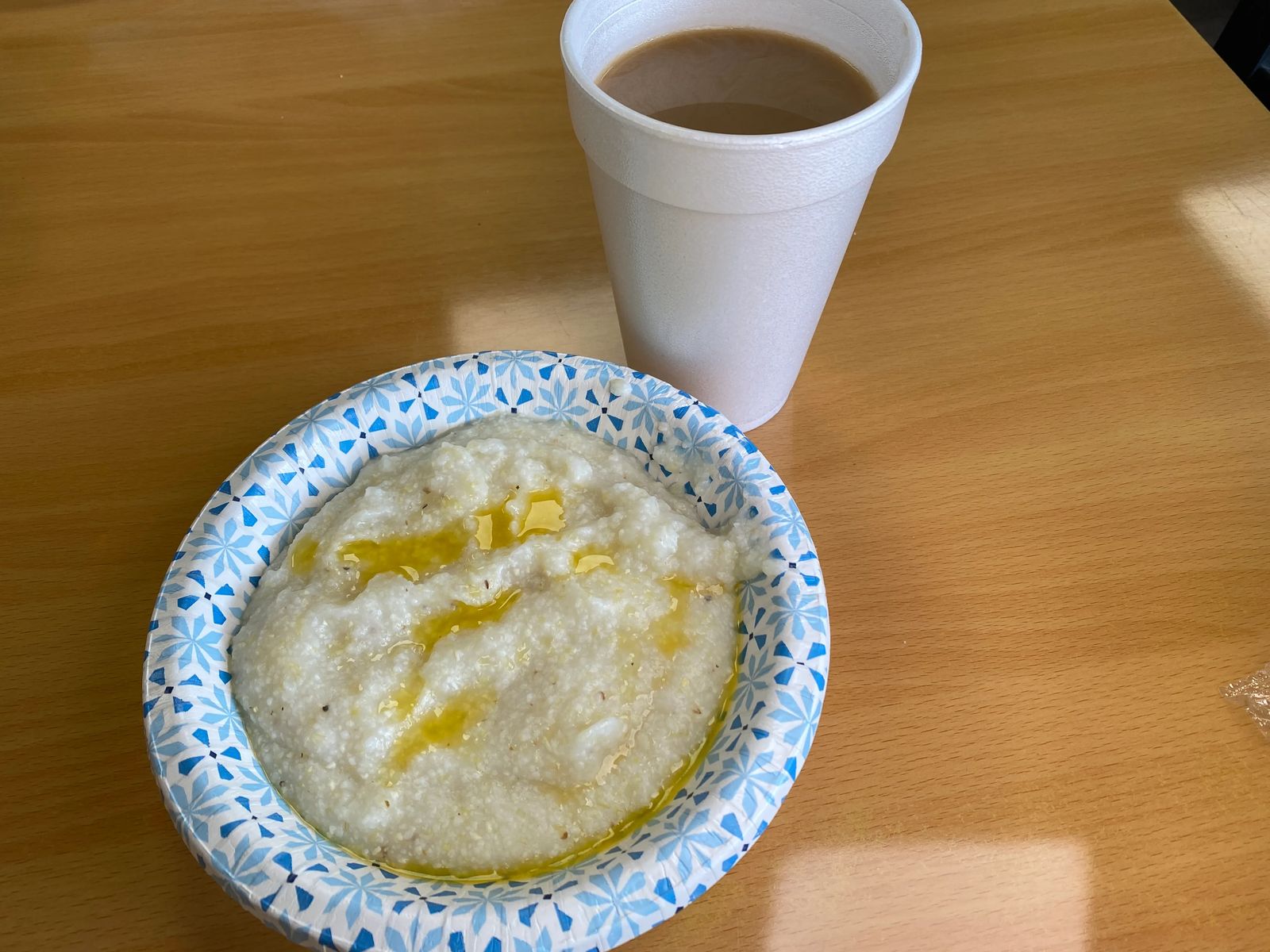 Grits With Butter And Salt
If you are a texture person when it comes to food then you will either love or hate grits. Grits is a meal made from boiled cornmeal that was adopted from the Native American Muskogee tribe. Grits are now synonymous with a traditional, affordable southern breakfast. You can eat them with sweet or savory additives, but more often than not savory flavors are added. I quite liked the grits with a bit of melted butter, salt and then added a bit of crispy bacon to it.
My guide in the Louisiana River Parishes brought me to Coffee &. It is a homey cafe with good coffee, good company and some of the nicest people you will meet in the south. If you want to experience the culture of Louisiana locals this is the place to come. While the food isn't fancy, it does make you feel like you're eating in a Mother's Southern Kitchen.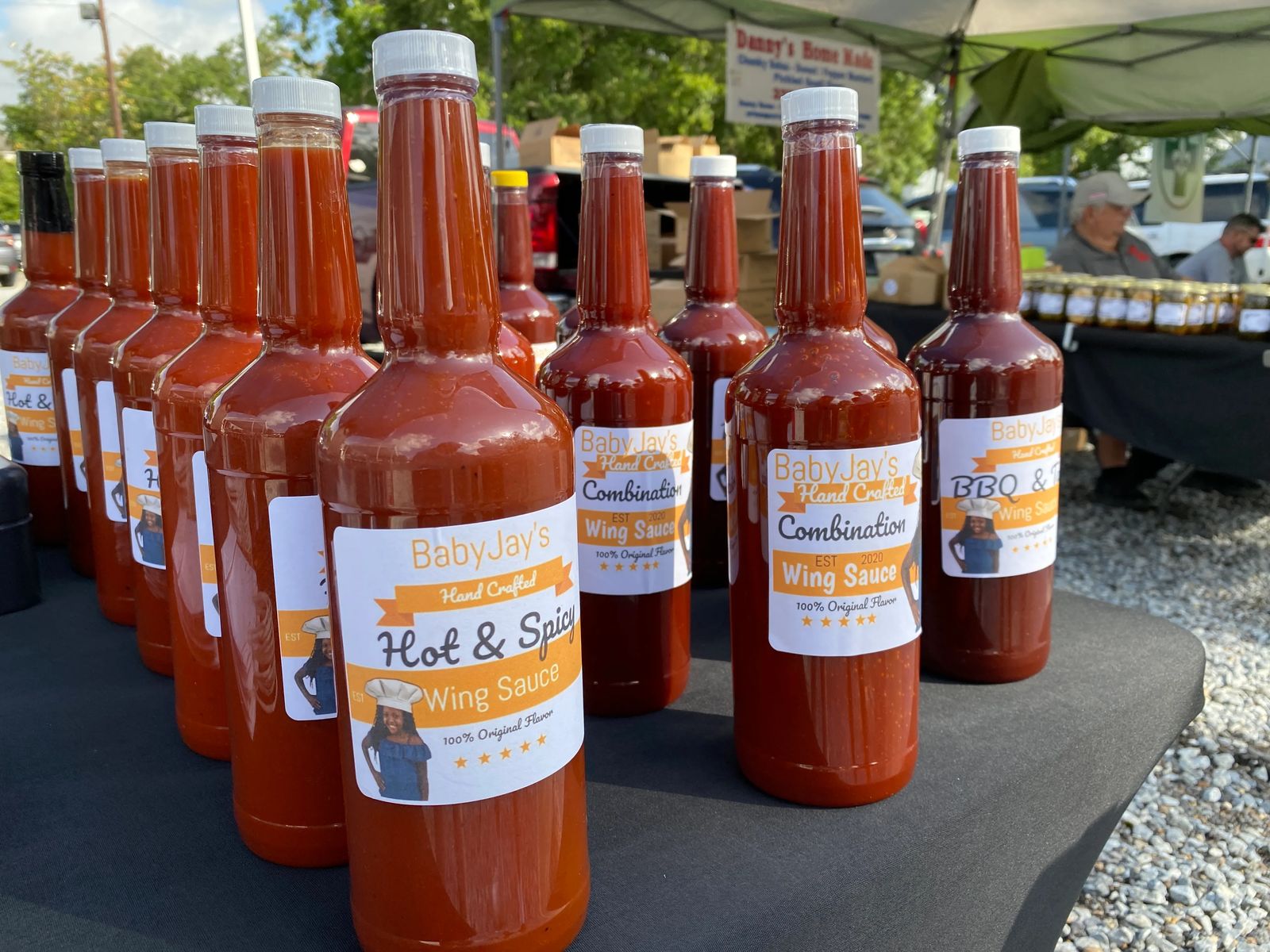 Hot Sauce Heaven
Did you know that Tobasco was invented in Louisiana? In fact there is a Tabasco factory on Avery Island near Lafayette that I would encourage you to go to. Naturally because of the Tobasco invention, the spicy sauce and flavors of New Orleans made this a way of life for the people here.
I ran into Baby Jay at the German Coast Farmers Market with some of the delicious hot sauce she made all herself. What were you doing at 13 years old? Well this girl is making her own hot sauce and being featured on Good Morning America......(ego takes a hit if I think about it too hard actually).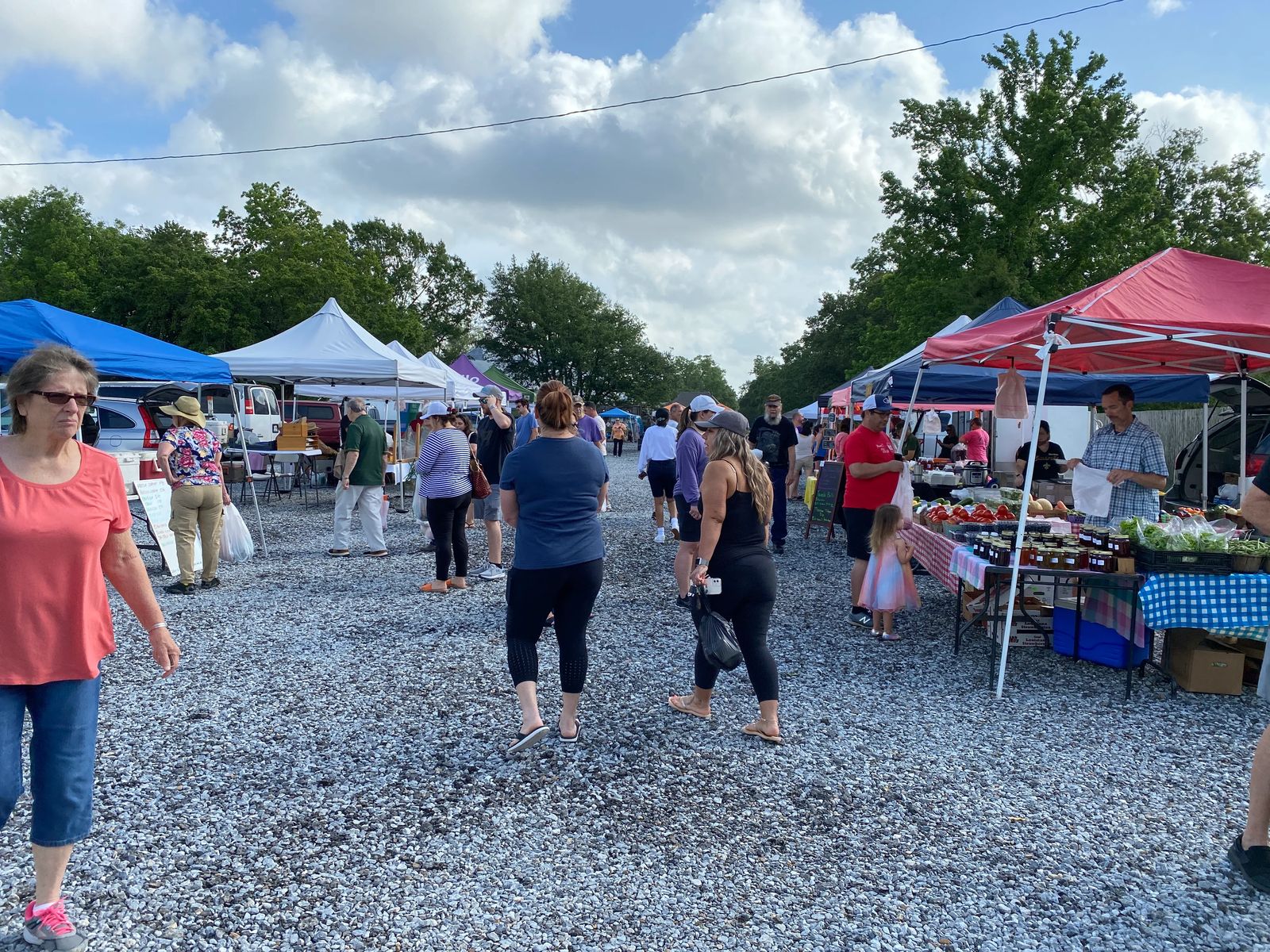 German Coast Farmers Market
German farmers were convinced by a Scottish economist serving as controller of finances in the French controlled Louisiana created what was called John Law's propagandists. Basically promising that anyone could get rich based on the state run system. German immigrants came to Louisiana trying to escape poverty in their own country and were given a plot of land and asked to farm in order to make their money.
There were so many German immigrants that died from different diseases on the way over that the ships would often be called 'German Pest Ships'. They were given 5 acres of land, which they grew crops, but were often met with flooding and hurricanes. Eventually, once Louisiana was purchased by the USA they began to make their own money and be able to make a profit.
The German farming methods are often credited to helping Louisiana survive after the Civil War. It is still called the German Coast today and they have a German Coast Farmers Market, where local tastes, treats and flavors are sold to locals.
This is a fabulous place to meet people, talk with them, buy a souvenir or just something locally grown and fresh to munch on as you tour the Louisiana area.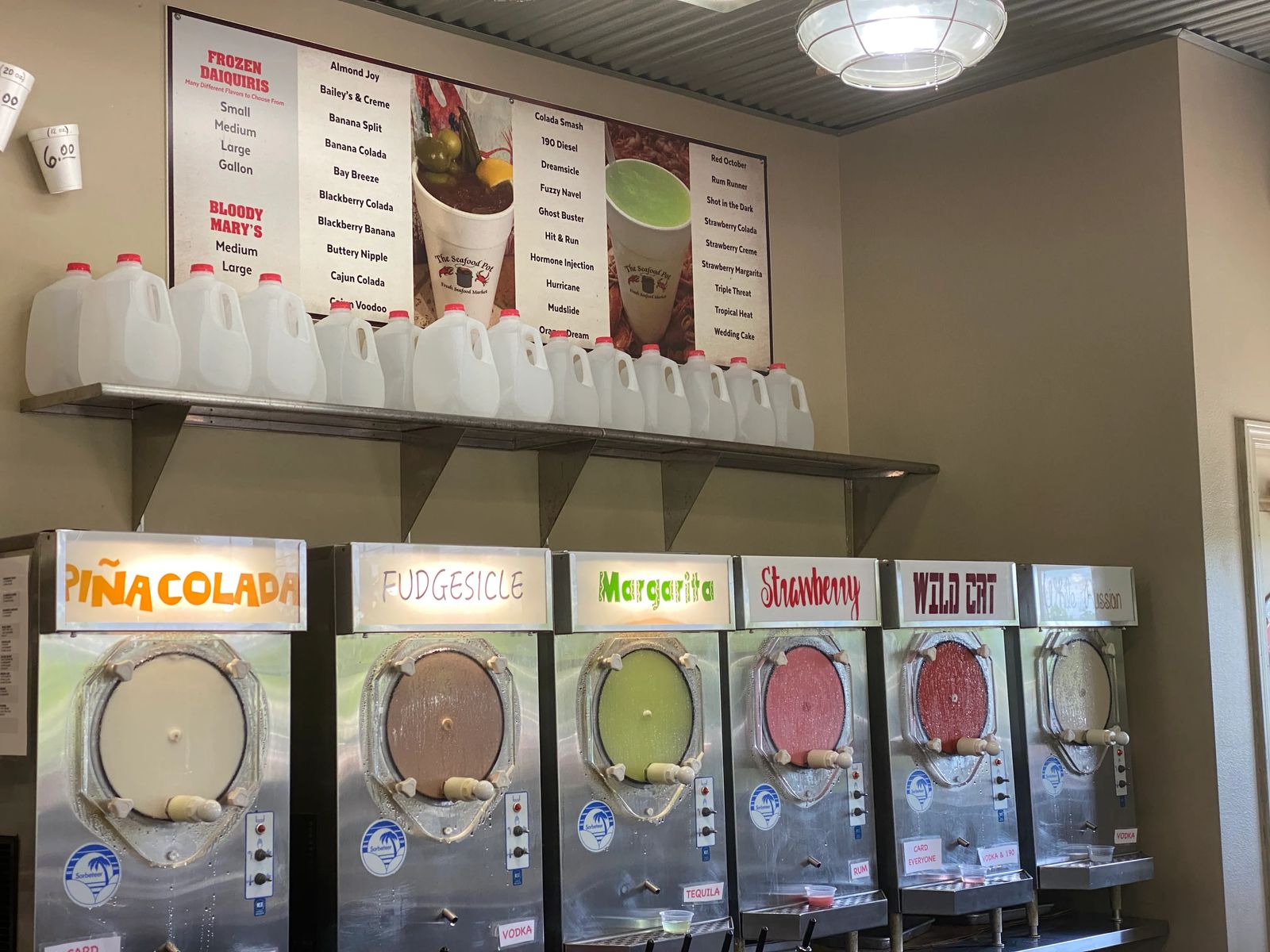 Drive-Up Daiquiris
'Don't drink and drive' has been pounded into my head for so long, as I have worked in healthcare for the last 10 years. So to see something so contradictory was just an incredibly ODD experience. The Louisiana River Parishes is known for this though, the drive up Daiquiris!
You pull up to the window like you are ordering fast food, they check your ID, you pick a flavor and it can be anywhere from 16 oz, 24 oz, or 32 oz size blended Daiquiri. You grab your styrofoam drink and head on down the road to your final destination just as if you were drinking a smoothie. Truly such an odd and hysterical combination to me.
Remember to drink responsibly and as a healthcare professional I want to encourage you to not consume any alcohol while driving.....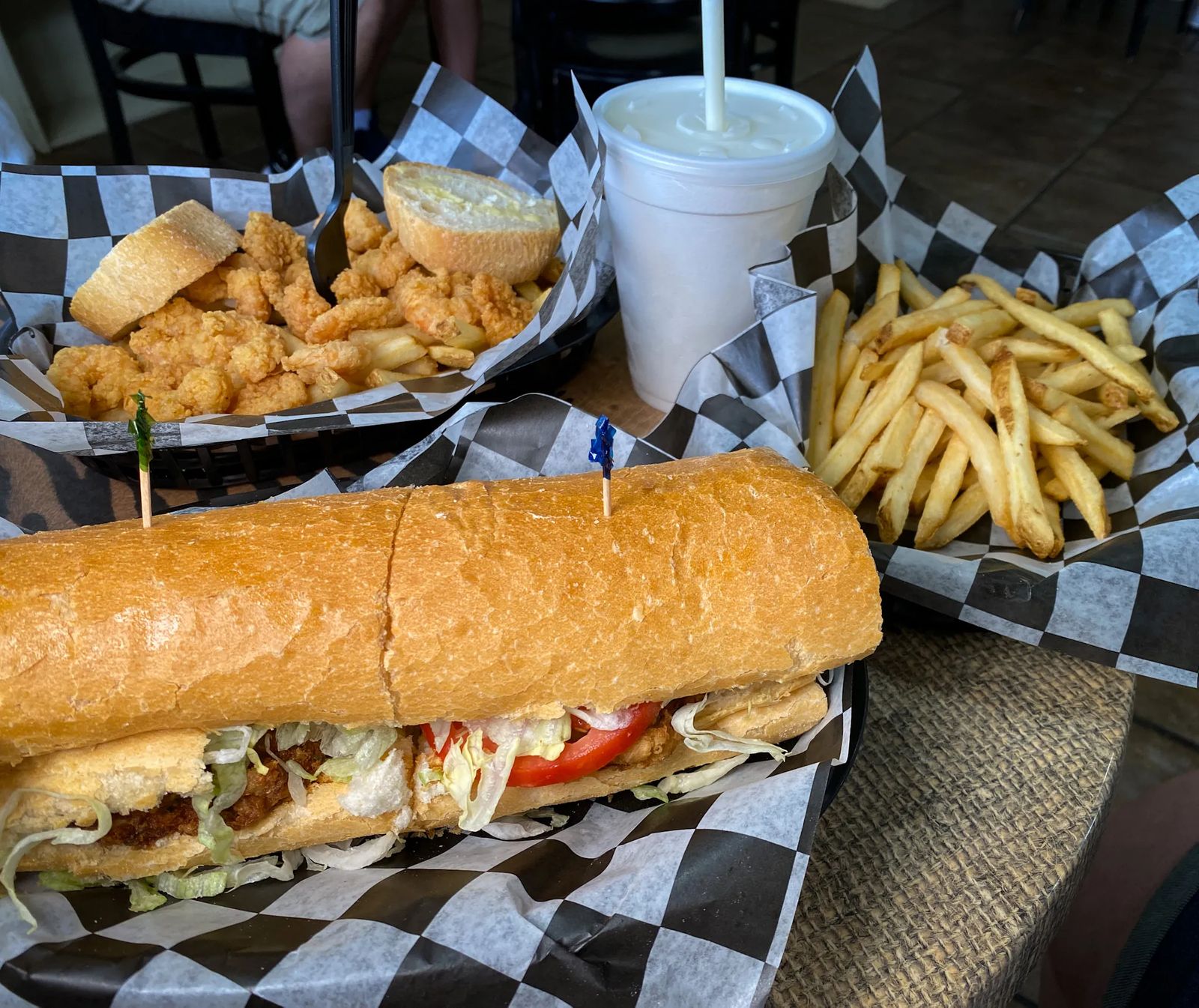 Po-Boy & Fried Shrimp
Sitting down to lunch with my local guide, I asked curiously, "Where does the name Po'Boy come from?". Being a part of the Black community, she responded, "Slaves back in 1929 weren't called by their names, so they were given nicknames for the occupation that they were assigned after the Civil War like 'errand boy', 'mail man' and so on and so forth. Many people were starving during this time period, so a sandwich the poor workers often ate started to be called 'poor boy sandwich'. Ever since then the name stuck, you throw in a Louisiana accent and you get Po'boy".
The sandwich is typically made up of seafood, like crab cakes, or traditionally with Roast Beef. The Roast beef would then be covered with gravy (descended from the French Roux, a fat and flour gravy).
If you want it done 'fancy' then ask for it to be 'dressed' with lettuce, tomato, pickle, and mayo.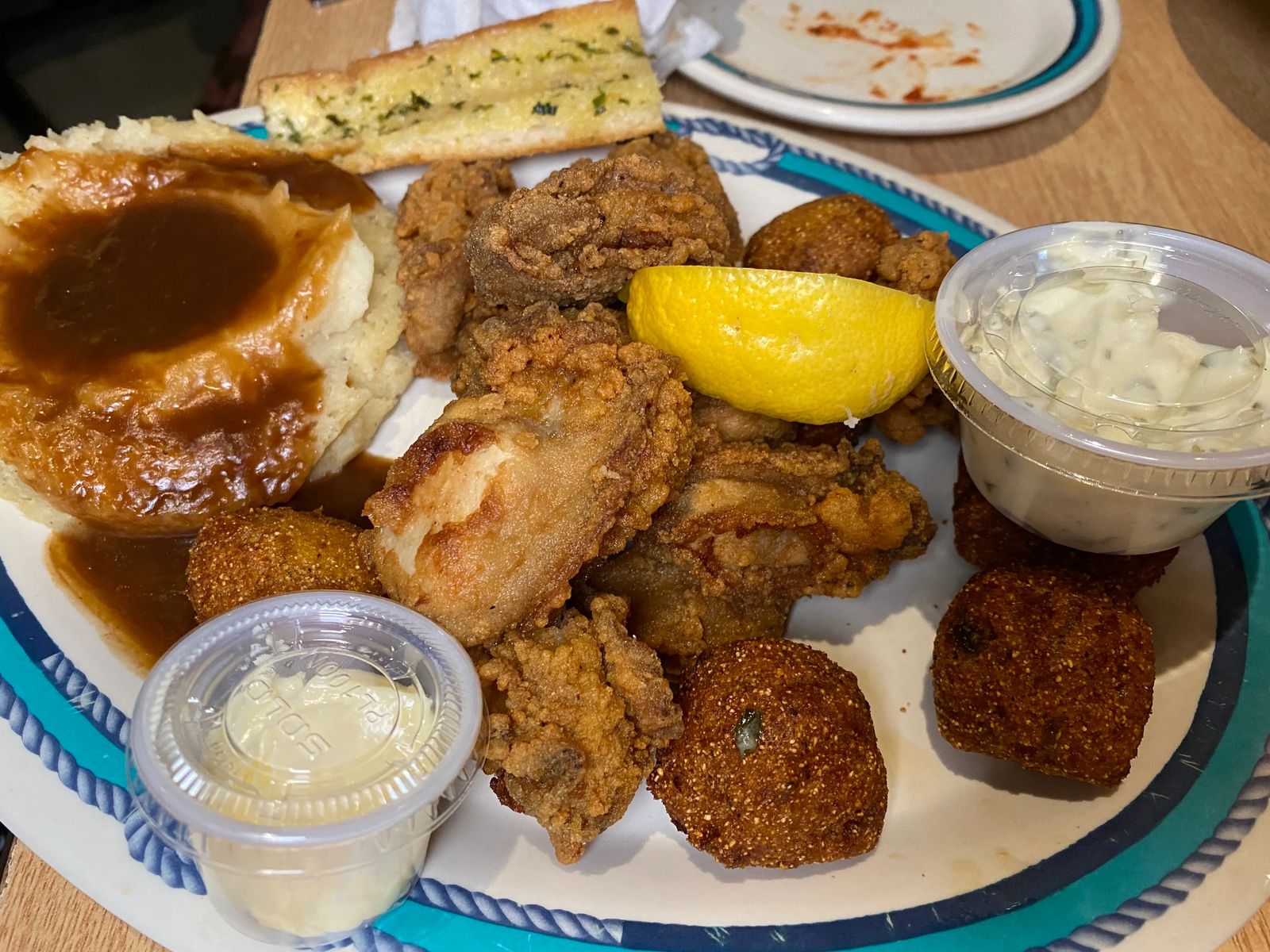 Fried Oysters & Baked Oysters & Hush Puppies
Any kind of seafood is delicious in the southern USA, and the oysters here are second to none. There are so many ways you can eat oysters but I wanted to suggest this dish specifically. Fried Oysters, again, I didn't even know it was a 'thing' until visiting Louisiana but I am a complete convert! They don't have the rubbery taste of fresh oysters, but are just as delicious.
Make sure to pair your fried oysters with another southern classic, hush puppies. Legend has it that they would often find leftover batter from frying food and would set it aside to feed to the dogs. The dogs would eat the balls of batter becoming very quiet, and thus the name 'hush puppies'.
Hush puppies can be made of batter, but they can also be made from ingredients like zucchini, potato, and corn grounds.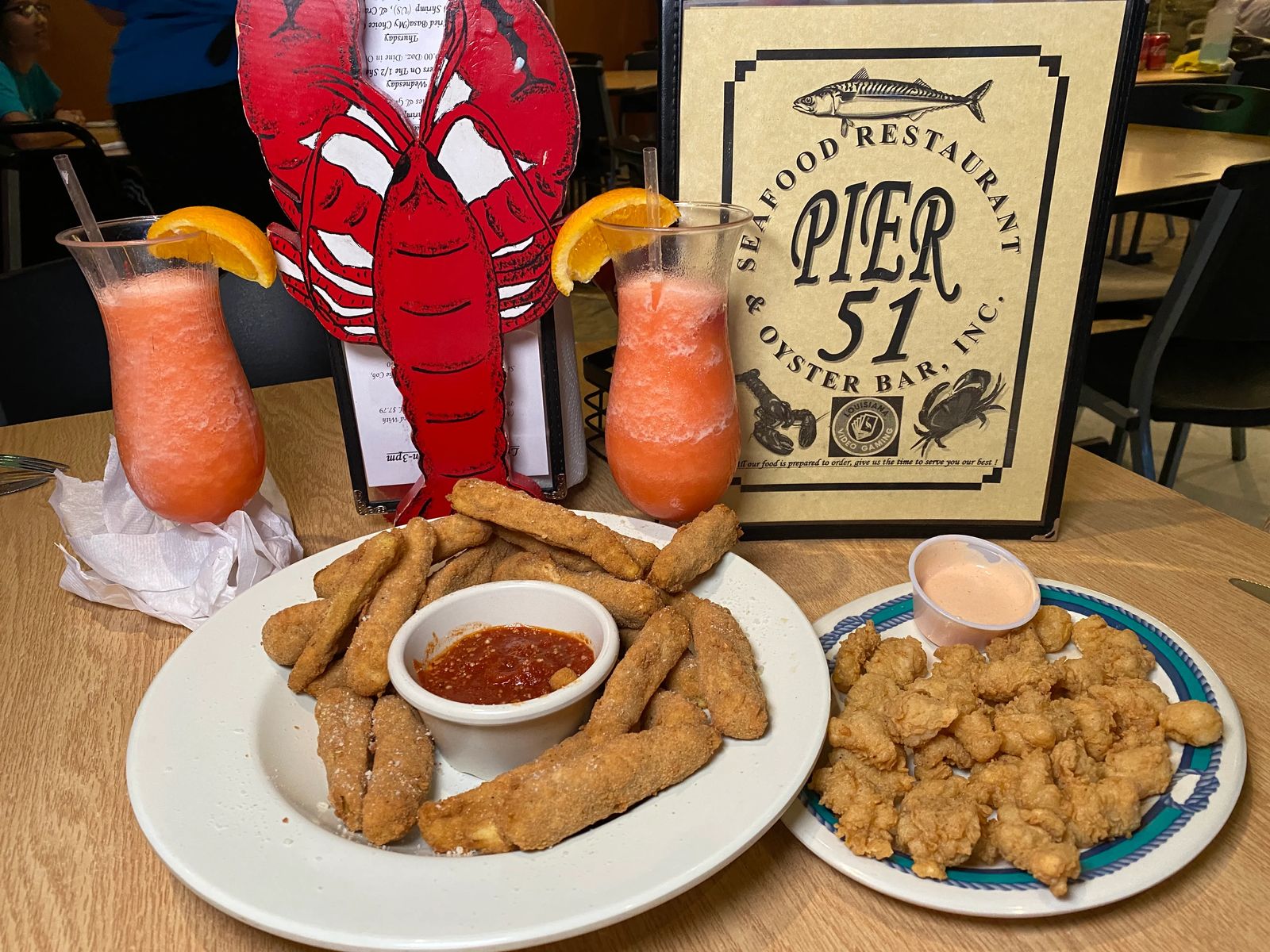 Fried Alligator and Fried Eggplant
I guess if you have a desire to eat something, you can always eat it - no matter how dire the consequences. WELL....I personally didn't even realize that eating alligator was a thing that people did until I visited the Louisiana River Parishes.
Walking into Pier 51 and scanning through their menu, I started giggling like a kid in school when I saw that they actually had this on the menu. Being the adventurous spirit that I am, I decided, 'do as the locals do'. The alligator came out, and I tried to not think of the alligators I had just seen on the Cajun Pride Swamp tour.
Taking the first bite I expected the meat to be incredibly tough and rubbery, however, it was anything but that and quite delicious. Eating alligator is like a cross between a white fish and a shrimp in both taste and texture. Combined with the delicious may based sauce they bring out with it at Pier 51, I was satisfyingly full as I polished off the last morsels.
If animal meat isn't your thing, well....in the south they pretty much can fry anything and can make it taste absolutely DELICIOUS! Eggplant is one of those things that you can try that is crispy and delicious on the outside, and melts in your mouth along with the marinara after you bite into it.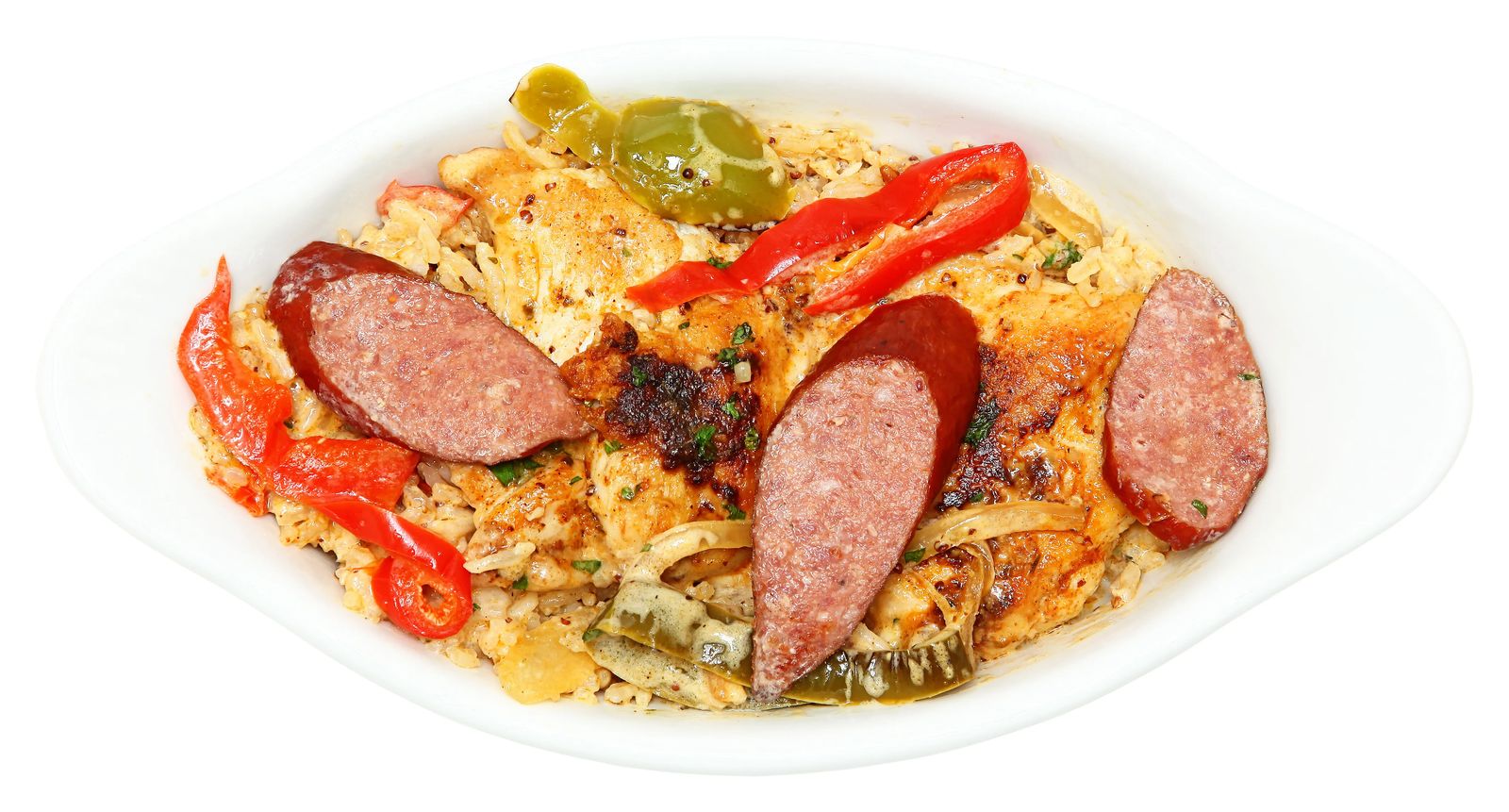 Andouille
The sausage secret lies on the Andouille Trail in New Orleans. This is a culinary byway that takes you to 37 shops, restaurants and even neighborhood shops that will have recipes of the famous Louisiana sausage that has been handed down from one generation to the next.
You can see how sausage is made, make some of your own, create your own meal or simply sit down and savor the unique dishes of Andouille.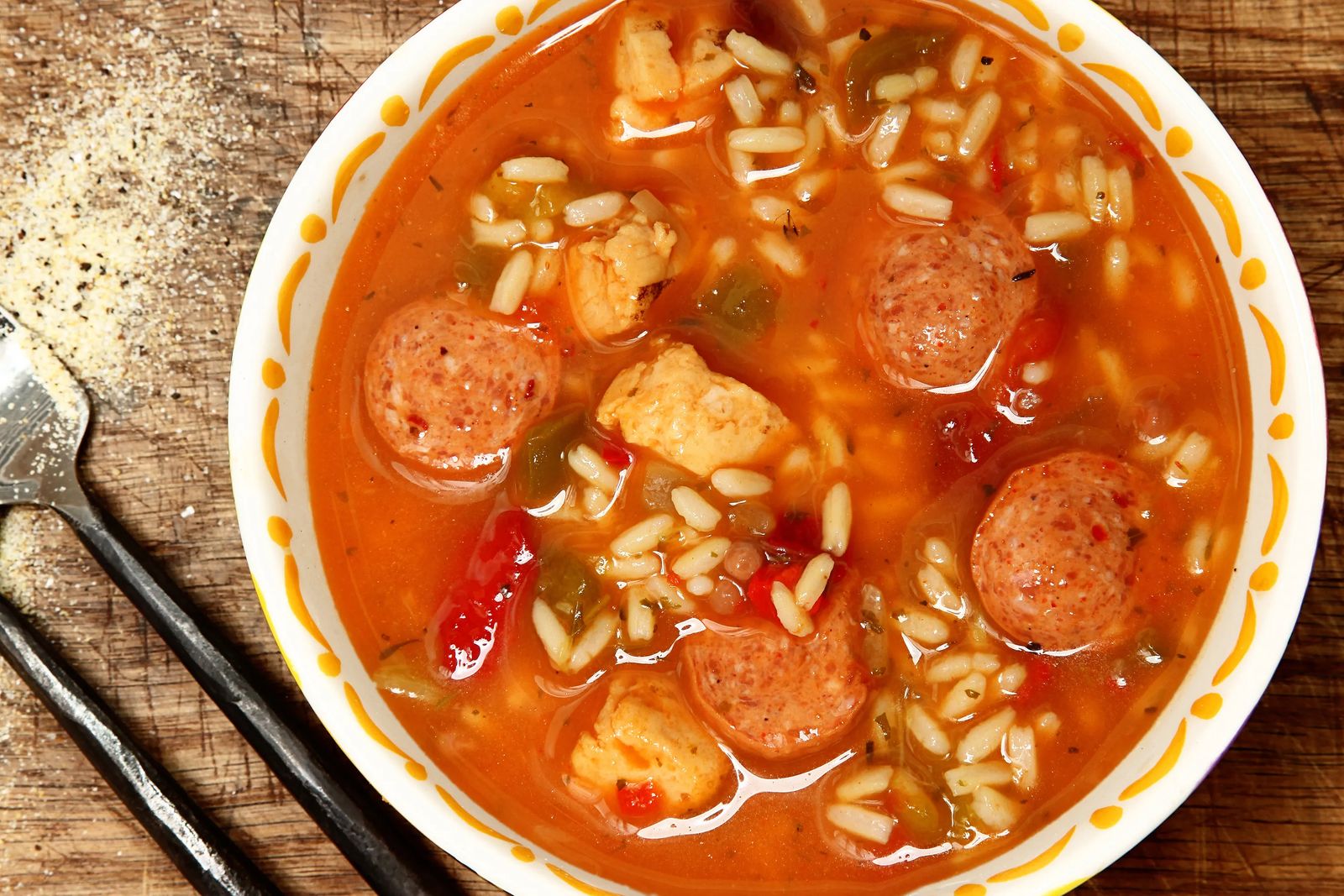 Gumbo
This dish has it all, so much so in fact, that this is officially the state dish of Louisiana! To say that there is a hard and fast rule for making the BEST Gumbo would be a gross misrepresentation of how much this dish varies in New Orleans.
To me, this is a one pot stop of all things that make up Louisiana. It often has the holy trinity of the German coast: Bell Pepper, onion, and celery. Then the soup is thickened with Roux, Okra, or is a simple tomato broth. The protein in Gumbo is often Andouille, chicken or seafood.
While I had my first bowl of Gumbo out in the Jambalaya shop in the Louisiana River Parishes, I would also suggest trying it at the specialty shop in NOLA at the Gumbo Shop.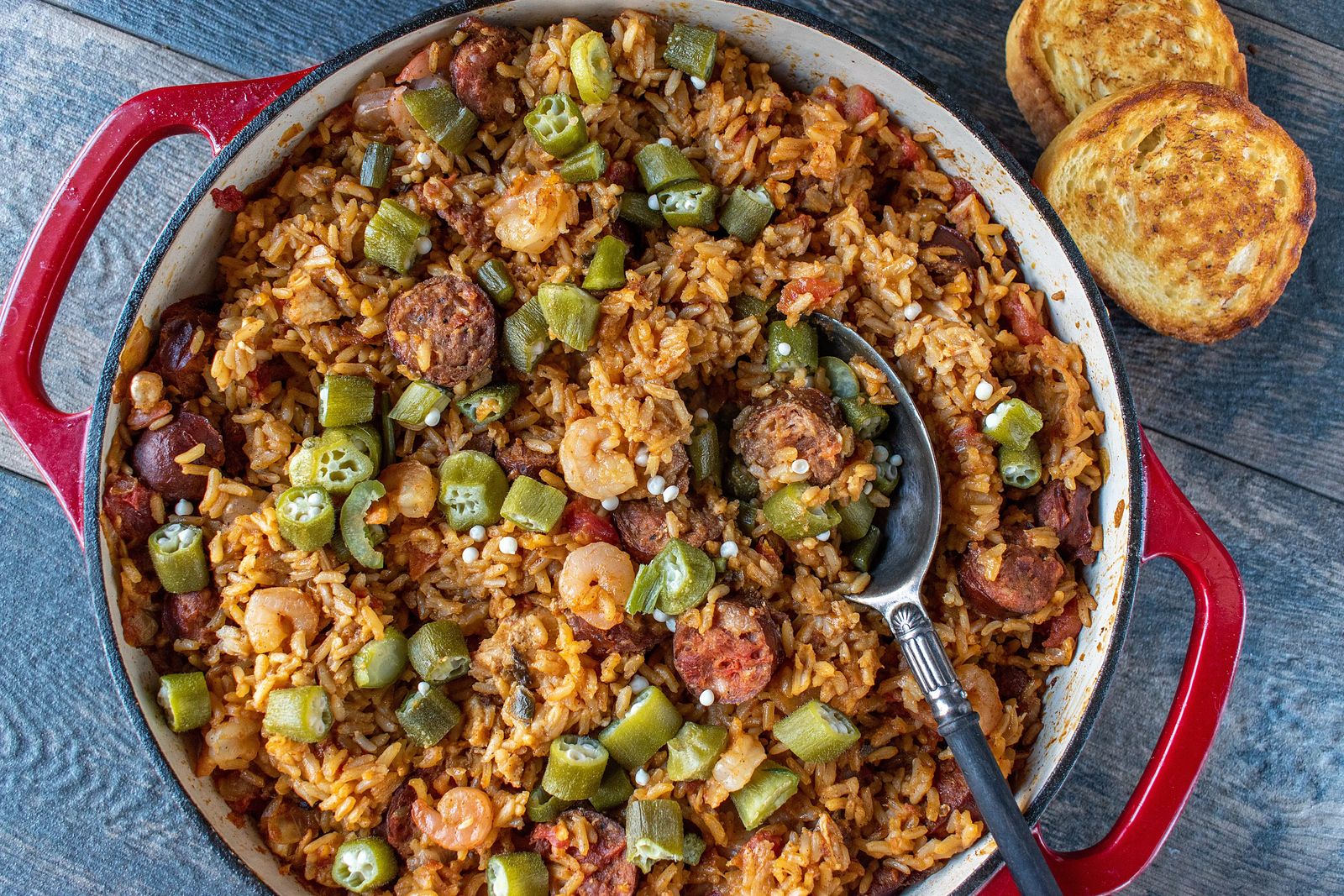 Jambalaya
This is a one-pot-stop to make it simple, but the dish is anything but that. This is a rice meat and veggies kind of dish with the protein options including options for chicken, pork, shrimp, and andouille sausage.
The vegetables can include bell pepper, celery, onion and at times Okra. The German immigrants, expert farmers, were convinced of untold beauty and riches by the Spanish and so many immigrated to Louisiana to partake in these riches. Come to find out they had been lied to, but the soils were so rich, they decided to stay and were much of the reason that Louisiana was able to continue to be fed through all the good times and bad.
The tomato sauce, comes from the Spanish influence, where they were trying to recreate their paella. Paella is a culturally identifying dish to the Spanish people consisting of Rice, a protein, vegetables, chicken broth, and saffron. Because of the high taxes on Saffron they were often not able to recreate the dish properly so turned to the local flavor and ingredients like Tomatoes.
The Okra is actually a vegetable that comes directly from west Africa in seeds smuggled on the ship out of Africa. The inside juice of the Okra can be used as a stew thickener, and is full of vitamins like magnesium, folate, fiber, antioxidants, and vitamin C, K1, and Vitamin A. This likely helped the slaves and stave off Scurvy a disease often afflicting sailors deficient in Vitamin C.
The best place to get Jambalaya is out at the Jambalaya Shop in the Louisiana River Parishes. Now I haven't tried every single shop in the NOLA area, but I do like to go outside of the big cities where the locals go.
Google Map Of Locations Mentioned
Like it? Pin it! Sharing is Caring ;)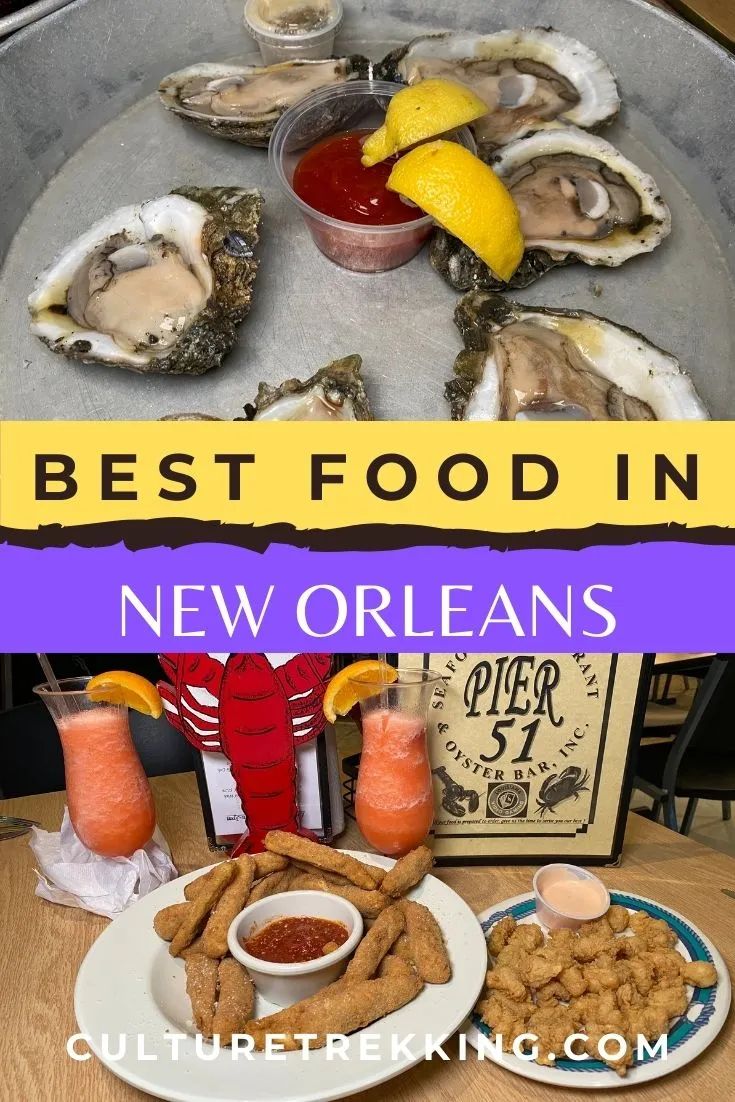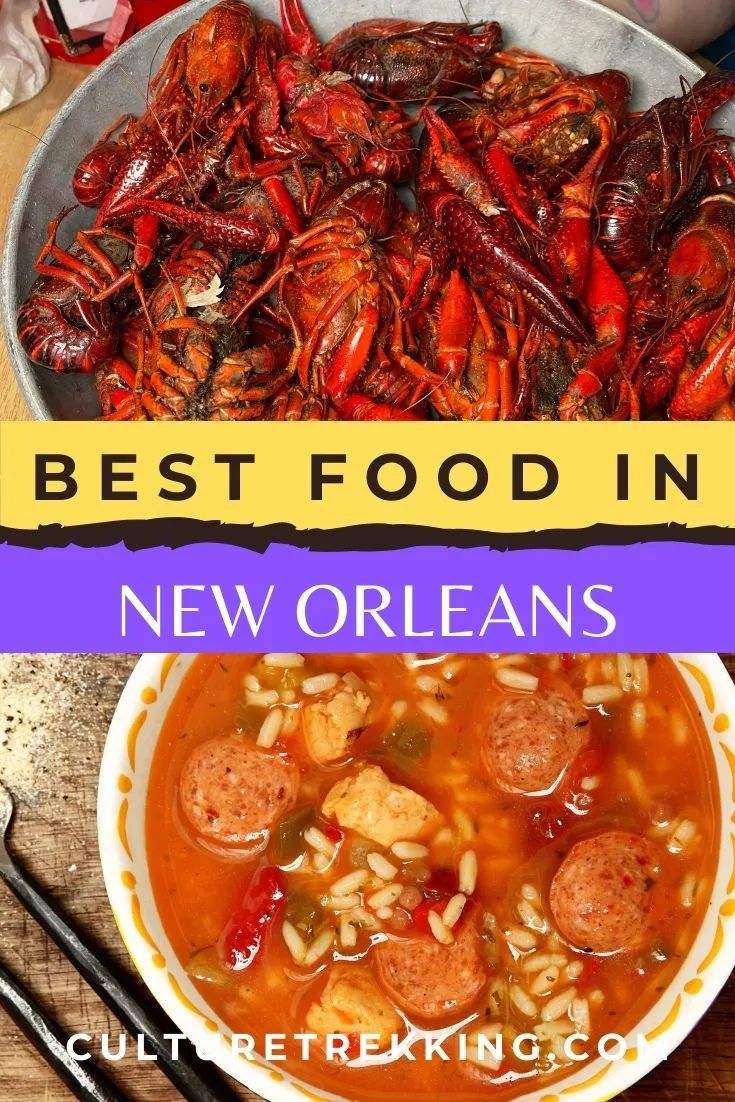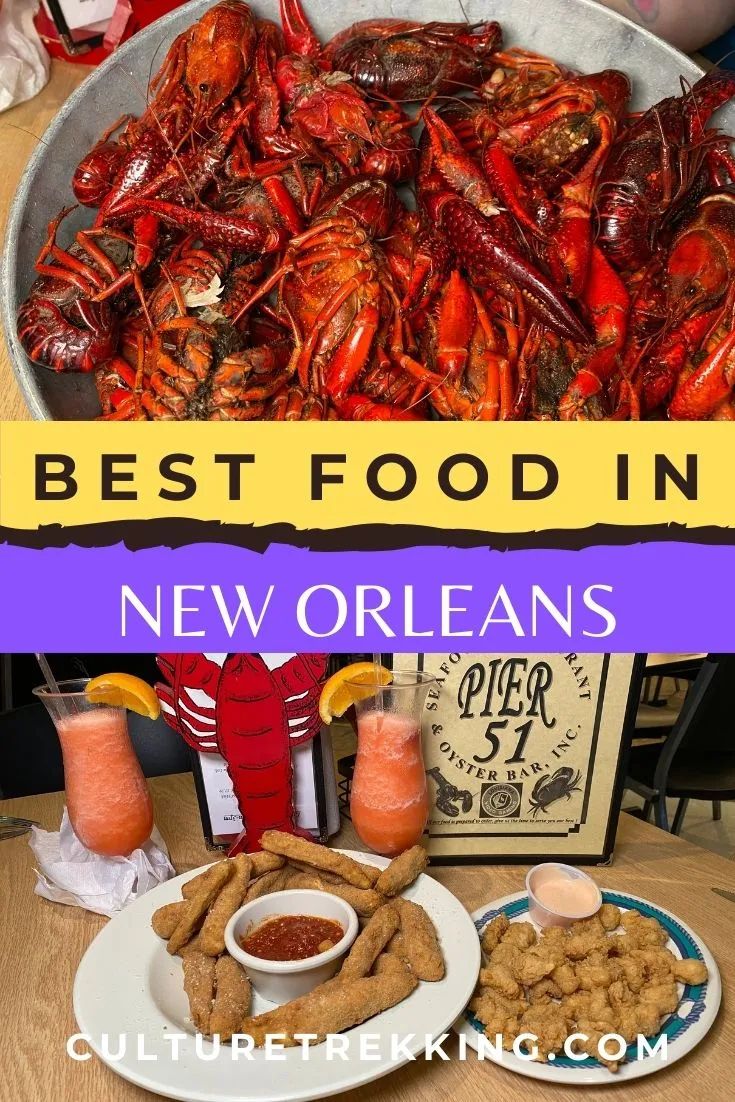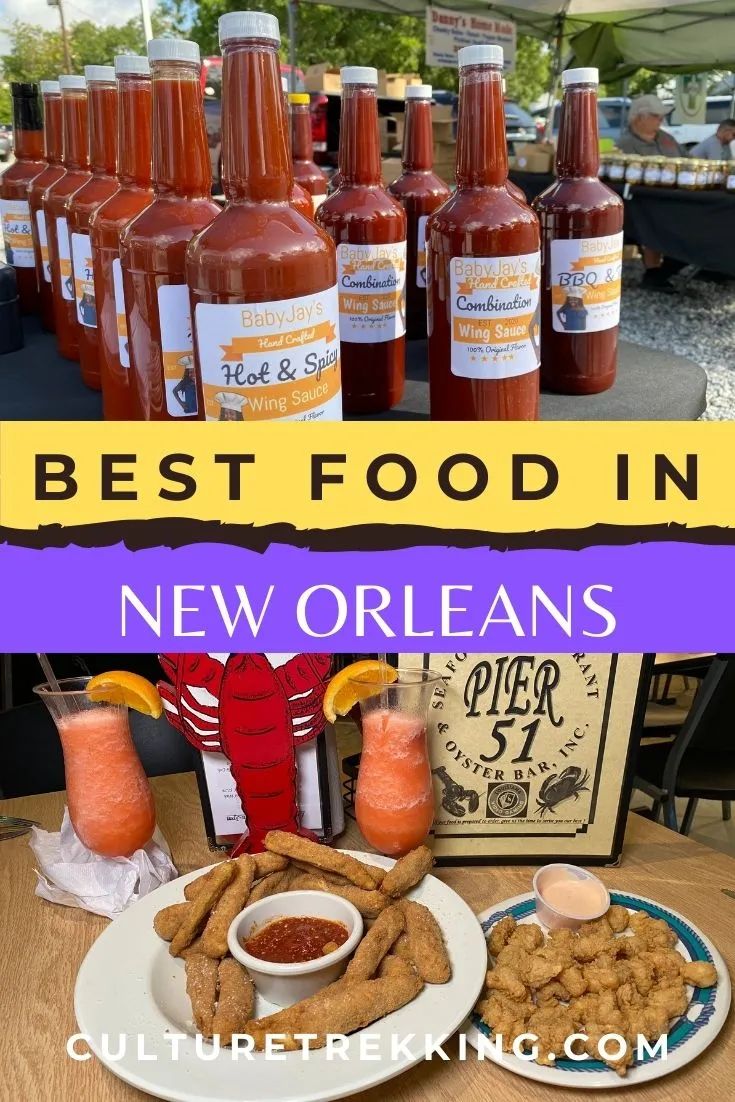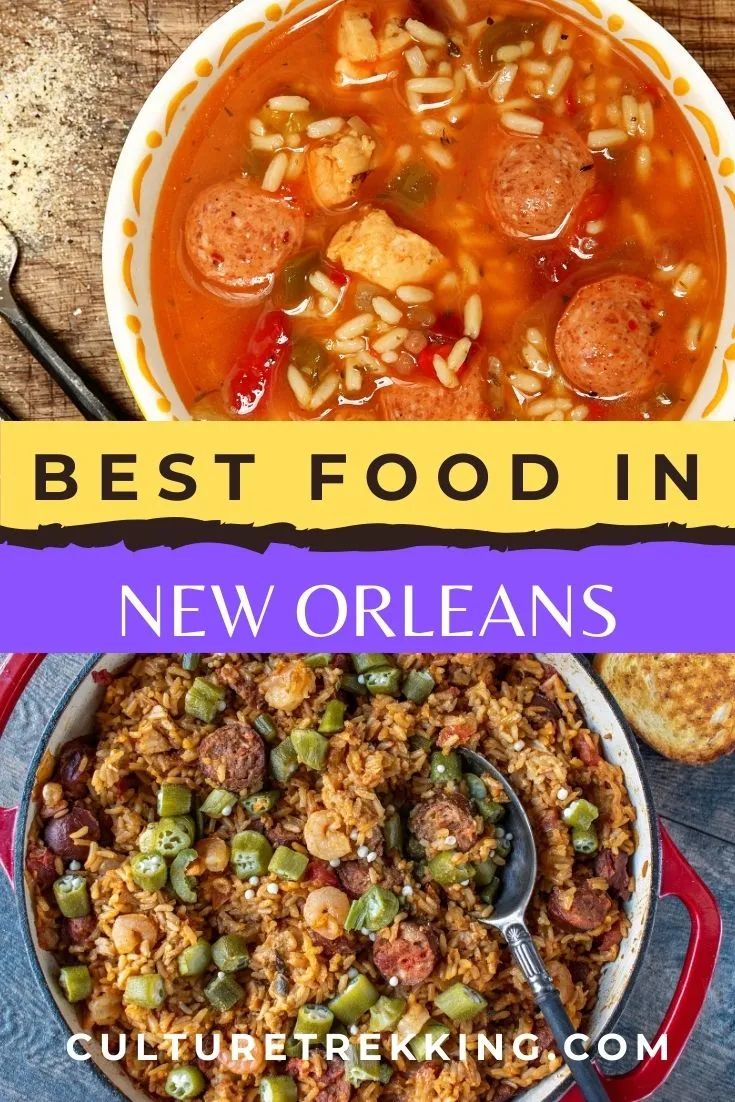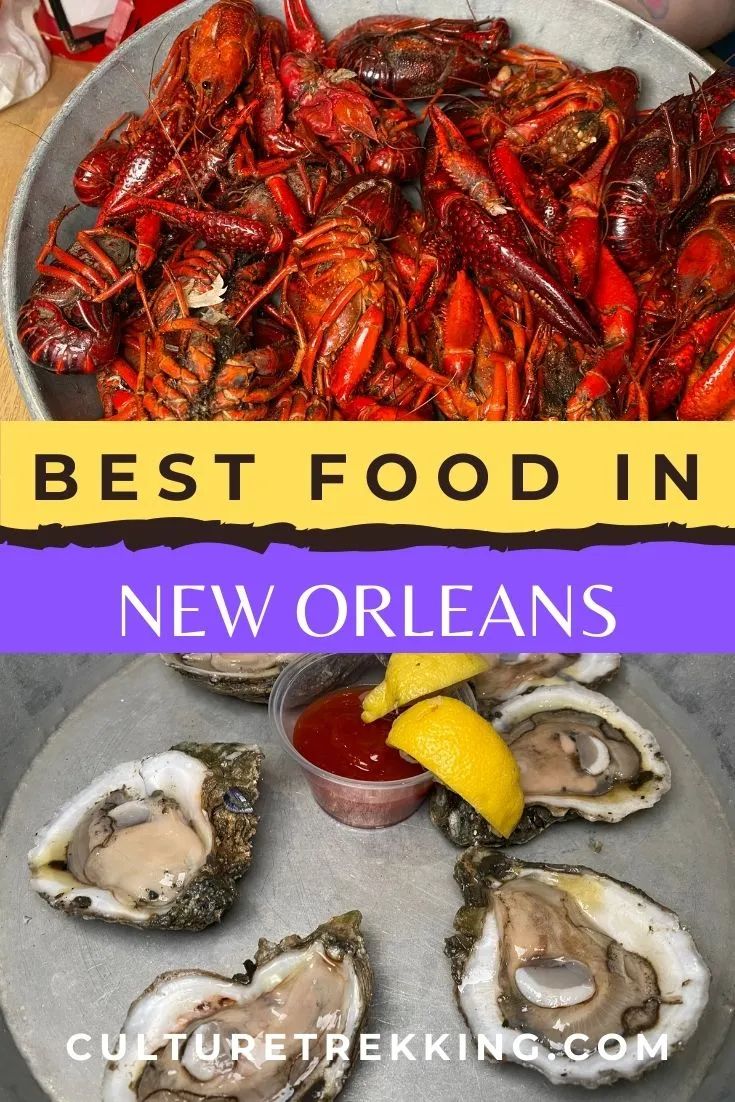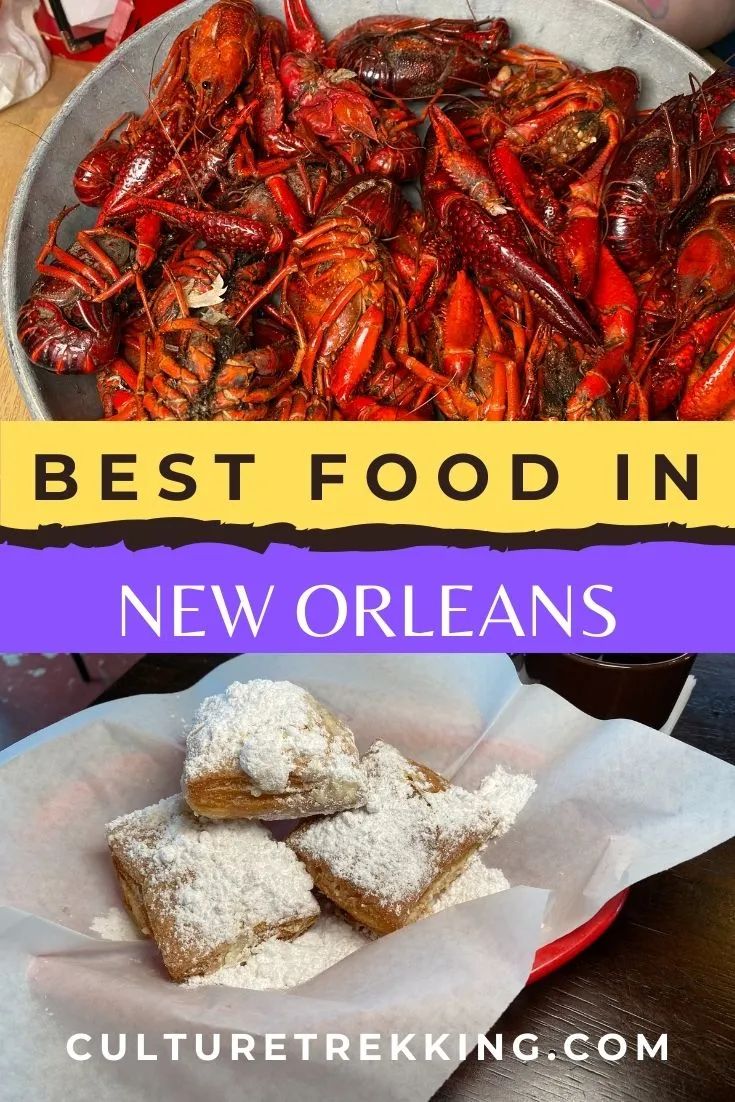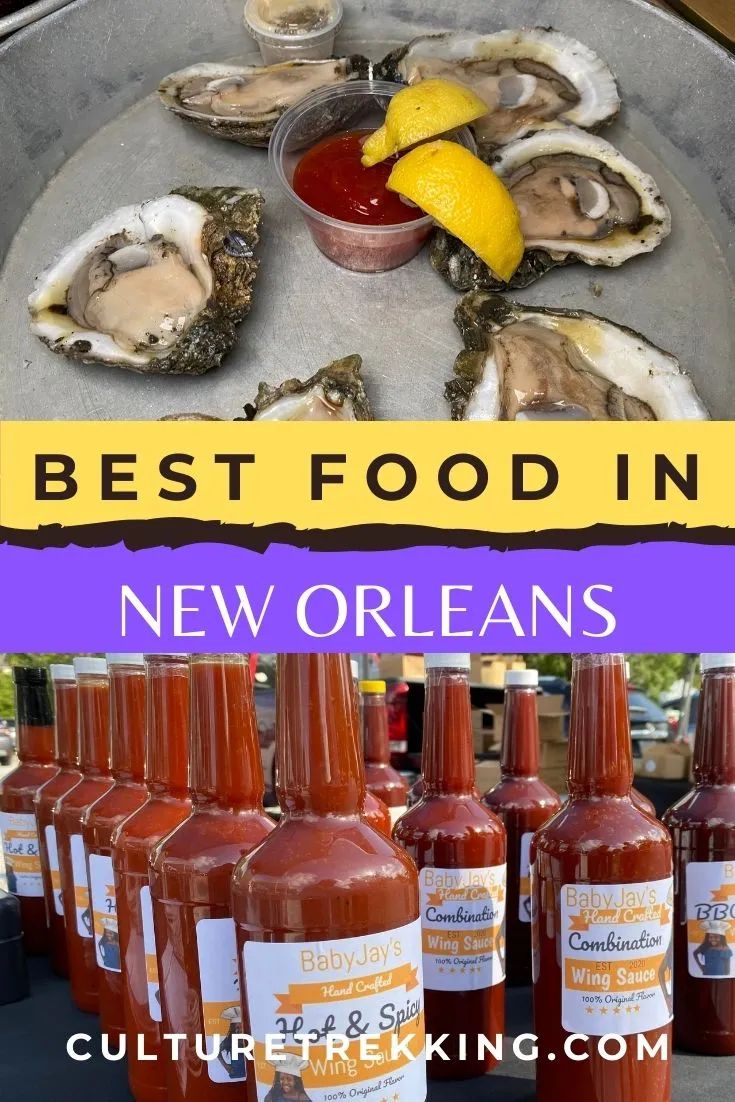 Latest Articles On Culture Trekking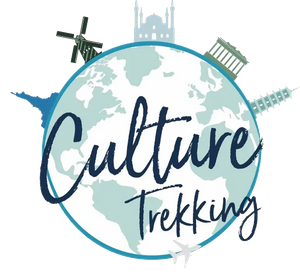 Culture - Connection - Art - Adventure