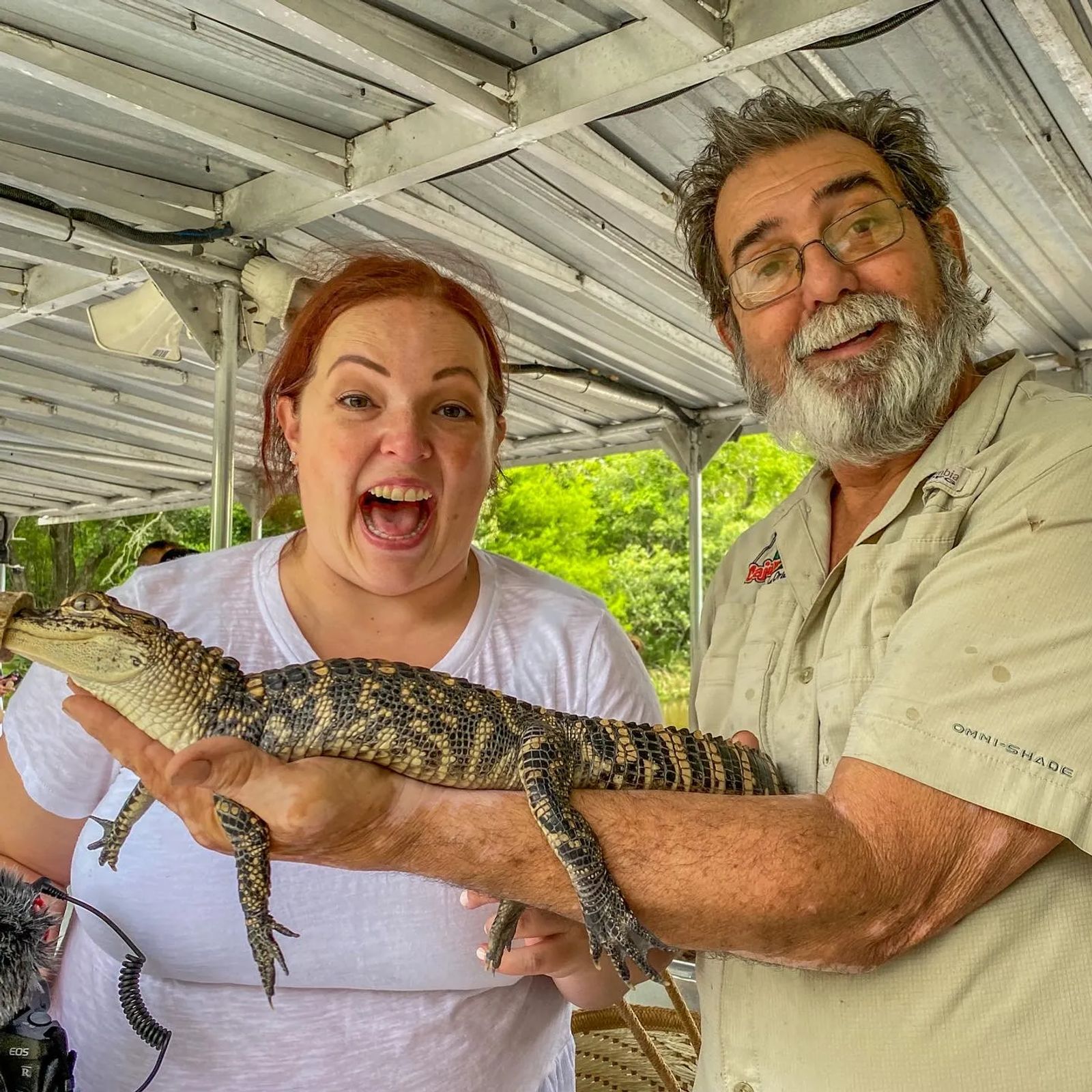 Cajun Pride Swamp Tours in Louisiana
As you drive up to the Cajun Pride Swamp Tours gates you see the letters for the tour in red across the fence. It had been raining non-stop for several days, which for April and May that is unusual unless it is a La Nina year. It was a bit too risky to drive through the large lake that had formed in the parking lot and so I bellied up to the bar and just stepped out into the water in my leather sandals and the cold water felt sooo nice with the humidity.
The wind was blowing and as you walk in, it looks like you are about to embark on a real Jungle Tour at Disneyland, except this isn't a theme park - this is Creole country and a lot of Cajun pride goes into know the land, working the land, and living off the land here. The Creole people have lived in the boggy waters for centuries, and still slog through waist high water (or more) in order to get home or check their crawfish traps. If you want to be entertained, start talking to a Cajun person about how to catch Crawfish the right way, or the best ways to make turtle soup or clean an alligator hide.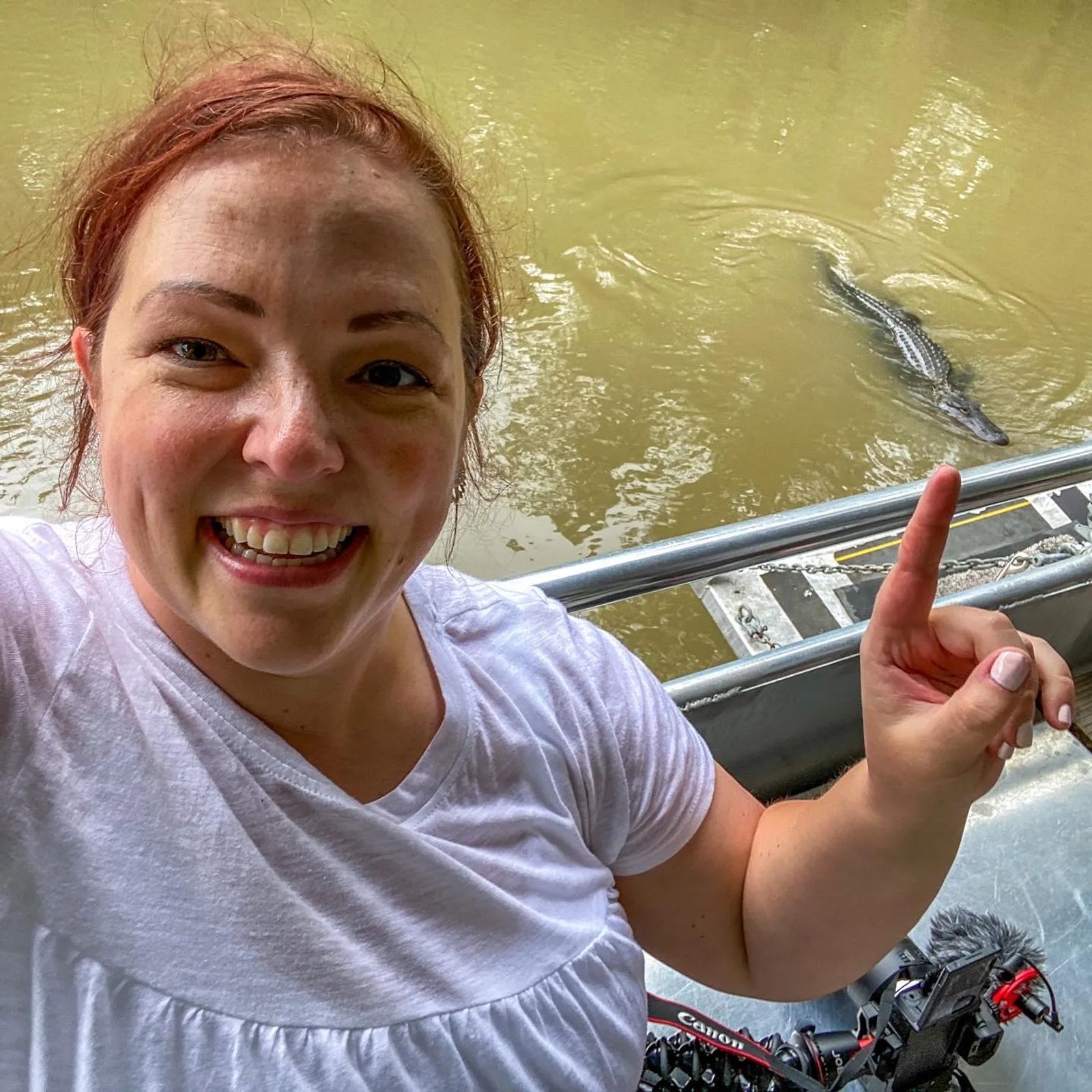 Quick Facts About Cajun Pride Swamp Tour
Location: Just 26 miles from New Orleans, 13 miles from the New Orleans Airport
Transportation: Rental Car is likely the best way. Uber and Lyft do service the area from New Orleans but is it nearly impossible to get an Uber or Lyft ride back into the city. There are no buses or shuttle services that run to the River Parishes.
Best Time To Visit: The best time to visit Louisiana River Parishes is from February to May. You will experience Mardi Gras, Jazz Fest, French Quarter Fest and the weather is cool and you'll also avoid the mosquitos and humidity. If you don't like the crowds, then try for October to January. September tends to be their hurricane season. Crawfish boils are usually in late February to mid April so that is also a great time for backyard BBQ type experiences.
Best Place To Sit On The Boat: I would sit at the very end of the boat so you can see both sides of the ship and scan the waters for the crocodiles.
How Long Is The Swamp Tour: The entire tour takes about one hour and 30 minutes to complete the entire tour, and it feels like it goes by in a blink.
What To Wear on a Swamp Tour: I would bring water shoes to get on the boat or around the site itself, and then comfortable breathable clothing. Make sure to also bring some bug repellent without DEET in it to protect the wildlife refuge although with it raining I didn't personally experience mosquitos, I know they are an issue (especially in swamps).
Bathrooms: They do have bathrooms available both at the docking station and a rudimentary bathroom with canvas walls on board the ship.
Languages Spoken: French, English, Creole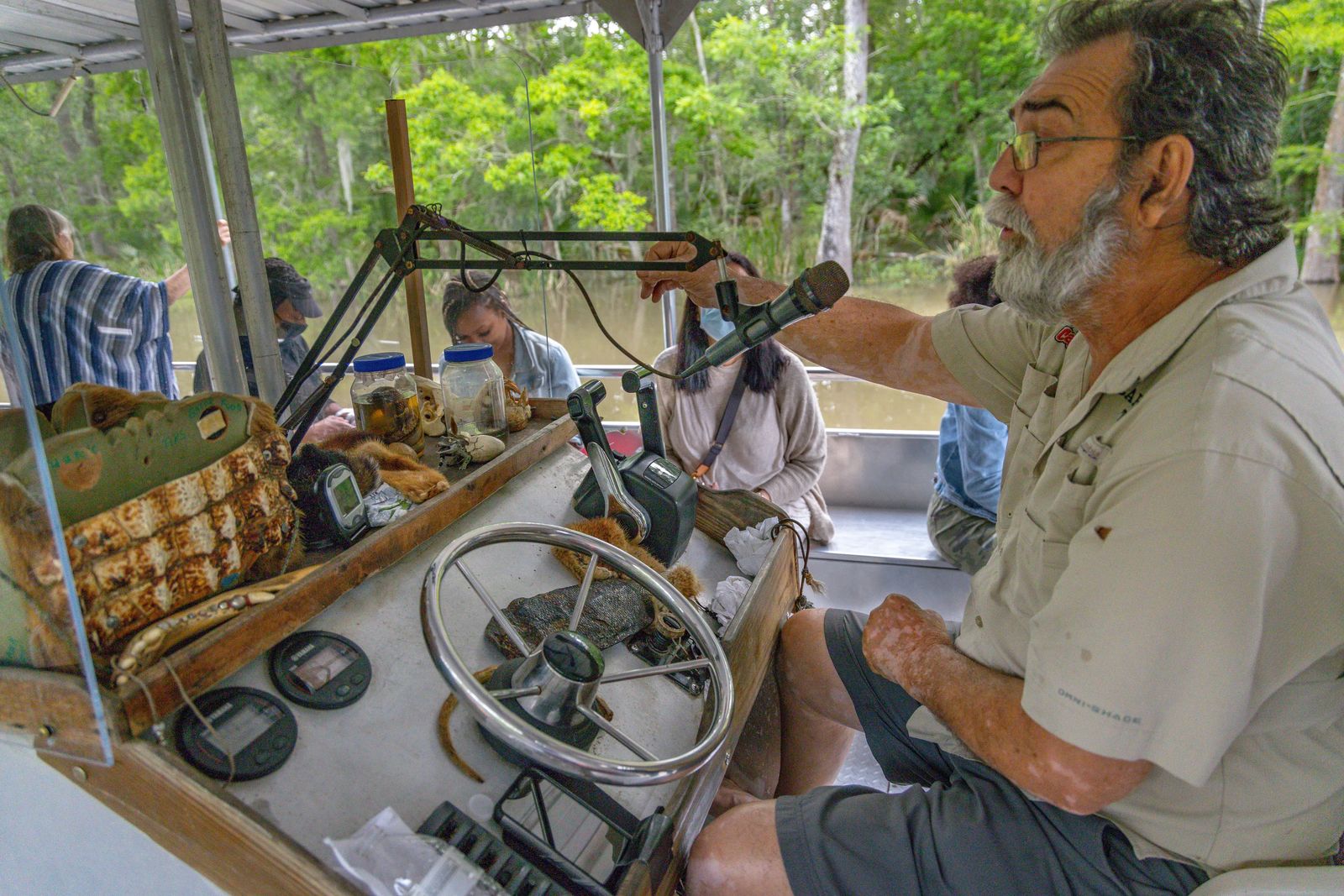 Meeting the Cajun Captain
I did try to keep my leather sandals dry for awhile, but with the wind blowing and the waters creeping up in the parking lot slowly but steadily I realized my efforts were going to be futile. It was either get my feet wet, or step on the sharp rocks placed down for the cars to drive on. Soooo wet shoes it was.
I saw this little corner near the entrance and gift shop adorned with alligator heads and all kind of Voodoo looking…. paraphernalia, perfect picture opportunity. So I slugged on over and started taking photos.
A man with a beard was walking through the water like......well, like there wasn't any water. With a white, grey peppered beard and glasses that looked like they were from the 70's he said, "Dija see da lil' one?" At first I didn't realize he was talking to me, and then I glanced over and he pointed, "Right over here". My creative videographer brain got excited and we walked through water together over to the corner of the Cajun hut. There in the corner was a little alligator, sitting on top of his barrel with a warming light, almost as if he was smiling up at me saying, "Thanks for visiting me, ain't I pretty? Now take a picture and get lost".
So enthralled by seeing my first gator, safely, up close, I didn't hear what the man next to me was saying. I came back down to earth from my creative explorer high, and heard him say, "All dem people ova der are afraid o' water. I don' know why bu' dey iz. It' just water." I shared a small giggle with him, and replied, "Lil water never hurt anybody, except maybe during Katrina". He nodded in agreement, and walked off towards the boat.
That's when I realized he wasn't just a worker, it was the captain of our swamp tour boat. A Cajun Captain that felt alive in the water, knew the creatures, took pride in his Cajun country and the things living in it.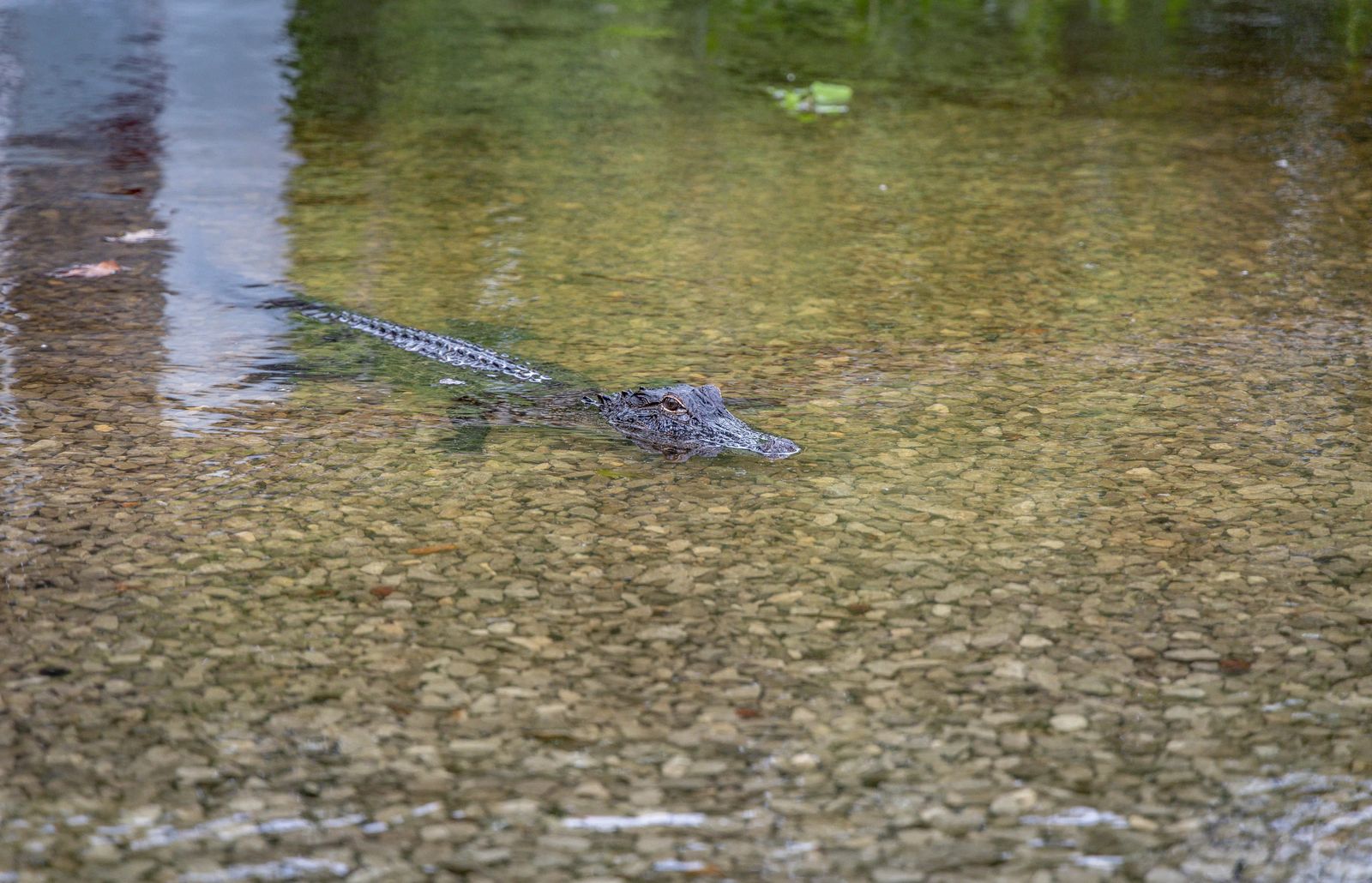 Safety Precautions Before Boarding
Watch the water line if there is flooding. I was sitting on a picnic table near the flooded area of the space waiting to get on our boat and my feet were resting in some cool water while seated on the picnic table. My straw hat blew right off my head into the water and I got up to go and grab it out of the water. That is when I saw it, a 2 foot long small alligator watching me curiously. The hat blew right next to him and at first I thought he was going to take it for lunch. He swam towards it, thought better of it, and swam away from it.
If I wasn't paying attention I would have walked up quite close to the gaiter and maybe lost a hand. I might be a little dramatic about that, but still - the point is to pay attention. Also, if it is windy, don't wear hats or dresses that could blow up and do a Marilyn Monroe on ya. Talking to the locals they all said the weather is quite unpredictable so just be prepared.
If it is in the rainy season, or been raining a lot, then make sure to bring some Crocs or water shoes, shorts and a rain jacket.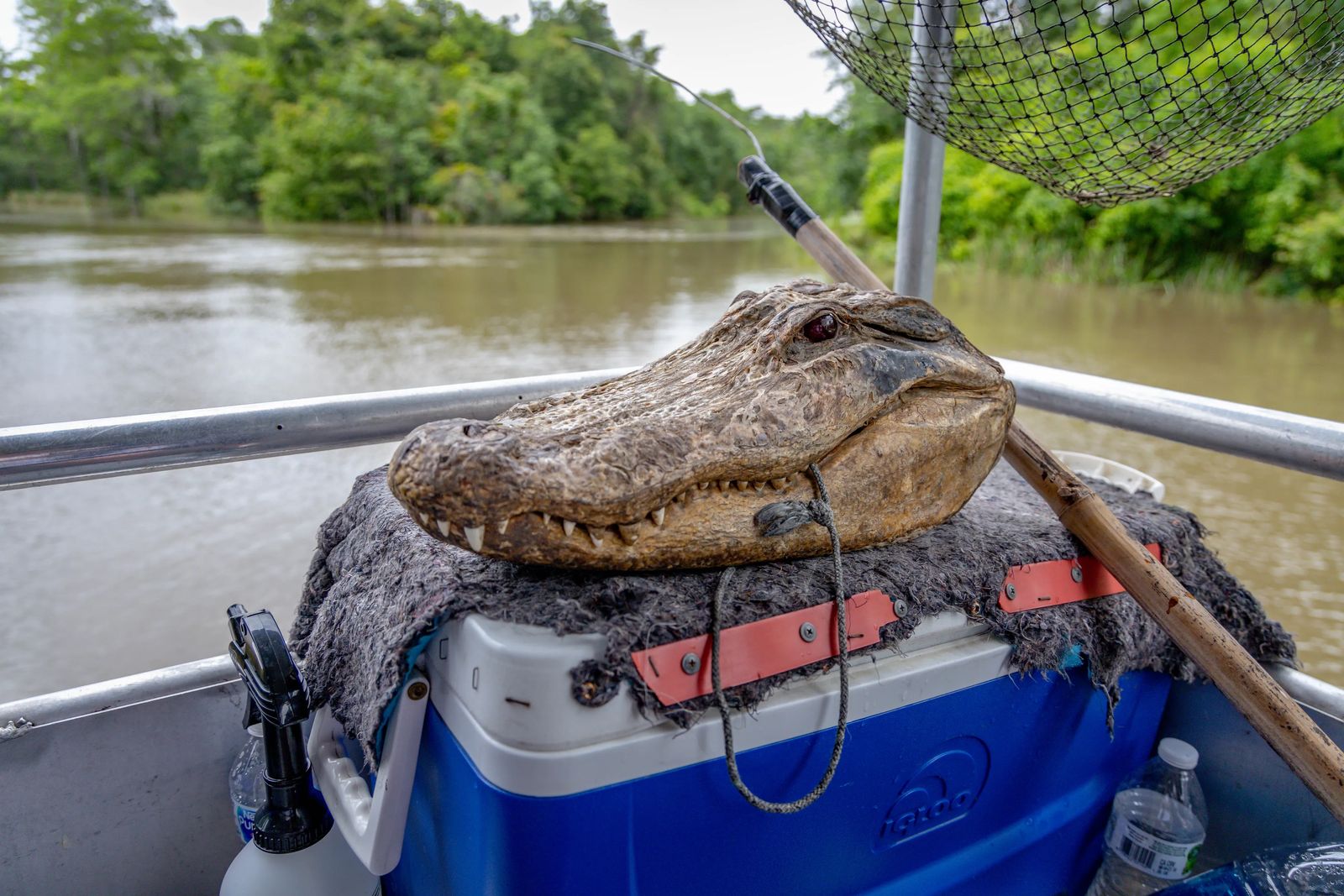 Alligators vs Crocodiles - Which one is in Louisiana?
It is honestly pretty dang difficult to tell an alligator apart from a crocodile unless your a trained professional. I mean crocodiles are said to be more aggressive than alligators, however, I don't suggest trying to find out how one of these animals are just to identify them because there are other ways to do it.
The best way to tell an alligator from a crocodile is from the shape of the snout and jawline. Alligators have a wide round u-shaped snout, whereas a crocodile has a longer narrow snout. Alligators you typically cannot see the teeth because of how the jaw is structured, but with a crocodile you can typically see the interlocking teeth.
They typically keep separate habitats and locations around the world, EXCEPT for Florida. Florida is the only place in the world that alligators and crocodiles live together or in the same habitat. In Louisiana is where you find the American Alligator.
Crocodiles can grow up to 20 feet long and weigh up to 2,000 lbs. They are the only other species of Crocodile to love the salty waters besides the Saltwater Crocodile. Alligators average length is 790 lbs and 13 feet long, but can grow up to 14 feet long and weigh 990lbs. The oldest Alligator on record was Saturn, who died at 83/84 in the Moscow Zoo.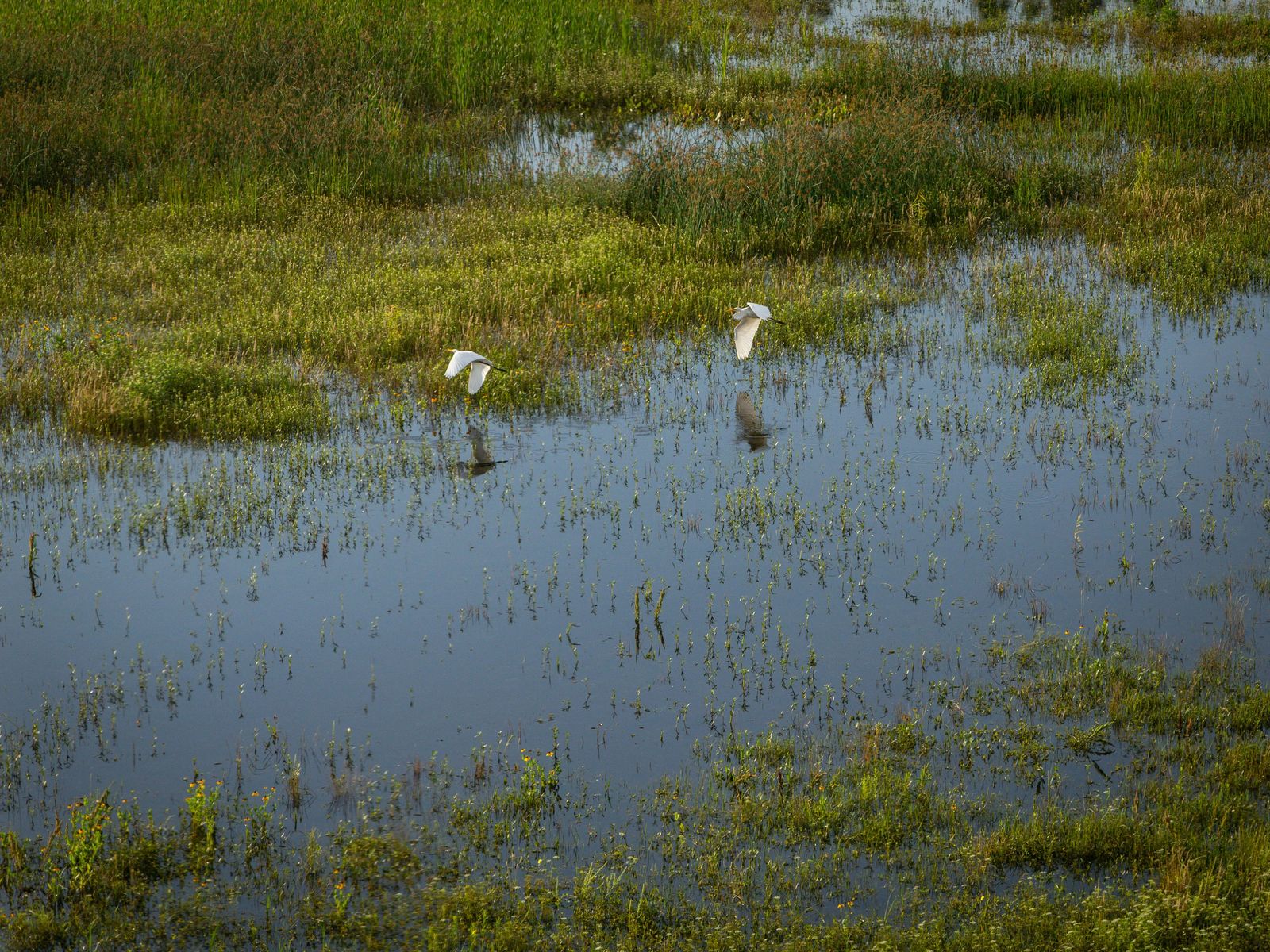 Manchac Swamp
Located in the St John the Baptist Parrish in the Louisiana River Parishes about 25 miles away from New Orleans. The Manchac Swamp is an 8,000 acre wildlife area and was once inhabited with a small town without all the waters. We will get more into the stories surrounding the hauntings and rumors surrounding this place later in this article. I wanted to give you the lay out of the swamp so your better able to picture the area.
For those that are brave, there are several night time canoe paddling trips through this area (highly recommend going during October). It is made up of hundreds of Cypress trees, and freshwater swamp that once housed a dry, small town of Frenier and Ruddock. Keep these towns in mind as we continue on our stories around Manchac Swamp.
There have been Ospreys and Bald Eagles sighted here, there are racoons, small birds, of course Alligators and plenty of fishing and crawfish.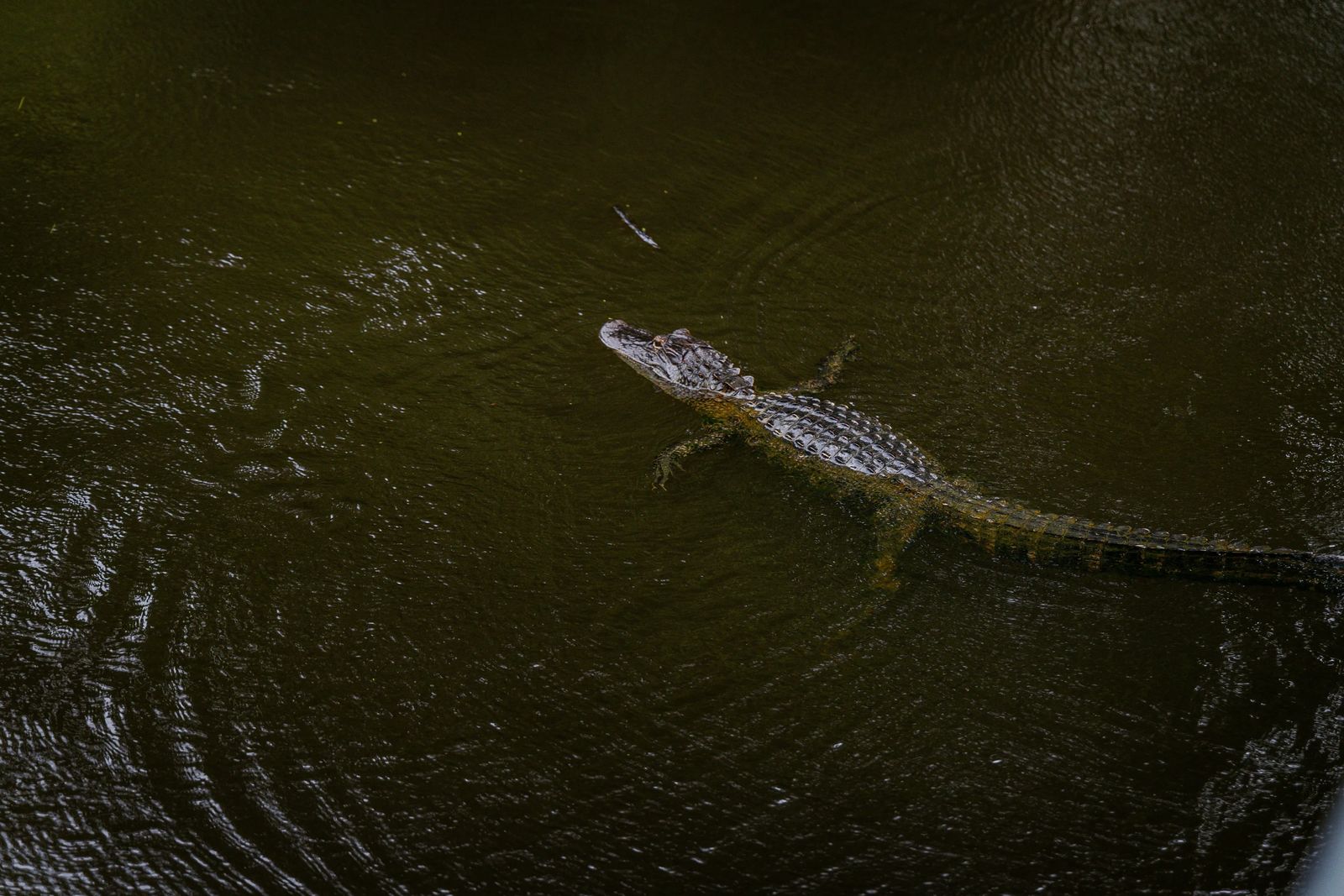 If you are traveling with your own kayak or Canoe, there is a launch area called 'Kayak Heaven', it is located between Lake Pontchartrain and Lake Maurepas.
Prior to Hurricane Betsy in 1965 the area was full of ducks, deer and wildlife. It was filled with myrtle, palmettos and Cypress trees. Because of the salt water that came in, the swamp started dying but is still home to some of the oldest tidewater red cypress in the country.
There are worries about losing Manchac Swamp, because in nearby Lake Pontchartrain, they have been losing 15-23 feet of cypress swamp forest per year since 1970. The Manchac Swamp lost about 300 feet of shoreline between 1897 and 1952.
Julia Brown Legends and Myths
Manchac was a Creole area, where the people lived off the land and took what was needed. When French settlers came in, they would source the Creole/Cajun knowledge of the area and pay for alligator hides, racoon hides, and even 15 center per large cypress tree cut down. This is how many of the people in this rural area earned a living. The medical care was very scarce here and so local remedies and concoctions were how the locals treated their ailments.
Julia Brown was one of the individuals who specialized in providing these remedies and locals used her services ofen. When the term witchcraft was brought about, the tides turned against Julia and was ousted by the community.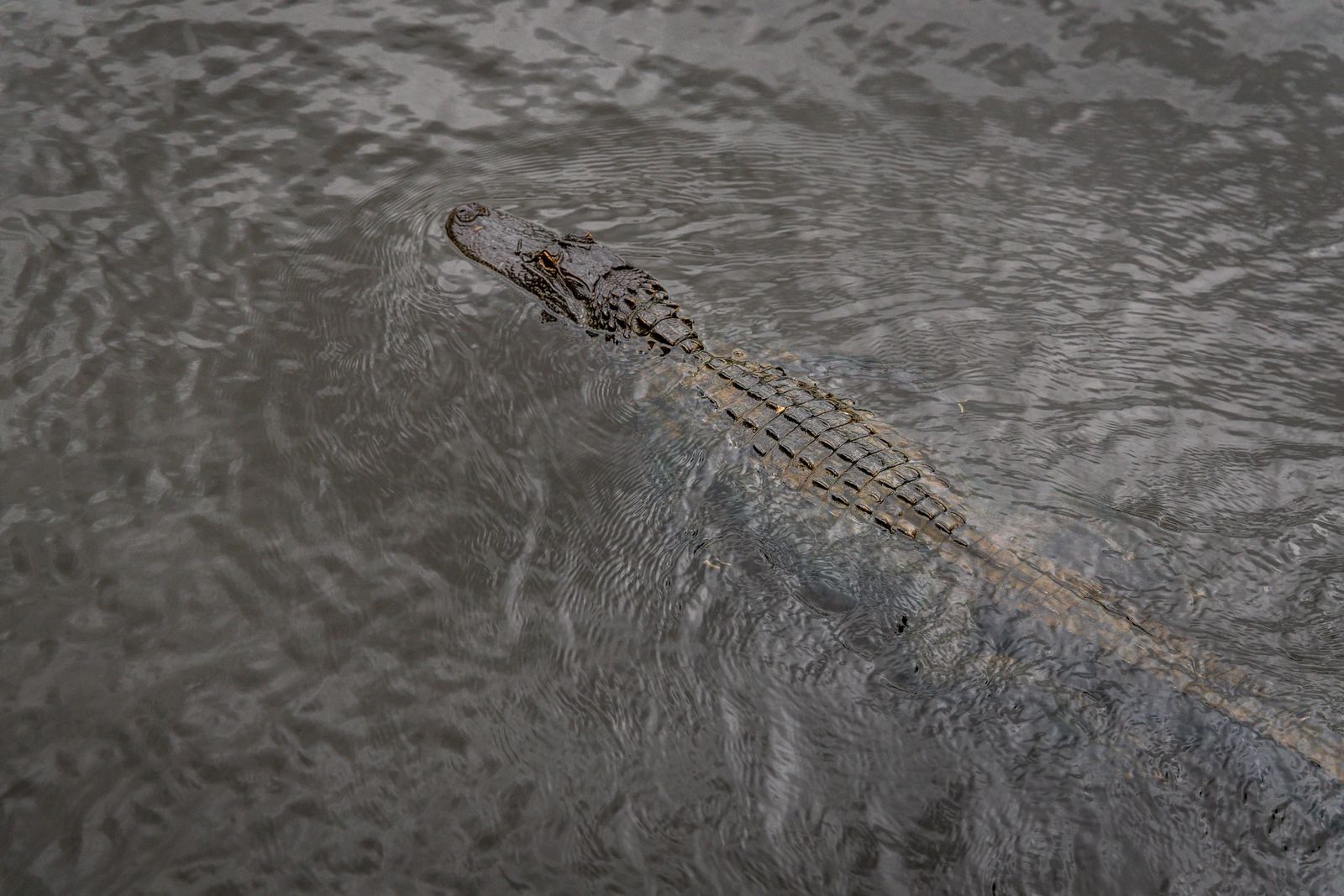 She was so upset at having people she had served for so long turn against her, she is said to have lost her mind. She would sit on her porch saying over and over again, 'One day I'm going to die and I'm gonna take all of you with me'.
While some say she had lost her mind, others say it was a premonition for the folly that was pitted against her. The storm she so often would predict, did blow through in 1915, called the Great Hurricane, or Hurricane Betsy. It was while the town was burying Julia Brown that they were interrupted by Hurricane rains and winds that indeed destroyed the whole town and there were no survivors.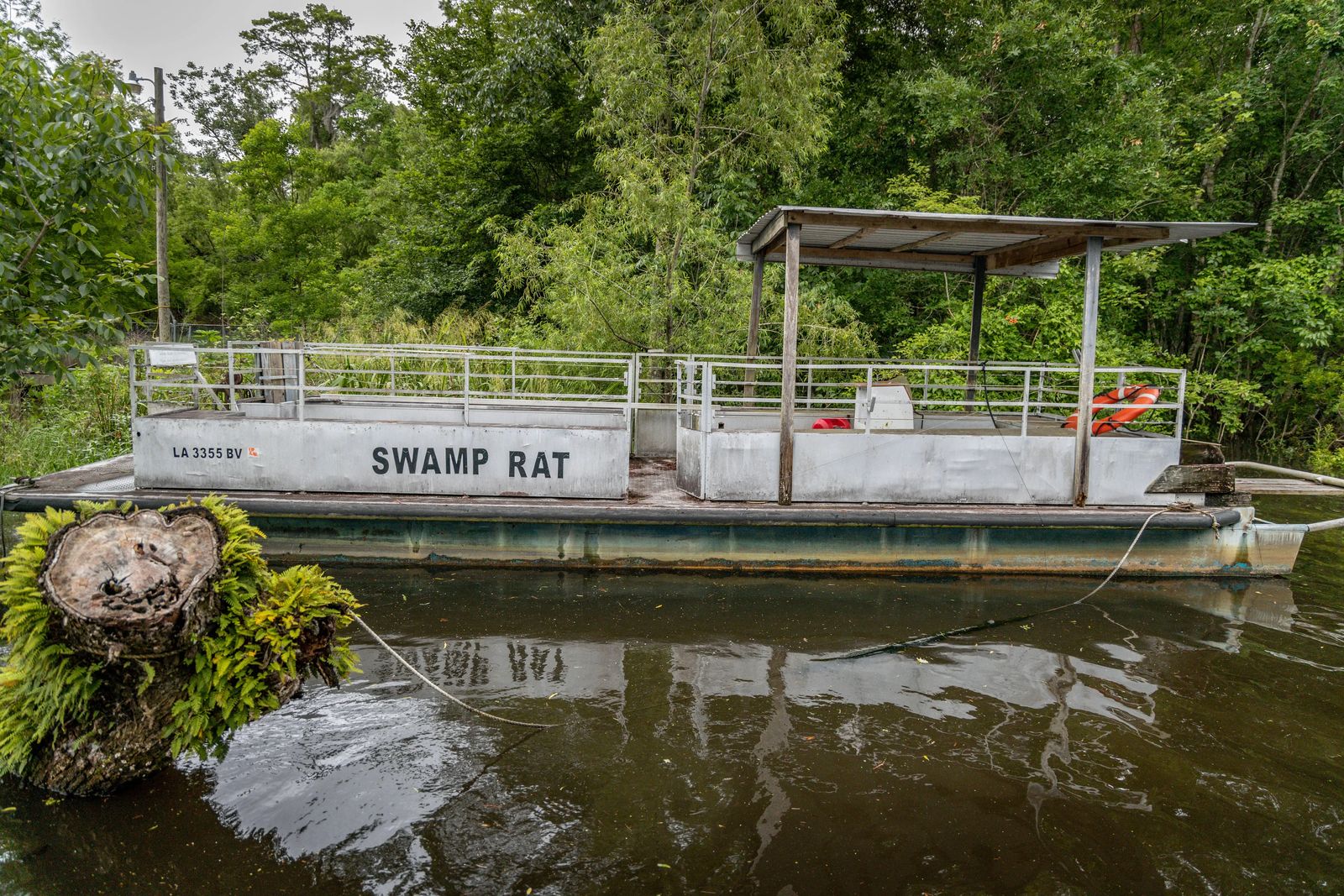 The Great Hurricane
In 1915 Hurricane Betsy blew threw and killed 350 people in Southern Louisiana, completely erasing Frenier and Rudduck towns from the map all together. The few that survived the storm recall winds estimated at 120 to 130 miles per hour.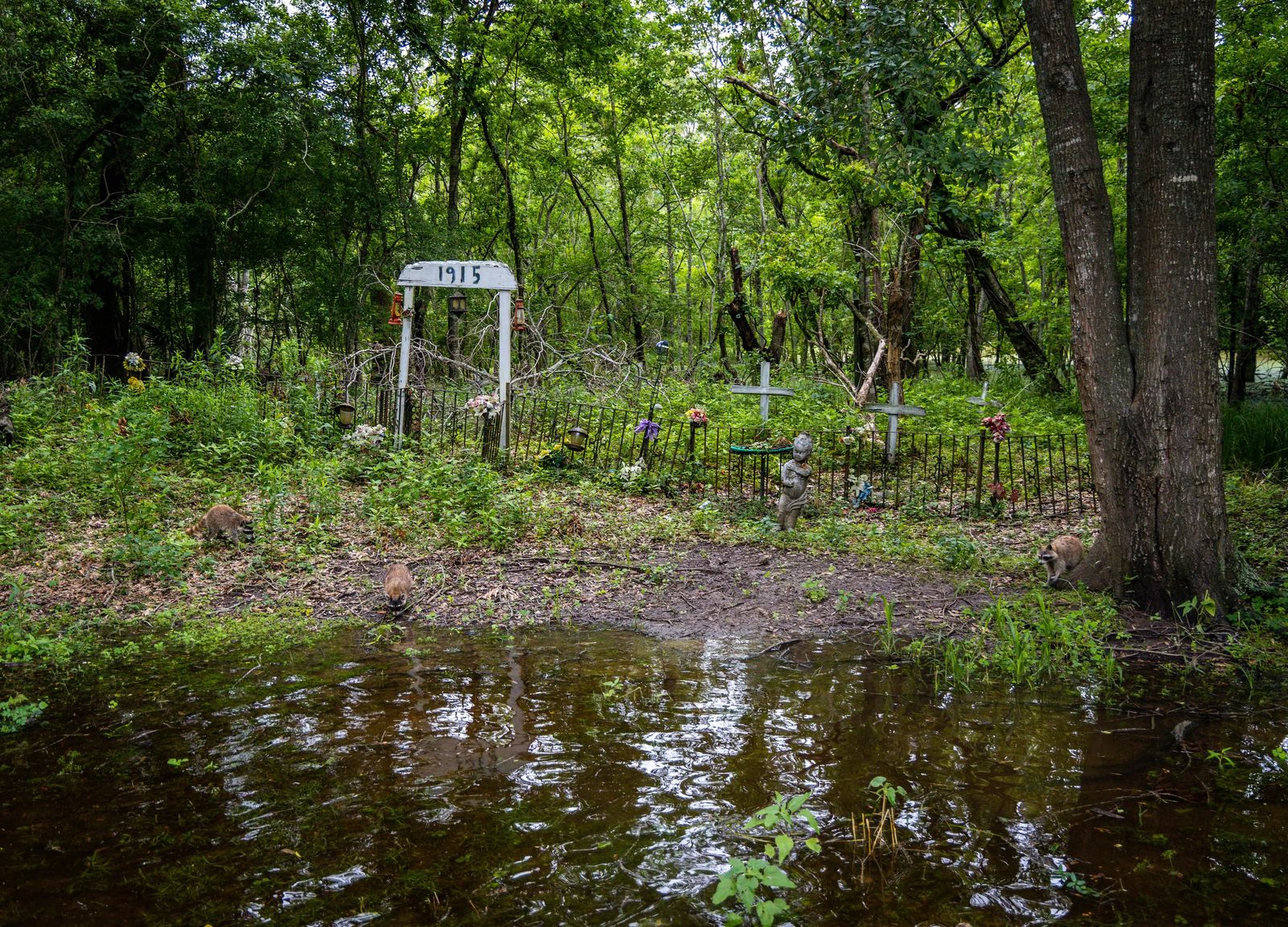 The Cemetery
You can still see a Cemetery in Manchac where Frenier used to be. While there isn't a lot of actual paperwork left to indicate who is actually buried in the Frenier Cemetery there are a few who have claimed relatives were buried there.
The families of Barbier, Saltzman, Reno, and Jones' family have claimed they have family members buried here. Manchac swamp is rumored to be haunted by Julia Brown and that is why the Kayak and Canoe tours here are so popular, especially at night, lighted only by your flashlights. Are you afraid of the dark? ;)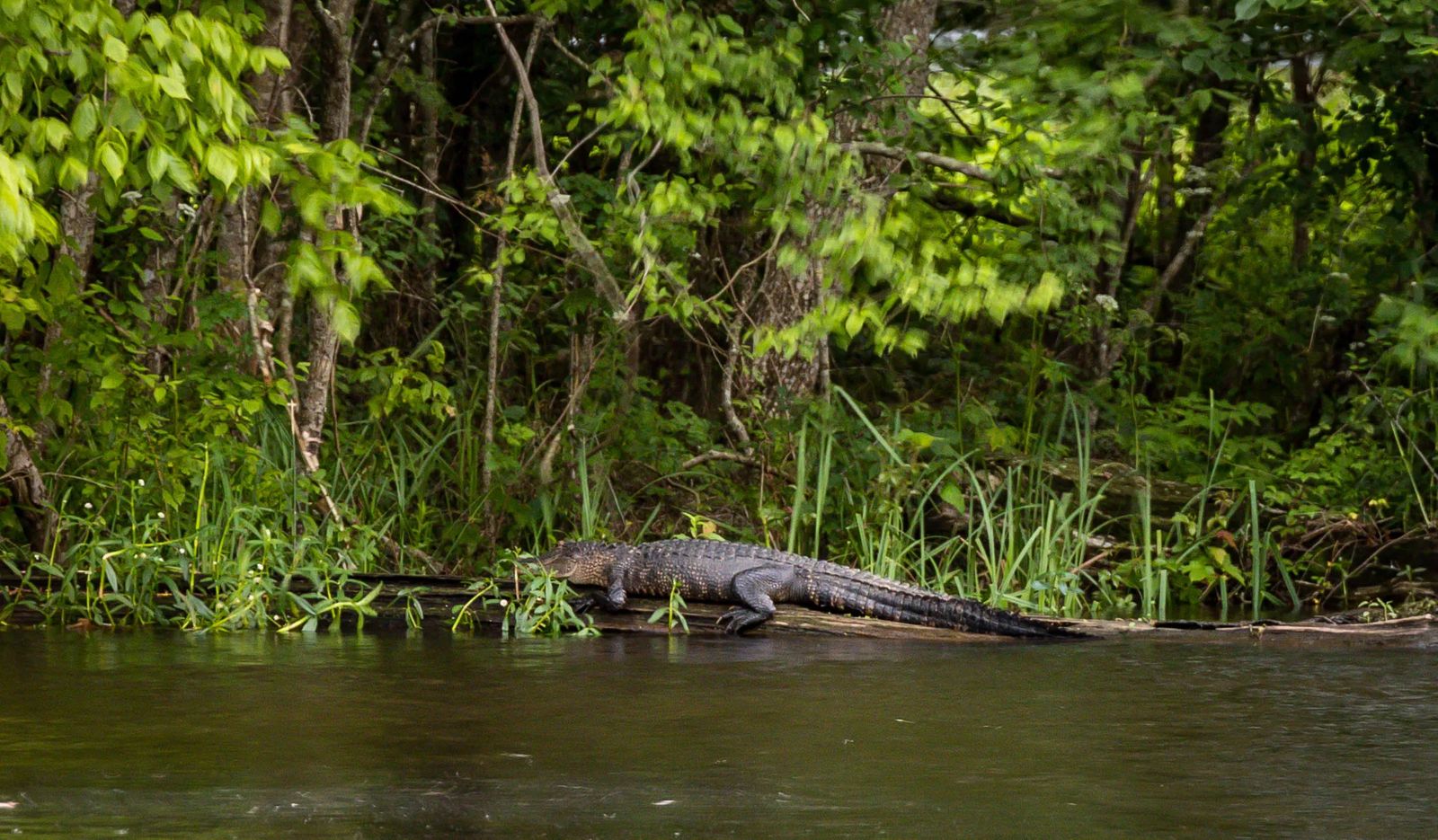 Cajun Pride Tour and Additional Tidbits about Booking
If you love a good joke and enjoy getting to know real locals then you will LOVE this tour. I recommend booking early as they do sell out quickly and you want to call them and see what the crocodile activity is like.
Some tours you can see no gators, other times (like my tour) you can see two or twenty depending on what the weather is doing. The colder the water the more the gators seek a warm area/warmer water, so avoiding the rainy and colder seasons is a good bet. I recommend going in April when you will also be there during the Crawfish boil season.
You can get flooded out and you don't want to get mad if they cancel it really is for your safety and the safety of your car. Mosquitos are out on hot days. Ok to walk around on the boat and will want to because the gators come up on both sides.
This is not a tour for you if you are Vegan or sensitive to animals dying or witnessing nature taking its course (Racoons have been known to be seen being eaten while people are on the tour- blood, guts falling out, screaming animal etc...)
Want to book a Cajun Pride Swamp Tour, check it out and let me know what you think about the captain you tour with and how many crocodiles you see.
Like it? Pin it! Sharing is Caring ;)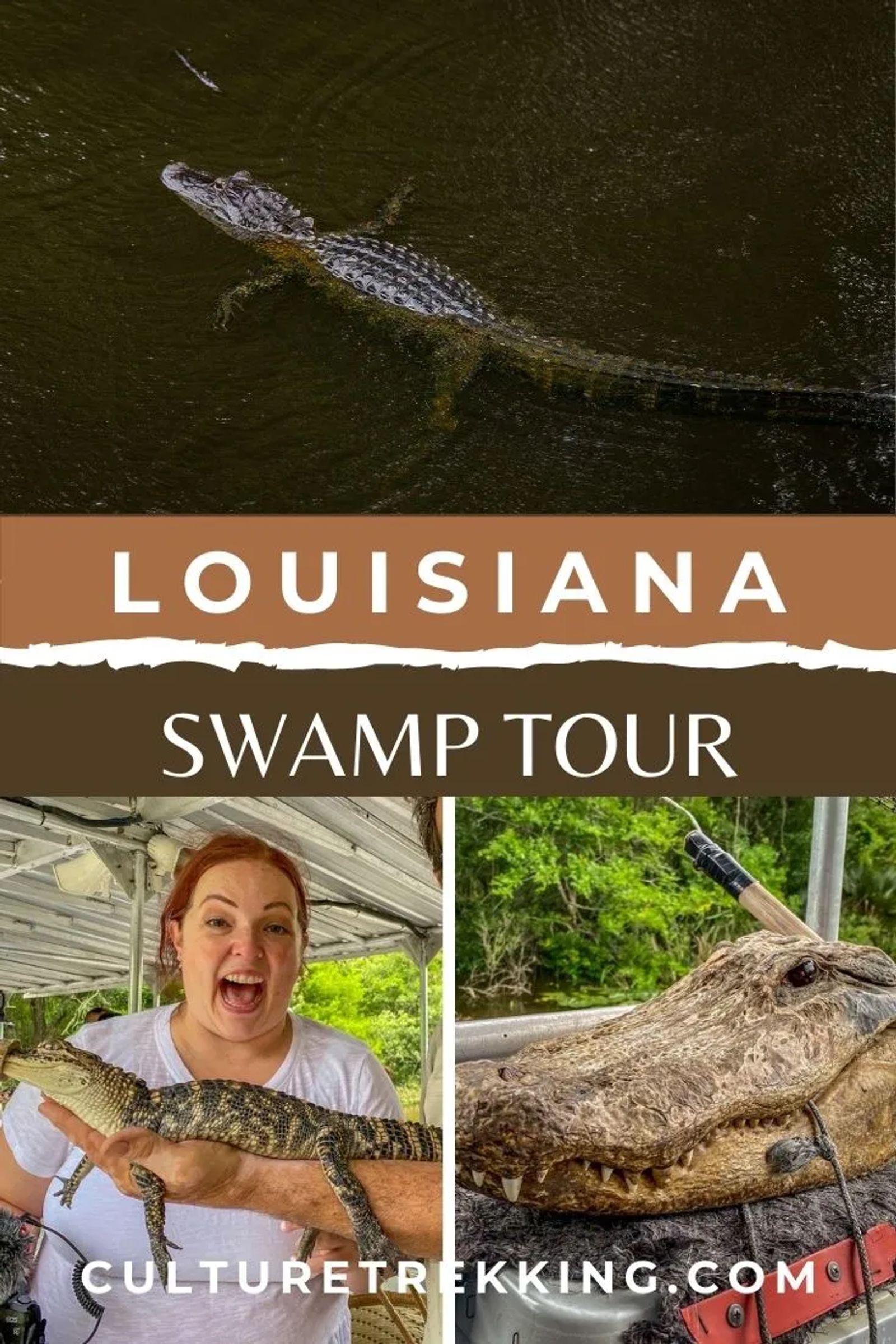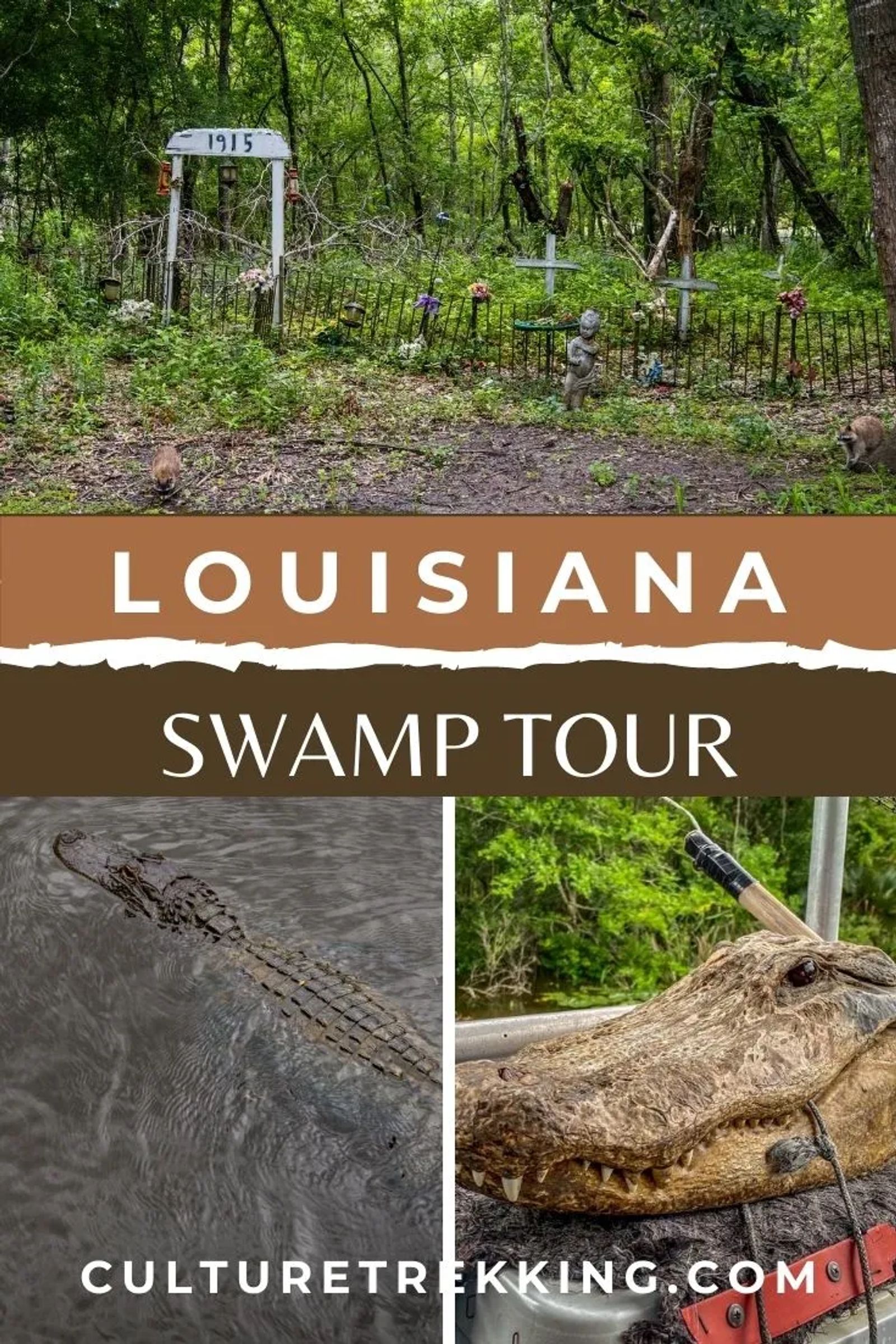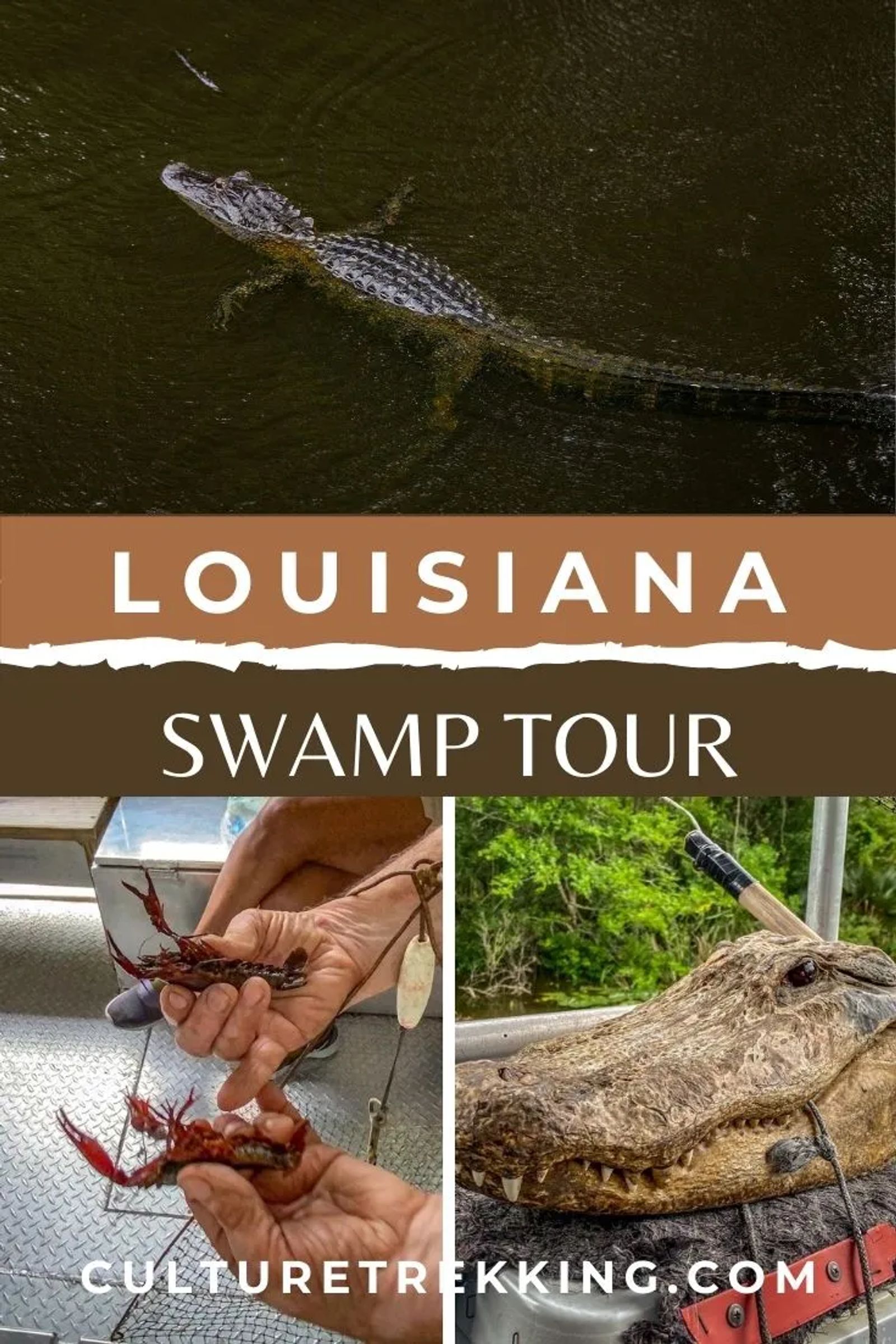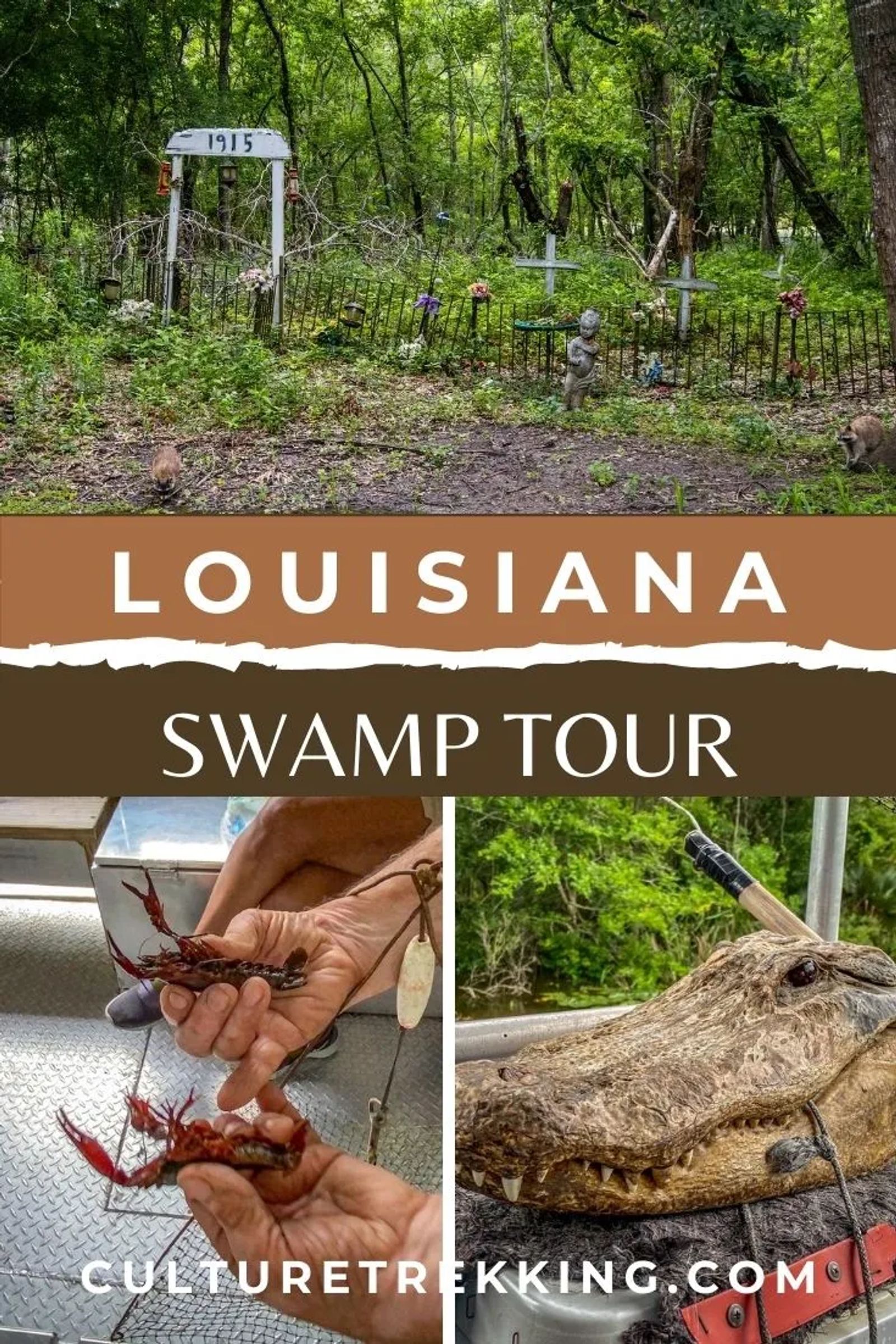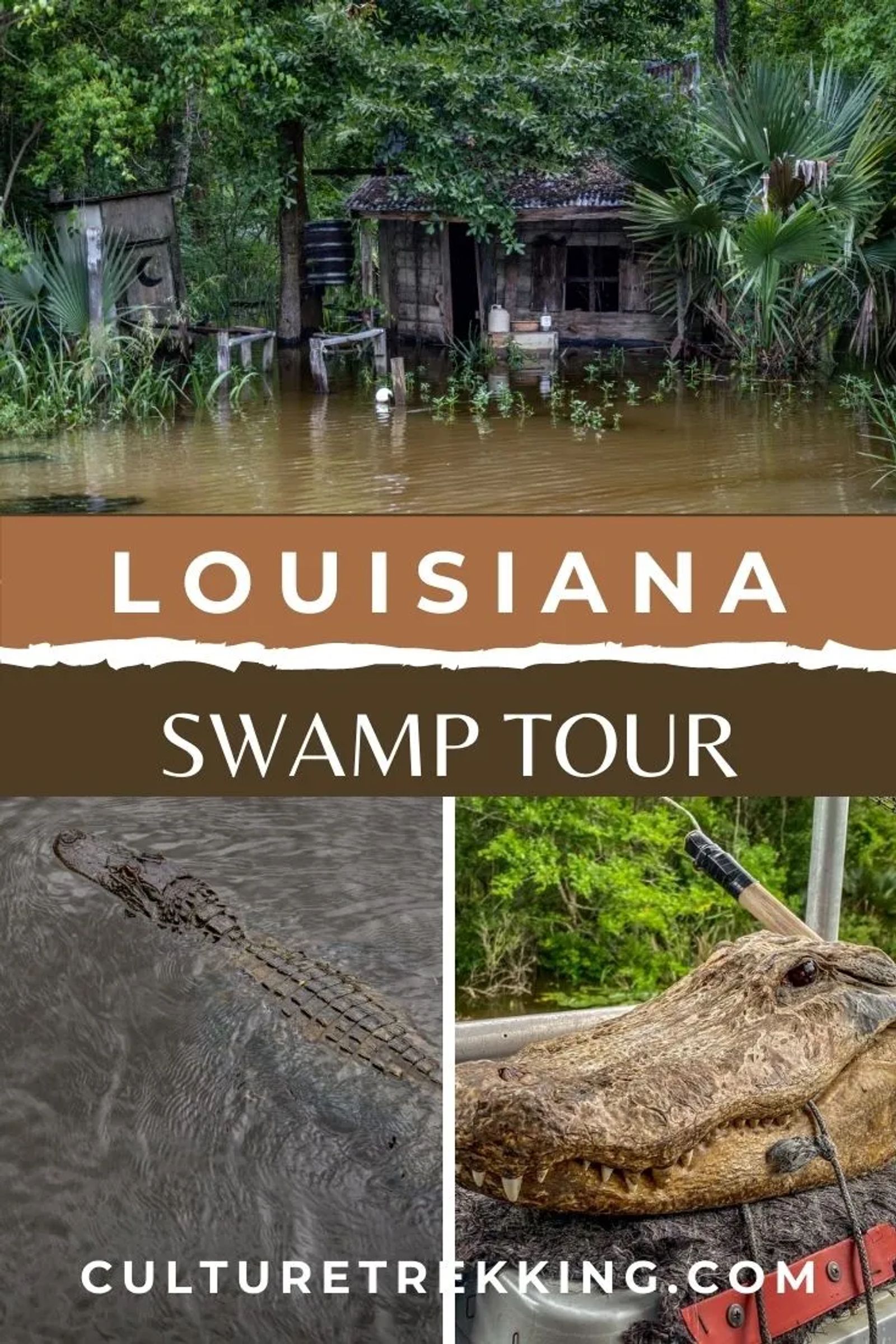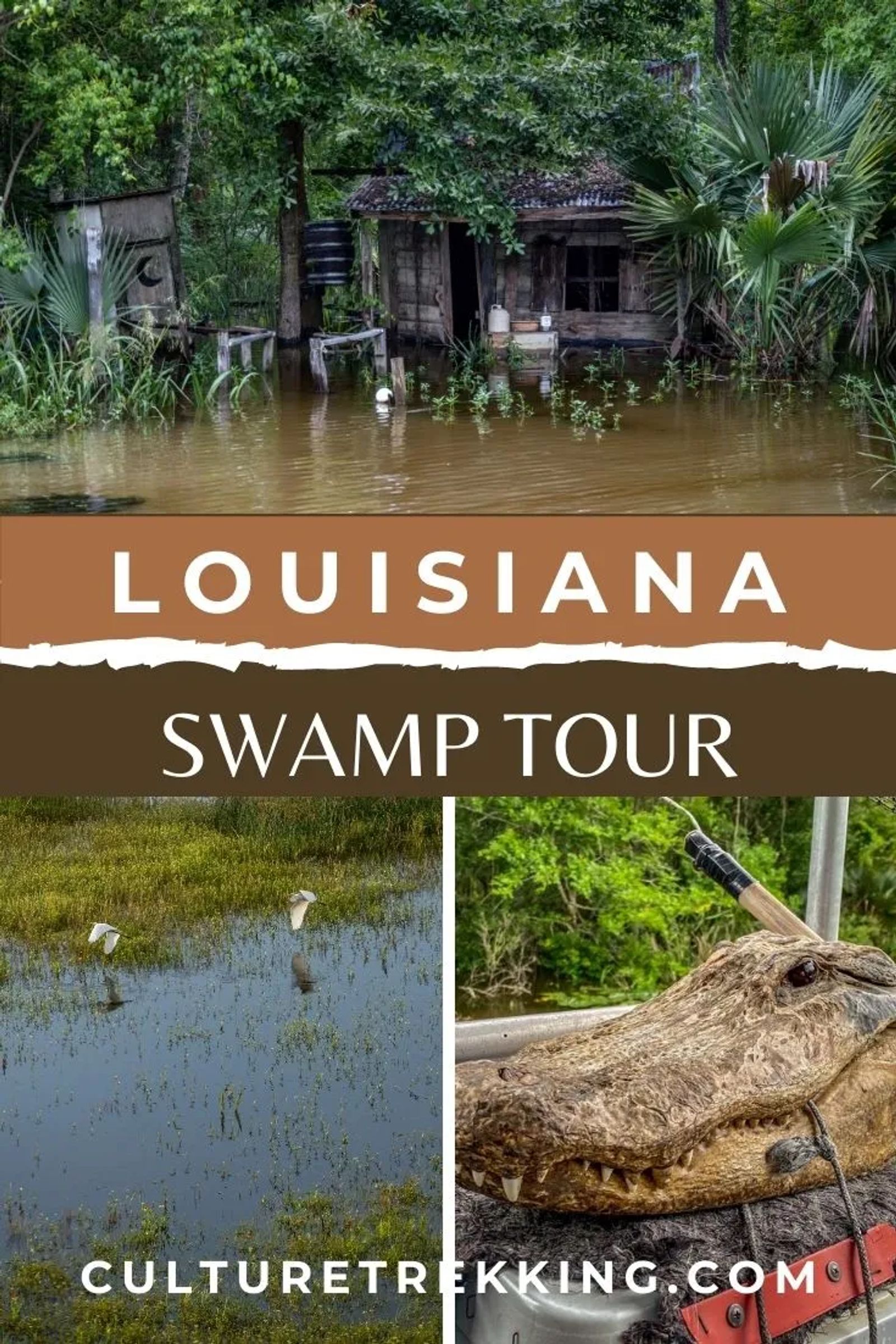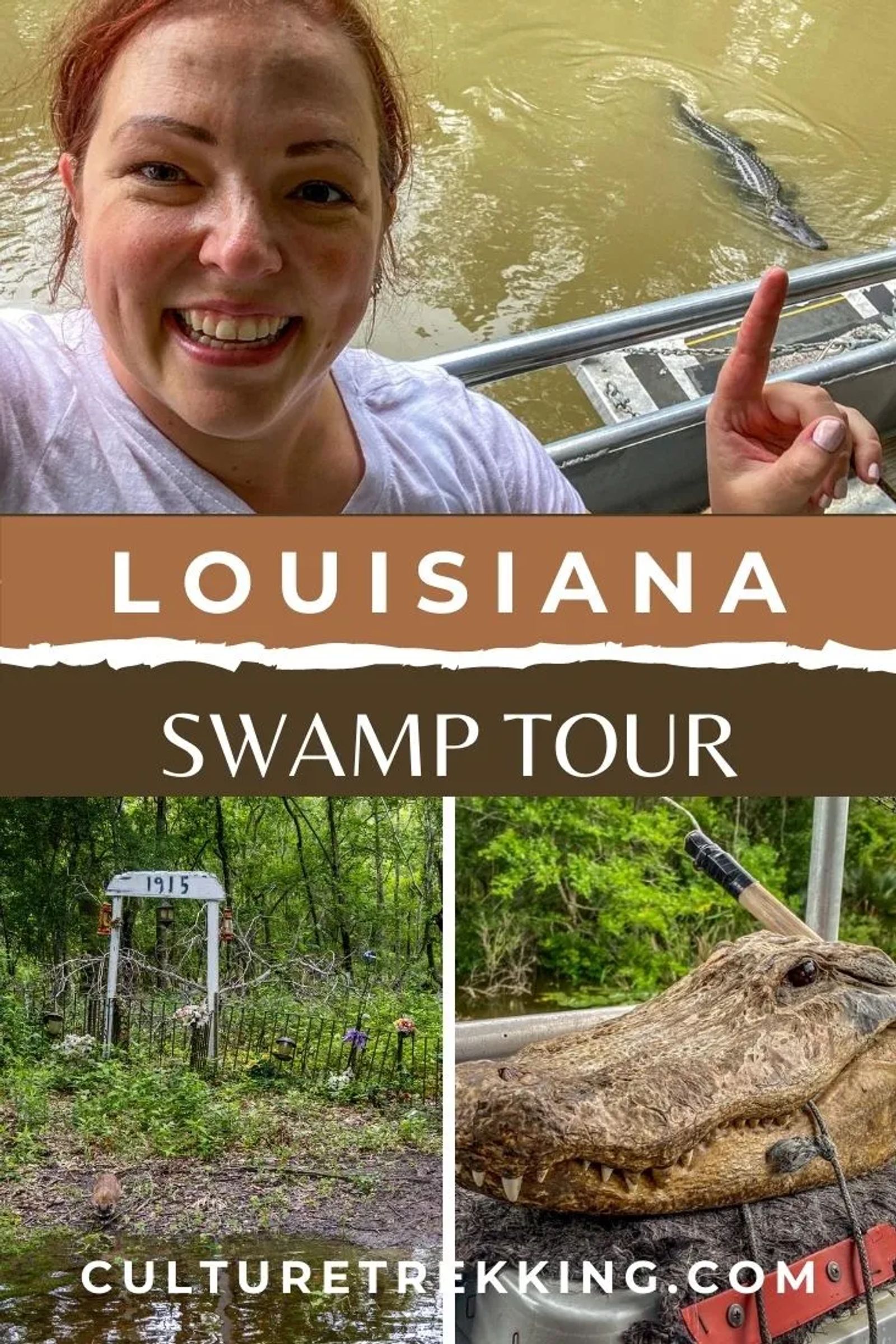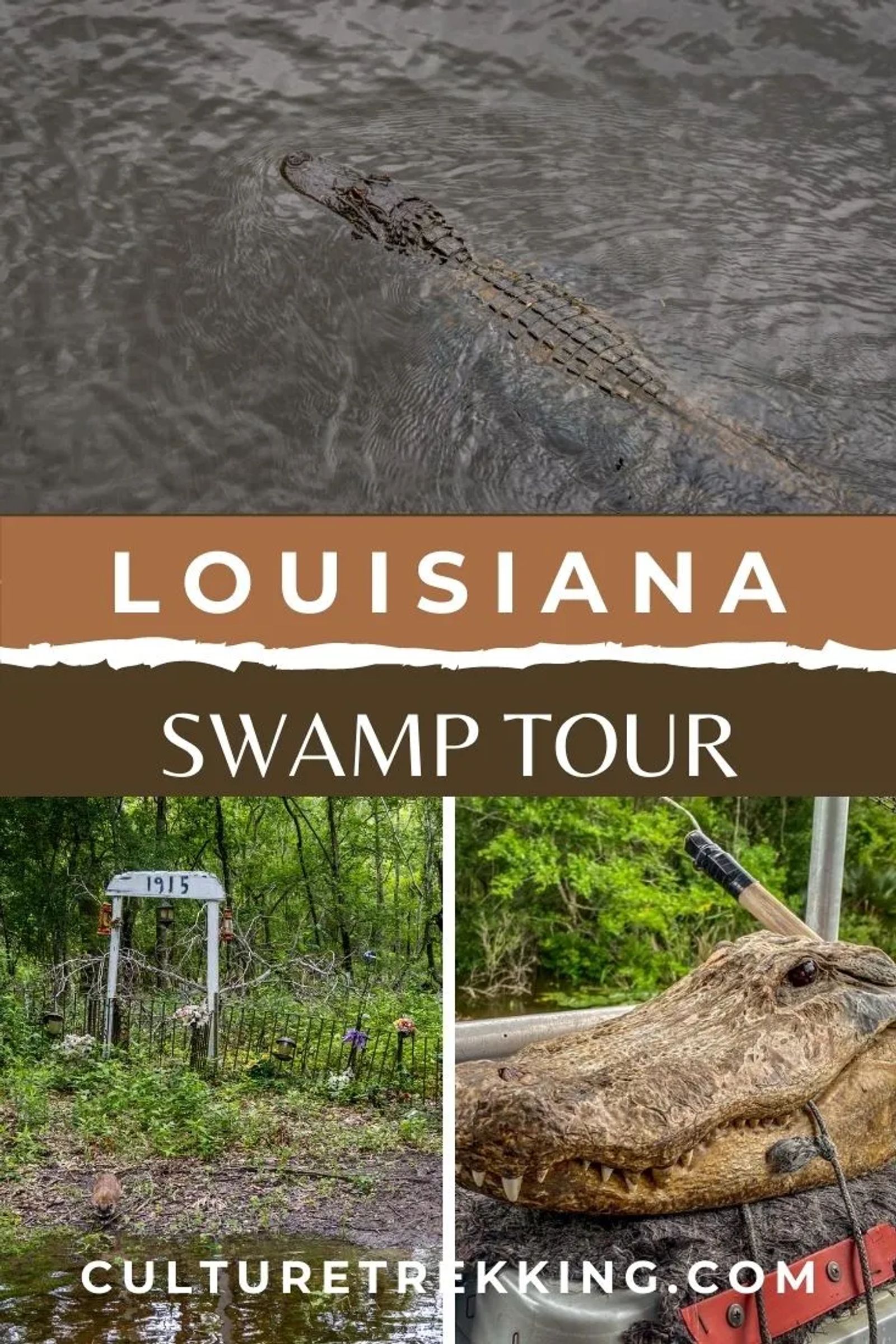 Latest Articles On Culture Trekking