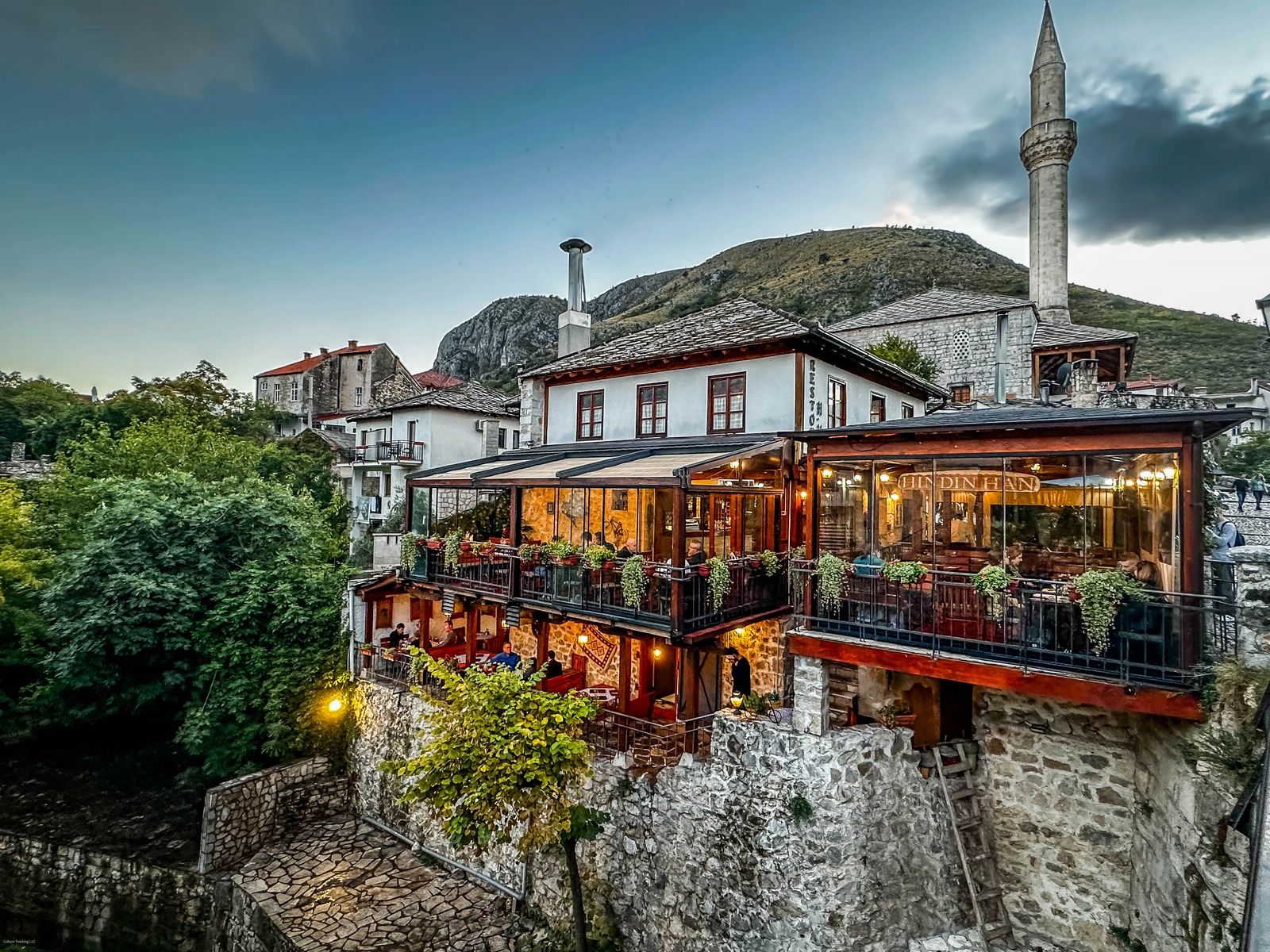 Best Places To Eat In Mostar For Any Budget
Colorful outfits, salty meats with fries, steamed veggies, sweet treats filled with pomegranates, cherries and citrus fruits and a coffee culture that is more like a ritual. I didn't know what to expect when sampling the foods of Mostar but this certainly wasn't it. I think I expected the food to be a bit more like what I had experienced in Lithuania, with more of the influences from the former Yugoslavia here. The food was really unique in so many different ways, from the presentation, to the ingredients, and also the flavorings. I could see a lot of Turkish influences in the food here, and it was incredible, here are the Best places to eat in Mostar for any budget.
I will take you to the top three rated traditional Bosnian restaurants in Mostar. Tour a grocery store, a farmers market, and give you some tips on how to stay healthy while on the road. My friends and I visited Mostar in October 2022, and have updated this article in 2023 to give you the most up to date information on pleasing your palate while in Mostar.
What To Eat While In Bosnia
Appetizers
Ajvar & Lepina: roasted pepper dip or eggplant salsa served with Lepina Bread
Begova Soup: slow cooked veggie and chicken soup
Main Dishes
Ćevapi: a type of kofte that's usually served with a bread called Lepina
Pljeskavica: which is a grilled meat patty made from beef, and sometimes it is served stuffed with cheese or cream
Kebabs served over rice pilaf or with chips
Burek - a quick meat filled pastry that is often eaten for breakfast
Dolma - Stuffed Peppers, made with minced beef and mild spices, onions
Japrak - Stuffed Chard Leaves, filled with rice, minced meat and then simmered in a tomato-based sauce, served over mashed potatoes with a side of cream
Bosanski Lonac - traditional Bosnian highland stew made with beef and veggies (onions, carrots, garlic cloves and pepper) it is cooked for about 3 hours on low heat and often served with Lepina.
Neretva River Trout: freshwater fish from the Neretva River that has a mild buttery taste, low in mercury and typically served with chard and potatoes
Vegetarian Options
Imam Bayildi: Turkish eggplant dish with onions, eggplant, peppers, tomatoes and garlic. Often served with potatoes and pita bread.
Falafel: fried ball of Chickpeas with herbs and stuffed in a pita bread with tahini sauce or hummus.
Shakshuka: Eggs poached in a tomato sauce, with pita bread, spiced with cumin, chili pepper and paprika - (often the breakfast dish of choice)
Mostarski Sahan - or the sultans dish, gives you a bit of everything to try
Desserts
Baklava: pastry, made of filo dough, filled with nuts, honey, sugar syrup. Served cold.
Hurmasice: Dessert made of dough, chopped nuts, honey, sugar syrup. It is rolled into small balls then baked til golden brown. Served room temp with ice cream. – unique to Mostar.
Tufahija: These are delicious poached apples stuffed with candied walnuts and the whole thing is cooked and soaked in syrup
Drinks
Zilavka: Local white wine
Mostarsko Beer is the local beer
Rakija a local brandy that ranges from 40-70 proof alcohol and comes in a variety of different fruit flavors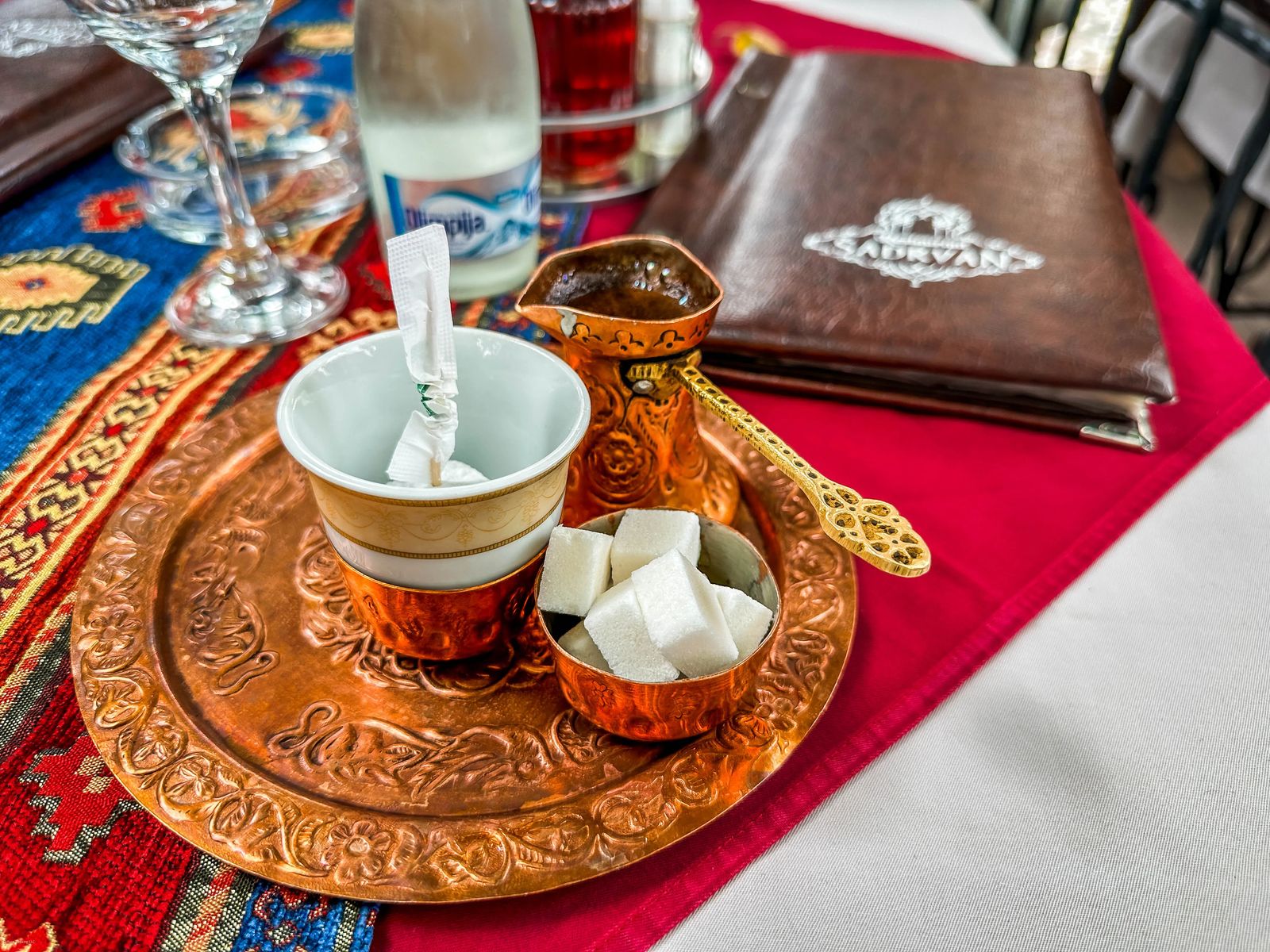 Coffee Culture In Bosnia
There is a distinct coffee culture here, and a unique way of serving it. If you don't know what to do, it can be a bit embarrassing or a massive coffee grounds blunder if you don't know what you're doing. So here it is step by step:
1- The coffee is served in a džezva, a special metal pot with a long handle, which is placed on an etched bronze tray along with a ceramic cup called a fildžan, sugar cubes.
2- There is often a Turkish delight covered in powdered sugar as well, but is meant to be eaten after you drink your coffee.
3- First take the spoon and gently scoop the coffee foam off of the top of the pot. Put that in the bottom of your cup. DO NOT STIR THE POT! No really, don't, the coffee grounds are in the bottom. Pour the liquid portion into your cup, but don't pour it out all the way. If you pour it out all the way, you will be getting your coffee grounds.
4- Take the sugar cube, and don't put it in your cup, you dip the edge of the sugar cube into the coffee to soften it - then nibble a piece of it and chase it with a sip of your coffee.
5- Dip and repeat with sugar cube, cleanse the palate with the glass of water they provide in between.
6- Finish your coffee with good company, and then crown it in all its delicious glory with the Turkish delight.....sigh.....I miss that whole ritual honestly - it really was like asmr coffee culture kind of experience.
Cafe de Alma on the western side of the river is one of few cafes in Mostar that roasts its own beans. They serve coffee the traditional way and will run you through the ritual if it's your first time.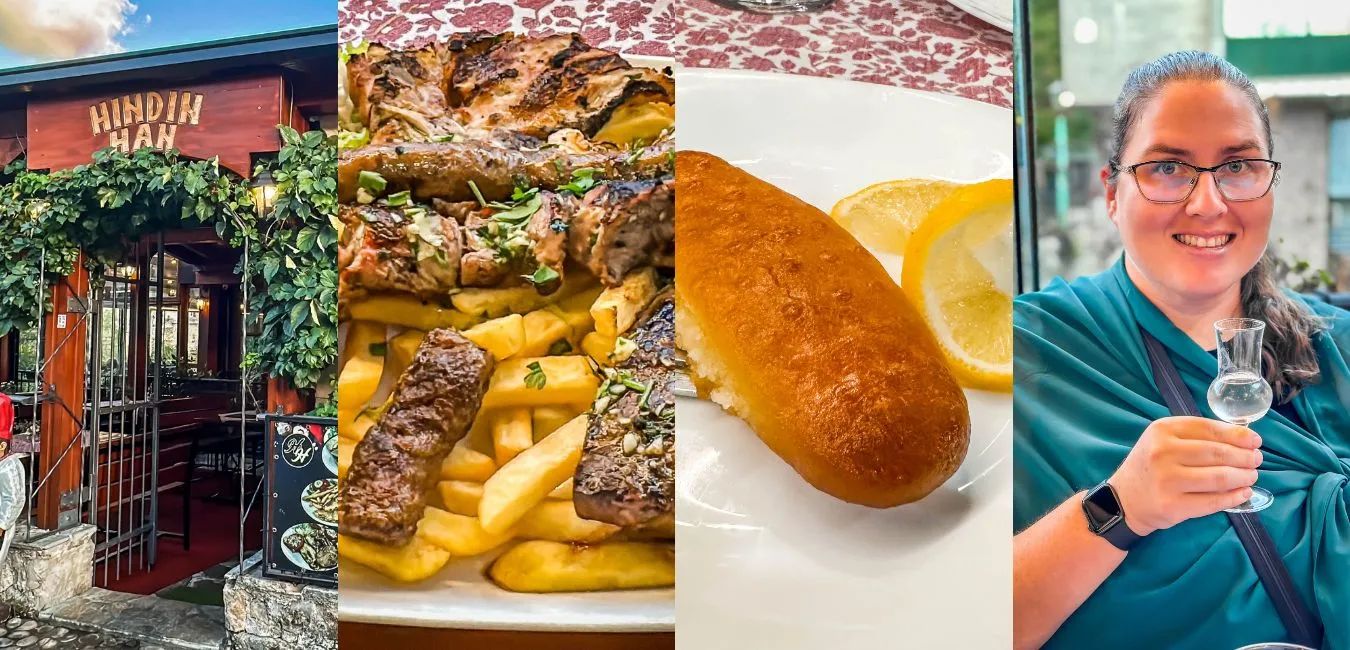 Try Hindin Han For Rakija
Hindin Han has a good mix of traditional Bosnian food and Rakija. I tried Cevapi (that my friend ordered), as well as the small mixed rilled meat. My dish had veal chops, veal skewers, kebabs, calf liver, chicken, sausages, and fries. It seemed like a healthy option and also a different set of meats, especially the calf liver that I have heard is healthy to eat (but unsure on that part because the liver is one of the garbage processing plant of the body, lol).
I also tried the Hurmasica, it is a biscuit type dessert that looks rather plain when you get it. It tastes like a biscoff almost, but soaked in lemon, rose and orange water. It was so delicious, the texture wasn't soggy and it still held its structure.
My friend Erin got Rakija in peach, and while she screwed her face up after the first sip - she said it was delicious and goes straight to your head. They also have water (of course) and a good selection of juices, I suggest trying the black currant.
This restaurant was right around the corner from our accommodation (Villa for You), and a 3 min walk from the famous bridge. It is right next to a smaller bridge that spans a river, and makes for some pretty spectacular evening photos.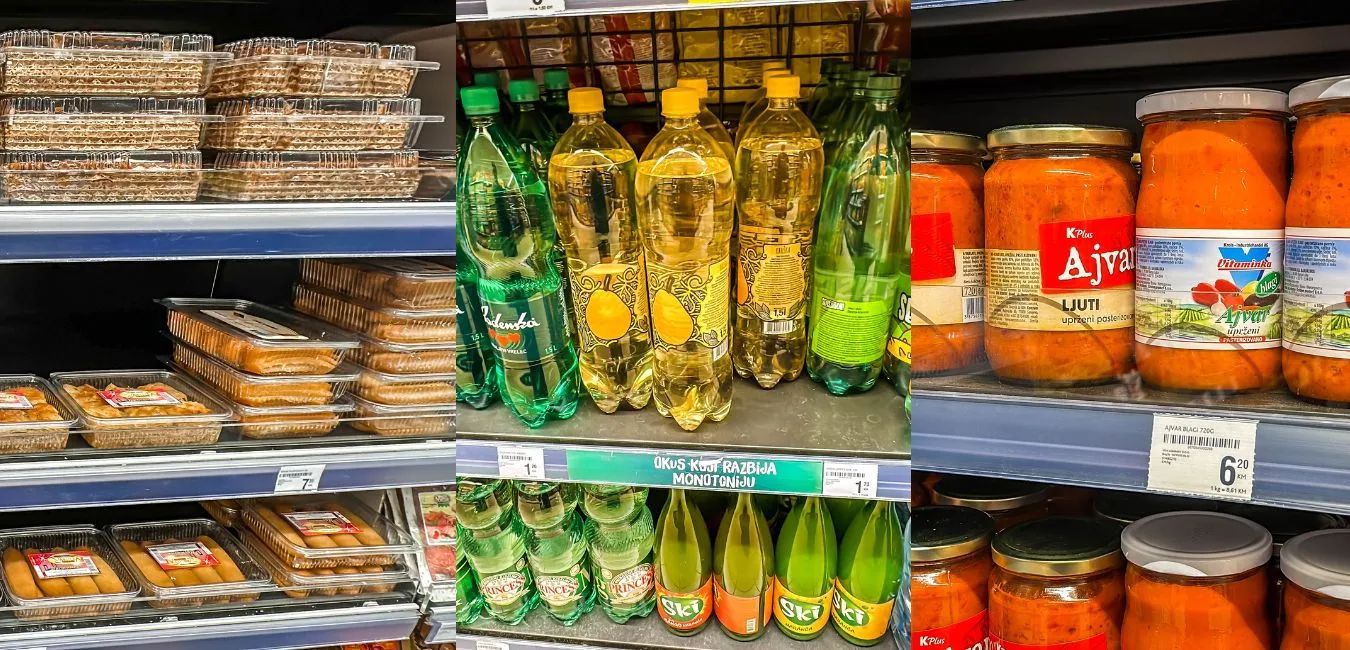 Grocery Store Finds In Mostar
If you want a great snack for the road that is on the healthier side, grab some Avar, green olives, and some bread. There are a few grocery stores easily accessible on the Ottoman side of Mostar. There is a good selection of fruit - but make sure you weigh it before going to the counter. It was a bit difficult to know what button to push, and just pushing random buttons doesn't work (not that I would know) but it will legit start squealing if you do that.
If you have a small kitchen, you can certainly cook your own food from what was offered at the grocery store. We stocked up on water, flavored beverages, chocolate, coffee items, fresh fruit and other items to last us on our 1500 mile Balkan journey.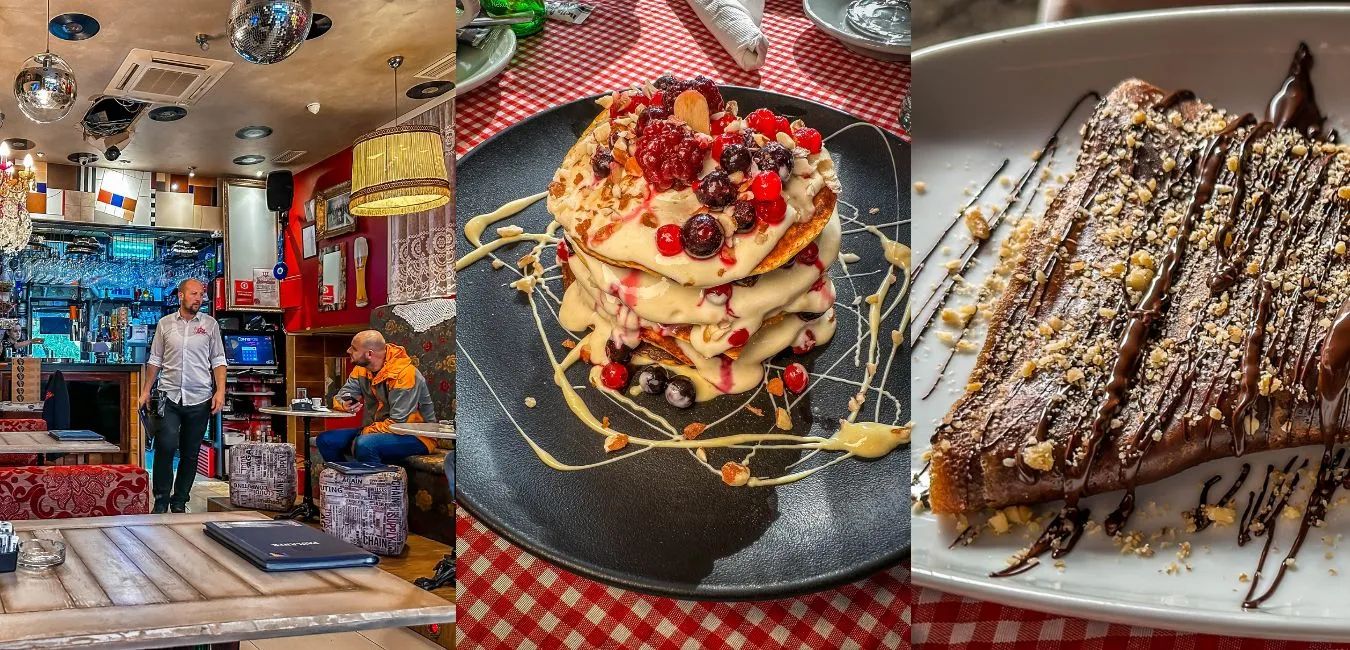 Breakfast In Mostar At Nide Veze
I had heard that Cafe Alameda served some amazing traditional Bosnian coffee and walk you through the process. However, in Mostar, breakfast doesn't open until around 11 am so for all us early risers, grab some at the grocery store. We did find a cute cafe/bar/disco palace place called Nice Veze that had some incredible (although very sweet) breakfast items.
They have crepes (sweet and savory), pancakes, protein pancakes, eggs comfort food, cocktails and more. It also looks like a pretty happening place in the evenings for some dancing, music, and a local hangout spot.
I got the protein pancakes, and a regular coffee and it was the perfect combo for me so that I didn't end up falling asleep (from the sugar crash) while trying to do a big tour of the city.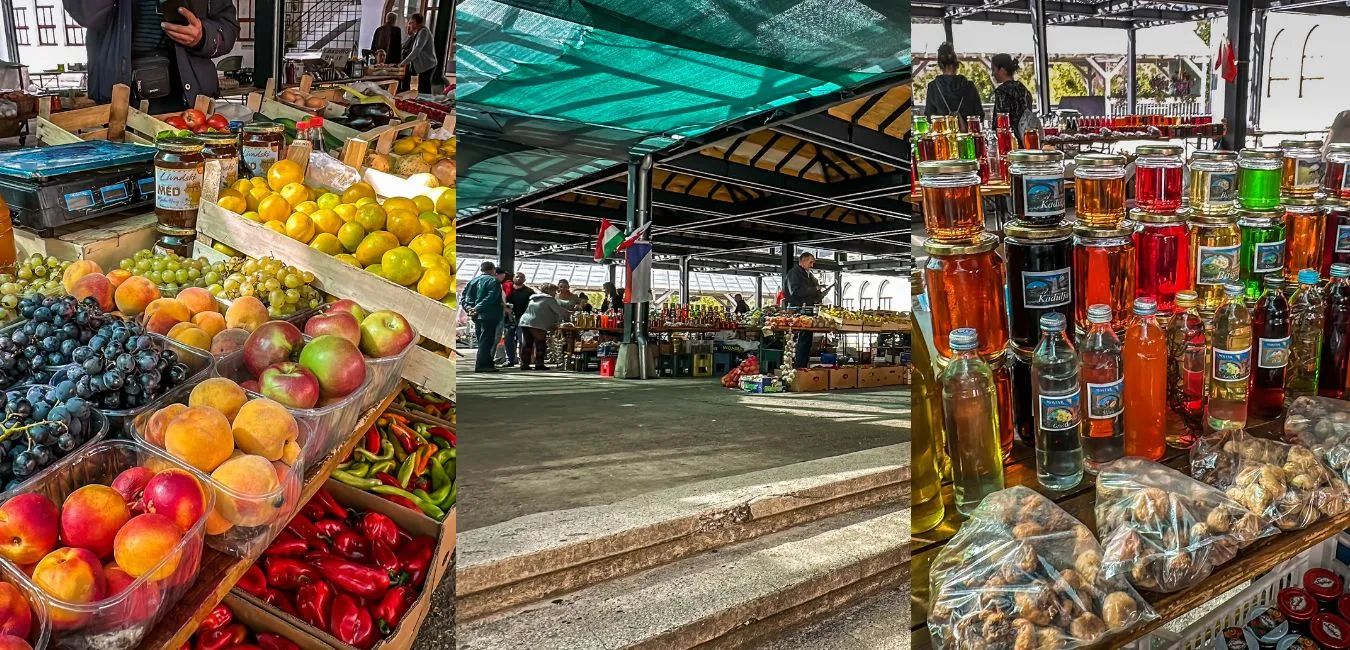 Farmers Market For Fresh Produce
We found this farmers Market while heading from Katjia House to see the Bruce Lee Statue. It was filled with local fruits, wines, jams, vegetables, oils and more. If you are looking to stay healthy on the road and on a budget then this is the place to go to stock up on the produce that won't go bad in a few days if you don't have a fridge. You will need to bring cash, and your charades skills in order to buy something here though but I had no problems buying some apricots.
Šadrvan For Traditional Bosnian Dishes And Wine
This was my favorite place on our Bosnian food tour, as the waitresses dressed up in traditional outfits, the meals were served in the metalwork Mostar is known for, and they also serve the traditional Bosnian Coffee.
It can be quite difficult to find a seat here as it is the center of Old Town, and the day trip tours often come here for the experience (like most tourists want to) so I would call ahead and make a reservation for sure.
We ended up getting the Sultan's National Dish that included Japrak, Dolma Bosnian cookie, small Cevapi, here, duvet, boiled potatoes, sour cream and rice. They also have Klepe, Cevapcici, Bosnian schnitzel, vegetarian options, desserts, and a whole book of options to choose from. The menus are in several different languages as well.
I thought the service was really good, but found while in Bosnia you do have to kind of search for your waiter when you want to pay the bill. I don't know if they don't want to be rude and ask if you are ready to leave, or it is a custom to just stay for hours on end like it is in the rest of Europe. It does provide a nice relaxed atmosphere through, to be able to chat, take pictures (or videos in my case) and be present in the moment, enjoying the vacation.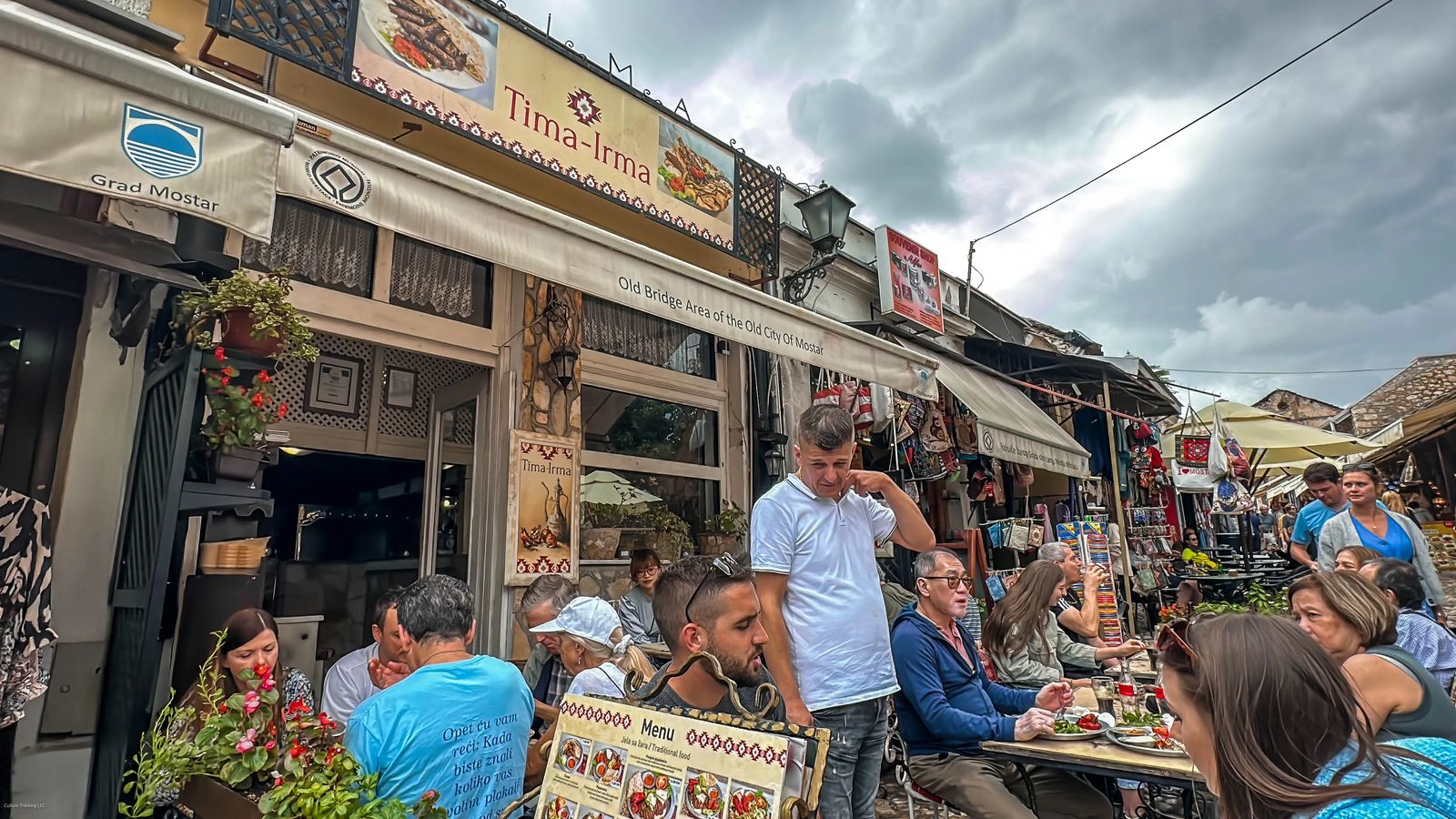 Tima-Irma
This was another family restaurant that was frequently recommended to me while I was in Mostar. Tima-Irma has been in business the last 30 years. While we didn't get a chance to sit down and eat here it is right in the heart of old town and the Old Bazaar. The food looked great while passing by, but I also didn't really want everyone staring at me as I passed by eating my food either. That being said, it has very high ratings and highly recommended and is always crowded.
They offer hot and cold dishes and serve many of the traditional dishes like Čevapčići, Pljeskavica, Sudžukice, Ražnjići, Miješano meso, salads, and traditional sweets. They do have indoor seating, but it looks pretty limited.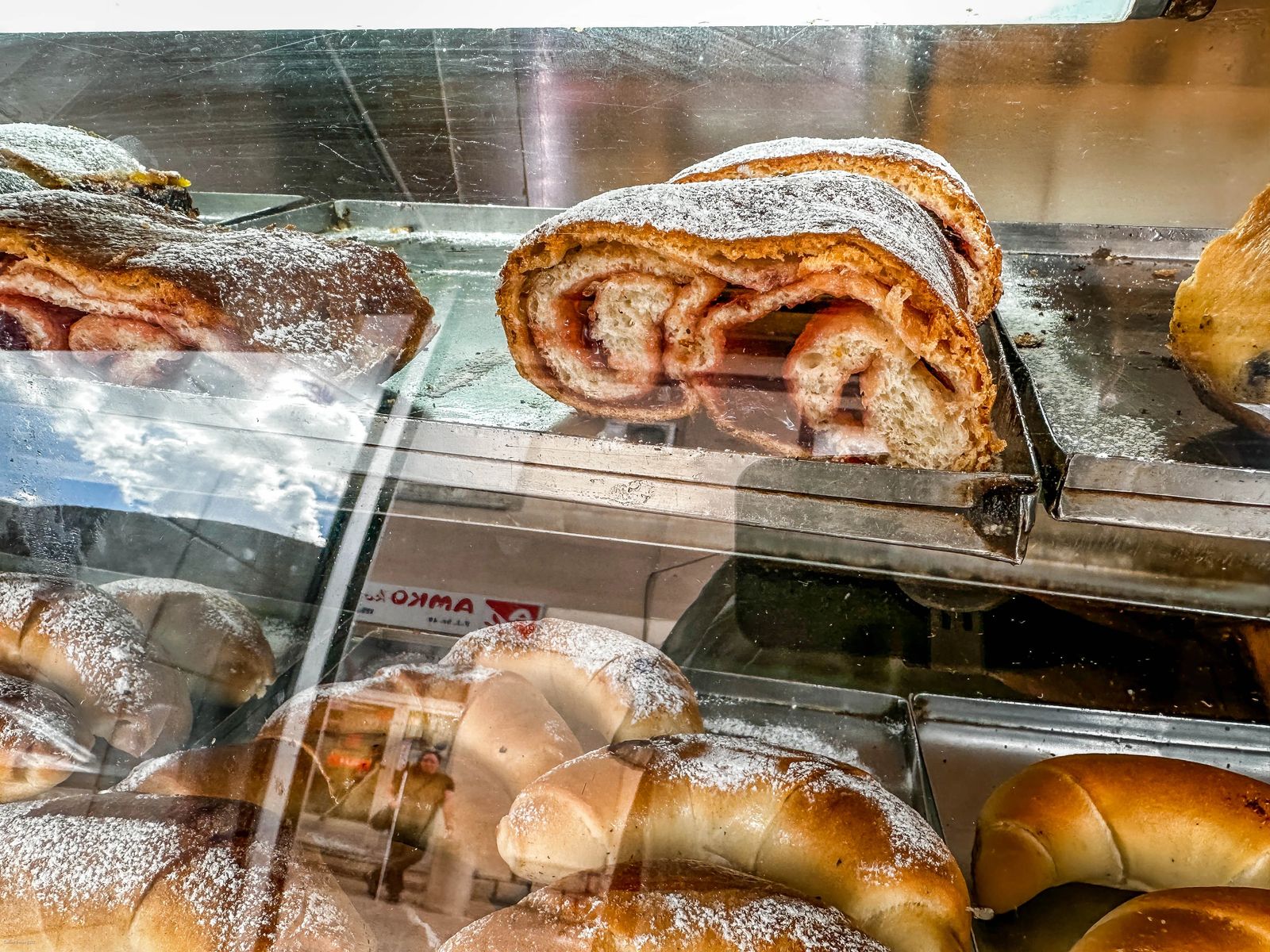 Delicious Pastries For Budget Breakfast
Burek is a very popular savory breakfast pastry that is very easy on the budget. It is a pastry filled with either cheese or minced meat and is available at many of the patisseries throughout Mostar. Again, these don't open until mid morning, so keep that in mind while planning your meals out.
They also have sweet pastries that look a bit like cinnamon rolls or croissants, while I never tried them, they did look interesting. Pomegranates, cherries, and citrus grows in these regions in abundance so I'm sure you will get some delicious flavors whatever you choose.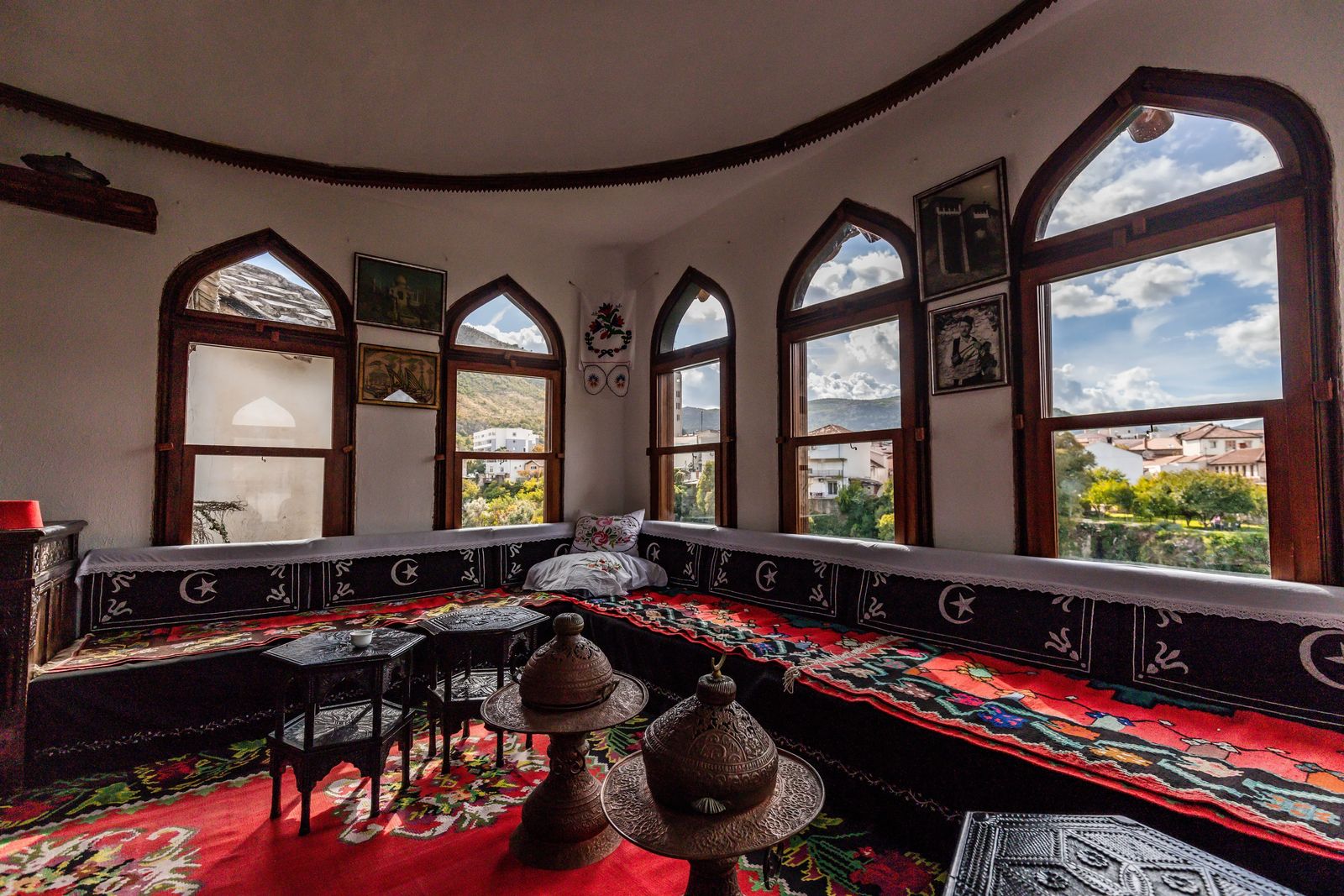 My Takeaway of The Food In Mostar
While the traditional meat dishes all have the same components of meat, vegetables, potatoes and bread - the flavors and combinations are what make it a bit different. Throughout the Balkans you will find the meat to be quite salty, I don't know if that is from the days of preserving the meats without fridges, or because everyone smokes (and smoking decreases your tastebuds ability to taste) so they increase the salt. Just make sure to tell the waiter you don't want a lot of salt and the dishes come out filling, fun, and provide a balance of protein, fat and carb that every traveler needs and the vegetables to keep you going (if you know what I mean). I really loved the variety of produce, patissieres, traditional foods and culture around that food, the friendliness and hospitality at every restaurant. When the waiters would come up, it was like they wanted to tell you about the best dish that there ever was and 'of course' you need to try it - in their adorable Bosnian accents. I found myself only eating about two meals a day because they were so filling, and the budget goes a looooong way in Bosnia - so you can really dine in style.
Like it? Pin it for later! Sharing is caring ;)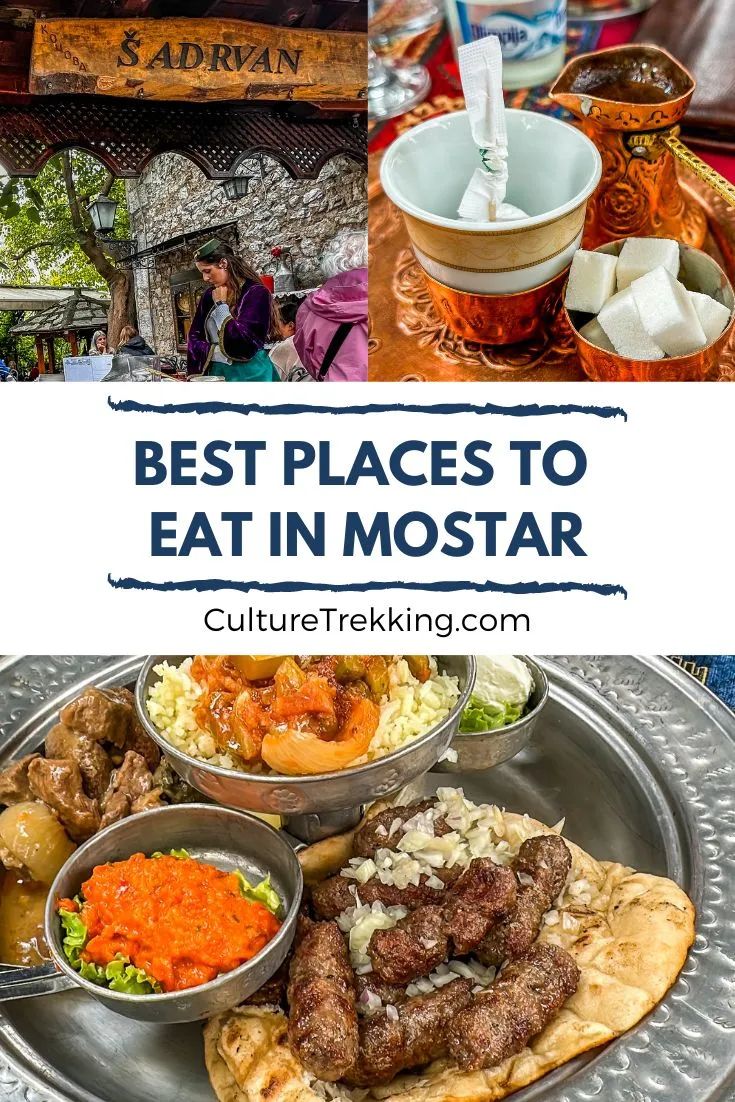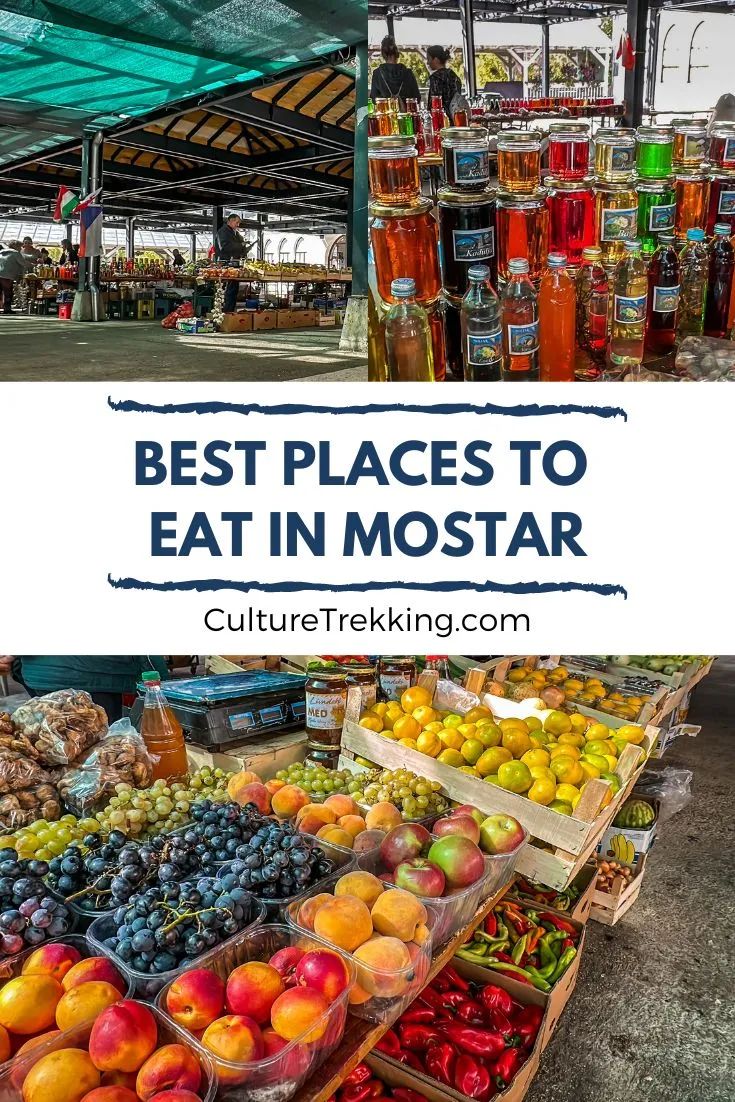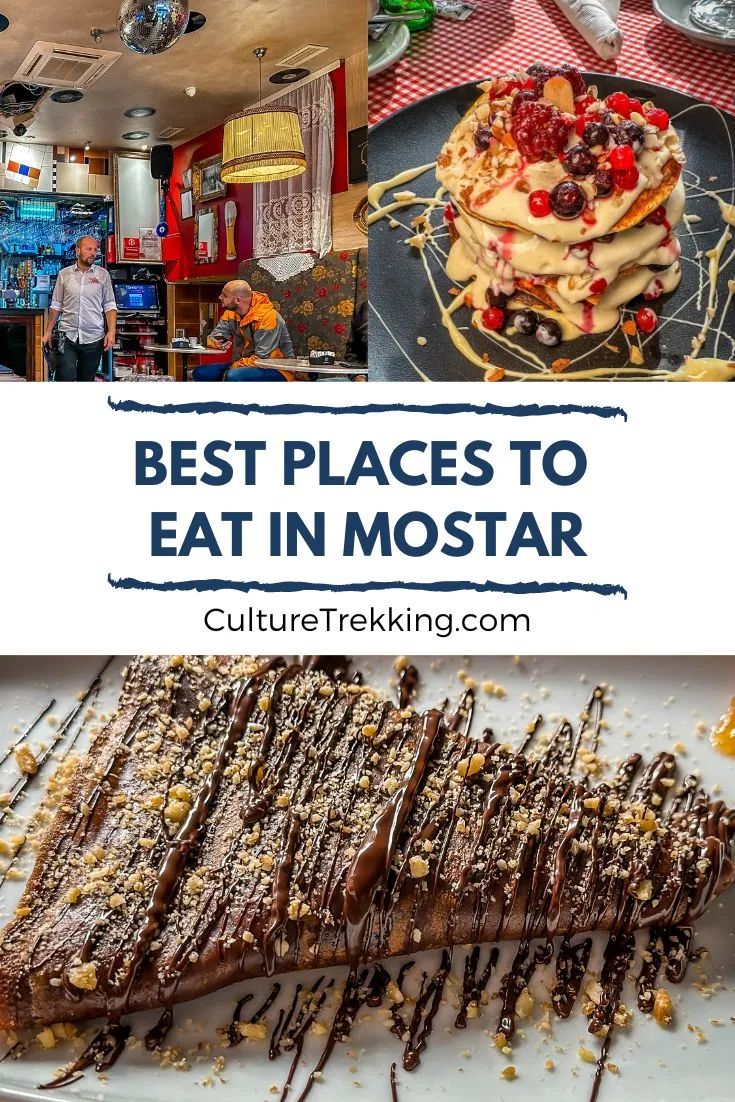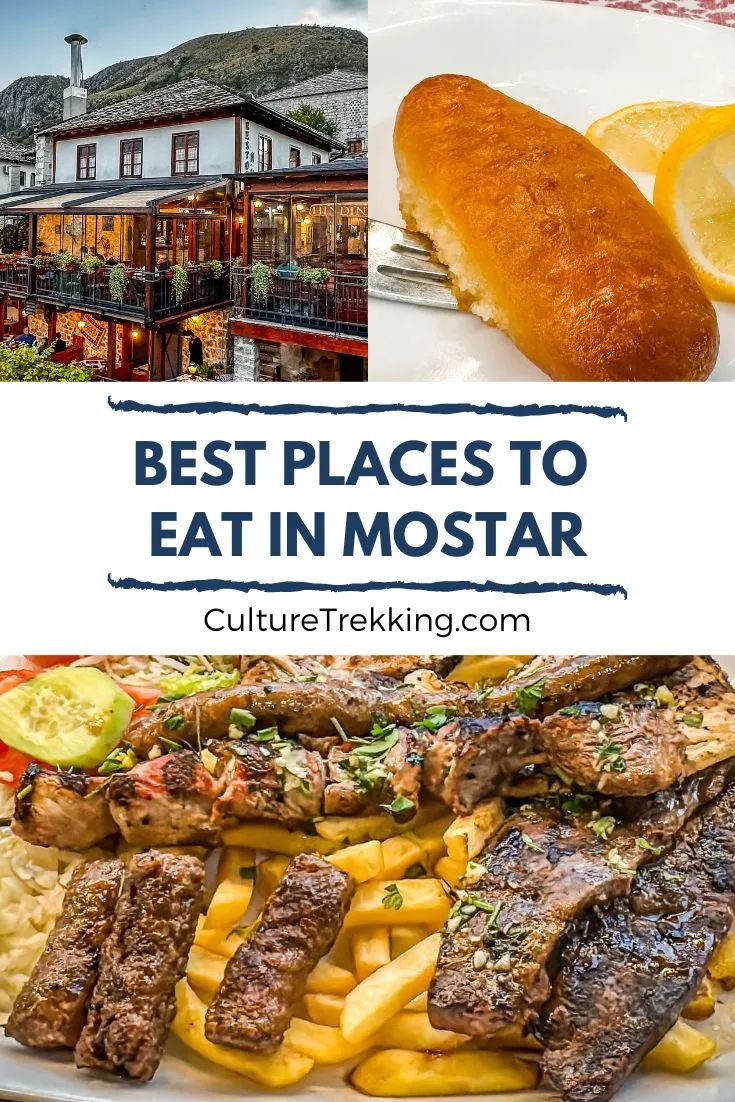 Latest Articles On Culture Trekking