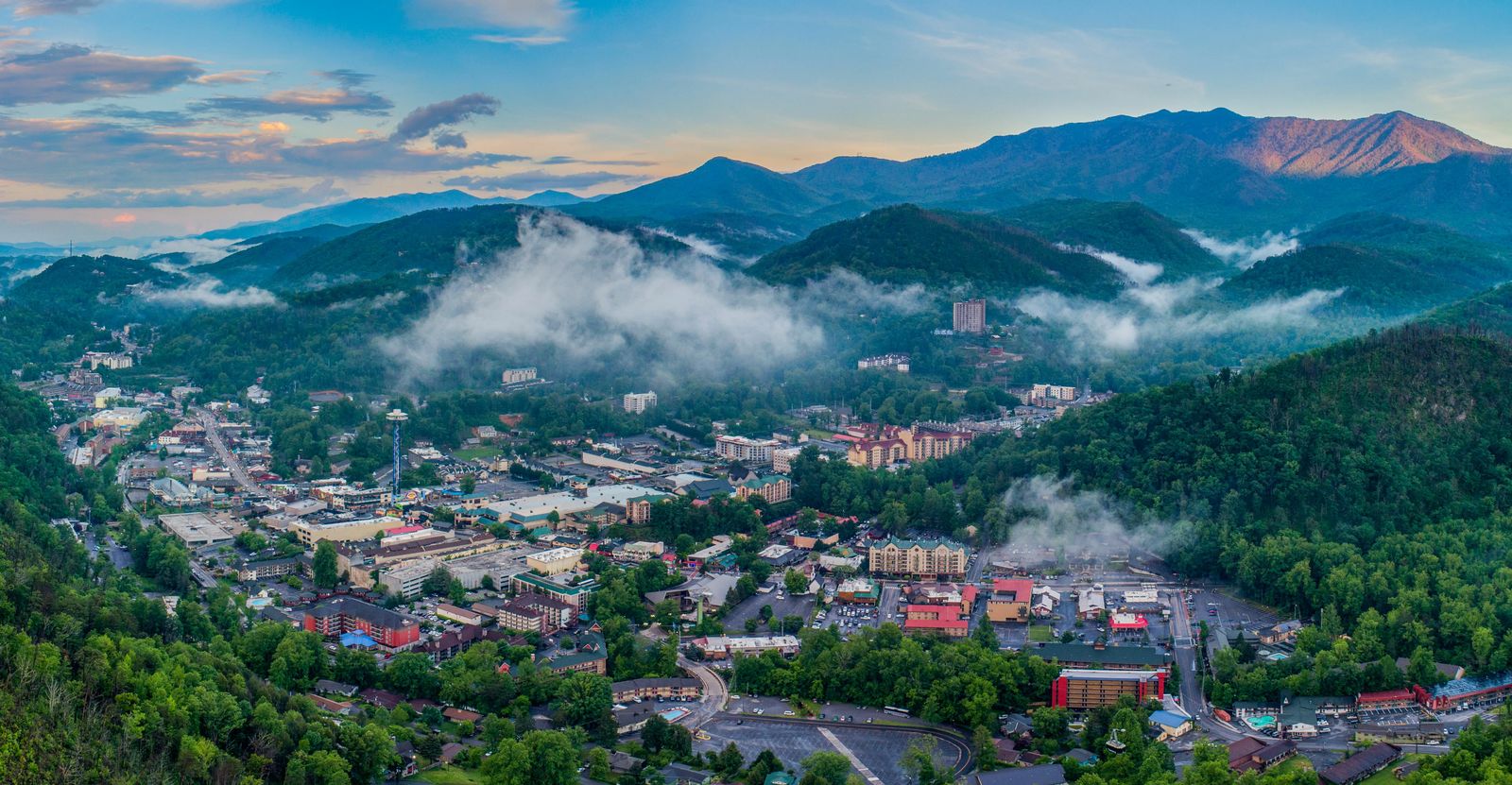 Things To Do In Smoky Mountain National Park
With the park covering more than 520,000 acres and 244,00 acres in Tennessee and 276,000 acres being in North Carolina how do you cover this entire park in one trip? Well the short answer is, you just can't - unless you are planning on hiking the entire Appalachian Trail. So here is a detailed guide of things to do in Smoky Mountain National Park.
I will take you through Cades Cove, Roaring Fork Motor Nature Trail, hike some of the easiest day hikes in the Smoky Mountains, tips on where to see the best wildlife, the best way to visit Dollywood, the best things to see in Gatlinburg and so much more. After I visited in the summer of 2021 I just couldn't wait to share the beautiful nooks and crannies I found in this place.
Quick Facts About Smoky Mountain National Park
Location of Smoky Mountain National Park: Located about 49 minutes Southeast of Knoxville Tennessee, and a mere 5 minutes from Gatlinburg Tennessee.
Biodiversity and Geology: There are over 100,000 species of plants, animals, flora and fauna that are in the Smoky Mountain National Park (which rivals any rainforest in South America). The Smoky Mountains are made of sedimentary rock formed during the Proterozoic era around 800-545 million years ago. The mountains lose about 2 inches of height every 1000 years, once rivaling the height of the Rocky Mountains. The Sedimentary rock is made of clay, silt, sand, gravel and some calcium carbonate.
Transportation: The best way to get to Smoky Mountains is via car. I would suggest a lifted 4x4 vehicle that is not a truck. The one way roads and loops are really narrow and parking is sparse at best.
Best Time To Visit the Smoky Mountains: The best time to visit is in Spring and Fall to miss the busiest part of the season in July. October is the best time to see the fall colors, but avoid going on the weekends as there is a surge of people who come and traffic can be pretty horrendous. There is infrequent snow in the winter, but most of the wildlife is hibernating so may not be the best time to go.
How Long To Stay in Smoky Mountains: I would suggest staying for at least 1 week if not 2 weeks in order to see everything, hike the best trails, and experience the nearby theme parks properly.
Safety In The Smoky Mountains: Make sure you wear closed toed shoes and long pants no matter what time of year it is as Poison Ivy is everywhere! There is a Poison Ivy cream that you can get that helps should you find yourself inadvertently brushing up against some. Do not feed the bears or any wildlife for that matter, the park will have to put the animals down because it makes them dependent and aggressive with getting food. Stay on the trails! This is a massive park, and often with treacherous drop offs, for sustainable touring make sure you stay on the trails. There are two poisonous snakes that live in this park, just another reason to stay on the trail.
Best Things To Do in the Smoky Mountains Hiking, biking, wildlife spotting, rafting, swimming, photography, historical tours, theme parks, wine trails, nature trails, foodie trails and more.
Finding Sustainable Places to Stay: I typically will use booking sites like Charistay or Kind Traveller to book my accomodations. These sites work with hotels who pay fair wages, employ locals, are independent hotels and are conscious of their impact on the environment. They also give a portion of their commision to local charities or NGO's in need to ensure that they are having a positive impact in the communities.
Money Recommendations: When visiting the Great Smoky Mountain National Park it is a good idea to have some cash on hand as the remote area, and lack of cell phone signal can be difficult for stores to process cards. Campgrounds and bike rentals also often require cash on hand.
Roaring Fork Motor Nature Trail
The Roaring fork stream is the larger and faster moving streams in the Smoky Mountains. This is a 5.5 mile one way narrow loop road that has minimal parking, and lots of traffic in spring and fall. Before you start on the roaring fork motor nature Trail be sure to stop at Noah Ogle nature trail and Cataract Falls. These are both an easy walk and a hike, with the nature trail showing placards with plants and trees their names and what they're used for.
Along the motor nature Trail you also find Rainbow Falls, this is one of the most popular waterfalls in the smoky mountains. This is a 5.4 mile round trip hike that is considered moderate, I did not personally go on this hike but one day will return and do this as it looks absolutely stunning.
My favorite stop along this trail was the Place of 1000 Drips, a trickling waterfall that looks like something right out of Ferngully. The parking is limited here as well so make sure to have patience in finding a spot, and be sure to look around the waterfall for different types of foliage.
Please give yourself time on the motor nature trail because it does get quite crowded there were a few cars that got stuck or bottomed out on rocks including a jeep when they try to make their own parking spaces because the ground is very moist because of all the rain, it does get quite sketchy when you try to create your own parking spaces. So consider yourself warned, and take a 4 x 4 lifted vehicle with you.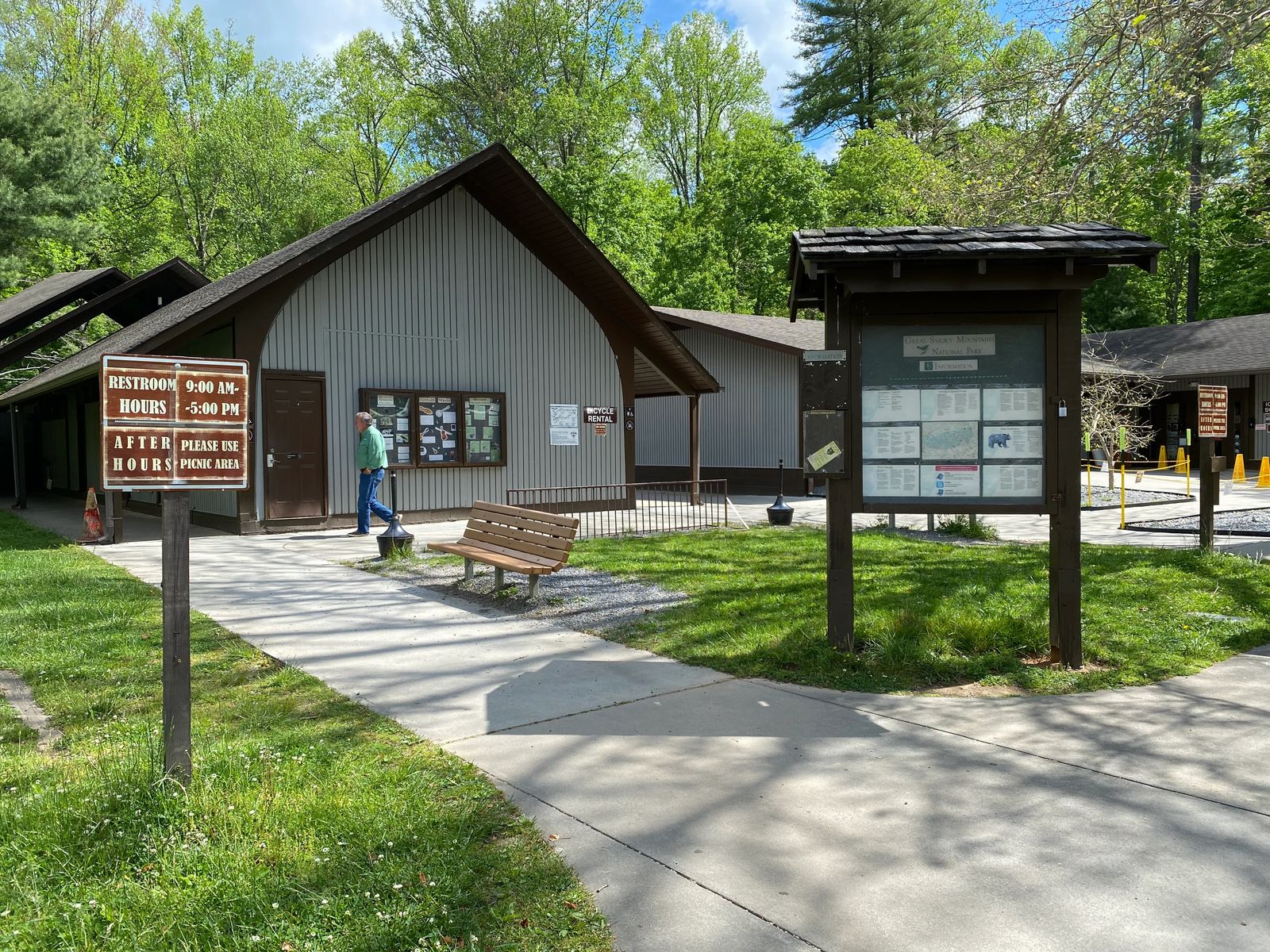 Sugarlands Visitor Center
There are four Visitors Centers located throughout Smoky Mountain National Park, one in Cades Cove, another in Oconaluftee, Clingman's Dome, and Sugarlands. This is a great place to stop for multiple reasons. There is a 20 minute film about the park here extensive natural history exhibits, there is a bookstore, a shop, soda and water machines, backcountry information, bike rentals and even firewood. This is also the starting point of the fighting creek nature trail. If you go past the bathrooms and into the forest area you will see the signs for the Nature Trail and Cataract Falls.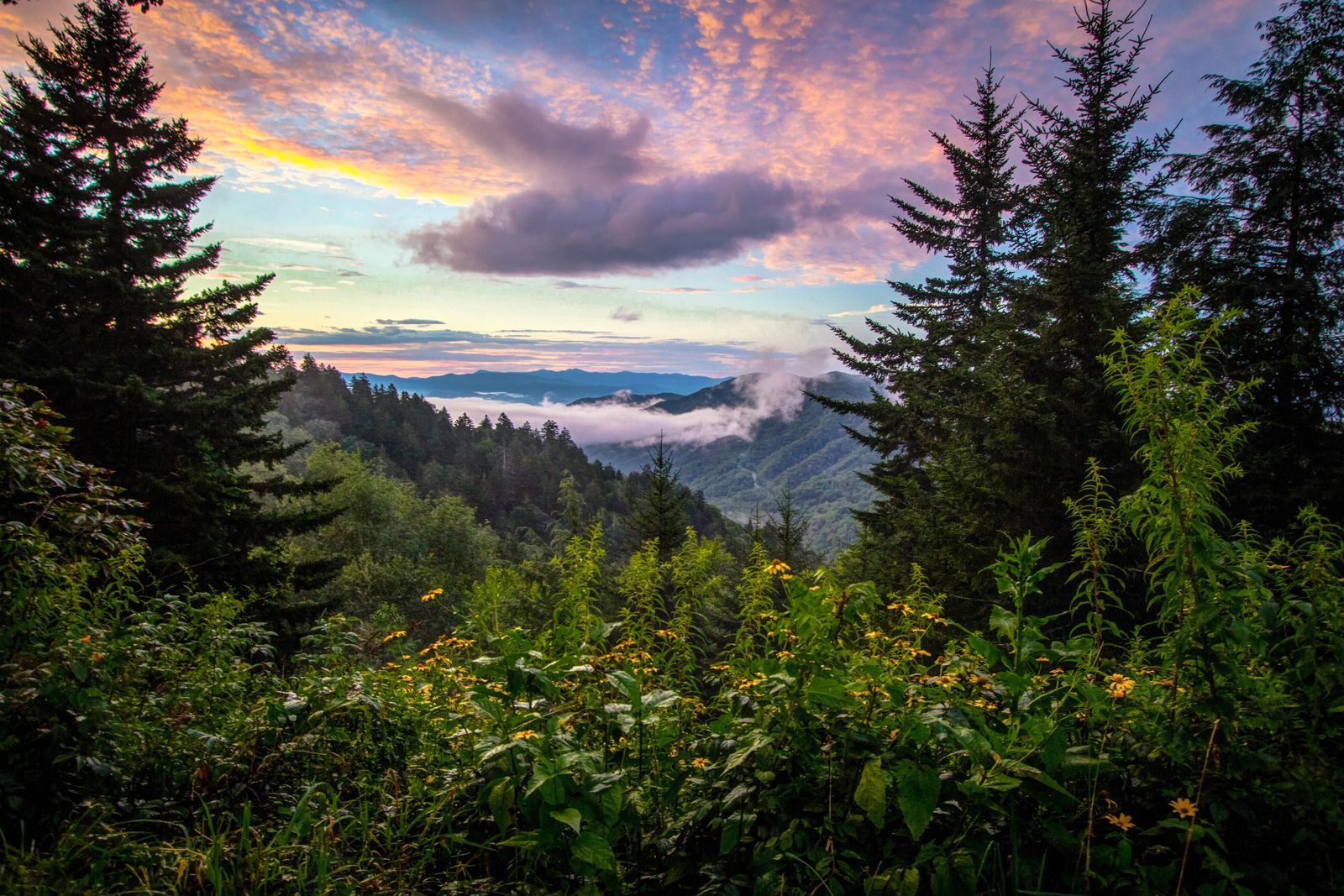 Newfound Gap
The Newfound Gap is the highest point along Highway 441 in the great Smoky Mountain national Park. Located between Sugarlands Visitors Center and Gatlinburg Tennessee that has you climb to a 5,046 foot elevation. The road to Newfound Gap is 31 miles fully paved road that weaves and winds its way up the mountains.
This is where you can stand between two state lines North Carolina and Tennessee. If you feel like standing on the Appalachian Trail, you can also do that here. There are scenic views on top of the Rockefeller Memorial, And be sure to stop by the Oconalufee Visitors Center where you can view the Mountain Museum.
As you drive up this road you will notice the changing landscape and biodiversity of the trees along the road. There are pine-oak, evergreen spruce and cove hardwoods that will have you dying to open your windows to smell the fragrant fresh mountain air.
The reason there is a Rockefeller memorial center there is because they were instrumental in providing funding to create Smoky Mountain national Park. Just south of the Newfound Gap is the 7 mile Clingmans dome hike which I will discuss in a later section.
There is plenty to do along the roadway including Mingus Mill, Chimney Tops Hike, Alum Cave, Charlies Bunion Hike, Manitoba Elk grazing in Cherokee, Fishing, Camping and participating in the Cherokee reservation cultural events and pow wows or their Harrah's Casino located on the reservation.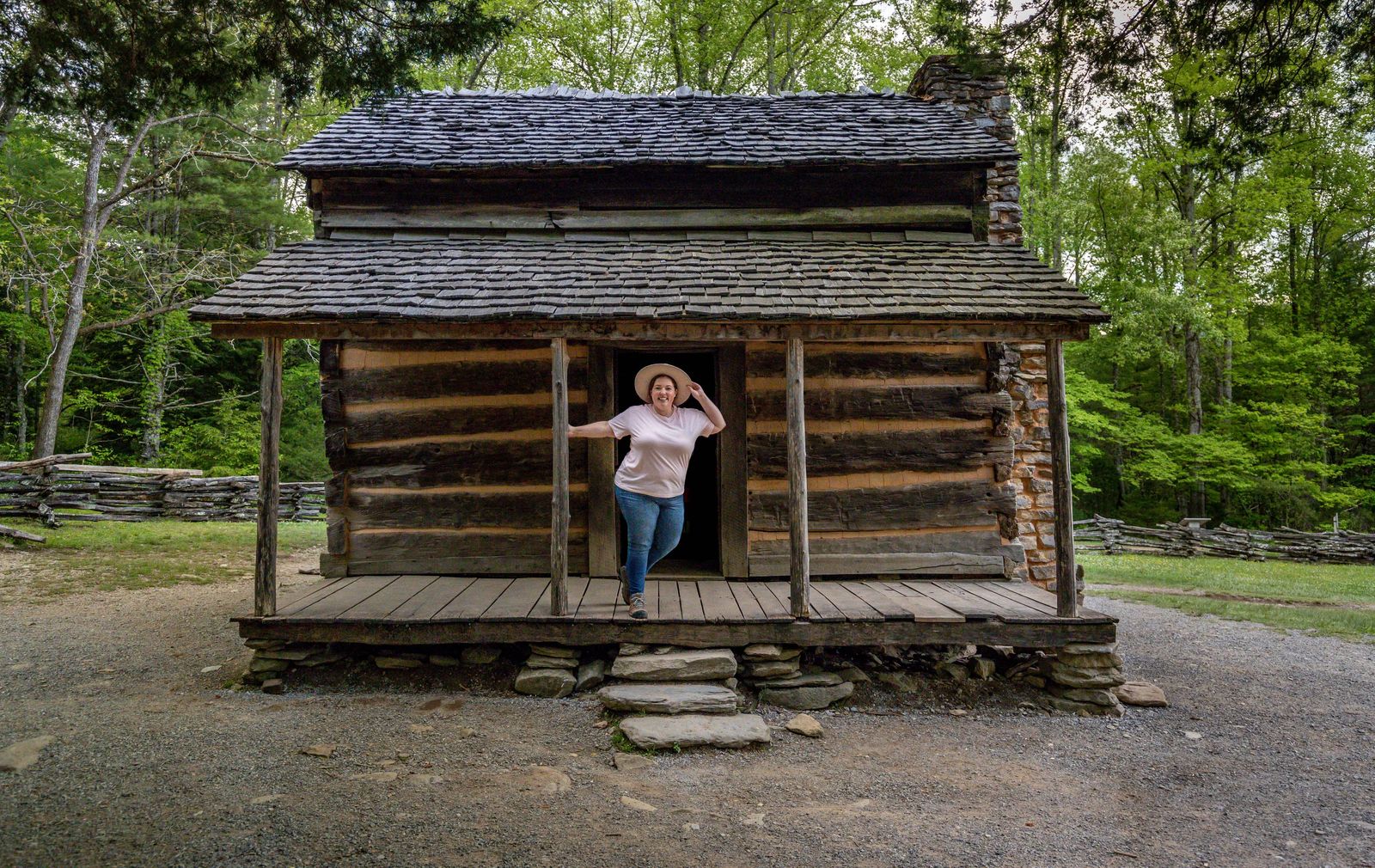 Cades Cove
Cades Cove is a flat valley nestled between Smoky mountains in the Appalachian Range that offers beautiful scenery, history, and natural treasures. This is an 11-mile one-way highly trafficked loop, so once you commit there really is no way to turn your vehicle around, nor any shortcut to your car should you decide to bike there.
Be sure to pick up a copy of the map of Cades Cove Loop Road at the visitors center that will show you each of the 18 stops and the history of each along the way.
There are over 80 buildings in the park, once housing a population of 700 people originally. Really there is so much history and so many elements to the unique stories of people who once lived here it will be hard to do it justice in a few paragraphs, so here is a full Guide To Cades Cove with all the tidbits you will need to optimize your time there.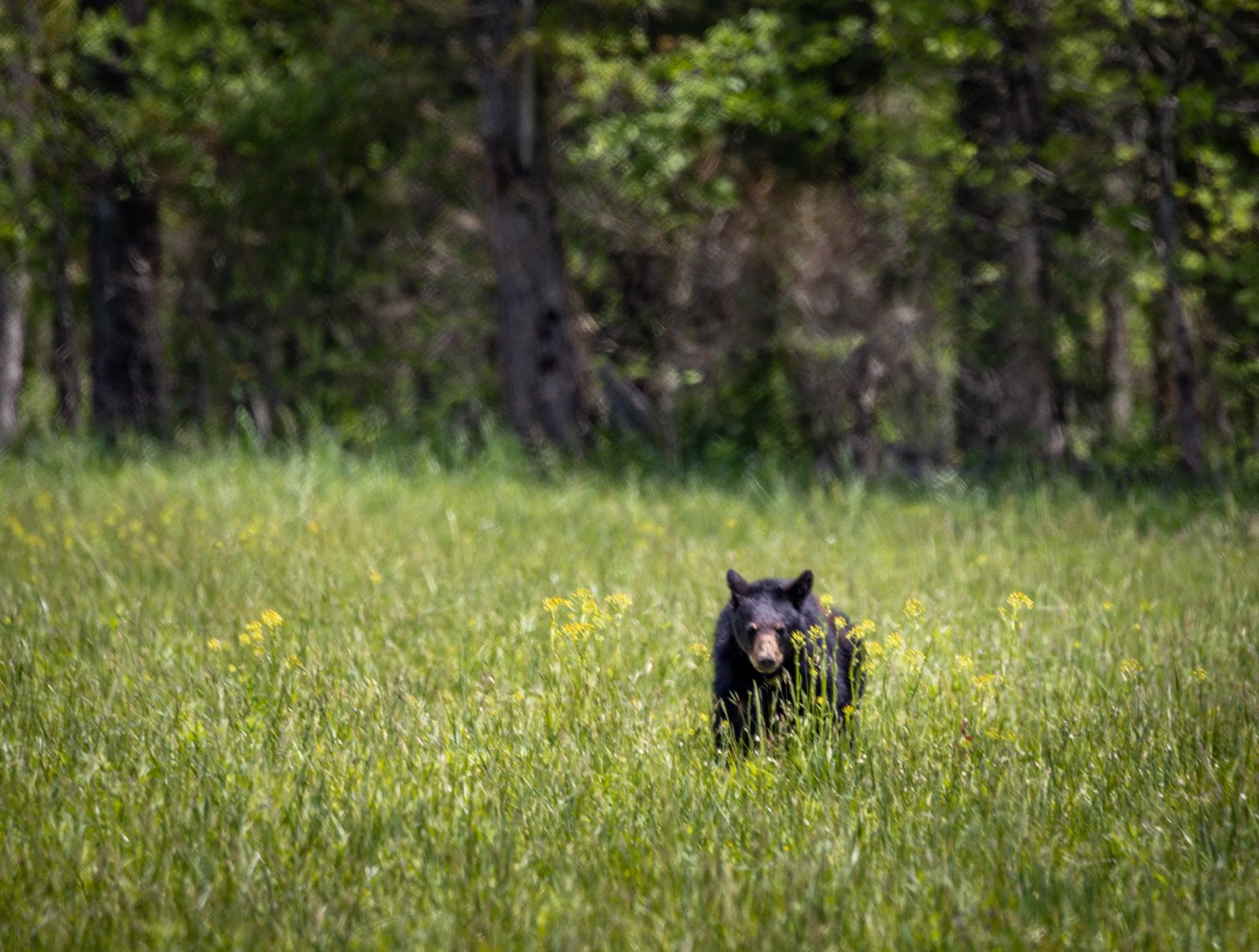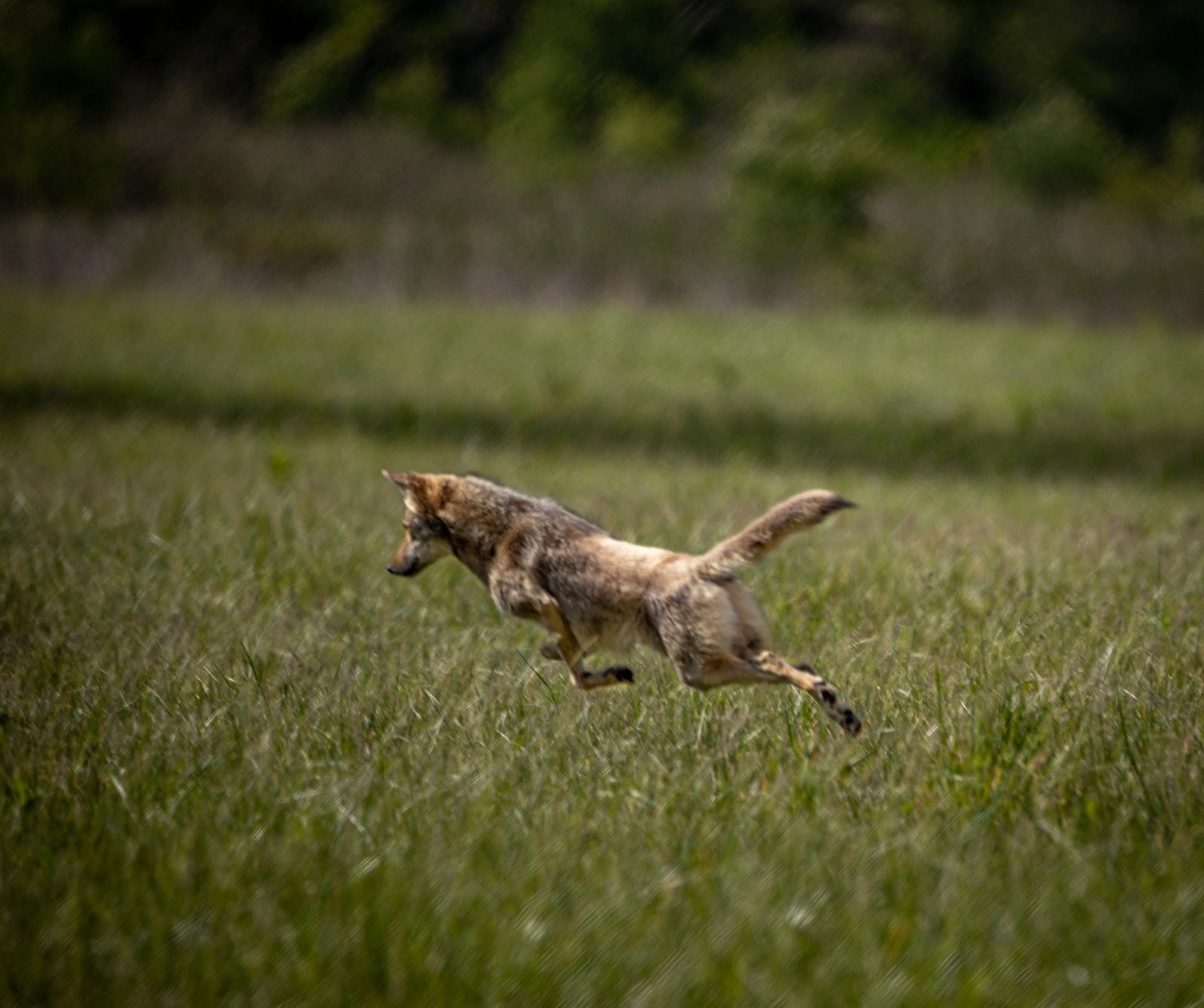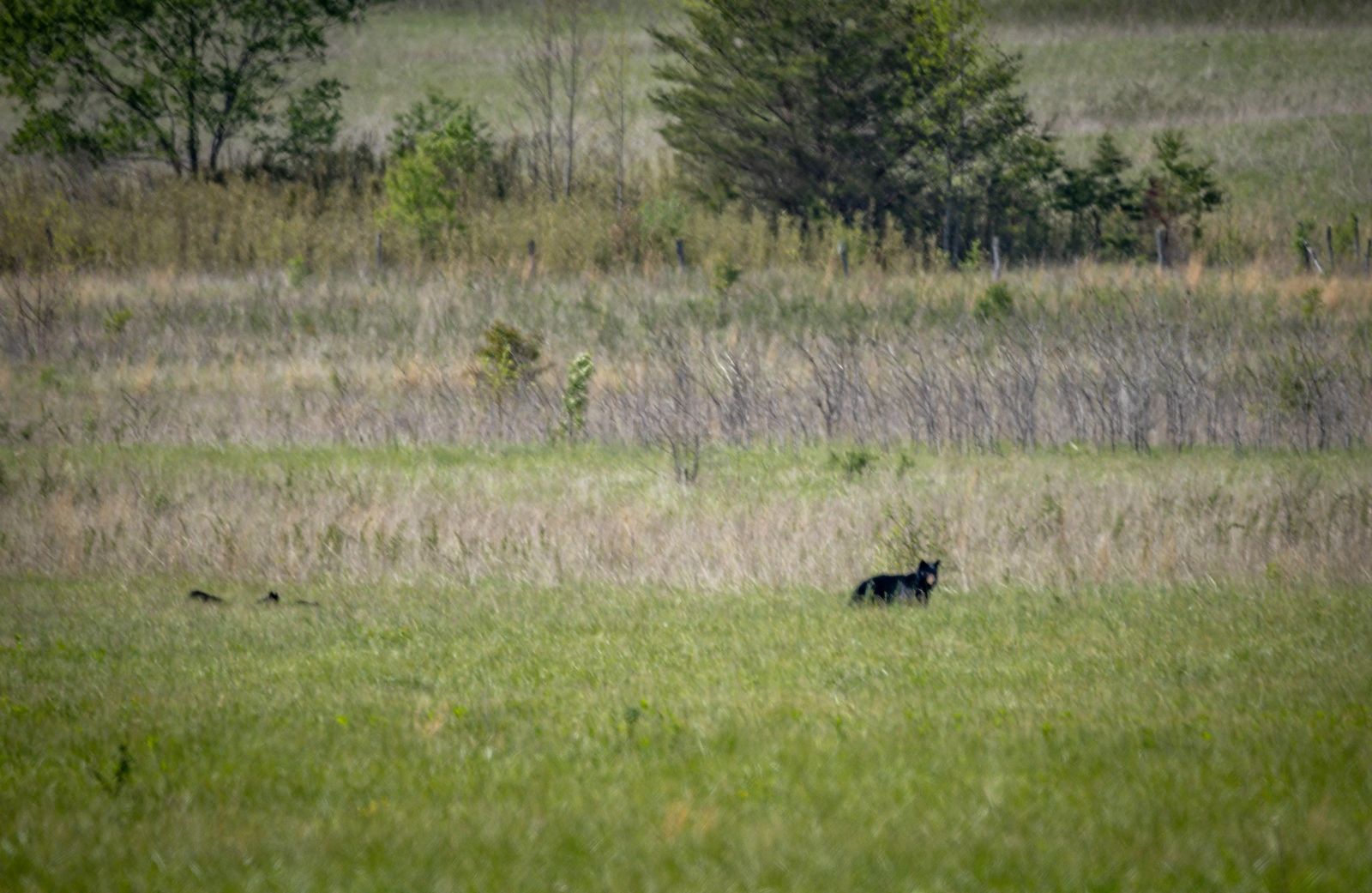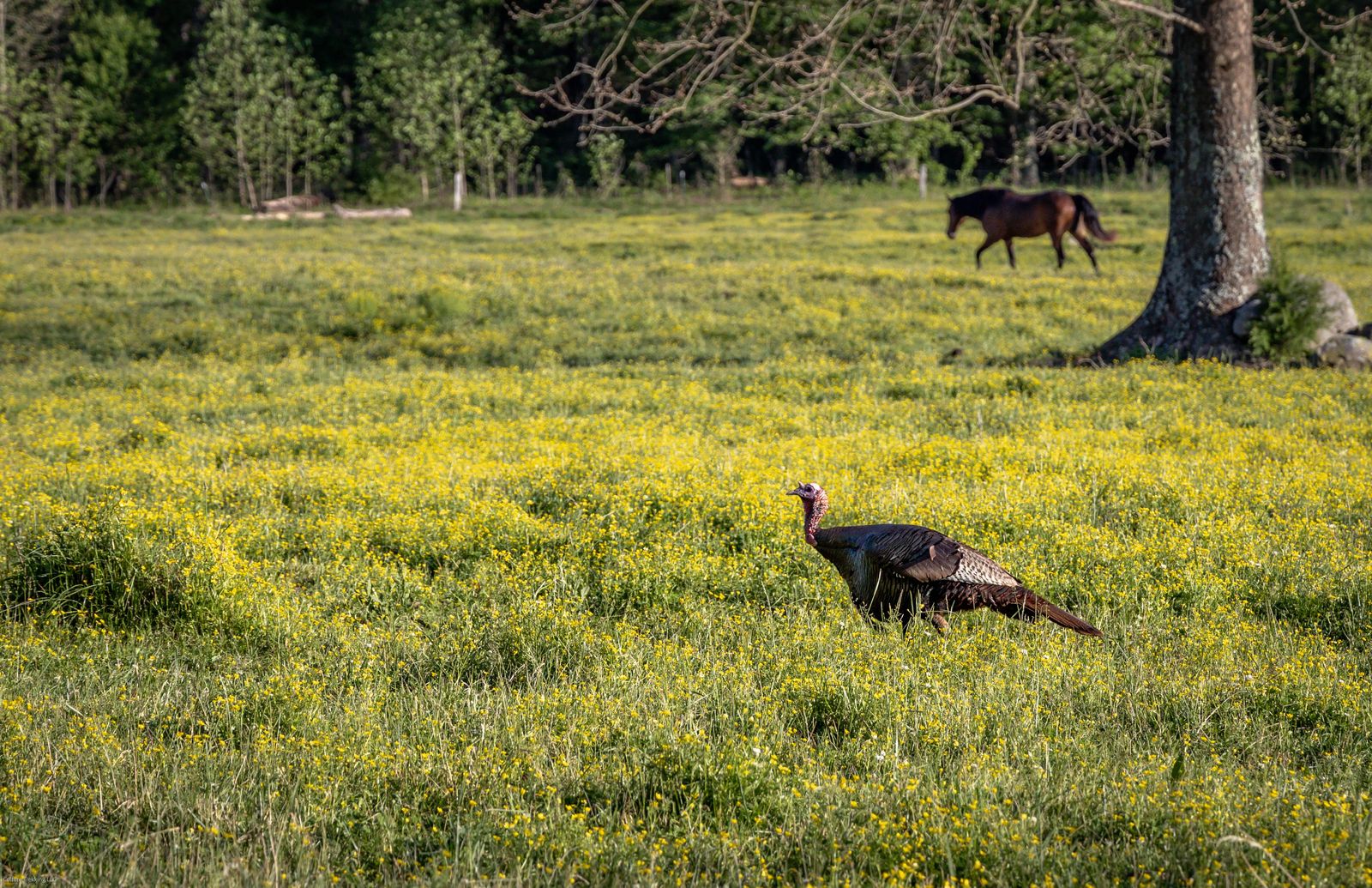 Wildlife Spotting & Biodiversity in The Smoky Mountains
The best place to do any wildlife spotting in the Smoky Mountains is at Cades Cove. Here you will see Wild Turkeys who were nearly hunted to extinction, Black Bears that now number in the 1500's when previously were down to 100. Due to the incredible conservation efforts of the National Park the Biodiversity in the park can rival that of the great rainforests of South America.
There are over 100,000 species of plants and animals, 2,000 miles of creeks and streams, 19 species of fireflies, 5,000 species of plants and trees, 2 dozen species of minnows, and 30 species of Salamanders to name a few.
If you go behind the visitor's center in Cades Cove you can find the highest concentration of spotted Salamanders as well.
Be sure to sign up for the synchronized firefly lottery too. The lottery for the ride up to Elkmont (where there is the highest concentration) happens in late April. The firefly viewing usually takes place in early June. I wouldn't try driving in or walking in on your own because every ticket is checked and fines are given for sneaking in.
If you miss the lottery, you can also find a less grand show near Cades Cove as well. Cades Cove entrance does close around 8pm, but you can also walk in as well (per the park ranger I talked to).
If you are camping, be sure to look for the bioluminescent mushrooms that grow on the dead logs throughout the park as well. I wasn't able to find any as we were staying in a hotel but next time I visit the Smoky Mountain National Park, the firefly's and the bioluminescent mushrooms are two things I really MUST see.
The Smoky Mountains are made of sedimentary rock formed during the Proterozoic era around 800-545 million years ago. The mountains lose about 2 inches of height every 1000 years, once rivaling the height of the Rocky Mountains. The Sedimentary rock is made of clay, silt, sand, gravel and some calcium carbonate.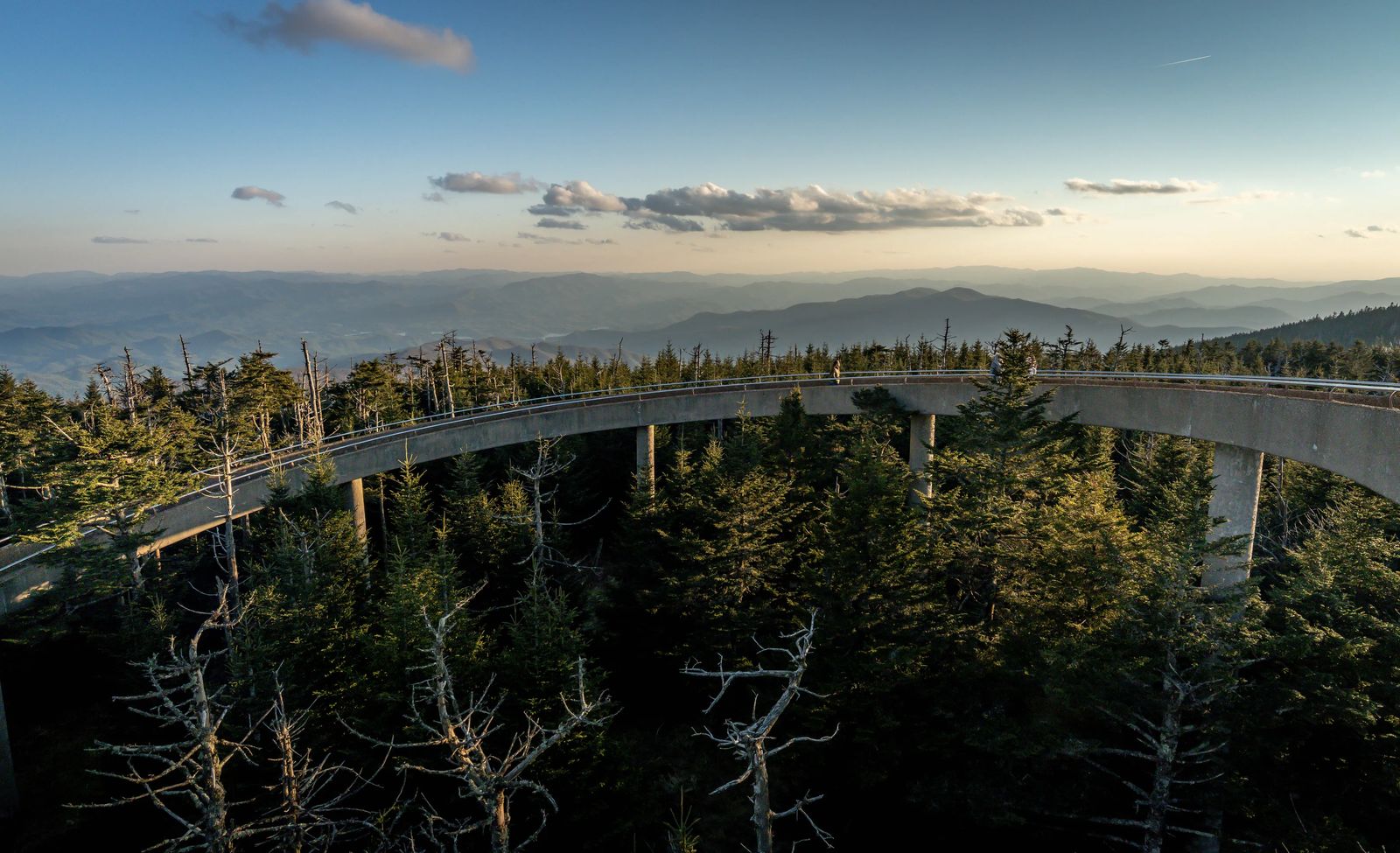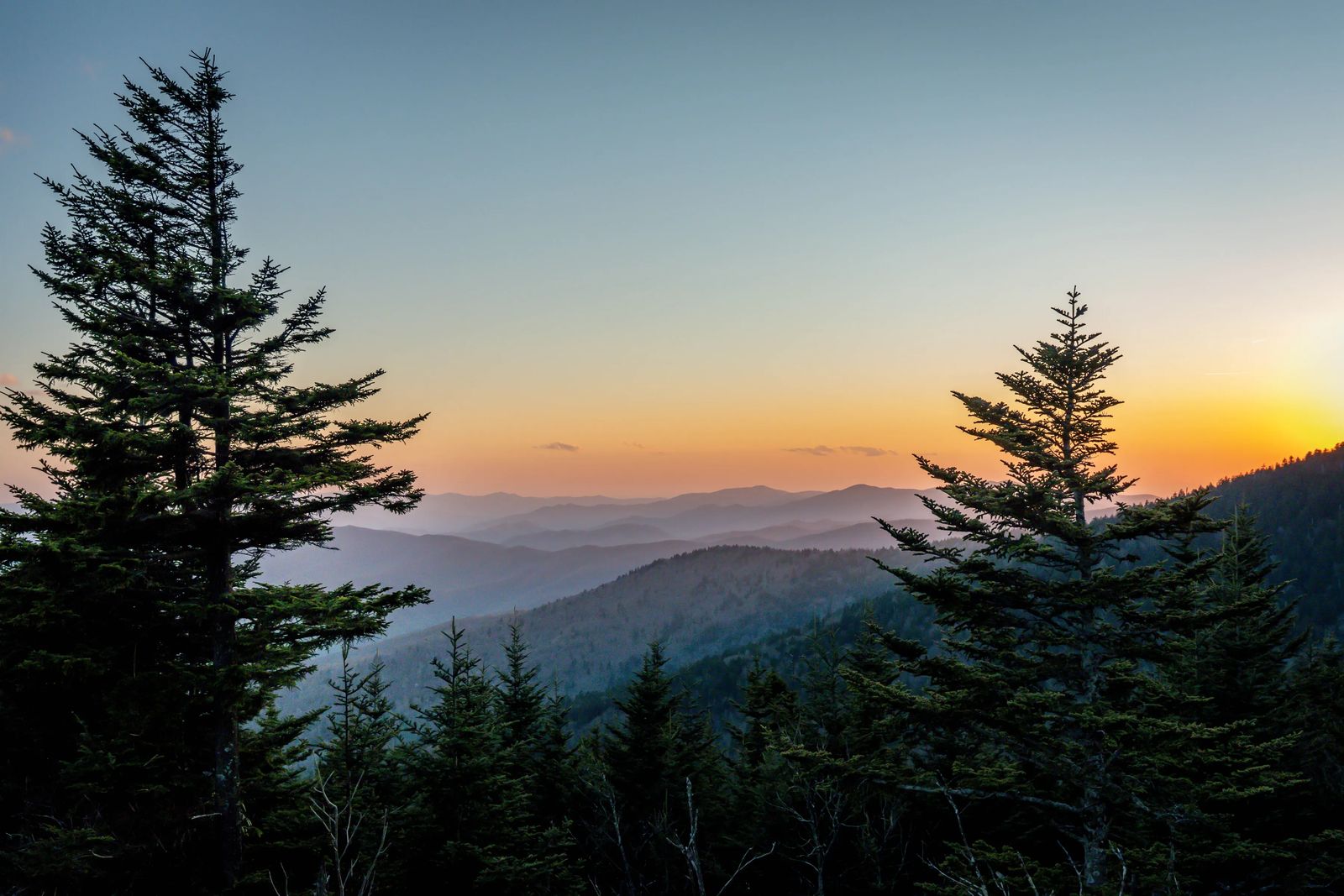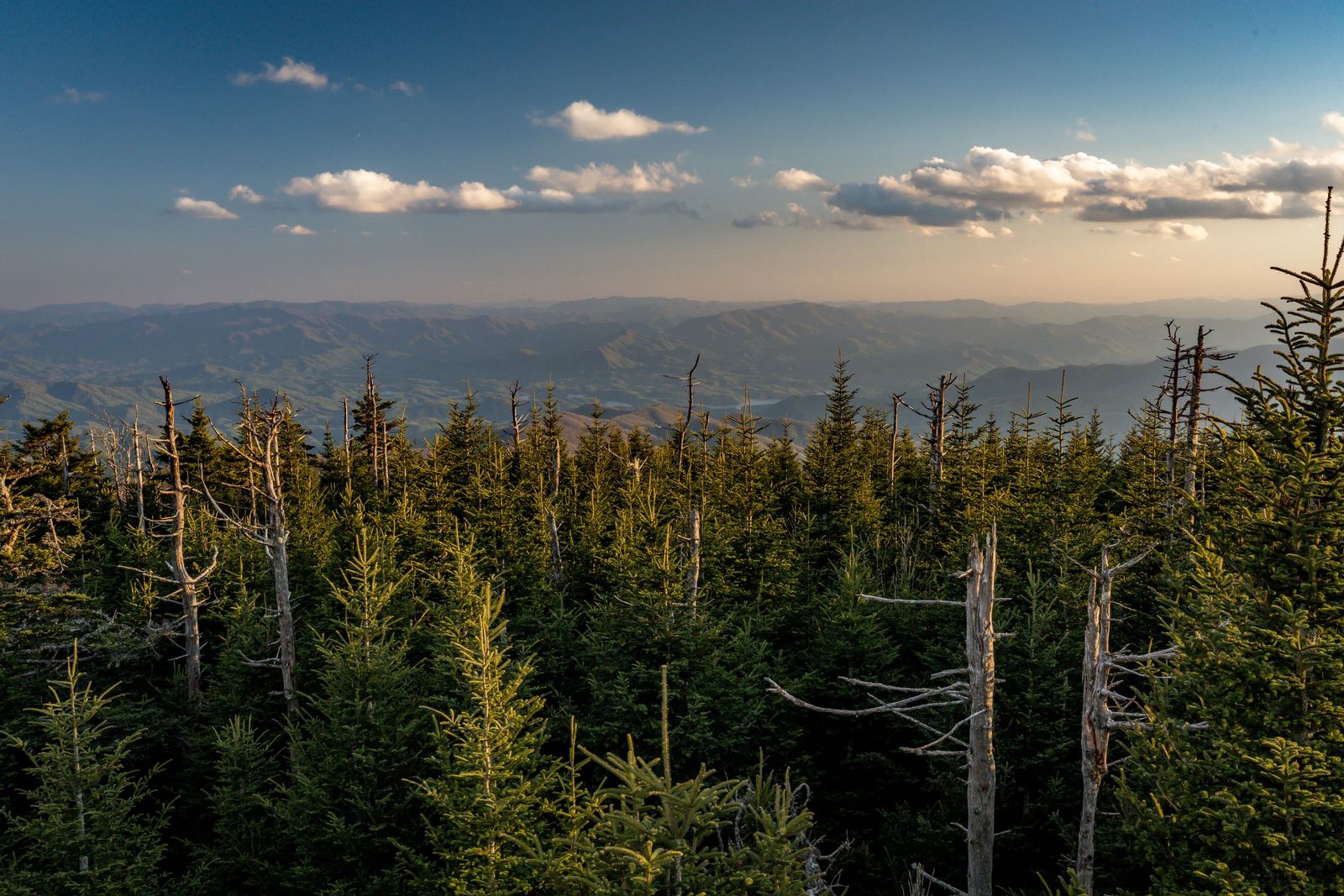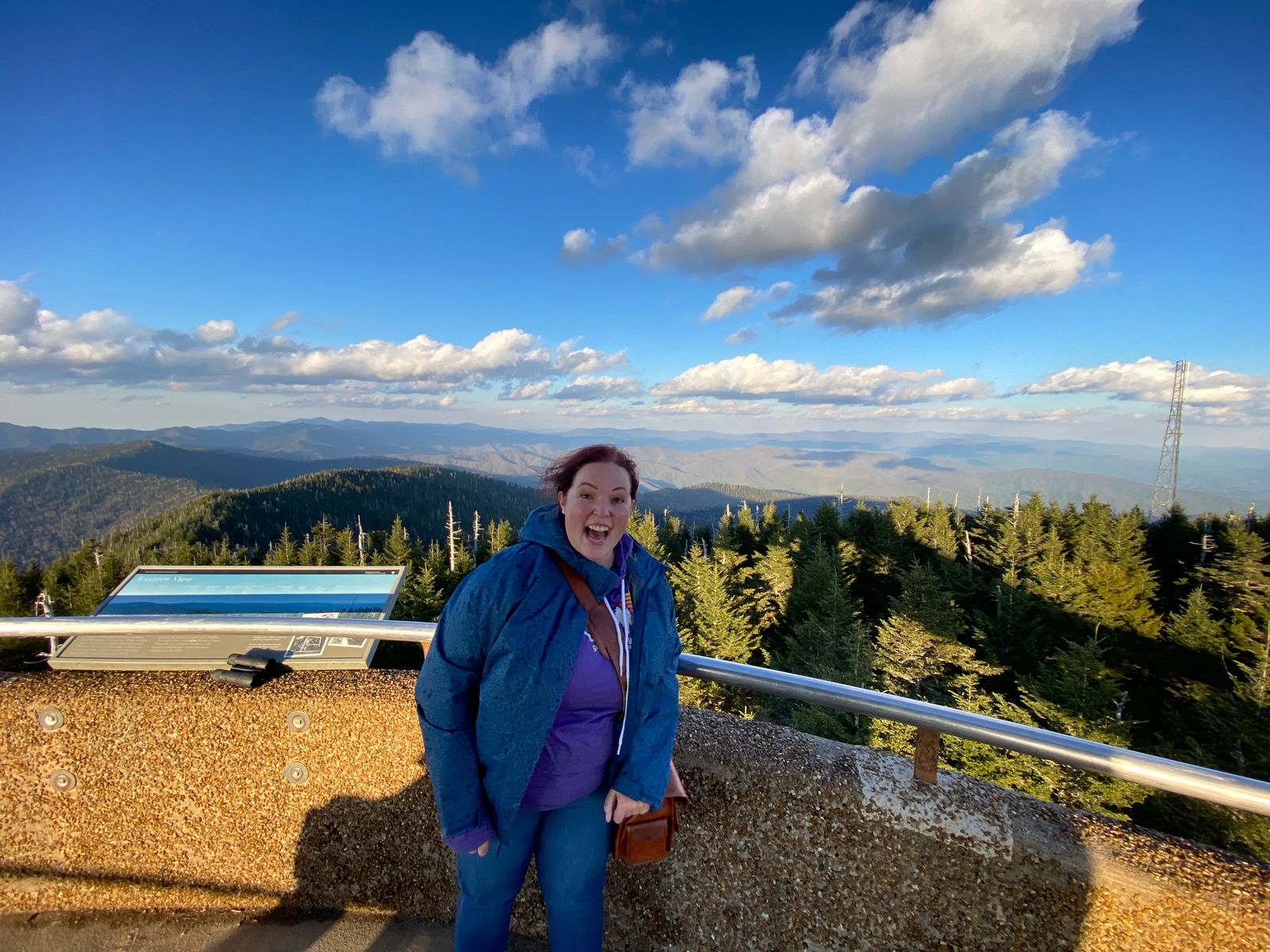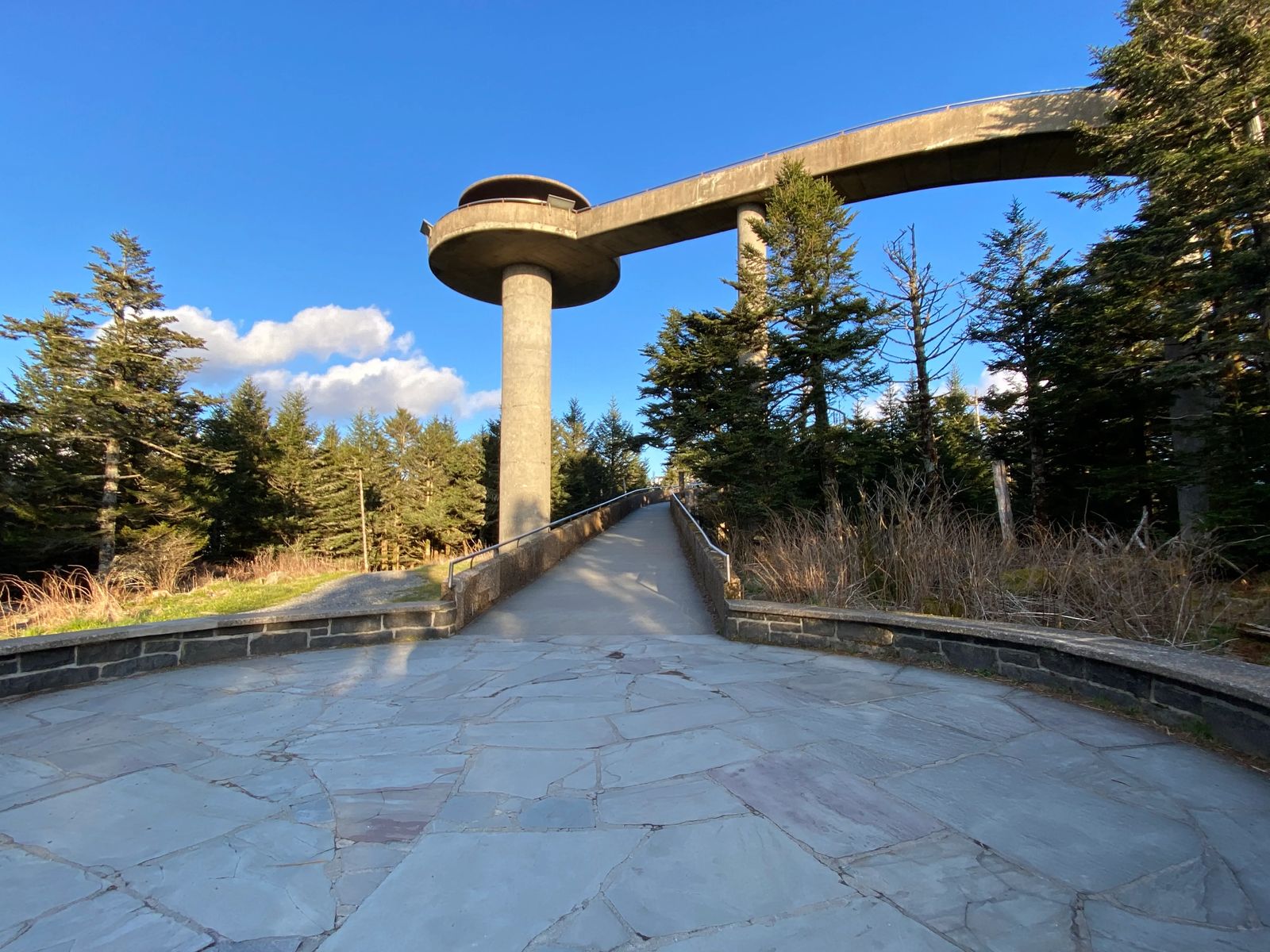 Clingmans Dome
Clingmans Dome is a moderate hike, that is 1.2 mile heavily trafficked out and back trail that is paved the whole way up, however I don't think it's wheelchair accessible. The first quarter mile of the trail isn't too steep but as you get to the last 0.5 mile of the trail it gets quite steep. There are several benches lining the trail where you can take a break. The elevation is around 6,643 feet and you do feel quite winded because of the elevation.
There are gorgeous wildflowers that line the trail along with incredible sunsets. The wildflowers don't bloom until mid June, the trail is best used between April until November.
There is an observation tower at the end that takes you to the highest point in Tennessee where you get to see a 360° view of the Smoky Mountain national Park surrounded by Spruce Fir Trees.
You can also take a detour along a few miles of the Appalachian trail if you choose to do so. Be sure to stop in at the Clingmans Dome visitor center to learn more about the area. The temperatures at Clingman's Dome are often 10-20 degrees cooler than what your phone tells you, as well as quite windy so come with a windbreaker and a warm sweater once you get to the top. Bikes and pets are not allowed on the trail, and the visitors center sits right near the entrance so don't try to be sneaky.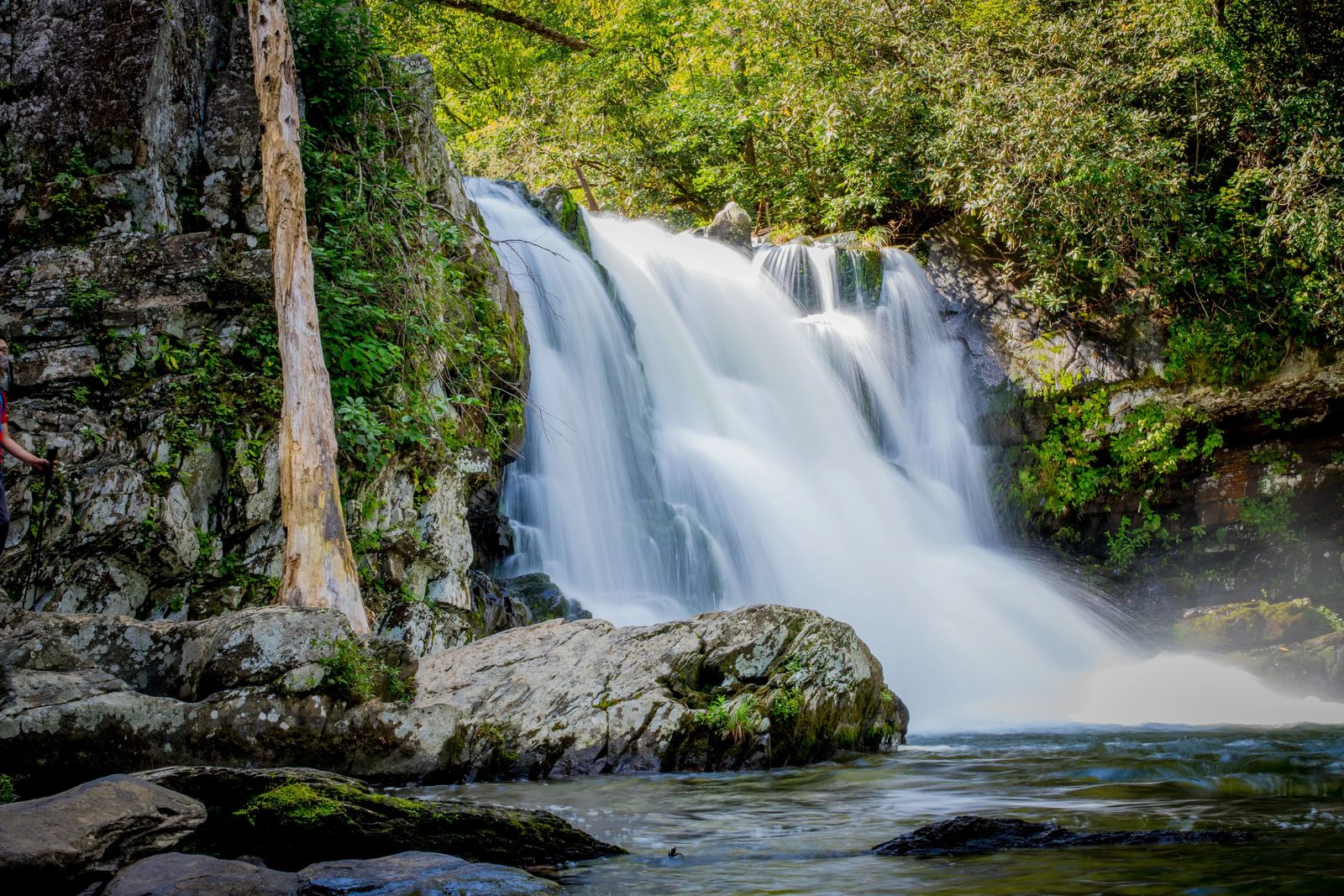 Abrams Falls Trail
Abrams falls is rated moderate, and a 5.5 mile out and back trail near Townsend Tennessee and Cades Cove. This is a popular hike in the smoky mountains to a 25 foot drop over a rocky cliff waterfall. The hike is often closed on weekdays in the spring and fall. And gets quite busy on the weekends so plan accordingly. To get to the hike you have to enter via Cades Cove loop and there is a sign to the parking area that does have plenty of parking and restrooms.
Please note Cades Cove loop is closed to vehicle traffic on Wednesdays in May to September so that bicycles and pedestrians can enjoy the area without the bumper to bumper traffic that usually clogs Cades Cove.
They are currently doing sustainable restoration on the trail, so expect frequent closures and call the visitors center before attempting to plan for this hike. You can also have Black Bear encounters in this area as they like to use the trails. So be prepared to backtrack to the beginning in order to keep the required 50 yard distance as needed.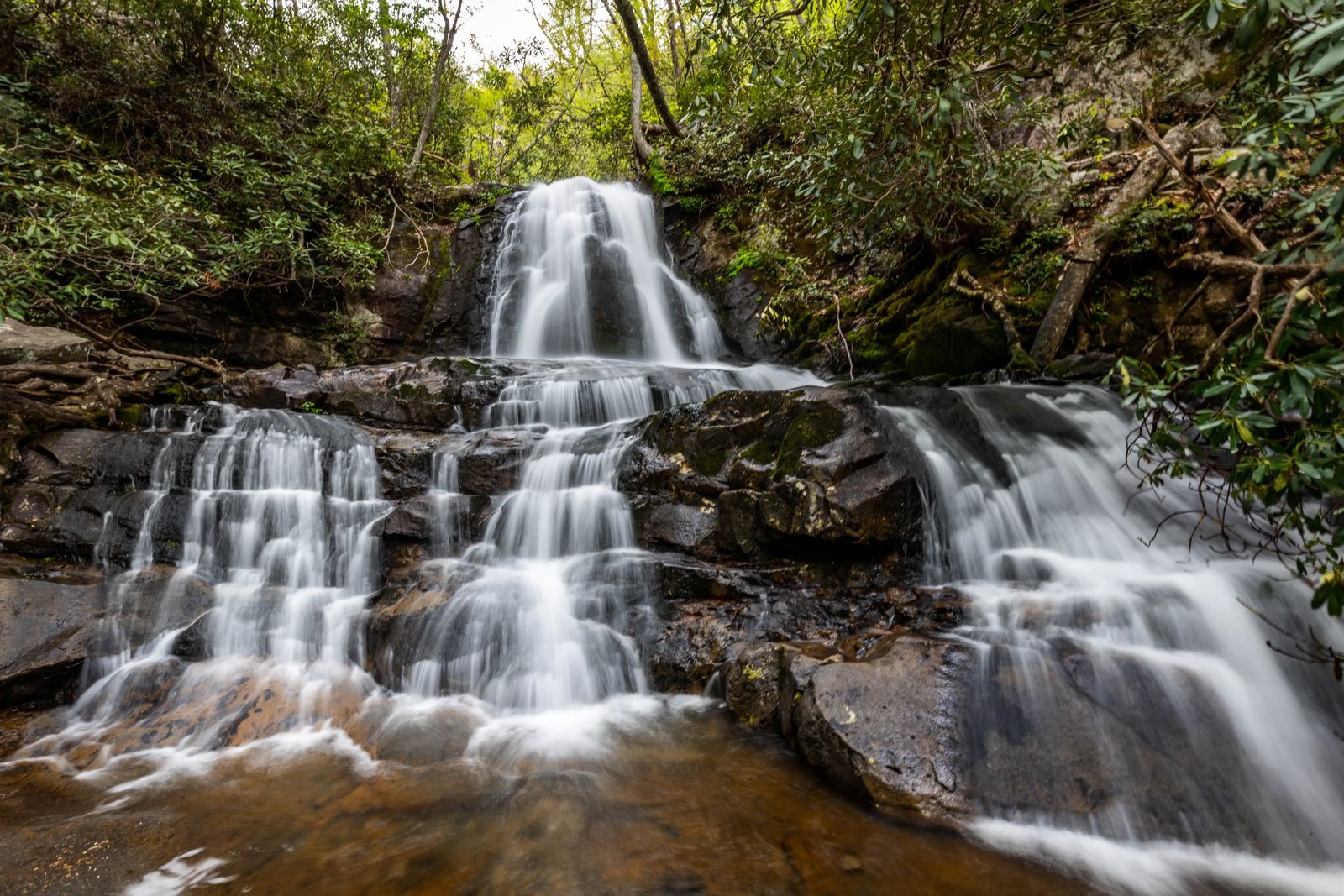 Laurel Falls
Laurel Falls is an easy 2.4 mile heavily trafficked out and back trail located near Gatlinburg. This is one of the most photographed waterfalls in the great Smoky Mountain national Park and well worth the effort to get there.
In order to beat the crowds I would suggest starting the hike around 7 am and it will be much less crowded and parking won't be as ridiculous to find. Most hikers wait til they can get breakfast at restaurants that don't open til 8am, but if you go to Old Dad's General Store they provide breakfast burritos and sandwiches for a quick grab and go at 7 am. You will see several Appalachian Trail through hikers stop here as well, looking completely exhausted and dazed from days of hiking. Feel free to offer to buy them breakfast or lunch if you feel so inclined (every little bit of rally cry for success helps).
The trail is paved up to Laurel Falls, as it was originally paid for firefighters to access certain areas of the park. Despite being a paved trail it would not be appropriate for wheelchairs or bikes as there are several rough areas along the trail.
Please remember hiking etiquette that uphill hikers have the right of way, so stuck to the side as needed. There is poison ivy along the trail so be sure to have closed toed shoes and long pants. Kids should also not run off the trail.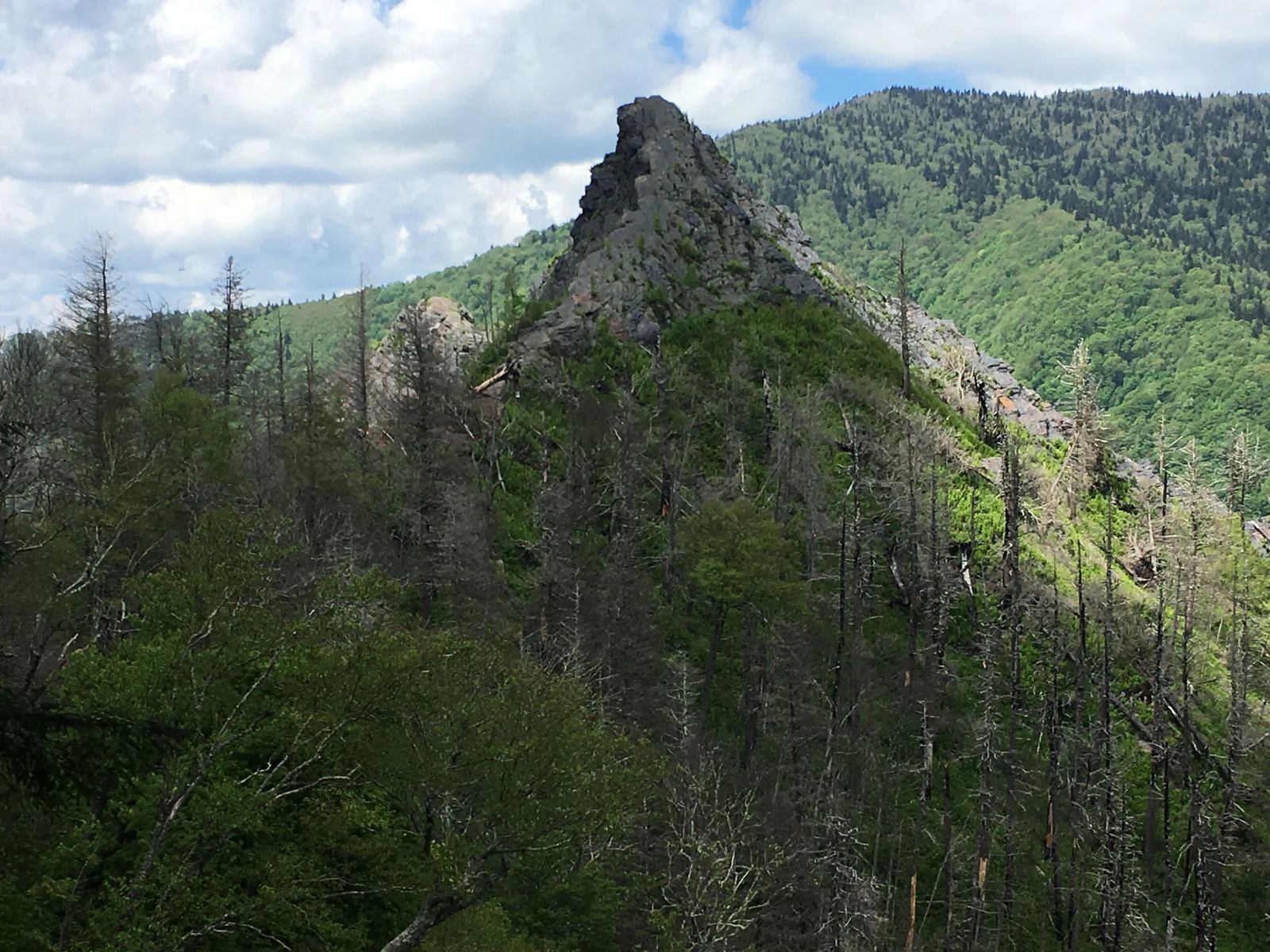 Chimney Tops
Chimney Tops Trail is a hard hike that is 4.1 miles heavily trafficked out and back trail that gains 1453 feet in elevation along the trail towards the summit of the Chimney Tops at 4,724 feet. It is a gorgeous hike that will take you over a roaring river, and it is considered one of the most popular hikes in the smoky mountains with breathtaking views of mountain tops that look like chimneys.
Parking is very limited, so be sure to plan accordingly. You will pass along several waterfalls as well as the Appalachian trail at Indian gap. It is quite a steep hike with some scrambling. There are 360 rock steps and 300 log steps that take you up a place where you feel like you could touch the sky.
At the top there is an observation platform that allows you to stunning views of the smoky mountains, including Mount Leconte and Sugarland mountain in North Carolina.
They are currently redoing the trail, so you cannot get all the way up to the chimney tops due to the wildfire that happened in 2016 as well as torrential downpours and flooding that completely washed the trail out. Please do not go past the gate as you're putting yourself at risk as well as rescue workers who would have to haul your ass out if you get yourself hurt.
There is a possibility of having bear encounters on this trail as well, just be sure to keep the 50 yard distance if you run into one and be prepared to backtrack as needed. Because of wildlife and the terrain of the hike, dogs are not allowed on this trail unfortunately.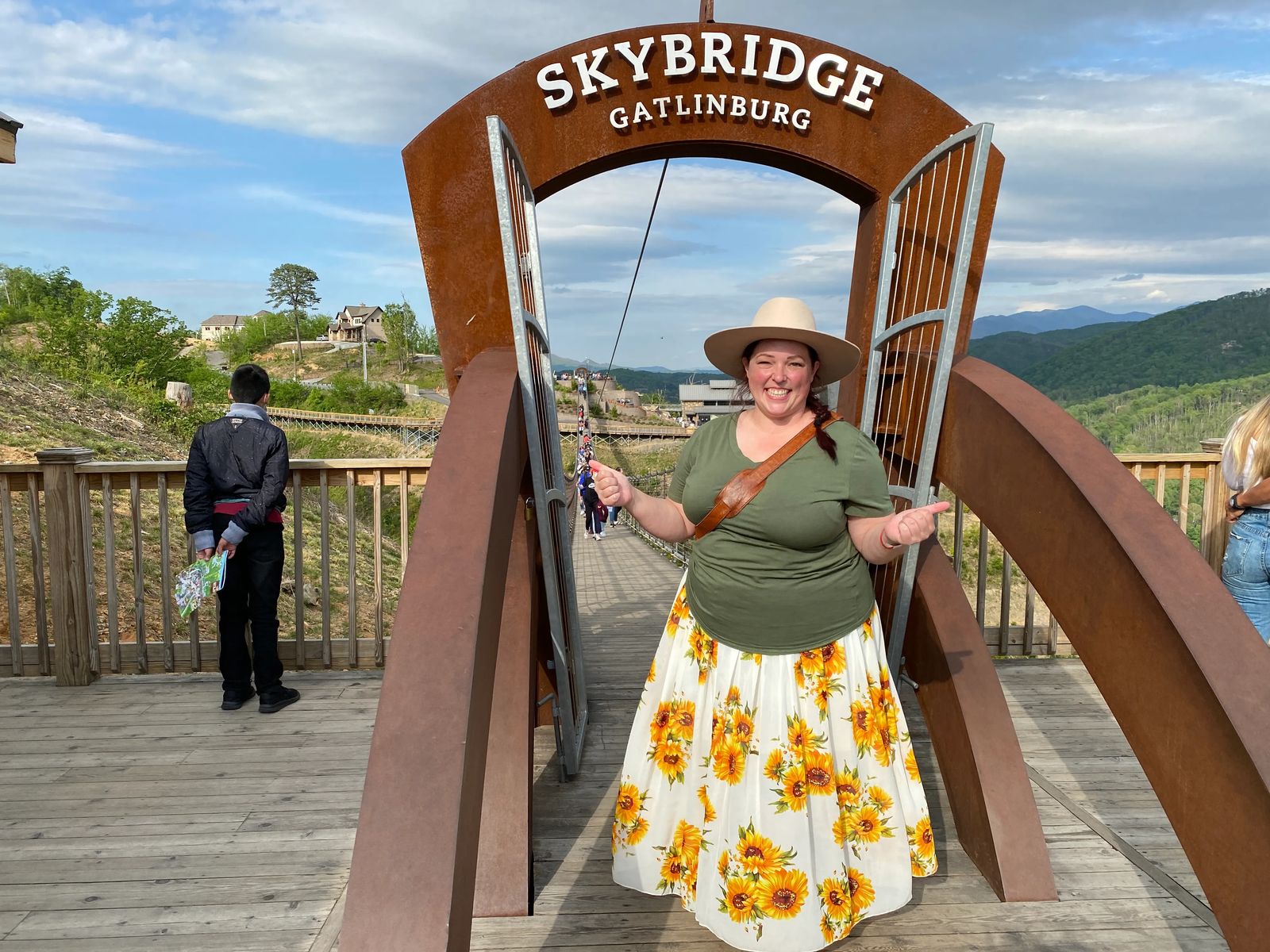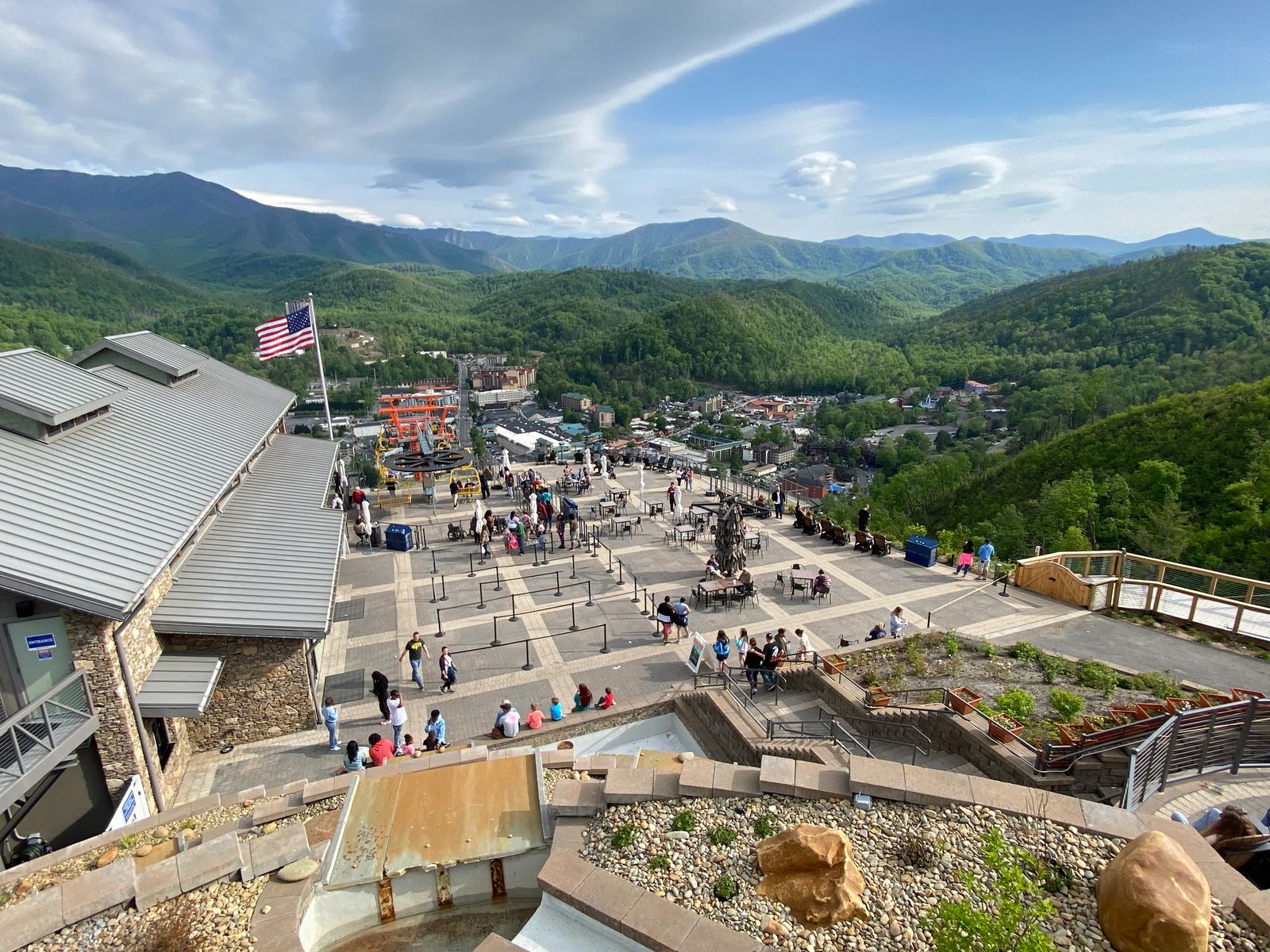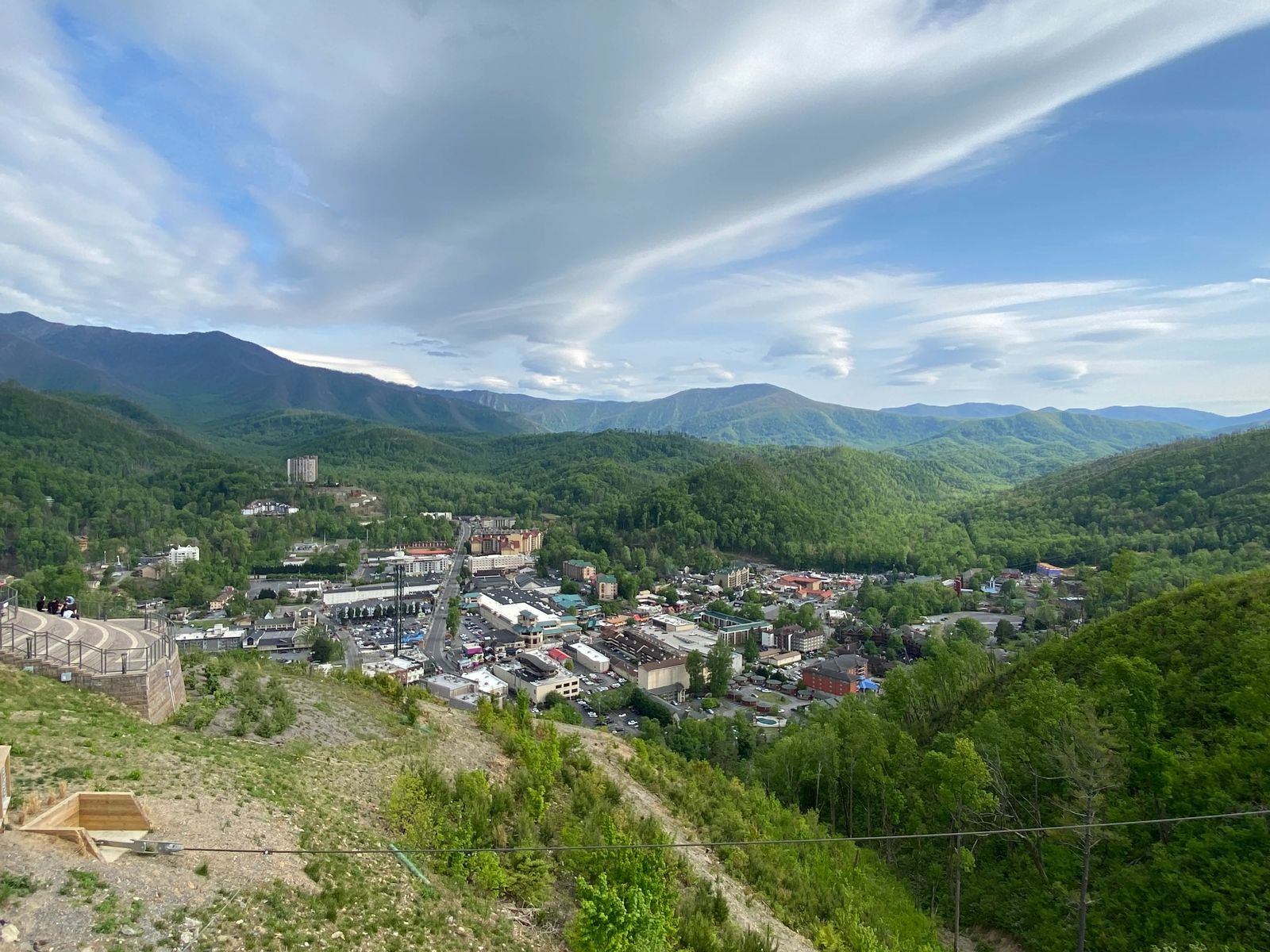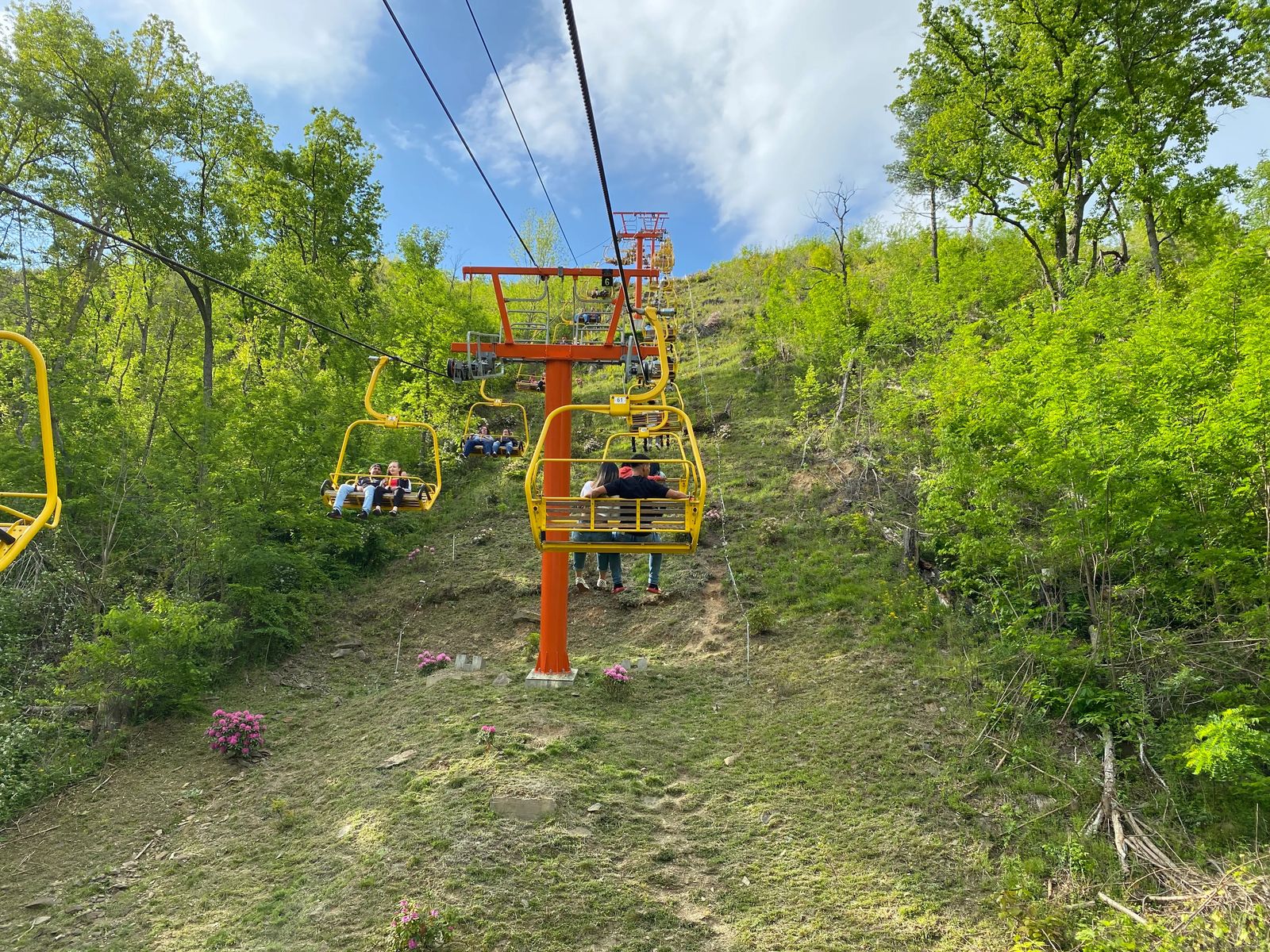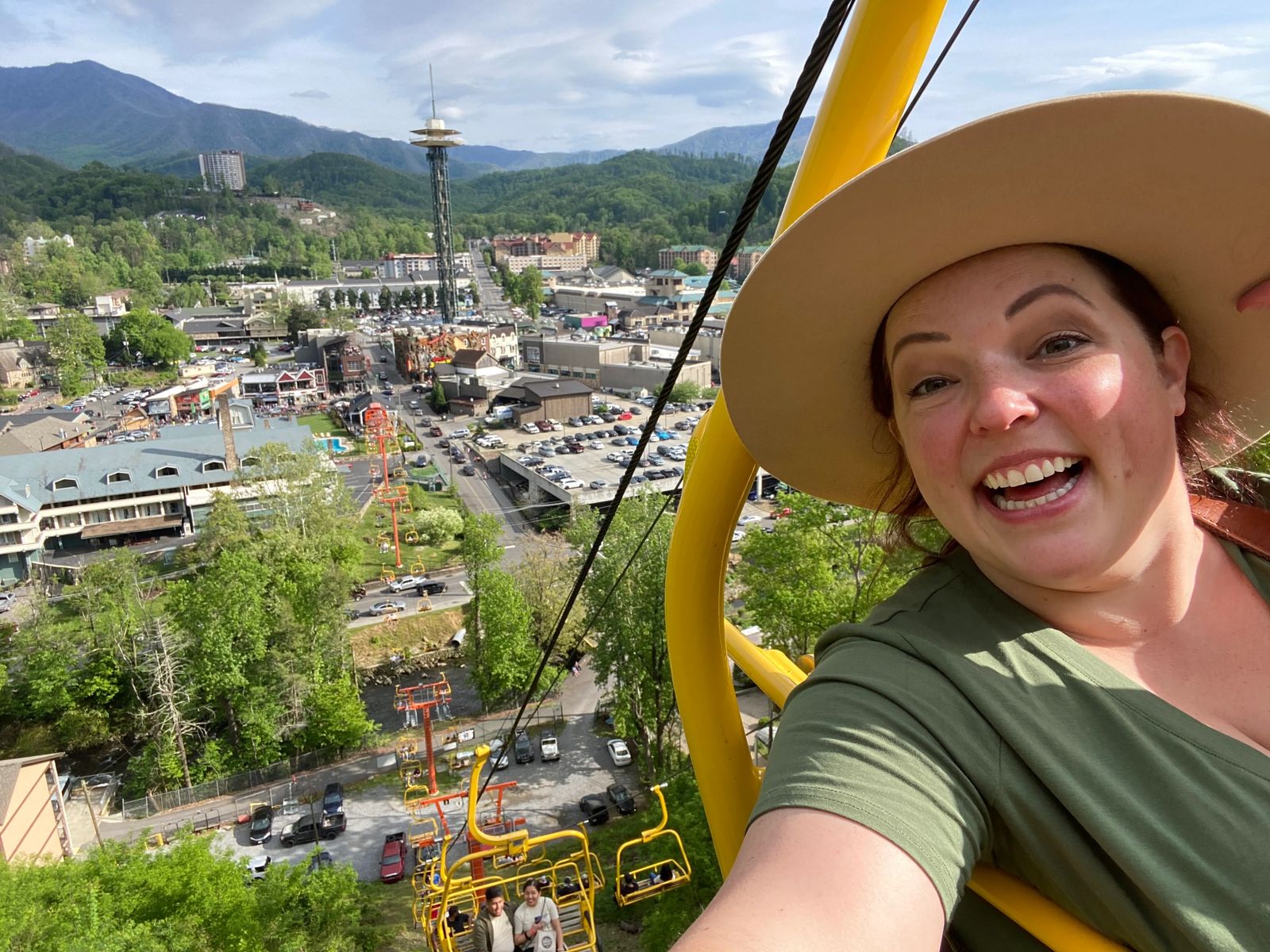 SkyBridge and Sky Park
Take a ride up the Sky Lift in Gatlinburg (around $27 per person) to the Sky Bridge at the summit of Crockett Mountain. This will give you a birds eye view of Gatlinburg city as well as a guide to each mountain in the area and their elevation.
The Sky Bridge is the longest pedestrian bridge in North America, and quite bouncy once you get to the middle. There is even a small section that the floor is made of glass and really gets the heart pumping.
The double paned glass allows you to peer 30 feet below you and even has a hashtag #PasstheGlass - if you make it across. If you are afraid of heights, better start praying now, lol - I'm pretty brave and it even brought out a few nervous giggles once I got to the middle but was an adrenaline rush of pure fun!
Once you make your way back across the bridge, take a load off in the rockers available on the Sky Deck. There is a snack area with scenic sweeping views, beer, and a multi-tiered waterfall. They are working on building more activities at the top, but the price is well worth the views you get at the top. If you are there late enough, take an extra trip to the top after the sun goes down and see the city light up and the bridge light up in blue. The last chair up is at 9pm, and the top of the mountain closes at 10pm so plan accordingly.
Disclaimer: I was hosted while visiting the Sky Lift, but would definitely still recommend visiting independent of being hosted.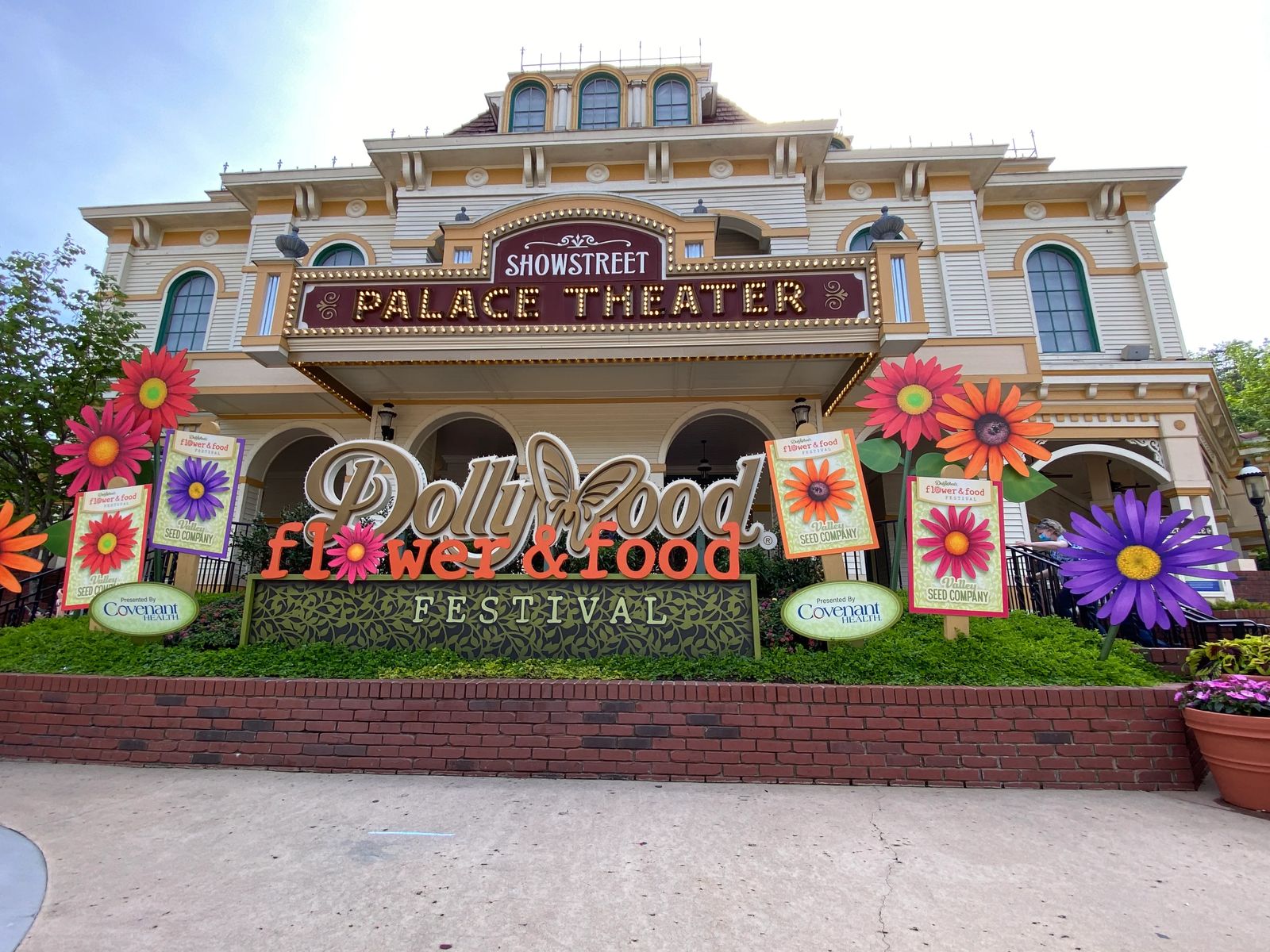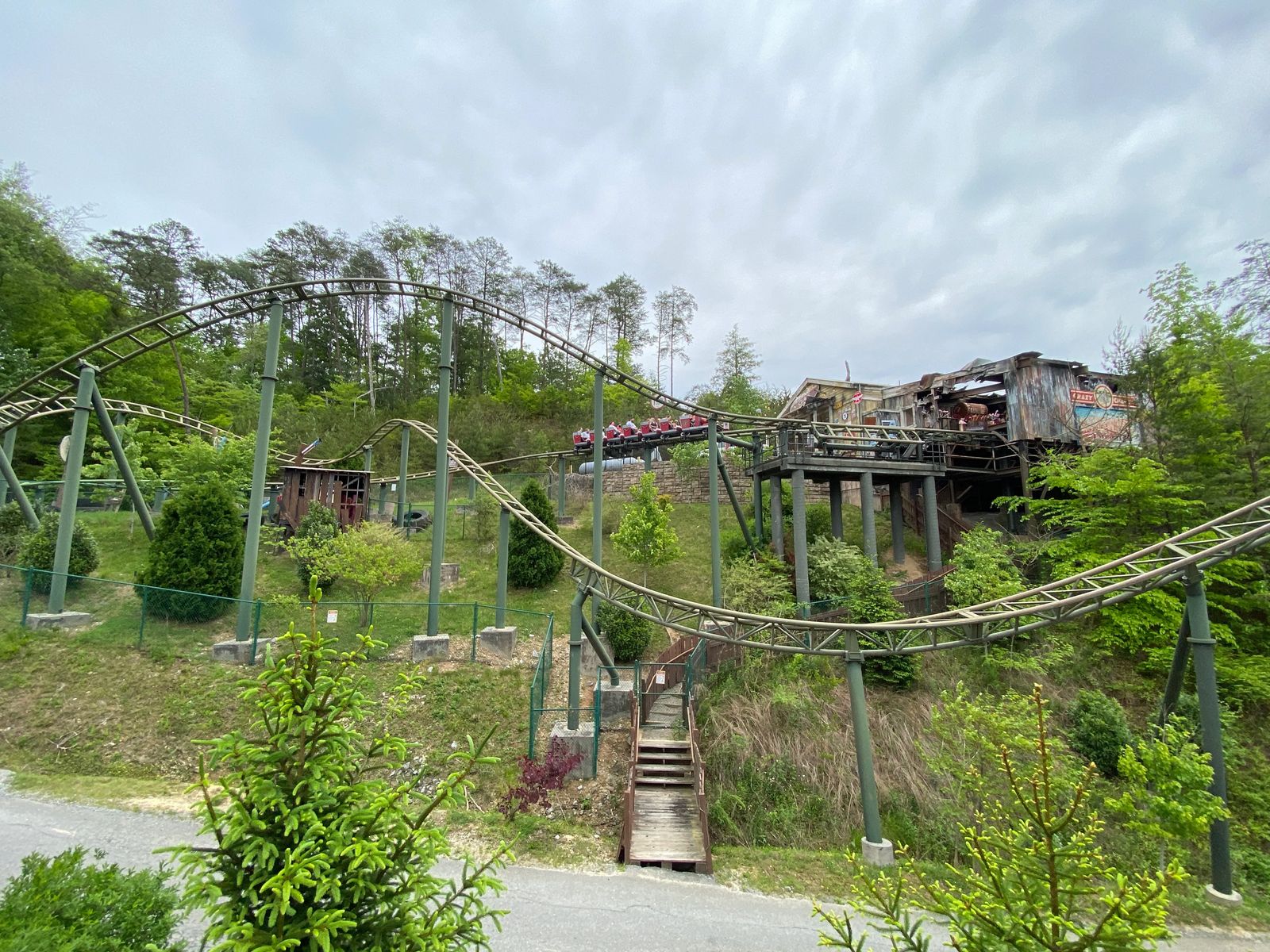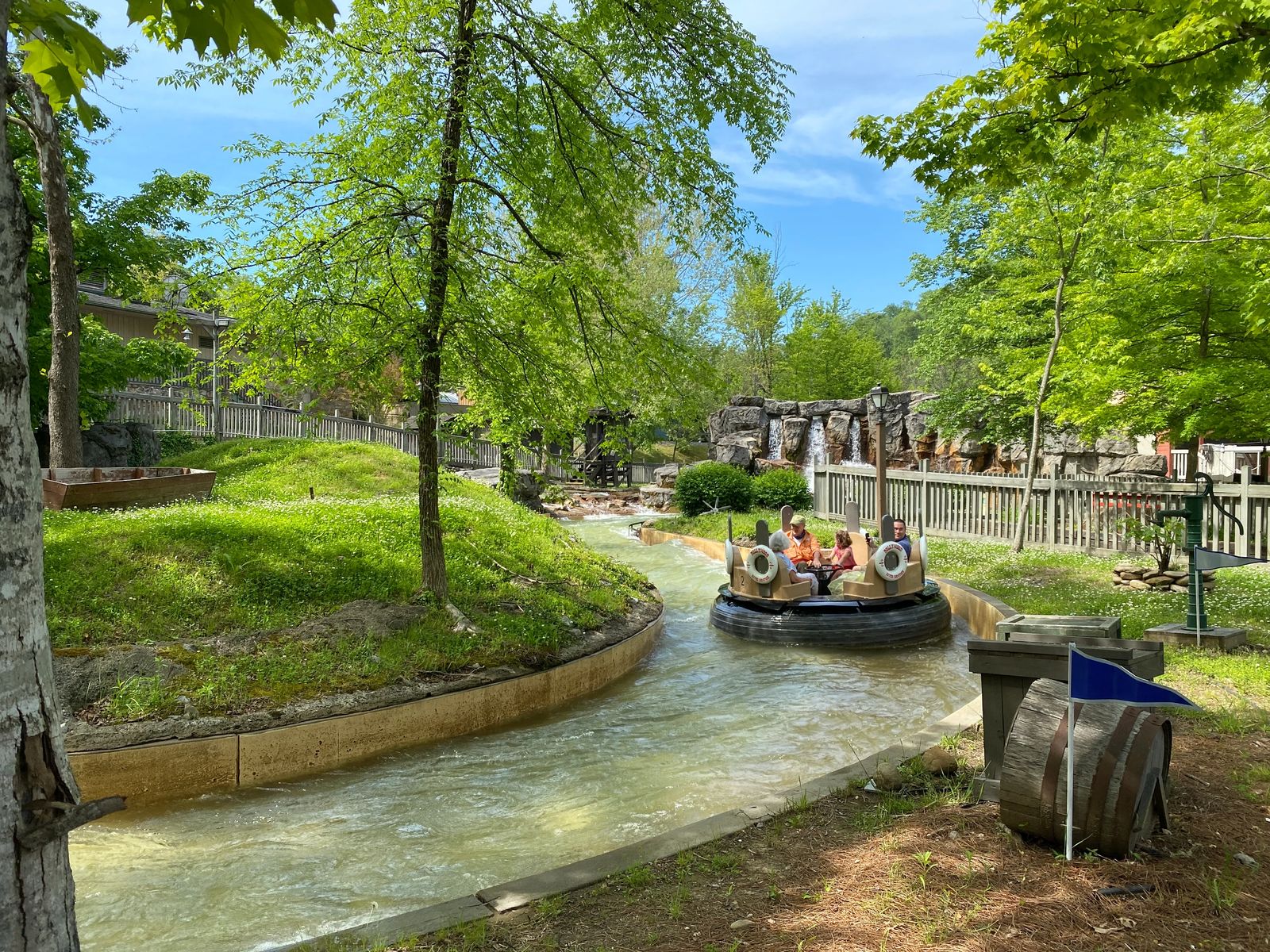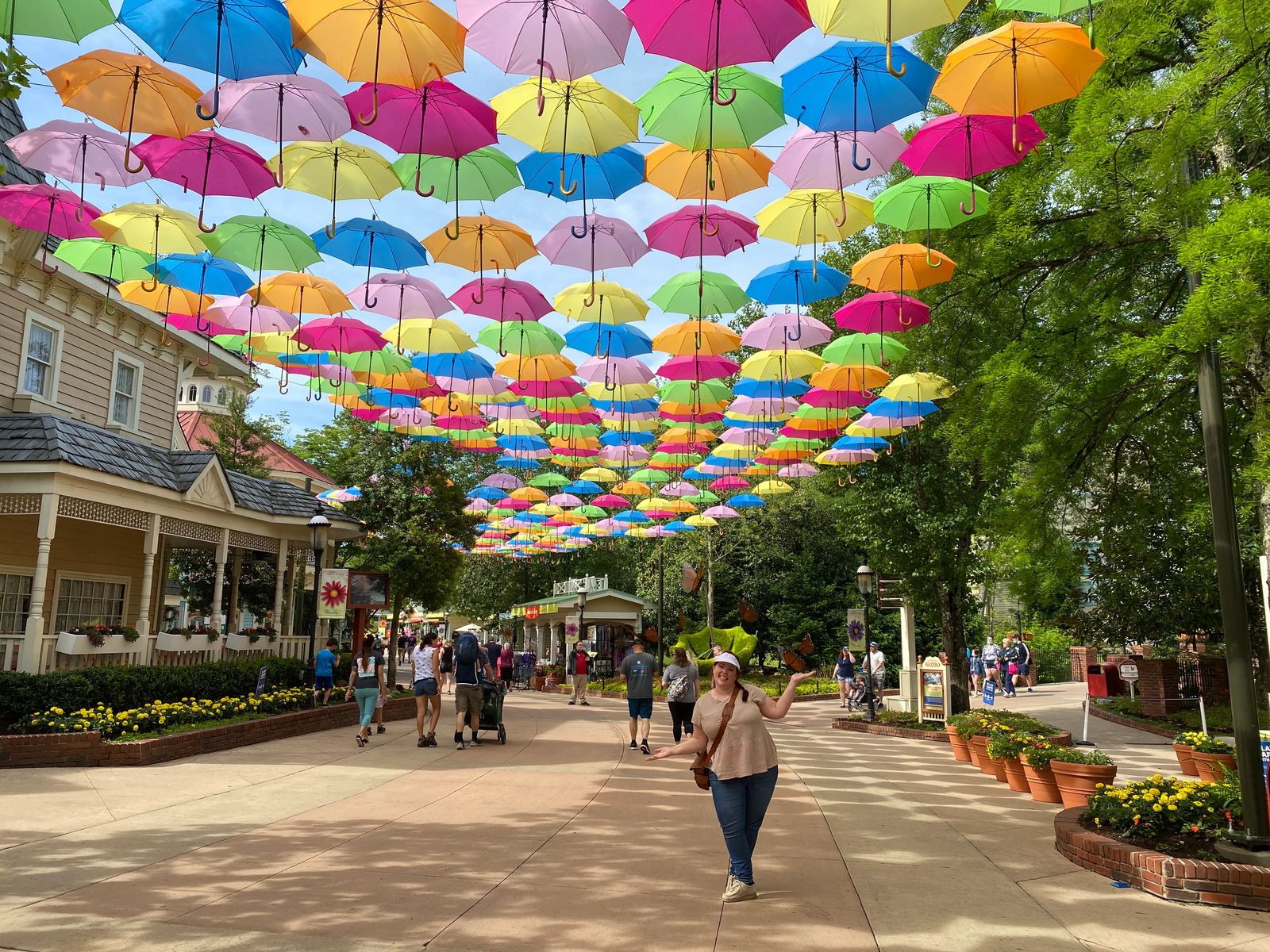 Dollywood
Named by Forbes as one of the best places to work in 2021 Dollywood is one of the places you should visit after a few hard days of hiking. It is in its 36 operating season, and packs a punch with fun for the whole family. Over the last 10 years it has exponentially expanded and grown.
There are several rides that are quite popular and considered the best roller coasters including lightning rod, wild eagle, Fire chaser, Tennessee tornado, thunderhead, barn chaser, and last but not least the coal powered steam engine called Klondike Katie. The train ride is lovingly called the Dollywood express yes, and has been operating since the inception from when Dollywood was once Silver Dollar city.
There are several places to eat in the park some of which are award winning. USA today named Aunt Granny's Buffet as one of the top 10 theme park restaurants in the world. There is also the grist mill that has been grinding corn and flour to make the delicious cinnamon bread that often garners lines that could rival those of the roller coasters. The bread is around $10 per loaf and could easily feed 2 to 3 people. I suggest getting the apple butter to go with it as well as some water. The food at both of these places is honestly making me salivate just sitting here thinking about it.
There is so much to talk about with Dollywood including the Flower and Food festival I was there for. I will be going into Dollywood in depth in a different article on the best roller coasters at Dollywood and how to optimize your time at Dollywood.
Please note that there are height and weight restrictions or some of the rides. If you are a size 18 USA or above you may have trouble fitting into many of the seats on the roller coasters except for Firechaser, Blazing Fury and the Dollywood Express. The water rides are pretty accessible for everyone though.
Disclaimer: I was hosted while visiting Dollywood, I would still recommend visiting for those who are a size 18 or below if you want to ride the rides. Even if you can't ride a lot of the rides there is still plenty of shows, craftsman village, Sunday Church, and food to taste and experience.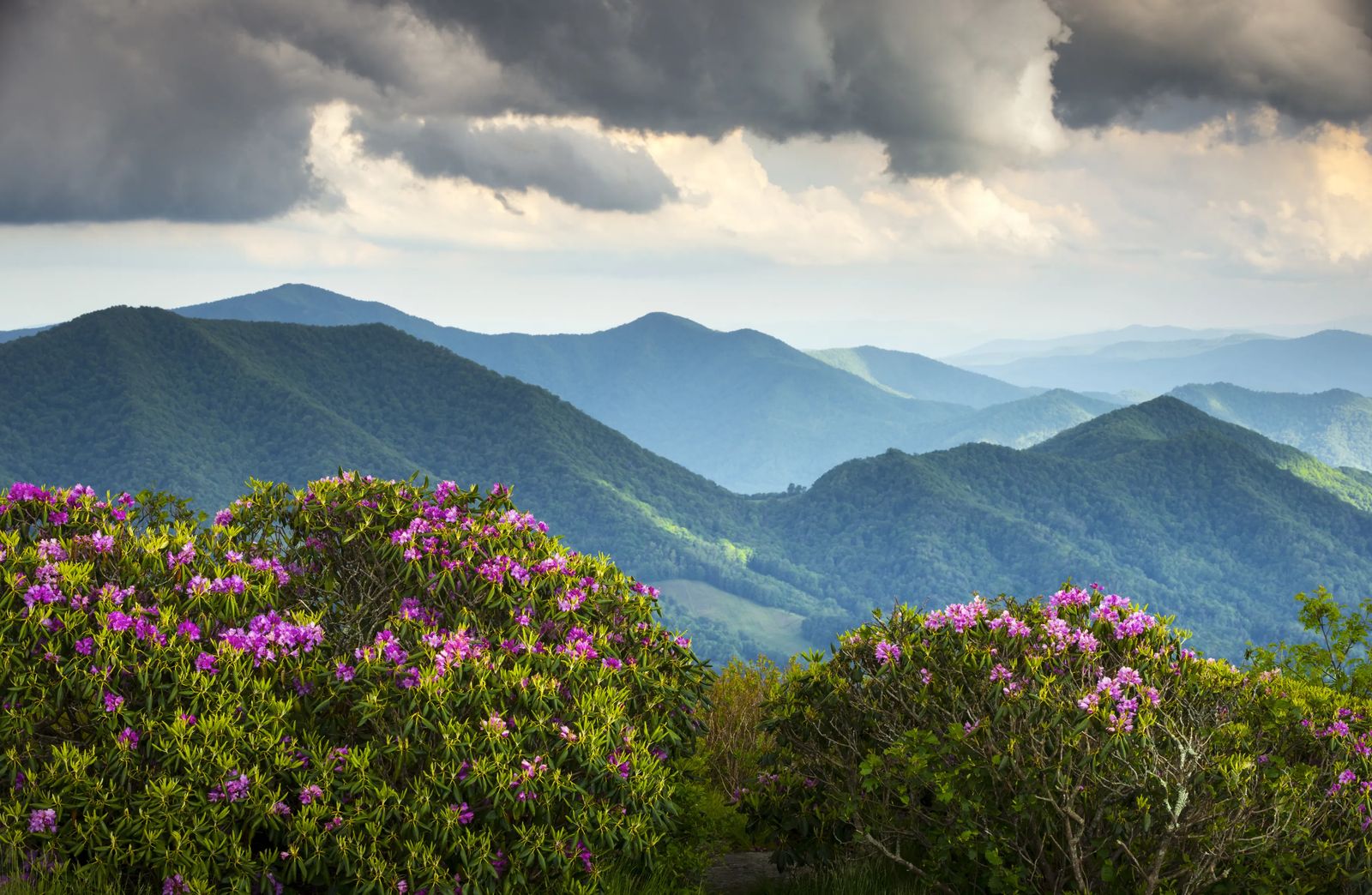 Appalachian Trail in the Smoky Mountains
The Appalachian Trail is the longest hiking only footpath in the world that starts in Georgia and ends in Maine. The Appalachian trail is a 2180 mile long path that goes through scenic, pastoral, wild, And culturally resident lands of the USA. The hike itself takes around 5 to 7 months and is often completed by young people.
However you can do portions of the trail throughout the Smoky Mountain national Park.The Appalachian Trail runs for more than 71 miles through the great Smoky Mountain national Park. It enters the park from the south at Fontana dam and exits in the Northeast at Davenport gap. The highest point of the Appalachian Trail in the Smoky Mountains is at Clingman's Dome.
You can also hike from newfound gap to Charlies bunion, this is an 8 mile round trip along the Appalachian Trail, this trail gains 1600 feet in elevation. Many of us will never complete the Appalachian Trail in its entirety. Hiking along a few of these portions of the trails will give you a great idea on what hikers face, and those who do complete the Appalachian Trail it is a lifelong achievement that should be congratulated.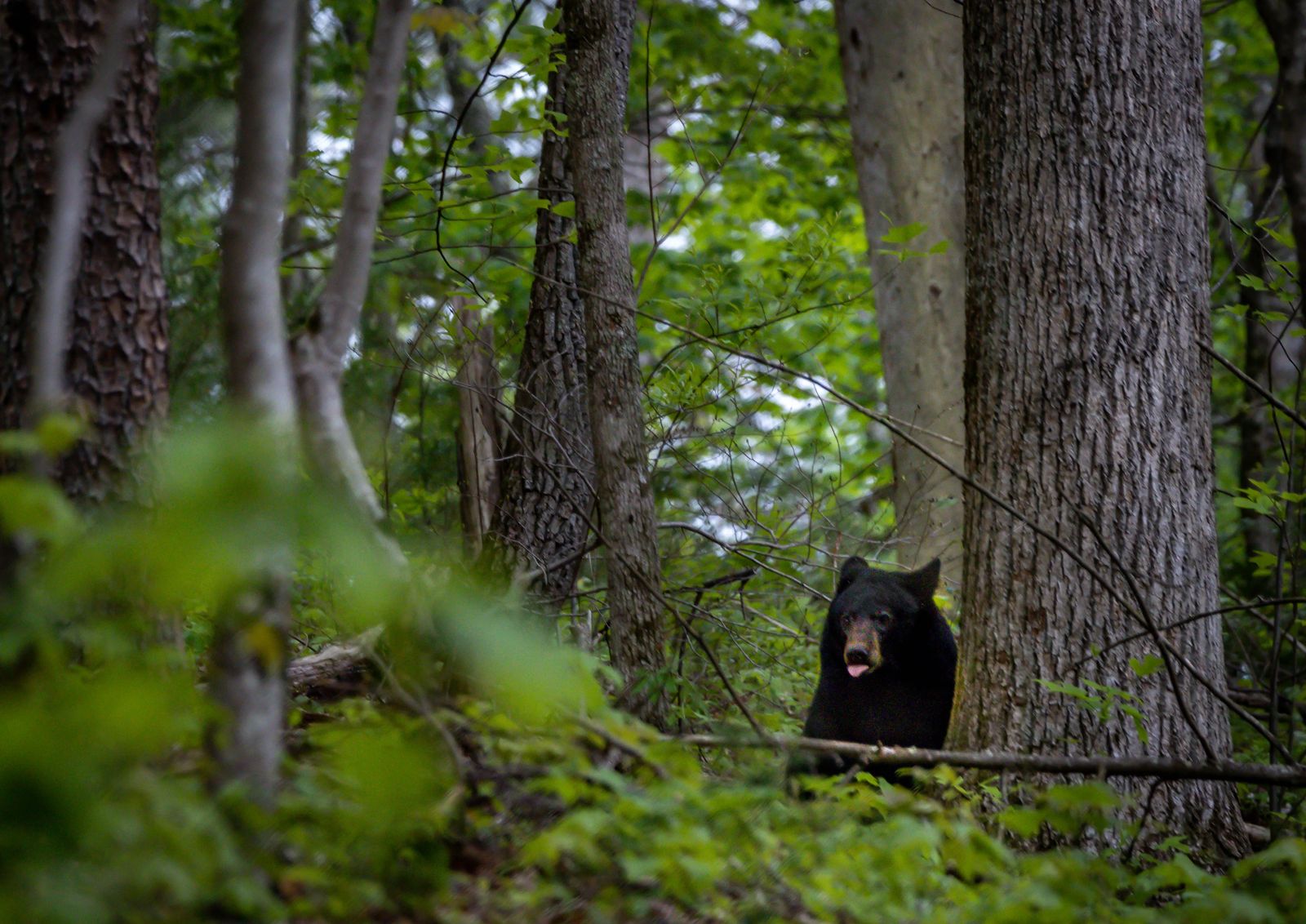 Other Tidbits About The Great Smoky Mountain National Park
No matter what route you decide to take in the Smoky Mountain national Park, there is fun to be had for everyone from young to old. Be sure to stop by the visitor centers when you get a chance to pick up any historical tidbits I may have missed here.
If you have any additional suggestions on things to do in the smoky mountain national park please leave them in the comment section below. As always thank you for being supportive to this website. If you would like more great information on this adventure or others throughout the world be sure to subscribe to my email list.
Make sure to check out my hiking packing kit, my article on wilderness medicine as I'm a Physician Assistant and think knowledge about the basics could save your life or another's when you venture into the wilderness, especially in remote areas like this that have minimal to no cellphone service.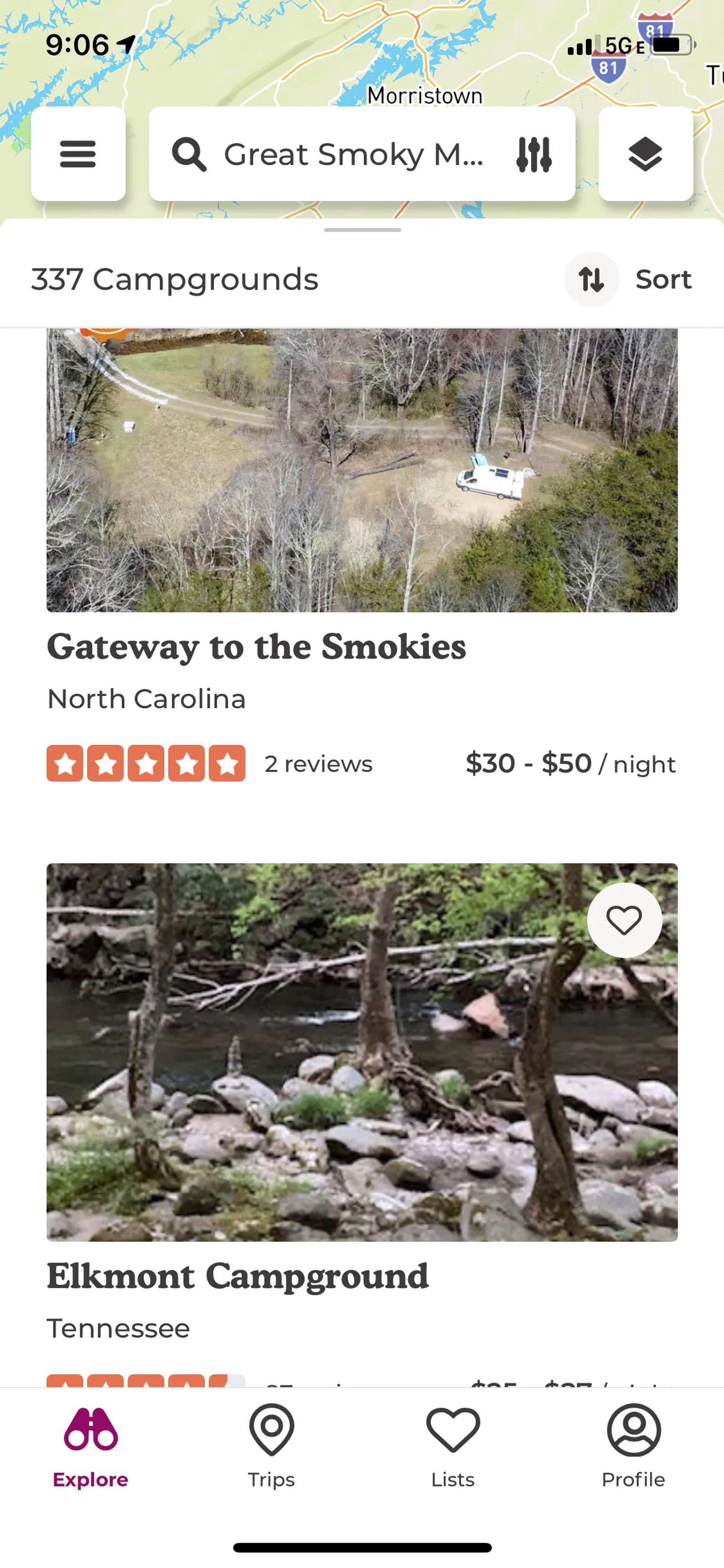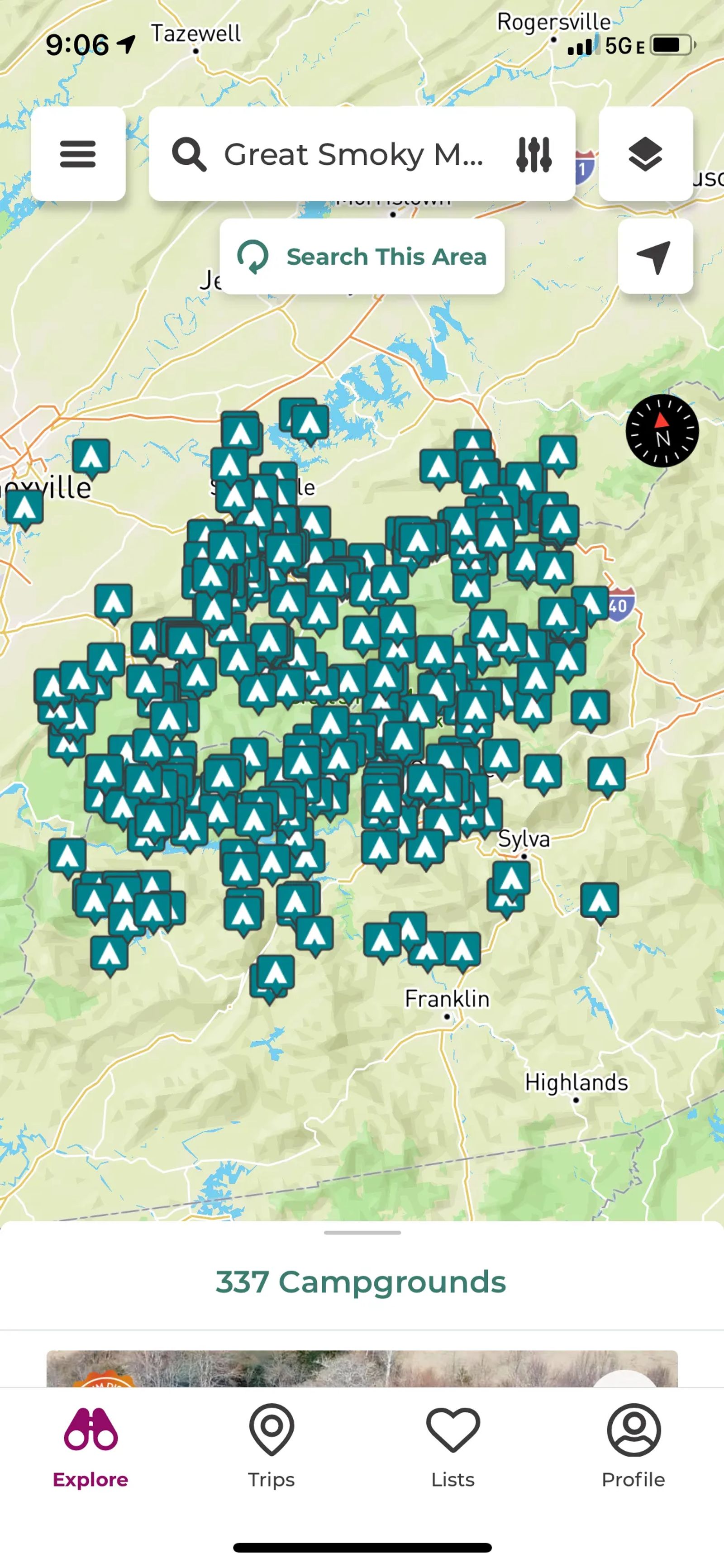 Camping Spots Near The Great Smoky Mountain National Park
When I am planning camping trips I typically will use the Dyrt App (pictured above) to find a camping spot with the amenities I may need or like. It is a new company that provides prices, amenities and availability in each campsite.
You can also camp near many of the visitors centers, or just outside the park as well. Make sure to prepare for moist conditions as the Great Smoky Mountains get about 82-85 inches of rainfall each year, which can make for cold winter, spring and fall nights. Bring firewood and check the fire danger before attempting to light any fires. Please also bring bear canisters and do not keep any food in your car or tent area. Any food, even if it is wrapped should be kept in a bear canister to keep you and the bears safe.
There are 2 poisonous snakes that live in the Smoky Mountains so make sure to pack a venom kit and know the closest hospital for the antivenom antidote.
Like it? Pin it! Sharing is Caring ;)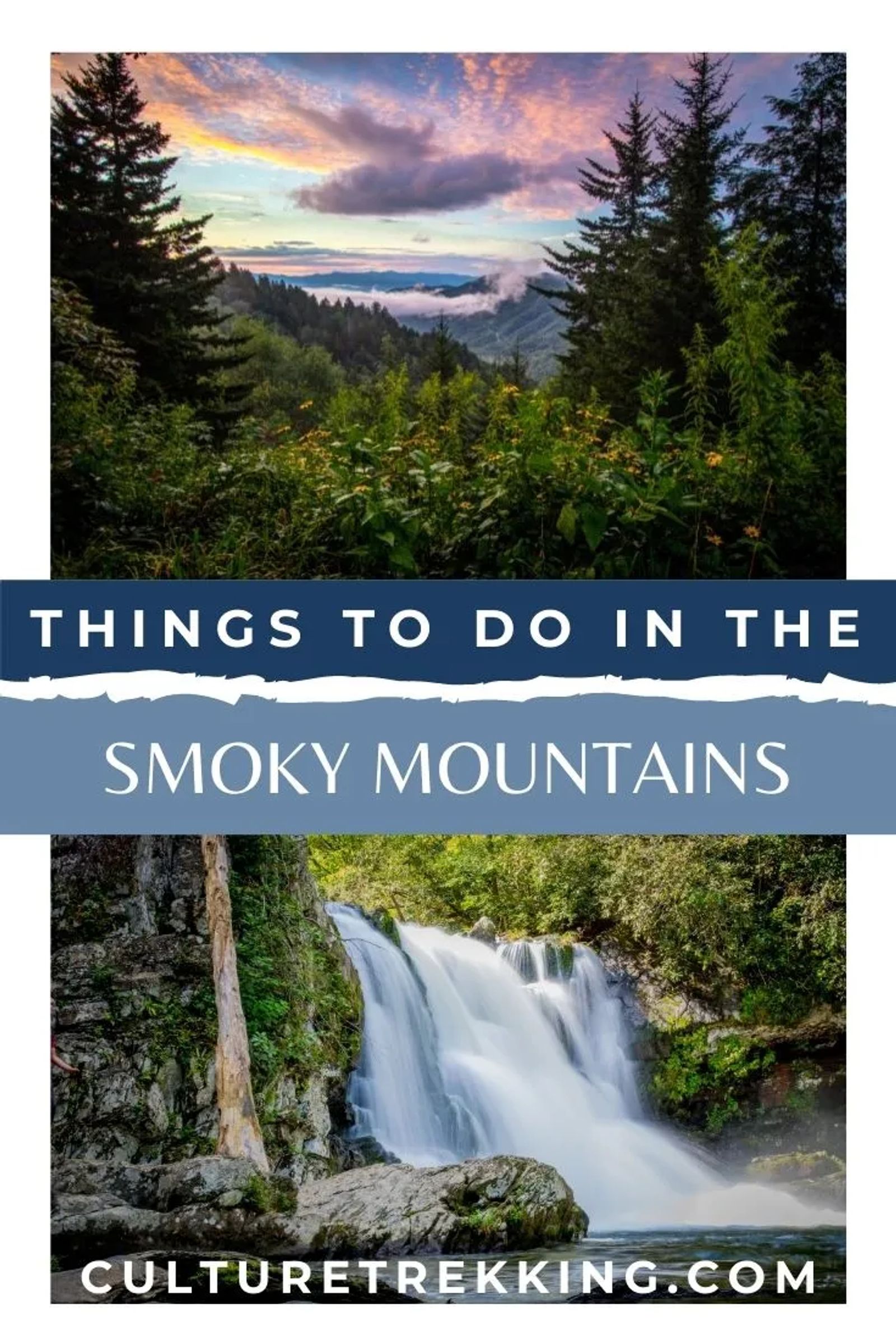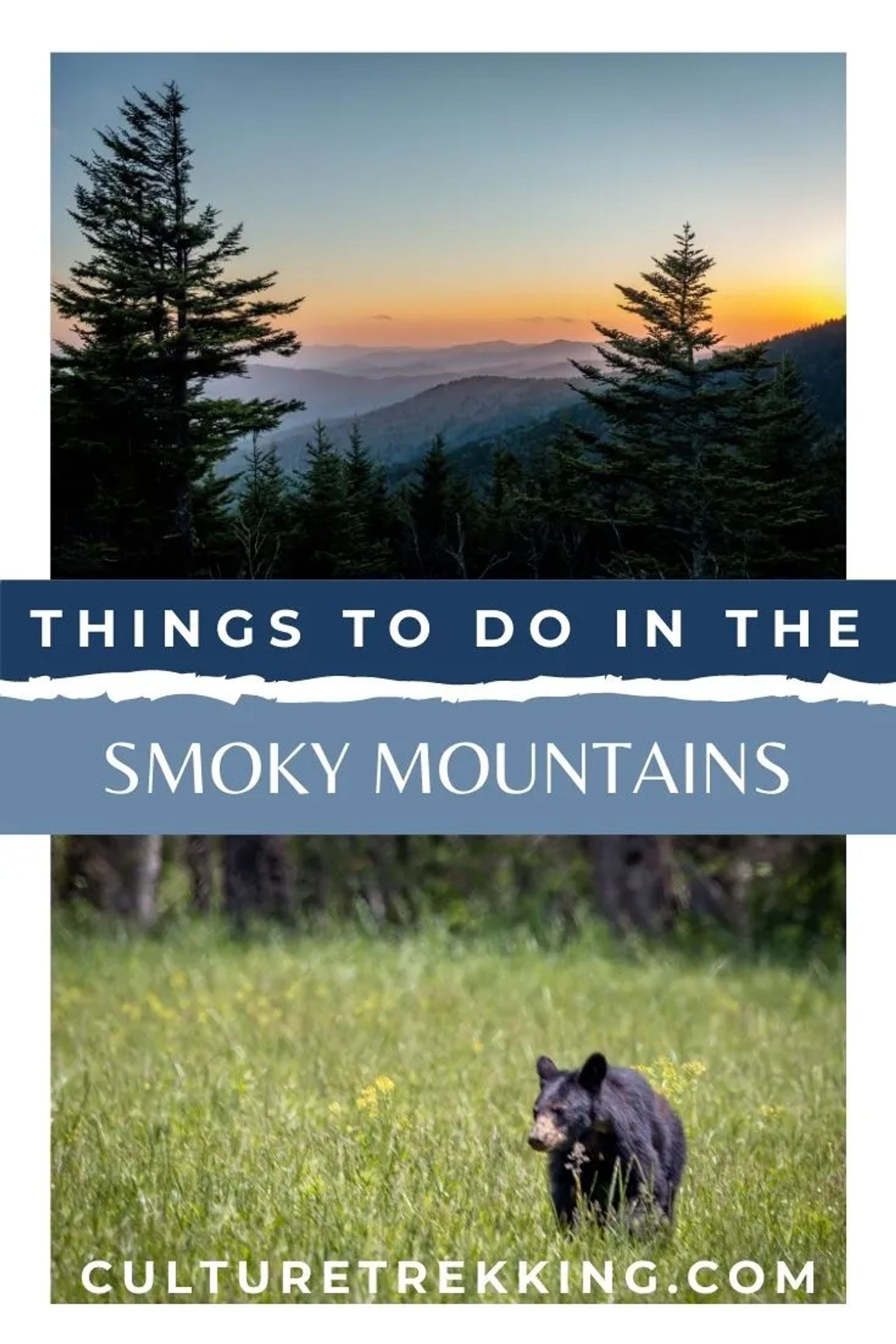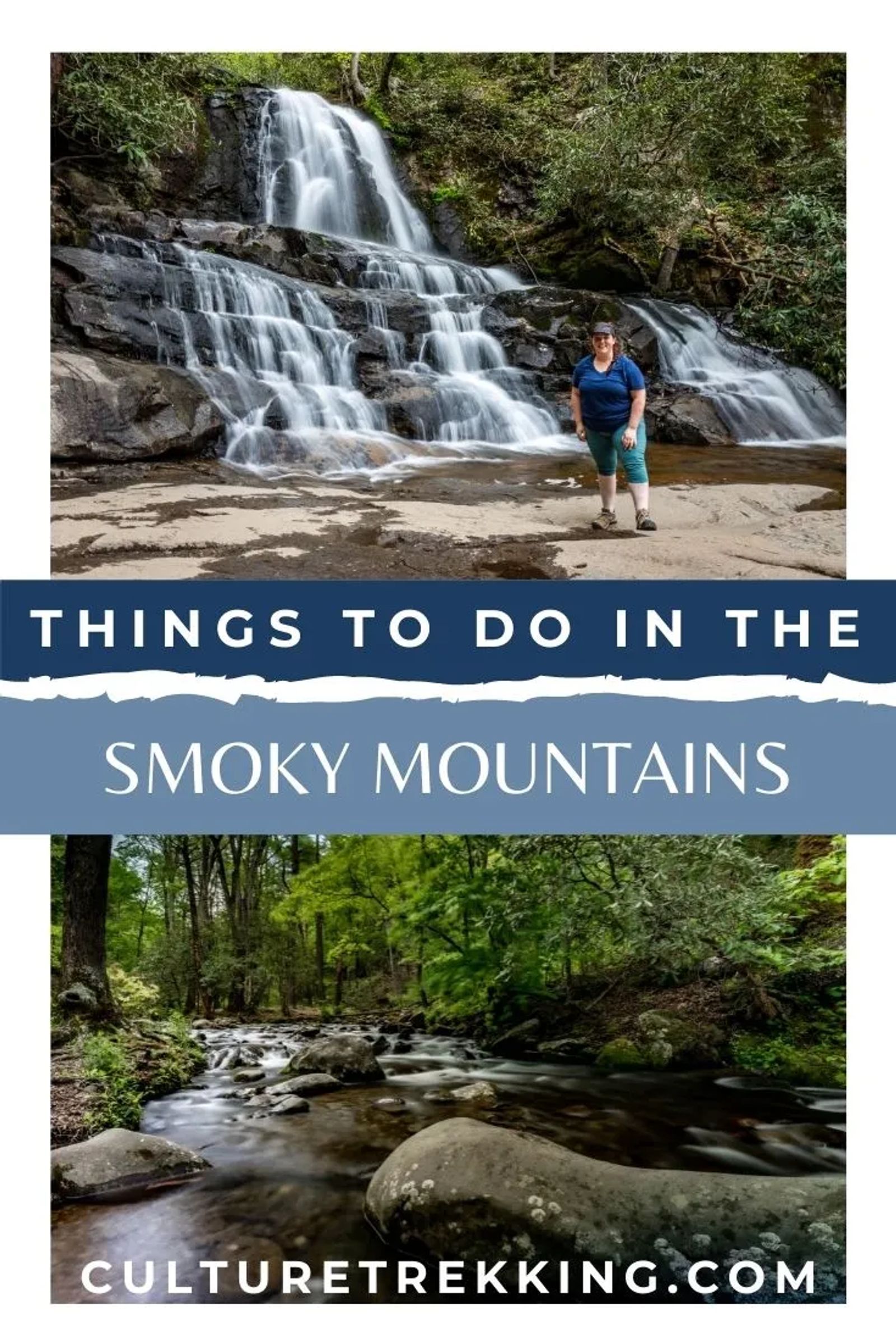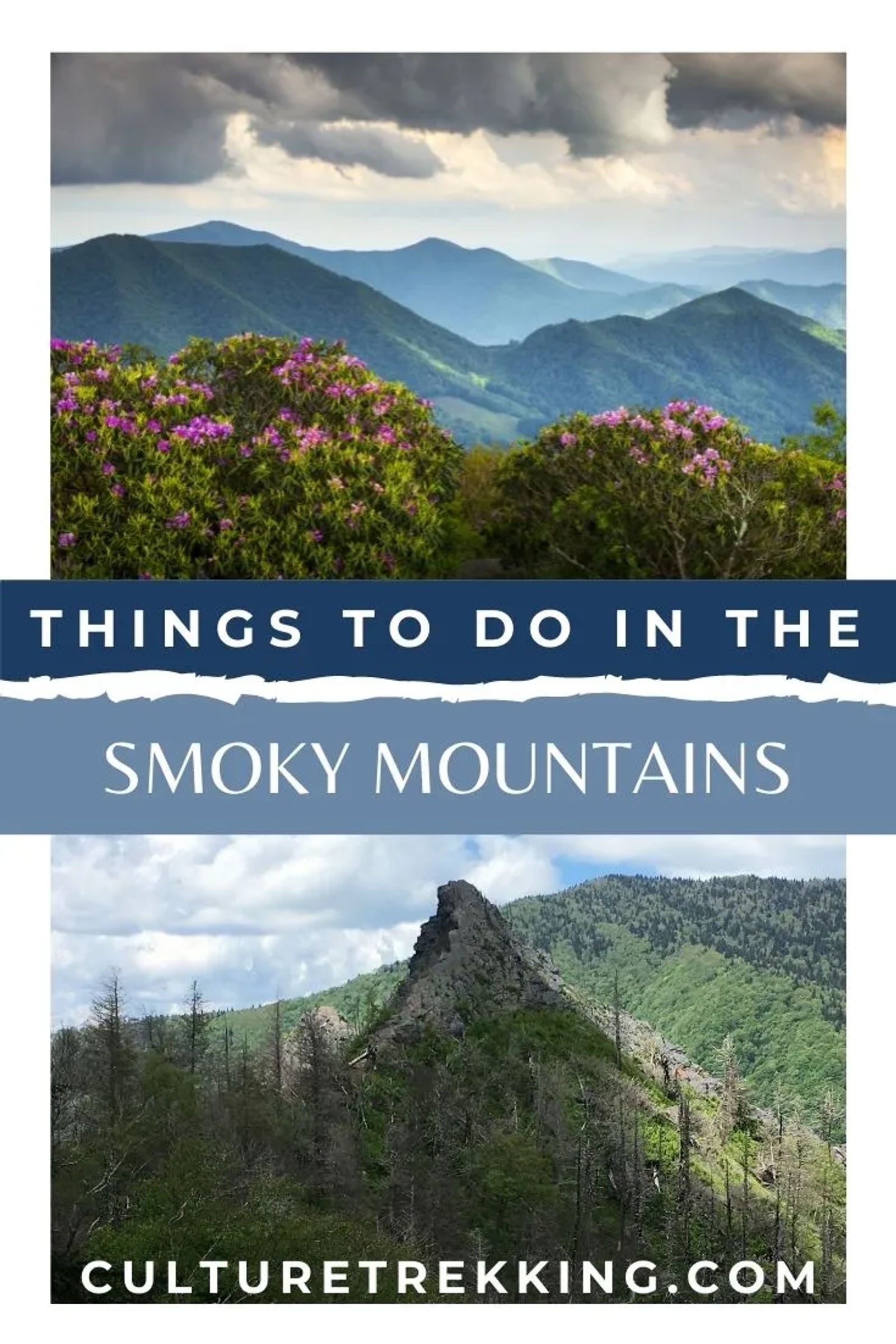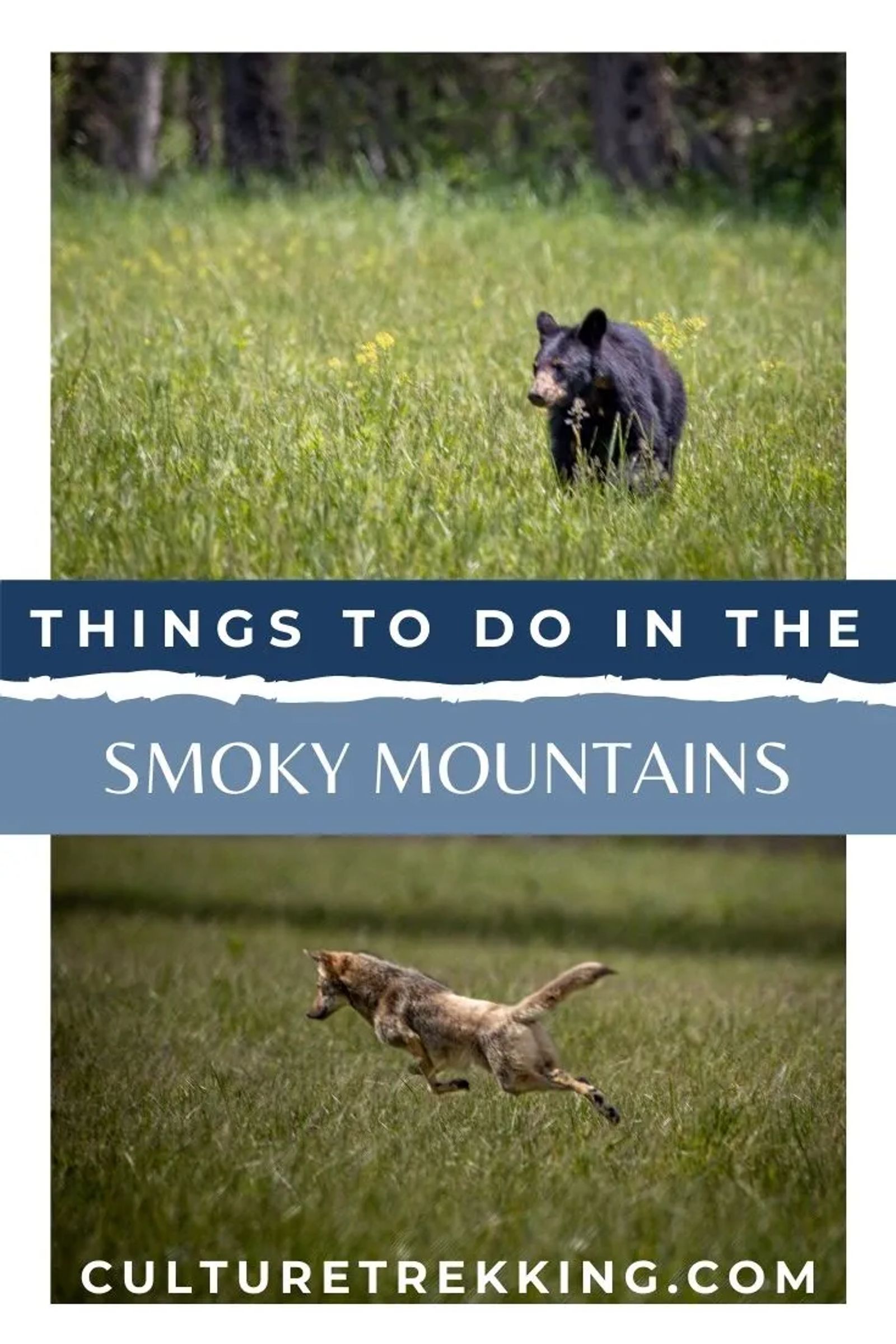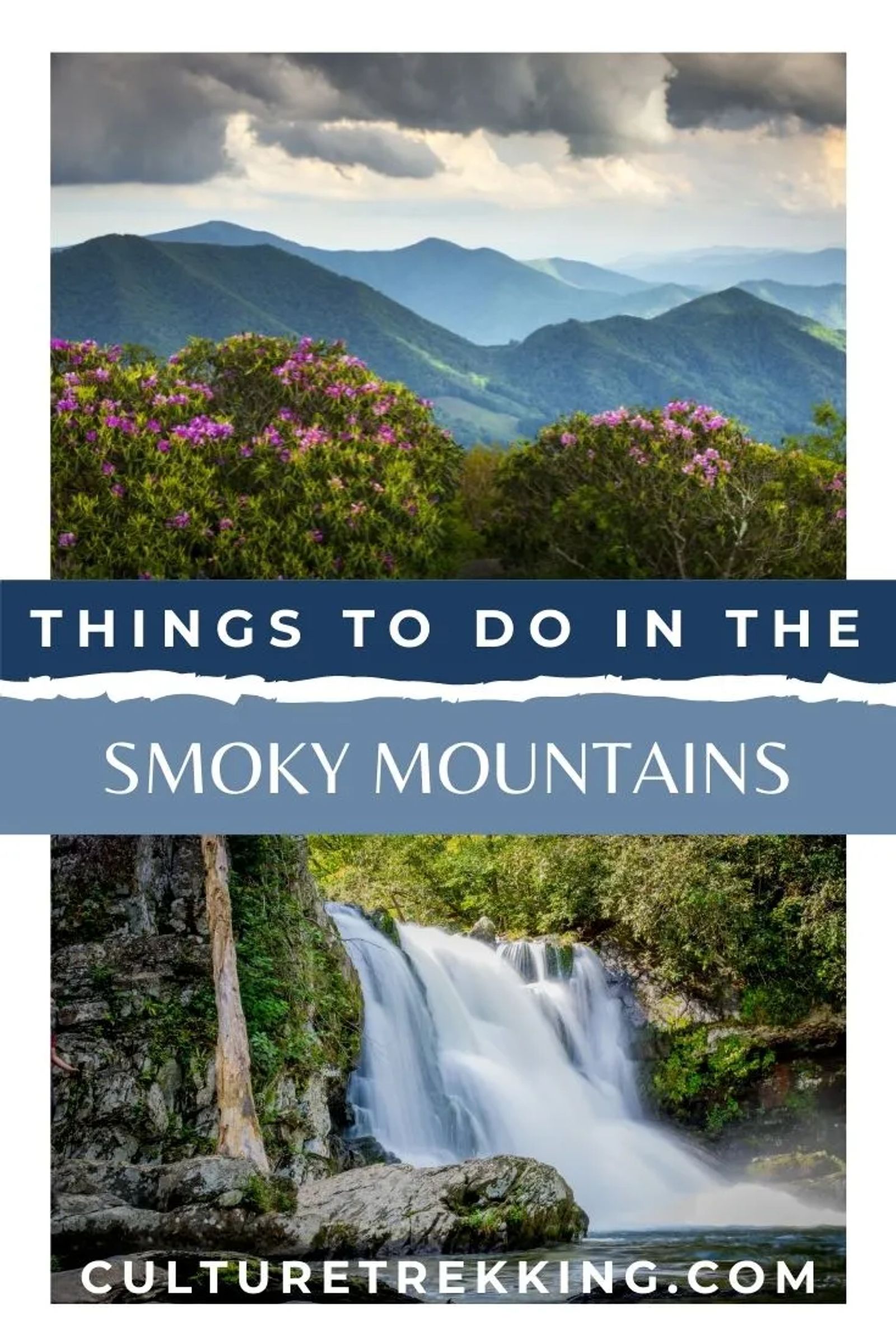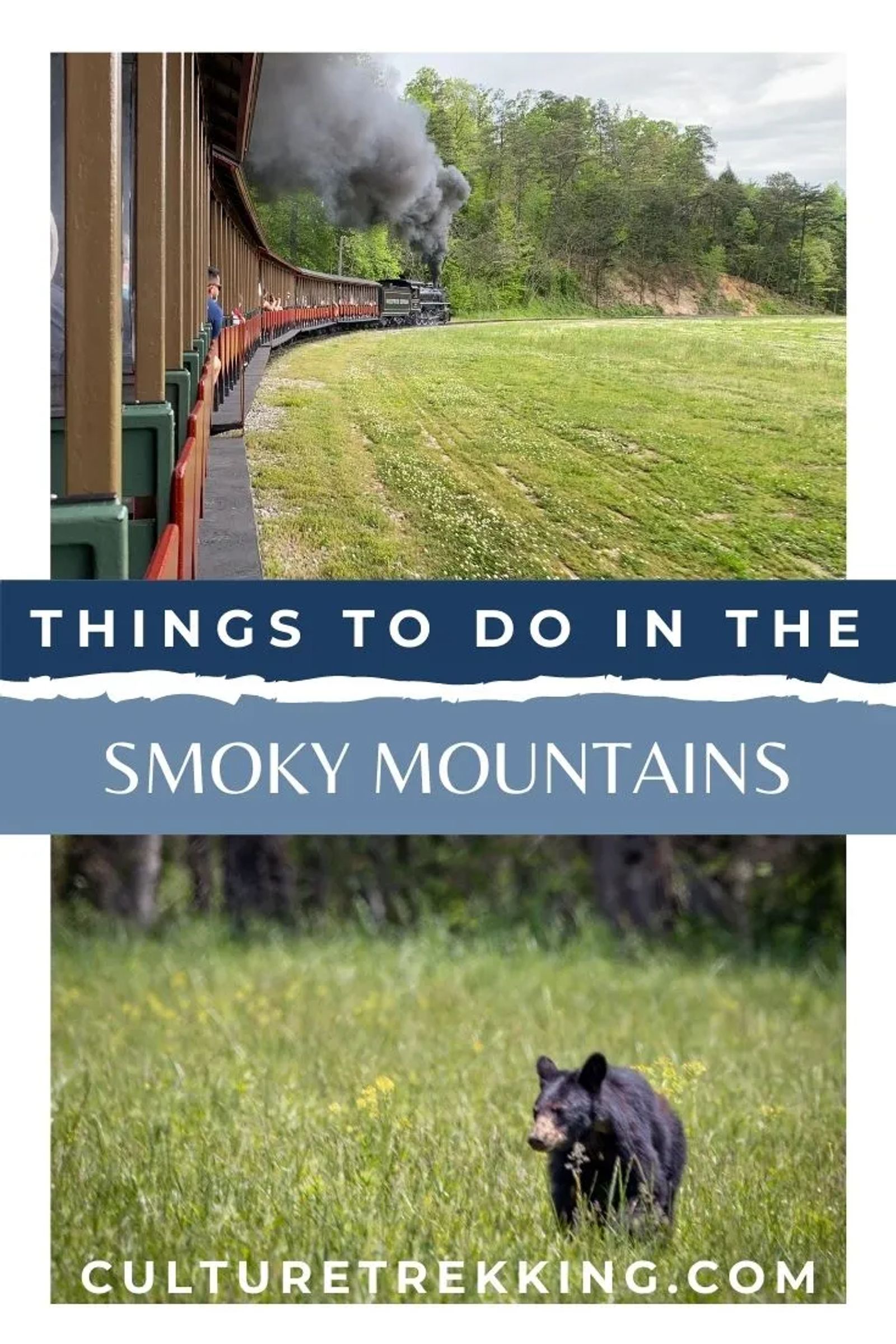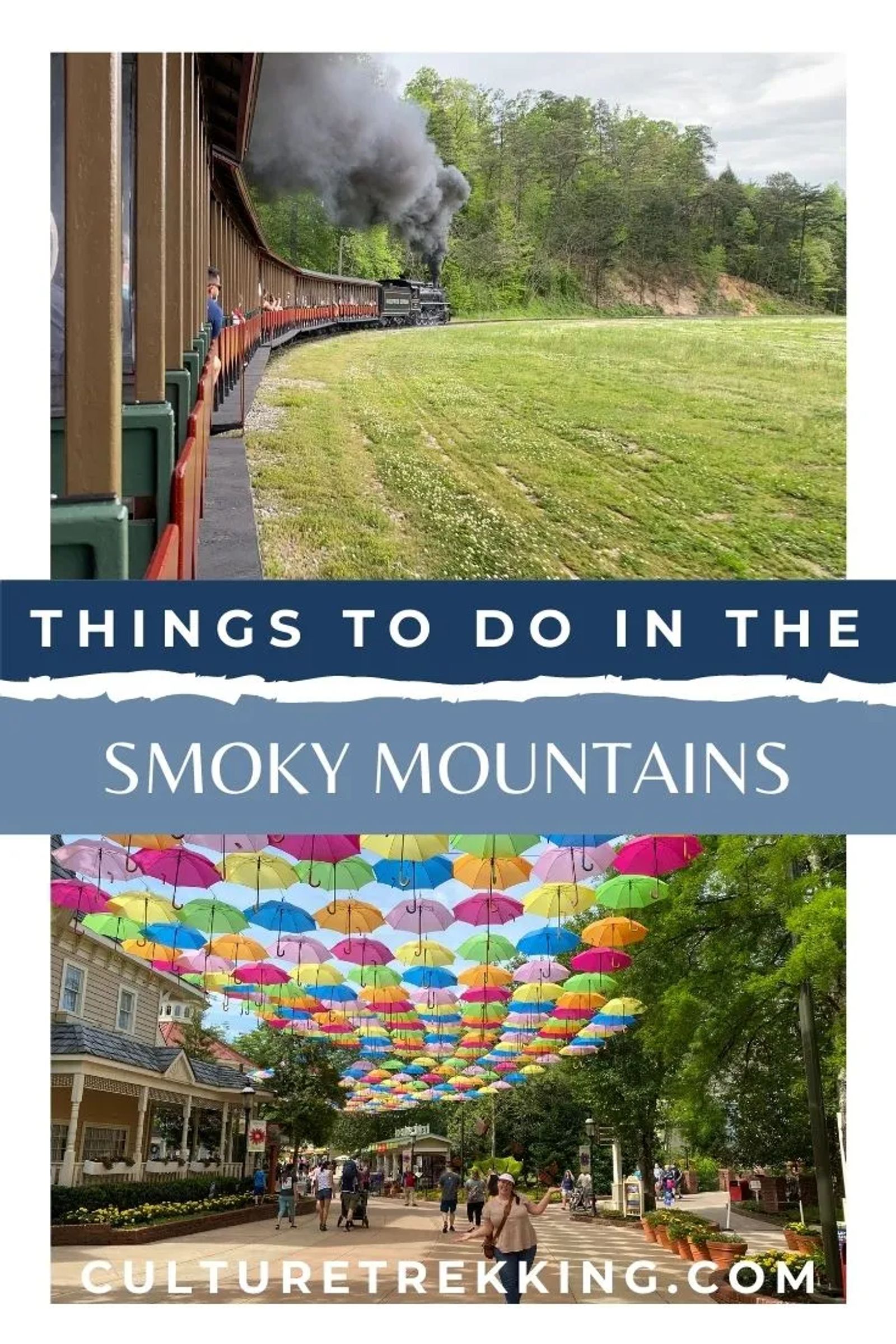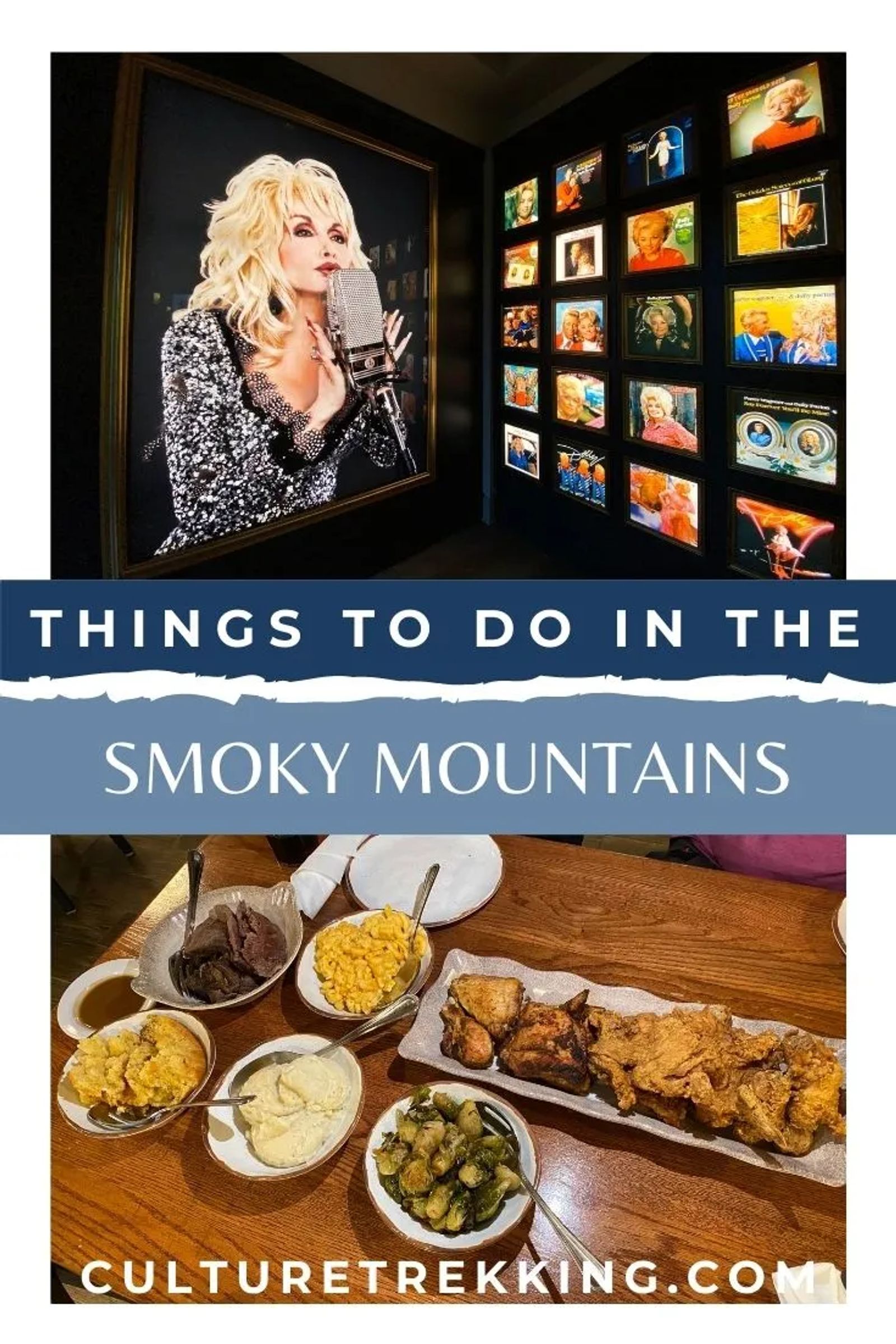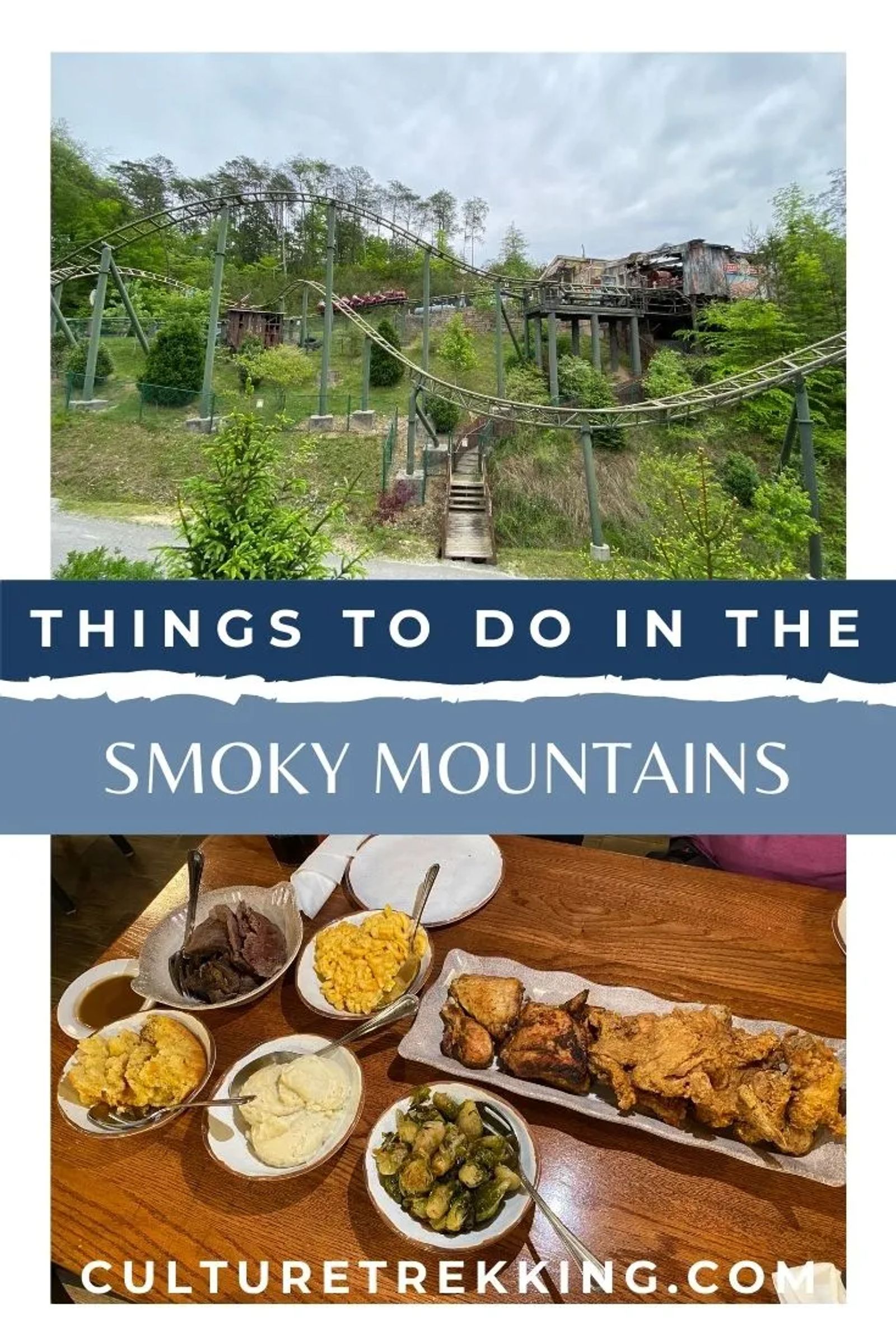 Latest Articles On Culture Trekking