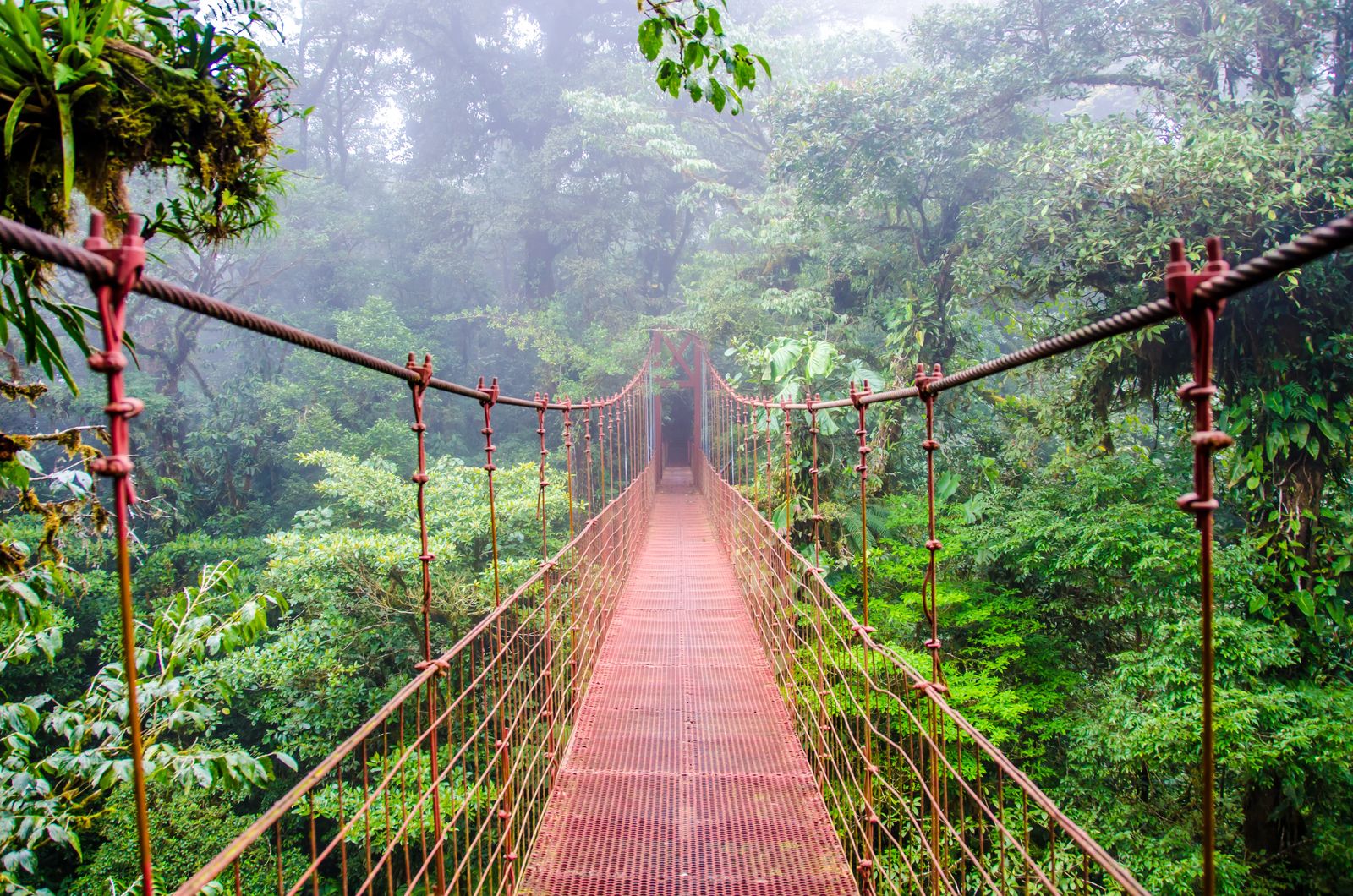 Things to do in the Monteverde Cloud Forest
A vanishing earthly heaven crested the mountain as our bus rambled along the pot-hole strewn roads. We were heading toward the last remaining cloud forests on the planet. A unique biosphere or constant moisture that helped coin the term for the area, Monteverde, or Green Mountain. We didn't quite know what to expect but wish we would have known the variety of things to do in the Monteverde Cloud Forest before we visited. It is listed (by Costa Ricans) as one of their own seven natural wonders, in their country. It is the jewel in the crown of cloud forests, according to National Geographic. To be honest, I didn't know if it was worth the money to see this rain forest, as I had already hacked my way through the jungles of Jamaica - how wrong I was to even slightly compare the two.
Initially, the area was owned and operated by environmentally conservative Quakers for their dairy farms and cheese production in the 1950's. In 1972, with the help of several international groups and organizations, more land was purchased, and by the end of that year was officially named a protected area and Monteverde Cloud Forest Reserve.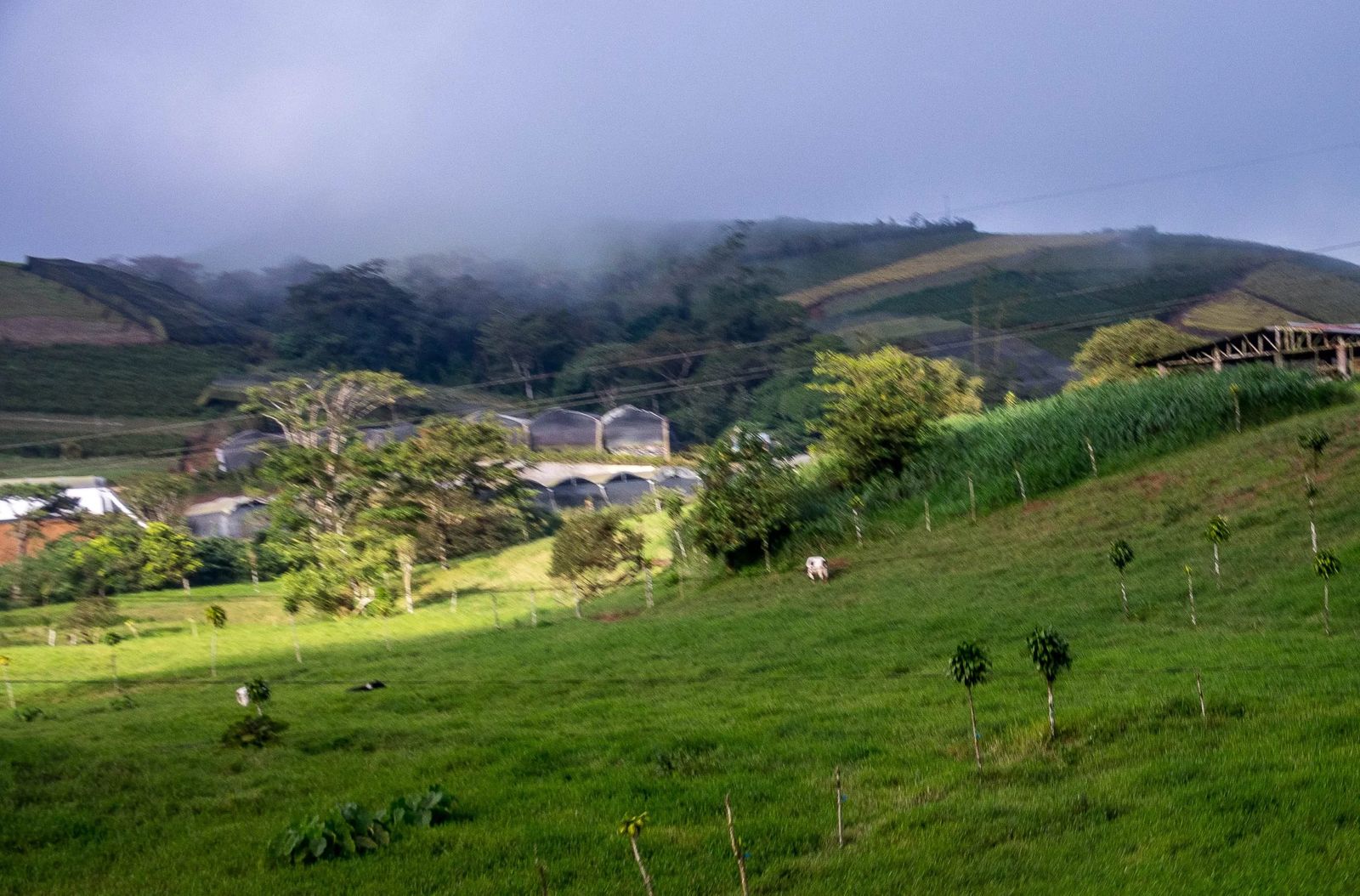 Of all the rain forests in the world, only 1% can officially be classified as a cloud forest, as it takes the right atmospheric conditions to allow for a consistent cover of clouds.
Our guide explained what it was like to live in Costa Rica, to have all the beautiful nature surrounding you - and to take pride in caring for it. Yet climate change was causing an uphill battle for the locals in preserving their beloved cloud forest. He fears that soon the cloud forest will disappear and dry up completely, taking with it, the rare species and incredibly biodiversity of plants and epiphytes that existed there.
It made me incredibly sad to think of this international wonder disappearing, because of our carbon footprint on the world. It made me more resolute in my efforts to not only educate myself on responsible tourism but to share discoveries like this with the Culture Trekking Community. We have more power, and influence than we can even imagine.
Drink Coffee, Eat Ice Cream, and Local Cuisine
Our tour guide took us to a cafe near the start of our guided hike, where we were able to try ice cream just like the Quakers would have made it. We were also able to pick out different selections of meat, and local cuisine along with the world-famous Costa Rican Coffee.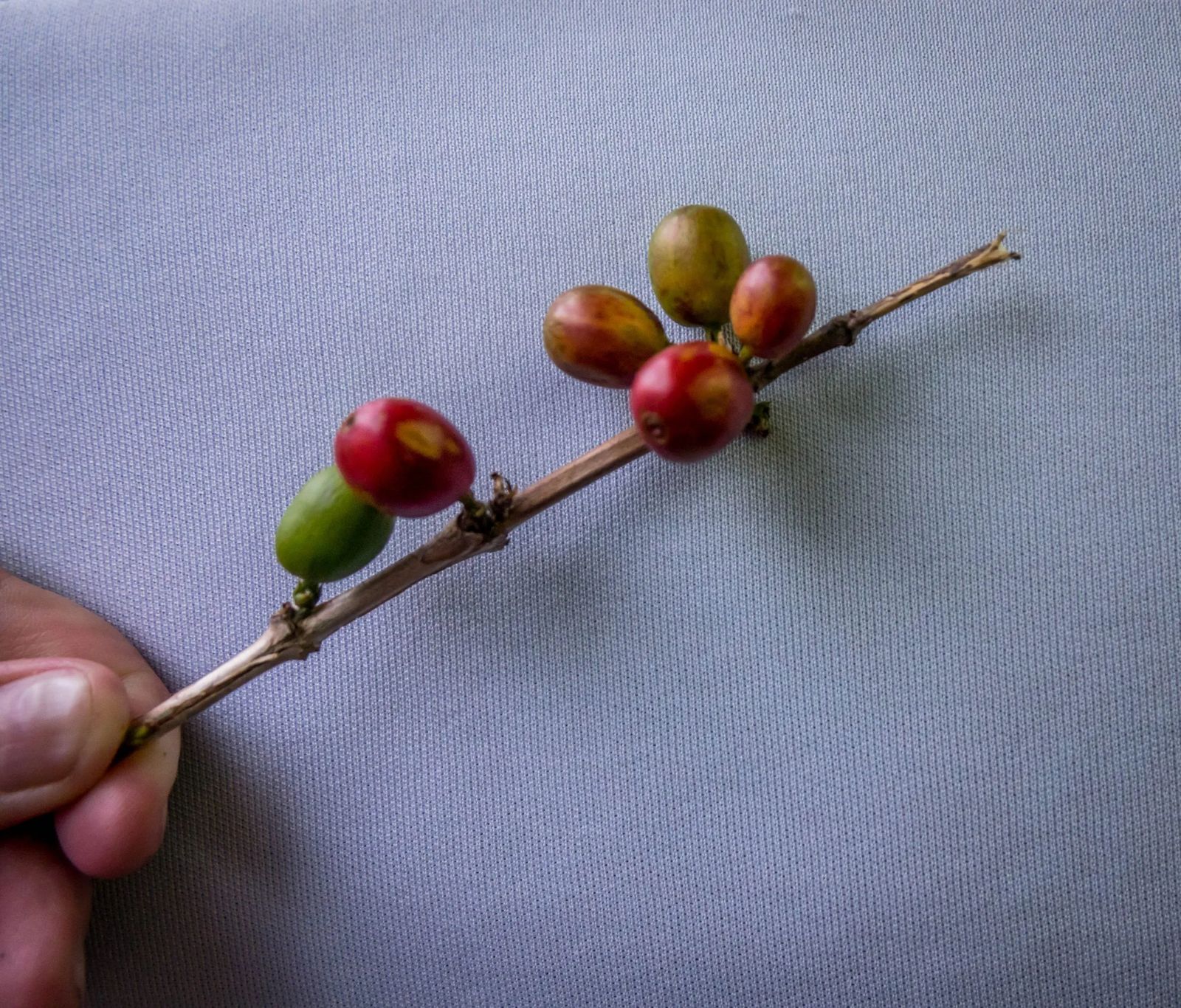 The coffee smelled better and was far more potent than anything I had tried in the USA. It was even better than the espresso from Morocco I grew to love. This is the place to drink coffee like a King, and it is a great way to warm up and give you a little pep in your step for the hike.
Visit A Nearby Coffee Farm
You haven't had good coffee until you have had Costa Rican Coffee. This is a major source of pride for locals. There are plantation tours, tastings, and even opportunities for you to make your own cup of coffee. Just be prepared to get the shakes after you drink it, even a small cup is quite strong.
Begin with the cocoa bean, roast it, and grind it. Last, learn how to extract sugar cane juice into a delicious glass of juice the old-fashioned way. Tasting is encouraged throughout the tour!
Hiking Through Monteverde Cloud Forest
Having a naturalist guide with us, gave us insight into the plants, ability to spot animals we wouldn't have seen before, and even keep us safe from some that were deadly yet so cute.
Hiking through the small spot of the nearly 35,089 acres of land, with eight life zones, 100 species of mammals, 400 species of birds, and 1,200 species of amphibians was a phenomenal experience. We learned that this particular cloud forest was one of the few remaining habitats that is able to fully support all six species of cats including jaguars, ocelots, pumas, oncillas, margays, and jaguarundis. If you are able to take a whole week to hike the 8 miles (13km) of trails you might spot the endangered three-wattled bellbird and the Quetzal.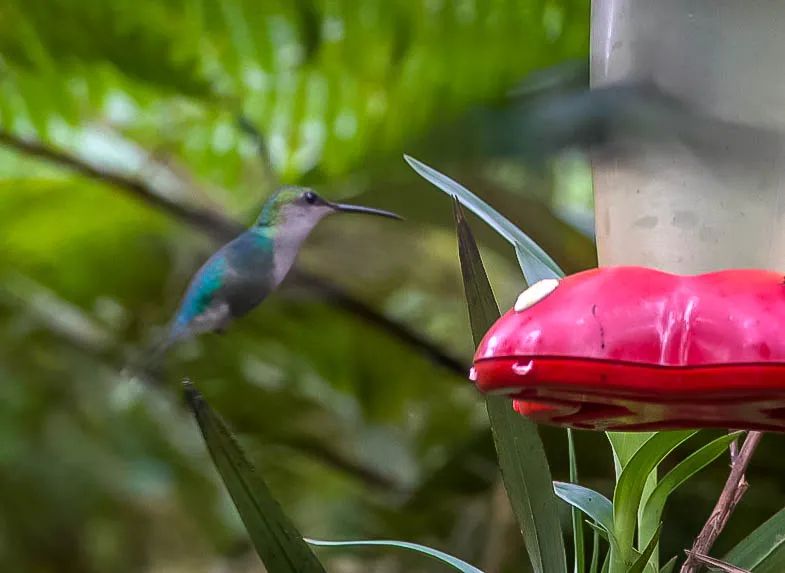 Go Bird Watching in Monteverde
The Quetzal is a bird unique in the cloud forests of Central America and survives in higher numbers here in Monteverde compared to the other two nearby rainforests. It is a bird of stunning brilliant colors for feathers, has a very shy disposition and is frequently spotted if you go on a birding tour in Monteverde Cloud Forest. Some argue that the Curi Cancha Reserve is the best place to guarantee seeing these birds, but I prefer to see them in a natural environment - the hunting for that perfect shot is so rewarding.
If you miss your chance to see one, then I would head over to Curi Cancha where you can also get a glimpse of toucans, hummingbirds and many other birds. Be sure to take some good binoculars with you!
Trekker Travel Tip: If you put your Iphone up to the opening of the binoculars, you can take photos of the animals up close without a fancy camera. If you don't document it, it didn't happen right!?!?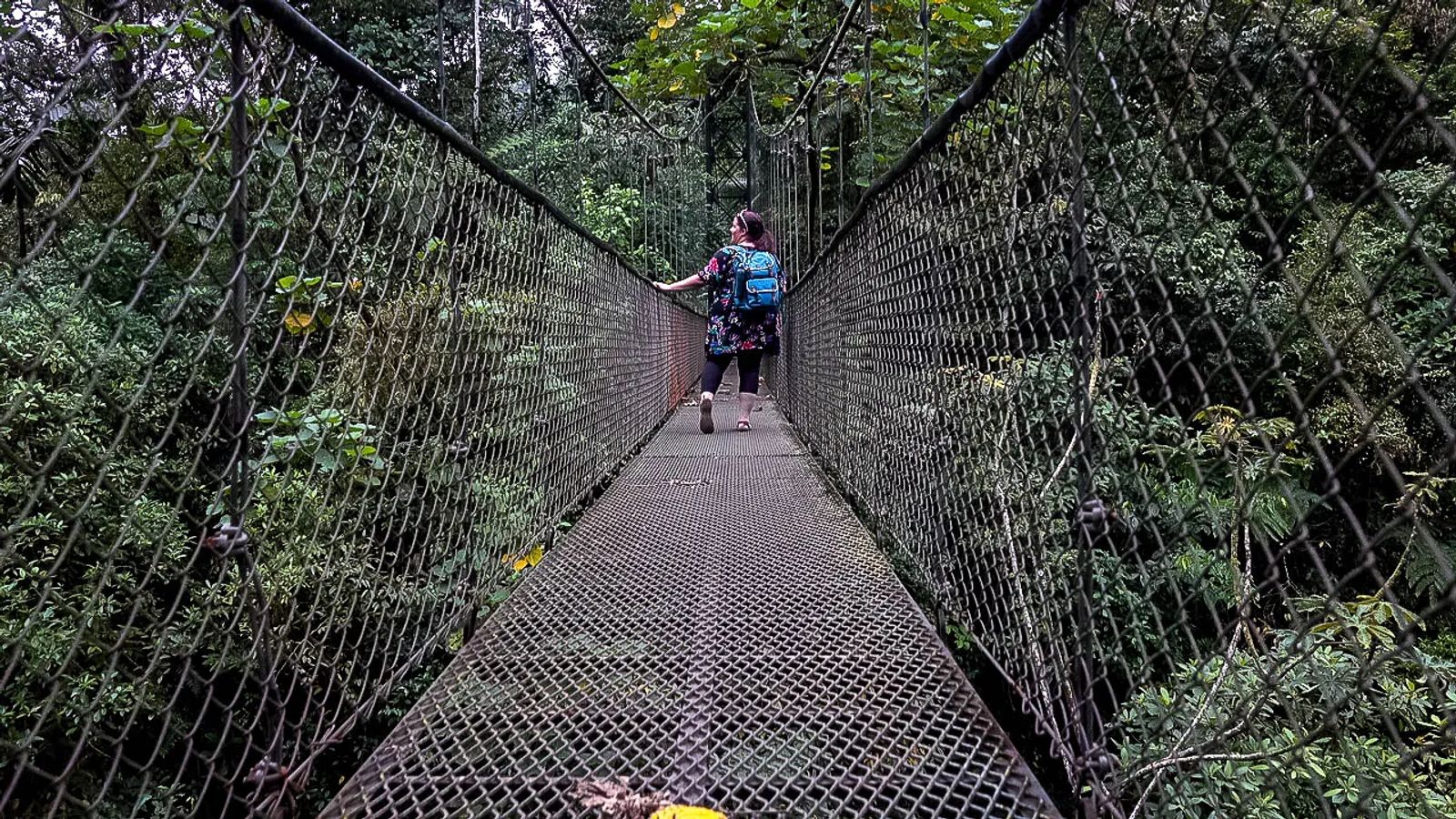 Walk the Suspension Bridges in the Clouds
With all the trails and changes in elevation, suspension bridges were built in the Monteverde Cloud forest to help visitors explore this wanderful ecosystem. With some of the larger bridges being up to 800 feet long and 2400 feet in altitude (240 meters to 730 meters).
Walking along these bridges feels like something out of Indiana Jones, or like they are the pathway to heaven themselves. The clouds mist over, through and around the cables like a wave of air, engulfing the bridge in myst and mystery.
It is pretty surreal to stand on one of these, be surrounded by this protected land - yet also sad knowing that not everyone in the generations beyond me will be able to experience this.
Plants and the Culture Of Costa Rica
Because of the unique climate here, the plants are just as unique. In fact, there are over 1,000 different kinds of orchids in Costa Rica. The plants and wildlife are nearly worshiped by the local people. They are painted on their buildings, can be found represented in every souvenir shop, and even in their classes and customs.
The hibiscus, in particular, was often, and still sometimes is - worn as a signal to those in the community of your marital status. If you wear it tucked behind the right ear, you are indicating you are single. If you wear the hibiscus tucked behind the left ear, then you are indicating you are married.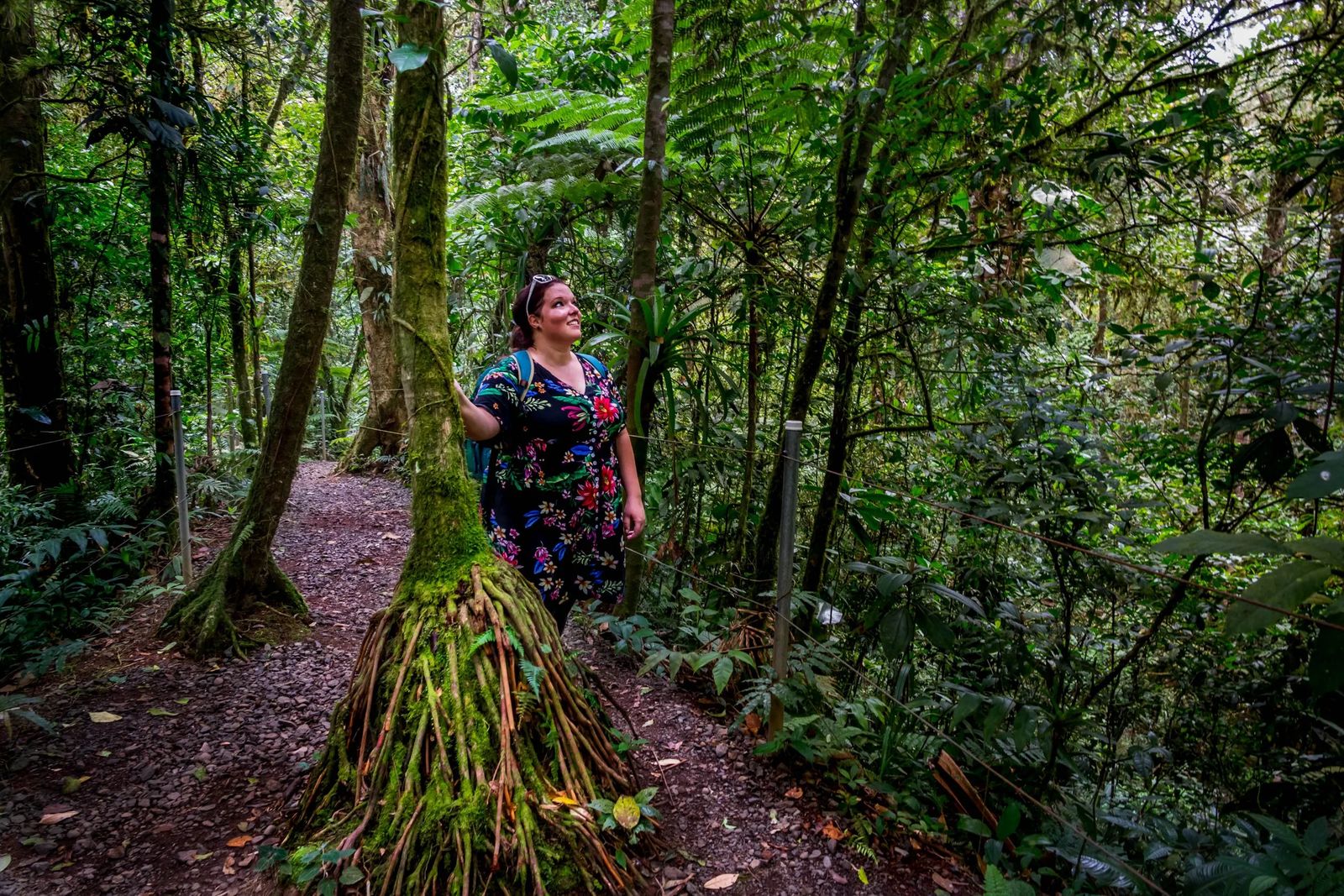 Go to the Hummingbird Refuge
These hummingbirds aren't caged but know where their food supply source comes from. There are Hummingbird feeders, about 20 of them, placed on metal trees in a small area that has been slightly cleared of trees for better viewing. This discourages predators from taking advantage of the Hummingbird watering hole and allows visitors to witness several different species whisk and flitter in and out of the small refuge.
If you go in a group to the refuge, I would suggest standing a little way away from the crowd - disperse your group so it isn't so concentrated. This allows the birds to not feel so shy or threatened by those coming so close to their source of food.
Butterfly Garden
This beautiful garden of transformed caterpillars was like walking into my inner child's dream. It is hard to keep your eyes on where the butterflies were going, where they were coming from, and how best to avoid other people from scaring them away.
These butterflies are quite shy, they fly away at any sudden movement, loud sounds, or a small wisp of air. So I suggest picking a spot, wearing a shirt with brightly colored flowers on it - and let them come to you. Have your camera ready, and just be still and enjoy the moment.
Canopy Zip-Line and Bungee Jumping
If you are really into the adrenaline rush, then take a canopy zip-line tour that takes you across the forest for over a mile of zip lines. You can also bungee jump from a 489 foot (143m) tower. Even just looking at the tower and the people jumping from it made my heart flutter a bit.
Contact 100% Aventura to book your adrenaline rush fantasies come true.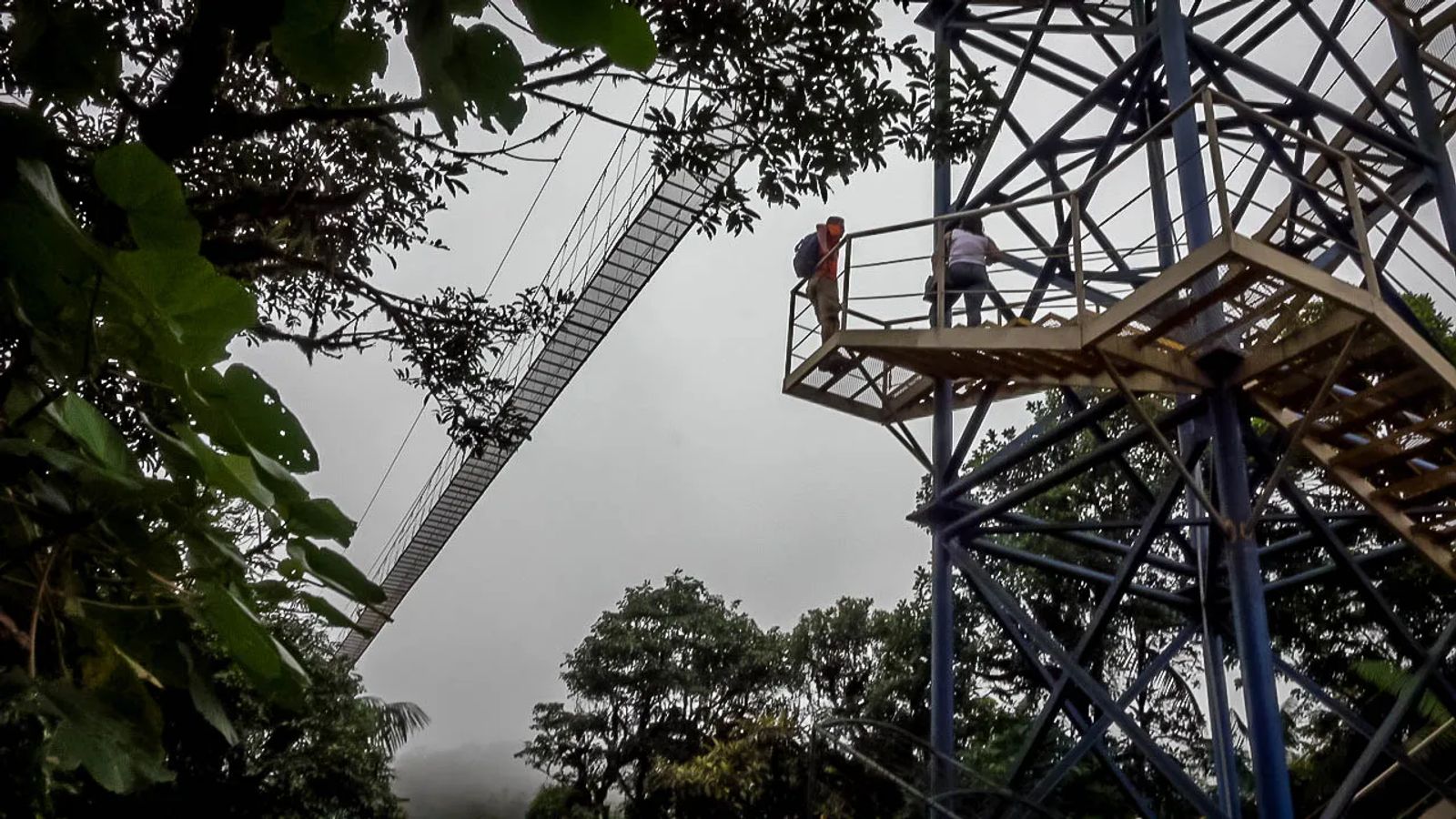 Climb Up the Giant Ficuses
If you have the time and aren't afraid of heights, get your adrenaline pumping by climbing up the Giant Ficuses. To get a fantastic view all the way at the top of the cloud forest and perch like a bird.
There is a legend about these trees, in that many believe that the trees actually walk. The roots reach out to find any kind of sunlight, and the massive trees end up slowly moving with the roots.
As the roots move, there are some roots that die, and at times the roots take over another tree - strangling it. The tree that is strangled dies as the strangling tree takes over, basically ingesting it, leaving the center of the living ficus empty. This hollow center is what you climb up inside of, then rappel down.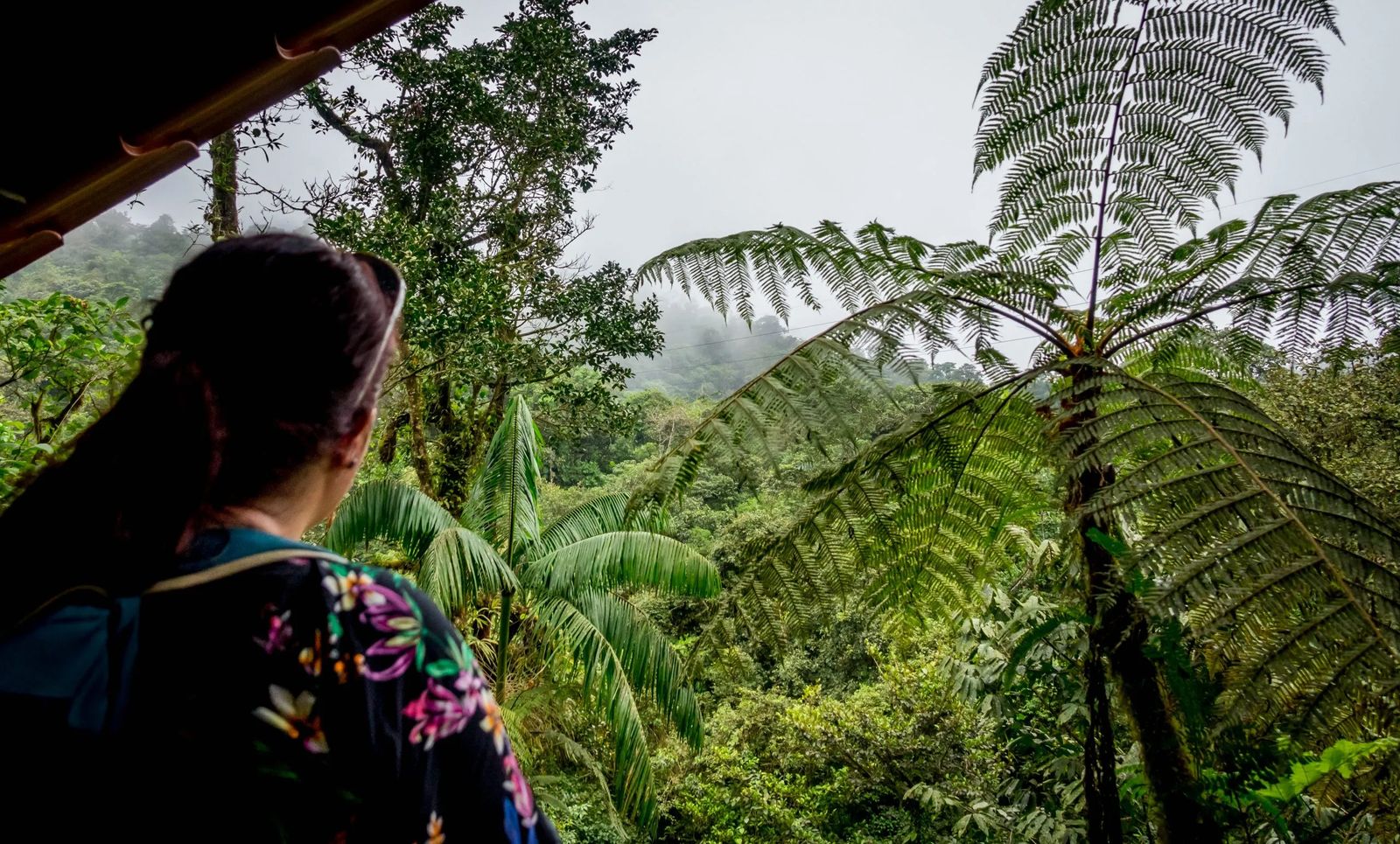 Evening Hikes
There are many different animals at night than there are during the day. Take a hike with a guide in the evening and see the unique animals that most tourists miss.
Watch the Sunset
I was stunned as we drove back to our cruise ship from our shore excursion in Monteverde Cloud Forest at the sunset we were greeted with. The colors are incredible, the air is clear and it truly feels like you get a glimpse of heaven every time it sets.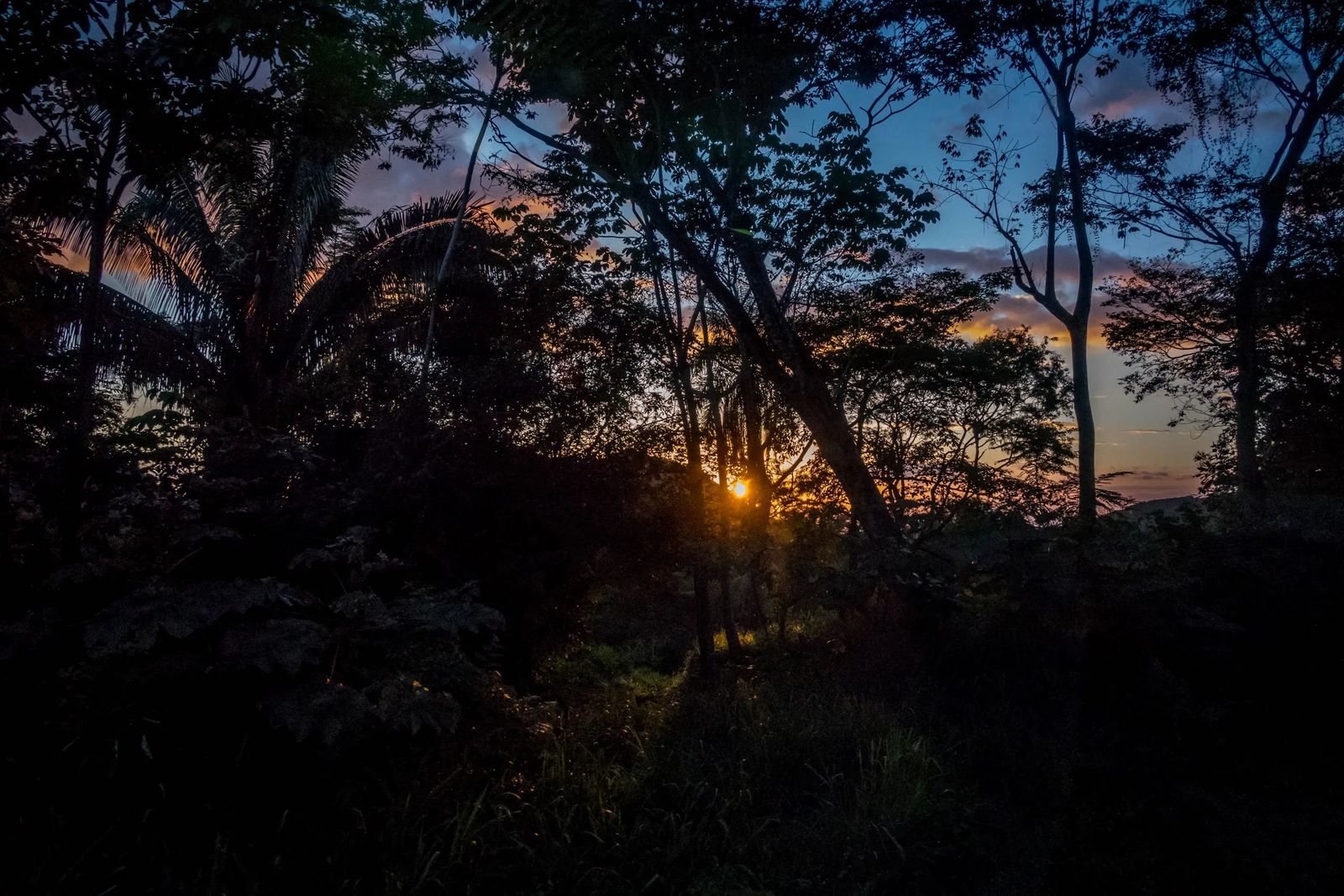 What To Pack
A sweater or light jacket and long pants are essential in the cool, nearly sunless environment. Make sure you layer your clothing if you are coming from the port or the center of Puntarenas it is going to be sunny, hot and humid. As you get deeper into the cloud forest the cooler the temperatures get, so a light sweater is a good idea.
I would also make sure to bring sunscreen, as the cloud cover and cool air can be deceiving - but UV rays can still penetrate the cloud cover and cause blistering sunburns if you aren't careful.
Like it? Pin it! Sharing is Caring!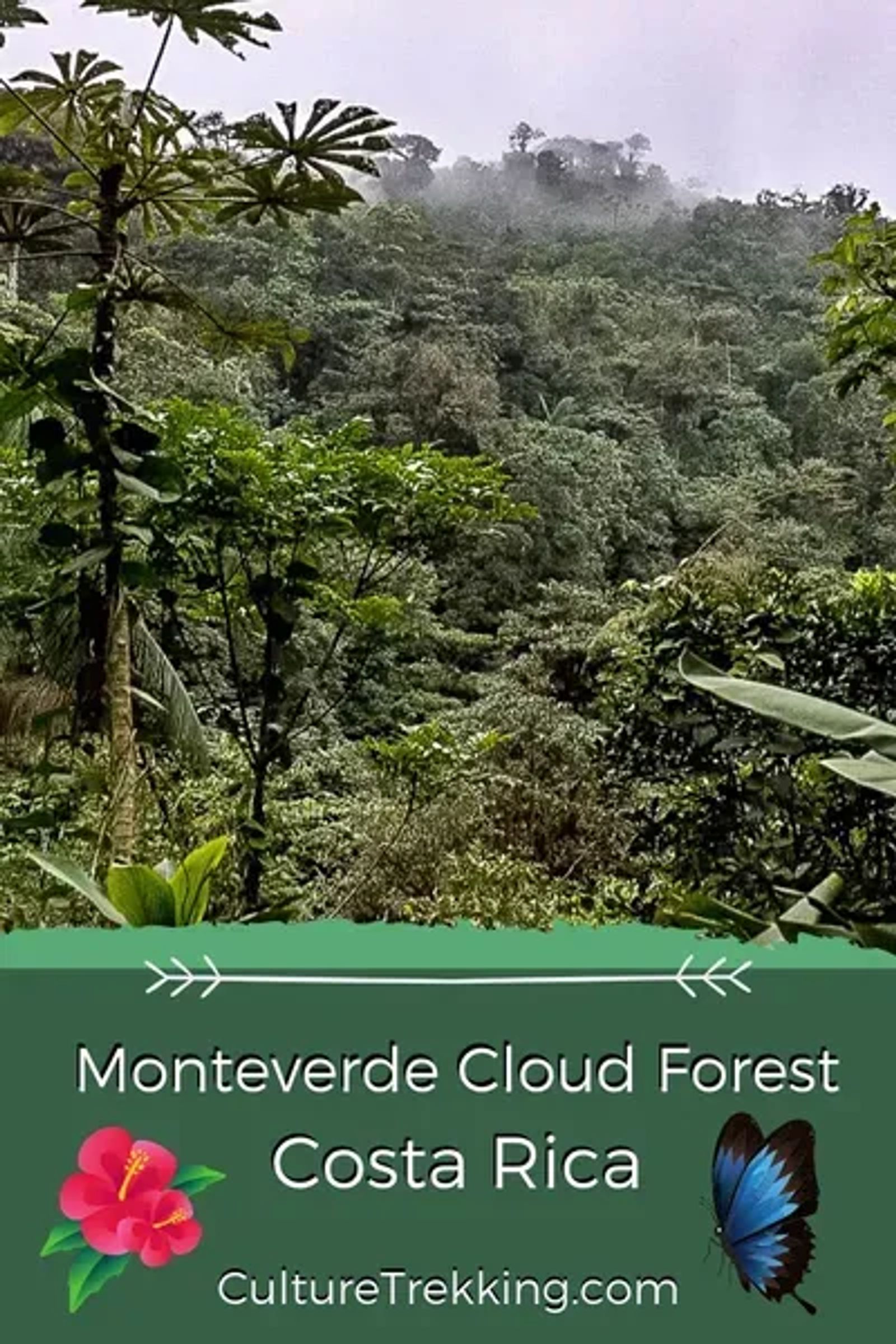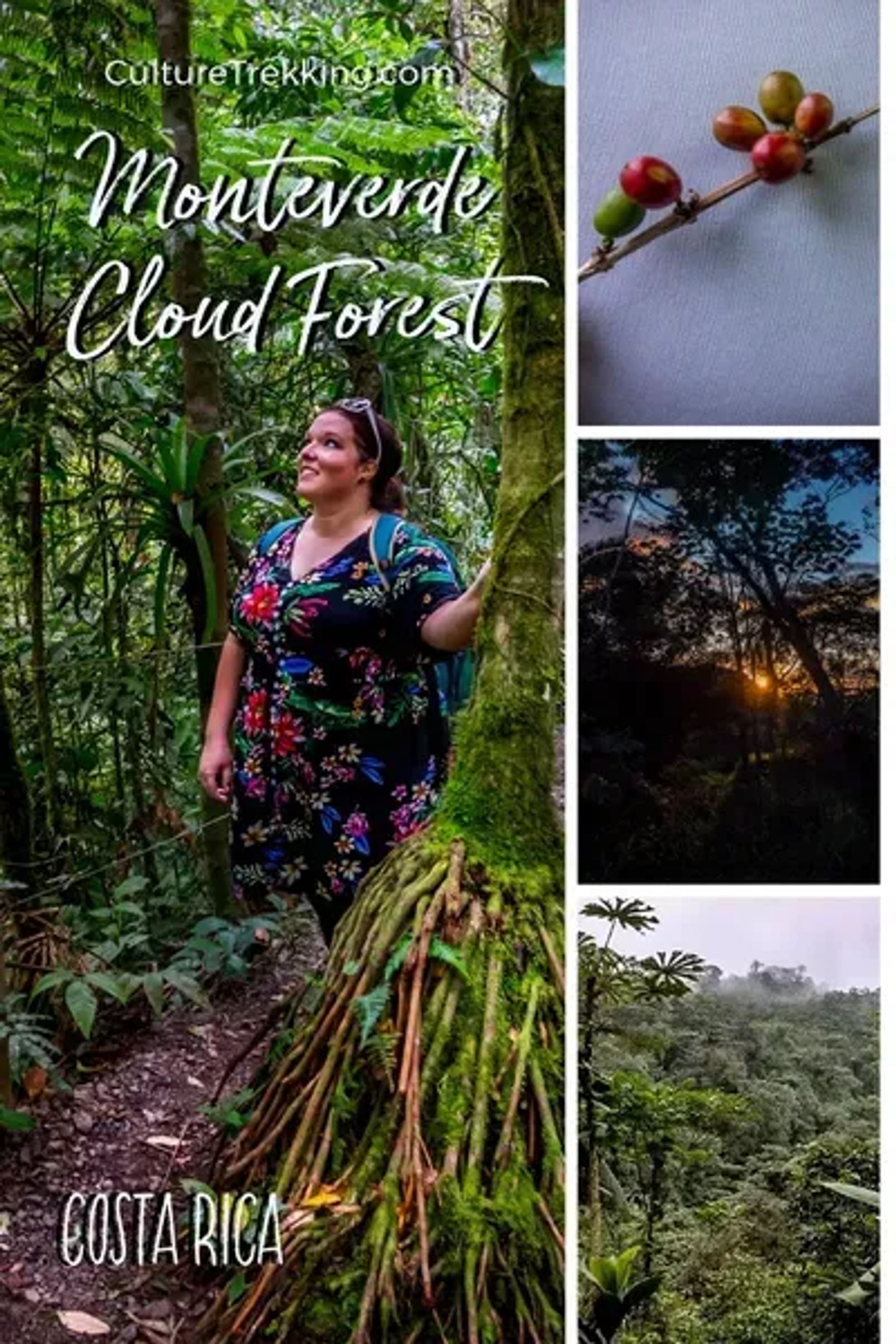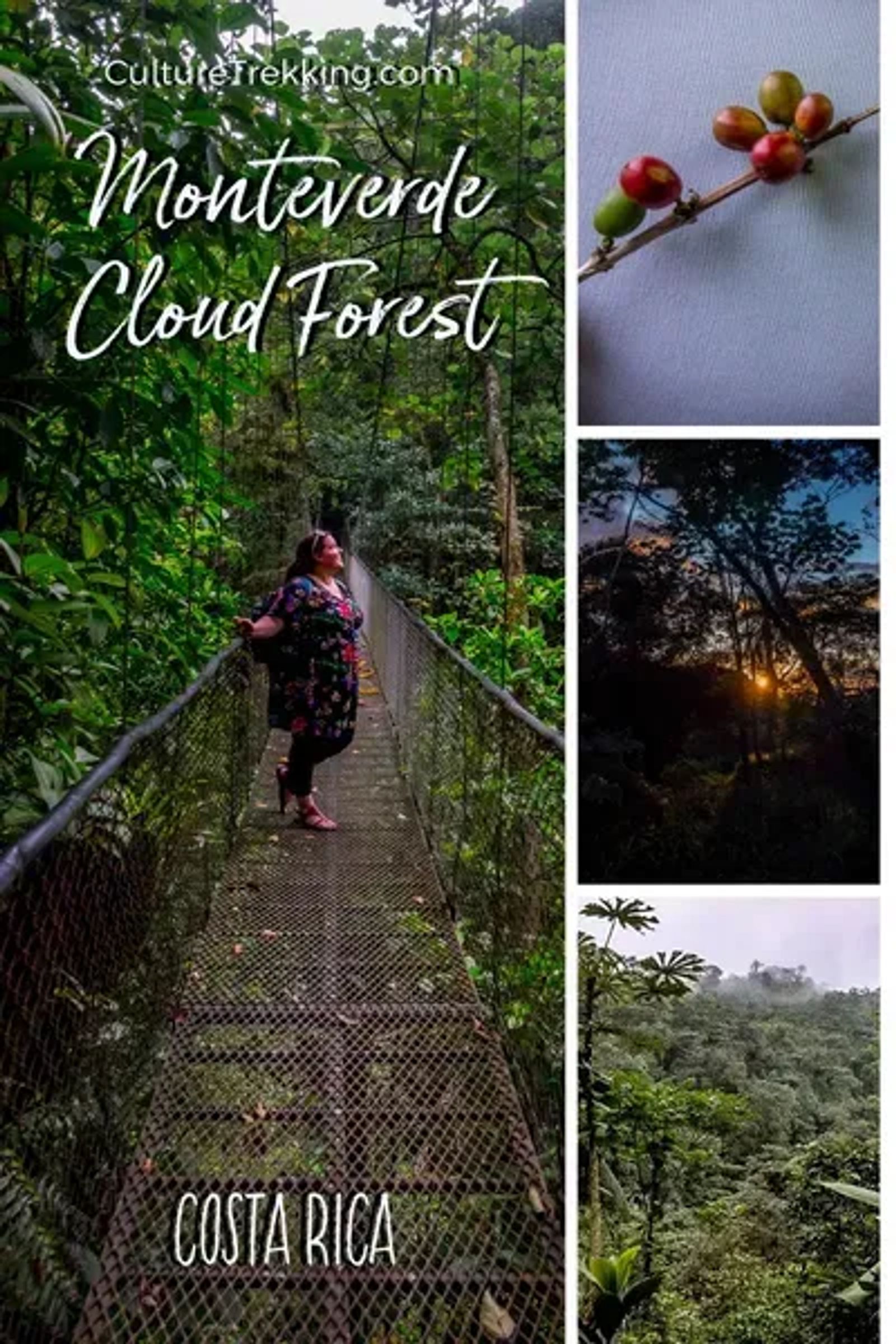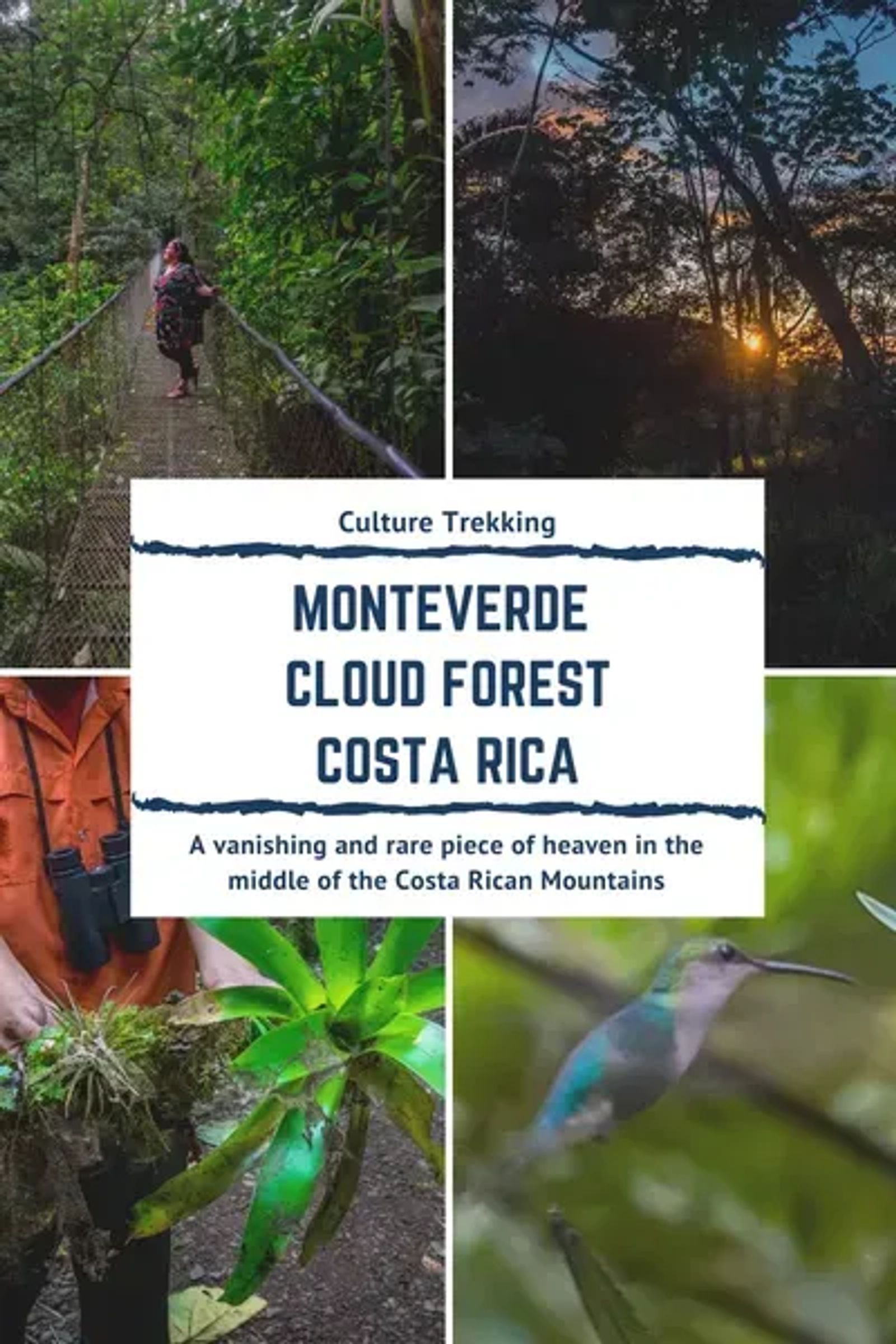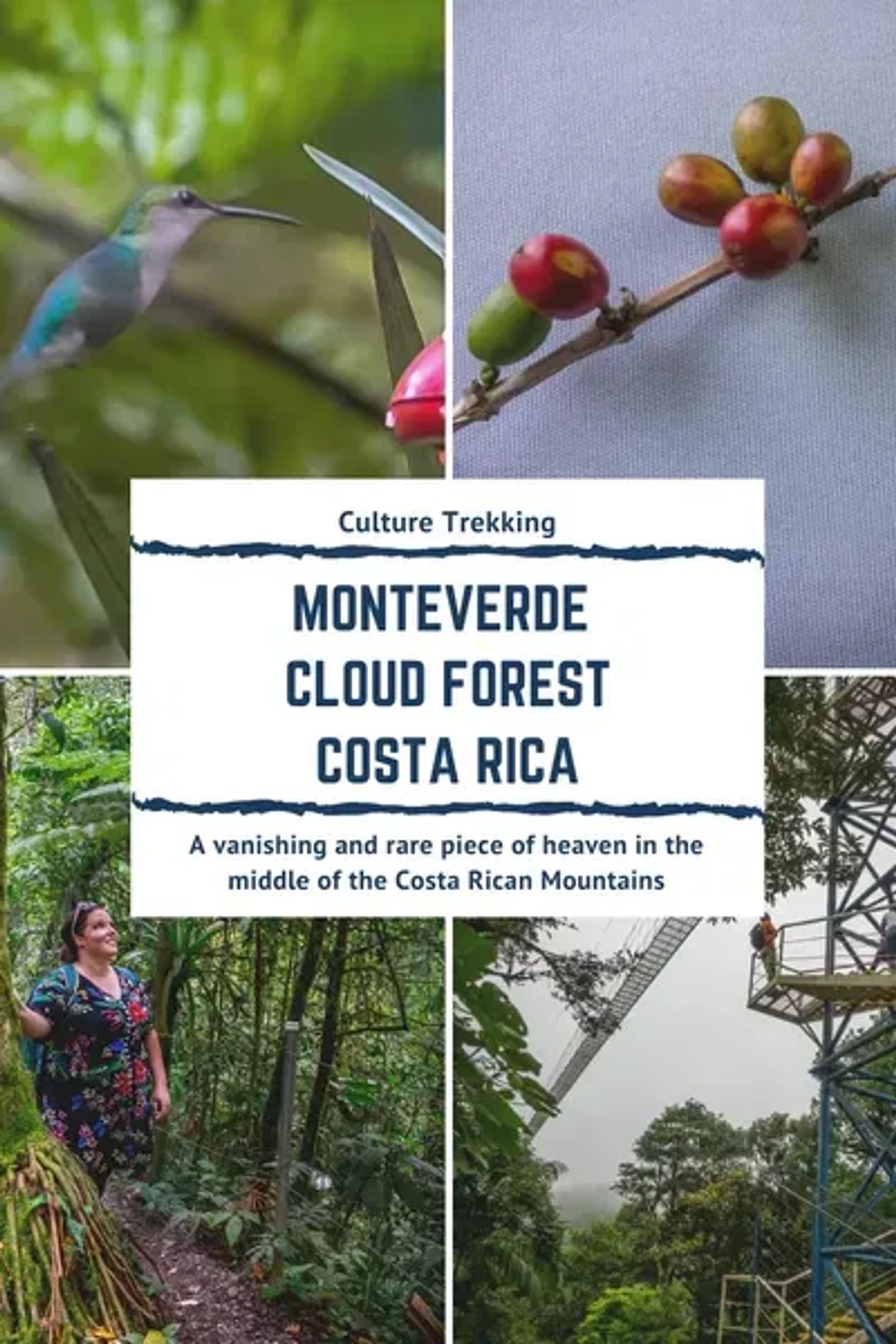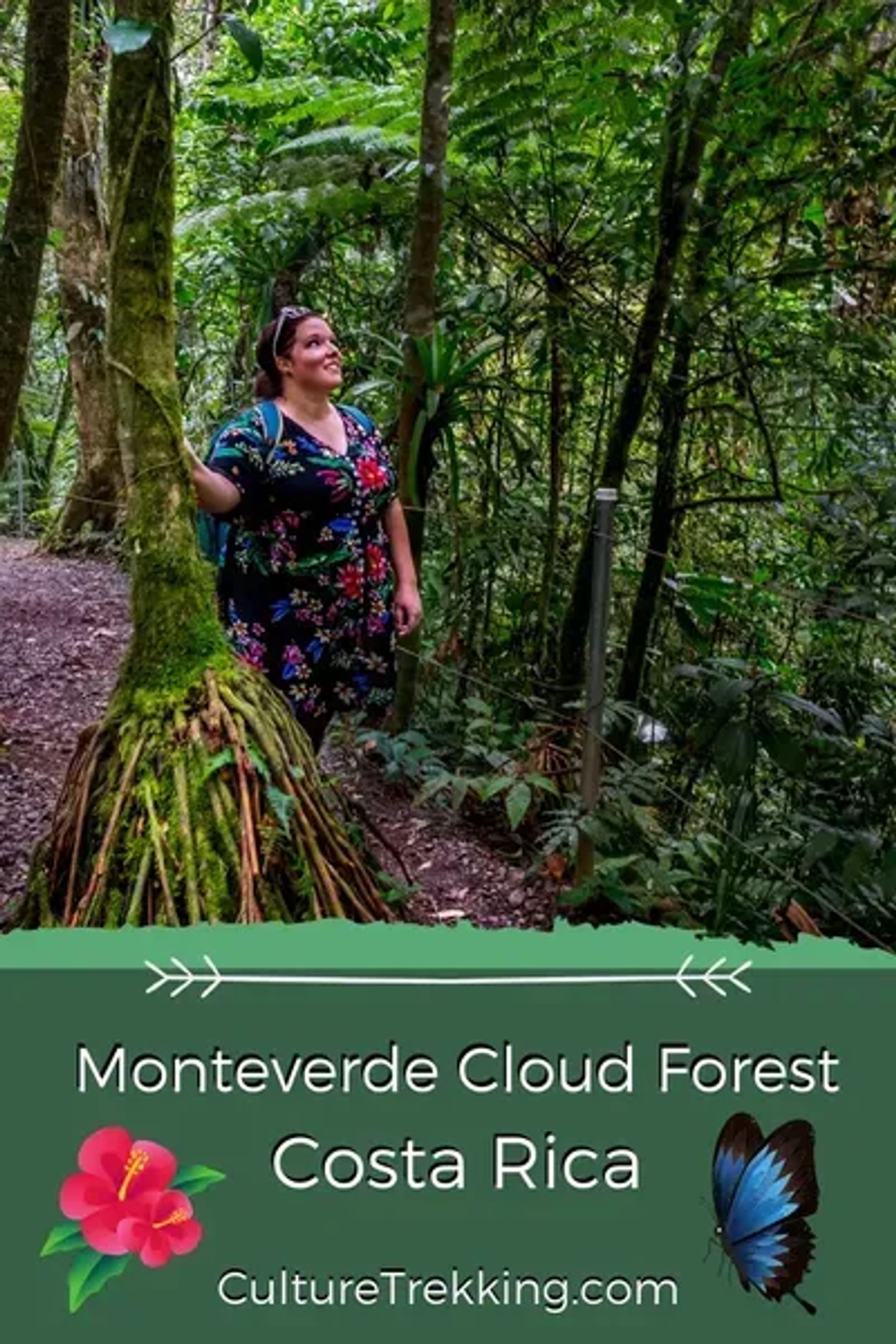 How To Get There
Taxis are readily available. Ask the hotel staff to arrange a taxi for you from a reliable company.
Where to Stay